Equestrian News
05.01.12
A team led by Mahan Rykiel Associates recently completed a new master plan for Morven Park. The 1,000-acre park, located near Leesburg, serves as a recreational and educational center for the city of Leesburg and Loudoun County. As the team's equestrian consultant, Blackburn helped to plan the improvements slated for the equestrian portion of the park, which functions as a public horse show facility and serves the equine community year-round. For more information, visit Morven Park's website.
03.22.12
Over the years, I've collected much too many photos of barn details, which includes everything from latches on stall doors to drains in aisles. It's only natural to collect the things you love, right? I often refer to my virtual stash of detail images when I'm designing a barn and hope they might serve as an inspiration to you as well. I will probably add to the collection (correction: I WILL add to the collection because I won't be able to help myself) over time. What can I say, the details separate a fine barn from a fantastic barn. On that note, I hope you'll forgive my lack of photography skill. Some of these images were taken during or just after the construction process by yours truly. That should serve to explain any and all photos with incomplete landscapes (aka piles of dirt) and unique angles (aka crooked) that are artistic-driven (aka fuzzy, out-of-focus) images.
By way of introduction to my collection, I think it seems fitting to begin this set barn detail images with the door. Every dutiful, the door is a part of every barn, everywhere. (At least I hope so.) You'll see many images of my favorite, the Dutch door, which aids ventilation within the barn. There's also human-only doors, main entrances, side doors, etcetera. Hopefully it's not too much of a hodgepodge for you to enjoy.
Incidentally, I've asked one of the more tech savvy staff (basically anyone but me) to link these images on Pinterest; we're attempting to hop on that fast-moving train because we architects sure appreciate a visual aid. If you're a Pinner yourself, let me know so we can follow you there. Until then, happy collecting!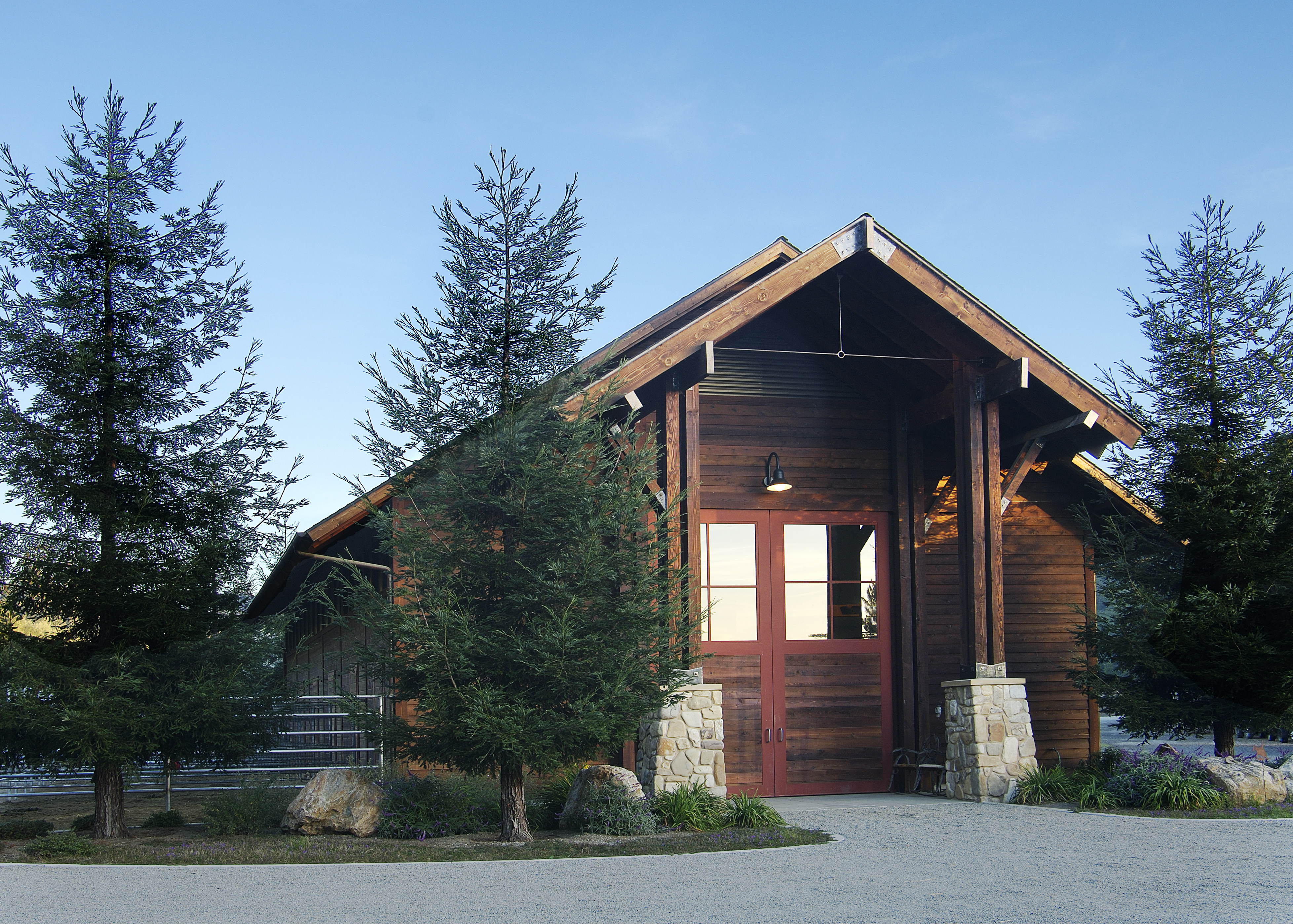 Dear disgruntled artists: the key to success isn't kicking down the door; it's building your own.
Brian Celio
Read more:http://www.brainyquote.com/quotes/keywords/door_14.html#ixzz1pshKJzeM
03.07.12
"The largest competitors at this summer's Olympics in London are not weightlifters….the largest competitors are horses." — Morning Edition, NPR, March 7, 2012
Who knew that horses could arrive via FedEx? What a great story on NPR this morning about how the horses competing in this summer's London Olympics will arrive safe (and in style). Tim Dutta, who owns an international horse transport company, said he expects to ship between 50 to 60 horses to London this summer. Dutta said that like people, horses respond to flying in various manners. Some are nervous and may require sedatives; others are happy to munch on hay and drink cocktails of apple juice and water to pass the time. And of course, the horses aren't left to their own devices on the planes — with them is a full entourage, including a vet and a groom. Which reminds me, I've read that racehorses can supposedly benefit from a little jet lag….wonder if the same holds true for events like dressage. Listen or read the full story on NPR.
02.24.12
So many social media formats, so little time… did you know that my firm, Blackburn Architects, has a Facebook page? We post photos of projects throughout the design process, let you know what we're working on at the office, and share information about equestrian architecture as well as happenings in the world of horses. It's a nice format for things we'd like to share while keeping it short and sweet (unlike a certain blogger here). So, if you haven't "LIKED" our page yet, I hope you will! I promise it will keep you informed and, like my blog, invite you to use the page to ask questions and share your own stories.
In other self-promotional news (sorry, must be that kind of day), The Chronicle Real Estate Supplement for Winter 2012 features the Blackburn-designed facilities at Sheik Island Farm in Dade City, Florida. The luxury farm, which covers over 300 acres just outside of Ocala, is officially on the market. If you're interested, the website also offers a virtual tour of the farm. When we designed the farm back in the late '90s/early '00s, the farm was used as a training and show facility for hunter/jumpers and polo ponies. The tree-filled, picturesque property has two barns: a 16-stall barn for hunter/jumpers and a 10-stall barn for polo ponies. Other amenities include an outdoor riding arena, a stick and ball field, a service storage building, and an office/caretaker's residence. The barns are designed with deep overhangs and continuous ridge venting to keep horses cool during steamy Florida summers.
02.14.12
This lush and private ranch is located just north of Seattle. The 100' x 200' arena, which features a "crow's nest" observation area, will be used for hunter/jumper and show training as well as recreation. The new structure, nestled in the Northwest Mountains, fits into the site unobtrusively and reflects the Tudor-style of the existing residence, favored by its owners. Future plans to occur in phases are a 20-stall barn, parking and service buildings, and a caretaker's cottage.
Program 100' x 200' enclosed arena, future phases include 20-stall barn, parking/service buildings, gatehouse
Completion 2010 (arena construction)
Posted in
Equestrian News
,
Projects
|
Tagged Arena, arena design, Arlington, Blackburn Architects, Circle B Ranch, Equestrian, horse arena design, horse riding arena, Horses, indoor riding arena, WA
|
1 comment >
02.09.12
This is probably the last set of photos I'll share of Beechwood Stables in Massachusetts before we have a professional photographer shoot the project in its completion. (When the weather is a bit nicer so the buildings aren't covered in snow!) I'm really pleased with how it's turned out and hope our client feels the same. I'd also like to thank Marcus Gleysteen Architects, whom we teamed with; the builder, Kenneth Vona Construction, whose professionalism and craftsmanship is top-notch, as well as the team at Lucas Equine Equipment for their fabulous stall systems as usual. Beechwood Stables has a lot of high-end finishes and details that certainly shine though with this project. However, the truly important aspects of our design is what matter the most and remain true regardless of budget: protecting the health and safety of the riders and the horses who will soon inhabit the barn.
Thanks to the gracious owner and everyone involved in the design and construction of Beechwood Stables. A few details are provided in the caption each photo.
02.01.12
While many architects revel in the design phase of a project — collaborating with a client to design a building that fits their goals and budget along with the demands of the site — to me, the most satisfying aspect of the architectural process is getting to see a project built. However, sometimes life just gets in the way. Whether a down economy or personal issues prevent a project from coming into fruition, many projects don't get past the so-called drawing board. While this project in California did not get built, we enjoyed our time with the client and in preparing the design. It's still a great project in our mind's eye.
Located in the San Francisco Bay area, Happy Valley Farm occupies 40 acres of rolling hills, green grassy canyons, and unspoiled panoramic views. Designed in a California-craftsman style, the project includes an eight-stall horse barn and covered arena with all amenities. The barn was designed to also house a woodworking shop, a wine cellar, and a wine-tasting room. A caretaker's suite on the second floor of the barn has a balcony that overlooks the broodmare stalls for the observation of foaling mares.
01.31.12
One of our readers, Kelly, had a few great questions for me and I'd like to address two in today's blog. (PS – Kelly writes a blog called Ride, Groom, Feed -the journal of a New Zealand Rider.) I hope my answers are helpful as it's somewhat difficult to be specific since so much depends on your site, your program, and your goals. Thanks for your questions and for reading.
Q: "How can you allow flexibility for future development (that may never occur) without constricting the initial plans too much?"
A:
Building for flexibility has its limits and you need to at least have a rough idea about how things might change in the future so you can plan for it in a reasonable and cost-effective way. Too much flexibility could ultimately end up adding to your costs, especially if the future needs are never realized. Here's a couple of examples.
Regarding a site plan, say you want to build a 12-stall barn now, but may add or increase it to total 24 stalls later. I would recommend building a 12-stall barn with all of the horse stalls to one end so that you can add the future stalls to the other end to produce a 24-stall barn. That way the barn services (tack room, feed room, wash stalls, lounge/office, bathrooms) are all located to the center, where they are most efficient for a 24-stall barn. At the same time, if the services are at one end of a 12-stall barn, it's still efficient for daily use.
Another example may be the question of where to build a barn and an outdoor arena with the idea that you'd like to add an indoor arena at some point in the future. A master plan can really help you to determine a phased build out of your entire program over time. If you do it once and take the time to fully plan for your entire potential program, you can determine the best placement for each structure and identify potential pitfalls to your site, understanding what can work best for your needs. There is no easy or simple explanation in this instance, but a master plan will help you (literally) visualize your success now and into the future.
Q: "I live in an area where it rains a lot. What are the most effective drainage solutions? Where should run-off water go? What kind of drains are the safest?"
Make sure the barn is on high ground and that all grade around the barn drains away from the barn. Same with paddock gates and lead paths. You can create storm drainage swales that lead to bio-retention ponds or back into the ground without eroding the surface soils. Safe drains depend on where they are located and their size. I try to avoid any conditions where a horse can step into or off a ledge and suffer a foot or leg injury. Use French drains where necessary to drain water into the soil without creating surface conditions that become or create hazards. Good site planning is critical and is another area where an experienced equestrian architect can provide a valuable service that the inexperienced architect does not have (and you will rarely receive from the design build or prefab barn builder).
01.25.12
I think that's the top question I get (the gist of it, anyway) and it SHOULD be. Why should you hire an architect to design a horse barn? Or, Is hiring an architect to design a barn really necessary?
In short: no. However, hiring an equine architect can save you time, your horse's health and safety, and even money in the long run. Allow me to state my case.
A horse is so much more than a pet: it's a companion, a worker, a teammate, an athlete. Whether you ride for pleasure or compete, the horse—your horse—is irreplaceable. I wish not to gild the lily just to make my point, which you already know, that horse owners think the world of their horses and want to treat them with the utmost care and respect. If you keep a horse, it's your duty to protect it. While a horse is perfectly pleased to graze outdoors most days, the barn is a necessity – so I say, let's do our best to protect that horse and maybe make your life a little easier in the process.
Barn This Way – Product vs. Service
When you decide to build a barn, you have a few choices. The least costly solution is to purchase a prefab or kit barn. The prices range (rather wildly), as does the package itself. Labor is often an additional cost as well as nails, roofing, and concrete costs. Usually a contractor charges between 10 to 25 percent of the total cost of materials for construction services. However, this percentage may go up if your project is on the small side in order for it to be financially viable for the contractor. For many horse owners, a prefabricated or kit barn is a perfectly reasonable and cost-effective solution.
If you're looking for a step above prefabricated, or can afford to customize your project a bit, you may then wish to research design/build contractors – but this is where I'd stop and suggest that you alternatively consider working with an equestrian architect.
Why? A design/build contractor is selling a product, not a service, and is not often a trained architect, which limits his or her ability to think creatively outside of the box. In most cases, thinking outside of the box eats up profits and costs more money (for the design/build contractor). For a design/build contractor, the goal is to build quickly above all else. I think this compromises your program and the overall result because the design/builder does not want to eat up time resolving special issues or conflicts. The design is usually cookie cutter, following whatever pattern the design/build contractor typically uses, and there is no one there to really represent the owner (you) and oversee the quality of the project and if it's built as intended or promised.
To Serve and Protect
With an equestrian architect, you're purchasing a service rather than a product. The architect is there to resolve the needs of the owner, from overall site planning, programming, phasing, and design to overseeing the entire construction to make sure the barn is built as intended. The service costs a bit more than a design/build contractor but, if your barn is your livelihood or your sanctuary, I believe that you'll save time and stress, frankly by getting it done right the first time.
Typical services an equestrian architect (straight from the horse's mouth here, if you'll forgive my pun) will provide:
Site planning: can reduce infrastructure costs (fewer roads, less fencing, better drainage, etc.) and improve the site to function at its best for your needs.
Programming: ensures that the whole farm (not just the horse barn but the entire collection of structures on the site, if applicable: residence, guest house, caretaker's quarters, hay/bedding, vehicle storage, etc.) operates efficiently and safely.
Code analysis: certainly the codes vary across states/municipalities. We've designed horse stables in counties with very specific codes and regulations and understand what to look for and how to work with the various officials to resolve issues. The architect can save you a lot of hassle!
Budget Development and Cost Control/Scheduling: I like to develop a budget as early in the process as possible and revisit it periodically during the project. My job is to determine if the owner's programmatic needs and budget fit the site, and if the design aesthetic suits their personal design goals. We can also plan to develop the barn or various structures in phases, if applicable.
Conceptual Design: Here we develop the character and massing of the structure(s) and prepare a preliminary floor plan and elevations to illustrate our ideas. At Blackburn, this is the final phase of what we call Master Plan Services (site plan, written program, conceptual design, and preliminary construction development). From here, we move on to more detailed design work.
Schematic Design: After we complete a master plan that works well for the owner, we begin to prepare detailed drawings to give you an idea of the layout and general appearance of the barn (and possibly other buildings). We'll talk about finishes, materials, stalls, tack rooms, etc. For a lot of people, this phase of design is the fun part!
Design Development and Construction Drawings: Here we'll really start to nail down the final design and specify the materials, stall systems, finishes, and other details and prepare construction drawings that instruct the contractor how to build the barn.
Bidding and Construction Administration: Because construction drawings are open to interpretation, it's important that the architect works with the contractor to oversee that the project is carried out according to the design intent. We're the owner's rep to make sure that construction is done well and done right.
I understand this may seem like a lot, but each is a valuable step toward designing a healthy, safe, and functional facility. As an architect, I want to study how you operate and design a barn that feels inviting and personal (because it is). No barn or farm operates exactly alike as each owner or barn/farm manager operates his/her facility in a particular fashion. While designing a barn from scratch is not realistic for everyone, if you are choosing between a design/build firm and an equestrian architect, I'd strongly advise that you approach both for more information and weigh out your options carefully. It could save you your horse.
As always, I invite your questions and comments. Thanks for reading!
An architect is trained to design as the great Louis Sullivan (1856-1924) states: "Form ever follows function." After all, if your barn doesn't function properly, what's the point of a great design?
Posted in
Equestrian News
|
Tagged barn design, Blackburn Architects, Equestrian, Equestrian Architect, equestrian design, Equine Architect, Horse, horse stables, master plan, Sagamore, site planning, Tidewater
|
2 comments >
01.10.12
Hello, all! I'm thinking about writing up a few posts about common questions/concerns/etc. from clients (or those debating whether to hire an architect) that I frequently encounter when designing equestrian facilities. I'd like to welcome any and all questions, from the general —How does the architectural process work? –to the specific– Should I build a concrete block barn or a wood frame?
With that being said, if you ever are boggled by bad stable design or poorly planned layouts, I'd be interested in your thoughts as to why the design did not work and how it might be improved. I often find myself critiquing other designs — and I'm not just talking about the aesthetics, but how function and operation so often fall apart due to a poorly conceptualized site plan or design. Not to mention the details overlooked that could be hazardous to your horse and you. But I guess that's another topic for another day.
I hope to hear from you soon as your comments and ideas really help drive the content of this blog. Incidentally, we're 10 days into the new year and it's practically 60 degrees Fahrenheit in DC — kind of bizarre and I'm wondering if this mild winter will bring an earlier-than-usual construction season? Well, an architect can hope!