The Latest
12.29.11
I wanted to share a few more photos of the construction progress at Beechwood Stables in Massachusetts, a project we worked on in association with Marcus Gleysteen Architects. We expect to punch out the project (a final walk through of the project where we review everything) very soon.
12.21.11
On fifty gently sloping acres south of Charlotte, North Carolina, Ketchen Place Farm is a family-owned, female-run farm that breeds thoroughbred and warmblood sport horses. Blackburn Architects provided architectural services for the construction of a 20-stall barn and a not-yet-built, separate four-bay garage with a two-bedroom, two-bath residence above. The master plan includes redesign and improvement of roads, fencing, paddocks, a run-in shed, and a well-defined entrance to the facility. The shed-row style barn, which includes a studio apartment above for the observation of foals, wraps around three sides of a courtyard that doubles as a small sand training paddock. The project was featured in the Spring 201o issue of Architecture DC Magazine.
Program 20-stall barn with groom's studio, four-bay garage with residence, redesign of roads, fencing, paddocks, shed, and facility entrance
Completion 2008
Posted in
Equestrian News
,
Projects
|
Tagged 20-stall barn, Barn, Equestrian, Horse, horse barn, horse stables, Ketchen Farm, Ketchen Place Farm, Ketchen SC, Rock Hill, SC, Stables
|
Leave a comment >
12.20.11
Located on a hilly 250-acre site with two lakes, Glenwood Farm is designed of wood and stone to fit within the natural landscape. The covered arena and outdoor dressage arena with surrounding paddocks overlook a small pond. The 12-stall barn has two wash/groom stalls and service space that includes a tack room, feed room, tool/work space, and laundry as well as a lounge with a loft and office space. A separate service building stores bedding and hay. The farm is used for boarding private horses as well as for the family's personal use.
Program 12-stall barn, covered arena, and service building
Completion 2008
12.17.11
The New River Bank Barn won an AIA Merit Award in Historic Resources, as well as the 2007 Southern Living Home Award in Historic Restoration. Southern Living Magazine went on to feature the project in its annual Best of Southern Living Issue.
11.30.11
They're rustic, lofty, and awe-inspiring. Supported by a sturdy skeleton of timber and a base of stone nestled into the land, its appeal is seemingly timeless. The structure effortlessly fits into its landscape, whether in Pennsylvania, Ohio, or across the ocean in the United Kingdom. The bank barn. A simple beauty of which I can't get enough. (Not to mention dairy barns, vaulted barrel barns, Dutch barns, prairie barns….)
Maybe it's the news I seek, but I feel as if there's an influx of articles and project profiles about converting old barns into residences, guest houses, schools, theatres — even a basketball court/recreational wonderland. Bring it on, I say. Converting an old building to a new use never gets old to an architect like me.
There's even a How to Guide (aptly titled, How to Take One Old Barn and Call it Home) from the team who can seemingly fix anything and everything: the experts at This Old House. Converting an old barn into a new home isn't a task for the faint of heart, but big things can yield even bigger rewards, I like to think. The article touches on common issues you'll face: structural (is it safe? how's the foundation?), is it energy-efficient (you can bet it's not — yet!) and water sealed (again — no way, no how), the pluses and minuses of such a large, open space, and more.
At Blackburn, we're working to revive a metal pole barn currently used as a recreational lodge in North Carolina. While the barn isn't centuries old, like many of the bank barns I admire, it's an interesting challenge for my staff and me. The owner would like to expand the barn's use so that it may host business events and entertainment functions. Our goal is to respect the barn's form and the local context, while providing a renewed aesthetic and use. Design plans include replacing the metal cladding with a painted wood or composite siding to provide a more traditional look. We'll also incorporate more natural light into the barn through an enclosed glass entrance, which will in turn make the space feel more inviting. The floor will be lowered to increase the space's capacity and the hayloft area will become a conference center for up to 80 people. Heavy timber framing with steel plate connections will add to the rustic yet finished interior.
I'll post updates about the project as the work progresses. In the meantime, how about some inspiration for your own conversion project? Here's just a sample of what I've found lately. If you stumble upon a great adaptive reuse project (whether it's a barn, an old warehouse, a church), I hope you'll share it here. I can't seem to get enough.
New York Times: The Call of Converted Barns 
New York Times: An Upstate Farm Brings a Fashion Photographer Back to His Roots 
Inhabitat: Beautiful Bank Barn Conversion (OK, a shameless plug for a Blackburn project)
Martha Stewart: Rustic and Refined Barn 
Martha Stewart: Summer Guesthouse 
Posted in
Equestrian News
,
Sustainable Design
|
Tagged Adaptive Reuse, Bank Barn, barn architecture, barn conversions, barn reuse, Barns, blackburn, conversion, old barn, Party Barn, This Old House
|
1 comment >
11.22.11
This private equestrian facility is located on rolling open fields in the heart of Northern Virginia's hunt country. Simple in design and functional in layout, the barn was conceived to meet the owner's specific program needs for the training of hunters and jumpers.
Program six-stall barn with attached enclosed arena and an elevated observation room, tack room, wash and groom stalls
Completion 2002
11.17.11
Stumbled across this photography blog and am glad I did. Seems he too has a thing for old barns. Really like how the images seem to capture the mood of the large, weary structures. Great stuff.
10.31.11
The Blackburn team had a blast at this year's Washington International Horse Show at the Verizon Center in DC's Chinatown neighborhood. But have you ever heard of Mutton Bustin'?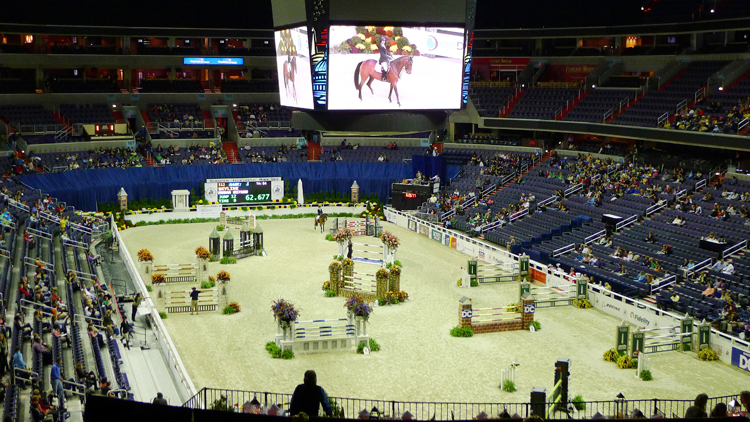 10.27.11
I admit it: I've never even heard of mutton bustin' until reading about the event, which is part of tonight's lineup at the 53rd annual Washington International Horse Show, in yesterday's Washington Post. Apparently mutton bustin', in which kids weighing 60 lbs. or less play rodeo kings and queens while riding on SHEEP (like a fluffier and friendlier bull?), is popular in Australia. Wonder if it will catch on in the states. Or am I already behind?
It's hard for me to imagine that any sheep with a 6-year-old on its back would feel inspired to do much other than lie down for a nice nap, but apparently it can get quite rowdy (witness the poor kid in the photo below). My curiosity is certainly piqued. I'll even get to see the "action" live because my staff and I are attending tonight's show (it's BARN NIGHT, after all). Everyone at Blackburn enjoys watching the terrier races, but I bet mutton bustin' gives the dogs a run for their money, at least as far as the cute factor goes.
For those of you who plan to attend tonight's show, please follow me on Blackburn's Facebook page, where I'll post about the event and coordinate to meet up with fellow horse and barn lovers. And if you can't make it to the show, consider watching it via live streaming.
10.26.11
Are you familiar with Houzz? It's a virtual catalogue of residential projects from various architects and designers. My firm has been using it lately to present a few of our residential (which includes renovated guest and "party barns") projects. Non-designers can browse various projects, using a keyword search (think: modern, traditional, eclectic, etc.) or by the firm itself, and compile favorite photographs into what the site calls an Idea Book. I know that all of my clients benefit from photographs of projects to help illustrate or visualize their ideas or design aesthetic and I really like how this site is a one-stop-shop to do just that. I hope you'll check out the site and let me know what you think — and of course, I hope you'll add a few photos from the Blackburn portfolio to your very own Idea Book!