barn architecture
02.13.17
Q: We're renovating our fireplace, and want to incorporate the exposed fireplace flue shown in your German bank barn renovation. Where do you get the pipe for it?
Thanks,
Barn Enthusiast
Dear Barn Enthusiast,
Congrats on your barn conversion! We love breathing new life into these wonderful structures. To answer your question about the flue we used, It's a galvanized steel flue, 12"-14" in diameter, and came in about 4 foot sections.  It should be pretty easy to find. Stainless steel is another good recommendation and look.  Galvanized is a little less expensive, but a little more rustic.
Hope that helps! Good luck with your project.
John
Posted in
Equestrian News
,
News and Press
|
Tagged Adaptive Reuse, Architect, Barn, barn architecture, barn design, Barn Fireplace, Blackburn Architects, Blackburn Architects barns, Blackburn barn conversion, Blackburn greenbarns, renovating an old barn, turning an old barn into a house
|
Leave a comment >
11.01.16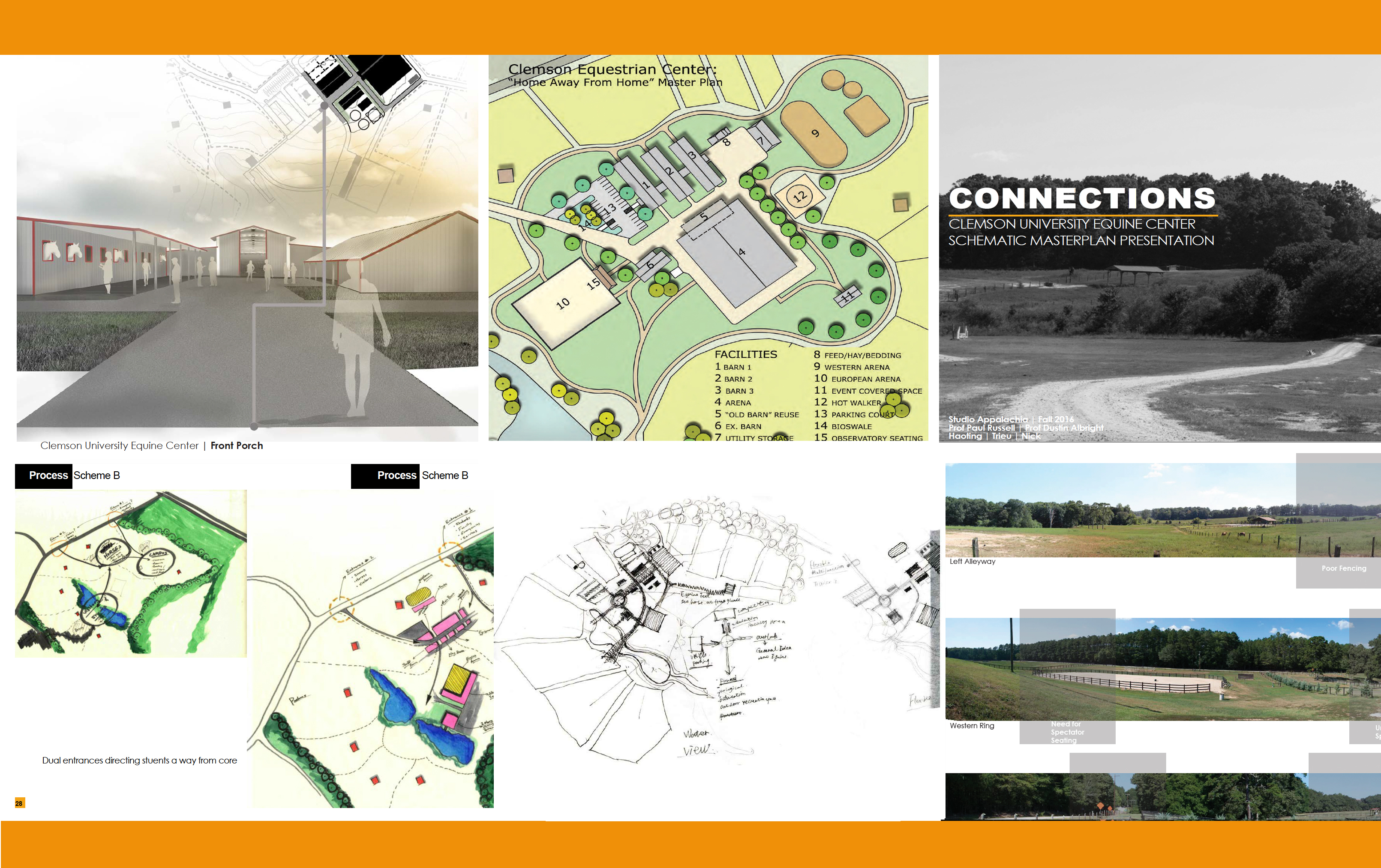 Checking back in to report what's been happening at Clemson's School of Architecture & Studio Appalachia.
 In case you missed it… Studio Appalachia is a collaborative, project-based graduate design studio between Clemson's school of architecture and its department of landscape architecture. The Studio is directed by associate professors Dan Harding and Paul Russell. Studio Appalachia targets issues such as: accessibility to natural resources, sustainable building strategies, and approaches to long term visioning and planning.
I was asked to participate in this year's studio because it involved horse facilities, specifically re-envisioning the Clemson University Equine Center (CUEC). With aging facilities that are well-used and well-loved, I knew it would be fascinating to see how these talented students created a fresh program for the facility. The teams of architecture and equine business students (a new twist for the studio) have spent the last several weeks immersed in detailing the site and facility requirements, learning about design issues unique to equines.
Teams consisting of three to four students conducted rigorous research, made several site visits, interviewed user groups, studied topography, considered land, sun, wind, circulation paths and traffic flow to create detailed and well considered Master Plan Studies and Field Reports.
Referencing the evolving formal and material contexts of Southern Appalachia, the four teams stated as goals to "improve circulation, establish organization, and enhance the (existing) ecology of the historic Clemson farm. To them, as one team eloquently stated, the CUEC is more than a farm; it is an institution that showcases the prestige of the university, and embodies the history, strength, and energy that the equine program was founded on.
The preliminary master plan schemes presented earlier in October were successful in developing goals and considerations for further study. The studio presents preliminary concept designs later this week and I'm looking forward to the big reveal.
02.02.16
Coming off the heels of a truly epic storm for the Washington D.C. area (and most of the east coast!), I thought I'd take a moment to address how design techniques can help barns "weather" extremes.
In the United States, the upper northeast regions through to the Midwest are prone to experience weather extremes in the form of snow and ice. While we cannot entirely "weather proof" a barn, we can make it more resilient to some of the more damaging effects of weather phenomena.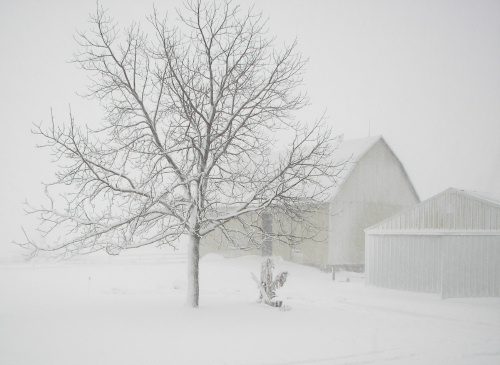 The roof of your barn needs to be able to:
Withstand the weight of snow and/or effectively shed it
Prevent or reduce the formation of ice dams
Redirect "roof avalanches" from sliding into high traffic or poor drainage areas and also reduce associated noise that could frighten the horses.
In addition to contributing to the Bernoulli principle I incorporate for natural ventilation, steeply pitched roofs also contribute to effective, gradual roof shedding and the redistribution of snow load. Ideally the pitch should be between 4/12 and 6/12 to get the optimal shedding effect (although, we generally try to keep pitches at 7/12 or more to take full advantage of the Chimney Effect and Bernoulli principle for natural ventilation)
Roofing material will also factor into how the snow will shed. Metal roofs are excellent as they are smooth and slick. They will also stay colder longer; reducing the likelihood that snow will melt and form ice dams (more on this below). Snow will shed from a metal roof even if the pitch is lower. Shingled roofs, however, will slow down the shedding process by "holding on" to the snow and allowing it to stay in place and accumulate. Consider a steeper pitch if you prefer a shingled roof as it will facilitate the shedding process over the rougher material.
Now, you might be saying to yourself, "Well, the snow is off the roof…but it's all over the place! Now what?" Including strategic roof overhangs will complement the steeper pitch by helping to distribute shedding snow away from exterior walls and out of traffic and poor drainage areas. Be wary though, snow sliding off roofs can be noisy and frightening to horses, not to mention dangerous if it falls on you! Snow guards on the roof can help reduce the noise associated with shedding snow and keep huge sheets of it from falling on (and potentially harming) 2 and 4 legged passersby. Gabled dormers over entryways can also be useful. They help to direct snow off to the sides.
Ice dams are another unfortunate side effect of snow-laden roofs. An ice dam forms when the underside of the roof gets warm enough to thaw the bottom layer of snow sitting on the other side. The water makes its way down to the eave where it refreezes, eventually growing into a mound of ice. As the ice dam gets larger, it can pull the shingles and edges up allowing water to get through and into the insulation and walls. Water damage then wreaks havoc on the interior of the barn. The ice dam could also break off the eave and take pieces of the roof with it or fall on passersby. Sure, there are ways to deal with ice dams once they've formed, but natural ventilation can help prevent them upfront. Natural ventilation keeps the underside of the roof within 10 degrees of the outside temperature, which aides in keeping that critical layer of snow right on top from thawing and running down towards the eaves.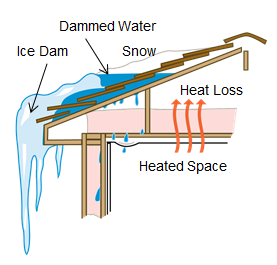 Site and circulation planning can help prevent and/or reduce the impact of icy conditions around equine walkways. In the interest of horse safety, I try to design site circulation so that horses do not need to move over asphalted areas intended for trucks and service vehicles (there are other benefits associated with that as well). Asphalt is not great for horse's knees, generally, but it is particularly problematic when wintery conditions lead to the formation of "black ice" — a thin sheet of ice over the asphalt that can be imperceptible to the horse or persons walking on to it. Horse pathways in and around the barn should include porous footing that absorbs and carries moisture away quickly. Presently there is no way (that I know of) to prevent pastures from freezing over, but you can maintain a dry paddock or "sacrifice" lot where your horses can be turned out when pastures have been effected by inclement weather. Paddocks with considerable slope can be particularly hazardous when they freeze over. That's when a "level" dry lot can be very useful!
As many on the east coast found out this past week, there is only so much preparation you can do in a couple of days before a storm hits. You, your horses, and your barn will benefit from built in preparation.
Posted in
Equestrian News
|
Tagged barn architecture, barn design, beechwood stables, black ice, Blackburn Architects, dormer, Equestrian Architect, extreme weather, farm planning, gable, horse barn design, horse stables, ice, ice dam, ice damming, John Blackburn, overhang, roof, roof pitch, snow, snow load, snow shedding
|
Leave a comment >
12.20.11
Located on a hilly 250-acre site with two lakes, Glenwood Farm is designed of wood and stone to fit within the natural landscape. The covered arena and outdoor dressage arena with surrounding paddocks overlook a small pond. The 12-stall barn has two wash/groom stalls and service space that includes a tack room, feed room, tool/work space, and laundry as well as a lounge with a loft and office space. A separate service building stores bedding and hay. The farm is used for boarding private horses as well as for the family's personal use.
Program 12-stall barn, covered arena, and service building
Completion 2008
11.30.11
They're rustic, lofty, and awe-inspiring. Supported by a sturdy skeleton of timber and a base of stone nestled into the land, its appeal is seemingly timeless. The structure effortlessly fits into its landscape, whether in Pennsylvania, Ohio, or across the ocean in the United Kingdom. The bank barn. A simple beauty of which I can't get enough. (Not to mention dairy barns, vaulted barrel barns, Dutch barns, prairie barns….)
Maybe it's the news I seek, but I feel as if there's an influx of articles and project profiles about converting old barns into residences, guest houses, schools, theatres — even a basketball court/recreational wonderland. Bring it on, I say. Converting an old building to a new use never gets old to an architect like me.
There's even a How to Guide (aptly titled, How to Take One Old Barn and Call it Home) from the team who can seemingly fix anything and everything: the experts at This Old House. Converting an old barn into a new home isn't a task for the faint of heart, but big things can yield even bigger rewards, I like to think. The article touches on common issues you'll face: structural (is it safe? how's the foundation?), is it energy-efficient (you can bet it's not — yet!) and water sealed (again — no way, no how), the pluses and minuses of such a large, open space, and more.
At Blackburn, we're working to revive a metal pole barn currently used as a recreational lodge in North Carolina. While the barn isn't centuries old, like many of the bank barns I admire, it's an interesting challenge for my staff and me. The owner would like to expand the barn's use so that it may host business events and entertainment functions. Our goal is to respect the barn's form and the local context, while providing a renewed aesthetic and use. Design plans include replacing the metal cladding with a painted wood or composite siding to provide a more traditional look. We'll also incorporate more natural light into the barn through an enclosed glass entrance, which will in turn make the space feel more inviting. The floor will be lowered to increase the space's capacity and the hayloft area will become a conference center for up to 80 people. Heavy timber framing with steel plate connections will add to the rustic yet finished interior.
I'll post updates about the project as the work progresses. In the meantime, how about some inspiration for your own conversion project? Here's just a sample of what I've found lately. If you stumble upon a great adaptive reuse project (whether it's a barn, an old warehouse, a church), I hope you'll share it here. I can't seem to get enough.
New York Times: The Call of Converted Barns 
New York Times: An Upstate Farm Brings a Fashion Photographer Back to His Roots 
Inhabitat: Beautiful Bank Barn Conversion (OK, a shameless plug for a Blackburn project)
Martha Stewart: Rustic and Refined Barn 
Martha Stewart: Summer Guesthouse 
Posted in
Equestrian News
,
Sustainable Design
|
Tagged Adaptive Reuse, Bank Barn, barn architecture, barn conversions, barn reuse, Barns, blackburn, conversion, old barn, Party Barn, This Old House
|
1 comment >
12.14.10
Just over a year ago, I wrote about visiting a project in Rancho Santa Fe, California that had just began construction. A year later, I am happy to report that the construction effort is complete and was a great success. Lucky Jack Ranch, as its owners have christened it, is located in Rancho Santa Fe California and is made up of a 3,900 sq. ft. clubhouse with guest residence, a 15-stall barn plus a large wash stall, six outdoor tacking stalls, and an open riding arena. The Ranch also has a famous neighbor: the Pacific Ocean.
The family's private equestrian facilities take full advantage of seven acres of the site, with the structures placed upon an overlook to capture Pacific Ocean breezes, not to mention an ideal view of the sunset. The Ranch emphasizes the leisurely aspects of horse riding, from cool-down trails surrounding the property to a large patio that invites riders to relax and socialize after riding. There's a romantic feel to the architecture, which was designed as a modern tribute to Lilian J. Rice, the architect responsible for much of the site planning and architectural design within the community of Rancho Santa Fe as it formed around 1922. The architecture is heavily influenced by Spanish and Spanish Colonial design, using stucco, terra cotta, and wood accents. A trellis stretches from the clubhouse to the barn to connect the Ranch visually.
The property focuses on an ultimate rider experience, apparent in the full amenities at Lucky Jack (there's even a wood burning pizza oven), but there's no mistaking that this is a serious working horse ranch; complete with a hotwalker, round pen, custom Lucas Equine stall systems that include indoor and outdoor wash stalls, a tack room, and several areas for riders to lounge and observe the activity of fellow riders.
A fully equipped kitchen and dining area in the clubhouse opens to a smaller, more intimate patio space for dining al fresco while the main patio (with that enviable, wood burning pizza oven I mentioned) prompts larger gatherings. Lounge chairs and tables invite riders and non-riders alike to relax and take in the refreshing ocean breezes and unwind. The owner's family and friends can even stay in the clubhouse, which has two bedrooms, terraces, and a laundry room. The only real difficulty might be getting guests to leave.
[slideshow]
Allard Jansen Architects, Inc. of San Diego was a local design consultant and permit facilitator for the project.