equestrian architecture
06.22.12
"When you take a horse out of its comfort zone—the wild—it's your obligation to create an environment that protects its health and safety. A poorly designed barn can be worse than no barn at all." – John Blackburn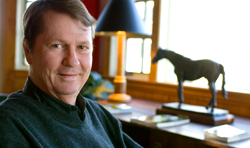 John Blackburn knows barns. As Blackburn's owner and senior principal for the past 25 years, John has designed over 150 equestrian facilities across the United States and abroad.
In his blog, Stable Minded, John rhapsodizes about the design process behind our horse barns and equine facilities as only he can. His blogs cover a variety of equestrian news and topics: from the story behind projects we've designed to equestrian and design issues, such as how to increase natural lighting in barns. For those of you with questions or comments about the nitty-gritty details we face when designing barns, John considers his blog an open forum to discuss what's on your mind.
If you're curious about the architectural process, like to view construction photos from start to finish, or have questions about how it all works, we invite you to read and comment at Stable Minded. It might not be literally straight from the horse's mouth, but we like to think it's pretty close.
05.29.12
Today's blog comes from Macy Carman, an enthusiastic and talented student (and equestrian!) from Hollins University in Virginia. Macy, an environmental studies major who is considering graduate studies in architecture, spent some time with us to learn about what it means to be an "equine architect." In turn, my staff and I got to spend some time picking her brain about her invaluable experience as a groom for Pollard Eventing. (On a sad note, our thoughts are with everyone at Pollard Eventing. Macy travelled back to be with her horse family after the tragic car accident that claimed the lives of three horses last week.)
HERE'S MACY:
I knew I had picked the right architecture firm for my internship when John Blackburn started out my first day with what he referred to as his "dog and pony show." I love pony shows! I am a lifelong rider, member of the United States Pony Club, and looking forward to a career in designing equestrian facilities, so I knew I was in for a treat.  And I was…the presentation he showed me displays many of the options that are available to clients as well as the principles he bases his designs around: natural light and proper ventilation. I think that he could convince anyone that these are the most important concepts behind a facility!
During my time with the Blackburn team, I was able to accompany John to a Virginia Farm where he was interviewed for a video (stay tuned for the final project). After spending so much time discussing the process to designing a barn, I certainly had a different perspective when touring the facility. While my practical experience with horses, combined with time spent in a variety of barns, has instilled in me the importance of a well thought out facility for the safety and well being of the horse and rider, I picked up on a lot of smaller details. John had a reason for why every detail was exactly the way it was, and was happy to answer all of my questions. Watching his interviews, I got a sense that he cares for the horses just as much as the owners, which is exactly what we horse people are always looking for.
Over the course of my first week here, I have talked to everyone in the office about their projects, their academic paths, and their thoughts on barn design. As interested as I have been in barn design over the years, I have never given thought to many things Blackburn consistently addresses, like making sure that vehicles, visitors, and horses are separated at all times. Who knew a driveway needed so much planning? Everyone in the office has been very welcoming, and I hope that I have been able to provide a slightly different perspective as a rider and a groom. I look forward to absorbing a greater understanding of equestrian design during the rest of my time here- and maybe some tips on my graduate school applications too. I would like to thank the whole office for having me.
12.14.10
Just over a year ago, I wrote about visiting a project in Rancho Santa Fe, California that had just began construction. A year later, I am happy to report that the construction effort is complete and was a great success. Lucky Jack Ranch, as its owners have christened it, is located in Rancho Santa Fe California and is made up of a 3,900 sq. ft. clubhouse with guest residence, a 15-stall barn plus a large wash stall, six outdoor tacking stalls, and an open riding arena. The Ranch also has a famous neighbor: the Pacific Ocean.
The family's private equestrian facilities take full advantage of seven acres of the site, with the structures placed upon an overlook to capture Pacific Ocean breezes, not to mention an ideal view of the sunset. The Ranch emphasizes the leisurely aspects of horse riding, from cool-down trails surrounding the property to a large patio that invites riders to relax and socialize after riding. There's a romantic feel to the architecture, which was designed as a modern tribute to Lilian J. Rice, the architect responsible for much of the site planning and architectural design within the community of Rancho Santa Fe as it formed around 1922. The architecture is heavily influenced by Spanish and Spanish Colonial design, using stucco, terra cotta, and wood accents. A trellis stretches from the clubhouse to the barn to connect the Ranch visually.
The property focuses on an ultimate rider experience, apparent in the full amenities at Lucky Jack (there's even a wood burning pizza oven), but there's no mistaking that this is a serious working horse ranch; complete with a hotwalker, round pen, custom Lucas Equine stall systems that include indoor and outdoor wash stalls, a tack room, and several areas for riders to lounge and observe the activity of fellow riders.
A fully equipped kitchen and dining area in the clubhouse opens to a smaller, more intimate patio space for dining al fresco while the main patio (with that enviable, wood burning pizza oven I mentioned) prompts larger gatherings. Lounge chairs and tables invite riders and non-riders alike to relax and take in the refreshing ocean breezes and unwind. The owner's family and friends can even stay in the clubhouse, which has two bedrooms, terraces, and a laundry room. The only real difficulty might be getting guests to leave.
[slideshow]
Allard Jansen Architects, Inc. of San Diego was a local design consultant and permit facilitator for the project.
04.27.10
We're really excited to be a part of Kathryn Masson's new book called Stables: Beautiful Paddocks, Horse Barns, and Tack Rooms. The book features stunning photographs by Paul Rocheleau and showcases a variety of stables across the United States. One of the stables shown is Sagamore Farm, the famous thoroughbred-horse breeding farm originally owned and operated by Alfred G. Vanderbilt, II.
Blackburn Architects had the pleasure of working with Sagamore's current owner, Kevin Plank, CEO of Under Armour, to restore and upgrade the facilities, which had fallen into serious disrepair from the former previous ownership. We provided architectural services to renovate two of the farm's existing barns: the 16-stall foaling and 20-stall broodmare barns.
If you'd like to check out the book, it's available through Amazon and Rizzoli. The Classicist blog has also written about the book in a post titled America's Finest Equestrian Architecture.