equine design
01.31.17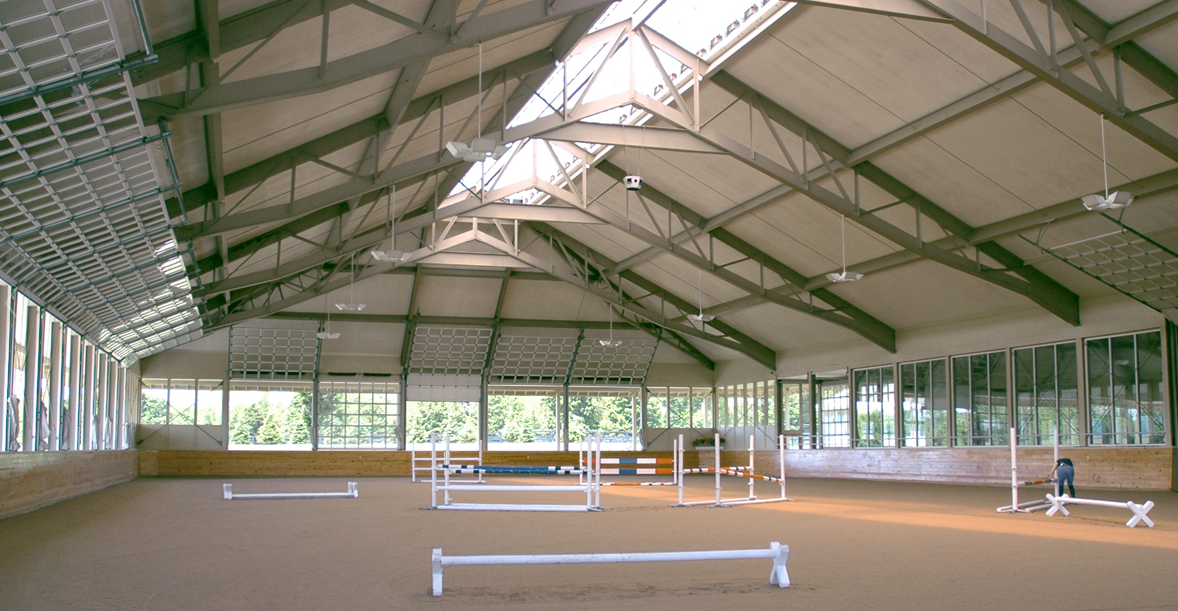 Hello John,
I'm meeting with an arena builder this morning.  It's finally clearing up around here, so we hope to start constructing the forms for the barn foundation this week.
Q: Do you have any advice about a design for a canted ring liner?  Or even just describe what is the norm?  We need an idea of how a segment typically is built.
Is it a good idea to go on up vertically after the canted part, another couple feet, to get a better compromise between indoor and covered only??  Or would that be claustrophobic?  We plan to use gale shields (netting panels) to cover the openings/protect from rain and wind.
Thank you!
Northwestern Eventing Rider
A: Dear Northwestern Eventing Rider:
I'm not sure what you mean by "ring liner."  Do you mean the kick wall?
There are a variety of ways a kick wall can be designed.  I typically design it to the height the owner requests (typically around 4 to 6 feet).  We kick the base of the wall out about a foot from the top so it is slanted to protect the rider's leg.
The top of the kick wall can go to whatever height you feel comfortable but I would make sure if you are using a steel frame for your arena roof and the interior face of the steel column slopes inward, that you allow some extra space between the top of the kick wall and the front edge of the column so that the rider's shoulder or head doesn't come in contact with the column.
I suggest extending the kick wall into the footing to the gravel base. Remember, the bottom boards and the framing behind the kick wall should be constructed of treated wood wherever it comes in contact with the ground or grade.  In most cases the frame is constructed of pressure-treated lumber and the bottom boards are pressure-treated to a point about 18" above the footing surface.
Also, I suggest putting gravel in back of the kick wall to the height of the arena footing to prevent the footing from being driven over time under the kick wall by the pounding of horse hooves.
I hope this is helpful.
Good Luck,
John
Posted in
Equestrian News
,
News and Press
|
Tagged Arena, arena construction, Blackburn Architects, Dear John advice, designing a horse riding arena, designing arena kick-wall, equine design, equine designer, indoor arena, indoor riding arena, kick wall design, riding arena design, ring liner
|
Leave a comment >
11.22.11
This private equestrian facility is located on rolling open fields in the heart of Northern Virginia's hunt country. Simple in design and functional in layout, the barn was conceived to meet the owner's specific program needs for the training of hunters and jumpers.
Program six-stall barn with attached enclosed arena and an elevated observation room, tack room, wash and groom stalls
Completion 2002
04.08.10
Hello Readers,
At the Blackburn office, we've been busy developing Blackburn Greenbarns®, a line of pre-designed barns that are sustainable, provide a healthy and safe atmosphere for horses, and are more affordable than custom design. We first introduced this line of barns last April, but the overall construction costs for the barns were a little higher than we would have liked. So, we decided to go back to the drawing board (literally) in an attempt to streamline the process without compromising our values. We are almost ready to relaunch Blackburn Greenbarns® (with a new and improved website on its way!) with a "kit barn" option, but I would really love to hear from you as far as what's most important to you when building a new barn.
I know that cost is a huge factor—as it should be—for most barn owners. However, I also know that being a horse owner is quite an investment in and of itself—and that most owners just want a facility that protects their horses when they are in the barn, knowing full well that the horses would rather be lazing about in the paddocks.
What is the most important factor when building a new barn? Affordability? What about the style or look of the barn? Are you interested in sustainable products or incorporating green design?
[polldaddy poll=3054182]
I hope you'll comment on this post and share your thoughts. Maybe there's something that all the barn builders (or architects) forget to include/consider and it drives you nuts? Or maybe there's a particular service (like site planning) that you'd find valuable but aren't sure you can afford or truly need and would like to know more about it.
Hope to hear from you! More on what we've been up to soon.