Equine
08.29.17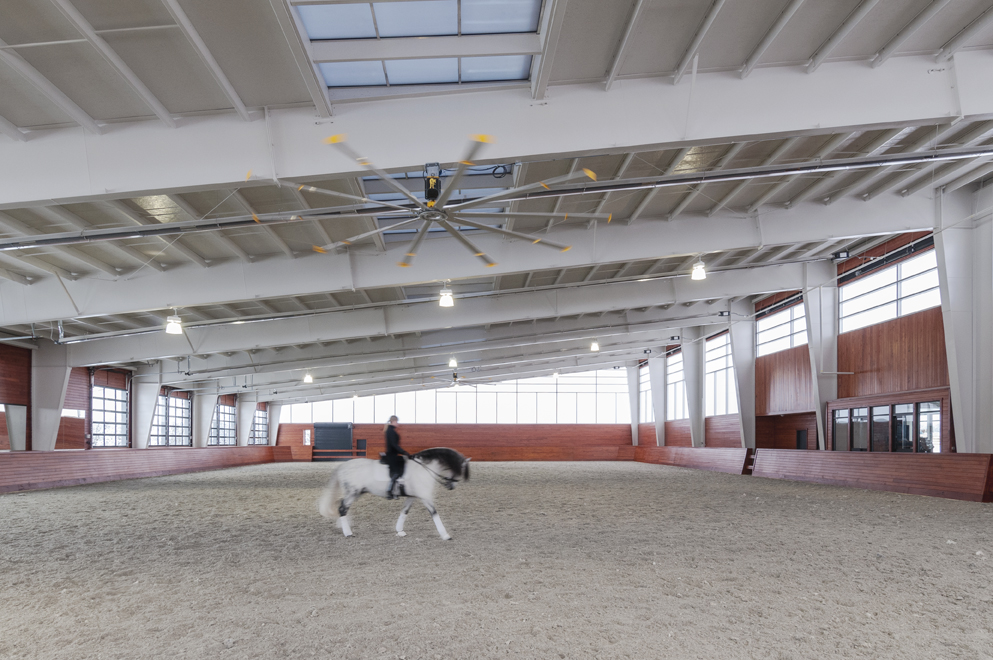 Hi John. I hope you had a wonderful summer!
Q: Our covered arena has been put to good use throughout the last year, but we really need lights to make it even more beneficial to our program. Given your expertise and experience with equestrian barns and arenas, I was hoping you might be able to give us some guidance.
We are having a hard time determining exactly what kind of and how much lighting is necessary. Do you have a formula that you use?
Any help you can provide would be greatly appreciated. I look forward to hearing from you!
Best,
Undercover Rider
Dear Undercover Rider:
Glad to hear all's well.
I would be happy to offer some guidance on lighting for your arena.
A: I typically recommend approximately 35 to 50 foot candles per sq ft of light on the arena floor in order to provide a sufficient amount of light for a variety of functions. It also depends on the amount of reflective surfaces you have and the color of those surfaces including the arena floor material.
If you are anticipating a variety of entertainment type functions such as charity events, parties, etc you may want to consider a variety of type mood lighting for different events.
There are also a variety of type lights to consider such as metal halide, LED, HD, etc.
There are other factors to consider as well such as initial cost, operating cost, maintenance or lamp life and also the design of the fixture (bird protection, fire safety, etc.)
We are beginning to use LED more often now. I hope that helps!
John
11.01.16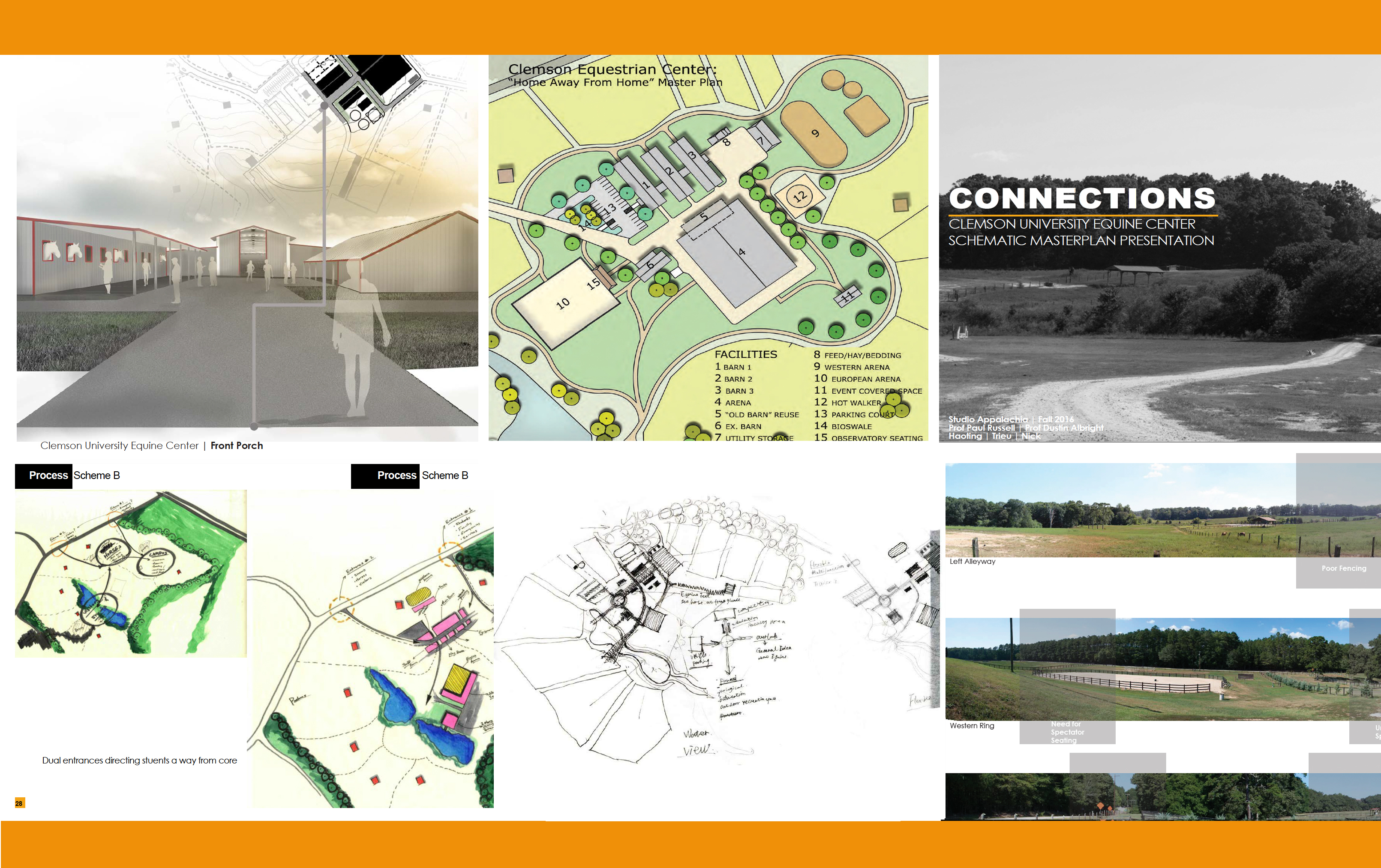 Checking back in to report what's been happening at Clemson's School of Architecture & Studio Appalachia.
 In case you missed it… Studio Appalachia is a collaborative, project-based graduate design studio between Clemson's school of architecture and its department of landscape architecture. The Studio is directed by associate professors Dan Harding and Paul Russell. Studio Appalachia targets issues such as: accessibility to natural resources, sustainable building strategies, and approaches to long term visioning and planning.
I was asked to participate in this year's studio because it involved horse facilities, specifically re-envisioning the Clemson University Equine Center (CUEC). With aging facilities that are well-used and well-loved, I knew it would be fascinating to see how these talented students created a fresh program for the facility. The teams of architecture and equine business students (a new twist for the studio) have spent the last several weeks immersed in detailing the site and facility requirements, learning about design issues unique to equines.
Teams consisting of three to four students conducted rigorous research, made several site visits, interviewed user groups, studied topography, considered land, sun, wind, circulation paths and traffic flow to create detailed and well considered Master Plan Studies and Field Reports.
Referencing the evolving formal and material contexts of Southern Appalachia, the four teams stated as goals to "improve circulation, establish organization, and enhance the (existing) ecology of the historic Clemson farm. To them, as one team eloquently stated, the CUEC is more than a farm; it is an institution that showcases the prestige of the university, and embodies the history, strength, and energy that the equine program was founded on.
The preliminary master plan schemes presented earlier in October were successful in developing goals and considerations for further study. The studio presents preliminary concept designs later this week and I'm looking forward to the big reveal.
03.22.12
Over the years, I've collected much too many photos of barn details, which includes everything from latches on stall doors to drains in aisles. It's only natural to collect the things you love, right? I often refer to my virtual stash of detail images when I'm designing a barn and hope they might serve as an inspiration to you as well. I will probably add to the collection (correction: I WILL add to the collection because I won't be able to help myself) over time. What can I say, the details separate a fine barn from a fantastic barn. On that note, I hope you'll forgive my lack of photography skill. Some of these images were taken during or just after the construction process by yours truly. That should serve to explain any and all photos with incomplete landscapes (aka piles of dirt) and unique angles (aka crooked) that are artistic-driven (aka fuzzy, out-of-focus) images.
By way of introduction to my collection, I think it seems fitting to begin this set barn detail images with the door. Every dutiful, the door is a part of every barn, everywhere. (At least I hope so.) You'll see many images of my favorite, the Dutch door, which aids ventilation within the barn. There's also human-only doors, main entrances, side doors, etcetera. Hopefully it's not too much of a hodgepodge for you to enjoy.
Incidentally, I've asked one of the more tech savvy staff (basically anyone but me) to link these images on Pinterest; we're attempting to hop on that fast-moving train because we architects sure appreciate a visual aid. If you're a Pinner yourself, let me know so we can follow you there. Until then, happy collecting!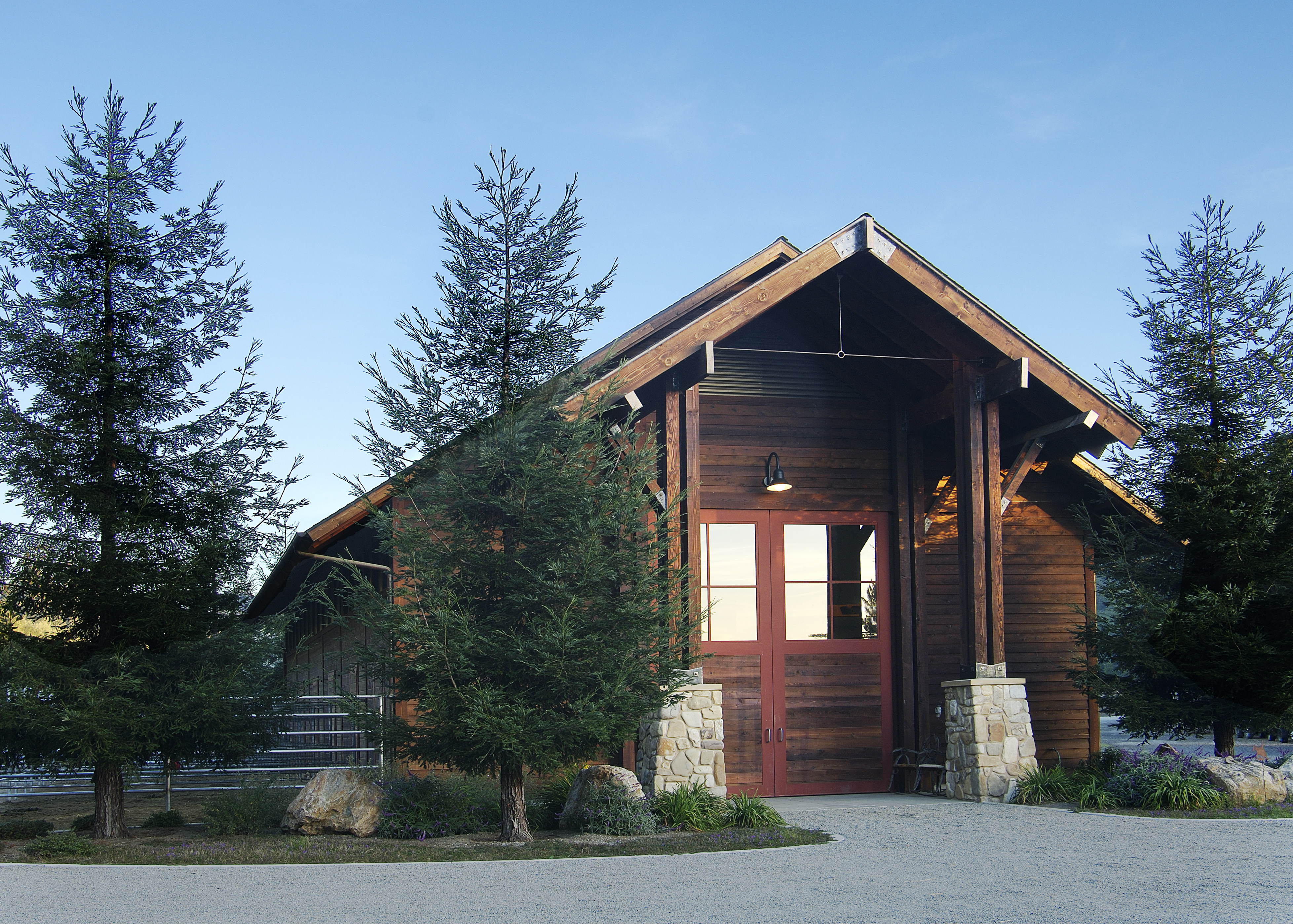 Dear disgruntled artists: the key to success isn't kicking down the door; it's building your own.
Brian Celio
Read more:http://www.brainyquote.com/quotes/keywords/door_14.html#ixzz1pshKJzeM
09.07.11
Designed in response to an adjacent new residence and in the style of existing barns on the private ranch, this eight-stall barn in Montana uses heavy timber framing and western cedar siding.
The program includes wash and grooming stalls, a lounge/office, large tack rooms, and a loft with a balcony that overlooks an outdoor arena. The barn's deep overhangs create covered areas to wash and groom horses outdoors while a continuous translucent ridge skylight allows generous amounts of natural light within the barn.
Program 8-stall barn, outdoor arena, service building
Completion 2004
Posted in
Equestrian News
,
Projects
|
Tagged Architecture, Barn, barn design, Barns, Blackburn Architects, Equestrian, Equestrian Architect, equestrian design, Equine, equine architecture, heavy timber, horse barn, horse ranch, horse stables, Montana barn, ranch, Stables, western cedar siding
|
1 comment >
06.17.11
As a kid in Tennessee, I grew up around horses, though I had no interest in properly riding them. That I left to my twin sister, who kept her Tennessee Walker named Dixie in a neighbor's barn. For me, playing in the barn's loft for days on end in the summer was much more appealing.
I left Tennessee for Clemson University (B.A. Architecture, 1969), where I developed an interest in designing buildings inspired by context, environment, and function: I became a student of the philosophy that "form follows function." There was no doubt in my mind that I had left horses and the barn behind. After all, I never aspired to be an equestrian architect. I was a student of urban design. Ironically, over 25 years later, I earn a living designing equestrian facilities across the country. That is because a single interview changed my life.
Following graduate school (Washington University in St. Louis, M.A. in Urban Design, 1973), I relocated to Washington, D.C. in pursuit of its urban and robust economy as a place to possibly support a future architectural practice. My former colleague, Robbie Smith, and I began "moonlighting" on small side projects together and decided to create our own firm. As young architects, we'd happily take any project we could get our hands on. So, when Robbie received a phone call from a friend in the summer of 1983 about a fairly large potential horse project in Upperville, Virginia, we jumped. Forget that we had never designed a horse farm, or, for that matter, any other building of size of significance on our own. We had nothing to lose.
The Interview 
Preparation began for the big interview. We learned that the owner, Robert H. Smith (no relation to my partner, Robbie Smith), selected the renowned landscape architect Morgan Wheelock of Boston to plan the farm. Together, the owner and Wheelock sought an architect to design the farm structures to fit within the well-known Upperville and Middleburg, Virginia context.
Typically, during an interview you review your firm's portfolio of completed projects with the potential client. This was not an option for Robbie and me — we'd have to approach this interview differently. Since Robbie was from Middleburg, he was familiar with the area's building types. He spent a few days photographing various buildings in the area — forms, materials, and shapes — that represented Middleburg or Upperville in any way. Barns were certainly photographed, but we also considered residences, commercial structures, and other miscellaneous structures relevant. With plenty of images to inspire us, we selected a number of key examples. Many of these buildings were perhaps a hundred years old and probably weren't designed by an architect. However, we felt they strongly represented the area. We took the photographs and projected the slides on the wall of our small office, traced over them, and transferred the images to illustration boards to serve as our "portfolio" presentation.
I'm not aware of what the other interviewing firms presented, but ours did not include a single building we designed or were designed by any architect, for that matter. Our presentation documented the context of the area in a series of hand-drawn sketches — but, at least, if the owner's farm were to "fit" into the context, these were the shapes, forms, materials, and scale they should have.
We were hired immediately. Suddenly, we found ourselves with seven buildings to design with no staff in an unfurnished office space in a third-floor walkup in Georgetown — and we weren't about to complain. We were embarking on a project that would change our lives.
Horse Sense
Our client, Robert H. Smith, was a very successful developer in the Washington, D.C. area. While he had owned thoroughbred horses for several years, he stabled them at other farms or the track. Now he was ready to start a thoroughbred breeding operation, having acquired approximately 400 acres in Upperville, adjacent to the famous Rokeby Farm (owned by Paul Mellon) on one side and Route 50 on the other. Also included within the property were the grounds to the Upperville Horse Show, the oldest functioning horse show grounds in the United States.
Morgan Wheelock, the landscape architect, brought a background in designing horse farms to the project: with it, his theory that barn design, as well as the farm layout, should be driven by a paramount concern for the health and safety of the horse. The way the building is viewed and placed in the landscape, Wheelock believes, is as important as the design of the building itself. That's because both the farm layout and the barn design impact the health and safety of the horse; concerns possibly even more apparent when operating a breeding facility for thoroughbreds.
Barns are often perceived as dark, dusty, and uninviting buildings. However, it's also widely understood among equestrians that the best environment for a horse beyond the great outdoors is an environment that inspires just that. Wheelock bridged these inconsistencies with a design theory that focused on creating natural light and ventilation within the barn. It was a revelation. While the concepts Wheelock professed were simple, they worked — and beautifully — at our first barns at Heronwood Farm.
10.12.10
I'd like to pass along the following information from The American Horse Council for my Virginia, Maryland, and Washington, DC area readers.
The American Horse Council will be hosting a FREE Tax Seminar featuring Tad Davis on Thursday November 4, 2010 at 6 p.m. at the Tri-County Feeds in Marshall, VA.  This is an open invitation, so feel free to share it with other members of the horse industry so they can learn how current federal tax laws affect them and their equine businesses.  Please see the attached invitation for more details.
This invitation is also posted on the AHC website, so feel free to visit the Events Page on the AHC website for information.  We are asking that anyone that plans to attend please RSVP so w e can have an estimate of how many people to expect.   Please direct all RSVPs to Bridget Harrison at bharrison@horsecouncil.org or 202.296.4031.
09.03.10
Size & Scale
When designing, I'm often concerned about maintaining proper scale and proportion. In equestrian design, arenas in particular pose a challenge simply because they are such large structures. An arena is never small, but since different riding styles determine the amount of space required, it's important to first understand how much space you need. Once you gauge the room necessary to ride, you may consider some of the following elements to design a proportionate and functional arena.
Lower the Stakes
Arenas of all sizes benefit by lowering the structure within the site. Push the structure into the ground and the visual height is greatly reduced. Typically, I recommend lowering the arena four to five feet into the ground. That way you can create an observation area on one or more sides, that has visibility over a kick wall or fence, with an on-grade entrance from the exterior. The "bird's eye view" observation area is excellent for spectators and the lowered grade takes full advantage of the site without increasing the structure's bulk.
If there are several facilities on your site, carefully placing the arena amongst the facilities you have—or the ones you plan to build—can help to break up the arena's large scale. The slope of the roof is often overlooked in prefabricated arenas; often too-low roofs of these structures offer only a massive, box-like look. If, however, the roof is sloped at five in 12 or greater, the arena can appear smaller and fit more naturally into the landscape. Sometimes you'll run into zoning or code restrictions with height, so lowering the arena into the ground can literally give you more working room.
Covered vs. Enclosed
Geographic location is everything when considering an enclosed, covered, or open arena. An enclosed arena is probably necessary in cold or windy climates. Roll-up garage doors with translucent or clear panels on all sides of the arena can provide an indoor-to-outdoor feel; just open it up when the weather permits or, alternatively, close it up during inclement weather.
Lighting
We try to take advantage of natural light in all of our designs—from equestrian to residential—because natural light really can't be beat. A continuous ridge skylight is the most effective method to achieve this, and the technique also increases natural ventilation within the arena. Operable louvers can further contribute to natural light and ventilation while maintaining control as you adjust them accordingly. Any glazing used should be translucent to avoid creating shadows that might confuse a horse. While a large skylight is a more expensive option, various materials can reduce its cost. A naturally lit arena doesn't rely on electric lights during the day, which is another bonus for horses and riders.
04.15.10
An associate of mine runs a great email list that features news and happenings in the equestrian community. The other day, the email contained an article from Maryland's Prince George's County section of The Gazette. Written by Zoe Tilman, the article is about a horse industry task force up for vote in Prince George's County. With several states adding slots venues (such as Pennsylvania, West Virginia, and Delaware), the pressure is on the equine industry to take advantage of its potential revenue power, especially in regard to racinos—the combination of a casino with thoroughbred racing.
Tilman's article points out that Prince George's County isn't necessarily well known for its equine industry, but that the County is interested in spreading the word in order to garner interest and recognition throughout the state. If approved (a vote is expected sometime this month), the horse task force will bring together "state and local equine industry groups and economic development agencies."
While I believe racinos are fun and have their time and place, I do wish there were more public equestrian facilities and parks. However, it seems that many states are becoming desperate to get out of the red, so to speak, and look at slots/gambling as a way out.

08.04.08
Greetings equestrians and welcome to my Blog dedicated to the care and shelter of horses. While my expertise is the architectural design of equestrian facilities, I am part of the larger community of horse lovers dedicated to the humane treatment of horses and all animals. It is in that spirit that I'd like to call your attention to important legislation that is currently under consideration in the U.S. House of Representatives written to prevent the cruelty inherent in the horse slaughter industry.
As horse lovers who give the greatest care to your animals, you may not realize that despite the fact that the last horse slaughter factory in the U.S. was closed in 2007, that there is still a market for the transport of horses across our borders to Canada and Mexico for slaughter for horsemeat. I was surprised to learn that there were still horse slaughter facilities in our country as recently as last year and stunned to know that horse for horse, the same number of horses are now finding their way across our borders for slaughter.
The transport of horses across long distances in extreme temperatures simply adds to the degree of cruelty inherent in the horsemeat industry. According to Representative John Conyers, Democrat from Michigan, and Representative Dan Burton, Republican from Indiana, authors of H.R. 6598, The Prevention of Equine Cruelty Act of 2008, amends a previous section of U.S. Code that prohibits cruelty of animals for financial gain. That code, Chapter 3 of Title 18 of U.S. Code, resulted in the closure of the last horse slaughterhouse in the U.S. just last year. However, it didn't anticipate that the market for American horses for slaughter would simply move across the borders to Canada and Mexico therefore increasing the suffering of horses destined for slaughter.
The new law specifically prohibits the transport of horses for slaughter and specifies punishment stringent enough to be effective. I hope you'll join me in supporting the legislation—let your representative know that you think this is a crucial step to take to ensure the humane treatment of American horses. Here is a link to a form letter written by the Humane Society of the U.S. to make speaking out on behalf of horses as easy as possible:
If you're interested in an eye-opening, in-depth history of the consumption of horsemeat, you should see the March 2008 issue of Horse Connection Magazine. Editor Geoff Young shined the light on this American taboo.
Please let me know what you think about this important issue.