farm planning
08.29.17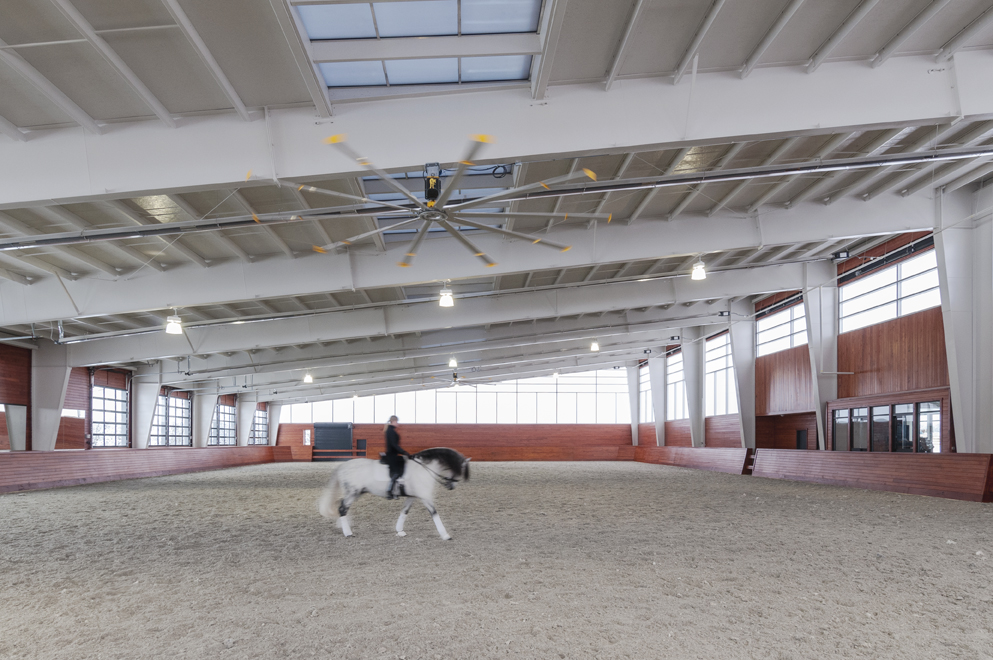 Hi John. I hope you had a wonderful summer!
Q: Our covered arena has been put to good use throughout the last year, but we really need lights to make it even more beneficial to our program. Given your expertise and experience with equestrian barns and arenas, I was hoping you might be able to give us some guidance.
We are having a hard time determining exactly what kind of and how much lighting is necessary. Do you have a formula that you use?
Any help you can provide would be greatly appreciated. I look forward to hearing from you!
Best,
Undercover Rider
Dear Undercover Rider:
Glad to hear all's well.
I would be happy to offer some guidance on lighting for your arena.
A: I typically recommend approximately 35 to 50 foot candles per sq ft of light on the arena floor in order to provide a sufficient amount of light for a variety of functions. It also depends on the amount of reflective surfaces you have and the color of those surfaces including the arena floor material.
If you are anticipating a variety of entertainment type functions such as charity events, parties, etc you may want to consider a variety of type mood lighting for different events.
There are also a variety of type lights to consider such as metal halide, LED, HD, etc.
There are other factors to consider as well such as initial cost, operating cost, maintenance or lamp life and also the design of the fixture (bird protection, fire safety, etc.)
We are beginning to use LED more often now. I hope that helps!
John
11.01.16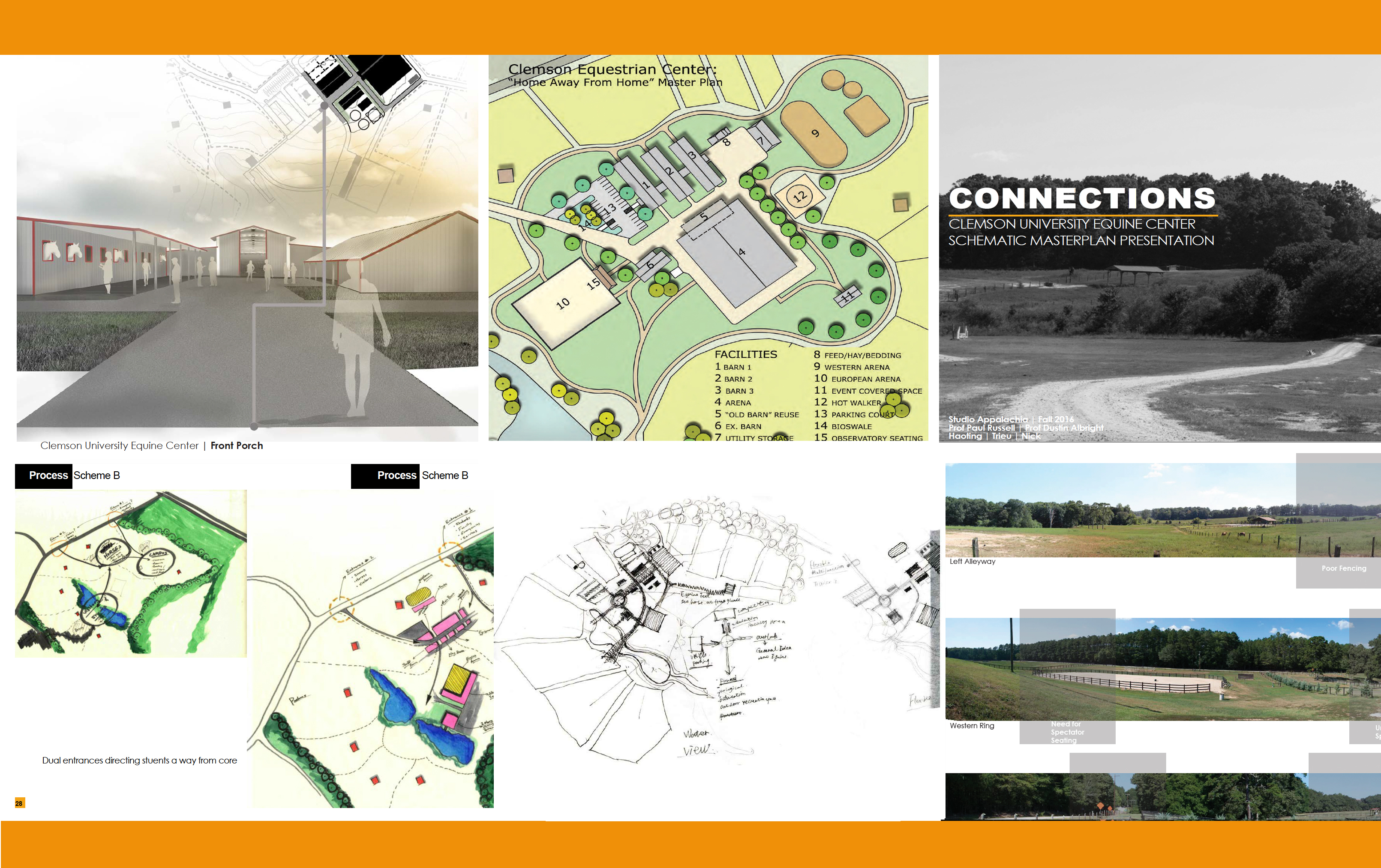 Checking back in to report what's been happening at Clemson's School of Architecture & Studio Appalachia.
 In case you missed it… Studio Appalachia is a collaborative, project-based graduate design studio between Clemson's school of architecture and its department of landscape architecture. The Studio is directed by associate professors Dan Harding and Paul Russell. Studio Appalachia targets issues such as: accessibility to natural resources, sustainable building strategies, and approaches to long term visioning and planning.
I was asked to participate in this year's studio because it involved horse facilities, specifically re-envisioning the Clemson University Equine Center (CUEC). With aging facilities that are well-used and well-loved, I knew it would be fascinating to see how these talented students created a fresh program for the facility. The teams of architecture and equine business students (a new twist for the studio) have spent the last several weeks immersed in detailing the site and facility requirements, learning about design issues unique to equines.
Teams consisting of three to four students conducted rigorous research, made several site visits, interviewed user groups, studied topography, considered land, sun, wind, circulation paths and traffic flow to create detailed and well considered Master Plan Studies and Field Reports.
Referencing the evolving formal and material contexts of Southern Appalachia, the four teams stated as goals to "improve circulation, establish organization, and enhance the (existing) ecology of the historic Clemson farm. To them, as one team eloquently stated, the CUEC is more than a farm; it is an institution that showcases the prestige of the university, and embodies the history, strength, and energy that the equine program was founded on.
The preliminary master plan schemes presented earlier in October were successful in developing goals and considerations for further study. The studio presents preliminary concept designs later this week and I'm looking forward to the big reveal.
02.02.16
Coming off the heels of a truly epic storm for the Washington D.C. area (and most of the east coast!), I thought I'd take a moment to address how design techniques can help barns "weather" extremes.
In the United States, the upper northeast regions through to the Midwest are prone to experience weather extremes in the form of snow and ice. While we cannot entirely "weather proof" a barn, we can make it more resilient to some of the more damaging effects of weather phenomena.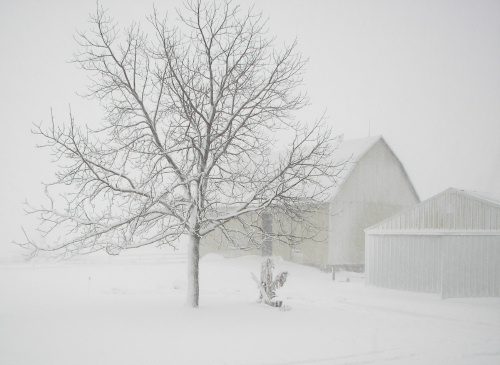 The roof of your barn needs to be able to:
Withstand the weight of snow and/or effectively shed it
Prevent or reduce the formation of ice dams
Redirect "roof avalanches" from sliding into high traffic or poor drainage areas and also reduce associated noise that could frighten the horses.
In addition to contributing to the Bernoulli principle I incorporate for natural ventilation, steeply pitched roofs also contribute to effective, gradual roof shedding and the redistribution of snow load. Ideally the pitch should be between 4/12 and 6/12 to get the optimal shedding effect (although, we generally try to keep pitches at 7/12 or more to take full advantage of the Chimney Effect and Bernoulli principle for natural ventilation)
Roofing material will also factor into how the snow will shed. Metal roofs are excellent as they are smooth and slick. They will also stay colder longer; reducing the likelihood that snow will melt and form ice dams (more on this below). Snow will shed from a metal roof even if the pitch is lower. Shingled roofs, however, will slow down the shedding process by "holding on" to the snow and allowing it to stay in place and accumulate. Consider a steeper pitch if you prefer a shingled roof as it will facilitate the shedding process over the rougher material.
Now, you might be saying to yourself, "Well, the snow is off the roof…but it's all over the place! Now what?" Including strategic roof overhangs will complement the steeper pitch by helping to distribute shedding snow away from exterior walls and out of traffic and poor drainage areas. Be wary though, snow sliding off roofs can be noisy and frightening to horses, not to mention dangerous if it falls on you! Snow guards on the roof can help reduce the noise associated with shedding snow and keep huge sheets of it from falling on (and potentially harming) 2 and 4 legged passersby. Gabled dormers over entryways can also be useful. They help to direct snow off to the sides.
Ice dams are another unfortunate side effect of snow-laden roofs. An ice dam forms when the underside of the roof gets warm enough to thaw the bottom layer of snow sitting on the other side. The water makes its way down to the eave where it refreezes, eventually growing into a mound of ice. As the ice dam gets larger, it can pull the shingles and edges up allowing water to get through and into the insulation and walls. Water damage then wreaks havoc on the interior of the barn. The ice dam could also break off the eave and take pieces of the roof with it or fall on passersby. Sure, there are ways to deal with ice dams once they've formed, but natural ventilation can help prevent them upfront. Natural ventilation keeps the underside of the roof within 10 degrees of the outside temperature, which aides in keeping that critical layer of snow right on top from thawing and running down towards the eaves.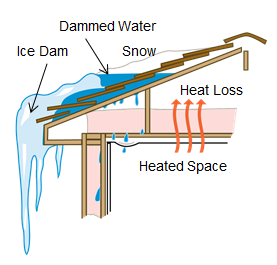 Site and circulation planning can help prevent and/or reduce the impact of icy conditions around equine walkways. In the interest of horse safety, I try to design site circulation so that horses do not need to move over asphalted areas intended for trucks and service vehicles (there are other benefits associated with that as well). Asphalt is not great for horse's knees, generally, but it is particularly problematic when wintery conditions lead to the formation of "black ice" — a thin sheet of ice over the asphalt that can be imperceptible to the horse or persons walking on to it. Horse pathways in and around the barn should include porous footing that absorbs and carries moisture away quickly. Presently there is no way (that I know of) to prevent pastures from freezing over, but you can maintain a dry paddock or "sacrifice" lot where your horses can be turned out when pastures have been effected by inclement weather. Paddocks with considerable slope can be particularly hazardous when they freeze over. That's when a "level" dry lot can be very useful!
As many on the east coast found out this past week, there is only so much preparation you can do in a couple of days before a storm hits. You, your horses, and your barn will benefit from built in preparation.
Posted in
Equestrian News
|
Tagged barn architecture, barn design, beechwood stables, black ice, Blackburn Architects, dormer, Equestrian Architect, extreme weather, farm planning, gable, horse barn design, horse stables, ice, ice dam, ice damming, John Blackburn, overhang, roof, roof pitch, snow, snow load, snow shedding
|
Leave a comment >
10.08.15
Barn managers across the nation are gearing up for the winter by gathering and storing the last of the season's hay yield. After reading several recent articles on barn fires as a result of spontaneously exploding hay bales, I thought I'd recommend another hay storage option from a planning (and horse health and safety) perspective.
Barns are often portrayed in art and media with prominent, overflowing haylofts. And why not?! They make for convenient, easy-access storage. There are countless pop-culture depictions of haylofts as hiding places, romantic destinations, and play areas (I spent a good bit of childhood playing in haylofts, to be honest!) And though these images are mostly innocuous, they, unfortunately, reinforce the idea that this space is the "of course "option for hay stockpiling. Historically, hay has almost always been stored in the barn, but as hay curing and combustion research further developed, it became evident that these traditional storage methods were contributing to unsafe conditions for the barn inhabitants and the structures themselves. The popularized image of haylofts did not keep up with the findings. I have long argued that haylofts in barns should be avoided. As convenient as they may be, there are better options to safely store bulk hay.
Recent articles in both the Paulick Report and The Horse have excellent, detailed information about the hows and whys of spontaneous hay combustion and how to quell the effects of improperly cured hay. Eye-opening reads for sure, but I must stress the benefit of alternative bulk hay storage as an additional preventative measure.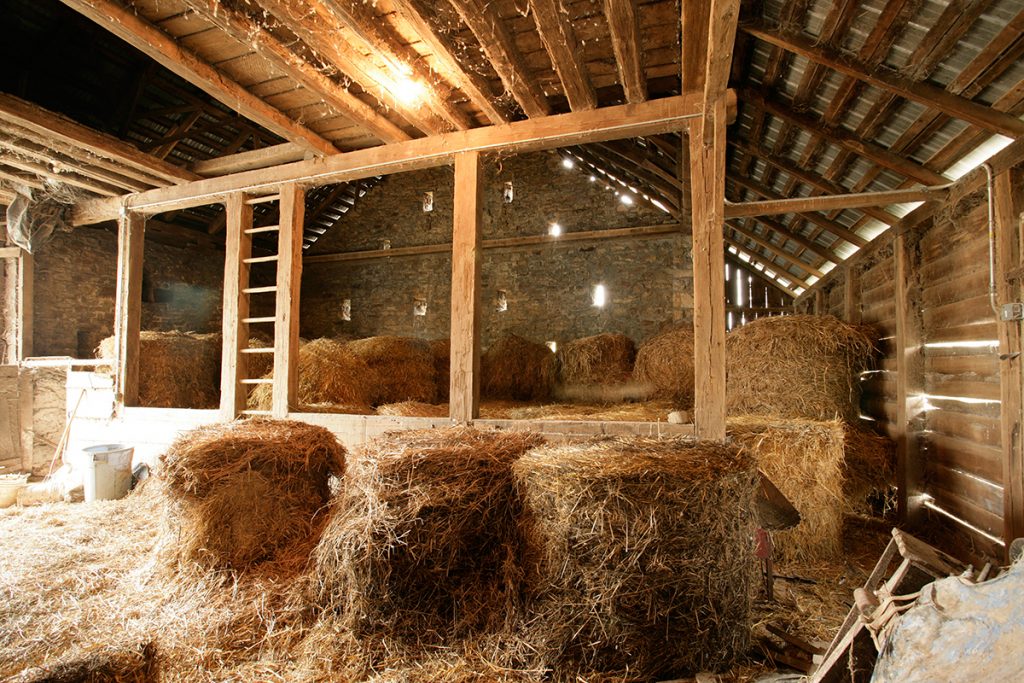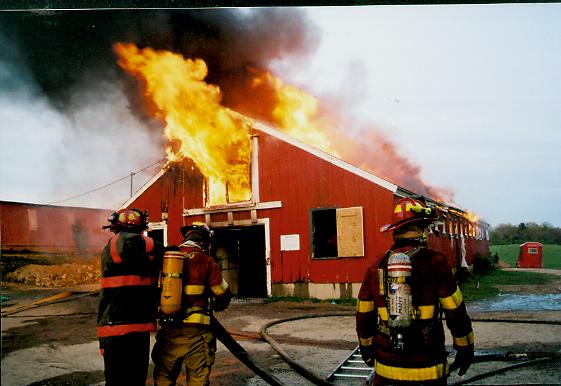 We typically recommend bulk hay to be stored in a separate hay-barn altogether. Ideally, this structure would be at least 100 ft. away from the main barn. With proper planning, this method can also contribute to efficient farm circulation by establishing pathways that do not obstruct main throughways and drive unnecessary noise and commotion out of sight and earshot of nervous equines – another safety factor to think about. Driveway access and asphalt surfaces can also be confined to the hay barn area too, eliminating – or at least reducing- asphalt use around the main barn, which can be uncomfortable footing for horses and, in some parts of the country, potentially dangerous in winter. The added bonus of less installation cost and hassle is also something to consider!
Perhaps you're now anxiously biting your nails at the thought of having to haul hay from the hay-barn 100 ft. away every single day. We wouldn't want to do that either! For convenience, we recommend 7-day storage within the main barn, usually as an isolated stall, but arranged in such a way that it is easy to load, convenient for access, open to natural ventilation, sheltered from precipitation, and set upon a moisture-absorbent surface. Though we do not recommend bulk storage within the barn, we understand it's not always feasible for a barn owner to commission an architect to design a separate storage. In some cases, the owner has simply "always done it that way" and is adamant about continuing to do so. Regardless of budget or insistence, we make it a point to at least create a solid fire and smoke separation between the main stalling area and hay storage. Our first priority is always the horse.
Hopefully the "hayday" of the hayloft is behind us and we can continue to encourage owners to consider relocating their bulk-hay stores. For now, if the barn is hosting 7 days worth of hay or the entire supply, we take every precaution to minimize health and safety risks to your horse.
Posted in
Equestrian News
|
Tagged equine planning, farm planning, Hay, hay barn, hay curing, hay fire, hay fire prevention, hay loft, hay stable, hay storage, hay storage alternatives, hayloft, Paulick Report, The Horse
|
Leave a comment >
09.22.10
Originally on a 200-acre parcel of lush green rolling hills in Kentucky horse country between Layette and Bourbon Counties, Monticule Farm was named for the French word for a small mountain. Blackburn Architects worked with famed landscape architect Morgan Wheelock to develop the property, now over 600-acres, into one of the industry's best commercial breeding facilities. Blackburn designed a 20-stall broodmare barn and a 16-stall yearling barn in the style of other large Kentucky horse farms from the 1940s. In 2008, Blackburn provided master plan and concept design services for a four barn stallion complex; each barn contains four stalls. This project was featured in Keeneland Magazine.
Program 16-stall yearling barn and 20-stall broodmare barn
Completion 2000 (broodmare and yearling barns); 2008 (stallion complex)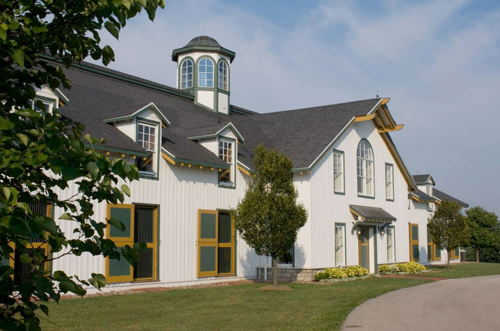 07.23.10
Where your barn sits on your property is one of the first decisions you'll make when planning for a new barn. Grade, drainage, proximity of service roads, prevailing winds, and barn angle in relation to the sun all play a key role in the health and safety of your horses.
Equestrian site planning can help you avoid mistakes that can have significant health consequences for your horses, as well as improve the efficiency of daily operations. Here are a few points to consider when site planning with the environment in mind.
Building orientation as it relates to the path of the sun and prevailing winds.
This single decision—where to place your barn—has a huge impact on energy efficiency as well as the health and comfort of your stabled horses. Harnessing passive solar heat energy and prevailing breezes can keep your barn cool in the summer and warm in the winter. Design decisions that include the placement of façade openings, overhangs, skylights, roof vents, and more allow a building to work with solar energy passively.
Drainage lines, water conservation, prevention of pollution.
Barns and arenas create large footprints with massive roof spaces. Water displacement should be considered so that water draining from the barn site doesn't contaminate local streams with hazardous runoff, cause soil erosion, and water loss. Storm drainage can be collected and returned to the ground or conserved for other purposes.
Site disturbance
Construction machinery can cause soil erosion, damage root systems of timber, and destroy sensitive grassland. Stockpiles of materials can create similar damage to the natural ecology. Thoughtful placement of machinery and materials is important. Where paving is necessary, choose recycled, permeable materials. Plan adequate paddock spaces and establish a paddock rotation plan so that horses can rotate the use of outdoor areas to avoid damage to sensitive grasslands.