horse farm
11.01.17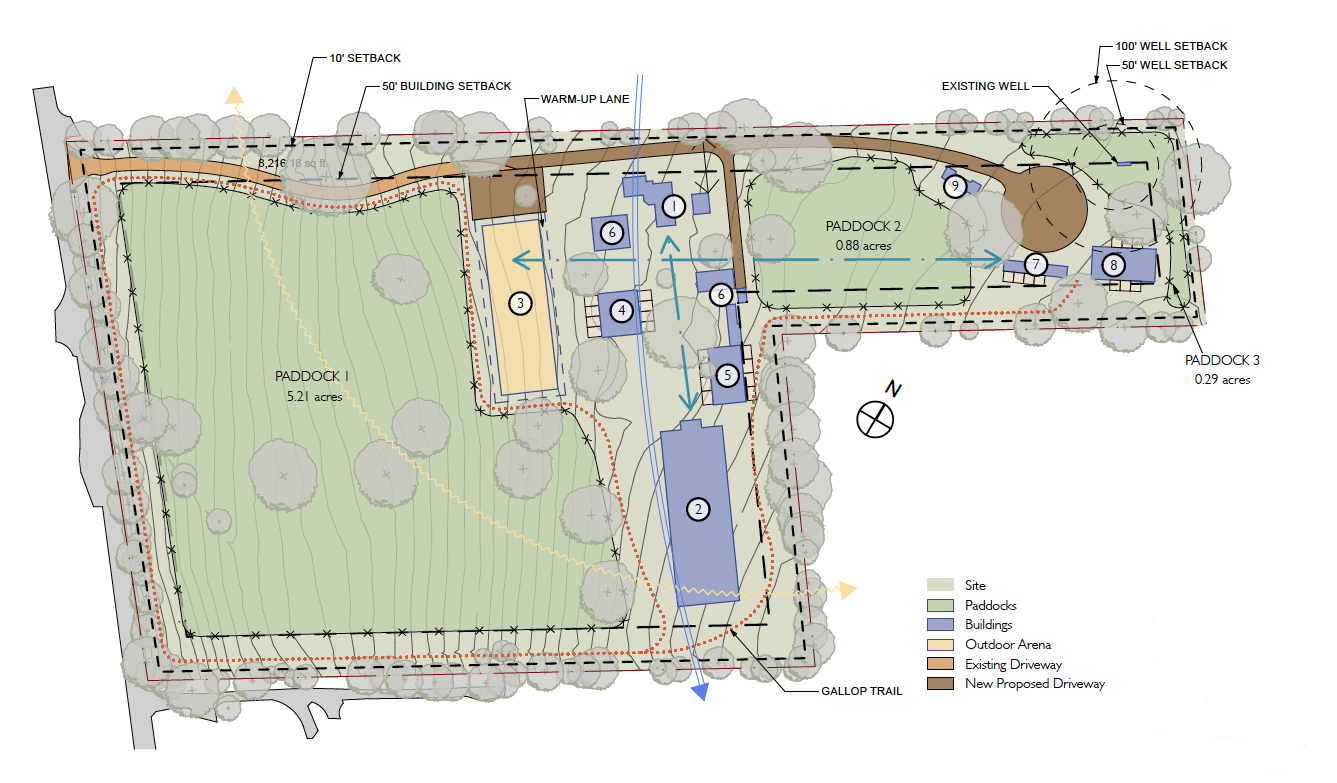 Q: Dear John,
We have a house on 3 acres of land with a 4-stall metal barn. It's been years since horses have been on the property. The pasture and paddock are overgrown with trees and shrubs and are now essentially wooded areas. The fences are in disrepair. The area is hilly. We need to see if we can flatten an area to use as a riding ring. Drainage will be an issue. Basically, we need to figure out a way to rework what's here to maximize what we can use. We understand that it will be a large undertaking and we want to properly plan to do it right and complete in several stages over a couple years.
Your website has been helpful and informative, but any additional information would be greatly appreciated.
Thank you,
Midwestern Equestrian
A: Dear Midwestern Equestrian,
Almost weekly, our office receives calls or emails from people who own a property and plan to put horses on it. Maybe there's already an old structure there. Or perhaps they want to start from scratch. They ask for advice on where to begin.
Midwestern Equestrian, I suggest you start with a site plan. Even with an existing structure (your 4-stall barn), there are so many benefits to putting together a "roadmap" for future changes/improvements. And since you want to put four horses on three acres, efficient planning is critical. Consider that there are three major categories of costs when planning to bring horses onto your property: 1. Operational, 2. Environmental, and 3. Infrastructure. Proper planning will save you money in all three areas. Fewer roads, less fencing, better drainage all ensure that the whole farm, not just the horse barn but the entire collection of structures on the site, operates efficiently and safely.
Operational Considerations: First locate where you'll put the horses – where is your turnout? Where will you store hay, equipment, or vehicles? Do you have access for manure pickup, large-truck deliveries, guests or visitors? Minimizing the number of steps necessary for your daily routine (turnout, stall mucking, etc.) will save labor time, which of course you know is money in the farm biz. Planning will also preserve space for paddocks.
Environmental Considerations: Figure out structure placement within your acreage. It's important to properly orient any new buildings in the landscape. We design our barns to generate their own ventilation, placing them perpendicular to prevailing summer breezes. (One of many design considerations for maximizing light and ventilation, which is a subject I've written about often.) Additionally, placing structures where the land will drain easily makes good sense.
Infrastructure Considerations: Fewer roads to maintain means fewer dollars spent.
Creating a master plan does not mean that every part of it needs be built at once. The plan may end up taking years to implement, but as each new structure or paddock is added, it isn't done in the usual haphazard way. It will save you from asking, "You know, I could use a tractor shed somewhere?" Even those with very limited budgets should consider getting the advice of an expert at the planning stage, given the importance of the optimum farm layout.
Hope this helps in your planning, and good luck with your farm!
John
Posted in
Equestrian News
,
News and Press
|
Tagged Blackburn Architects, Blackburn Architects barns, Dear John, Dear John advice, equestrian design, equestrian facility, Horse, horse farm, horse stables, John Blackburn, John Blackburn advice on site planning, Master Plan for a horse farm, Site plan for equestrian property, Site planning a horse farm, Stables
|
Leave a comment >
05.29.12
Today's blog comes from Macy Carman, an enthusiastic and talented student (and equestrian!) from Hollins University in Virginia. Macy, an environmental studies major who is considering graduate studies in architecture, spent some time with us to learn about what it means to be an "equine architect." In turn, my staff and I got to spend some time picking her brain about her invaluable experience as a groom for Pollard Eventing. (On a sad note, our thoughts are with everyone at Pollard Eventing. Macy travelled back to be with her horse family after the tragic car accident that claimed the lives of three horses last week.)
HERE'S MACY:
I knew I had picked the right architecture firm for my internship when John Blackburn started out my first day with what he referred to as his "dog and pony show." I love pony shows! I am a lifelong rider, member of the United States Pony Club, and looking forward to a career in designing equestrian facilities, so I knew I was in for a treat.  And I was…the presentation he showed me displays many of the options that are available to clients as well as the principles he bases his designs around: natural light and proper ventilation. I think that he could convince anyone that these are the most important concepts behind a facility!
During my time with the Blackburn team, I was able to accompany John to a Virginia Farm where he was interviewed for a video (stay tuned for the final project). After spending so much time discussing the process to designing a barn, I certainly had a different perspective when touring the facility. While my practical experience with horses, combined with time spent in a variety of barns, has instilled in me the importance of a well thought out facility for the safety and well being of the horse and rider, I picked up on a lot of smaller details. John had a reason for why every detail was exactly the way it was, and was happy to answer all of my questions. Watching his interviews, I got a sense that he cares for the horses just as much as the owners, which is exactly what we horse people are always looking for.
Over the course of my first week here, I have talked to everyone in the office about their projects, their academic paths, and their thoughts on barn design. As interested as I have been in barn design over the years, I have never given thought to many things Blackburn consistently addresses, like making sure that vehicles, visitors, and horses are separated at all times. Who knew a driveway needed so much planning? Everyone in the office has been very welcoming, and I hope that I have been able to provide a slightly different perspective as a rider and a groom. I look forward to absorbing a greater understanding of equestrian design during the rest of my time here- and maybe some tips on my graduate school applications too. I would like to thank the whole office for having me.
09.25.11
Located outside of Camden on 42 acres in South Carolina's horse country, this private horse farm for the training of hunter/jumpers was designed to include a new 10-stall barn to accompany an existing four-stall and eight-stall barn. The newer stall complex forms a center courtyard.
Program 10-stall barn
Completion 1999 (master plan), 2001 (barn and service structures)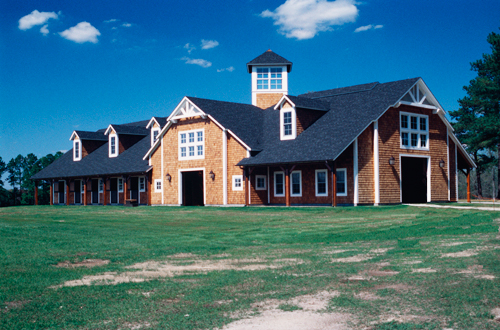 06.17.11
As a kid in Tennessee, I grew up around horses, though I had no interest in properly riding them. That I left to my twin sister, who kept her Tennessee Walker named Dixie in a neighbor's barn. For me, playing in the barn's loft for days on end in the summer was much more appealing.
I left Tennessee for Clemson University (B.A. Architecture, 1969), where I developed an interest in designing buildings inspired by context, environment, and function: I became a student of the philosophy that "form follows function." There was no doubt in my mind that I had left horses and the barn behind. After all, I never aspired to be an equestrian architect. I was a student of urban design. Ironically, over 25 years later, I earn a living designing equestrian facilities across the country. That is because a single interview changed my life.
Following graduate school (Washington University in St. Louis, M.A. in Urban Design, 1973), I relocated to Washington, D.C. in pursuit of its urban and robust economy as a place to possibly support a future architectural practice. My former colleague, Robbie Smith, and I began "moonlighting" on small side projects together and decided to create our own firm. As young architects, we'd happily take any project we could get our hands on. So, when Robbie received a phone call from a friend in the summer of 1983 about a fairly large potential horse project in Upperville, Virginia, we jumped. Forget that we had never designed a horse farm, or, for that matter, any other building of size of significance on our own. We had nothing to lose.
The Interview 
Preparation began for the big interview. We learned that the owner, Robert H. Smith (no relation to my partner, Robbie Smith), selected the renowned landscape architect Morgan Wheelock of Boston to plan the farm. Together, the owner and Wheelock sought an architect to design the farm structures to fit within the well-known Upperville and Middleburg, Virginia context.
Typically, during an interview you review your firm's portfolio of completed projects with the potential client. This was not an option for Robbie and me — we'd have to approach this interview differently. Since Robbie was from Middleburg, he was familiar with the area's building types. He spent a few days photographing various buildings in the area — forms, materials, and shapes — that represented Middleburg or Upperville in any way. Barns were certainly photographed, but we also considered residences, commercial structures, and other miscellaneous structures relevant. With plenty of images to inspire us, we selected a number of key examples. Many of these buildings were perhaps a hundred years old and probably weren't designed by an architect. However, we felt they strongly represented the area. We took the photographs and projected the slides on the wall of our small office, traced over them, and transferred the images to illustration boards to serve as our "portfolio" presentation.
I'm not aware of what the other interviewing firms presented, but ours did not include a single building we designed or were designed by any architect, for that matter. Our presentation documented the context of the area in a series of hand-drawn sketches — but, at least, if the owner's farm were to "fit" into the context, these were the shapes, forms, materials, and scale they should have.
We were hired immediately. Suddenly, we found ourselves with seven buildings to design with no staff in an unfurnished office space in a third-floor walkup in Georgetown — and we weren't about to complain. We were embarking on a project that would change our lives.
Horse Sense
Our client, Robert H. Smith, was a very successful developer in the Washington, D.C. area. While he had owned thoroughbred horses for several years, he stabled them at other farms or the track. Now he was ready to start a thoroughbred breeding operation, having acquired approximately 400 acres in Upperville, adjacent to the famous Rokeby Farm (owned by Paul Mellon) on one side and Route 50 on the other. Also included within the property were the grounds to the Upperville Horse Show, the oldest functioning horse show grounds in the United States.
Morgan Wheelock, the landscape architect, brought a background in designing horse farms to the project: with it, his theory that barn design, as well as the farm layout, should be driven by a paramount concern for the health and safety of the horse. The way the building is viewed and placed in the landscape, Wheelock believes, is as important as the design of the building itself. That's because both the farm layout and the barn design impact the health and safety of the horse; concerns possibly even more apparent when operating a breeding facility for thoroughbreds.
Barns are often perceived as dark, dusty, and uninviting buildings. However, it's also widely understood among equestrians that the best environment for a horse beyond the great outdoors is an environment that inspires just that. Wheelock bridged these inconsistencies with a design theory that focused on creating natural light and ventilation within the barn. It was a revelation. While the concepts Wheelock professed were simple, they worked — and beautifully — at our first barns at Heronwood Farm.
01.11.11
Just a quick note to share the following list of farms that are offering open houses this year as posted by Throughbred Times. Lane's End Farm, a Blackburn project in Versailles, Kentucky, is offering tours from 10 a.m. to 2 p.m. daily through January 14th. If you own or work at a farm that would like to be included on the list, email copy@thoroughbredtimes.com with your information. I'd welcome your thoughts if you happen to tour Lane's End or any of the other farms. We designed Lane's End Farm in collaboration with Morgan Wheelock, the talented landscape architect, as the Farm greatly expanded its operations from 1990 to 1995. However, the design intent – striving to provide as much natural light and ventilation as possible within the barns – remains as important today as it did then.
Posted in
Equestrian News
|
Tagged Barn, Barns, Blackburn Architects, Farms, horse barn, horse farm, John Blac, Kentucky, Lane's End Farm, Morgan Wheelock, Stables, Thoroughbred Times, Versailles
|
Leave a comment >
09.22.10
Originally on a 200-acre parcel of lush green rolling hills in Kentucky horse country between Layette and Bourbon Counties, Monticule Farm was named for the French word for a small mountain. Blackburn Architects worked with famed landscape architect Morgan Wheelock to develop the property, now over 600-acres, into one of the industry's best commercial breeding facilities. Blackburn designed a 20-stall broodmare barn and a 16-stall yearling barn in the style of other large Kentucky horse farms from the 1940s. In 2008, Blackburn provided master plan and concept design services for a four barn stallion complex; each barn contains four stalls. This project was featured in Keeneland Magazine.
Program 16-stall yearling barn and 20-stall broodmare barn
Completion 2000 (broodmare and yearling barns); 2008 (stallion complex)