Horses
12.14.15
I had the pleasure of attending the 2nd annual Equus Film Festival in NYC recently, an event that Blackburn Architects sponsored last year and again this year.  Included in this year's line-up of activities was a tour of the Clinton Park carriage horse stables. Until just recently I had not had the opportunity to explore the city stables so this was my first visit. It was something I had long been looking forward to especially given the controversy surrounding the horse carriages. Now having toured the facilities, I thought I'd offer my perspective as an architect who specializes in the design of safe and healthy horse stables.
Having heard and read tales about the conditions the horses were living in and being an adamant proponent of horse health and safety, I was anxious to see the stables for myself and determine from my own expertise if or how the stable conditions contributed to or confirmed these claims of abuse.  The tour was lead by carriage driver and working horse advocate, Christina Hansen.
Clinton Park is the largest stable of the city's four. It was built in the late 19th century and has operated as a stable for horses serving the City since it was constructed. It is currently owned by a co-op of carriage owners. It houses over 70 horses and over half of the city's 68 carriages. The first floor is strictly "operations" and includes storage for carriages, maintenance for equipment and a couple small offices. Ramps lined with rubber mats lead to the 2nd & 3rd floor areas where the horses are kept. All the stalls are at least 60 sq. ft. or larger and each contains a fan and an automatic waterer. Considering the size of the carriage horses, I'd say the stalls are on the "cozy" side, but not alarmingly so. The stalls are mucked twice a day and the stables are attended to by at least 3 personnel 24/7.
My tour took place during the fall (November), so I can't attest to what the facility is like in the dead of winter or the heat of summer.  However, I was impressed with the efforts and procedures put in place to provide adequate ventilation for both seasonal extremes (good ventilation is critical to the health of the horse in all types of weather.)  Furthermore, I was pleased to learn that the horses work on a rotation schedule where they are sent to the country for four to five months out of the year and work the remaining months – a work schedule many humans would love to have. Sign me up!
I've read recently, that Mayor de Blasio has modified his position on eliminating the horses all together in favor of reducing their numbers and confining them to Central Park. I've been a vocal advocate for horse activity to continue in New York City and have stood by the NYC Carriage Horse drivers in their pursuit to remain in operation. Like Mayor de Blasio, I too feel Central Park would be a great option to house some of the horses, however I don't support the idea of reducing their numbers. This visit has given me a new perspective on the current carriage horse stabling and I feel they should remain in operation. I do feel that Central Park, as a prominent tourist destination, could benefit from being "friendlier" to equine activity. More riding trails, expanded carriage lanes, rubber standing mats for carriage horses while they wait for patrons, and maybe a "living museum" or educational event that pays tribute to the city's equine past are just a couple ideas to get started on expanding the Park's equine amenities.
As for the existing stables, I did not witness conditions that I would consider detrimental to the horse's health or safety.  In fact, I was quite impressed by the care and concern that the horse owners, drivers and other handlers provide the animals.  Sure, they operate out of an historic structure that could use significant physical improvements, but in my 30+ years of experience designing for horses, I have never encountered an occasion where a horse required "new" finishes, fresh paint, or other nice finishes that humans enjoy. A horse's basic needs (light, natural ventilation, quality feed, comfortable/ clean bedding, regular exercise, etc) are what need to be met and I feel the Clinton stables provide that. I would, of course, be happy to provide recommendations for improvements should the owners ever want to upgrade. The stables embody a lengthy heritage of metropolitan horse stabling and continue to operate safely and effectively to that purpose.
Ultimately, we need to support the horse carriage industry and encourage more use of horses in the city, not less. I remain adamant in my concern for the protection, health and safety of all horses in all activities and I continue to fight for the preservation and expansion of equine related activities in everyday life (riding, showing, therapy, sport, etc).
03.22.12
Over the years, I've collected much too many photos of barn details, which includes everything from latches on stall doors to drains in aisles. It's only natural to collect the things you love, right? I often refer to my virtual stash of detail images when I'm designing a barn and hope they might serve as an inspiration to you as well. I will probably add to the collection (correction: I WILL add to the collection because I won't be able to help myself) over time. What can I say, the details separate a fine barn from a fantastic barn. On that note, I hope you'll forgive my lack of photography skill. Some of these images were taken during or just after the construction process by yours truly. That should serve to explain any and all photos with incomplete landscapes (aka piles of dirt) and unique angles (aka crooked) that are artistic-driven (aka fuzzy, out-of-focus) images.
By way of introduction to my collection, I think it seems fitting to begin this set barn detail images with the door. Every dutiful, the door is a part of every barn, everywhere. (At least I hope so.) You'll see many images of my favorite, the Dutch door, which aids ventilation within the barn. There's also human-only doors, main entrances, side doors, etcetera. Hopefully it's not too much of a hodgepodge for you to enjoy.
Incidentally, I've asked one of the more tech savvy staff (basically anyone but me) to link these images on Pinterest; we're attempting to hop on that fast-moving train because we architects sure appreciate a visual aid. If you're a Pinner yourself, let me know so we can follow you there. Until then, happy collecting!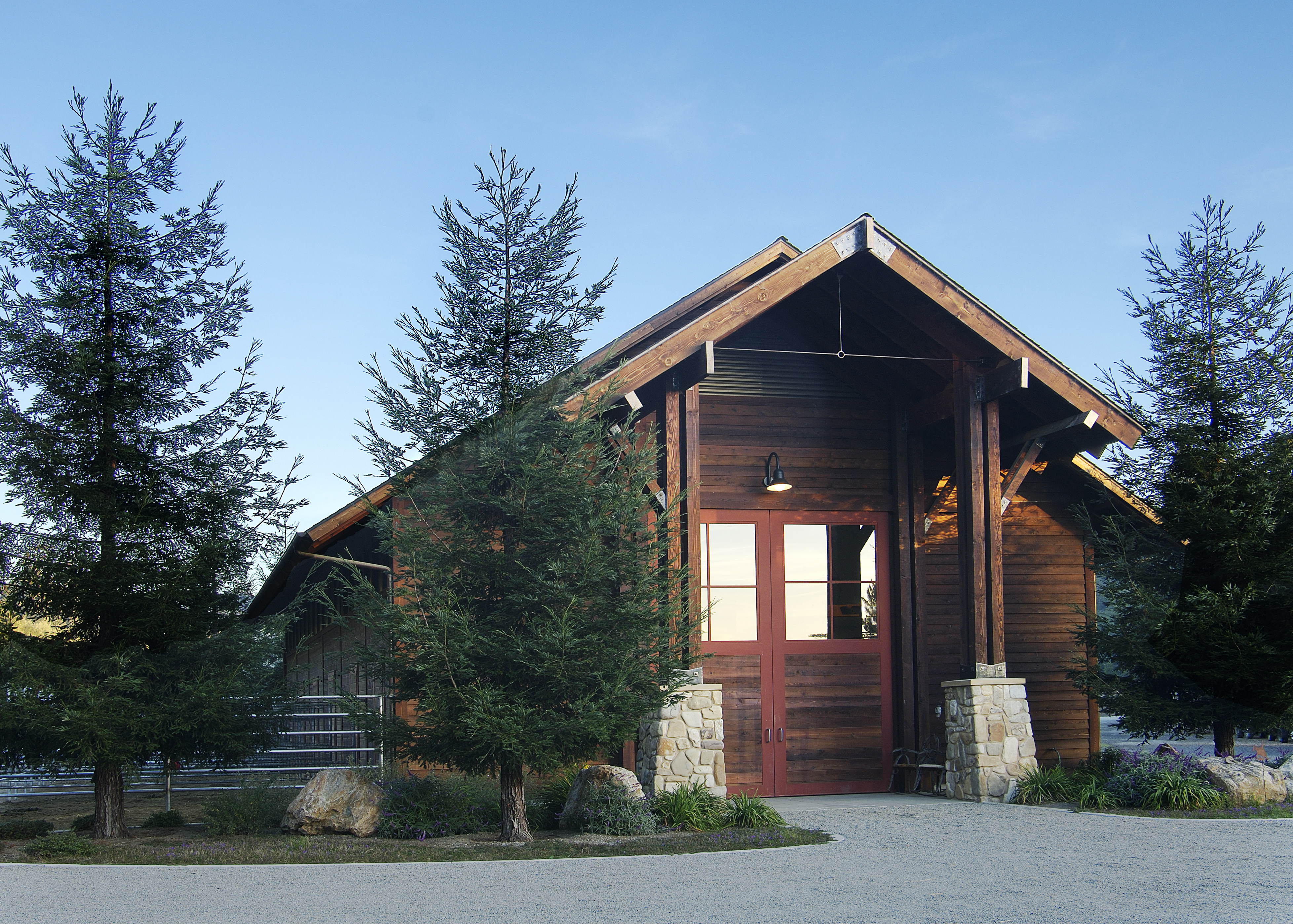 Dear disgruntled artists: the key to success isn't kicking down the door; it's building your own.
Brian Celio
Read more:http://www.brainyquote.com/quotes/keywords/door_14.html#ixzz1pshKJzeM
02.14.12
This lush and private ranch is located just north of Seattle. The 100' x 200' arena, which features a "crow's nest" observation area, will be used for hunter/jumper and show training as well as recreation. The new structure, nestled in the Northwest Mountains, fits into the site unobtrusively and reflects the Tudor-style of the existing residence, favored by its owners. Future plans to occur in phases are a 20-stall barn, parking and service buildings, and a caretaker's cottage.
Program 100' x 200' enclosed arena, future phases include 20-stall barn, parking/service buildings, gatehouse
Completion 2010 (arena construction)
Posted in
Equestrian News
,
Projects
|
Tagged Arena, arena design, Arlington, Blackburn Architects, Circle B Ranch, Equestrian, horse arena design, horse riding arena, Horses, indoor riding arena, WA
|
1 comment >
04.25.11
Seemingly, about a foot of snow buried the construction site at Beechwood Stables, a future barn and arena in Massachusetts at any given point from December through March.
Since then, as the weather in Massachusetts grows milder, the construction at this private farm (a project in association with Marcus Gleysteen Architects) is finally taking a shape other than a snowdrift. In the works are a 12-stall barn, a storage facility with recreation and lounge space, and an indoor arena with an observation lounge.
As foundation and underground work began over a winter season that yielded 60 inches or so of snow in the Boston area (with January 2011 alone dropping 38 inches), well…I'm sure you're not surprised to read that delays were bit of a problem. By the end of the winter, there may have been more snow removal than soil stockpiled on the job site!
Even on April Fool's Day (go figure), the area received a dusting of the white stuff. That's why I couldn't be more pleased for this patient client of ours as we approach the warmer months. Work at the private farm has progressed smoothly ever since the steel and timber arrived in early April; see the progress in the following photographs.
As you might expect with such a substantial project, we gave much consideration to the structural work and foundation. Specifically, we needed to determine how to erect and tie together stone column bases that weighed approximately 200 lbs. each and 21-ft. tall timber columns while allowing for enough movement to install the beams and rafters. In the end, the collaboration and discussion on how best to detail this connection took longer than it did to actually assemble, thanks to the efficient crew at New Energy Works and the careful planning between Kenneth Vona Construction (general contractor) and DeStefano & Chamberlain (structural engineer). I'm happy to report that the bases and timber columns went up without so much as a groan.
Following that, steel columns and perimeter beams were set in about two days; the timber frame for the barn and connecting link took a little over a week. Since then, the contractor has been busy working on the barn framing, preparing all of the openings for sheathing, and the steel fabricator has assembled all of the steel rafters and is completing final welds. Within about a month, the walls of the barn and connecting link will be complete and the roof work will begin. Assuming the weather behaves, of course.
In the meantime, timber for the arena observation room and support spaces is being fabricated along with the SIPs (structural insulated panels) that will cover two-thirds of the project.
So, here's to spring weather and speedy progress on an exciting project that we hope the owner and their horses will soon enjoy!
[slideshow]
07.26.10
I thought I'd share some news I received today for the thouroughbred racing fans out there. Starting July 24th, HRTV is airing the Saratoga Special Show live from 10-10:30 a.m. EST on Saturdays and Sundays throughout the meet. For more information, please click here and be sure to check your local listings.

07.07.10
It's 10 a.m. here in Washington, D.C. and the temperature has already reached 89 degrees. In no time, I'm sure we'll have reached the expected temperature for the day of around 100 degrees. While it's easy enough for most people to hide out in air conditioning all day (and really, if it's this hot where you are–I hope your time outside is minimal), horses most likely aren't afforded that same luxury. So how are you helping to keep your horses cool this summer? How early (or late) do you turn them out? I've read that towels with ice or cool sponge baths can help comfort your horses, along with plenty of water, but how else do you manage?
I think a break in the weather in the form of thunder storms is coming our way later this week. In the meantime, I'm thinking cool thoughts for you and your horses.

03.29.10
A few days ago, I came across Tammy La Gorce's article about how equestrian vaulting–"gymnastics on horseback"–is gaining popularity in areas across New York. The article follows one particularly determined performer named Miranda Marcantuno, 11, who has been riding since she was six.
I thought the multimedia slide show was fun to look through to see the young riders practicing stunts on cantering horses that you might expect from circus performers. You can read the article here.
Also, check out the American Vaulting Association for more details about the sport.
11.17.09
My wife pointed an article out to me a few weeks ago and I've been meaning to post it, although I'm sure many of you have seen it by now. It's an article in the New York Times about Ann Leary, a writer and the wife of the actor and comedian Denis Leary. Ann is a horse lover—actually, an animal lover in general—and has written a couple of books and maintains a pretty amusing blog. Some of her blog entries are about her horses, others are about life on the farm she shares with her family in Connecticut, and others still are just about life in general. All in all, a good read you might want to keep bookmarked. Definitely check out the New York Times article if you haven't already, if only to look at the photos of her family's beautiful horses and their 1850s farmhouse.
08.13.08
A few weeks ago, Cesar, one of our project managers, and I went to Meggett, South Carolina for a site visit. We planned our visit to review the ten recently completed stalls added to an existing ten-stall barn on the property. Soon, the barn will also have a larger tack room and lounge.  In the next phase of work, our design plans include adding a full-ridge skylight across the length of the barn to maximize natural light as well as improve ventilation.
Upon our visit, two things struck us: the humidity and the regal old oak trees with Spanish moss scattered across the property that provide ample and much-needed shade (and, of course, natural beauty and Southern charm).  Otherwise, the 63-acre property set in South Carolina's Low Country is relatively flat with large and open grassy paddocks.
This project required expedited design and construction, since the client had to move her horses across the country before the end of the month and the stalls had to be ready before their arrival. This timeline left our team less than a month to undertake concept design to completion of construction.  And, thanks to the efforts of Jack Hart and Jimmy Thompson of Advanced Construction, Corbin, KY, who put in overtime and weekend hours, in conjunction with extremely fast turnaround by stall systems production at Lucas Equine, the stalls were installed quickly and efficiently.  Given the heat and humidity, this was no small feat.
The property also has an existing 1-story residence, garage with apartment, small outdoor arena, and several existing paddocks. Future design plans include the addition of a riding field, 4-stall foaling barn, pool with pool house, round pen, covered arena, and hay/bedding storage.
Here's a video of the new stalls, now home to some very grateful horses.
[googlevideo=http://video.google.com/videoplay?docid=8445301395594592376&hl=en]