Equestrian News
06.19.12
Much of the world seems to view horse racing through a different set of binoculars compared to the United States. Racing regulators in Kentucky recently approved a ban on furosemide (brand names Lasix or Salix), long considered a performance-enhancer in thoroughbreds (and thereby banned) throughout much of the world. The proposed phased-in ban, which would halt use of the drug in graded or listed stakes races, still needs approval from state lawmakers – and, as expected, the debate is controversial at best and downright ugly at worst.
Furosemide, the drug at the core of the debate, is a synthetic compound which functions as a powerful diuretic – it's also the only medication currently allowed to be administered on any given race day in much of the U.S. The medication is used as an anti-bleeding drug to prevent race horses from nosebleeds during races and to treat pulmonary hemorrhaging.
One side of the argument is that a ban would create even more difficulties for an already struggling industry, as the business that gave Kentucky much of its fame has struggled to compete against states where the lure of larger purses is supported by legalized slot machines and the like. Others who are anti-ban suggest that the drug is a less cruel method to prevent or stop bleeding, as presented in "The Case for Using Lasix" in the New York Times.
On the other hand, some argue that banning the drug will boost public opinion of the sport, which has been marred by doping and injuries to both horses and the jockeys who ride them. In an editorial, "Stronger Medicine for What Ails Horse Racing," the New York Times points out that "this is a good start, but regulators across the country will need to do a lot more to change the industry's cynical culture, which turns a blind eye to drug use and imposes only wrist-slapping penalties on trainers caught in the act." Another interesting viewpoint comes from the veterinarian Sid Gustafson, who says: "To allow racing veterinarians in a stall with a horse before a race is to permit doping, as it has turned out in America."
The World Anti-Doping Agency (WADA) lists furosemide on its banned drug list due to its alleged anti-masking agencies.
05.29.12
Today's blog comes from Macy Carman, an enthusiastic and talented student (and equestrian!) from Hollins University in Virginia. Macy, an environmental studies major who is considering graduate studies in architecture, spent some time with us to learn about what it means to be an "equine architect." In turn, my staff and I got to spend some time picking her brain about her invaluable experience as a groom for Pollard Eventing. (On a sad note, our thoughts are with everyone at Pollard Eventing. Macy travelled back to be with her horse family after the tragic car accident that claimed the lives of three horses last week.)
HERE'S MACY:
I knew I had picked the right architecture firm for my internship when John Blackburn started out my first day with what he referred to as his "dog and pony show." I love pony shows! I am a lifelong rider, member of the United States Pony Club, and looking forward to a career in designing equestrian facilities, so I knew I was in for a treat.  And I was…the presentation he showed me displays many of the options that are available to clients as well as the principles he bases his designs around: natural light and proper ventilation. I think that he could convince anyone that these are the most important concepts behind a facility!
During my time with the Blackburn team, I was able to accompany John to a Virginia Farm where he was interviewed for a video (stay tuned for the final project). After spending so much time discussing the process to designing a barn, I certainly had a different perspective when touring the facility. While my practical experience with horses, combined with time spent in a variety of barns, has instilled in me the importance of a well thought out facility for the safety and well being of the horse and rider, I picked up on a lot of smaller details. John had a reason for why every detail was exactly the way it was, and was happy to answer all of my questions. Watching his interviews, I got a sense that he cares for the horses just as much as the owners, which is exactly what we horse people are always looking for.
Over the course of my first week here, I have talked to everyone in the office about their projects, their academic paths, and their thoughts on barn design. As interested as I have been in barn design over the years, I have never given thought to many things Blackburn consistently addresses, like making sure that vehicles, visitors, and horses are separated at all times. Who knew a driveway needed so much planning? Everyone in the office has been very welcoming, and I hope that I have been able to provide a slightly different perspective as a rider and a groom. I look forward to absorbing a greater understanding of equestrian design during the rest of my time here- and maybe some tips on my graduate school applications too. I would like to thank the whole office for having me.
05.16.12
Quite a few years ago, I participated in a web chat (remember those?) with the folks at EquiSearch. During the chat, a few chatters presented me with questions about their barn projects, which ranged from "how to's" regarding initial planning stages or "what now's" after building the basic framework. For old time's sake, I thought I might share the chat's transcript. For the sake of those reading today, I'd like to encourage any and all of you to ask away with questions or to present design issues of your own.
gatsbysmom – How much roof overhang do you recommend for a barn in the South?

Blackburn – Gatsbysmom…roof overhangs are very helpful in the south for shading…if you have Dutch doors where horses can stick their heads out, it allows them to do it…make sure the roof is projected out far enough so runoff doesn't drop on the horses' heads…a good dimension is 3.5 feet.
05.15.12
It's a big week for our friends at Sagamore Farm, just four days shy of the 2012 Preakness at Pimlico in Baltimore, Maryland. Kevin Plank, Under Armor CEO and owner of Sagamore Farm in Glyndon, Maryland, has big ambitions and it's been more than a pleasure for us to be a part of that. Watch the video by The Baltimore Sun or read about Plank's quest for the Triple Crown here.
05.01.12
A team led by Mahan Rykiel Associates recently completed a new master plan for Morven Park. The 1,000-acre park, located near Leesburg, serves as a recreational and educational center for the city of Leesburg and Loudoun County. As the team's equestrian consultant, Blackburn helped to plan the improvements slated for the equestrian portion of the park, which functions as a public horse show facility and serves the equine community year-round. For more information, visit Morven Park's website.
03.22.12
Over the years, I've collected much too many photos of barn details, which includes everything from latches on stall doors to drains in aisles. It's only natural to collect the things you love, right? I often refer to my virtual stash of detail images when I'm designing a barn and hope they might serve as an inspiration to you as well. I will probably add to the collection (correction: I WILL add to the collection because I won't be able to help myself) over time. What can I say, the details separate a fine barn from a fantastic barn. On that note, I hope you'll forgive my lack of photography skill. Some of these images were taken during or just after the construction process by yours truly. That should serve to explain any and all photos with incomplete landscapes (aka piles of dirt) and unique angles (aka crooked) that are artistic-driven (aka fuzzy, out-of-focus) images.
By way of introduction to my collection, I think it seems fitting to begin this set barn detail images with the door. Every dutiful, the door is a part of every barn, everywhere. (At least I hope so.) You'll see many images of my favorite, the Dutch door, which aids ventilation within the barn. There's also human-only doors, main entrances, side doors, etcetera. Hopefully it's not too much of a hodgepodge for you to enjoy.
Incidentally, I've asked one of the more tech savvy staff (basically anyone but me) to link these images on Pinterest; we're attempting to hop on that fast-moving train because we architects sure appreciate a visual aid. If you're a Pinner yourself, let me know so we can follow you there. Until then, happy collecting!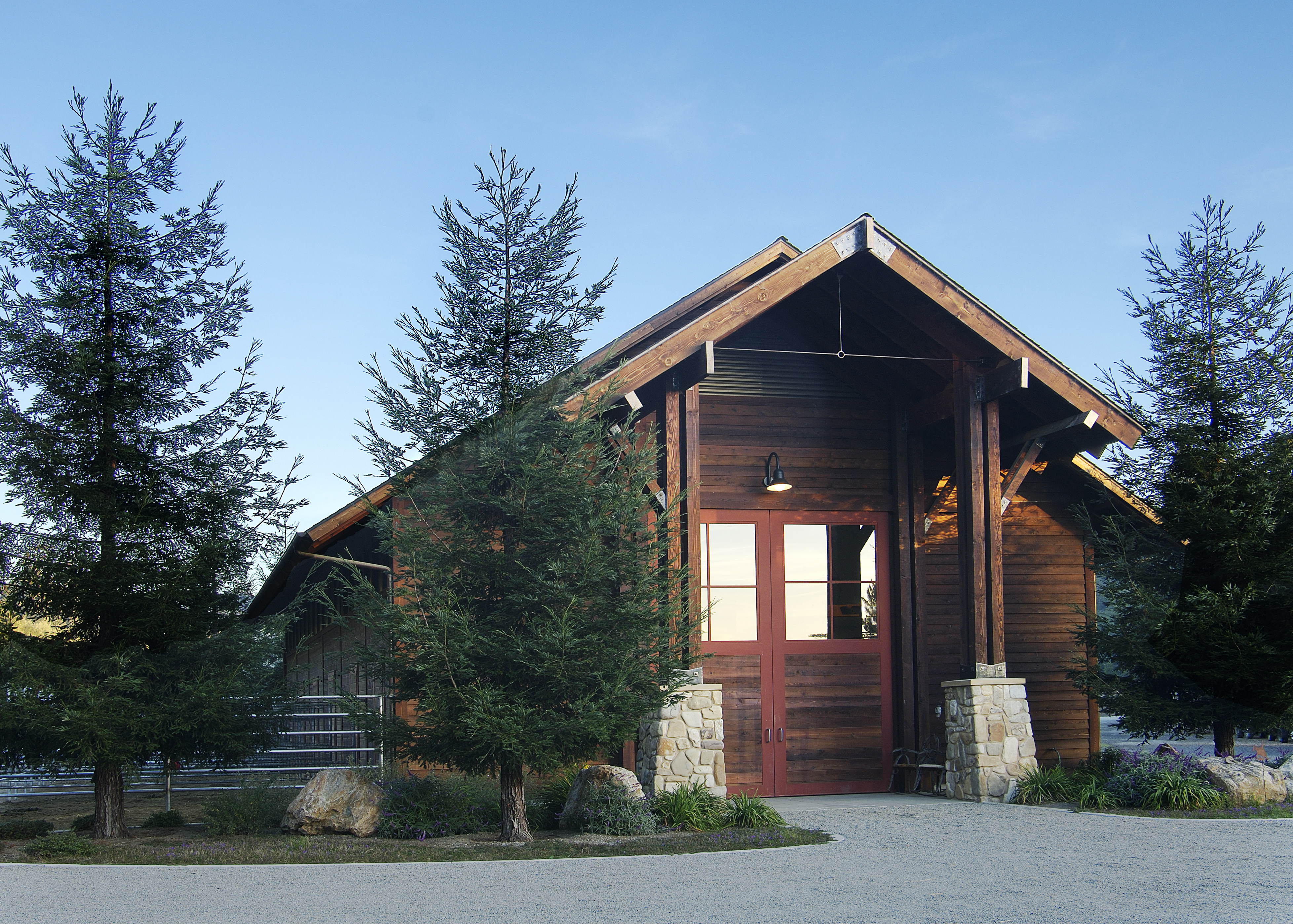 Dear disgruntled artists: the key to success isn't kicking down the door; it's building your own.
Brian Celio
Read more:http://www.brainyquote.com/quotes/keywords/door_14.html#ixzz1pshKJzeM
03.07.12
"The largest competitors at this summer's Olympics in London are not weightlifters….the largest competitors are horses." — Morning Edition, NPR, March 7, 2012
Who knew that horses could arrive via FedEx? What a great story on NPR this morning about how the horses competing in this summer's London Olympics will arrive safe (and in style). Tim Dutta, who owns an international horse transport company, said he expects to ship between 50 to 60 horses to London this summer. Dutta said that like people, horses respond to flying in various manners. Some are nervous and may require sedatives; others are happy to munch on hay and drink cocktails of apple juice and water to pass the time. And of course, the horses aren't left to their own devices on the planes — with them is a full entourage, including a vet and a groom. Which reminds me, I've read that racehorses can supposedly benefit from a little jet lag….wonder if the same holds true for events like dressage. Listen or read the full story on NPR.
02.24.12
So many social media formats, so little time… did you know that my firm, Blackburn Architects, has a Facebook page? We post photos of projects throughout the design process, let you know what we're working on at the office, and share information about equestrian architecture as well as happenings in the world of horses. It's a nice format for things we'd like to share while keeping it short and sweet (unlike a certain blogger here). So, if you haven't "LIKED" our page yet, I hope you will! I promise it will keep you informed and, like my blog, invite you to use the page to ask questions and share your own stories.
In other self-promotional news (sorry, must be that kind of day), The Chronicle Real Estate Supplement for Winter 2012 features the Blackburn-designed facilities at Sheik Island Farm in Dade City, Florida. The luxury farm, which covers over 300 acres just outside of Ocala, is officially on the market. If you're interested, the website also offers a virtual tour of the farm. When we designed the farm back in the late '90s/early '00s, the farm was used as a training and show facility for hunter/jumpers and polo ponies. The tree-filled, picturesque property has two barns: a 16-stall barn for hunter/jumpers and a 10-stall barn for polo ponies. Other amenities include an outdoor riding arena, a stick and ball field, a service storage building, and an office/caretaker's residence. The barns are designed with deep overhangs and continuous ridge venting to keep horses cool during steamy Florida summers.
02.14.12
This lush and private ranch is located just north of Seattle. The 100' x 200' arena, which features a "crow's nest" observation area, will be used for hunter/jumper and show training as well as recreation. The new structure, nestled in the Northwest Mountains, fits into the site unobtrusively and reflects the Tudor-style of the existing residence, favored by its owners. Future plans to occur in phases are a 20-stall barn, parking and service buildings, and a caretaker's cottage.
Program 100' x 200' enclosed arena, future phases include 20-stall barn, parking/service buildings, gatehouse
Completion 2010 (arena construction)
Posted in
Equestrian News
,
Projects
|
Tagged Arena, arena design, Arlington, Blackburn Architects, Circle B Ranch, Equestrian, horse arena design, horse riding arena, Horses, indoor riding arena, WA
|
1 comment >
02.09.12
This is probably the last set of photos I'll share of Beechwood Stables in Massachusetts before we have a professional photographer shoot the project in its completion. (When the weather is a bit nicer so the buildings aren't covered in snow!) I'm really pleased with how it's turned out and hope our client feels the same. I'd also like to thank Marcus Gleysteen Architects, whom we teamed with; the builder, Kenneth Vona Construction, whose professionalism and craftsmanship is top-notch, as well as the team at Lucas Equine Equipment for their fabulous stall systems as usual. Beechwood Stables has a lot of high-end finishes and details that certainly shine though with this project. However, the truly important aspects of our design is what matter the most and remain true regardless of budget: protecting the health and safety of the riders and the horses who will soon inhabit the barn.
Thanks to the gracious owner and everyone involved in the design and construction of Beechwood Stables. A few details are provided in the caption each photo.