Equestrian News
11.17.11
Stumbled across this photography blog and am glad I did. Seems he too has a thing for old barns. Really like how the images seem to capture the mood of the large, weary structures. Great stuff.
10.31.11
The Blackburn team had a blast at this year's Washington International Horse Show at the Verizon Center in DC's Chinatown neighborhood. But have you ever heard of Mutton Bustin'?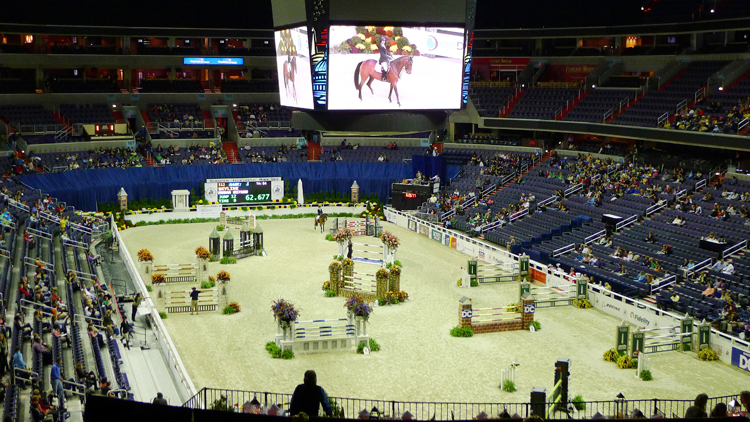 10.27.11
I admit it: I've never even heard of mutton bustin' until reading about the event, which is part of tonight's lineup at the 53rd annual Washington International Horse Show, in yesterday's Washington Post. Apparently mutton bustin', in which kids weighing 60 lbs. or less play rodeo kings and queens while riding on SHEEP (like a fluffier and friendlier bull?), is popular in Australia. Wonder if it will catch on in the states. Or am I already behind?
It's hard for me to imagine that any sheep with a 6-year-old on its back would feel inspired to do much other than lie down for a nice nap, but apparently it can get quite rowdy (witness the poor kid in the photo below). My curiosity is certainly piqued. I'll even get to see the "action" live because my staff and I are attending tonight's show (it's BARN NIGHT, after all). Everyone at Blackburn enjoys watching the terrier races, but I bet mutton bustin' gives the dogs a run for their money, at least as far as the cute factor goes.
For those of you who plan to attend tonight's show, please follow me on Blackburn's Facebook page, where I'll post about the event and coordinate to meet up with fellow horse and barn lovers. And if you can't make it to the show, consider watching it via live streaming.
10.18.11
Just the other day, I came across a great blog entry about Mail Pouch Tobacco barns in Pennsylvania. The blogger, Pamela Simmons, wondered what became of the old barns she so vividly remembered dotting the landscape along highways in Western Pennsylvania. Read her article for some background info and a few terrific photos. I'd relish the chance to restore a big old barn like one of these Pennsylvania beauties; unfortunately, they seem to be few and far between these days. Please share your own photos or memories of the types of barns you recall seeing on car trips as a child or young adult. 
09.22.11
Photo shoots are a lot of work but worth the time and effort. Especially when the site is a former Christmas Tree Farm in Ohio and can we build a roaring fire in the party barn's amazing stone fireplace! If only we had remembered to bring marshmallows…
09.08.11
Located on a stunning 80-acre site in Aptos, Devine Ranch is designed with the temperate climate, ocean breezes, and scenic overlooks in mind. The eight-stall barn (six stalls with paddocks) lies in close proximity to the new 7,000 sq. ft. residence, also designed by Blackburn Architects.
Program 8-stall barn, two service buildings, covered round pen, open arena, paddocks
Completion 2003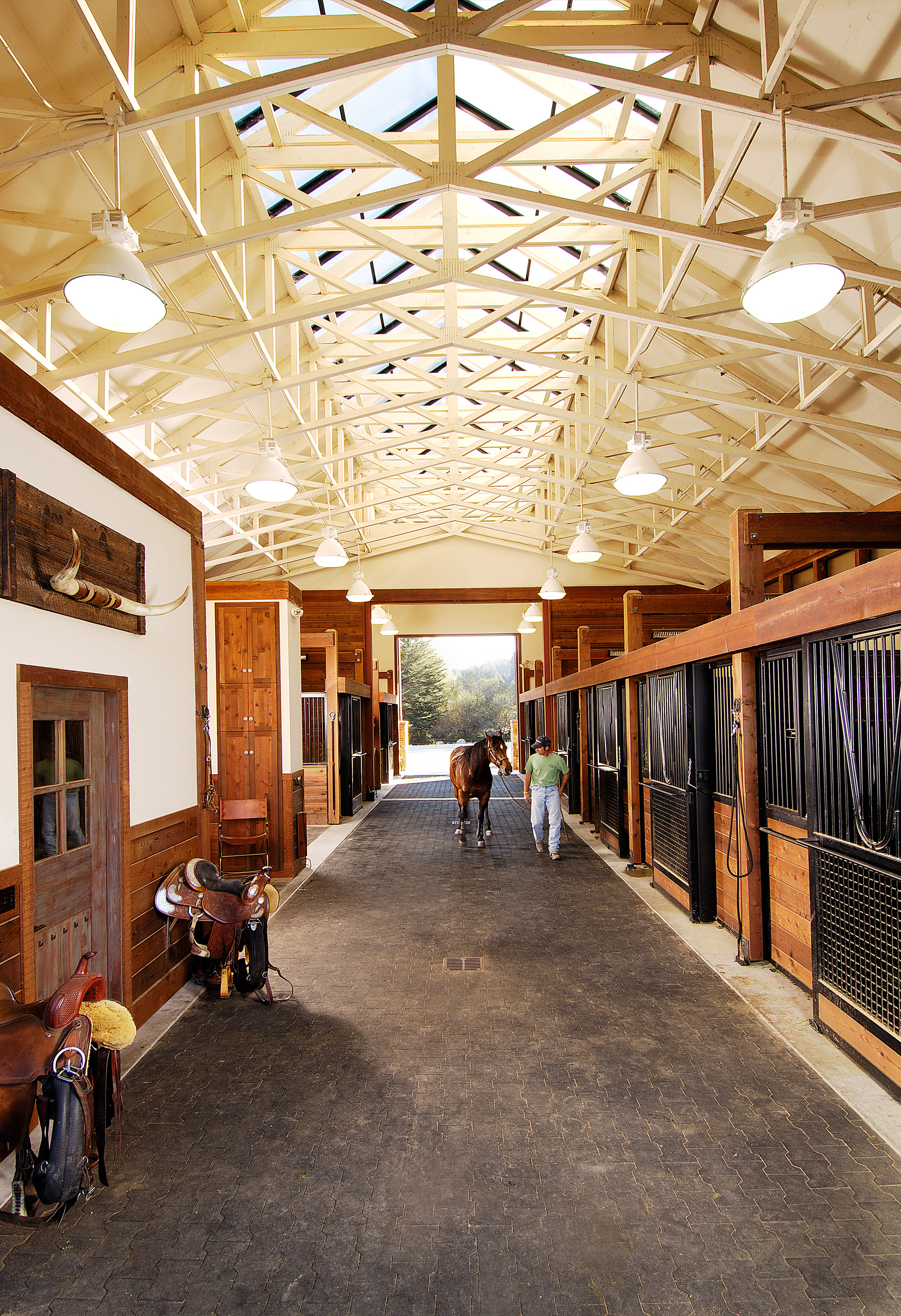 09.07.11
Designed in response to an adjacent new residence and in the style of existing barns on the private ranch, this eight-stall barn in Montana uses heavy timber framing and western cedar siding.
The program includes wash and grooming stalls, a lounge/office, large tack rooms, and a loft with a balcony that overlooks an outdoor arena. The barn's deep overhangs create covered areas to wash and groom horses outdoors while a continuous translucent ridge skylight allows generous amounts of natural light within the barn.
Program 8-stall barn, outdoor arena, service building
Completion 2004
Posted in
Equestrian News
,
Projects
|
Tagged Architecture, Barn, barn design, Barns, Blackburn Architects, Equestrian, Equestrian Architect, equestrian design, Equine, equine architecture, heavy timber, horse barn, horse ranch, horse stables, Montana barn, ranch, Stables, western cedar siding
|
1 comment >
09.02.11
Blackburn Architects is pleased to be a part of the improvement plans at the historic Saratoga Race Course. We are working with NYRA (New York Racing Association) to improve the backstretch area and its facilities to increase safety and efficiency for workers, riders, and horses. Learn more about the proposed improvements on NYRA's website.
09.01.11
Blackburn Architects is pleased to be a part of the improvement plans at the historic Saratoga Race Course. We are working with NYRA (New York Racing Association) to improve the backstretch area and its facilities to increase safety and efficiency for workers, riders, and horses. All of the proposed improvements for the frontside and backside at the track are outlined on NYRA's website; the public is invited to provide comment and feedback. A community forum takes place at the Saratoga Springs City Center on Thursday, September 1 at 6:30 p.m. Renderings of the proposed work is on display at the City Center through September 2nd.
NYRA President and CEO Charles Hayward says, "The projects we choose to undertake will not be determined unilaterally. We recognize that part of what makes Saratoga Race Course so special is its deep integration and embracement by the community. All of us at NYRA truly look forward to hearing from the public as we prepare to make essential and intelligent changes to bolster the fan experience and to secure the future of Saratoga."
Please read more about the proposed improvements for the frontside and backstretch at Saratoga in the official press release.
08.26.11
We've had our fair share of Mother Nature in DC as of late. Last week brought a relatively mild yet rare 5.8 quake (and apparently those of us in the District could use a lesson in Earthquake 101, based upon our reaction). While I'm curious to know how horses in the area reacted to the scare, it wasn't surprising to read articles about how the animals and critters at the Smithsonian National Zoological Park appeared to be the first to know.
Where were you during the earthquake? Did you know what it was? Were any of you riding? While I was stuck indoors that day, I remember that it was a particularly beautiful, temperate, and seemingly calm afternoon. I hope everyone and their four-legged friends did OK.
Three days later, it's Friday afternoon in the District and, once again, the weather gives no impression that anything's amiss. But this time we know better. Weather forecasters are in overdrive, studying the direction and predicting the trail of Hurricane Irene. The storm threatens most of the East Coast, with several states, including our neighbors Maryland and Virginia, issuing a state of emergency. I can only hope that those of you that are or will be affected by Hurricane Irene take these warnings very seriously and are able to bring yourself and your family (and horses) to safer ground or have taken all precautions.
If you or your horses have been affected by this onslaught of extreme weather, please let us know how you are doing and if there's anything those of us who are concerned can do to help. The Florida Horse website has a helpful article on how to prepare yourself and your horses for the worst. Here's another one from the Virginia Horse Council.
STAY SAFE!