Equestrian News
03.05.19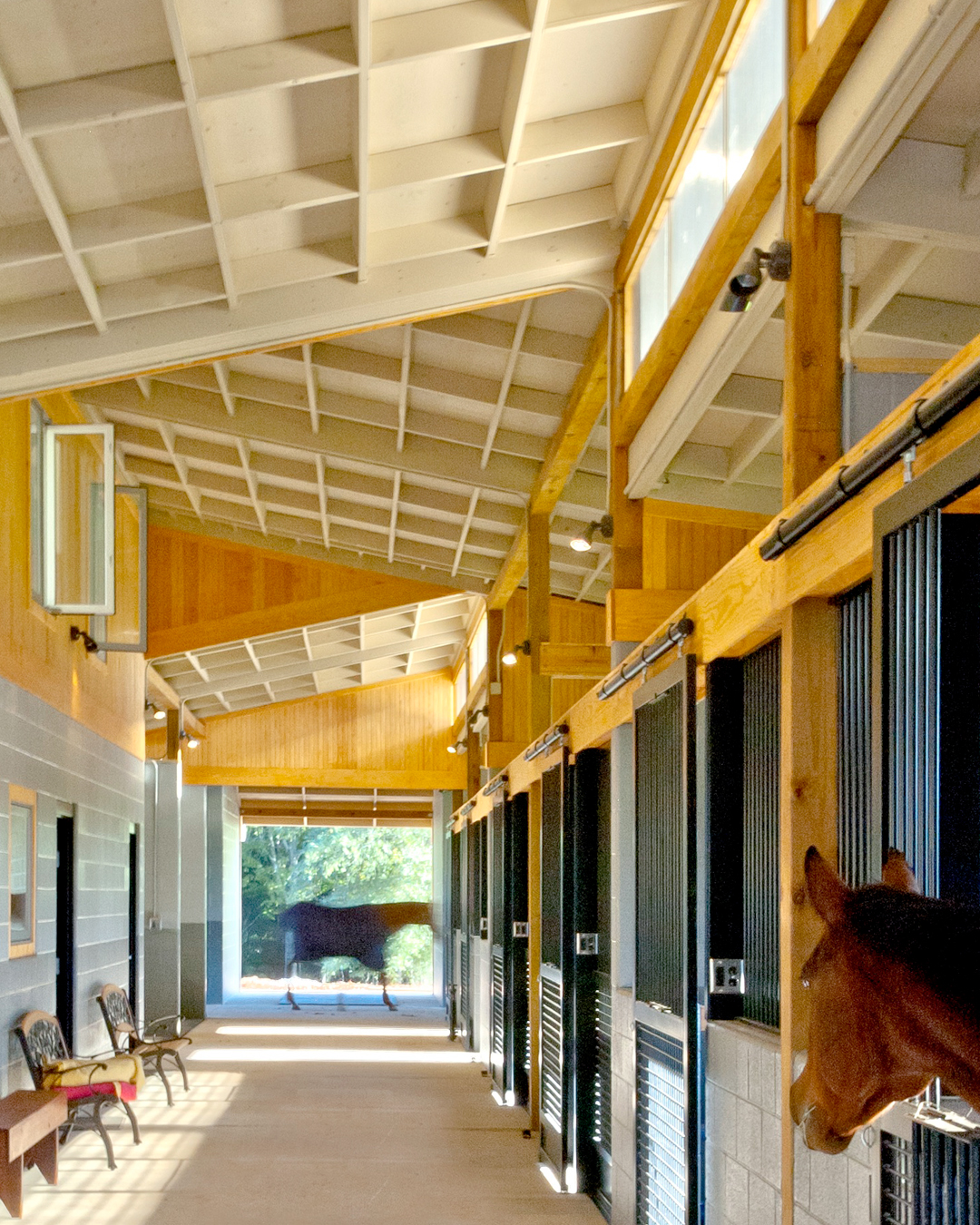 Fire protection in an equestrian facility is always a concern of the highest priority. Because we're often asked, we thought we'd offer information here on the fire suppression details the Blackburn design team has included in some of our latest projects.
At a new barn under construction in Indiana, we've specified a Dry Pipe System by Fire Tech, LLC. http://www.firetechstl.com/systems-preaction.php. We could have specified a "preaction sprinkler system," but chose the dry pipe system because of the dangers of freezing pipes in the cold weather climate of the Midwestern United States.
To quote Fire Tech's description, "A Preaction Sprinkler System is a system which employs automatic and closed-type sprinkler heads connected to a piping system that contains air (either pressurized or non-pressurized), with a supplemental system of detection serving the same area as the sprinklers. The systems are typically used in applications where the accidental discharge of water would be catastrophic to the usage of occupancy.
"Preaction Sprinkler Systems are similar to Dry Pipe Systems in that the water is kept from entering the piping valve, in the case a preaction valve. This valve is held closed electrically, only being released by the activation of the detection system (heat or smoke detectors mainly) when an electrical signal is sent to the releasing solenoid valve. The water then fills the pipe, ready for the activation of the sprinkler heads. Preaction systems can be arranged to be activated by only one detection device type, or many."
In Indiana, our architects specifically called for a dry pipe system because of the potential for freezing temperatures, but also in case "one of the children kicks a soccer ball and takes out a sprinkler head" (the client's words). With a dry pipe system, the sprinklers won't go off unless they also sense smoke or fire (depending on the detector type). A false alarm could flood and ruin the barn's expensive finishes. And using recessed/concealed pop up heads is a good idea where you can.
Another critical reason Blackburn specified a dry pipe system is because of an issue with water demand; the Indiana farm doesn't have sufficient well water on site to power the system. Because of this, our client connected to county water. Keep in mind that If you're on a well, you'll likely never have enough pressure to support a fire suppression system. The gallon per minute (gpm) for firefighting is higher than your average ground well can produce. This means you must store water on site in a tank or pond.
At Sheik Island, one of our projects in Florida, we stored water below ground. In California, at a private facility, we installed an above ground tank adequate to run the system as required by the local fire department. Additionally, we posted signage limiting the occupancy (should the owner decide to sponsor a large event in the arena). The clients obtain a special permit when larger events occur, and they hire the local fire department to have a truck on hand during the event.
At the Devine Ranch, in Aptos, California, and at the Moss residence, also in fire-prone California, we provided on-site storage tanks with backup generators to operate a pumping system.
Next up on the Blog: fire limiting design guidelines we build into our projects.
Posted in
Equestrian News
,
News and Press
|
Tagged Architecture, barn architect, barn fire safety, Barns, Blackburn Architects, Equestrian, equestrian architecture, equestrian design, Equine Architect, equine design, fire in horse barn, Fire protection, Fire protection in horse barn, fire suppression systems in horse barn, green barn, horse barn, horse barn design, Horse Barns, horse racing, protecting a horse barn against fire, protecting horses against fire, Stables, thoroughbred
|
Leave a comment >
01.25.19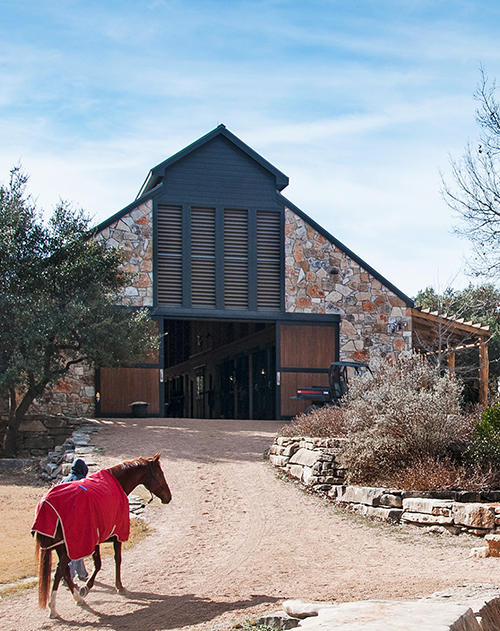 One of the design considerations in nearly every Blackburn equestrian project is ground surface materials to be used at the exterior of the barn. Hopefully, the information below will be helpful in planning for your barn.
First consideration is it to be porous vs. non porous?
Either will work in this application but you need to build in some sort of drainage system for both, either on the surface or below the surface.  
1)  Interlocking rubber brick pavers.  The Blackburn Architects' team opinion is that this is the best all-around flooring system for horses because of its durability and aesthetic options.  It's slip resistant and holds up to abuse and in a wide variety of environmental and weather conditions.  It can be set loose on a porous or non-porous sub-base or glued down on a firm base like concrete.
2)  Oil base chip and seal: Chip seal is a surface treatment used on light traffic roadways/driveways, some lead paths and other areas used for horse or farm traffic.  We do not use it very often anymore due to some environmental concerns in some jurisdictions (it typically requires a base layer of asphalt and oil as a binder).  Chip seal basically combines one or more layers of asphalt with one or more layer of aggregate. Oil is often used as a binder. Ground up recycled tires are sometimes used as an aggregate.  It tends to be slip resistant though it may deteriorate in time.  Its life time is typically 5 to 7 years before it needs re-surfacing.  
3)  Rubber mats (loose laid or glued): This is a good material but should be laid or glued to a concrete or popcorn asphalt base.  The mats need a solid base in order to hold in place or remain level over time.  Rubber mats can present an aesthetic issue but functionally work well.
4)  Stone dust or brick dust:  A good material to use but requires maintenance to retain a clean and orderly look.  It's slip resistant and drains relatively well.  Not good for plowing conditions unless it is re-spread at the end of the winter season.
5)  Popcorn asphalt:  An excellent material because it's slip resistant and drains well.  Its problem is its aesthetic appearance.  It should be laid over a layer of crushed gravel so the surface water can drain through the asphalt and away.  The advantage of the popcorn asphalt is it has the ability to reseal itself in warm weather if the ground freezes and heaves.  It can also be used as a base layer under rubber mats or rubber bricks.
6)  Concrete (custom colored and/or textured) or concrete pavers:  Not a very horse-friendly material to use.  It can be scored to give it texture, tinted to give it color and in some cases a brick pattern, but it is nevertheless a very unforgiving material.  Horses shoes can slip on it and spook a horse especially when crossing from one material to another.  However, this material is great when installed under the interlocking rubber brick or rubber mats.
7)  Poured in place non slip surface material:  This is a good material (a number of different types and manufacturers available) that can be slip resistant, cushioned to protect from a fall and can be used outdoors.  It is often used on playgrounds.  Blackburn Architects uses it most often in foaling stalls where a seamless continuous surface is desired.
8)  Grass ground cover:  Not recommended due to its maintenance needs especially when under cover.
9)  Grid mats:  Can work if the owner wants to use stone or brick dust or some other type of light screenings but requires periodic maintenance.
10)  Brick or stone:  Not highly recommended as it is less slip resistant though it can look great, especially if brick dust is used elsewhere such as the driveway in a chip and seal application.
Posted in
Equestrian News
,
News and Press
|
Tagged adding light and ventilation to a horse barn, Architect, Architecture, Barn, beechwood stables, Blackburn Architects adaptive reuse, Equine Architect, horse barn, horse barn design, horse barn planning, Horse Barns, horse farm, horse stables, John Blackburn, materials to use on the exterior of a horse barn
|
Leave a comment >
01.17.19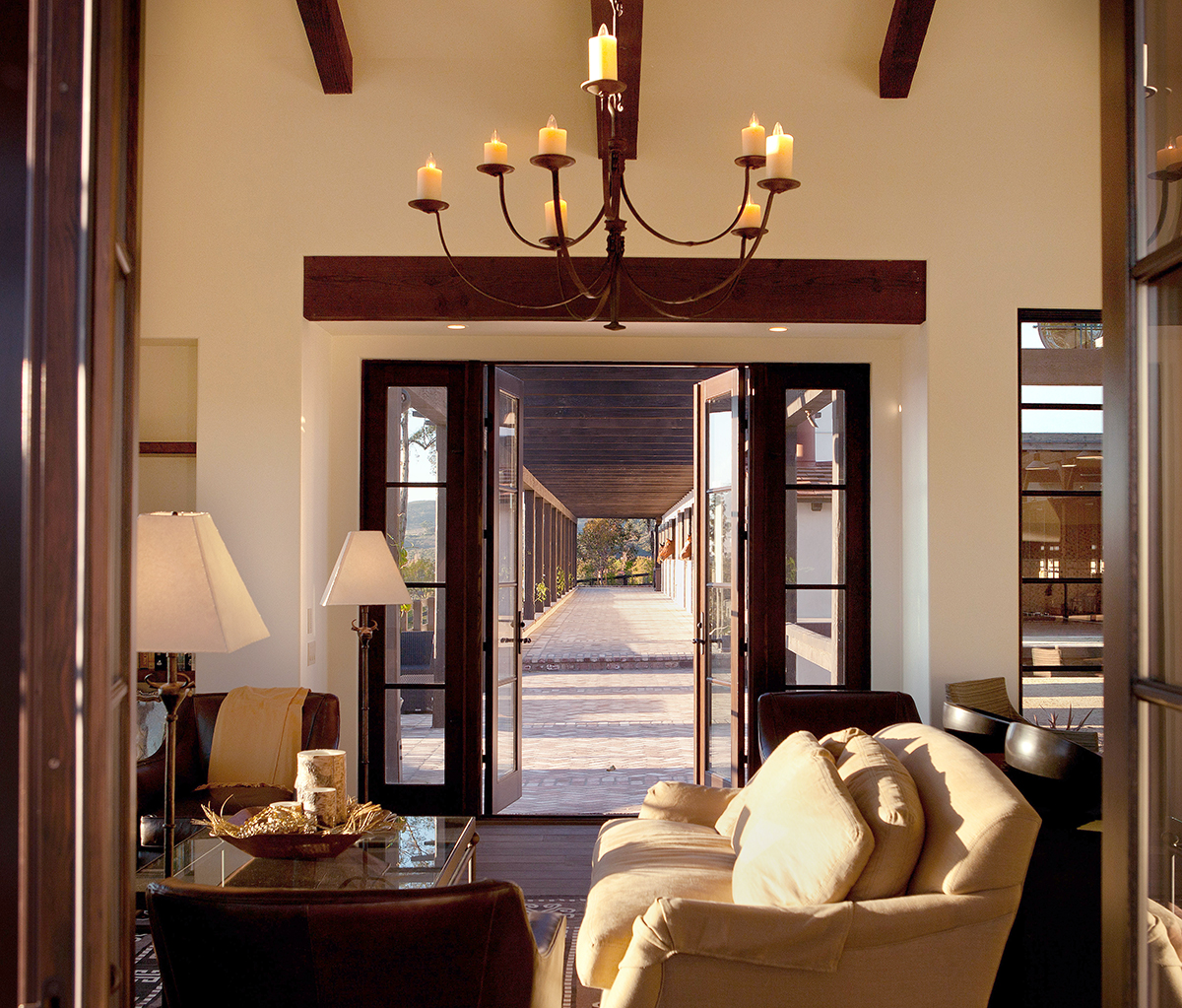 Blackburn Architects typically advises clients against including living quarters in a barn. When we add them, we provide extra safety measures.
An apartment or condo in the barn isn't the same thing as short-term accommodations. We'll often design a "warm room" into our barns so clients can stay close in case there's a sick horse or for foaling.  Even though technology provides some good methods to provide warning or protection (alarms, cameras, etc.) there are times when you just need to be close to respond quickly.
Permanent living quarters, however, can be problematic:
1. If the residential component is too large, then the change of scale can overshadow the scale of the barn and you end up with a "tail wagging the dog" situation. Aesthetically the design looks awkward.
2. If the residence will house a family, you run the risk of injury to children, pets, or visitors and there's an increased risk of fire caused by household activities.
3. If the apartment or condo is for the owner it's easier to control but if it's for a groom or an income rental it's important to be prepared that lifestyle choices may clash with your own.  For example, the tenant may be entertaining guests who may be unaware of the impact of their activities on the horses.
Because a barn usually has a lower cost per square foot (to design and build) than a residence, you may be able to save money by separating the two different uses and avoid building in the necessary fire and smoke separations.  For example, the barn could be a simple pole barn and the residence constructed to a higher standard. 
Another option is to build the apartment or residence as part of a service /storage structure or another farm building.  Two examples of Blackburn Architects' projects where we did this are Great Roads Farm in New Jersey and Kindle Hill Farm in Pennsylvania.
To conclude, without building in substantial fire/smoke separations when adding an apartment in the barn you increase your risk of disaster.  Building codes in most areas require you to include a two-hour separation.  It's essential that you check these regulations before planning an apartment in your barn.
Furthermore, an apartment in a barn or connected to it can impact the farm by forcing a larger footprint for the barn, and this can impact service roads, lead paths to paddocks, land grading, etc.  If the apt is added to the second "loft" floor unless it is designed properly it could negatively impact the introduction of natural light and ventilation (see Bernoulli principle and chimney effect).
Posted in
Equestrian News
,
News and Press
|
Tagged Architecture, barn architecture, barn design, Barn home, blackburn, Blackburn Architects, Blackburn Architects barn design, Blackburn Architects barns, Blackburn greenbarns, equestrian design, Horse, horse barn design, Horse Barns, horse stables, Horses, living in a horse barn, Stables
|
Leave a comment >
01.09.19
Over the years, Blackburn has been asked what we think of adding stalls along the side of an indoor arena. Sounds like a good idea, right? Well, we strongly recommend against it. The problems are many.
1. Air Quality. Forced to breathe arena dust many hours of the day, stalled horses live in an environment that isn't healthy. We recommend instead that the stall portion of the stables be connected in a separate but attached structure running perpendicular to the barn. Not only does this arrangement help isolate the arena dust from the barn, it allows the barn to sit independently. The structure can then catch the prevailing breeze which permits two scientific principles (Bernoulli principle and the chimney effect) to provide natural ventilation and light to the barn.
2. Fire Safety. We always recommend fire separations by providing sliding doors to isolate the barn from the arena in case of fire. These doors may or may not be rated fire separations. The decision is usually driven by cost, and we often provide an automatic rolling fire rated shutter to isolate the two separate areas – this at least reduces the risk of smoke moving between structures. (Quite often it's the smoke that is more dangerous and faster moving than the actual fire.) The isolation by sliding doors also provides critical time to get horses out of barn. If the arena and barn share the same space, there is less opportunity to isolate fire or smoke from the stable area. Furthermore, when the stables are parallel and part of the arena, the structure is generally shared – raising the risk it could collapse and trap horses inside.
3. Cost, Scale and Building Height. When stalls are designed as part of an indoor arena, the design requires a wider structure (often steel due to the long spans) which is typically more expensive. When it's a separate but attached structure, it can be framed in wood with smaller spans reducing the cost of the framing. If the stalls are part of the indoor arena, then the building becomes wider which also means a corresponding height increase. In many areas, the local zoning codes restrict building heights. We have found typical restrictions of 35 feet. It's difficult to get any height in the barn or arena if you are trying to build a 100 x 200 ft arena with a row of stalls and aisle way. Also, from an aesthetic perspective, wider and taller building begin to get enormous and have the potential to look like an airplane hangar and overshadow the entire farm.
4. Storm Water Issues. Finally, if your property is not flat, such a structure with a large footprint may require significant grading that can be expensive and create storm water issues. By breaking the barn and arena into two connected structures you can more easily work it into the natural slope of the land. Also, the isolation of the barn and arena permits opportunities to push the arena into the ground – helping to reduce the scale and height of the arena above finish grade. The entry to an observation area can be elevated above the arena floor (but entry level still at grade) for more easily viewing over the kick wall from a sitting position.
Blackburn has designed many arenas with this perpendicular arrangement. Rocana Farm, designed by us in 2002, is a great example of what we mean. Stalls at this hunter/jumper facility are attached to the enclosed arena with an elevated observation room, tack room, wash and grooming stalls.
Posted in
Equestrian News
,
News and Press
|
Tagged Barn, barn architecture, barn design, Barns, blackburn, Blackburn Architects, Blackburn Architects barn design, Blackburn Architects barns, Design, Equestrian, Equestrian Architect, equestrian architecture, equestrian design, equestrian facility, Equine, Equine Architect, Horse, horse barn, Horse Barn Advice, horse barn design, Horse Barns, horse farm, horse racing, John Blackburn, Sustainable, Ventilation
|
Leave a comment >
10.19.18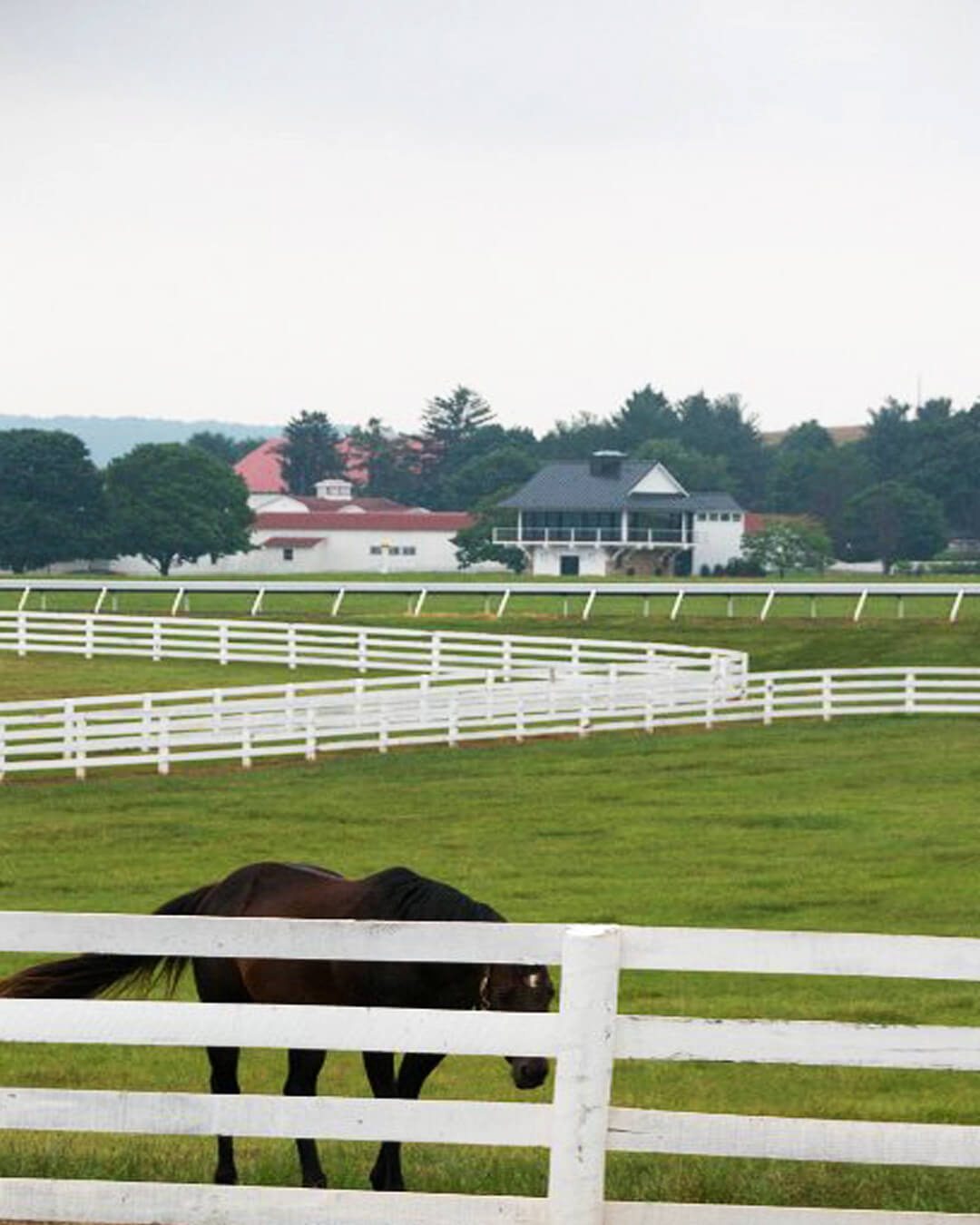 Fences are one of the most common discussion points among the Blackburn team and clients when we're designing an equestrian facility. The options listed below are certainly not exhaustive but reflect what we commonly find in many of our projects.
Some options are better suited for pastures, while others are more appropriate for small stall turnouts. We've tried to identify a variety of approaches that meet the safety needs for horses, limit maintenance needs, and often fall within neighborhood guidelines. 
1. Steel rail fencing is an option for stable turnouts. The material is available in a thinner profile so it isn't as visually heavy and it can be painted black or another dark color so that it does not have the "ranch" appearance seen with galvanized steel pipe corrals. The up-front cost is higher but the material is durable and will have little-to-no maintenance needs.
2. Woodguard polymer coated wood fencing is treated wood with a non-toxic, non-chipping surface covering. The wood grain is still visible but the finish has some of the plastic texture of the polymer. This product allows for fencing to be constructed similar to a wood fence, with the rails attached to the face of the posts. The result is a stronger, safer fence. Woodguard has a 20-year warranty. The cost is similar to wood board fencing but the maintenance needs are less. While the manufacturers state that this product is resistant to cribbing, we would recommend that a hot-wire be provided at the top rail to discourage the horses from chewing. This material would be acceptable to use for both stall turnouts and paddocks. It offers the appearance of a traditional 3- or 4-board wood fence without the significant maintenance demands. https://www.wood-guard.com/horse-fencing/
3. High Tensile Polymer (HTP) comes in both rail and wire styles and is typically mounted on wood posts. The rail is typically 5" wide and from a distance will appear similar to wood board fencing. Because wire fencing has a lower visibility, we suggest using a thicker top board so that the horses can more easily identify the barrier. The HTP materials' inherent flexibility makes these products durable and resistant to horses leaning on or running into the fence. Typically, these are more suited to large pastures or for perimeter fencing and less so for stall turnouts. The darker colors tend to exhibit a chalky appearance over time.
4. Rubber fencing is a durable, flexible, and low profile fencing material and is similar to the HTP fencing. We've not seen this product used as often and we understand that there's a risk that the strings of the fabric (which is an internal support for the rubber) can become exposed and offer a hazard for horses to chew on. A hot-wire at the top of the fence may combat this risk.
The advantages of rubber, HTP or any type strap fencing is the posts can be set further apart which is useful when its highly visible and you want to minimize the number of posts. The fencing is flexible and resists breaking when a limb or tree falls on it therefore it's a good material for perimeter fencing large acreage and where it encounters wooded areas. This is safer if/when a horse runs into the fence; especially a problem on larger paddocks when horses can get some speed and not be able to slow down.
5. HDPE is a post and board fencing material. It's stronger than PVC and performs better in all weather conditions, but the primary issue is in the assembly of the fence. The rails are set between posts, instead of fastened to the face, and can pop out if the fence is not secured properly. Its requires more frequent posts which tends to look busy and it's difficult to bend or angle corners because of the assembly method. The Blackburn team isn't particularly fond of this material because it can look clunky and isn't the safest option. http://www.amberwayequine.com/products/hdpe-fencing-2/
Posted in
Equestrian News
|
Tagged adding ventilation to a horse barn, Architecture for horses, Blackburn Architects barn design, Designing a Horse Farm, Equestrian, Equestrian art, equestrian design, Horse, horse barn design, Horse Farm Architecture, horse racing, horse stable design, horse stables, John Blackburn, Stable Design, Stables, Sustainable, sustainable barn design, thoroughbred, Ventilation
|
Leave a comment >
10.17.18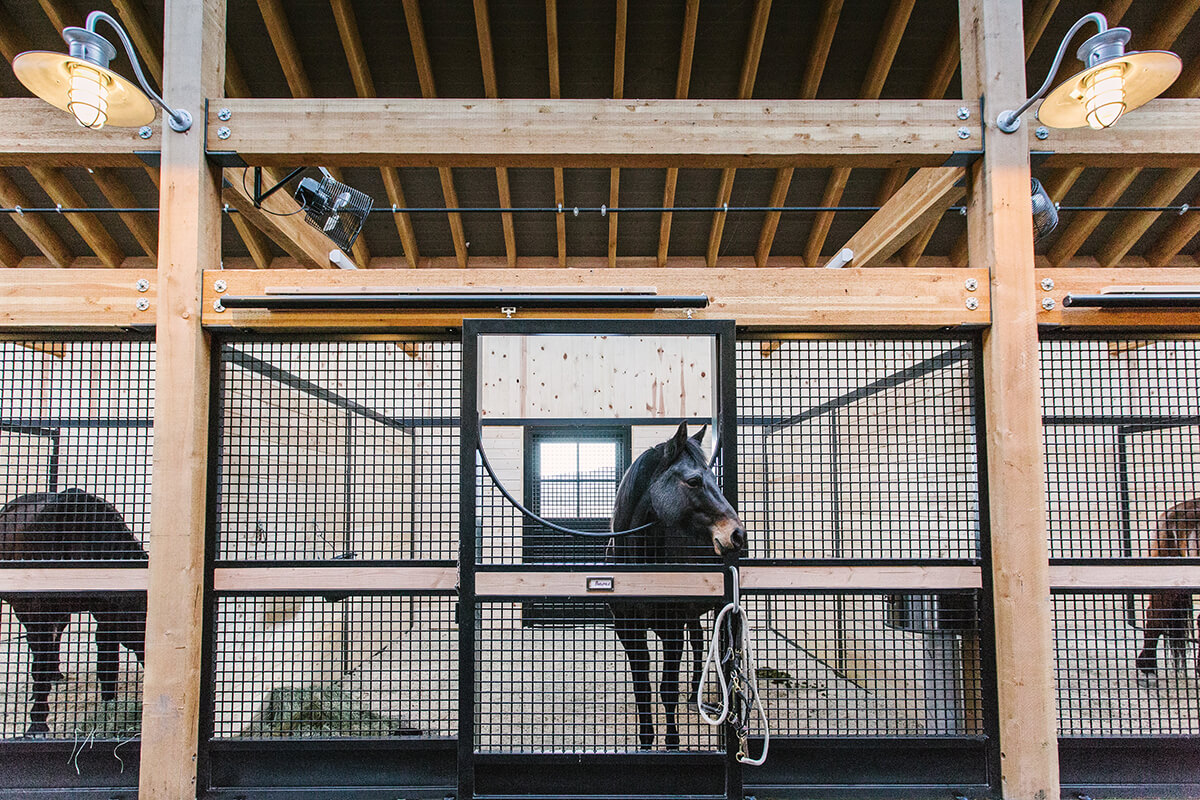 What's the safest way to incorporate glass in a horse barn? If you've been following our work, you already know that Blackburn Architects' mission is to promote as much natural light and ventilation in horse structures as possible. Naturally, this means we add a lot of windows to our designs. In its safety recommendations for the stable, Rutgers NJ Agricultural Experiment Station cautions that "windows need to be inaccessible to horses and livestock, covered with bars or screening and made of safety glass." (https://esc.rutgers.edu/fact_sheet/safety-recommendations-for-the-stable-barn-yard-and-horselivestock-structures/). So how do our architects protect the horses and still use a lot of glass in our designs?
1. Use Tempered & Laminated Glass
We recommend that all glass in a horse stable be tempered, including glass that's laminated. Tempering and lamination do two separate but similar things to increase the safety of glass if/when it breaks: Tempering makes the glass break into small chunks as opposed to slivers and shards, while the lamination gives the glass a slightly greater resistance to breaking and keeps the glass in place when and if it breaks.
Laminated glass consists of a clear plastic laminate sandwiched by glass on both sides. Since horses have access to both sides of a glazing unit, ideally both sides should be laminated and tempered. If this approach is too costly for your budget, stick with everything being tempered and omit the lamination. Laminated glass does not always age as well as tempering. The laminate can shrink and pull in from the corners of the glass, and eventually become visible over time. We prefer tempering.
2. Minimum Thickness of Glass and Airspace
To arrive at the minimum thickness of glass, work backwards from the depth of the frame, minus about 1/4". Each glass manufacturer determines what spacer sizes they offer. Understand that the more airspace you can allow the better, but each manufacturer works with a few different pre-set size spacers. Use the largest one that still allows the glazing unit to fit within the frame.
3. Special Considerations for Cold Climates
In cold climates, we specify glass with a high solar gain and low emissivity. In technical terms, the glass meets the following guidelines:
1. A Solar Heat Gain Coefficient (SHGC) around 0.55
2. A U-value of less than 0.33
3. A higher value Visible Transmission (VT)
4. Use double-paned glazing units with low-e gas that has a vacuum sealed gasket between the panes of glass. The pocket between panes of glass is filled with an insulation gas, most typically argon.
5. Consider using low emissive (low-e) glass panes (low-e prevents the transfer of heat from warm to cold). The low-e coating (typically a metallic oxide) should be on outside of the innermost pane of glass.
There are pros and cons that should be considered with each option 1-5 above. For instance, with #4, over time and if the gasket seal fails, you can begin to see condensation between the panes of glass. Whereas with #5, you may be able to see the coating from certain angles, especially if you are wearing polarized sunglasses. Since the advantages are a bit more obvious, and similar to one another (i.e. tempered vs laminated, and low-e gas vs low-e coated glass), here is a summary of some of the disadvantages to each option:
Tempered only – glass may still shatter (in harmless pieces) and fall to the ground.
Laminated only – laminate can discolor over time and shrink in from the corners of the glass.
Low-e gas filled glazing unit – if the gasket fails, condensation can form in between the glass.
Low-e coated glass – may be visible in certain light conditions, or when wearing polarized sunglasses. You can sometimes see this on automobile glass.
To summarize, a good starting place for adding glass to your barn begins with tempered glass, meeting the SHGC and U-values recommended above. A step beyond this is low-e coated glass, since with #4 (low-e gas) you can expect the gaskets to fail at some point, and the glazing unit will need to be replaced. If the coating of the low-e coated glass is too "visible," then low-e gas may be the better option, with the expectation that you may need to replace some of them again in 10 to 20 years, if and when the gaskets fail.
Posted in
Equestrian News
,
News and Press
|
Tagged Blackburn Architects, Blackburn Architects barn design, Blackburn Architects barns, Equestrian Architect, equestrian architecture, Equine, equine architecture, horse stable design, How to use Glass in a horse barn, Stable Design, Stable Design Recommendations, Stable Glass Recommendations, Using Glass in a Horse Barn
|
Leave a comment >
06.05.18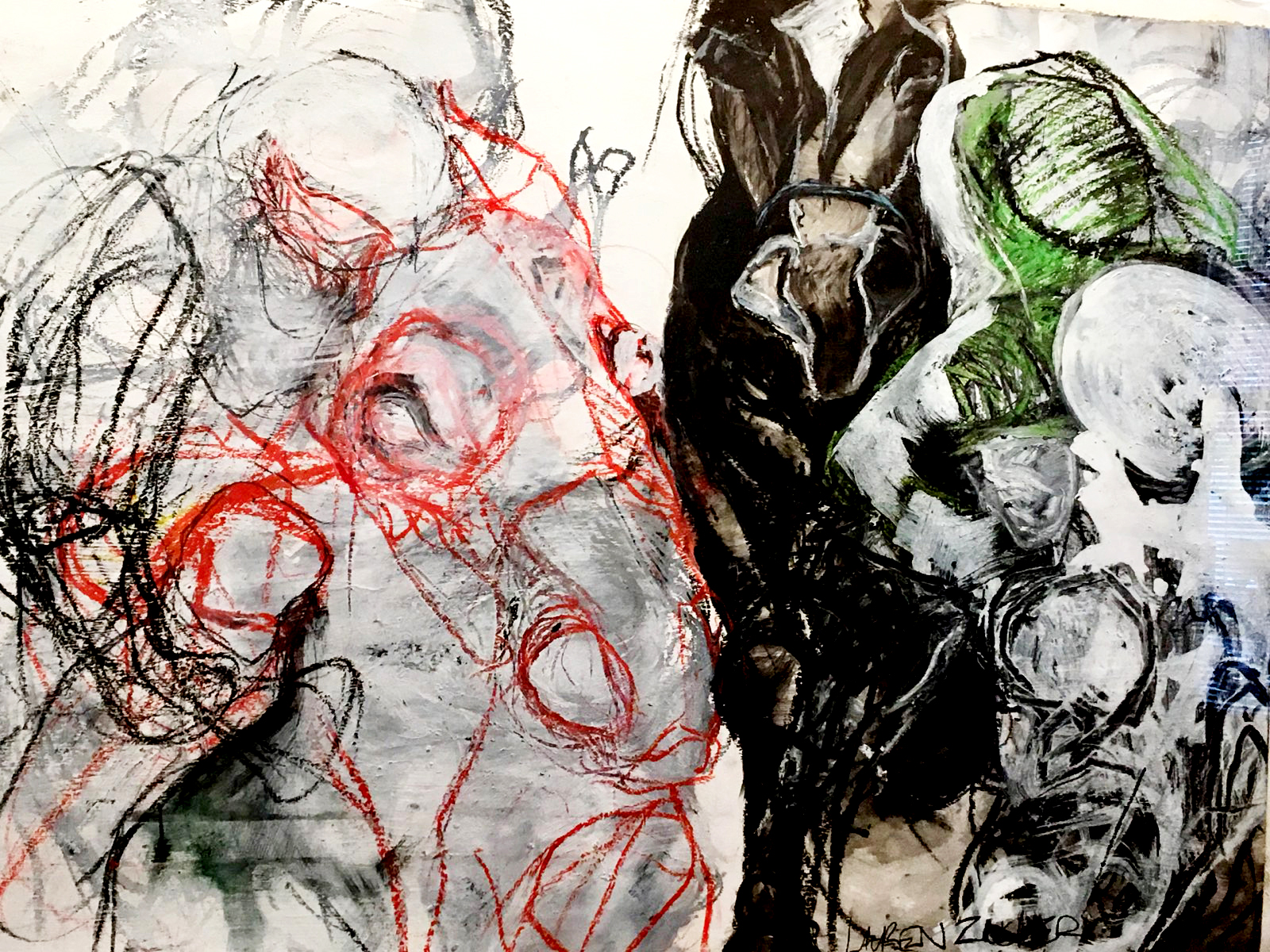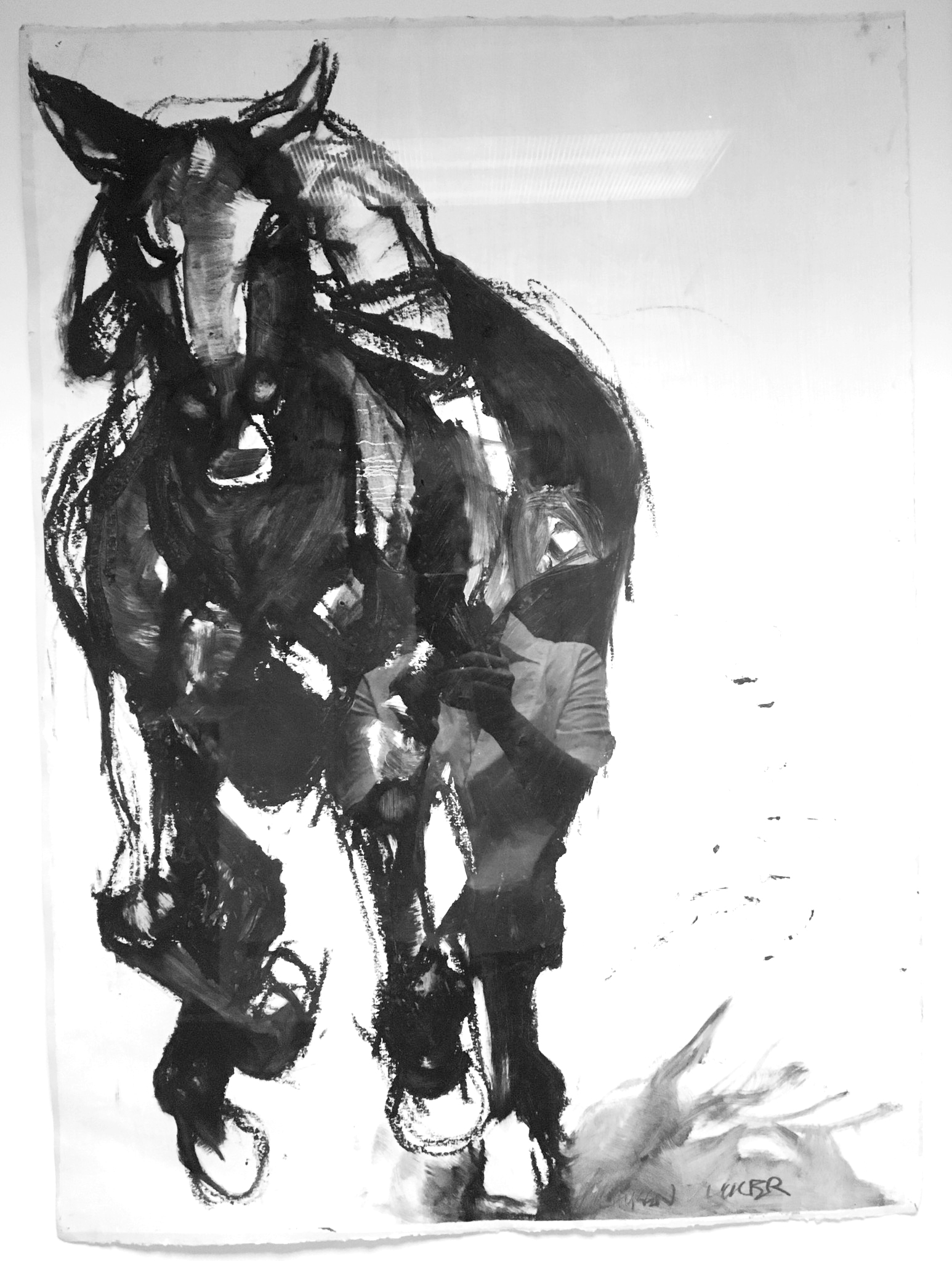 A job interview is not exactly an expected set up for an art sale. So when Lauren Zucker (now Richards) came looking for a job at Blackburn Architects some years ago, she found one. One she didn't accept because graduate school had a stronger pull.
But in a strange twist, John Blackburn liked the student artwork she showed in her portfolio so much he bought it. Two beautiful Lauren Zucker black oil bar on paper works hang in the Blackburn Architects' offices in Washington, DC. The large 48'x60' framed paintings are captivating for the brush strokes evoking the fevered jostling of racehorses leaving the starting gate. They are lovely paintings, and visitors to the office often comment on them.
She described her work this way:
Jockey: Horse
The Race

The Race: Within the confines of 10 furlongs there are meta-corporeal aspects of the horse race never experienced by the spectator. I first knew the horse race as an unfolded experience through the medium of literature. Drawn out in detail were the visceral relationships between horse and jockey, the operations/politics implicit in a racing farm, the strategies and traditions of breeding and training, the excitement of race day morning, and the cognizant thought behind every move during the course of the race. The race compresses into 2 minutes, the life experience of each racer- horse or jockey.

The Drawing: Through drawing, I looked to fold the life narrative of the racer into gesture. Then, as in the race, montage the narrative of different racers. I found inspiration for expressing this agony of entanglement in Picasso's Guernica. The narrative gesture of war is apparently not unlike that of the horse race.

The process of these drawings was subtractive, many beginning as a coat of black oil bar. The slow drying time of oil bar and linseed oil allowed me the time to carve the horses' bodies out the blackness. Portions of the drawing were reworked over and over again, conveying motion/time lapse through the multiplicity of elements, such as the doubling of the jockey's hand in different positions.

There is a dichotomy in horse racing which at once evokes both nobility and grit which I found to exist even at the scale of the horse's eye, loaded with both the noble courage and animalistic fear. And in the relationship of the fear in horse's eye to the Jockey's eye of focused determination. "
As time passed, though, Lauren's identity was lost to Blackburn Architects. We could make out most of her signature in the lower right hand of the paintings, but was it Lauren Ziker, Zucker, Luker? What had become of the artist who made the art we live with every day? Was she still an artist? A practicing architect? We didn't know. Finally, John was inspired to track Lauren down through a connection to a colleague who knew her and had kept in touch. And voila! Lauren is indeed still an artist, and an architect, and she was so excited we had tracked her down.
"I have such great memories of Blackburn Architects and of John. I remember being equally disappointed that the timing didn't work out as the job would have merged my two greatest passions as a life-long horse lover / equestrian and architecture. I am still working in architecture and still enjoy painting and drawing."
https://www.laurenzuckerrichards.com/
Posted in
Equestrian News
,
News and Press
|
Tagged Architect, barn architecture, Blackburn Architects, Blackburn Architects barns, Equestrian, Equestrian Architect, equestrian architecture, Equestrian art, Equine Architect, Lauren Zucker, Lauren Zucker art, racehorse art, thoroughbred art
|
Leave a comment >
05.17.18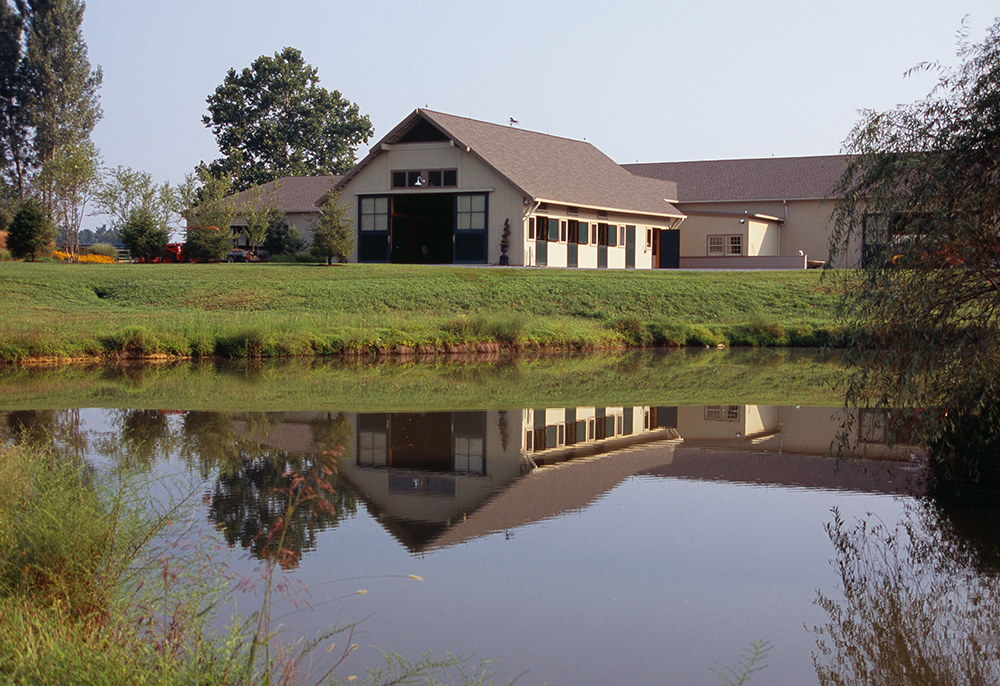 By John Blackburn
One of my favorite sayings regarding water on a farm is, "Certainly not possible in all cases, and not likely in many, but if at all possible, try to ensure the water that leaves your property is as clean as when it came onto the property."
My experience designing equestrian facilities, a personal interest in issues of sustainability, and my volunteer work with the Equine Land Conservation Resource, have raised my consciousness around land use issues regarding water. How a property drains it, where to find it, how to store it, and so on.
Whether your property suffers from too much or too little, water is an essential requirement for running an equestrian facility and has a significant impact upon the welfare of your horses, the efficiency of your farm and the budget of your operation. Water plays a big part in most Blackburn Architects equestrian projects. I thought I'd address a few solutions we can offer when there's too much coming onto your property (not your barn – that's another issue for discussion).
It's a problem that has come up recently at a farm in Texas, where clients face excessive stormwater runoff on their farm. When the rains started this spring, suddenly excess water poured onto their land from two different counties; displacing basically an entire neighborhood's volume of stormwater runoff onto their farm.
The team at Blackburn Architects will address this issue by determining the sizes of storages (dams or tanks) and diversions needed. Among the solutions that we'll apply to divert rainwater off pastures and away from buildings and high-traffic areas in the coming weeks and months are:
• Swales or Berms. Berms (elevated earth) and swales (shallow trenches) can act like gutters to redirect water away from areas that
get too much water. Planting grass, trees, and bushes will assist in stabilizing these natural water channels, so they don't become victims of
flooding over time.
• Catch Basins. A catch basin is an underground "reservoir" which collects water and drains it appropriately. Catch basins can
greatly improve farm drainage issues, allowing rainwater to flow through underground pipes leading to a sewer system or holding tanks (where it
naturally disperse). They offer a good method for moving water away from structures and off property, especially if you have to cross roads. At
Wyndham Oaks, in Boyd, MD, a Blackburn designed a system that takes water off the pastures and away from the structures, placing it into a long swale
that runs between paddocks.
• Retention Ponds. Retention ponds usually fill as a permanent pool of water, and they can also serve to temporarily detain excess
stormwater. When stormwater enters these ponds, it's released over a period of a few days, as water levels slowly return to normal.
All these methods of moving excess water can be interconnected. Run-off entering a catch basin flows through a daylight drain to swales located between paddocks. Before it leaves the site, runoff goes into a retention pond, which allows it to evaporate or gradually seep back into the soil, and recycle.
Posted in
Equestrian News
,
News and Press
|
Tagged barn architecture, barn design, Blackburn Architects, Blackburn Architects barns, Blackburn Architects Equestrian Design, Blackburn greenbarns, draining stormwater on a horse farm, Draining water on your property, Equestrian Architect, equestrian design, equestrian facility, Horse, Horse Barns, Horse Barns and Stormwater, Planning a horse farm, Too much stormwater, Too much water on your property, Water on a horse farm
|
Leave a comment >
04.24.18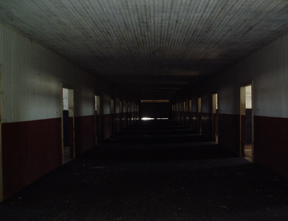 With careful attention to design details, it is possible to retrofit your barn to be healthier for your horses. One important renovation to existing built structures is the addition of skylights and ridge vents to increase light and air flow.
Only a fortunate few horse owners design and build a barn from the ground up. Most buy a property with an existing barn. As the photos illustrate, Blackburn Architects' client Kevin Plank, the CEO of Under Armour®, bought historic Sagamore Farm in Maryland, and undertook a significant renovation to add light and ventilation to the interior of his historic main barn.
Significant expenditures are not necessary, however. In this discussion, I'm offering simple recommendations for achieving healthier living space for horses starting with an existing barn.
VENTING OPTIONS
For venting an existing barn roof, I suggest one of two options:
1) Add Dutch doors along the barn sides or
2) Add a vent along the bottom edge of the skylight (or ridge if that works best though I prefer the curb vent for better free air access).
Option 1: Add Dutch doors along the barn sides
This option provides good access for ventilation to each stall and a great method of controlling air flow. An owner has the option of leaving just the upper door open to reduce the flow or open both upper and lower doors to give maximum free area. (Of course, in order to open both doors for full access you'll need to add an interior mesh panel to keep horse in the stall.) If Dutch doors aren't possible or within the budget, then I recommend adding low wall vents to bring in air low to the floor (which is good for foals and to vent odors caused by ammonia gases near the floor). The vents should be dampered for air control and screened to keep rodents from getting into stalls.
Additionally, Dutch doors provide an abundance of natural light, which reduces the need for electric lighting in the barn and helps purify the stall flooring, reducing the creation of harmful ammonia gases.
Option 2: Add a vent along the bottom edge of the skylight (or ridge)
This option allows for vertical ventilation of the barn using the Bernoulli Principle and the chimney effect. Though the existing barn may not have the best angle for prevailing breezes or roof slope, it will help nevertheless. I also recommend vents at the top of the wall at the roof eave if they can be added. This permits year-round ventilation above the heads of the horses, but still ventilates the barn vertically using the techniques described above.
ADDING SKYLIGHTS
There are a variety of methods and materials that can be used to retrofit skylights into an existing roof. At Sagamore Farm, Blackburn Architects' design replaced the existing shingles with a new metal roof (not necessary; Sagamore's roof shingles were worn out and metal was chosen as a better long term material). In more typical circumstances where the existing shingles are salvageable, simply remove the shingles along the ridge and cut out the sheathing or sub roofing material, leaving only the roof rafters.
Continuous curbs should be built along the edge of the opening. Although a continuous skylight or curb is not necessary, I find it aesthetically and functionally preferable. A skylight can then be placed on top of the curbs spanning from one side of the aisle to the other. The curb can and should be vented. The size and amount of free area depends on the barn design, size and location. The skylight width does not have to span the full width of the aisle but somewhere between 8 to 12 feet should be adequate.
The skylight can be either glass (costly and should be safety glass) or some form of polycarbonate. Check your local building codes for requirements. I do not recommend clear glazing. Translucent glazing reduces the visibility of dirt and filters light, which better serves the barn interior. It's best not to let a strong band of sunlight hit a stalled horse for a long period of time. I also recommend painting the interior of the roof and framing members a light color to improve reflectance.
If a continuous skylight is not possible, then individual roof skylights can be installed over the center aisle. However, if the skylights are not high on the roof and are not vented, they may not do much to increase the barn's vertical ventilation.
If the barn has a loft it may be possible to remove it, leaving specific structural members spanning across the barn to hold the building together and to provide wind shear strength to the barn. If the loft is used for hay storage (which I don't recommended for health and safety reasons), then it may be possible to remove a portion of the loft over the aisle leaving the loft in place over the stall for storage or the reverse of that (remove the loft over the stall but leave it in place over the aisle).
While these approaches to increasing light and ventilation in existing structures can work wonders, you should always contact a structural engineer before installation of skylights to determine if the barn can take the modifications needed of if some additional structural work needs to be done.
Posted in
Equestrian News
,
News and Press
|
Tagged adding light and ventilation to a horse barn, Adding skylights to a barn, adding ventilation to a horse barn, Architecture, barn architecture, Blackburn Architects, Blackburn Architects barns, Blackburn Architects Horse Barn, equestrian architecture, equestrian design, equestrian facility, Equine Architect, equine design, farm planning, healthy horse barns, horse barn, horse barn design, how to add skylights to a barn, how to add ventilation to a horse barn, John Blackburn, Sagamore Farm, thoroughbred, thoroughbred barn, thoroughbred horses
|
Leave a comment >
02.23.18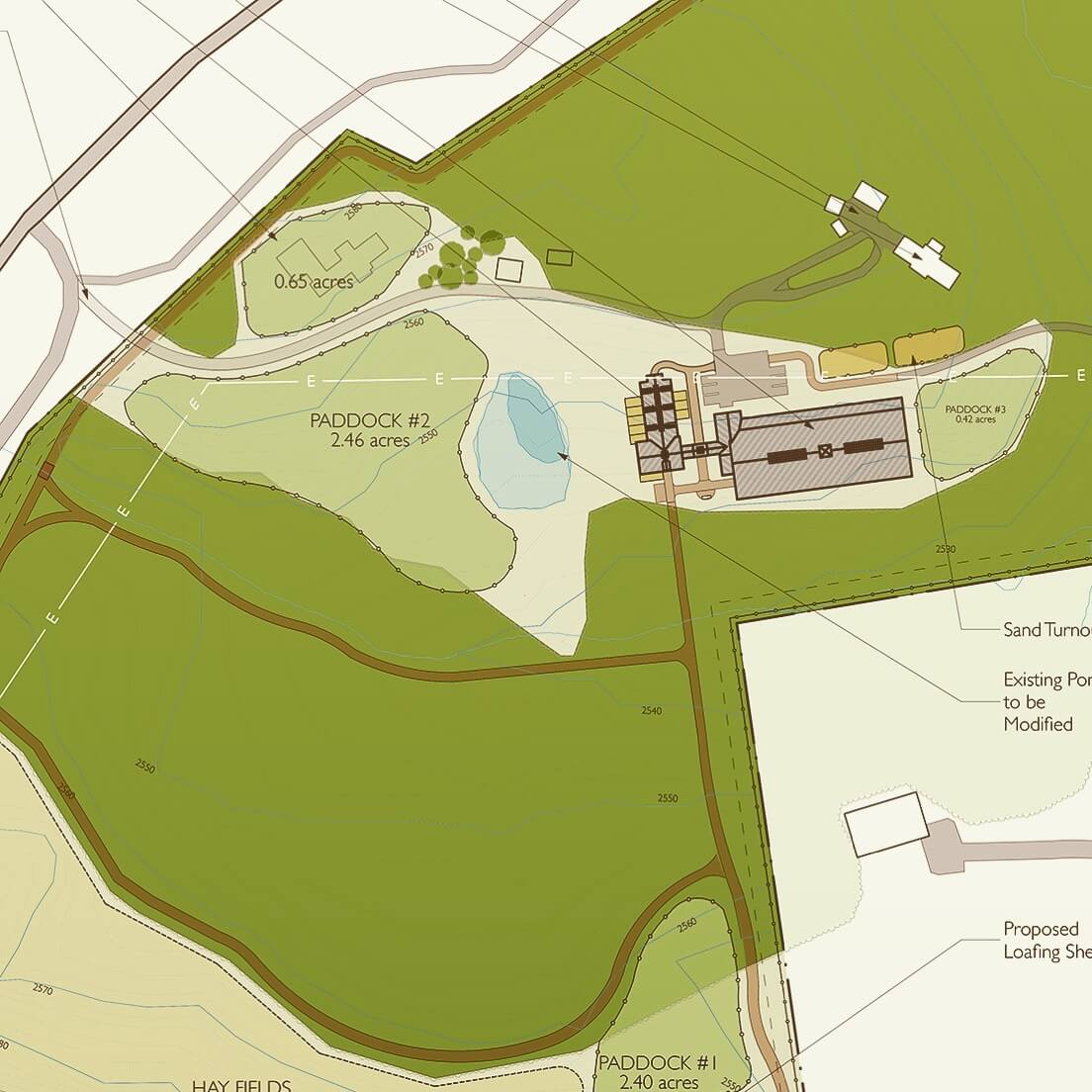 Today I got a call from a client who's buying 120 acres in North Carolina and plans to build a new equestrian center. It's been years since horses have been on the property. The pastures and paddocks are overgrown. The fences are in disrepair. The property has steeply sloped areas but the client wants a dressage ring. Drainage will be an issue. Together, we'll figure out a way forward by starting with a Site Plan to map the future; completing the owner's vision in budgeted stages over several years.
A site plan is completed by studying topography, wind and solar directions, neighborhood easements, height restrictions, zoning restrictions, soils and operational necessities (where are roads, pastures, barns, storage sheds, etc.), There are many benefits to putting together this "roadmap" for future use of the farm property. Consider that there are three major categories of costs when planning to bring horses onto your property: 1. Operational, 2. Environmental, and 3. Infrastructure. Proper planning will save you money in all three areas. Fewer roads, less fencing, better drainage all ensure that the whole farm, not just the horse barn but the entire collection of structures on the site, operates efficiently and safely.
Operational Considerations: First locate where you'll put the horses – where is your turnout? Where will you store hay, equipment, or vehicles? Do you have access for manure pickup, large-truck deliveries, guests or visitors? Minimizing the number of steps necessary for your daily routine (turnout, stall mucking, etc.) will save labor time, which of course you know is money in the farm biz. Planning will also preserve space for paddocks.
Environmental Considerations: Figure out structure placement within your acreage. It's important to properly orient any new buildings in the landscape. We design our barns to generate their own ventilation, placing them perpendicular to prevailing summer breezes. (One of many design considerations for maximizing light and ventilation, which is a subject I've written about often.) Additionally, placing structures where the land will drain easily makes good sense and will save you and your horses potentially hours of muddy misery or the cost of constantly replacing eroded footing.
Infrastructure Considerations: Fewer roads to maintain means fewer dollars spent.
Creating a master plan does not mean that every part of it needs be built at once. The plan may end up taking years to implement, but as each new structure or paddock is added, it isn't done in the usual haphazard way. It will save you from asking, "You know, I could use a tractor shed somewhere?" Even those with very limited budgets should consider getting the advice of an expert at the planning stage, given the importance of the optimum farm layout.
Bringing in a professional to carefully plan a site doesn't mean you need to commit to having a custom barn designed. Blackburn Architects' guidance can help whether you're purchasing a kit barn, designing a custom barn, or renovating existing structures. A site plan stands by itself as a service we greatly enjoy delivering to clients across the country.
Posted in
Equestrian News
,
News and Press
|
Tagged Architect, Barn, barn architecture, barn design, Blackburn Architects, Blackburn Architects barns, Blackburn greenbarns, Equestrian, Equestrian Architect, equestrian facility, Equestrian Master Planning, equine design, Horse, Horse Barns, horse farm, Horses, John Blackburn
|
Leave a comment >