Equestrian News
02.13.17
Q: We're renovating our fireplace, and want to incorporate the exposed fireplace flue shown in your German bank barn renovation. Where do you get the pipe for it?
Thanks,
Barn Enthusiast
Dear Barn Enthusiast,
Congrats on your barn conversion! We love breathing new life into these wonderful structures. To answer your question about the flue we used, It's a galvanized steel flue, 12"-14" in diameter, and came in about 4 foot sections.  It should be pretty easy to find. Stainless steel is another good recommendation and look.  Galvanized is a little less expensive, but a little more rustic.
Hope that helps! Good luck with your project.
John
Posted in
Equestrian News
,
News and Press
|
Tagged Adaptive Reuse, Architect, Barn, barn architecture, barn design, Barn Fireplace, Blackburn Architects, Blackburn Architects barns, Blackburn barn conversion, Blackburn greenbarns, renovating an old barn, turning an old barn into a house
|
Leave a comment >
01.31.17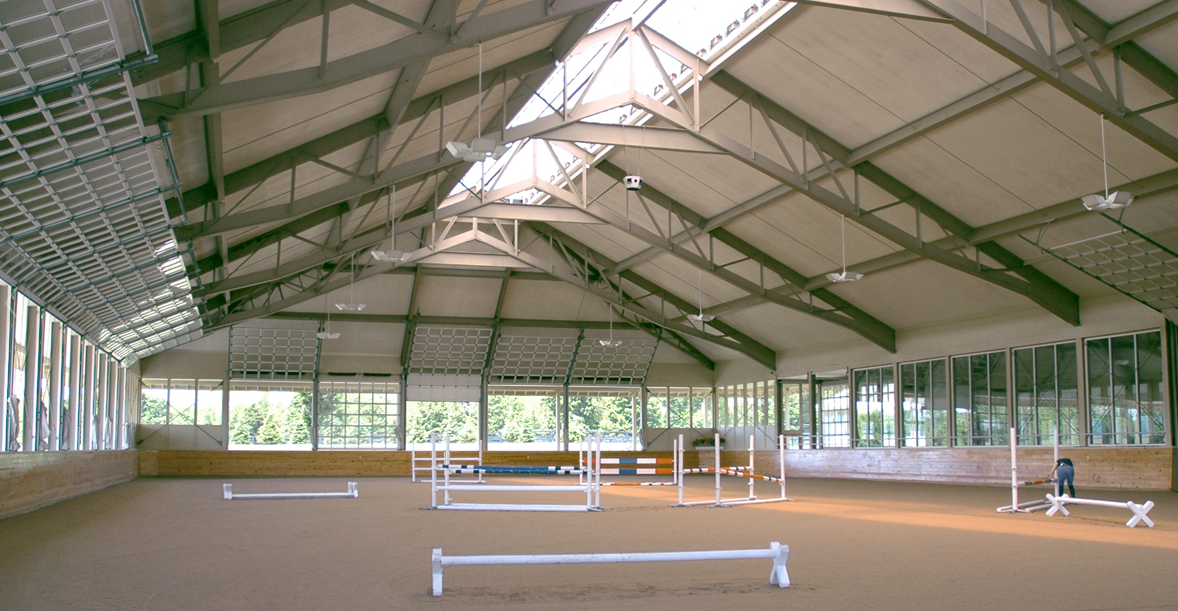 Hello John,
I'm meeting with an arena builder this morning.  It's finally clearing up around here, so we hope to start constructing the forms for the barn foundation this week.
Q: Do you have any advice about a design for a canted ring liner?  Or even just describe what is the norm?  We need an idea of how a segment typically is built.
Is it a good idea to go on up vertically after the canted part, another couple feet, to get a better compromise between indoor and covered only??  Or would that be claustrophobic?  We plan to use gale shields (netting panels) to cover the openings/protect from rain and wind.
Thank you!
Northwestern Eventing Rider
A: Dear Northwestern Eventing Rider:
I'm not sure what you mean by "ring liner."  Do you mean the kick wall?
There are a variety of ways a kick wall can be designed.  I typically design it to the height the owner requests (typically around 4 to 6 feet).  We kick the base of the wall out about a foot from the top so it is slanted to protect the rider's leg.
The top of the kick wall can go to whatever height you feel comfortable but I would make sure if you are using a steel frame for your arena roof and the interior face of the steel column slopes inward, that you allow some extra space between the top of the kick wall and the front edge of the column so that the rider's shoulder or head doesn't come in contact with the column.
I suggest extending the kick wall into the footing to the gravel base. Remember, the bottom boards and the framing behind the kick wall should be constructed of treated wood wherever it comes in contact with the ground or grade.  In most cases the frame is constructed of pressure-treated lumber and the bottom boards are pressure-treated to a point about 18" above the footing surface.
Also, I suggest putting gravel in back of the kick wall to the height of the arena footing to prevent the footing from being driven over time under the kick wall by the pounding of horse hooves.
I hope this is helpful.
Good Luck,
John
Posted in
Equestrian News
,
News and Press
|
Tagged Arena, arena construction, Blackburn Architects, Dear John advice, designing a horse riding arena, designing arena kick-wall, equine design, equine designer, indoor arena, indoor riding arena, kick wall design, riding arena design, ring liner
|
Leave a comment >
01.09.17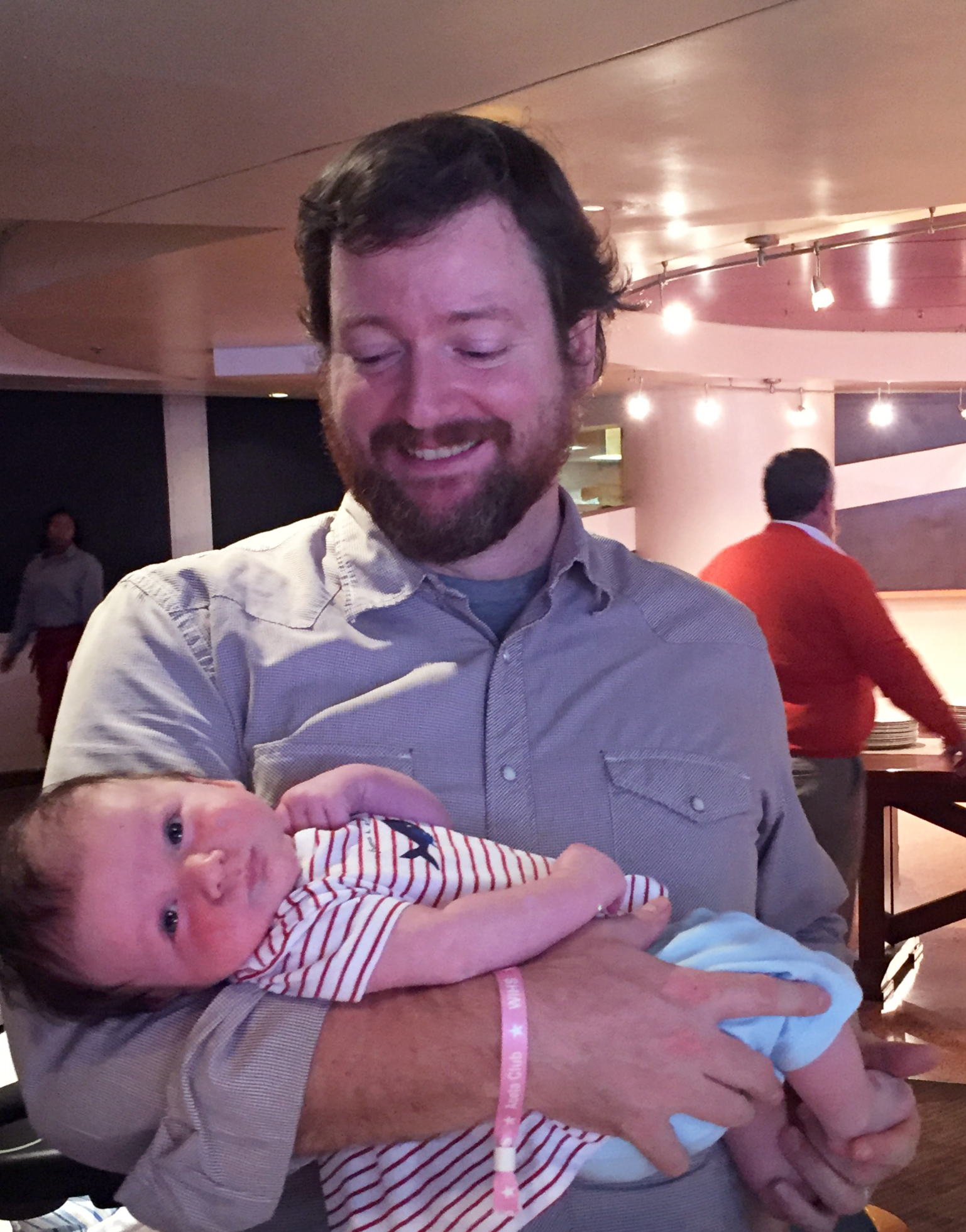 Ian Kelly with his son Jerry, at the Washington International Horse Show in November, 2016
At the beginning of 2017, John Blackburn announced the promotion of Senior Project Manager Ian Kelly to Associate Architect.  Ian, who has been with the firm since 2005, specializes in large-scale renovation projects, residential and commercial projects with special emphasis on equestrian design.
Your name is Scottish. Aren't you from New Jersey?
Ian is Gaelic for "John," whereas my brother's name, Sean, is Irish for "John."  My Dad and his brother are James John and John James.  Their Dad was John.  My family is Irish on both sides.  My Mom was an Ahern.  It helps explain my reddish hair and the blue eyes. And yes, I AM from New Jersey.  Both sides of my family are.  They sometimes refer to where I grew up — Spring Lake, NJ — as the "Irish Rivera".  A little area of the Jersey shore that attracted a lot of Irish immigrants and first generation Irish-Americans to it.  It has the highest population of Irish-Americans of any municipality of the country with somewhere near 50% of its residents having Irish descent.
What's it been like working with John Blackburn for the past 13 years?
I think what's so unique about working for John is that you are immediately kind of thrust into an important role. You're not just given some menial task to work on. John gives you as much room to grow as you want. Years ago, I understood that was unique in architecture. I figured out early on that I could find another job but I would never find a better situation or boss. I would never have found a better work environment. Blackburn Architects is a great place to work.
What John says about you… It's worth noting for the record that John wanted me specifically to mention your client focus.  He brags about your hands-on approach to solving issues and willingness and desire to respond to, and address client needs almost to a fault.
Not that I asked…
Let's back up a little. Why did you become architect, anyway?
Right, there were a lot of things that led me in that direction.  It's kind of crazy to say that as early as 6th grade I had the idea in my head of becoming an architect, so instead I will say that I'm heavily influenced by my family.
My maternal grandfather was in the U.S. Army Corps of Engineers, and served in the Army and Air Force for 30 years between the two.  During his time, he was involved in all sorts of construction efforts and two wars.  He was airdropped in to build runways and barracks during WWII and the Korean War.  When he came back to New Jersey, he started working for the local Catholic parish as head of their buildings and grounds and worked in and around construction for another 20 years. He oversaw and helped construct two mausoleums, and ran the engineering and maintenance crews for the elementary school, two churches, a rectory and a cemetery. He directly influenced me.
Growing up, my grandfather would grab me by the hand and lead me somewhere where he would ask me to stand and hold tools for him while he would do something like pop open a sash pocket to replace the counterweight in an old wood window.  I may not have fully understood at the time what he was doing, but it was always fun to me.  I was also motivated by being the first one from my Dad's side of the family to graduate college with a four-year degree.  It became a goal of mine, so the desire to get a better education dovetailed with my interests in construction quite nicely; all of that contributed in me being led to pursue architecture.
You are so focused on sustainable principles in your designs. Where does this passion come from?
There are a number of different architects who've influenced me. But it really comes down to, in my opinion, my pursuit of what would be best described as common sense building principles. For example, all the architects who I really appreciate and like are not only great designers, but are people who have embraced sustainable design. There's something very practical that seems to have been lost in the 1,000s of years of construction technology. Go back to ancient Rome or Greece, study what they were doing, and you see very simple techniques used to control temperature, for instance. Building orientation, shape, size, mass: all were considered for very practical reasons. They didn't just accidentally end up being that way. That's why, for instance, adobe construction has super thick walls and tiny windows.
The nice part about the way John practices, and his take on sustainability, is that it's pre- buzzword. It's not green for the sake of being green because it's a marketing gimmick. It's the principles. They work. And once you've started there, and then if you make smart decisions during construction, then you've got yourself a really good building which is sustainable and environmentally friendly. Good design, in my opinion, begins there.
There's been a big change in your life recently. Tell me about Jerry.
Jerry. Yeah. He's kind of breaking all sorts of records with us and our family. It took until about 3 ½ months (he's four months now) for grandma to really hear him cry, so… He's very mellow and he's been too kind to us. I struggle between being proud and not wanting to rub it in anyone's face because I know we didn't do anything special. He's just who he is. We lucked out. As a new parent, I know this can't be appreciated enough. We see what our friends and families have been through and we are grateful for Jerry every day.
Simple question. What's your favorite part of the day?
Hmm. I don't know if that's a simple question. My answer is corny these days because of Jerry, but I really like early morning with him, because he's so alert. That's when he's most awake. When I get home he's still happy to see me, but he's not as "talkative" and then he's off to bed before too long. But I normally burn the candle on both ends; I like to stay up late too. We'll see. I'm not sure I'll be able to keep this up much longer.
You're an urbanite. What's your favorite city?
My favorite American city recently is probably New Orleans. Every time I visit I love it. The people, the culture. But I'll need to add San Francisco and Chicago to the list. All very different places, bound in my mind by the great people and cultures. This hints at my love of music. That's the tie that binds. Blues, Rock, Jazz.
Best thing about your job?
The variety of projects that I get to work on. I don't want to ever be "pigeon-holed." We do a lot of equestrian work which I really enjoy.  It's afforded me the chance to work on some amazing projects. And, of course, I've also had the opportunity to work on many different projects in the District of Columbia. In addition to the equine practice, the firm does a lot of historic preservation and adaptive reuse as well as residential work. We've worked on bars and restaurants; we've worked on multi-family residential; we've worked on adaptive reuse. All these different things. Breweries, party spaces, homes. It's really nice when the problem doesn't always fit in the same sized box. It's cool to be able to experiment and try solving different problems. The diversity in project type can lead to interesting and new ways of thinking about each project individually.
What's something most people don't know about you?
Not many people know I'm really handy. I used to work for a plumber as a kid and I'm good at carpentry. We converted our basement into a studio apartment and I did 70% of the work myself with friends. That or the music thing. Last year, even while expecting Jerry, my wife and I probably went to well over 50 concerts; closer to 100 – some local, some far. The furthest I've gone for a festival is Montreux, Switzerland. The Montreux Jazz Festival. It was an incredible travel experience.
12.20.16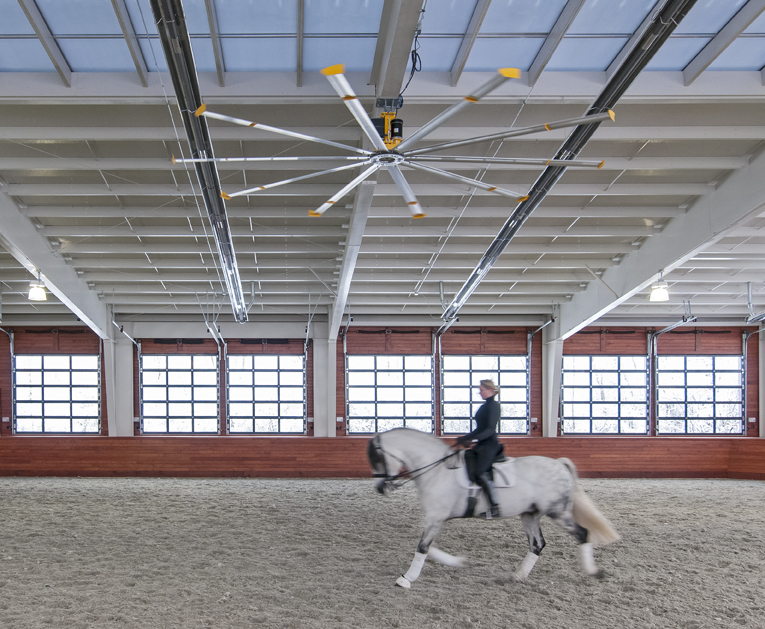 Dear John:
Our small therapeutic riding center operates within an existing indoor arena that is a converted aircraft hangar (all steel, no ventilation). We need to retrofit it to improve ventilation. Condensation in the winter is annoying, but the heat in the summer is a real safety concern.
Can you help?
Signed,
Healing with Horses
Dear Healing with Horses:
First, I suggest you contact a dealer in large, industrial fans. Big Ass Fans is a company I can recommend but there are certainly others you could contact.  Often, they can provide assistance selecting the right size and model for your arena. I imagine it will require at least two but maybe three ceiling mounted fans. See Pegaso Farm (http://blackburnarch.com/projects/pegaso-farm/) for one of our arena installations. These dealers can probably also connect you with a local contractor who can install them.
You may want to consider a large, louvered fan in each of the gable ends of your arena with dampers. If the louvers are large, at least 4 ft square, place a large two-way fan that allows exhaust or intake and a damper that opens only when the fan is on. They should help exhaust hot air in the summer. The contractor who installs the industrial fans also may be able to install the louver fans.
The fans and louvers should help with the temperature and bad air quality in your arena. They may help with the condensation problem, but won't resolve it. The only way to resolve the condensation problem is to install insulation on the interior underside of the roof (which I assume is exposed metal). The important thing to consider with insulation is it has to be bird proof.
Bird proofing can be done in a number of ways. Insulation is available in a blanket with a plastic covering that is supposedly bird proof, in a blanket with a perforated metal liner on the interior face or in a ridged board insulation. These options range in cost and quality from lowest to highest. Choose the one that more closely fits your budget.
Penn State completed a very helpful study on ventilation in horse barns, and it provides a great deal of helpful information: http://extension.psu.edu/animals/equine/horse-facilities/stable-ventilation
I hope this is helpful. Best of luck in your important work! Horses make wonderful healing partners.
John
11.30.16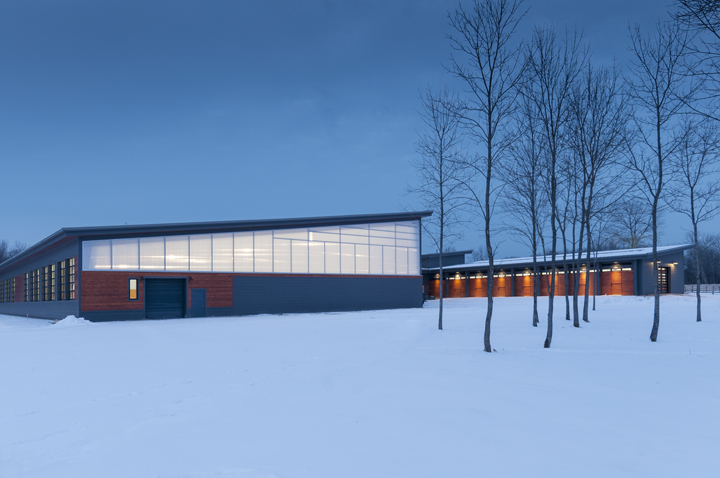 Blackburn Architects' Senior Project Manager Ian Kelly answers questions about the glass used in equestrian facilities.
Q: Dear John,
I'm overseeing renovations to a barn in the cold climate near Quebec. To improve the barn's functionality, safety and ventilation, we are converting the windows to double-pane, energy efficient, glass.
Please help:
1. Do you recommend a pane of tempered glass on one side of the spacer bar and regular laminated glass on the other side? (Editor's note: a spacer bar, sometimes known as a profile, is the continuous hollow frame which separates the two glass panes in a double glazed window.)
2. Is it better to have tempered glass throughout including the laminated glass? 
3. It appears that laminate glass consists of a clear plastic laminate sandwiched by glass on both sides. Do both glass pieces that make up the laminate glass need to be tempered?
4. Do both panes of glass making up the double glazed unit need to be laminated?
5. What minimum thickness of glass and minimum airspace or spacer bar size do you recommend? 
Thanks so much for your help,
Barn Manager Trying to Get It Right
A: Dear Barn Manager Trying to Get It Right,
1. We recommend that the glass used in equestrian structures be tempered throughout, including the glass that is laminated. The tempering and lamination processes do separate but similar things: They create safer glass for people and livestock.  Tempering makes the glass break into small chunks as opposed to slivers and sharp pieces, while the lamination gives the glass a slightly greater resistance to breaking, and keeps the glass in place when and if it breaks.  Both serve to make it safer around the horses if a window should break.
2. If horses have access to both sides of the glazing unit, then we recommend both sides of all glass should be laminated and tempered.  If cost is an issue, I would stick with everything being tempered and omit the lamination.  I say this because laminated glass does not always age as well as tempering.  This doesn't happen in every case, but the laminate can shrink and pull in from the corners of the glass, and eventually become visible over time.  We prefer tempering.
3. Any glass that is exposed to the horses should be either tempered or laminated at a minimum.  If the horses have access to both sides of the doors, yes, both panes should be protected in one way or the other, or both.
4. You should work backwards from the depth of frame that you have, minus about 1/4".  Working with the glass manufacturer will determine what they have available for the spacer sizes. The more airspace you can allow for the better, but each manufacturer already works with a few different size spacers.  Use the largest one that still allows the glazing unit to fit within the frame.
You also should consider some other factors pertaining to glass in cold climates, and request glass that meets the following:
You want glass with a high solar gain, and low emissivity.
1. The glass should have a Solar Heat Gain Coefficient (SHGC) around 0.55
2. The glass should have a U-value of less than 0.33
3. The glass should have a higher value Visible Transmission (VT)
4. Use double-paned glazing unit with low-e gas that has a vacuum sealed gasket between the panes of glass.  The pocket between panes of glass is filled with an insulation gas, most typically argon.
5. You may also consider using low emissive (low-e) glass panes.  Low-e prevents the transfer of heat from warm to cold.  So if you do, the low-e coating (typically a metallic oxide) should be on the outermost side of the innermost pane of glass.
There are pros and cons that should be considered with each option.  For instance, with #4, over time and if the gasket seal fails, you can begin to see condensation between the panes of glass.  Whereas with #5, you may be able to see the coating from certain angles, especially if you are wearing polarized sunglasses.   
Since the advantages are a bit more obvious, and similar to one another (i.e. tempered vs laminated, and low-e gas vs low-e coated glass), here is a summary of some of the disadvantages to each option:
tempered only – glass may still shatter (in harmless pieces) and fall to the ground
laminated only – laminate can discolor over time and shrink in from the corners of the glass
low-e gas filled glazing unit – if the gasket fails, condensation can form in between the glass
low-e coated glass – may be visible in certain light conditions, or when wearing polarized sunglasses.  You can sometimes see this on automobile glass.
My suggested starting place would be tempered glass, meeting the SHGC and U-values recommended above.  I would then lean toward #5 – low-e coated glass, since with #4 you can expect the gaskets to fail at some point, and then the glazing unit would need to be replaced again.  If the coating of the low-e coated glass is too "visible", then low-e gas may be the better option, with the expectation that you may need to replace some of them again in 10 to 20 years, if and when the gaskets fail.
11.21.16
John Blackburn answers your questions about barn design.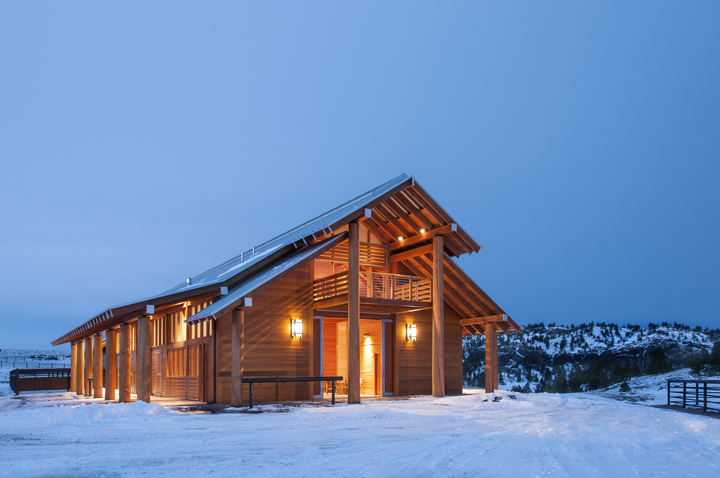 Q: Dear John,
Long ago you were kind enough to give me a bit of advice about planning a barn.  We got started last spring, but were waylaid by an evil contractor who put the barn in the setback, with poles only 18″ in the ground, and a drainage system two feet too high to catch any water.  On top of that, he dumped 130 truckloads of bad, unnecessary fill, and built a retention pond that is 36% too small – UGH! Luckily it was all easily documented by the project's engineer so we are able to recoup a little of the money laid out.  
So:  moving along, we deconstructed the barn, redid all the drainage, and turned to a pre-fab barn.
The new building is a 60×120 raised center aisle structure.  I requested open sidelights and a ridge vent to help keep airflow going in the soggy, humid climate in the northwestern US.  The stalls almost always will be open to an 8ft shed eave and attached paddock.  Their fronts are composed of lots of steel mesh — so lots of air.
I'm NOW STUCK. I feel quite stuck because no one around here understands your way of doing things. I'm trying to incorporate what I learned over the years from your publications.
Please help with my roofing situation:
The roofing is 26g boxed rib metal panels.  I requested polycarbonate panels be incorporated for natural light.  The question is whether it's unwise to let the whole raised center be polycarbonate, or go with only one light panel per 12ft section–and whether it's crazy to use clear vs opaque white panels.  (Most weeks out of the year it is damp and grey and cold here.)  The barn company is in hot California so they think the whole idea is nuts.  
If moved to offer an opinion, please know I'm already grateful.
Thank you,
Northwest Endurance Rider
A: Dear Northwest Endurance Rider,
I understand why you resorted to prefab because you've been thru a nightmare. However, prefab barns can be hot boxes in the summer, and don't always provide adequate controls for natural light and ventilation. Pre-designed, pre-engineered buildings are typically designed the same for all areas of the country and no two areas of the country are alike nor are the sites. Environmental and weather conditions can differ dramatically so a prefab building designed to fit all sites just does not work best for the health and safety of stabling for horses.  But I understand.  You've selected the barn you want, now my advice is you should provide for as many options as you can for control of natural light and ventilation.
You mentioned a 60 ft x 120 ft raised center aisle structure.  How many rows of stalls are there in the barn?  The best arrangement is to have one center aisle and a row of stalls along each side of the barn.  The 60 ft width sounds like there are two main aisles with rows of stalls on both sides of each aisle.  That would mean two of the rows of stalls are back to back and not on the exterior where they get adequate ventilation and natural lighting.
The 8 ft shed eave is too low in my opinion.  I use 12 ft as a minimum though 10 ft may work for smaller horses and if there are no obstructions below the roof.  However, there are usually lights, fans, beams, etc. that drop down and they can be a danger to horses.
I like the use of translucent polycarbonate panels.  Translucent, not clear, as it breaks up the light and hides the dirt that accumulates on the skylight over time.  Providing polycarbonate across the center aisle sounds nice, but I'm unsure how it will look on the barn design you selected.  If you're putting a skylight over the raised center aisle roof, what is on the face of the raised center portion?  There is usually some sort of glazing or louver for venting.  It will be important that these elements complement one another. Thanks for the question and I hope this is helpful.  
Good luck!
John
11.01.16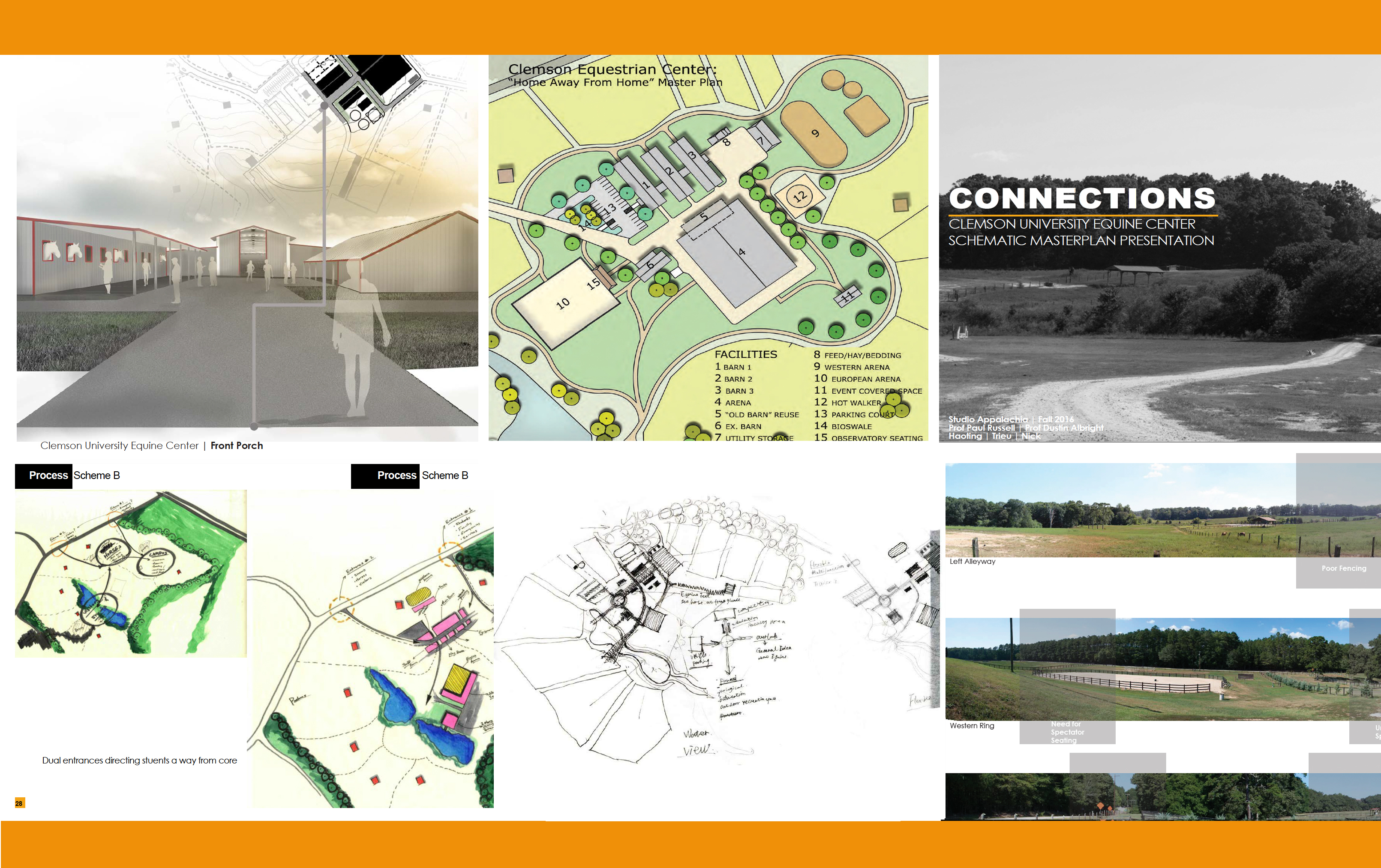 Checking back in to report what's been happening at Clemson's School of Architecture & Studio Appalachia.
 In case you missed it… Studio Appalachia is a collaborative, project-based graduate design studio between Clemson's school of architecture and its department of landscape architecture. The Studio is directed by associate professors Dan Harding and Paul Russell. Studio Appalachia targets issues such as: accessibility to natural resources, sustainable building strategies, and approaches to long term visioning and planning.
I was asked to participate in this year's studio because it involved horse facilities, specifically re-envisioning the Clemson University Equine Center (CUEC). With aging facilities that are well-used and well-loved, I knew it would be fascinating to see how these talented students created a fresh program for the facility. The teams of architecture and equine business students (a new twist for the studio) have spent the last several weeks immersed in detailing the site and facility requirements, learning about design issues unique to equines.
Teams consisting of three to four students conducted rigorous research, made several site visits, interviewed user groups, studied topography, considered land, sun, wind, circulation paths and traffic flow to create detailed and well considered Master Plan Studies and Field Reports.
Referencing the evolving formal and material contexts of Southern Appalachia, the four teams stated as goals to "improve circulation, establish organization, and enhance the (existing) ecology of the historic Clemson farm. To them, as one team eloquently stated, the CUEC is more than a farm; it is an institution that showcases the prestige of the university, and embodies the history, strength, and energy that the equine program was founded on.
The preliminary master plan schemes presented earlier in October were successful in developing goals and considerations for further study. The studio presents preliminary concept designs later this week and I'm looking forward to the big reveal.
09.28.16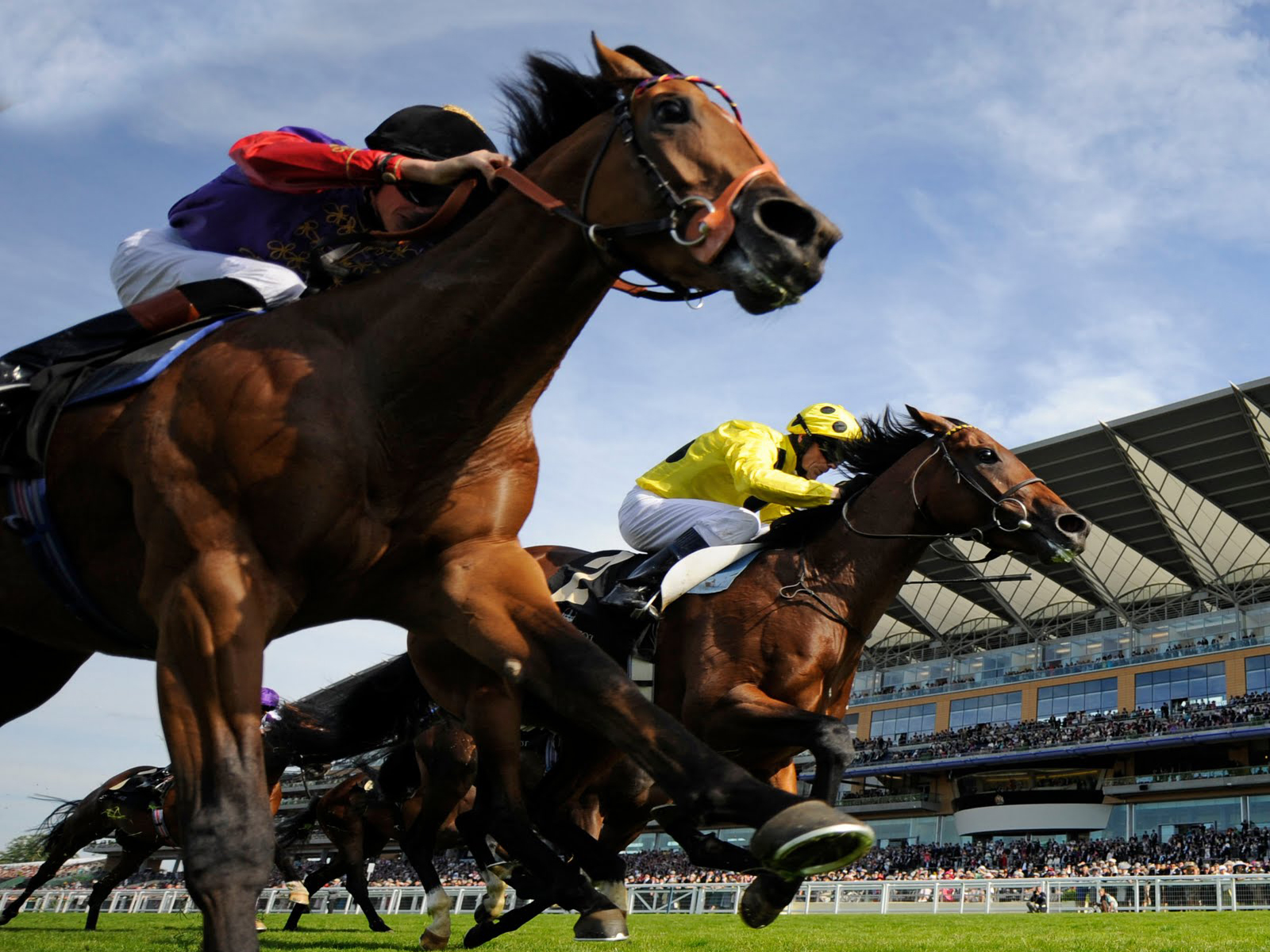 Last week the Paulick Report featured a story on worries over the possible closing of California's Los Alamitos track (http://www.paulickreport.com/news/the-biz/life-horse-racing-happens-los-alamitos-acreage-racing-ends/)
As a Board member of the Equine Land Conservation Resource, a national organization dedicated to saving land for horses and horse-related activities, it's disheartening to hear of the potential loss of a thriving racing venue for what will no doubt become another strip mall and urban sprawl.
I have been concerned for years about the loss of race tracks, especially older ones in the inner city or suburban locations that are under pressure to close.
Santa Anita was considering reducing their stable area several years ago and selling land to an adjoining commercial shopping mall. There was pressure to shut down Pimlico (an inner city aging track) and move the Preakness to Laurel Park. Suffolk Downs in Boston is under similar pressure. The list goes on and on.
And of course the answer for many race tracks has been to add casinos, which do nothing for horses or horse racing except cheapen it. Racing is a great spectator sport. Look at racing in Europe, especially in England (Goodwood and Ascot are two prime examples) where horse racing is an enjoyable event not a place where desperation fuels gambling.
The Los Alamitos track supports the horse economy, preserves open space, diversifies the suburban environment/landscape/streetscape/economy and preserves the equine heritage of the site and area.
There are heartening success stories. When Illinois' Balmoral Park hosted its last harness races at the end of 2015, a New York company, Horse Shows in the Sun, purchased the 200-acre site, and after a significant investment is preparing the grounds for show jumping competition starting next spring.
I'll be writing more about this in the months to come. To learn more about the Equine Land Conservation Resource and its mission, please visit their website at www.ELCR.org to become a member and get involved.
07.25.16
This fall, I'll be heading back to my Alma Mater to impart 40 years of architectural experience and equine design know-how to a new generation of architects. Go, Tigers!
Beginning this August, graduate students and upper level undergraduates in the Clemson University School of Architecture will enjoy a unique opportunity for an immersive and interdisciplinary design course. "Studio Appalachia"-the John Blackburn Fall fluid studio- will focus on two projects selected to invoke a critical examination of contemporary design in the foothills of the Blue Ridge. This blended studio will partner architecture and landscape architecture students in careful master planning and design exercises for Camp Hope in Canton, NC and for the Clemson Equine Center in Clemson, SC. The latter project will also incorporate Equine Business students as special consultants, and will draw heavily from the expert oversight of John Blackburn, who has dedicated much of his professional career to the art and science of equestrian architecture and planning. 
Students on both projects will begin with a carefully orchestrated series of site visits and case studies designed for exposure to the broader ecological and cultural forces that impact design and operation in the sorts of complex settings under consideration. This will be followed by careful site analyses and master plan studies. The projects will conclude with detailed landscape and building designs, targeting elements of need as identified by the master plans. The design proposals will necessarily make reference to the evolving formal and material contexts of Southern Appalachia. ~ Dustin Albright Assoc AIA, LEED BD+C, Assistant Professor, Clemson School of Architecture
05.16.16
Newly elected to the Maryland Horse Council's Board of Directors, John Blackburn will serve as a voting member beginning July 2016 through June 2018