Equestrian News
08.07.14
Pat Raia's recent article about the California barn fire blamed on exploding manure raises legitimate concerns about the dangers of improper waste management.  Standing piles of manure contain rapidly reproducing bacteria and methane gas build up (as the internal temperature rises you might see smoke rising off the mounds!). The impending "explosion" could ignite any combustible material in proximity to it and you could be left with a devastating mess similar to the California barn fire.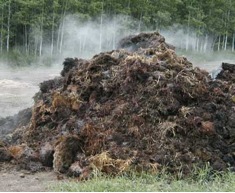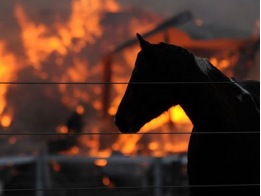 Manure storage in the barn is a fairly rare occurrence in my experience and I agree with the recommendation that it should be stored outside and away from the barn. Not only to reduce the catastrophic events that could be caused by spontaneous combustion, but also to prevent flies, mosquitoes, and odors (not to mention the unnecessary risk to the safety of the horses from outside service vehicles and haulers tending to it). I find that most people store their manure in a dumpster or muck pit. As an alternative, I recommend and frequently specify a composting system close to the barn. A composting system like O2Compost is great and can be designed to accommodate large to small horse barn operations.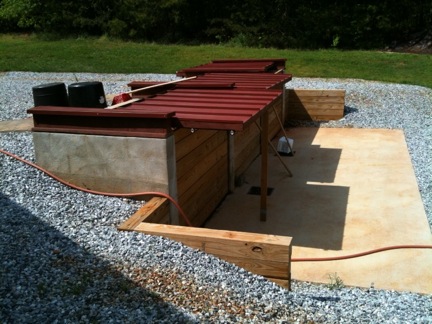 They're also compact, customizable and can quell the influx of flies and mosquitoes. The heat created by the decomposing manure "cooks" it until it is reduced to a manageable amount. It can then be used in more productive ways such as providing fertilizer for the farm and paddocks (the cooking process has killed the harmful bacteria by this stage) and preventing weeds. Always be cautious, though, when handling or transporting waste materials so as to avoid mixing with other combustibles. This could increase your risk for fire as well. Most farms do separate them because the hauler typically objects to combining other trash with manure.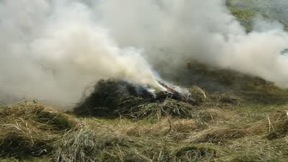 Spontaneous combustion is not limited to manure, however. Hay is a serious factor where barn fires are concerned, in my opinion. It is all too frequently stored in improperly ventilated barn lofts where it can easily ignite. Unfortunately, many owners house their horses alongside hay storage and have no idea how potentially deadly it can be. They think it won't happen to them. With daily convenience in mind, I usually design a ventilated, isolated area to accommodate only a week's worth of hay storage at a time. Generally, hay should not be amassed in lofts, but whenever it is stored there it should only be in small quantities. Special precautions need to be taken such as installing alarm systems and reducing exposure to electric lighting and equipment. I recommend natural lighting through a skylight or clerestory windows. I strongly encourage installing a sprinkler system in the barn. I know it's expensive but think of it this way, " can you afford to lose your barn, your horses, and everything else in there?" It may be worth the investment considering what's at stake.
I want to thank Pat Raia for writing the article, as it will, hopefully, raise our collective consciousness to the presence of latent hazards around the barn.Whenever designing for horses, my goal is to find every way possible to make the barn (and the entire farm for that matter!) a safe and healthy home for them and their handlers.
John Blackburn, AIA, Senior Principal at Blackburn Architects, P.C. and author of Healthy Stables By Design has over 35 years of experience in the practice of architecture. He is responsible for the overall firm management. His award-winning designs include a full range of project types and services, from programming, existing facility evaluation, and master planning to new construction, adaptive reuse, and historic preservation. Please contact him here
04.24.14
The debate on whether horse carriages belong in the streets of New York City continues. Over the last few months I have published two, two-part blogs on the controversy of horse carriages in New York City. Those articles can be read here: "New York City: No Place for a Horse (Part 1/2)," "New York City: No Place for a Horse (Part 2/2)," "Horses in Cities: Part I- No NYC Horse Ban Just Yet," "Horses in Cities" Part II – Arabbers in Baltimore." New York Mayer Bill de Blasio is the root to the controversy, as he stated his intention to remove the horse carriages from the city altogether due to his feeling the industry is inhumane. I will argue there is a fine line of what's inhumane about the situation at hand. Horse carriages in New York City are not in themselves inhumane. What's inhumane in my opinion is having the horses stand for hours on hard surfaces while harnessed to a carriage and having to share space with hectic street traffic.
A solution? I think there is a positive solution to rid any question of inhumanity towards the horses while still keeping the horse-carrying business alive and the amenity available to the public. I recently read a statement by Mindy Levine, the wife of New York Yankee's president, Randy L. Levine where she proposed the idea to have the horse carriages operate solely in Central Park along with riding stables and therapeutic riding facilities. I completely agree. I worked for a similar concept about six years ago though it was not in relation to the horse drawn carriage controversy. At the time my interest was to see more equestrian amenities provided in Central Park. Though that effort was largely unsuccessful, I still feel it would be good for Central Park and an obvious solution to the horse drawn carriage controversy. It could be the best solution.
In a recent New York Times publication written by actor Liam Neeson, the latest Quinnipiac poll proves 64 percent of New York participants want to see horse carriages remain in the city. A true advocate for horse carriages in New York City, Neeson pointed out most of the horse carriage drivers are immigrants who often times were brought up living on farms and tending for horses stating, "they love their jobs and their horses, and they take pride in being ambassadors for this great city." I am not qualified to address that issue or the condition of the stables in which the horses are stabled, often an argument provided as proof of inhumane treatment and for eliminating the industry.  If that is a problem and I have no way of knowing since I have not observed their stable care or visited the stables, then that issue could possibly be addressed without eliminating the industry entirely from the city or eliminating the drivers, grooms, or caregivers their jobs.
I will continue to be tuned in to any developments in New York City, as I am very passionate about the equine industry, the health and care of horses and would like to keep horse carriages in cities. Horses in cities are part of our heritage and I think there is a solution for retaining some form of that heritage. Fake vintage electric cars do not do it for me but neither does horse drawn carriages on busy 21st century crowded urban streets either. They belong but they belong in the park. Horses have been domesticated to be our "beast of burden" and in my opinion, there is nothing inhumane about the existence of horse carriages when treated properly and appropriately placed.
04.23.14
Renowned equestrian architect and author of Healthy Stables by Design, John Blackburn spoke at the National Sporting Library and Museum in Middleburg, VA on April 17. The successful event lasted for about two and a half hours including Blackburn's book signing and a presentation on his approach for designing barns for the health and safety of horses. The presentation was followed by a question and answer period and individual discussions about barn design and barn preservation. Curator of Fellowships and Rare Books at the National Sporting Library, Lisa Campbell introduced Blackburn at the event.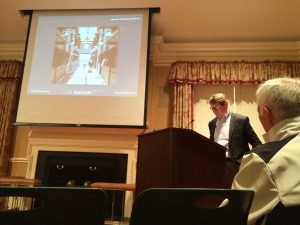 Among those present was Jacqueline Mars, an avid equestrian supporter shown through her efforts as a trustee of the U.S. Equestrian Team and a Board member of the National Sporting Library and Fine Art Museum. Joe Fargis, a U.S. Olympic gold medal winner in show jumping; Vicky Moon, a talented equestrian writer and photographer; Mariann Payne, Director of Principal Gifts of the Trust for the National Mall; and Lester Buckley, a client of Blackburn's in Hawaii and owner of Buckley Sport Horses, LLC. were also in attendance. Buckley's website can be seen here.
The presentation was broken into three parts in which Blackburn began with a little history and background on how he got started designing for horses and the topic of designing stables around the health and safety of horses. Blackburn also discussed the details of his book Healthy Stables By Design. While telling the history, Blackburn included his first client Clarice Smith, owner of Heronwood Farm in Upperville, VA. Blackburn recognized Clarice Smith as an extremely valuable client. Mrs. Smith was unable to attend due to injuries from a fall just days before.
Incidentally, Clarice Smith has a special show of her equestrian art at her National Sporting Museum on view from April 11 to September 28 2014, adjacent to the library. Her show called Power and Grace illustrates her talent for painting, her passion for horses, and her love of her farm, Heronwood.
A number of copies of Blackburn's book were sold, with proceeds to the National Sporting Library to support funding efforts.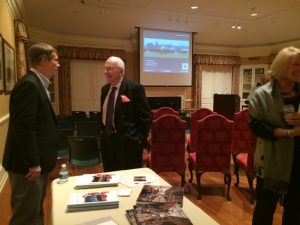 04.23.14
The Town Council of Middleburg, VA hosted a book signing on April 6 for award-winning architect John Blackburn at The Hill School auditorium. In addition to discussing his latest book Healthy Stables By Design, Blackburn spoke on methods of building green and sustainable barns. Second Chapter Books, a local bookstore organized the event that was sponsored by the Middleburg Go Green Committee.
Blackburn discussed his methods of using natural, local, and recycled materials in conjunction with natural climate to create healthy environments for horses. Also at the event, Co-Owner with husband Michael Alba of Solar Odyssey, Ann Alba gave a presentation on renewable energy methods in your home. Alba serves as the Vice-Chair of the Purcellville Environment Committee and as the Vice President of Sustainable Loudoun. Solar Odyssey specializes in installing residential and commercial solar powered systems.
Blackburn's book is currently available to purchase at Second Chapter Books in Middleburg, VA. In addition, Healthy Stables By Design can be purchased here with all author proceeds given to equine charities.
04.23.14
It was a very busy day for author and award-winning equine architect John Blackburn at Cazenovia College in New York. On April 14, Blackburn spoke in the college's McDonald Lecture Hall to over fifty equine business students as well as various other faculty and students interested about his book Healthy Stables By Design, and his philosophy on designing barns and planning farms for the health of horses. Blackburn believes focusing on the health and safety of horses is important above all when designing a barn and planning the farm.
Associate Professor of Equine Business Management and Head Equestrian Team Coach, Amy Sherrick-von Schiller organized the event. Barbara Lindberg, Program Director of Equine Business Management, and Associate Professor of Equine Business Management at Cazenovia College drove all the way from Lexington, KY that day to attend the event.
Blackburn's trip to Cazenovia was full of tours as he had the pleasure of visiting the farm of John and Beezie Madden guided by Farm Manager and Cazenovia Equine Program graduate, Amy DeVisser. Beezie is a two-time Olympic gold medal winner in show jumping, coached by her husband John, who runs his business John Madden Sales from their farm located in Cazenovia. The other tours included the equestrian center of Cazenovia College and the barn and arena of Sherrick-von Schiller.
Blackburn also spoke about incorporating sustainability into the design of the horse and layout of the farm, and described the Blackburn Greenbarn Concept (http://www.blackburngreenbarns.com.) He stressed the importance of protecting the horse in order to protect the owners four principle investments: the initial cost of the horse, the training of the horse, the maintenance and upkeep of the horse, and finally and perhaps the most important the emotional investment the owner has in the horse.
Blackburn presented a signed copy of his book to the school library for the benefit of current and future students.
04.23.14
It was a perfectly sunny day at the Paradise Springs Winery in Clifton, VA when award-winning architect John Blackburn came for a visit. On Sunday April 13 an enthusiastic group of invited guests welcomed Blackburn, ready to learn more about his book Healthy Stables By Design. After giving a detailed presentation on his barn building methodologies and book, Blackburn and other attendees experienced a tour and tasting. Jeffrey Gregorio of Merrill Lynch Health Management hosted the event.
Among those in attendance was CEO and Founder of Paradise Springs Winery, Kirk Wiles. In addition, Founder of Brody Group, LLC, Michael Brody, and Northern Virginia Therapeutic Riding Program Board Chair Rhonda VanLowe were present at the event. VanLowe also serves as Legal Counsel of Rolls-Royce North America, Inc. and is a loyal client of Blackburn Architects.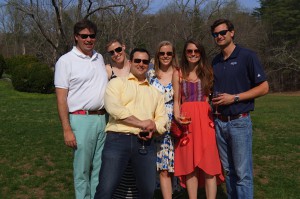 VanLowe spoke at the event where she discussed the Northern Virginia Therapeutic Riding Program, a non-profit organization whose mission is to provide equine-assisted activities to those with disabilities, youth-at-risk, military service personnel, and their families. Blackburn is designing the new Northern Virginia Therapeutic Riding Program facility, which is currently in permit phase waiting to start construction intended to begin in November 2014. For those who are interested, contributions to the construction of the new Northern Virginia Therapeutic Riding Program facility can be made here.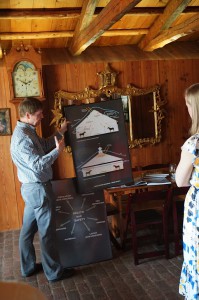 Copies of Blackburn's book were sold at the event, with proceeds to the Northern Virginia Therapeutic Riding Program.
03.25.14
Stable Scoop Radio Show, Episode 292 is all about John Blackburn and Healthy Stables by Design! John was first featured on the radio show back in 2009 for episode 33 and returns 5 years later to talk about his book and designing a healthy barn for your horses. Check out the segment here.