Equestrian News
04.23.14
It was a perfectly sunny day at the Paradise Springs Winery in Clifton, VA when award-winning architect John Blackburn came for a visit. On Sunday April 13 an enthusiastic group of invited guests welcomed Blackburn, ready to learn more about his book Healthy Stables By Design. After giving a detailed presentation on his barn building methodologies and book, Blackburn and other attendees experienced a tour and tasting. Jeffrey Gregorio of Merrill Lynch Health Management hosted the event.
Among those in attendance was CEO and Founder of Paradise Springs Winery, Kirk Wiles. In addition, Founder of Brody Group, LLC, Michael Brody, and Northern Virginia Therapeutic Riding Program Board Chair Rhonda VanLowe were present at the event. VanLowe also serves as Legal Counsel of Rolls-Royce North America, Inc. and is a loyal client of Blackburn Architects.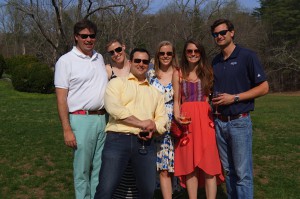 VanLowe spoke at the event where she discussed the Northern Virginia Therapeutic Riding Program, a non-profit organization whose mission is to provide equine-assisted activities to those with disabilities, youth-at-risk, military service personnel, and their families. Blackburn is designing the new Northern Virginia Therapeutic Riding Program facility, which is currently in permit phase waiting to start construction intended to begin in November 2014. For those who are interested, contributions to the construction of the new Northern Virginia Therapeutic Riding Program facility can be made here.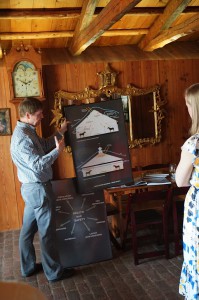 Copies of Blackburn's book were sold at the event, with proceeds to the Northern Virginia Therapeutic Riding Program.
03.25.14
Stable Scoop Radio Show, Episode 292 is all about John Blackburn and Healthy Stables by Design! John was first featured on the radio show back in 2009 for episode 33 and returns 5 years later to talk about his book and designing a healthy barn for your horses. Check out the segment here.
03.18.14
Every year the village of Wellington in West Palm Beach, Florida hosts one of the most anticipated horse events across the globe. The FTI Winter Equestrian Festival is the longest yearly equestrian event worldwide, held this year from January 8th to March 30th. I attended the festival for the first time 15 years ago. I would go on to attend at least once a year for 8 consecutive years after that. Breaking a 7-year hiatus, I traveled to again from February 28th through March 1st to the Wellington Winter Equestrian Festival. This was the 8th weekend of 2014's event and I was reminded of what I had been missing. I was amazed at how much the place has changed and how much more crowded it had become (for the better from my perspective at least, though probably a nightmare to many.) There were more horses and riders than you can imagine in one place.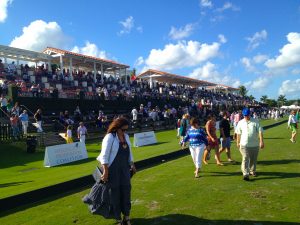 On Friday I had the pleasure of attending the Furusiyya FEI Nations Cup presented by G&C Farms, a competition of equine show jumping. The competition lasted late into the evening and included 45 riders from 12 countries. Canada prevailed in the $75,00 competition, followed by Great Britain in second, and the United States in third. There was some outstanding competition from the other countries participating; including Brazil, Chile, Colombia, Germany, Ireland, Israel, Mexico, New Zealand, and Venezuela.
On Saturday morning I had the opportunity to tour the farms of Victoria McCullough and Marcia Radosevich, two prominent names in Wellington and the world of horses. Victoria is a familiar face on Capital Hill where she advocates against horse slaughter and the distribution of horsemeat for human consumption. We will feature Victoria soon in a special blog series called "Crusaders for Equine." She has rescued hundreds of horses, 20 of which reside on her Wellington Farm. She is looking to purchasing a large farm in Maryland.
Marcia, a Wellington resident and Wellington board member has lent her voice to the debate of the commercializing the city's Equestrian Preserve. She, like many others who have invested significantly into their horse properties, sees the good in the continued development of Wellington as a hub for equestrianism but not at the cost of the land values. Marcia is an advocate for green concepts as is evident in exploring her property. The roof of her barn is covered in solar panels, which have taken the building completely off of the grid. She also uses recycled rainwater collected from her paddocks employing a unique sun shelter design that not only collects rain water but allows the shadows to move with the sun protecting the grass and soil.
That afternoon I attended the horse show and hung out at the Amberway Equine booth were I met riders, trainer, owners, some potential clients and signed copies of my book "Healthy Stables by Design." It was a beautiful day, especially considering I left DC with 6 inches of snow on the ground and temperatures in the teens and single digits.
Sunday marked the day of the premiere polo match at the International Polo Club of Palm Beach. The weather was absolutely perfect and brought out a great crowd. I was a guest of Mason Phelps, founder and president of Phelps Media Group and sat at his table of 12 on the rail.
Important to note is the tragic loss earlier that week in the untimely death of Carlos Gracida. He died in a freak polo accident while playing polo in Wellington. Flags remained at half-staff in honor of Gracida who trained royalty or his lifetime. A memorial service was held at International Polo Club the day before. He will be missed but never forgotten.
The polo match that afternoon put Team Orchard Hill and Team Valiente head to head in the finals of the C.V. Whitney Cup. The match was closely contested in the beginning but saw Valiente pull away to a 12-8 victory.
Following the match I rushed to the airport to fly back to DC only to find all flights north had been cancelled due to bad weather in the Northeast.  I was "forced" to stay in Wellington another two days and suffer through the 70 to 80 degree temperatures and gorgeous sun while everyone in DC was digging out of yet another snowstorm. Woe is me.
02.28.14
In Horses in Cities: Part I I wrote about the on going debate for the place of horse carriages in metropolitan areas such as New York City, Chicago, and Philadelphia. Similar to that discussion is the argument over Arabbers in Baltimore. Arabbers are merchants who travel door-to-door selling fresh produce that is pulled by a horse and wagon. Arabbers have been part of Baltimore's history for over 100 years. The carts have developed a base of frequent costumers, many of whom are senior citizens who cannot travel to grocery stores as often as they might like. This convenience and historical significance make powerful cases for maintaining place Arabbers on city streets.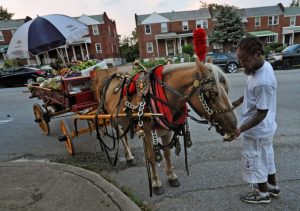 Much like the debate in NYC, these horse driven wagons came under fire from animal rights activists who claimed that stabling conditions for horses were inhumane. Stables housing horses have been shut down due to building code violations and accusations of mistreatment. I agree current stabling is in poor condition and definitely needs replacement but that does not justify the removal of the Arabbers from the street.  They play an important and integral part of the inner city community.  Daniel Van Allen is the president and founder of the Arabber Preservation Society and has been at the forefront of the effort to keep Arabbers on Baltimore's streets. In 2013, the APS added new stalls and renovated old stalls at the Arabber Center and released 8 new carriages to operate in Baltimore.  It is a step in the right direction and like many good causes they need funding, donations, grants, etc.
It is interesting to compare the use of horses in NYC to those in Baltimore. Generally conditions in Baltimore are not as tough as those in NYC. My argument against horse carriages in NYC is their use on busy congested city streets, their standing long hours on hard surfaces waiting for a customer and their questionable stabling situation. Arabber horses are typically used in residential areas and not high traffic areas, which the horses in NYC encounter. They provide a useful service to the poor communities of the inner city and employ the use of horses in a traditional way. For these reasons, we are hoping to work with the Arabbers in Baltimore to provide them decent stabling and a museum about the history of the Arabbers. Our goal in that effort is to provide them safe healthy stabling and care at the same time we preserve inner city heritage, jobs and provide a community service.
I support preservation of our historic heritage especially when it serves as a useful community service (food services to the poor inner city neighborhoods) as in the case of the Arabbers and independent employment to members of the community. There are a lot of other efforts (community farming, farmers markets, community supported not for profit groceries and buyers clubs, etc) being made today to provide quality food to the under served communities of the inner city. Arabbers are a part of this service and while they predate many of the newer ones, they are an initiative worth protecting and preserving.
Are you interested in learning more or getting involved with Arabber preservation?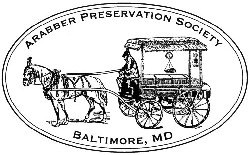 02.25.14
A couple of months ago, I published a two-part blog on the controversy of horse carriages in New York City. I shared that while I believed there is a place in NYC for horse carriages, I do not believe the city's streets are this haven. I believe a better place to offer horse carriage rides is Central Park, not only for the horses but for business as well. I will not belabor that point in this blog but I encourage you to take a look back to New York City: No Place for a Horse to grasp my complete perspective on the matter.
Since the first mention of Mayor Bill de Blasio's intent to remove horse carriages from NYC streets (and my previously mentioned blog) there has been no definitive action toward this resolution. Parties in support of the mayor's initiative say they simply have not introduced a bill or selected sponsors. Their side now faces added pressure from a new medical study. Recently, Veterinarian Sarah Ralston, VMD, PhD, Dipl. ACVN, a professor in the Rutgers University Department of Animal Sciences, has provided her expert opinion to the debate. She does not believe horse carriages to be inhumane and finds a ban would not be necessary to protect the animal's best interest. In fact, she believes the routine of carriages horses enhances quality of life and helps to better maintain good health.
Pat Raia, journalist for The Horse and author of Carriage Horse Controversy Extends Beyond New York City quotes Ralston as saying:
"The carriage horses, on the whole, are showing no signs of distress or unwillingness to work when asked to do so," asserted Ralston. "They are well adapted to their environment. If they weren't, they would not last long on the streets… If a horse is in its stall without access to pasture, but is getting quality basic care and regular exercise, should we say that this horse is being abused, or is it cruel to ask a horse to do a job that it is well-trained for and capable of doing without distress? … This is the norm for a majority of the horses kept in urban and suburban settings, and this (kind of legislation) sends a terrible precedent that should have the entire horse industry up in arms" (Raia).
In my opinion, Ms Ralston's argument that horse carriages in themselves are not necessarily inhumane is correct but I do not necessarily accept her argument that "They (horses) are well adapted to their environment. If they weren't, they would not last long on the streets."  Not the most sensitive concern for the welfare of the horse in my opinion.  Do the horses have any say in the matter?  Of course not.  They are there because they are domesticated beast of burden but that doesn't mean they should be subjected to a live or die trying situation.  I repeat, my concern that horses standing for long hours on hard surfaces whether it be on the city streets or in a barn aisle or wash stall is abusive treatment.
Previously, the preeminent argument of the side in favor of horse carriages was fear of mass job loss and the removable of a historical and cultural fixture in the city's history. Surely, the debate will become more interesting given this development.
New York City is not the only metropolitan taking a look at its regulations for horse carriages. Philadelphia, Salt Lake City, and Chicago are all following suit. Each city has recently reviewed regulations surrounding horse carriages. While Philadelphia and Salt Lake City's revisions would allow horse carriages to remain a part of city life, legislation has been introduced Chicago that could potentially put an end to carriage ride, ceasing the issue of new "licenses until all such licenses have expired." I will certainly be tuned in to developments in these cities as well as New York City.
02.12.14
John's book, "Health Stables by Design," has been featured in the February issue of the AIA|DC Newsletter. Check out the blurb: AIA Newsletter February
02.11.14
Saturday, February 10th marked a celebration for two people at the core of Blackburn Architects—John Blackburn and his vibrant and very entertaining wife Jenni Blackburn. In recognition of the success of John's book Healthy Stables by Design and of Jenni's road to recovery from injury, over 60 of the couple's closest friends, family, and colleagues gathered in their Washington home to celebrate John and Jenni's success. Guests were treated to an impressive meal catered by Occasions Catering and an open bar. While the evening was full of fun, the couple did take a moment to thank the many people who played a part in their journeys.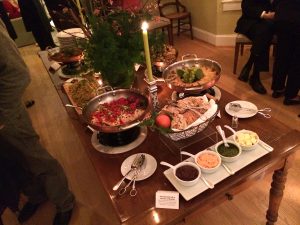 John shared that while he was apprehensive about writing a book at first he was very happy with the outcome and with the money he was able to raise for horse charities (all of the author's proceeds from sale of the book go to horse charities). During his moment of sentiment John shared this thought, "For 30 years horses have fed me—it was time that I fed the horses." Since September 2013 when the book was published, John personally sold about 300 copies of his book and raised $8,000 for equine charities. He also took a moment to note a major flaw in his book. As guests from the Blackburn office looked at each other in confusion John shared that he had forgotten to include in the acknowledgement of those who had contributed to his book the one person who had the most influence on the completion of Healthy Stabled by Design—his wife, Jenni, who stood by him throughout his 30 years of equestrian design and pushing him to get the book written.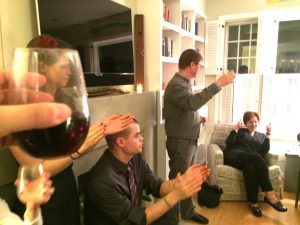 Jenni followed John with heartfelt remarks of a 7-year journey to recovery from numerous orthopedic injuries resulting from being hit by a car as a pedestrian in 2005, followed by two hip replacements (on the same hip) and a knee replacement, all on the same leg. Jenni recognized various friends, many who helped her along that road, from her best friends Kristin Eddy and Tinka Pritchett to her physical therapists Christina Stayeas and Nancy Menepace Wilson, her Pilates instructor Amber Yancey, her hair stylist Keith Spangler, and her manicurist Pascale Fernandez. While Jenni managed to bring tears to the eyes of many of the people in room she also made sure to inject her unique and undoubtedly hilarious brand of humor as well.
John and Jenni are two people who are passionate about life, horses (well, at least John), and who love to laugh. They keep the ship that is Blackburn Architects afloat and sailing smoothly. We all wish them continued success, healthy, and prosperity.
By Staff at Blackburn Architects
02.10.14
Blackburn Architects has been featured in Equestrian Magazine! Check out the article and photos of the Ohio renovation project here.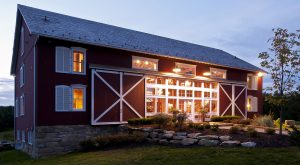 02.03.14
I recently posted a blog on heated barns and the unnaturalness of the environment that they create. For animals, including horses, heated lamps, or other methods of adding heat to barns is sometimes necessary. However, these methods present a huge risk and should be used in only extreme weather conditions. Of course, "extreme" is a relative term dependent upon your horses, their winter coat, their feed supplements, the design of the barn, etc.
Horses are animals that are "designed" by nature to withstand the cold temperatures of winter even down to zero degrees Fahrenheit. When they are too cold in the wild there is no artificial heat source to relieve the animals. In the wild they are able to run to generate heat to stay warm or run behind a hill to avoid a cold wind. One of the problems with confining horses in paddocks, and even more so in barn stalls, is that horses lose the option to control their environments for health and safety needs.
Apart from their effect on the natural aspects of a barn, heating fixtures are one of the many potential causes of barn fires. While they may differ in their origins, fires are nonetheless devastating for barn owners. One only needs to search through Google's recent news headlines to find barn fires are not uncommon occurrences.
Fire Caused by Added Heat Sources
The majority of the barn fires I read about in the last month were caused by electrical malfunctions or by heat lamps that had been left unattended or were knocked over. Of the 7 fires researched, 5 were caused by added sources of artificial heat. The cause of one of the other fires is still under investigation but it has been reported that a heat lamp could potentially be the culprit. Even the smallest spark or overheating from heat sources, electrical appliances, or cigarettes is enough to send a barn up in flames. Barns, which are often made of wood and store hay, are the perfect fuel source for a raging fire. A metal clad pole barn can be just as hazardous because of the light wood framing of the wood purlins and wood trusses (that collect cobwebs and bird nests).  Once those elements catch fire it is often only minutes before the barn is engulfed in flames and collapses.
In an article, "Barn Fire Prevention," for TheHorse.com, Les Sellnow writes, "It takes two to three minutes for a straw fire to burn an area 10 feet in diameter. Compare this to the size of a common horse box stall that is 10 to 12 feet square. After a fire starts in a stall and spreads to only four feet in diameter, most horses are injured. By a six-foot diameter (fire), (the horse's) lungs are seared. With an eight-foot diameter fire, the horse will start to suffocate. By 10 feet, the horse is dead. All of this occurs in two to three minutes. If a horse is to survive unharmed, he must be removed from the stall within 30 seconds" (Sellnow). This is a difficult task to do in any situation. The best answer to that risk is to design and operate the barn that reduces fire risks.
In two of the cases we found horses were able to escape the blaze by retreating to nearby paddocks and pastures. In other instances the horses and other animals dwelling in the barn were killed. In all of the cases firefighters arrived to find the barn completely engulfed in flames or close to completely.
Fires Caused by Natural Occurrences
Every once and a while a fire is caused without the help of human interference. Lightning and spontaneous combustion of hay are two natural sources of barn fire. It should be noted, the conditions that lead to spontaneous combustion are often cause by humans ignoring the proper precautions necessary when storing hay to prevent this phenomenon. A lightning bolt carries as much as 200 million volts of electricity, more than enough to spark a fire. The only instance of a lightning caused fire that we found occurred in Huntsville, Alabama on 1/14/14. By the time news of the blaze reached firefighters at 4 a.m. the entire barn was engulfed and 12 horses, 13 cats, and a dog perished.
Spontaneous combustion of hay occurs, believe it of not, when hay is too wet. "According to a pamphlet from the Humane Society of the United States (HSUS), heat is generated by the bacterial reaction during the curing process, which begins while the hay is on the ground prior to baling. The moist interior of the hay might smolder unnoticed for some time before the edge of the stack is reached and spontaneous combustion ensues." This reaction is preventable with proper maintenance.
Prevention Techniques:
"Prevention is the best medicine"; The barn, in fact the entire farm should be designed with the health and safety of the horse the primary concern.
Some suggestions to reduce risk of fire:
Use natural light as much as possible to reduce need for electric lights, especially in lofts
Avoid haylofts when possible and if hay storage is included ventilate, ventilate, ventilate but also isolate, isolate, isolate. Ventilate so hay breathes and cures but isolate in case spontaneous combustion should occur it is contained from spreading (or at least slow its spread giving time to get horses out of the barn.)
Design barn to create natural vertical ventilation to cool the barn in summer and exhaust humidity and bacteria in winter. Reduces dependency on electric fans. Damper the ventilation so the horse is not left in a cold draft in the stall in winter.
Blanket the horse when necessary and when weather conditions are extreme in lieu of heating the barn.
Provide exterior Dutch doors at stalls when possible for better ventilation control, improved day lighting of the stall and as a fire escape when necessary (remember to design latch so they are accessible from exterior.)
Create fire separations within larger barns in particular between heated and human occupied spaces and the stall area and to isolate arena from stall areas.
Avoid including full time residence within barn whenever possible to reduce fire risks. Better to locate in separate structure but if not possible, isolate by rated firewall.
All electrical wiring should be in metal conduit or metal sheathed wiring, even inside wall, floor and ceiling cavities (rodents can gnaw on the plastic cable).
Use explosion proof switches and outlet covers
Do not use barn for storage of motorized machinery or fuel
Design interior framing of barn to be easily accessible for cleaning and to reduce options for bird nesting and cobwebs
Design barn with masonry or heavy timber framing when possible and affordable as it is much more fire resistant than light wood framing