News and Press
01.31.17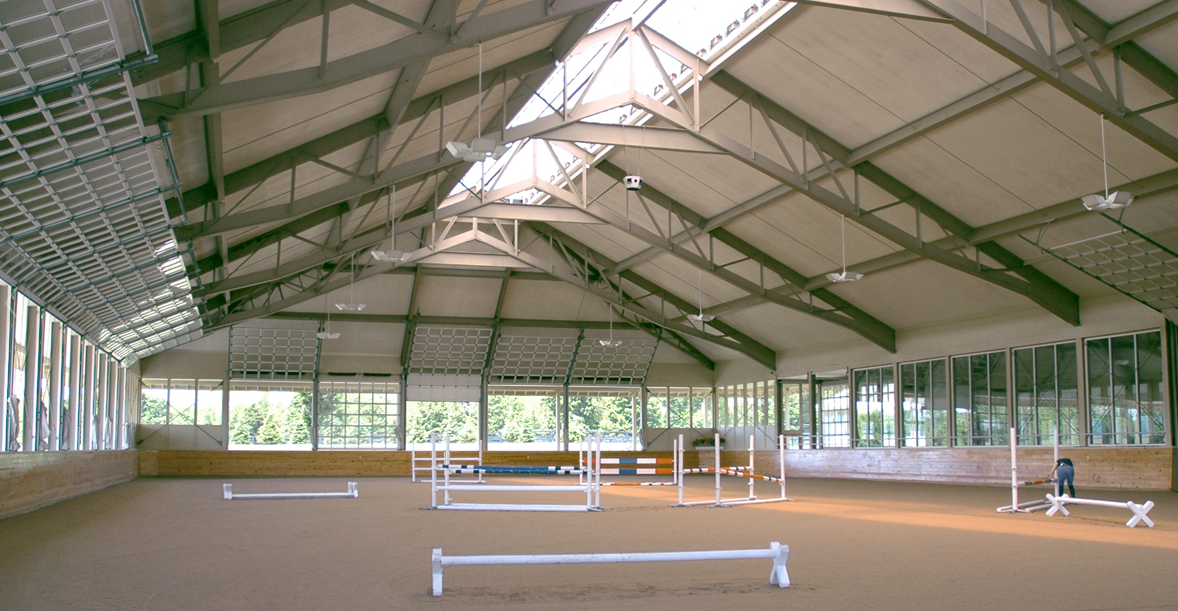 Hello John,
I'm meeting with an arena builder this morning.  It's finally clearing up around here, so we hope to start constructing the forms for the barn foundation this week.
Q: Do you have any advice about a design for a canted ring liner?  Or even just describe what is the norm?  We need an idea of how a segment typically is built.
Is it a good idea to go on up vertically after the canted part, another couple feet, to get a better compromise between indoor and covered only??  Or would that be claustrophobic?  We plan to use gale shields (netting panels) to cover the openings/protect from rain and wind.
Thank you!
Northwestern Eventing Rider
A: Dear Northwestern Eventing Rider:
I'm not sure what you mean by "ring liner."  Do you mean the kick wall?
There are a variety of ways a kick wall can be designed.  I typically design it to the height the owner requests (typically around 4 to 6 feet).  We kick the base of the wall out about a foot from the top so it is slanted to protect the rider's leg.
The top of the kick wall can go to whatever height you feel comfortable but I would make sure if you are using a steel frame for your arena roof and the interior face of the steel column slopes inward, that you allow some extra space between the top of the kick wall and the front edge of the column so that the rider's shoulder or head doesn't come in contact with the column.
I suggest extending the kick wall into the footing to the gravel base. Remember, the bottom boards and the framing behind the kick wall should be constructed of treated wood wherever it comes in contact with the ground or grade.  In most cases the frame is constructed of pressure-treated lumber and the bottom boards are pressure-treated to a point about 18" above the footing surface.
Also, I suggest putting gravel in back of the kick wall to the height of the arena footing to prevent the footing from being driven over time under the kick wall by the pounding of horse hooves.
I hope this is helpful.
Good Luck,
John
Posted in
Equestrian News
,
News and Press
|
Tagged Arena, arena construction, Blackburn Architects, Dear John advice, designing a horse riding arena, designing arena kick-wall, equine design, equine designer, indoor arena, indoor riding arena, kick wall design, riding arena design, ring liner
|
Leave a comment >
01.09.17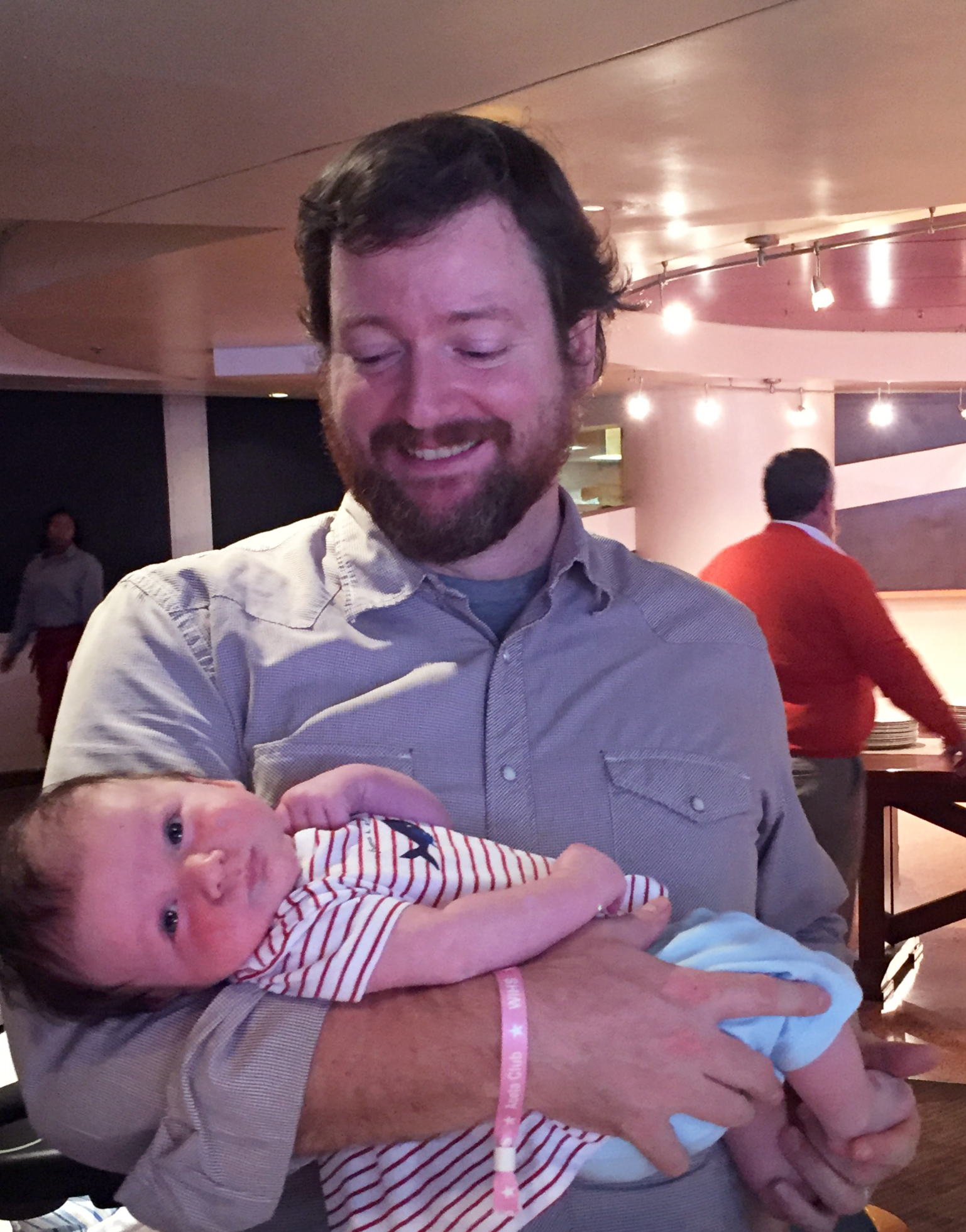 Ian Kelly with his son Jerry, at the Washington International Horse Show in November, 2016
At the beginning of 2017, John Blackburn announced the promotion of Senior Project Manager Ian Kelly to Associate Architect.  Ian, who has been with the firm since 2005, specializes in large-scale renovation projects, residential and commercial projects with special emphasis on equestrian design.
Your name is Scottish. Aren't you from New Jersey?
Ian is Gaelic for "John," whereas my brother's name, Sean, is Irish for "John."  My Dad and his brother are James John and John James.  Their Dad was John.  My family is Irish on both sides.  My Mom was an Ahern.  It helps explain my reddish hair and the blue eyes. And yes, I AM from New Jersey.  Both sides of my family are.  They sometimes refer to where I grew up — Spring Lake, NJ — as the "Irish Rivera".  A little area of the Jersey shore that attracted a lot of Irish immigrants and first generation Irish-Americans to it.  It has the highest population of Irish-Americans of any municipality of the country with somewhere near 50% of its residents having Irish descent.
What's it been like working with John Blackburn for the past 13 years?
I think what's so unique about working for John is that you are immediately kind of thrust into an important role. You're not just given some menial task to work on. John gives you as much room to grow as you want. Years ago, I understood that was unique in architecture. I figured out early on that I could find another job but I would never find a better situation or boss. I would never have found a better work environment. Blackburn Architects is a great place to work.
What John says about you… It's worth noting for the record that John wanted me specifically to mention your client focus.  He brags about your hands-on approach to solving issues and willingness and desire to respond to, and address client needs almost to a fault.
Not that I asked…
Let's back up a little. Why did you become architect, anyway?
Right, there were a lot of things that led me in that direction.  It's kind of crazy to say that as early as 6th grade I had the idea in my head of becoming an architect, so instead I will say that I'm heavily influenced by my family.
My maternal grandfather was in the U.S. Army Corps of Engineers, and served in the Army and Air Force for 30 years between the two.  During his time, he was involved in all sorts of construction efforts and two wars.  He was airdropped in to build runways and barracks during WWII and the Korean War.  When he came back to New Jersey, he started working for the local Catholic parish as head of their buildings and grounds and worked in and around construction for another 20 years. He oversaw and helped construct two mausoleums, and ran the engineering and maintenance crews for the elementary school, two churches, a rectory and a cemetery. He directly influenced me.
Growing up, my grandfather would grab me by the hand and lead me somewhere where he would ask me to stand and hold tools for him while he would do something like pop open a sash pocket to replace the counterweight in an old wood window.  I may not have fully understood at the time what he was doing, but it was always fun to me.  I was also motivated by being the first one from my Dad's side of the family to graduate college with a four-year degree.  It became a goal of mine, so the desire to get a better education dovetailed with my interests in construction quite nicely; all of that contributed in me being led to pursue architecture.
You are so focused on sustainable principles in your designs. Where does this passion come from?
There are a number of different architects who've influenced me. But it really comes down to, in my opinion, my pursuit of what would be best described as common sense building principles. For example, all the architects who I really appreciate and like are not only great designers, but are people who have embraced sustainable design. There's something very practical that seems to have been lost in the 1,000s of years of construction technology. Go back to ancient Rome or Greece, study what they were doing, and you see very simple techniques used to control temperature, for instance. Building orientation, shape, size, mass: all were considered for very practical reasons. They didn't just accidentally end up being that way. That's why, for instance, adobe construction has super thick walls and tiny windows.
The nice part about the way John practices, and his take on sustainability, is that it's pre- buzzword. It's not green for the sake of being green because it's a marketing gimmick. It's the principles. They work. And once you've started there, and then if you make smart decisions during construction, then you've got yourself a really good building which is sustainable and environmentally friendly. Good design, in my opinion, begins there.
There's been a big change in your life recently. Tell me about Jerry.
Jerry. Yeah. He's kind of breaking all sorts of records with us and our family. It took until about 3 ½ months (he's four months now) for grandma to really hear him cry, so… He's very mellow and he's been too kind to us. I struggle between being proud and not wanting to rub it in anyone's face because I know we didn't do anything special. He's just who he is. We lucked out. As a new parent, I know this can't be appreciated enough. We see what our friends and families have been through and we are grateful for Jerry every day.
Simple question. What's your favorite part of the day?
Hmm. I don't know if that's a simple question. My answer is corny these days because of Jerry, but I really like early morning with him, because he's so alert. That's when he's most awake. When I get home he's still happy to see me, but he's not as "talkative" and then he's off to bed before too long. But I normally burn the candle on both ends; I like to stay up late too. We'll see. I'm not sure I'll be able to keep this up much longer.
You're an urbanite. What's your favorite city?
My favorite American city recently is probably New Orleans. Every time I visit I love it. The people, the culture. But I'll need to add San Francisco and Chicago to the list. All very different places, bound in my mind by the great people and cultures. This hints at my love of music. That's the tie that binds. Blues, Rock, Jazz.
Best thing about your job?
The variety of projects that I get to work on. I don't want to ever be "pigeon-holed." We do a lot of equestrian work which I really enjoy.  It's afforded me the chance to work on some amazing projects. And, of course, I've also had the opportunity to work on many different projects in the District of Columbia. In addition to the equine practice, the firm does a lot of historic preservation and adaptive reuse as well as residential work. We've worked on bars and restaurants; we've worked on multi-family residential; we've worked on adaptive reuse. All these different things. Breweries, party spaces, homes. It's really nice when the problem doesn't always fit in the same sized box. It's cool to be able to experiment and try solving different problems. The diversity in project type can lead to interesting and new ways of thinking about each project individually.
What's something most people don't know about you?
Not many people know I'm really handy. I used to work for a plumber as a kid and I'm good at carpentry. We converted our basement into a studio apartment and I did 70% of the work myself with friends. That or the music thing. Last year, even while expecting Jerry, my wife and I probably went to well over 50 concerts; closer to 100 – some local, some far. The furthest I've gone for a festival is Montreux, Switzerland. The Montreux Jazz Festival. It was an incredible travel experience.
12.31.13
John Blackburn's book Healthy Stables by Design has been featured in the January 2014  issue of San Diego Home/Garden Lifestyles Magazine. Phyllis Van Doren's article, Naming Names, notes that the beautiful images in John's book were taken by David Hartig, a freelance photographer whose work has also been featured in the magazine.
12.13.13
Over the weekend, John Blackburn attended the 2013 Lisbon Christmas Horse Parade. The event first occurred in 2011, making Saturday's holding the 3rd annual occurrence. The parade benefits local Howard and Carroll County Food Banks and the Lisbon Volunteer Fire Department. The 2013 Lisbon Christmas Horse Parade was expected to be the most successful event since its inception with almost 120 entries, more than 600 horses, and over 70 sponsors. However, due to less than favorable weather conditions the parade had to be cancelled.
The weather did not completely end the festivities. Each year The Equiery puts on a Holiday Open House and 2013 was no different. During the open house non-perishable food items were collected for local food banks, patrons purchased wreaths for the Lisbon Fire Departments fundraiser, and a Vendor Gift Mart was held.
John was one of many who braved the cold and wet conditions to bring his book "Healthy Stables by Design" to patrons of the parade and open house. Despite a decrease in attendance John was still pleased to sell 6 copies of his book, raising $360, half of which will be donated to the Professional Association of Therapeutic Horsemanship (PATH) International's Wounded Warrior Project. "WWP's purpose is to raise awareness and enlist the public's aid for the needs of injured service members, to help injured servicemen and women aid and assist each other, and to provide unique, direct programs and services to meet their needs" (1). John also donated one of his books to the Howard and Carroll County Food Bank raffle.
During the event The Maryland Horse Industry Board presented its December Touch of Class Award (2). Ross Peddicord, the board's executive director, was on hand to present the award. He took some time to stop by John's table. The two are photographed above.
This event was John's final book singing event of 2013. While his book tour has, at times, been "long and tiring," John has found the entire process "rewarding." He raised over $7,000 for equine charities across the country.
Sources:
(2) Maryland.gov
12.03.13
River Farm is located in Loudoun County along the banks of the Potomac River. The property includes a 24-stall barn, an office, indoor and outdoor arenas, and observation area, a service barn, and outdoor paddocks. Since its competition in 2006, the award winning facility has played host to various equestrian events and family gatherings, serves as a training hub for the owner's daughter, a nationally ranked hunter-jumper competitor and other riders of all ages and skill levels, and was the site for John Blackburn's final stop on his book tour on November 21, 2013.
John presented Healthy Stables by Design, to an audience of about 25 equestrian enthusiasts. He sold and signed about 19 books raising $570 for The Equine Rescue League, a non-profit organization in Lovettsville, Virginia. Founded in 1990 by Pat Rogers, the ERL cared for over 100 neglected and abused equine. They continue to promote the responsible use of equines for working, sport and pleasure.
Scroll down to see pictures of River Farm.
11.25.13
On November 10th, 2013, John Blackburn, once again, shared his book, Healthy Stables by Design with another group of horse enthusiasts at the Pebble Beach Equestrian Center in Pebble Beach, California. The facility offers over 30 miles of trials for hiking and horseback riding along the beach and through forests with guided tours, private and group rides, and lessons. Before the book signing, John toured the PBEC grounds with director, Margaret Leighton, and the executive vice president of real estate, Mark Stilwell.
Margaret is also the president of the benefiting equine organization, Redwings Horse Sanctuary, located in Lockwood, California. The group works to educate communities on equine suffering, puts together outreach programs, rescues horses that have suffered neglect and abuse, and eventually finds homes for the rehabilitated animals. Margaret joined the organization in 1991, has served on the Board of Directors since 2004, and was responsible for organizing and facilitating this event. After kicking off the presentation, Margaret introduced Linda Plumb, the Executive Director of Redwings, to speak about the group and some of the current programs.
John Blackburn followed Linda with an in depth look at the design philosophy outlined in his book. John was thrilled to raise approximately $540 for Redwings with the event's sales of Healthy Stables by Design. The event saw attendance numbers between 40 and 50 people.
Scroll down to see photos from the event:
11.22.13
On November 9th, John Blackburn presented his book, Healthy Stables by Design, at the Steinbeck Country Equine Clinic, which sits between Monterey and Salinas, California. The clinic, owned by Dr. Tim Steinbeck, is a 24-hour full service referral veterinary hospital for horses.
Blackburn architect, Dan Blair, also attended the event with John, took the pictures below, and received a tour of the clinic. Blair was impressed by the facility and found it interesting that it is the only equine surgical facility in a 3-hour radius. Two of Dan's photos below depict equine stones. These obstructions develop in the gastrointestinal tracts of horses overtime when minerals build up around a foreign object the horse has consumed. These enteroliths are made up of magnesium, phosphate, and ammonium and can be fatal if not removed. Of the stones shown below, one proved fatal and doctors at the Steinbeck Country Equine Clinic successfully removed the other.
The book signing followed a similar format to the previous stops on John's tour. He presented many of the design concepts in the book in a power point presentation and took questions from the over 20 attendees of the event. John sold approximately 18 books raising $540 for the future Monterey Horse Park.
11.20.13
Last night, John Blackburn attended The National Press Club's 36th Annual Book Fair & Authors' Night. The event was sponsored in partnership with Politics & Prose and benefited the non-profit NPC Journalism Institute, who provides scholarships for the next generation of aspiring journalists, and The SEED Foundation, which helps to groom underserved students across the District and Maryland for collegiate achievement.
The event kicked off with a reception for more than 90 authors and their guests in The Fourth Estate Restaurant in the NPC building. After an introduction by NPC and a brief presentation by Politics & Prose, the authors were escorted to the ballroom where the book signing commenced.
John had the opportunity to speak with many members and patrons of the NPC who had some interest in horses or knew a friend or family member with horses, farms, and barns. It was surprising how many in the Press community are connected to the equestrian community. It is also a pleasure to be in an environment where there was such enthusiasm for the printed word and books in particular.  Many of the patrons who stopped at the "Healthy Stables" table commented on the incredible photography in the book, much of which was captured by Blackburn architect Cesar Lujan. John sold and signed between 15 to 20 copies of his book, Healthy Stables by Design.
Scroll down to see more photos from the event:
11.11.13
Date: November 6th, 2013
Location: Lucky Jack Farm in Rancho Santa Fe, CA
Patty Brutten, the farm owner led off the presentation with introductions and a brief history of what led her to build Lucky Jack Farm. The property was designed in the Rancho Santa Fe historic style made famous by Lilian Rice in the 1920's and has an historic designation characterized by low-slung terra cotta roofs, shuttered, deep-set windows, white or neutral colored adobe walls, and intimate patios and courtyards, that define the area. Today it is known as California Romantica, California Mission, or Spanish Colonial style.
All of the author proceeds for the sale of John Blackburn's book, Healthy Stables by Design, are donated to equine charities. The owners of Lucky Jack Farm, hosts of this event, chose REINS Therapeutic Riding Program in Fallbrook, CA. Debbie Shinner, who has been the Executive Director of REINS since 1995, spoke about the program, its history, and how she became involved in 1992.
Our own John Blackburn followed Debbie with an introduction of some of the key members of the design and builder team, a short presentation about his background designing for horses, and the design aspects he believes to be essential for successful equestrian projects. He also covered design concepts of his firm's predesigned Blackburn Greenbarns® as well paying notice to several projects in the book, Healthy Stables by Design. As he does in every presentation, John stressed how the health and safety of the horse remains the priority in every design regardless of the budget, location, or program.
Following the presentation, Blackburn architect, Dan Blair led a portion of the attendees on a tour of the Lucky Jack Barn, illuminating its unique design aspects and how the firm tackled the challenge of having the barn's designs comply with strict building and fire codes without sacrificing a healthy and safe environment for the horses.
The event ended with the sale of 64 copies of Healthy Stables by Design and raised nearly $2000 for the charity. This amount was increased significantly by several private voluntary donations.
John continues on his book tour and equine charity events with presentations in Pebble Beach and Monterey CA and at a private facility in Central California in the Bay Area.
Scroll down for pictures from the event.
11.01.13
John has traveled to the National Horse Show and is signing and selling the book there. Check out Phelps' Media release to find out more.
"Blackburn will hold additional signings at the Alltech National Horse Show in Lexington, KY on Friday, Nov. 1, at 6:30 p.m. at the Taylor Harris Club and Saturday, Nov. 2 at noon in the North Star Rider Lounge. He will also appear on WKYT-TV in Lexington, KY on their 12:30 p.m. news broadcast. Blackburn has graciously declined profit from the book and will donate all author proceeds to equine charities."