Projects
Brief design profiles of projects: equestrian, adaptive reuse and renovation, and residential.
08.08.13
After reading Stable Management's recent article "Environment is Important in Planning Your Equine Facility," I thought the topic would be perfect for this latest series of Barn Design Tips and Thoughts. You can find Stable Management's article here (http://stablemanagement.com/article-archive/stable-management/environment-is-important-in-planning-your-equine-facility/) if you are interested.
The article is absolutely correct, "Environment is important."  Since you cannot change the environment, selecting the proper property and layout of your farm is critical to its success. The farm has to respect the land and environment in which it is placed. Sometimes people attempt to change the land to suit the farm they desire. That process is generally extremely costly and some spend more money manipulating the land than they do building the structures, fencing, etc.
A successful horse farm needs to respect three concerns: the demands of the site, the goals of the owner, and the needs of the horse. At Blackburn, we believe the needs of the horse remain paramount throughout the planning and design process. For over 30 years and in more than 30 states, I have seen an incredible range of properties and locations on which a horse-owner wants to "build" a farm. Most properties can be adapted in some way, but at what expense? One time, I had a conversation with a thoroughbred owner in which he had to decide between spending $100k to solve a site issue his way or accepting a lower cost alternative that could save him enough money to invest in a new foal. Like many equestrians faced with a similar choice, he chose the latter. This is one of the reasons why having an equestrian architect or planner evaluate a site before purchase may be extremely helpful and cost-effective.
In order to make the most of your land and stable, planning is necessary. The most important and critical step is to develop a master plan. This is where most of our projects start. A proper master plan will analyze the site to determine the property's unique features, pitfalls, proper conditions, seasonal changes, etc. etc.
There are literally thousands of things to consider and they are not all the same for any two projects. As I have described it in terms of farm managers, you can get a hundred farm managers in a room and you will get at least 101 different opinions on how to run or operate a farm.  The same is true for the site. Oftentimes, we present several site plan options to clients so they can see the benefits and negatives of different building placements. It may require an experienced equine planner, designer/architect, or landscape designer/architect to see the differences or to see "the forest for the trees." For that reason, it is almost impossible for me to give general tips about site planning as each site differs. One generally applicable tip is locating  the long axis of the barn perpendicular to the prevailing summer breeze for good ventilation.  The key is determining the direction of the prevailing summer breeze.  I recommend starting with local airport wind data, but following that with a site analysis to observe site obstructions that can modify the pattern.  Every site has it's own microclimate and it is important to gain an understanding of it before you design the overall site plan.
To make the most of your property, I highly advise hiring someone with experience. Sometimes this is where people have issues. Without considering all the influences of land and environment, they purchase a prefab or select a design/build solution.  With many of these companies, their sole interest is selling a product, not a service. It is not very different from selecting a trainer for your horse. If you want to be a top dressage rider, selecting a general all-around trainer can only get you so close to your goal. Instead, you need someone with experience in high-level dressage. Someone that is able to understand your horse, you, and your goals. Similarly, what the owner of a horse property needs is the service of an experienced hand, the talents of a trained eye, and the concern for the long term success of the farm.
A few weeks ago, I was approached by a potential client who had selected a prefab barn/arena structure.  Throughout the process, the prime concern was the cost and speed of erection. The supplier offered to adjust the size of her building components to fit the building pad, but didn't look any further. When the owner complained that the barn stuck out like a sore thumb, the prefab manufacturer added a series of small cupolas that were not functional and out of proportion. Unfortunately, in these situations it is often the health of the horses that suffer. They are the ones that miss out on the prevailing summer breezes that your pre-fab structure never gets because barn placement wasn't considered. It is the horses that have to live in a stall that smells and contains high levels of ammonia gas, since draining and the importance of natural light in reducing gas production was not a priority. They do not have the benefit of clerestory light entering or the light from a Dutch door removing bacteria from the air, since your pre-fab barn may lack Dutch-doors and abundant sky-lights. Of course none of these are extreme life-threatening problems and not every pre-fab structure or kit of parts is horribly designed (although there are definitely some out there). Yet, when you take a horse out of its comfort zone- the wild- it's your obligation to create an environment that protects its health and safety. A poorly designed barn can be worse than no barn at all.
The last line of the article stating "Environment is Important in Planning Your Equine Facility" is absolutely correct. "Understanding what you want to develop, and planning for the success of that horse facility, will go a long way in making the project go faster and easier," and if I might add, cost less and be a better long-term investment.
If you are interested in how stable design can make a healthy environment for horses, please consider checking out my new book Healthy Stables by Design. After practicing as an equestrian architect and concerning myself with ways to make stables safer and healthier for their inhabitants in all kinds of environments, I thought it was finally time to share some of my principles. In my book, you can start to understand these concepts as I explain them through large-scale pictures and drawings.
06.18.13
Blackburn Architects was retained to adapt this building from its original use as a candy factory into a center for the arts. The primary design goal was to preserve the character of the building's exterior two-tone brickwork and interior heavy-timber wood columns and beams while maximizing space for the new arts uses. The first floor contains an open gallery for exhibitions and demonstration activities. Second floor classrooms provide space for arts education. A 175-seat performance space on the third floor accommodates repertory and community theater productions, and the basement contains space for production and storage of theatrical props and scenery.
Client City of Manassas
Program adaption of a historic structure into an arts center
Completion 2002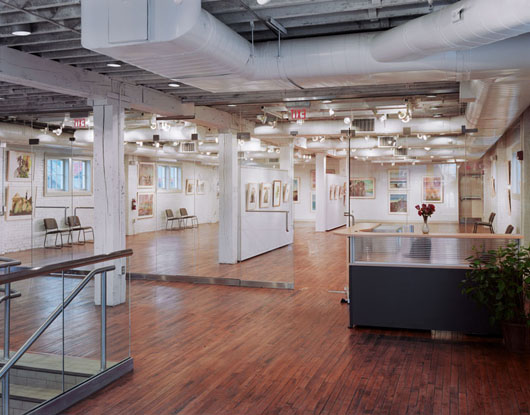 06.18.13
Blackburn Architects was retained to design the renovation and expansion of the Washington Episcopal School, located at 5161 River Road in Bethesda. The existing classroom building was remodeled to improve room sizes and adjacencies. The school was also expanded to include a new gymnasium, library and related support spaces. The gymnasium/assembly hall space was achieved by renovating approximately 12,000 sq. ft. of an adjoining warehouse. Vehicular circulation was reconfigured to improve traffic efficiency and the grounds were redesigned to include athletic fields.
Program Private school (grades K-8): renovation and expansion. New gymnasium, library, support spaces, and athletic fields.
Completion Phase 1:1996, Phase ll: 1998 and Phase lll: 2000
06.07.13
A historic mansion, the Grafton Estate was renovated for use as staff housing and office space for Heronwood Farm. As part of the renovation, mechanical and electrical systems were replaced and the structure was waterproofed. Despite complex structural and system repairs, Grafton was successfully adapted to its new use with minimal disruption to the building's historic character.
Program renovation of mansion into five one-bedroom apartments and one farm office
Completion 1985
06.07.13
The Virginia Tech Middleburg Agricultural Research & Extension Center is a 419-acre working farm. The Center's mission is to improve the care and nutrition of horses, by conducting research on nutrition, stress, growth and development, reproduction, and forage management. The project includes a clinic for examination and treatment, classrooms, administrative offices, a conference center, a research laboratory and a foaling barn. The buildings were designed to keep with the clinical nature of the facility and to be consistent with local architectural traditions.
Program examination/treatment clinic, research laboratory, 10-stall foaling barn, classrooms, conference center, and administrative offices
Completion 1992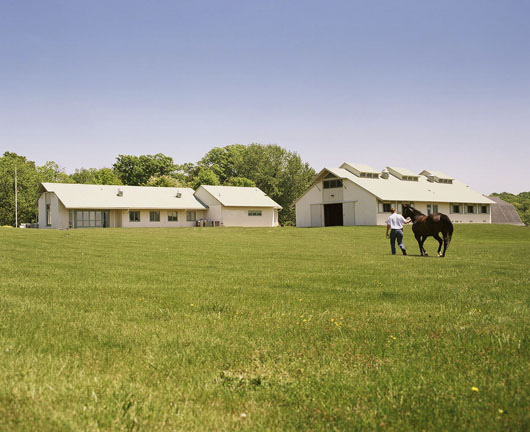 05.02.13
On Saturday April 27th, Ian Kelly and I attended the Grand Opening of the Woodstock Equestrian Park in Beallsville, MD. Ian was the project manager for Blackburn Architects who was the lead designer for the renovated facility.  It was a fantastic day with perfect weather for the event.  The ceremonies included the dedication of the recently completed outdoor riding ring, beginner novice cross country course, and the stabilization and restoration of the historic Brewer Farm.
Blackburn Architects helped design the layout of the park and directed the restoration of the four historic structures. The Grand Opening event included a ribbon cutting ceremony, jumping demonstration by Bascule Farm, a polo match featuring the Capitol Polo Club, a demonstration of the new cross country course by the Seneca Valley Pony Club, and a presentation of the Maryland Horse Industry Board's April Touch of Class award to Tracey Morgan.  I've posted some photos below of the highlights from the event.
For additional information please see:
http://montgomeryplanningboard.org/blog-news/2013/04/17/join-montgomery-parks-for-equestrian-demonstrations-in-the-new-arena-and-cross-country-course-at-woodstock-equestrian-park/
Facebook links of participants:
11.19.12
There is some exciting news coming to Northern Virginia and the therapeutic riding community.  The Northern Virginia Therapeutic Riding Program (www.nvtrp.org) faces a new chapter in their history from their plans to build a new indoor riding arena at their new property, Little Full Cry Farm, located Clifton, VA.  They completed Phase I in 2008 with the purchase of the 5.5 acre property and construction of the arena will complete Phase II.
I recently had the pleasure of attending an event sponsored by John Marshall Bank at Paradise Springs Winery in Clifton, VA (www.paradisespringswinery.com).  The event, held in the beautiful new wine tasting room, was an opportunity for Blackburn Architects to unveil the design for the new arena (Phase II) and a future 24-stall barn (Phase III). The new facility, Northern Virginia's first comprehensive therapeutic horsemanship center, will be financed by John Marshall Bank (www.johnmarshallbank.com) who has been instrumental in assisting the NVTRP in acquiring the property and in helping to promote the good work that they provide.
Having designed other therapeutic riding facilities from as far away as Greece to as close to home as Northern Virginia, it is a very rewarding experience to be involved in the creation of any therapeutic riding facility.  Blackburn Architects is pleased and honored to have the opportunity to assist the NVTRP in achieving their goals.  From their new permanent home and the new physical infrastructure, the NVTRP will gradually be able to:
double its ridership to 150 students,
expand to include at-risk youths and recovering military service personnel,
offer a full-range of complementary therapies and resource network to its riders and their families,
customize training programs for specifics needs within the greater communities NVTRP serves,
create a Northern American Riding for the Handicapped Association (NARHA) regional training center focusing on certifying a new corps of instructors.
Below is a perspective of the concept design and a proposed floor plan designed by Blackburn Architects.
For more information about how you can help the NVTRP "Raise the Barn!", please contact Breeana Bornhorst at (703) 764-0269 or by email at info@nvtrp.org.
04.13.12
I'll admit to a senior moment, perhaps, as it just dawned on me that I failed to update the blog with final photos of our conversion of an old barn in Ohio into a guesthouse/party barn. My project manager and I enjoyed working with Ed Wurm at Classic Homes and all those involved with this conversion of a German-style barn, which involved stabilizing the dilapidated structure and picking it up (literally) to move to a different location on the site. And that was just getting started. You can view photos of the evolution of the project here, here, here, and here, but suffice it to say, it was a major transformation.
Along with the clients, our goal was to salvage the beauty of the barn and retain its character and charm. We reused lumber where possible and play with a mix of traditional details and modern amenities. And I have to say, I imagine there's nothing more cozy than gathering around the huge fireplace, flickering with orange and red, with a drink in hand and a backdrop of the night sky. That might be a moment even an old guy like me couldn't forget.
04.06.12
Located in Loudoun County along the banks of the Potomac River, this 24-stall barn and indoor arena is host to many equestrian events and family gatherings. Amenities include barn offices, lofts, and a 25,000 square-foot indoor arena with a viewing area for observers. The equestrian facilities can also be viewed from the sundeck of the award-winning Bank Barn that overlooks the valley below.
Program 24-stall barn, offices, indoor/outdoor arenas, observation area, service barn, outdoor paddocks
Completion 2006
02.14.12
This lush and private ranch is located just north of Seattle. The 100' x 200' arena, which features a "crow's nest" observation area, will be used for hunter/jumper and show training as well as recreation. The new structure, nestled in the Northwest Mountains, fits into the site unobtrusively and reflects the Tudor-style of the existing residence, favored by its owners. Future plans to occur in phases are a 20-stall barn, parking and service buildings, and a caretaker's cottage.
Program 100' x 200' enclosed arena, future phases include 20-stall barn, parking/service buildings, gatehouse
Completion 2010 (arena construction)
Posted in
Equestrian News
,
Projects
|
Tagged Arena, arena design, Arlington, Blackburn Architects, Circle B Ranch, Equestrian, horse arena design, horse riding arena, Horses, indoor riding arena, WA
|
1 comment >