Projects
Brief design profiles of projects: equestrian, adaptive reuse and renovation, and residential.
02.09.12
This is probably the last set of photos I'll share of Beechwood Stables in Massachusetts before we have a professional photographer shoot the project in its completion. (When the weather is a bit nicer so the buildings aren't covered in snow!) I'm really pleased with how it's turned out and hope our client feels the same. I'd also like to thank Marcus Gleysteen Architects, whom we teamed with; the builder, Kenneth Vona Construction, whose professionalism and craftsmanship is top-notch, as well as the team at Lucas Equine Equipment for their fabulous stall systems as usual. Beechwood Stables has a lot of high-end finishes and details that certainly shine though with this project. However, the truly important aspects of our design is what matter the most and remain true regardless of budget: protecting the health and safety of the riders and the horses who will soon inhabit the barn.
Thanks to the gracious owner and everyone involved in the design and construction of Beechwood Stables. A few details are provided in the caption each photo.
12.29.11
I wanted to share a few more photos of the construction progress at Beechwood Stables in Massachusetts, a project we worked on in association with Marcus Gleysteen Architects. We expect to punch out the project (a final walk through of the project where we review everything) very soon.
12.21.11
On fifty gently sloping acres south of Charlotte, North Carolina, Ketchen Place Farm is a family-owned, female-run farm that breeds thoroughbred and warmblood sport horses. Blackburn Architects provided architectural services for the construction of a 20-stall barn and a not-yet-built, separate four-bay garage with a two-bedroom, two-bath residence above. The master plan includes redesign and improvement of roads, fencing, paddocks, a run-in shed, and a well-defined entrance to the facility. The shed-row style barn, which includes a studio apartment above for the observation of foals, wraps around three sides of a courtyard that doubles as a small sand training paddock. The project was featured in the Spring 201o issue of Architecture DC Magazine.
Program 20-stall barn with groom's studio, four-bay garage with residence, redesign of roads, fencing, paddocks, shed, and facility entrance
Completion 2008
Posted in
Equestrian News
,
Projects
|
Tagged 20-stall barn, Barn, Equestrian, Horse, horse barn, horse stables, Ketchen Farm, Ketchen Place Farm, Ketchen SC, Rock Hill, SC, Stables
|
Leave a comment >
12.20.11
Located on a hilly 250-acre site with two lakes, Glenwood Farm is designed of wood and stone to fit within the natural landscape. The covered arena and outdoor dressage arena with surrounding paddocks overlook a small pond. The 12-stall barn has two wash/groom stalls and service space that includes a tack room, feed room, tool/work space, and laundry as well as a lounge with a loft and office space. A separate service building stores bedding and hay. The farm is used for boarding private horses as well as for the family's personal use.
Program 12-stall barn, covered arena, and service building
Completion 2008
11.22.11
This private equestrian facility is located on rolling open fields in the heart of Northern Virginia's hunt country. Simple in design and functional in layout, the barn was conceived to meet the owner's specific program needs for the training of hunters and jumpers.
Program six-stall barn with attached enclosed arena and an elevated observation room, tack room, wash and groom stalls
Completion 2002
10.26.11
Are you familiar with Houzz? It's a virtual catalogue of residential projects from various architects and designers. My firm has been using it lately to present a few of our residential (which includes renovated guest and "party barns") projects. Non-designers can browse various projects, using a keyword search (think: modern, traditional, eclectic, etc.) or by the firm itself, and compile favorite photographs into what the site calls an Idea Book. I know that all of my clients benefit from photographs of projects to help illustrate or visualize their ideas or design aesthetic and I really like how this site is a one-stop-shop to do just that. I hope you'll check out the site and let me know what you think — and of course, I hope you'll add a few photos from the Blackburn portfolio to your very own Idea Book!
09.25.11
Located outside of Camden on 42 acres in South Carolina's horse country, this private horse farm for the training of hunter/jumpers was designed to include a new 10-stall barn to accompany an existing four-stall and eight-stall barn. The newer stall complex forms a center courtyard.
Program 10-stall barn
Completion 1999 (master plan), 2001 (barn and service structures)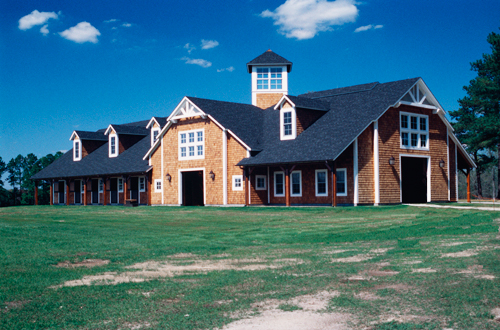 09.08.11
Located on a stunning 80-acre site in Aptos, Devine Ranch is designed with the temperate climate, ocean breezes, and scenic overlooks in mind. The eight-stall barn (six stalls with paddocks) lies in close proximity to the new 7,000 sq. ft. residence, also designed by Blackburn Architects.
Program 8-stall barn, two service buildings, covered round pen, open arena, paddocks
Completion 2003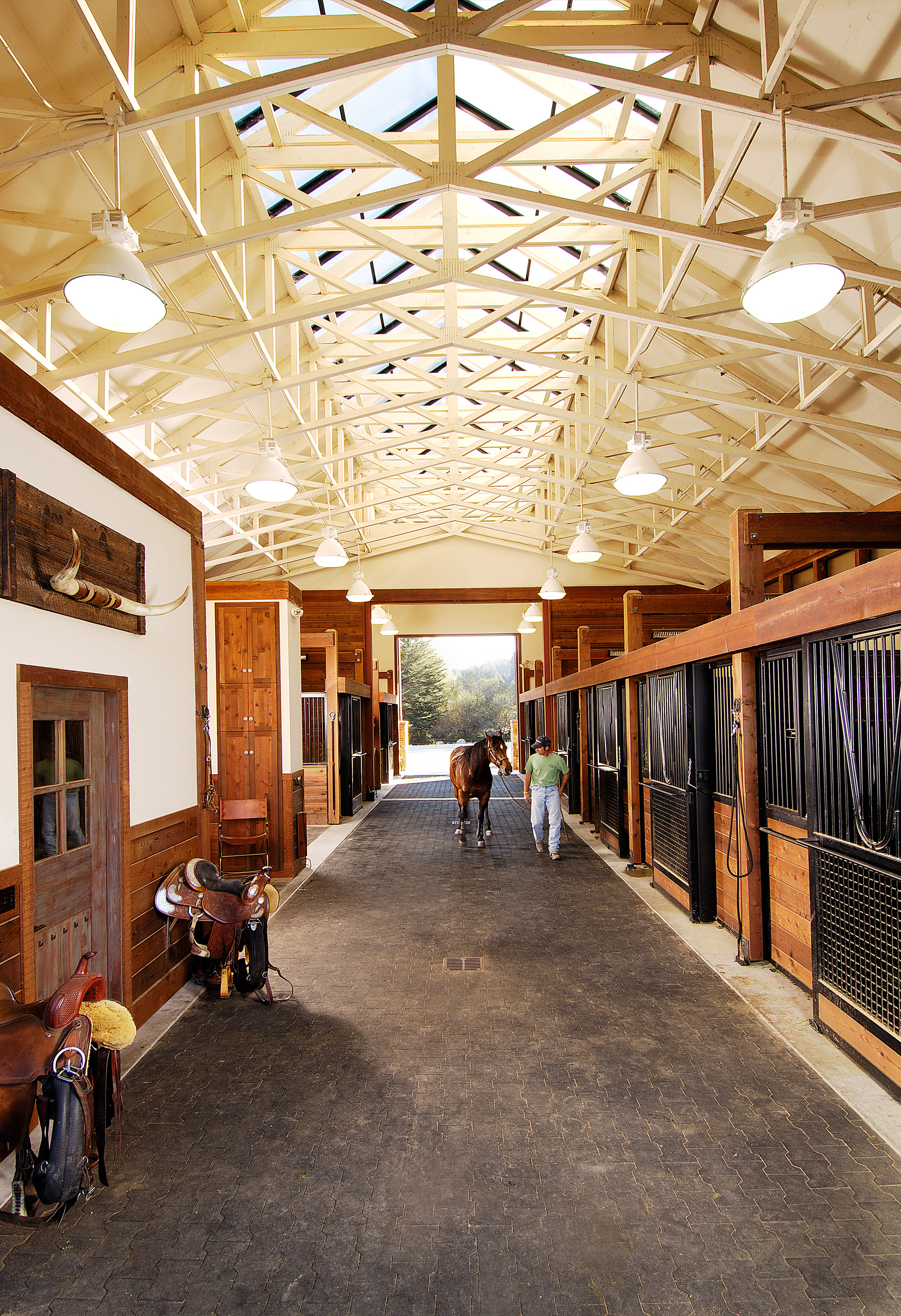 09.07.11
Designed in response to an adjacent new residence and in the style of existing barns on the private ranch, this eight-stall barn in Montana uses heavy timber framing and western cedar siding.
The program includes wash and grooming stalls, a lounge/office, large tack rooms, and a loft with a balcony that overlooks an outdoor arena. The barn's deep overhangs create covered areas to wash and groom horses outdoors while a continuous translucent ridge skylight allows generous amounts of natural light within the barn.
Program 8-stall barn, outdoor arena, service building
Completion 2004
Posted in
Equestrian News
,
Projects
|
Tagged Architecture, Barn, barn design, Barns, Blackburn Architects, Equestrian, Equestrian Architect, equestrian design, Equine, equine architecture, heavy timber, horse barn, horse ranch, horse stables, Montana barn, ranch, Stables, western cedar siding
|
1 comment >
06.22.11
This private equestrian facility includes a 14-stall barn, three-bedroom staff residence, and a service wing for hay, bedding, and equipment storage. Designed in a French Colonial style indigenous to the South, the barn and residence feature coral stone water tables, stucco wall finishes, and barrel tile roofs. The generous use of dormers provides abundant natural light to the barn stalls and aisles and to the second floor of the residence. This project was featured in Elle Decor magazine.
Program 14-stall stable and three-bedroom staff residence
Completion 1997