The Latest
06.26.13
"This Week in Tryon Horse County" is a weekly newsletter talking about horse-related events, activities, and news in Tryon County, NC. We were thrilled to see that Libbie Johnson mentioned Healthy Stables by Design in her newsletter this week. Check out the newsletter here or visit www.healthystablesbydesign.com to learn more about the book.
06.20.13
Northern Virginia Therapeutic Riding Program (NVTRP) held their annual Cowboy Casino Night fundraiser on Saturday April 27th. Daniel Blair, the Project Architect for the project, and his wife attended the event. It was a fun-filled evening for all who turned out to show their support for this fantastic non-profit organization. I'll let Dan tell the rest of the story from here…
It has been a great experience assisting the NVTRP with their vision for a new therapeutic riding facility. The design includes a 85' x 200' indoor arena, a state of the art therapy center, administrative area, and future 24-stall stable. Up until that evening, I had only met and worked with the leaders of the organization. One of the highlights of the event was meeting one of the NVTRP's riders, Blythe, who will benefit from our design. Her story is not only inspiring, but I think she is also a symbol of the hope and perseverance that can be found at many of these non-profits.
My wife, Ellie, and I are very active volunteers in animal rescue; volunteering for both the Washington Humane Society and HART in Virginia. From our experience, I am quite familiar with the difficulties that non-profits face when trying to make progress; whether it be political resistance to closing puppy mills or dealing with limited resources from a slow economy.
The goal of most non-profits is to eventually put themselves out of business; whether it is fighting breast cancer or getting control of the pet population, the non-profit is there to serve as a stop-gap until the larger issue is resolved. However, therapeutic riding is unique.  They are not a stopgap but provide highly specialized therapy to improve the lives of people who face potentially life long physical and mental disabilities.
Therapeutic riding programs fulfill a human need and are often an under-appreciated service. Typically, there is very little funding available as other charitable programs are often given higher priority and there is no guarantee that insurance will cover the sessions. Additionally, the operation of the facility is very expensive. Not only do they have administrative and specialized care costs, but they also have to house, feed, and care for the horses. Volunteers are typically difficult to find since some positions require previous equestrian experience and horse handling skills. Unfortunately, there is a very limited pool of volunteers for therapeutic riding and many programs struggle to find assistance.
Blythe has been involved with NVTRP for the past fourteen years. She began at the NVTRP with one simple goal in mind: learn how to ride a horse to assist in dealing with her disability.
When Blythe was three she acquired herpesviral encephalitis that caused her to enter into a coma. When she awoke, her life was completely changed. Blythe was left totally blind and had permanent brain damage. Over time, she has regained only the central portion of her vision. As a result, she is unable to see peripherally and always has to turn her head to understand her surroundings. To make things even more difficult, the brain damage produced spatial challenges for her. You and I take the spatial capability of our brain for granted, but for Blythe, understanding the difference between right and left, straight, or up and down is very challenging.
Through the use of therapeutic horseback riding and the program's help, Blythe has been able to face and overcome many of her challenges. When she first began at the NVTRP, Blythe required a side walker and leader to help her through the ring. After a lot of practice and hard work, she progressed to only requiring a leader. Now, as she has learned how to canter and a leader can no longer keep up with her pace, she rides independently.  She still always has someone in the ring giving directions; letting her know when to turn left, right, straight, and how much.
According to Blythe, growing up at NVTRP has been a life-changing experience. The bond that develops between any rider and horse is amazing. When it exists, the horse truly wants to work with the rider because of the relationship between them. Blythe has had the opportunity to bond with several horses at NVTRP and some have been there even longer than she has, such as Chet and Peaches. However, as Blythe says, "Chet will always hold that special place in my heart."  Due to the services and benefits she received at the program, Blythe decided to give back and became a volunteer. She now helps with fundraising and building awareness about NVTRP's program.
For the casino night fundraiser, Blythe contacted her favorite author, Jeff Shaara, and told him about her involvement with NVTRP. She asked if he would donate to the NVTRP's silent auction. He responded and offered to donate a signed copy of his new Civil War trilogy.
Here is my favorite part of the story. She thanked him profusely and casually mentioned that the Civil War trilogy was indeed great, but noted that her favorite of his works was his World War II trilogy. A copy of both trilogies, signed by the author, arrived in the mail shortly thereafter. Blythe's persistence and determination captures the spirit of the NVTRP and other therapeutic riding organizations. The life-changing therapy she has received demonstrates the value that organizations like NVTRP provide our communities and people within them.
Though my wife and I may not have won the Civil War Trilogy box set that evening, we were able to have a lot of fun, support a good cause, and meet one of the beneficiaries of my work, which is one of the best experiences an architect can ever ask for.
The NVTRP is presently conducting its capital campaign for its new therapeutic facility. If you are interested in assisting, please see their Raise the Barn campaign at this link. If you are a fan of Jeff Shaara's work, the World War II set will be up for auction at the NVTRP's Ride to Thrive Polo Classic on September 21st; courtesy of Blythe of course.
06.18.13
Blackburn Architects was retained to adapt this building from its original use as a candy factory into a center for the arts. The primary design goal was to preserve the character of the building's exterior two-tone brickwork and interior heavy-timber wood columns and beams while maximizing space for the new arts uses. The first floor contains an open gallery for exhibitions and demonstration activities. Second floor classrooms provide space for arts education. A 175-seat performance space on the third floor accommodates repertory and community theater productions, and the basement contains space for production and storage of theatrical props and scenery.
Client City of Manassas
Program adaption of a historic structure into an arts center
Completion 2002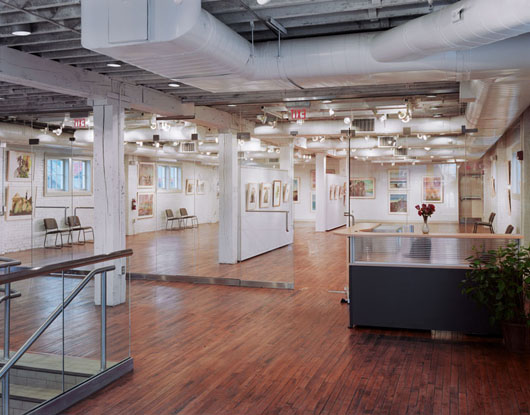 06.18.13
Blackburn Architects was retained to design the renovation and expansion of the Washington Episcopal School, located at 5161 River Road in Bethesda. The existing classroom building was remodeled to improve room sizes and adjacencies. The school was also expanded to include a new gymnasium, library and related support spaces. The gymnasium/assembly hall space was achieved by renovating approximately 12,000 sq. ft. of an adjoining warehouse. Vehicular circulation was reconfigured to improve traffic efficiency and the grounds were redesigned to include athletic fields.
Program Private school (grades K-8): renovation and expansion. New gymnasium, library, support spaces, and athletic fields.
Completion Phase 1:1996, Phase ll: 1998 and Phase lll: 2000
06.14.13
This summer, Equestrian Quarterly has published an article discussing the elements of well-designed barns. The article features several equestrian architects, including John Blackburn. Check out the article to hear John's thoughts on what make a well-planned facility, as well as to see a few photos from our assorted projects. There is even mention of John's new book, Healthy Stables by Design, that will be coming out this fall.
Click here to access the article "Let There Be Light".
06.14.13
This summer, Equestrian Quarterly has published an article discussing the elements of well-designed barns. The article features several equestrian architects, including John Blackburn. Check out the article to hear John's thoughts on what make a well-planned facility, as well as to see a few photos from our assorted projects. There is even mention of John's new book, Healthy Stables by Design, that will be coming out this fall.
Click here to access the article "Let There Be Light".
06.07.13
A historic mansion, the Grafton Estate was renovated for use as staff housing and office space for Heronwood Farm. As part of the renovation, mechanical and electrical systems were replaced and the structure was waterproofed. Despite complex structural and system repairs, Grafton was successfully adapted to its new use with minimal disruption to the building's historic character.
Program renovation of mansion into five one-bedroom apartments and one farm office
Completion 1985
06.07.13
The Virginia Tech Middleburg Agricultural Research & Extension Center is a 419-acre working farm. The Center's mission is to improve the care and nutrition of horses, by conducting research on nutrition, stress, growth and development, reproduction, and forage management. The project includes a clinic for examination and treatment, classrooms, administrative offices, a conference center, a research laboratory and a foaling barn. The buildings were designed to keep with the clinical nature of the facility and to be consistent with local architectural traditions.
Program examination/treatment clinic, research laboratory, 10-stall foaling barn, classrooms, conference center, and administrative offices
Completion 1992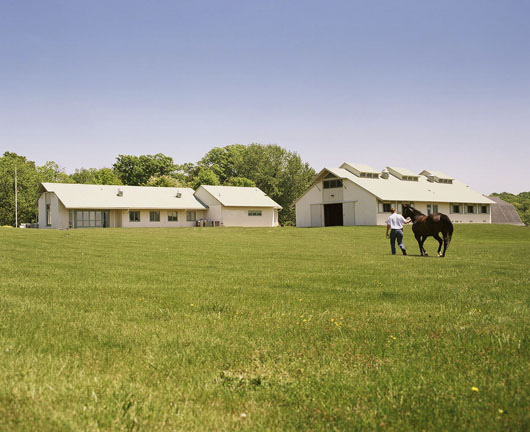 06.07.13
Lane's End Farm, designed by Blackburn Architects, was featured in the Wall Street Journal today as "the Central Park of Horse Farms." (Click this link to see the article "The Versailles for Thoroughbreds", by Pia Catton).
Built in Versailles, Kentucky, this leading commercial thoroughbred operation situated on 2,000 acres of land was significantly expanded from 1985 to 1990. We added broodmare barns, yearling barns, foaling barns, stallion barns, breeding sheds, and an entrance/guard gatehouse in 1990. Here are some pictures from our collection:
06.04.13
After reading the article "Common Mistakes in Barn Door Design" included in a recent Lucas Equine's newsletter (a great source for helpful hints on stall and door design), I thought I would share a few of my own opinions about barn door design. Throughout my 30 years designing equestrian structures, I have developed my own personal preferences about door design and can also suggest a few tips.
One of my personal pet peeves is using glass in a door that will primarily rest against a wall when left open. This tends to be more of an issue in warmer climates, where aisle doors stay open for a good portion of the year. In this case, unless cleaned regularly, buildup of cobwebs, dirt, grass clippings, and other debris can collect behind the door. Because of the glass, there is the added issue of the paint or wall finish fading on the exterior. Although, dirt, snow, and other things tend to get trapped behind the door regardless, without the window this is not directly observable.
No matter what option you choose, your barn door will require maintenance to keep it in proper working order, as well as looking beautiful. This means regular cleaning to remove debris on either side of the door or in the track. By not cleaning them regularly, you run the risk of permanent damage to the finish or function of the door.
Keep in mind the location of your farm as you design your barn entrance. In areas with a lot of snow, snow hoods can be both convenient and essential. These slight protuberances over the door prevent snow from restricting the door's movement by covering the track and the ground around the door. In those rare cases when it is necessary to get in and out of the door quickly, this detail can be incredibly timesaving.
In my opinion, a pocket door system is a more aesthetically pleasing solution than either of these previous options. In this case, the door slides into a cavity in the wall, which reduces the possibility of build-up, but also allows the door to be out of the way when it is not in use. On occasion, under owner requests, budget restraints, or design issues, we opt away from the pocket door option. But it is a nice rule to follow when you can.
I always recommend against hinge doors whether they be the aisle door, outside stall door or interior stall door, as they can become dangerous if they swing shut or open unexpectedly. The inability to know if they are latched is another issue. When looking down an aisle, it is obvious which doors are open and unlatched and which are not. This is not the case with a hinged door, as it could be closed and unlatched. These doors, if unlatched, can easily be caught by the wind and could risk injury to the horse. Even if a sliding door is unlatched, you do not run this same risk. Sliding doors are also more practical when taking a horse in and out, as they can be left open when the horse is not in the stall. A hinged door has to be opened and closed when taking the horse out, and opened and closed when returning the horse. For all these reasons, I advocate against their use for these purposes.
Although barn doors may seem like a minor detail, they have a large impact on making an aesthetically pleasing entrance and provide a necessary and primary function for an equine structure.