The Latest
11.05.12
I hope many of our readers where able to get to the Washington International Horse Show this year.  I was there last Saturday evening.  We had a table in the Acela Club overlooking the arena and the view of the events that evening, not to mention the great food, wine and conversations among friends, was fantastic.  I will not bore you with a recount of the events as you can find an excellent write up on the WIHS web site (www.wihs.org/news). I thought the WIHS staff including the participants, sponsor, vendors all contributed to an excellent show as they do every year.
I have included a few photos below taken by myself and staff at this years show.  I'm not sure how many of you are aware that Blackburn Architects has been providing pro bono services to the WIHS every year since it moved from the old Capital Center in Landover to the Verizon Center (former MCI Center) in 2001. In it's first year we helped with the modification of the arena floor, modifying the side walls including removal of the penalty box areas and removing the end walls of the ice hockey rink to transform it into an indoor riding arena.  What would have been a daunting task in 2001 turned out to be fairly simple having previously accomplished similar modifications at Madison Square Garden for the National Horse Show during the mid 1990's.
The challenge came with trying to squeeze as many horse stalls inside the arena (under the grandstands) and in the streets surrounding the arena.  Though the arena modifications remain relatively unchanged from year to year, the street scene around the Verizon Center changes every year.  The requirements from the City, especially the fire department and EMT needs change plus there is always construction of some kind going on in that area which require revisions and modifications every year.
We are always pleased to offer our assistance as the horse show is a very exciting event in downtown DC.  Even if you never attend the horse show (which is your loss by the way if you haven't), it brings a special excitement to the streets of Washington. For me it reminds me of when the circus used to come to town and parade the animals through the town (yes, I'm old enough to remember it) and though they don't do that with the horse show, the excitement and memory is still there.  Having horses stabled on the streets of the city is a great introduction to the non-equine public to the sights, sounds and yes, the wonderful "aroma" of horses. If you haven't experienced it, you are missing out on what is a unique Washington annual event.
Last year we were able to assist the WIHS with the design of additional VIP seating platforms on one end of the arena and this year they were able to add another VIP area to the opposite end.  The success continues.  So, if you missed the show this year, remember it comes around every October and next year there may be something special in the air.  I hope to launch my new book, Healthy Stables by Design, at the WIHS next year.  A very special event for me and I hope that you will attend and enjoy.
09.24.12
Barns make some great spaces for parties (provided the horses are safe).
On Saturday, September 22nd, I attended the Second Annual LiveAART Horseshoe Hoedown at River Farm Stables.  A charity event to support AART (All Ages Read Together) an organized founded by Karen Schaufeld and who hosted the event at her River Farm Stables, a facility designed by Blackburn Architects.
All Ages Read Together, a Loudoun County Virginia based non-profit organization is dedicated to serving low and moderate income pre-school aged children.  Please visit their website (https://allagesreadtogether.com/) to learn more about AART.  All proceeds from the "Hoedown" will help AART deliver reading and school readiness programs to disadvantaged children in Loudoun and Fairfax counties.
It was an evening of filled with some good ol' down on the farm country fun.  Below are a few images taken during the festivities.  It was a perfect evening for the event that took place outdoors in the courtyard space between the barn and the indoor riding arena. (Last year it took place in the barn due to inclement weather but it too was fun and a wonderful space to party.) Last evening's event began with a series of light hearted games organized in a tournament with prizes for the top two finishers in each event and some great bluegrass music by The Gold Heart Sisters. At sundown, some great bar-be-que was served in the arena observation area followed by square dancing with a professional square dancing caller in the courtyard under the stars. An auction and raffle with some great items was also part of the night.  Blackburn Architects was one of the sponsors of the event and provided one of the auction items.
It was a great party in support of a very worthy cause.  I am sure most of you barn or farm owners have charities you support or would like to support.  We recommend more of you who own barns and arenas consider sponsoring charity events at your barns or indoor riding arenas.  It's a great way to support your favorite charity and to shown off your barn. Just be sure you isolate your horses for their protection (turn them out to pasture during the event is a good way to do that) and make sure fire hazards are eliminated (remove bales of hay, provide plenty of fire extinguishers and do not allow any smoking in the barn.)  Another common sense protection is to not serve anything in glass containers. With a few simple precautions like these, you can do a lot to promote a local charity, enjoy your barn, make new friends and have some fun in the process.
My thanks and congratulations to the Schaufeld family for hosting this successful event.
Epilogue:  Blackburn Architects has designed and constructed over a hundred farms during its 30 years in practice and we would encourage many if not all our clients to consider a similar function if possible and it can be made safe.   Sponsoring a charity event, as they say in the milk slogan, "It does a body good".
09.11.12
I hate to see these kinds of news stories: Last week there was news of another barn fire that took the lives of 14 horses in Bedford, NH.  It's a terrible tragedy and sadly, is something that happens far too often.  While the cause of this fire remains undetermined, it is important to know that there are many ways that the risk of fires in a barn can be reduced.  News of these types of events should provide a wake up call for all barn owners, managers and horse owners to pay special attention to your daily maintenance routine, your operation and to look for long term design improvements that begin to reduce the risk of fire.  There are lots of things that can be done to maintain a healthy and safe environment for horses.
Thorough cleaning procedures, i.e. removal of cobwebs from light fixtures, removing excess hay and bedding where it accumulates, removing of trash and isolation of cleaning fluids and other flammable products are just some of the areas to focus on.  Others are more long term and permanent such as keeping all electrical equipment in good serviceable working order, running all electrical wires through conduits (to prevent those pesky barn mice from chewing through the plastic lined wiring), and proper hay and bedding storage can all significantly reduce the risk of fire in a barn.
Furthermore, do not store motorized equipment in or around your hay storage. I recall a barn fire a few years ago when a barn worker cranked up a small mower to mow around the barn, the mower back fired, ignited a bale of hay siting close by and before anyone could do anything about it, the barn went up in flames.  So it pays to always remain conscious of the hazards that exist in a barn and make sure fire extinguishers are posted at least at each end of the barn and another at the center. Though I've seen many locations where fire extinguishers were improperly or poorly mounted, I don't recall a case where there were too many.
These are just a few of the issues to always remain aware of.  There are so many more. I could go on and on….
http://www.unionleader.com/article/20120906/NEWS07/709069877
08.21.12
Over the years, I have come across many less than ideal conditions for the health and safety of horses in barns. So I thought we would have a little fun with our readers. See the photo below of a wash stall in a barn that I visited a few years ago. Can you identify the potential hazards in the photo? To give you a hint and get you started there are at least 20 hazards. Click on the image to see a larger version, and send me your list of all those you can find.
Our goal at Blackburn Architects has always been to create an environment that promotes a safe and healthy environment for the horse.  From selecting flooring materials that are comfortable for a horse to eliminating potentially dangerous conditions such as sharp edges, trip hazards, and excess clutter, we are always looking at ways to make the equine spaces function as safely as possible for the horse and the handler.
I have lots of photos of similar unsafe conditions and we will periodically post them for your viewing entertainment. Stay tuned for more in the weeks to come.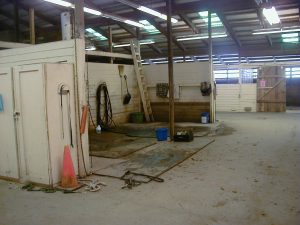 07.26.12
Zweig Marketing Letter, a monthly marketing newsletter for A/E/P and environmental firms, recently did a short piece about our little blog we run here. The author is also an equestrian and small horse farm owner.  In the small world category of things, she grew up keeping her horse right behind Round Lot Farm, one of our projects, in Medfield, MA.
07.25.12
With all the recent horror stories we have been hearing about the wild fires across the southwest and California, it is nice to hear a good outcome on occasion. We received such an email last week from  one of our clients.
The message notified us that their residence, designed by Blackburn Architects, PC and constructed by Crocker Homes, found itself in the middle of the Seven Fire, a wild fire, that blew through the foothills of the Sierra Mountains on July 10th. Finished earlier this year, the four bedroom, 3,950 square foot private residence is located in Seven Legends Ranch overlooking Lake Don Pedro.
Luckily, the wild fire was first spotted by a plane that was helping fight another fire in the area. According to authorities, the fire destroyed over 800 acres in a very short period of time. Though the entire area around the property was consumed by the fire, the house survived the conflagration due to the defensible space fire protective measures installed during construction.
Defensible space fire protection measures, also known as "firescaping," are fire control methods instituted in the California code that focuses on the landscaping around a building. The concept targets the area within 100 feet of the building and emphasizes fuel reduction by specifying appropriate spacing and separation of plant types. Plant selection, segregation, and spacing all play a major role in preventing the spread of fire between different types of vegetation and in an effort to reduce its ability to reach the structure.
Although the design and installation of the measures tend to add to the initial cost of construction, they have been proven to work. Not only does this helps save lives, but it also helps prevent rising insurance costs in the country's fire prone areas. In Seven Legend's case, the firescaping provided sufficient time for the local fire department to deploy to the property, spray the home with fire retardant, and save it from being completely destroyed. Our thoughts go out to all those who have not been as fortunate.
Photos and news footage below.
06.22.12
"When you take a horse out of its comfort zone—the wild—it's your obligation to create an environment that protects its health and safety. A poorly designed barn can be worse than no barn at all." – John Blackburn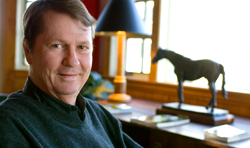 John Blackburn knows barns. As Blackburn's owner and senior principal for the past 25 years, John has designed over 150 equestrian facilities across the United States and abroad.
In his blog, Stable Minded, John rhapsodizes about the design process behind our horse barns and equine facilities as only he can. His blogs cover a variety of equestrian news and topics: from the story behind projects we've designed to equestrian and design issues, such as how to increase natural lighting in barns. For those of you with questions or comments about the nitty-gritty details we face when designing barns, John considers his blog an open forum to discuss what's on your mind.
If you're curious about the architectural process, like to view construction photos from start to finish, or have questions about how it all works, we invite you to read and comment at Stable Minded. It might not be literally straight from the horse's mouth, but we like to think it's pretty close.
06.19.12
Much of the world seems to view horse racing through a different set of binoculars compared to the United States. Racing regulators in Kentucky recently approved a ban on furosemide (brand names Lasix or Salix), long considered a performance-enhancer in thoroughbreds (and thereby banned) throughout much of the world. The proposed phased-in ban, which would halt use of the drug in graded or listed stakes races, still needs approval from state lawmakers – and, as expected, the debate is controversial at best and downright ugly at worst.
Furosemide, the drug at the core of the debate, is a synthetic compound which functions as a powerful diuretic – it's also the only medication currently allowed to be administered on any given race day in much of the U.S. The medication is used as an anti-bleeding drug to prevent race horses from nosebleeds during races and to treat pulmonary hemorrhaging.
One side of the argument is that a ban would create even more difficulties for an already struggling industry, as the business that gave Kentucky much of its fame has struggled to compete against states where the lure of larger purses is supported by legalized slot machines and the like. Others who are anti-ban suggest that the drug is a less cruel method to prevent or stop bleeding, as presented in "The Case for Using Lasix" in the New York Times.
On the other hand, some argue that banning the drug will boost public opinion of the sport, which has been marred by doping and injuries to both horses and the jockeys who ride them. In an editorial, "Stronger Medicine for What Ails Horse Racing," the New York Times points out that "this is a good start, but regulators across the country will need to do a lot more to change the industry's cynical culture, which turns a blind eye to drug use and imposes only wrist-slapping penalties on trainers caught in the act." Another interesting viewpoint comes from the veterinarian Sid Gustafson, who says: "To allow racing veterinarians in a stall with a horse before a race is to permit doping, as it has turned out in America."
The World Anti-Doping Agency (WADA) lists furosemide on its banned drug list due to its alleged anti-masking agencies.
05.29.12
Today's blog comes from Macy Carman, an enthusiastic and talented student (and equestrian!) from Hollins University in Virginia. Macy, an environmental studies major who is considering graduate studies in architecture, spent some time with us to learn about what it means to be an "equine architect." In turn, my staff and I got to spend some time picking her brain about her invaluable experience as a groom for Pollard Eventing. (On a sad note, our thoughts are with everyone at Pollard Eventing. Macy travelled back to be with her horse family after the tragic car accident that claimed the lives of three horses last week.)
HERE'S MACY:
I knew I had picked the right architecture firm for my internship when John Blackburn started out my first day with what he referred to as his "dog and pony show." I love pony shows! I am a lifelong rider, member of the United States Pony Club, and looking forward to a career in designing equestrian facilities, so I knew I was in for a treat.  And I was…the presentation he showed me displays many of the options that are available to clients as well as the principles he bases his designs around: natural light and proper ventilation. I think that he could convince anyone that these are the most important concepts behind a facility!
During my time with the Blackburn team, I was able to accompany John to a Virginia Farm where he was interviewed for a video (stay tuned for the final project). After spending so much time discussing the process to designing a barn, I certainly had a different perspective when touring the facility. While my practical experience with horses, combined with time spent in a variety of barns, has instilled in me the importance of a well thought out facility for the safety and well being of the horse and rider, I picked up on a lot of smaller details. John had a reason for why every detail was exactly the way it was, and was happy to answer all of my questions. Watching his interviews, I got a sense that he cares for the horses just as much as the owners, which is exactly what we horse people are always looking for.
Over the course of my first week here, I have talked to everyone in the office about their projects, their academic paths, and their thoughts on barn design. As interested as I have been in barn design over the years, I have never given thought to many things Blackburn consistently addresses, like making sure that vehicles, visitors, and horses are separated at all times. Who knew a driveway needed so much planning? Everyone in the office has been very welcoming, and I hope that I have been able to provide a slightly different perspective as a rider and a groom. I look forward to absorbing a greater understanding of equestrian design during the rest of my time here- and maybe some tips on my graduate school applications too. I would like to thank the whole office for having me.
05.16.12
Quite a few years ago, I participated in a web chat (remember those?) with the folks at EquiSearch. During the chat, a few chatters presented me with questions about their barn projects, which ranged from "how to's" regarding initial planning stages or "what now's" after building the basic framework. For old time's sake, I thought I might share the chat's transcript. For the sake of those reading today, I'd like to encourage any and all of you to ask away with questions or to present design issues of your own.
gatsbysmom – How much roof overhang do you recommend for a barn in the South?

Blackburn – Gatsbysmom…roof overhangs are very helpful in the south for shading…if you have Dutch doors where horses can stick their heads out, it allows them to do it…make sure the roof is projected out far enough so runoff doesn't drop on the horses' heads…a good dimension is 3.5 feet.