The Latest
05.01.17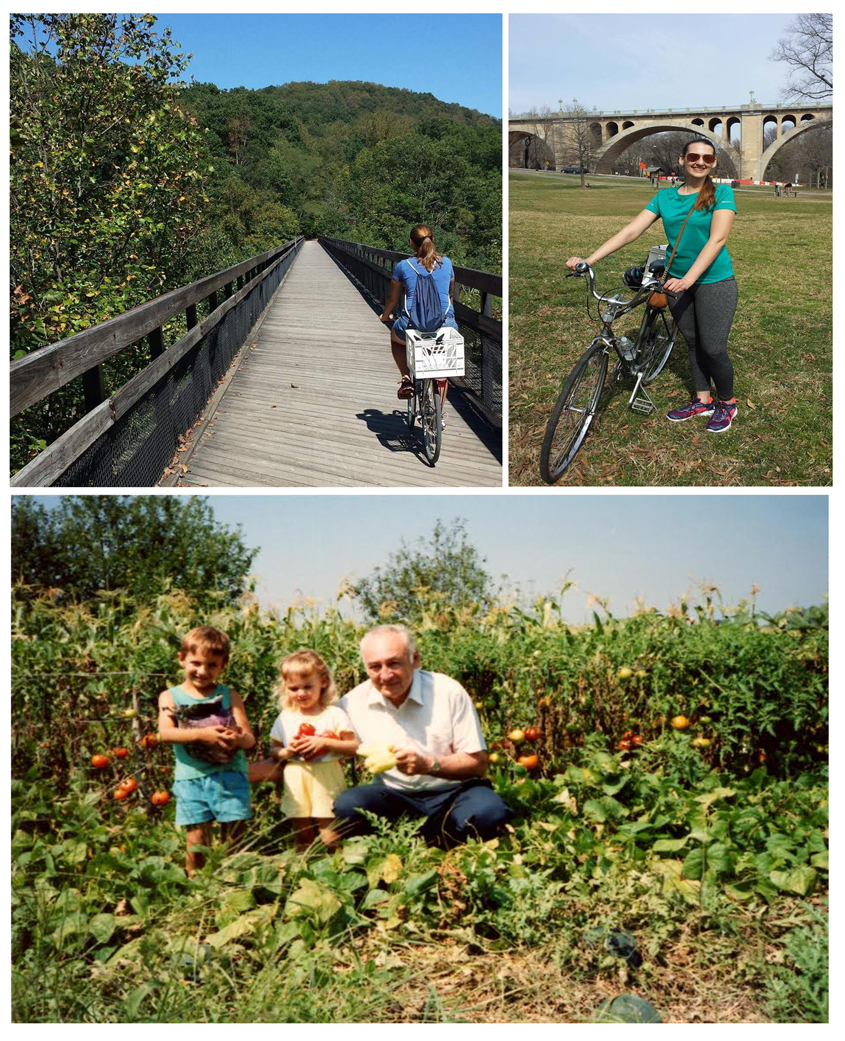 Midwesterner, architectural designer (almost ready to pass her final exam), and so much more. Let's get rolling. Where are you from?
Vanderbosch is Dutch, meaning "of the woods." I grew up in Fort Wayne, IN where my Dad's side of the family is from and where my Mom moved after college. Her family is from southern Indiana and western Kentucky. Did you know there's an actual fort there? Not many people do. It's named after Revolutionary War General "Mad" Anthony Wayne. It's a small city that feels like a small town. Folks from Ft. Wayne are Midwesterners through and through, very friendly, and I love it there.
What was it about growing up in Ft. Wayne that made you think, "I want to be an architect?"
 I guess that does go along with growing up in the Midwest, where's there's lots of land and doing projects is very easy. My family was very involved with making home improvements. We were always working on projects: the bathroom, retiling the kitchen, putting in a patio in the backyard. Meticulous work. It's probably related that my siblings and I have chosen detail-driven professions. I have three brothers, the oldest, Joey, is a dentist, Scott, is in food chemistry and my youngest brother, Mark, is studying to be an accountant and will go to grad school this fall to get his MBA.
In 8th grade I discovered architecture. A teacher assigned a book report, I think it was on the topic of biographies, and brought in all different books of famous people and I picked up the one on Frank Lloyd Wright. It had beautiful pictures of Frank Lloyd Wright houses. Until then I knew interior designer was a thing, and DIY, but I didn't know architecture was a job. That you could do that for a living. I remember thinking, 'That looks really cool; that's what I want to do.' I like being creative and putting things together to see how they work, which led me to interior design. But in class I'd ask, "can I move these walls?" and the answer was "no, the architect will do that." That's when I knew I wanted to be an architect. I could always do interior design as an architect, but I couldn't go the other way.
I started at Purdue in interior design, then transferred to Syracuse University for architecture. Syracuse was intense, but the school has an amazing study abroad program. That's what sold me on the school. I lived in London and Florence. It was a once-in-a-lifetime thing that I'm so glad I did.
I moved to DC for a job in 2012. At the time (during the recession), it was about finding a job. Any job. Ultimately, I got hired by a firm in Georgetown, which then downsized like so many at the time.
Luckily, shortly thereafter, you found Blackburn.
There came a time during the recession when I was trying to decide, 'Do I stay in DC? do I move to Chicago? go back to Ft. Wayne?'  So many architects were unemployed. I sent my resume everywhere, including Blackburn Architects. When I came in for the interview, I remember that (now-fellow Project Manager) Cesar Lujan and John Blackburn were interested in me, my portfolio, asking questions, and I was so impressed. Turns out that early experience was very indicative of the supportive culture of the firm. To this day, my favorite things about working here include the personal interest, the flexible and supportive studio environment.
Describe your passions outside of work?
Good question. I like to do lots of things. I enjoy biking, and I bike to work unless it's raining or below 40 degrees. It's about 4 miles; all downhill cruise in the morning, and then all uphill home. Jenni Blackburn calls me "the little Dutch girl" because I have a little egg crate basket on the back of my bike and sometimes carry baguettes in there.
And photography. Mostly nature. My mom printed large scale pictures I took in the Adirondacks at Kinko's, framed them and hung them up. Now my brother, who lives in Indianapolis, has them in his house. That stuff is fun. I go for views – it plays into architecture when a client says, 'I want a view out my bedroom window.' I like shooting landscapes that show the client what they'll see in the future, especially wide-angle panoramas. I took some for a current client, and it was cool to see the progression as I've returned to the site over the seasons. We were there in the early summer for the first time, and everything was very green. And then we were there in the fall, so there were some leaves, but it was mostly bare; getting close to winter. The most recent visit was just a couple of weeks ago, and it's spring. I've loved seeing how the site has changed over the year.
I know you sometimes travel with John Blackburn to visit project sites. Let's end with a favorite JAB story?
Taking him "home" (to Ft. Wayne this past winter) for a project was a first.  It was interesting, driving him around and pointing out 'oh, that's where I learned to play tennis, and that's the kennel where my Mom got our Miniature Schnauzer, Sunny; where to go for dinner? Well Casa  is right here and delicious.' I think it was a lot bigger city than he was expecting. It's not every day you can show John someplace he hasn't seen before. He told me that when he was a boy, in Tennessee, he only got a couple of radio stations, and late at night, he would listen to Ft. Wayne AM radio. 1190 WOWO. They had the biggest antenna that broadcast the farthest, and he could listen to it. How's that for random?
I'd say it's high time for a salute to Ft. Wayne, IN! Thanks for bringing us the very talented Carol Vanderbosch, who is currently at work on a Net Zero Energy barn and Indoor Arena located somewhere in the Midwest, at a facility that offers inspiring year-round views.
03.09.17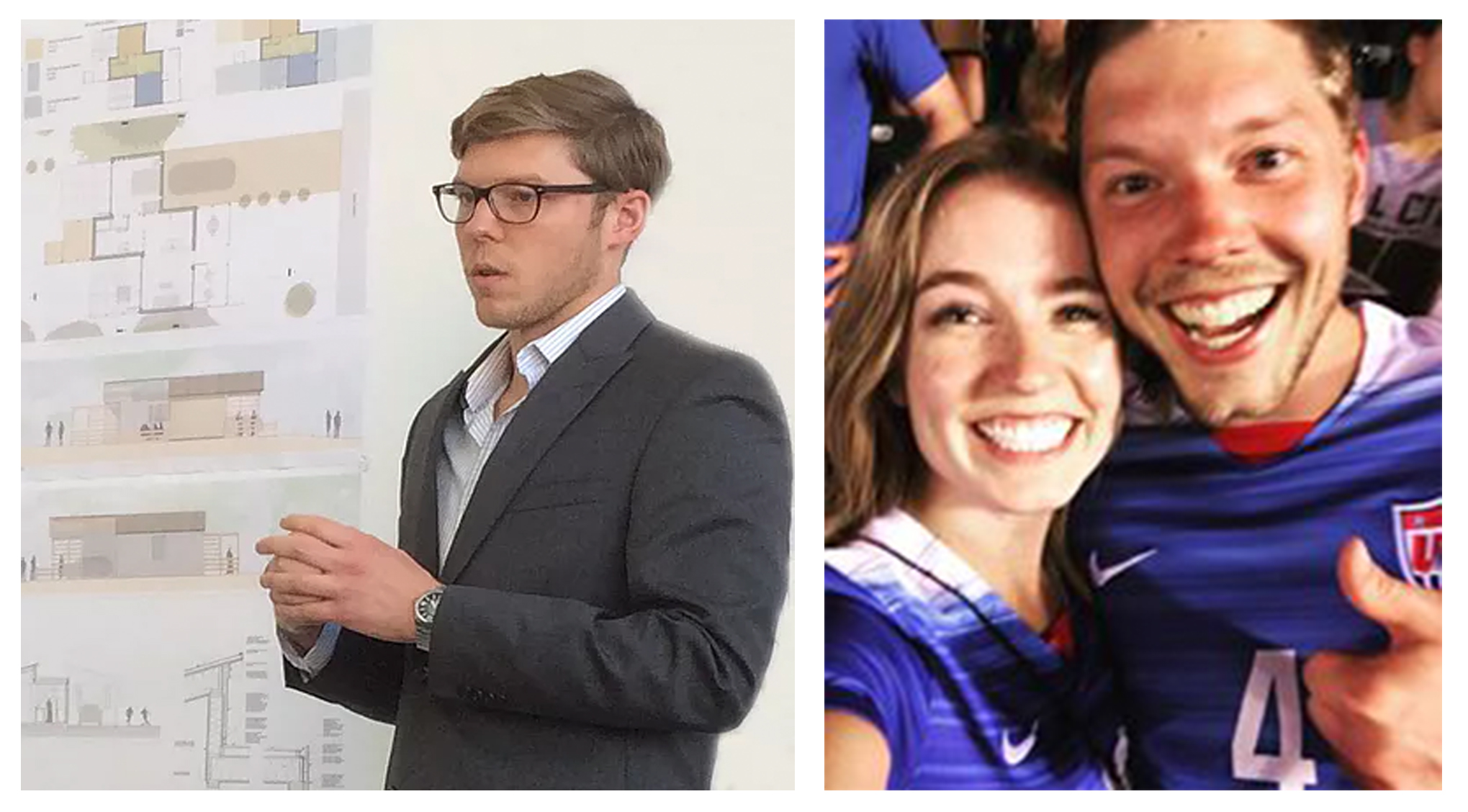 Architectural designer. Clemson grad. City dweller. Bicyclist. Where are the roots of this? Let's start with architecture.
As a child until the age of 3 or 4, I lived in Bethlehem, PA. I don't have a lot of memories of it, but my dad tells the story of when he and my uncle built the deck on our house, and I, at age 3, stood outside with my arms crossed and pointed at things, giving direction. They thought it was hysterical. Dad always tells that story when people ask why I became an architect. If it was a job where, "you were going to stand around and tell someone how to building something, Matt was going to be good at it."
Eventually, we moved to the Philadelphia suburbs and that's where I lived until college. It looked like a generic suburban development in what had once been a farming area. There were a lot of kids my same age, and a big yard to play in. Behind our house was this old barn. I never made the connection until after I started working at Blackburn, but the farmer who owned it was friendly to the neighborhood kids, and we used to go exploring through that barn all the time. As we got to be teenagers and we built skateboarding ramps or hockey nets or whatever, he let us dig stuff out of the barn and use it. It was a beautiful old building because it was all mortise-and-tenon construction. There were no nails. I'm sure that was an early influence on my love for old timber structures. Good memories. For a few years, he kept retired racehorses, and they seemed to enjoy eating our garden over the fence.
How did Clemson happen?
I completed my undergraduate study in DC at Catholic University, graduating in May, 2010. Afterwards, I moved back to Philadelphia for about four months – the job market was tough – and worked part-time. In my spare time, I helped my friend Dan – who we'll probably talk about when we get to family – renovate a house. It was a chance to apply some of what I had been learning in school. We made a mess; we probably did some things terribly wrong, but it was fun.
Then I came back to DC, worked for John for four years, and as I started to take on more responsibility I felt that it was time to get my Master's degree because I was certain this was what I wanted to do. I looked for a school that was somewhere different and was certain that I would go to school in Chicago, until I visited Clemson and found it… unique. Perhaps because it was kind of rural. I had gotten used to city life, I think, and the small college town felt like a setting where I could focus academically. Also, Clemson offered two semesters off campus (I chose to visit Barcelona and Charleston), which were additional learning contexts; again, something different.
In addition to your Master's degree, you met your fiancé at Clemson.
Jenny and I met the first day. At orientation, I met a few people in my program, one of whom was Jenny's roommate.  Jenny walked up beside me and we just clicked.  I texted my friend Dan that day and kind of as a joke told him I'd fallen in love. Jenny and I have been together ever since, and will get married this summer. She grew up in Mississippi and comes across as a sweet, soft-spoken person, but when she gets wound up, watch out. We fit together well.
Let's talk about how family plays such a big part in your life. You're a very together person, so that must come from your upbringing.
Totally unbiased, my family is very special. I have two brothers, Mark and Shane, plus Dan, so that's really three brothers. One sister, Megan. And now I have Jenny, and her family, joining mine. Family has always been a constant through my life. It's not always been simple. As with all families, there's some complexity to it, but my siblings and I are very close. Doesn't mean we always agree; we certainly fought a lot growing up, but we are inseparable, and super weird, when do get together. When we're around each other, we can be a bit overwhelming. Each of us is uniquely humorous and witty, and sometimes too clever for their own good.  As for having it together, a lot of that is on my mom and dad. When I turned 14 I was told to find a job, so I started working in a restaurant. I give my mom and dad a ton of credit for pushing me. Early on I learned to balance friends, life and work. I've tried to maintain that ever since.
And the unique studio of Blackburn Architects fits your work life?
John has allowed me to take on a lot of responsibility. That's huge, and particularly relevant to why I came back this past summer after finishing at Clemson. It's tough to give an impression to someone in half an hour or an hour, but in job interviews I felt like other architecture firms didn't get a full picture of who I was. They were just trying to fill a seat. Here, I'm encouraged to try things. I've been allowed to fail. Maybe not fail, but make some mistakes so that I can improve. It's how I'm learning and growing professionally. John, and Ian, challenge the way I do things, and encourage me to defend my view. When there's that level of mutual respect, you really feel motivated when you come into work each day.
As a young architect, do you worry about the future of the profession?
Sadly, architects in the media are often portrayed as having a kind of elitism. It's a shame, and not true to what I've found in the profession. I know that small interventions can happen at an affordable price that can do a lot for quality of life. On the positive side, there's so much information available and so many things we can now do, that, coupled with the ambition of young architects, suggests an exciting future. Growing out of our educational backgrounds that expose us to some of the more complex social and cultural challenges of our world, young professionals are finding new ways to innovate. Sustainable practice models are one example. You can also start to look at what it means to build sustainably, beginning with our post-war, and even more recent, building stock and how you can repurpose these buildings to avoid throwing the material in a landfill. Simply using green materials in a new building misses the bigger picture. We aren't there yet, but these societal challenges inspire me.
Sports buff? Leave us with one nugget of a passion for something that's not architecture.
I'll give you two. Sports are one, specifically soccer. Jenny and I have a friendly rivalry. We play on the same rec team, but we follow rival pro clubs. It makes the house kind of fun on matchdays. Locally, we're big fans of DC United. It's an experience to go be a part of a fan group at the games; you cheer and jump up and down and act ridiculous.
The other passion is cycling. I bike to work every day, rain or shine. It gets me going in the morning. After 20 minutes of riding through the city I'm awake and ready to go.
Lastly, let's talk LEGO, because we must.
Yep, I still play with LEGOs. There's a Lego model of one of our Greenbarns on my desk that I threw together one day. I would like to think that 12-year-old Matt would be proud that I haven't lost the love for playful exploration that drives me.
03.01.17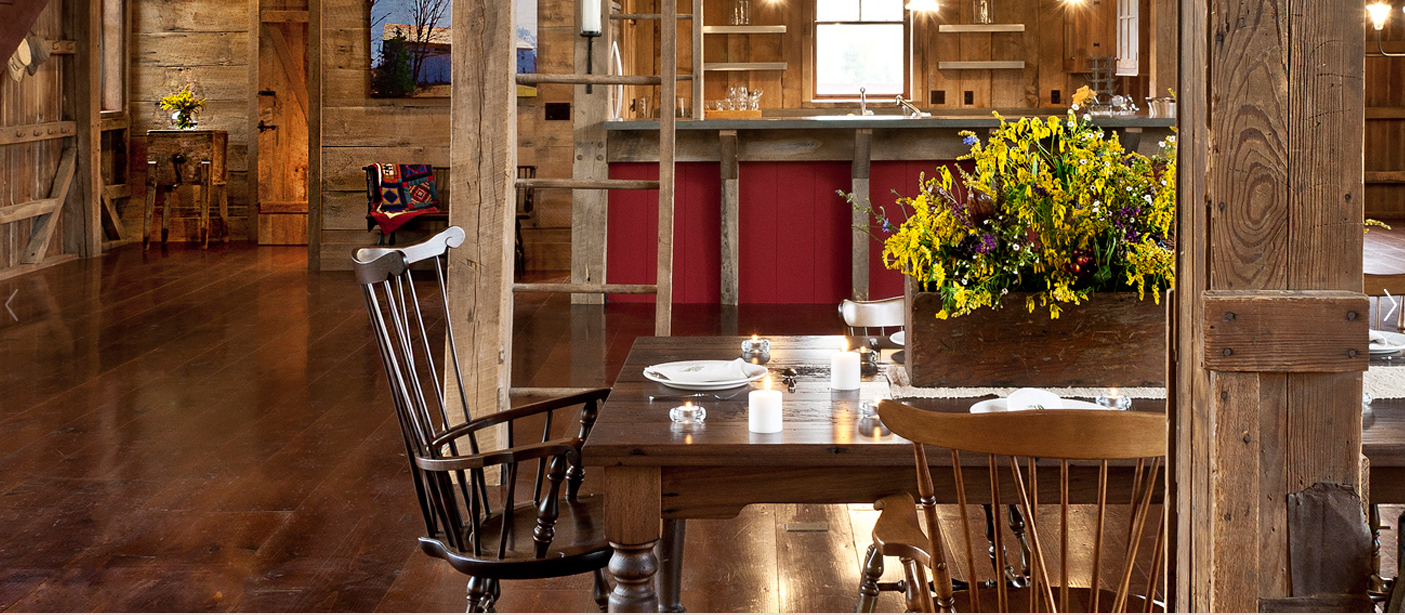 They're rustic, lofty, and tug at the hearts of people searching for a simpler way of life. Supported by a sturdy skeleton of timber and a base of stone nestled into the land, the appeal of living in a barn is seemingly timeless. These structures effortlessly fit into the landscape, whether in Pennsylvania, Ohio, or Europe.
For many years now, we at Blackburn Architects have watched the popularity of using these simple structures grow in popularity for secondary uses.  There are tens of thousands of articles and project profiles about converting old barns into residences, guest houses, schools, breweries and wedding venues. We love the "reuse, reduce, recycle" of these historic structures rather than demolishing them (sending the material to a landfill) and building a bigger footprint in their place.
There's even a How to Guide (aptly titled, How to Take One Old Barn and Call it Home) from the team at This Old House. Converting an old barn into a new home isn't a task for the faint of heart, but big things can yield even bigger rewards. The article touches on common issues you'll face: structural (is it safe? how's the foundation?), is it energy-efficient (you can bet it's not — yet!) and water sealed (again — no way, no how), the pluses and minuses of such a large, open space, and more.  The challenge is often finding a way to adapt it to a new use without loosing the character of the old barn but also doing it in a way that is sympathetic to its original function.  When all is said and done, it needs to still look like a barn.
Our conversion of an old barn in Ohio into a guesthouse/party barn has been wildly popular on Pinterest and Houzz. The conversion of the bank barn into a spacious new home involved stabilizing the dilapidated structure and picking it up (literally) to move to a different location on the site. Our goal was to salvage the beauty of the barn and retain its character and charm. We reused lumber where possible and play with a mix of traditional details and modern amenities.
You can find photos of the project here: http://blackburnarch.com/projects/ohio-party-barn/In the meantime, how about some inspiration for your own conversion project? Here's just a sample of what we've found lately. If you stumble upon a great adaptive reuse project (whether it's a barn, an old warehouse, a church), let us know. We always relish these challenges.
New York Times: The Call of Converted Barns 
New York Times: An Upstate Farm Brings a Fashion Photographer Back to His Roots 
Inhabitat: Beautiful Bank Barn Conversion 

02.28.17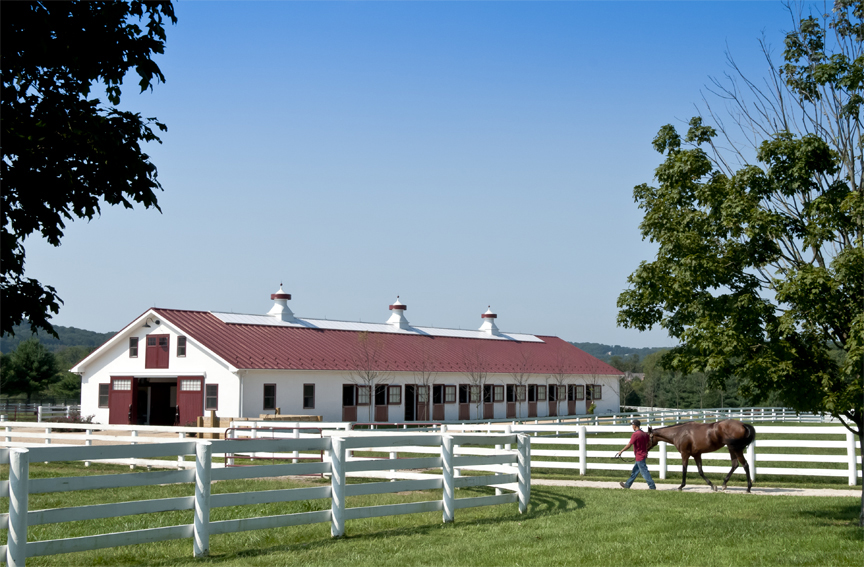 Might seem unlikely, but the designers at Blackburn Architects care about pastures. We think about them a lot.
For instance, did you know that now's the time to sample your pastures for soil fertility? Early spring and fall are the best times to take these samples, according to the University of Kentucky College of Agriculture, Food and Environment, which released the article, linked below, last week. The article recommends sampling the top four inches of the pasture, and dividing large pastures into "sub-pastures" for sampling based on the varying topography.
"I Recommend that any horse owner in the United States contact their local Soil Conservation District (SDC) for advice in their specific area," said John Blackburn, Senior Principal at Blackburn Architects in Washington, DC. "SCD's are one of the best services provided by the Federal Government to farmers and in most cases the services they provide are free. Some pay you for installing and pursuing Best Management Practices. By definition, Conservation Districts are "government entities that provide technical assistance and tools to manage and protect land and water resources in the United States. There are more than 3,000 in the United States. Depending on the state, they may also be known as soil and water conservation districts, soil conservation districts, resource conservation districts, or other similar names. Nationally and within each state, the districts are generally coordinated by non-governmental associations. District borders often coincide with county borders."
http://www.thehorse.com/articles/38847/fertilizing-cool-season-horse-pastures
From concerns such as pasture maintenance to siting roads and structures on a property, many people contact us who are unsure of when and how to begin working with an architect. Teaming with a property owner to master plan their site, either for the first time (no structures on a blank canvas) or "redefining" an existing property (which may not be planned for best use practices), is part of the first phase of work performed by Blackburn Architects. With an equestrian architect, you're purchasing a service rather than a product. The architect is there to resolve the needs of the owner, from overall site planning, programming, phasing, and design to overseeing the entire construction to make sure the barn is built as intended.
Typical services we provide include:
Pre-purchase planning. Prior to purchasing a farm, we work with clients to "test fit" the property against their program needs and to look for possible siting or property issues (wetlands, environmental restrictions, siting grading concerns, code issues, sufficient acreage, etc.)
Site planning: can reduce infrastructure costs (fewer roads, less fencing, better drainage, etc.) and improve the site to function at its best for your needs.
Programming: ensures that the whole farm (not just the horse barn but the entire collection of structures on the site, if applicable: residence, guest house, caretaker's quarters, hay/bedding, vehicle storage, etc.) operates efficiently and safely.
Code analysis: certainly the codes vary across states/municipalities. We've designed horse stables in counties with very specific codes and regulations and understand what to look for and how to work with the various officials to resolve issues. The architect can save you a lot of hassle!
Budget Development and Cost Control/Scheduling: I like to develop a budget as early in the process as possible and revisit it periodically during the project. My job is to determine if the owner's programmatic needs and budget fit the site, and if the design aesthetic suits their personal design goals. We can also plan to develop the barn or various structures in phases, if applicable.
Conceptual Design: Here we develop the character and massing of the structure(s) and prepare a preliminary floor plan and elevations to illustrate our ideas. At Blackburn, this is the final phase of what we call Master Plan Services (site plan, written program, conceptual design, and preliminary construction development). From here, we move on to more detailed design work.
Schematic Design: After we complete a master plan that works well for the owner, we begin to prepare detailed drawings to give you an idea of the layout and general appearance of the barn (and possibly other buildings). We'll talk about finishes, materials, stalls, tack rooms, etc. For a lot of people, this phase of design is the fun part!
Design Development and Construction Drawings: Here we'll really start to nail down the final design and specify the materials, stall systems, finishes, and other details and prepare construction drawings that instruct the contractor how to build the barn.
Bidding and Construction Administration: Because construction drawings are open to interpretation, it's important that the architect works with the contractor to oversee that the project is carried out according to the design intent. We're the owner's rep to make sure that construction is done well and done right.
Each step in the process leads to a healthy, safe, and functional facility. As architects, we want to study how you operate and design a barn that feels inviting and personal (because it is). No barn or farm operates exactly alike as each owner or barn/farm manager operates his/her facility in a particular fashion. While designing a barn from scratch is not realistic for everyone, if you are choosing between a design/build firm and an equestrian architect, we would strongly advise that you approach both for more information and weigh out your options carefully. It could save you your horse.
As always, we invite your questions and comments.
02.13.17
Q: We're renovating our fireplace, and want to incorporate the exposed fireplace flue shown in your German bank barn renovation. Where do you get the pipe for it?
Thanks,
Barn Enthusiast
Dear Barn Enthusiast,
Congrats on your barn conversion! We love breathing new life into these wonderful structures. To answer your question about the flue we used, It's a galvanized steel flue, 12"-14" in diameter, and came in about 4 foot sections.  It should be pretty easy to find. Stainless steel is another good recommendation and look.  Galvanized is a little less expensive, but a little more rustic.
Hope that helps! Good luck with your project.
John
Posted in
Equestrian News
,
News and Press
|
Tagged Adaptive Reuse, Architect, Barn, barn architecture, barn design, Barn Fireplace, Blackburn Architects, Blackburn Architects barns, Blackburn barn conversion, Blackburn greenbarns, renovating an old barn, turning an old barn into a house
|
Leave a comment >
01.31.17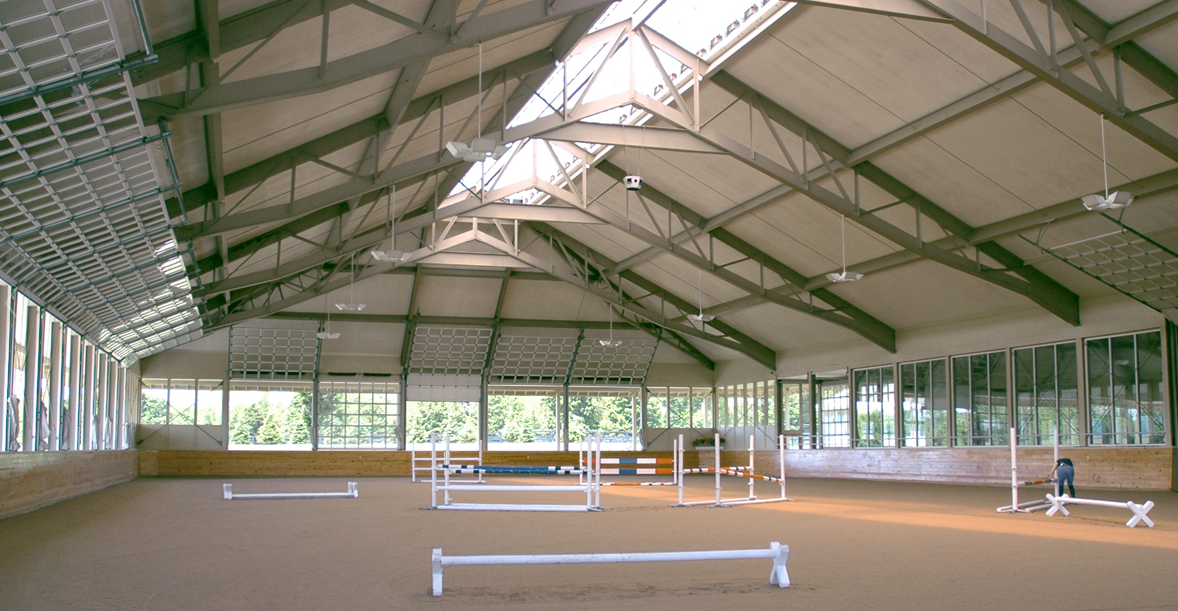 Hello John,
I'm meeting with an arena builder this morning.  It's finally clearing up around here, so we hope to start constructing the forms for the barn foundation this week.
Q: Do you have any advice about a design for a canted ring liner?  Or even just describe what is the norm?  We need an idea of how a segment typically is built.
Is it a good idea to go on up vertically after the canted part, another couple feet, to get a better compromise between indoor and covered only??  Or would that be claustrophobic?  We plan to use gale shields (netting panels) to cover the openings/protect from rain and wind.
Thank you!
Northwestern Eventing Rider
A: Dear Northwestern Eventing Rider:
I'm not sure what you mean by "ring liner."  Do you mean the kick wall?
There are a variety of ways a kick wall can be designed.  I typically design it to the height the owner requests (typically around 4 to 6 feet).  We kick the base of the wall out about a foot from the top so it is slanted to protect the rider's leg.
The top of the kick wall can go to whatever height you feel comfortable but I would make sure if you are using a steel frame for your arena roof and the interior face of the steel column slopes inward, that you allow some extra space between the top of the kick wall and the front edge of the column so that the rider's shoulder or head doesn't come in contact with the column.
I suggest extending the kick wall into the footing to the gravel base. Remember, the bottom boards and the framing behind the kick wall should be constructed of treated wood wherever it comes in contact with the ground or grade.  In most cases the frame is constructed of pressure-treated lumber and the bottom boards are pressure-treated to a point about 18" above the footing surface.
Also, I suggest putting gravel in back of the kick wall to the height of the arena footing to prevent the footing from being driven over time under the kick wall by the pounding of horse hooves.
I hope this is helpful.
Good Luck,
John
Posted in
Equestrian News
,
News and Press
|
Tagged Arena, arena construction, Blackburn Architects, Dear John advice, designing a horse riding arena, designing arena kick-wall, equine design, equine designer, indoor arena, indoor riding arena, kick wall design, riding arena design, ring liner
|
Leave a comment >
01.09.17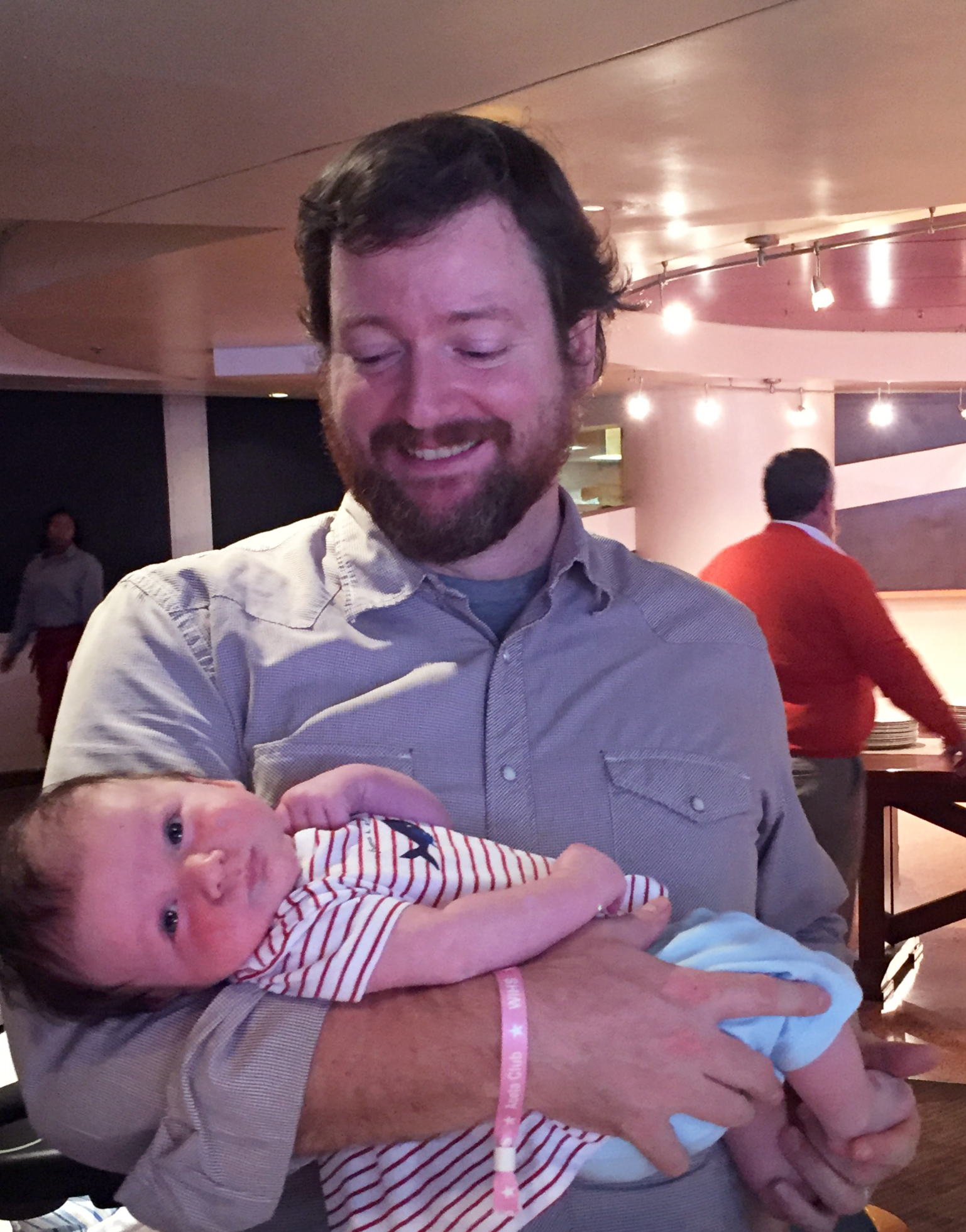 Ian Kelly with his son Jerry, at the Washington International Horse Show in November, 2016
At the beginning of 2017, John Blackburn announced the promotion of Senior Project Manager Ian Kelly to Associate Architect.  Ian, who has been with the firm since 2005, specializes in large-scale renovation projects, residential and commercial projects with special emphasis on equestrian design.
Your name is Scottish. Aren't you from New Jersey?
Ian is Gaelic for "John," whereas my brother's name, Sean, is Irish for "John."  My Dad and his brother are James John and John James.  Their Dad was John.  My family is Irish on both sides.  My Mom was an Ahern.  It helps explain my reddish hair and the blue eyes. And yes, I AM from New Jersey.  Both sides of my family are.  They sometimes refer to where I grew up — Spring Lake, NJ — as the "Irish Rivera".  A little area of the Jersey shore that attracted a lot of Irish immigrants and first generation Irish-Americans to it.  It has the highest population of Irish-Americans of any municipality of the country with somewhere near 50% of its residents having Irish descent.
What's it been like working with John Blackburn for the past 13 years?
I think what's so unique about working for John is that you are immediately kind of thrust into an important role. You're not just given some menial task to work on. John gives you as much room to grow as you want. Years ago, I understood that was unique in architecture. I figured out early on that I could find another job but I would never find a better situation or boss. I would never have found a better work environment. Blackburn Architects is a great place to work.
What John says about you… It's worth noting for the record that John wanted me specifically to mention your client focus.  He brags about your hands-on approach to solving issues and willingness and desire to respond to, and address client needs almost to a fault.
Not that I asked…
Let's back up a little. Why did you become architect, anyway?
Right, there were a lot of things that led me in that direction.  It's kind of crazy to say that as early as 6th grade I had the idea in my head of becoming an architect, so instead I will say that I'm heavily influenced by my family.
My maternal grandfather was in the U.S. Army Corps of Engineers, and served in the Army and Air Force for 30 years between the two.  During his time, he was involved in all sorts of construction efforts and two wars.  He was airdropped in to build runways and barracks during WWII and the Korean War.  When he came back to New Jersey, he started working for the local Catholic parish as head of their buildings and grounds and worked in and around construction for another 20 years. He oversaw and helped construct two mausoleums, and ran the engineering and maintenance crews for the elementary school, two churches, a rectory and a cemetery. He directly influenced me.
Growing up, my grandfather would grab me by the hand and lead me somewhere where he would ask me to stand and hold tools for him while he would do something like pop open a sash pocket to replace the counterweight in an old wood window.  I may not have fully understood at the time what he was doing, but it was always fun to me.  I was also motivated by being the first one from my Dad's side of the family to graduate college with a four-year degree.  It became a goal of mine, so the desire to get a better education dovetailed with my interests in construction quite nicely; all of that contributed in me being led to pursue architecture.
You are so focused on sustainable principles in your designs. Where does this passion come from?
There are a number of different architects who've influenced me. But it really comes down to, in my opinion, my pursuit of what would be best described as common sense building principles. For example, all the architects who I really appreciate and like are not only great designers, but are people who have embraced sustainable design. There's something very practical that seems to have been lost in the 1,000s of years of construction technology. Go back to ancient Rome or Greece, study what they were doing, and you see very simple techniques used to control temperature, for instance. Building orientation, shape, size, mass: all were considered for very practical reasons. They didn't just accidentally end up being that way. That's why, for instance, adobe construction has super thick walls and tiny windows.
The nice part about the way John practices, and his take on sustainability, is that it's pre- buzzword. It's not green for the sake of being green because it's a marketing gimmick. It's the principles. They work. And once you've started there, and then if you make smart decisions during construction, then you've got yourself a really good building which is sustainable and environmentally friendly. Good design, in my opinion, begins there.
There's been a big change in your life recently. Tell me about Jerry.
Jerry. Yeah. He's kind of breaking all sorts of records with us and our family. It took until about 3 ½ months (he's four months now) for grandma to really hear him cry, so… He's very mellow and he's been too kind to us. I struggle between being proud and not wanting to rub it in anyone's face because I know we didn't do anything special. He's just who he is. We lucked out. As a new parent, I know this can't be appreciated enough. We see what our friends and families have been through and we are grateful for Jerry every day.
Simple question. What's your favorite part of the day?
Hmm. I don't know if that's a simple question. My answer is corny these days because of Jerry, but I really like early morning with him, because he's so alert. That's when he's most awake. When I get home he's still happy to see me, but he's not as "talkative" and then he's off to bed before too long. But I normally burn the candle on both ends; I like to stay up late too. We'll see. I'm not sure I'll be able to keep this up much longer.
You're an urbanite. What's your favorite city?
My favorite American city recently is probably New Orleans. Every time I visit I love it. The people, the culture. But I'll need to add San Francisco and Chicago to the list. All very different places, bound in my mind by the great people and cultures. This hints at my love of music. That's the tie that binds. Blues, Rock, Jazz.
Best thing about your job?
The variety of projects that I get to work on. I don't want to ever be "pigeon-holed." We do a lot of equestrian work which I really enjoy.  It's afforded me the chance to work on some amazing projects. And, of course, I've also had the opportunity to work on many different projects in the District of Columbia. In addition to the equine practice, the firm does a lot of historic preservation and adaptive reuse as well as residential work. We've worked on bars and restaurants; we've worked on multi-family residential; we've worked on adaptive reuse. All these different things. Breweries, party spaces, homes. It's really nice when the problem doesn't always fit in the same sized box. It's cool to be able to experiment and try solving different problems. The diversity in project type can lead to interesting and new ways of thinking about each project individually.
What's something most people don't know about you?
Not many people know I'm really handy. I used to work for a plumber as a kid and I'm good at carpentry. We converted our basement into a studio apartment and I did 70% of the work myself with friends. That or the music thing. Last year, even while expecting Jerry, my wife and I probably went to well over 50 concerts; closer to 100 – some local, some far. The furthest I've gone for a festival is Montreux, Switzerland. The Montreux Jazz Festival. It was an incredible travel experience.
12.20.16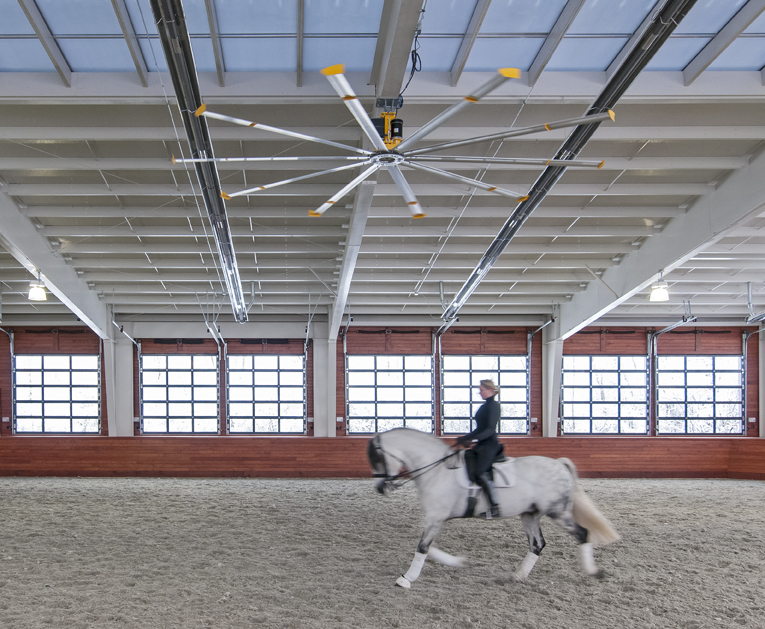 Dear John:
Our small therapeutic riding center operates within an existing indoor arena that is a converted aircraft hangar (all steel, no ventilation). We need to retrofit it to improve ventilation. Condensation in the winter is annoying, but the heat in the summer is a real safety concern.
Can you help?
Signed,
Healing with Horses
Dear Healing with Horses:
First, I suggest you contact a dealer in large, industrial fans. Big Ass Fans is a company I can recommend but there are certainly others you could contact.  Often, they can provide assistance selecting the right size and model for your arena. I imagine it will require at least two but maybe three ceiling mounted fans. See Pegaso Farm (http://blackburnarch.com/projects/pegaso-farm/) for one of our arena installations. These dealers can probably also connect you with a local contractor who can install them.
You may want to consider a large, louvered fan in each of the gable ends of your arena with dampers. If the louvers are large, at least 4 ft square, place a large two-way fan that allows exhaust or intake and a damper that opens only when the fan is on. They should help exhaust hot air in the summer. The contractor who installs the industrial fans also may be able to install the louver fans.
The fans and louvers should help with the temperature and bad air quality in your arena. They may help with the condensation problem, but won't resolve it. The only way to resolve the condensation problem is to install insulation on the interior underside of the roof (which I assume is exposed metal). The important thing to consider with insulation is it has to be bird proof.
Bird proofing can be done in a number of ways. Insulation is available in a blanket with a plastic covering that is supposedly bird proof, in a blanket with a perforated metal liner on the interior face or in a ridged board insulation. These options range in cost and quality from lowest to highest. Choose the one that more closely fits your budget.
Penn State completed a very helpful study on ventilation in horse barns, and it provides a great deal of helpful information: http://extension.psu.edu/animals/equine/horse-facilities/stable-ventilation
I hope this is helpful. Best of luck in your important work! Horses make wonderful healing partners.
John
11.30.16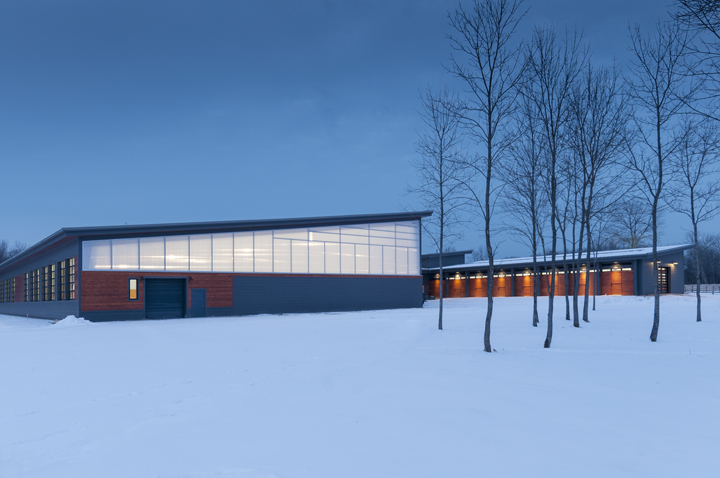 Blackburn Architects' Senior Project Manager Ian Kelly answers questions about the glass used in equestrian facilities.
Q: Dear John,
I'm overseeing renovations to a barn in the cold climate near Quebec. To improve the barn's functionality, safety and ventilation, we are converting the windows to double-pane, energy efficient, glass.
Please help:
1. Do you recommend a pane of tempered glass on one side of the spacer bar and regular laminated glass on the other side? (Editor's note: a spacer bar, sometimes known as a profile, is the continuous hollow frame which separates the two glass panes in a double glazed window.)
2. Is it better to have tempered glass throughout including the laminated glass? 
3. It appears that laminate glass consists of a clear plastic laminate sandwiched by glass on both sides. Do both glass pieces that make up the laminate glass need to be tempered?
4. Do both panes of glass making up the double glazed unit need to be laminated?
5. What minimum thickness of glass and minimum airspace or spacer bar size do you recommend? 
Thanks so much for your help,
Barn Manager Trying to Get It Right
A: Dear Barn Manager Trying to Get It Right,
1. We recommend that the glass used in equestrian structures be tempered throughout, including the glass that is laminated. The tempering and lamination processes do separate but similar things: They create safer glass for people and livestock.  Tempering makes the glass break into small chunks as opposed to slivers and sharp pieces, while the lamination gives the glass a slightly greater resistance to breaking, and keeps the glass in place when and if it breaks.  Both serve to make it safer around the horses if a window should break.
2. If horses have access to both sides of the glazing unit, then we recommend both sides of all glass should be laminated and tempered.  If cost is an issue, I would stick with everything being tempered and omit the lamination.  I say this because laminated glass does not always age as well as tempering.  This doesn't happen in every case, but the laminate can shrink and pull in from the corners of the glass, and eventually become visible over time.  We prefer tempering.
3. Any glass that is exposed to the horses should be either tempered or laminated at a minimum.  If the horses have access to both sides of the doors, yes, both panes should be protected in one way or the other, or both.
4. You should work backwards from the depth of frame that you have, minus about 1/4".  Working with the glass manufacturer will determine what they have available for the spacer sizes. The more airspace you can allow for the better, but each manufacturer already works with a few different size spacers.  Use the largest one that still allows the glazing unit to fit within the frame.
You also should consider some other factors pertaining to glass in cold climates, and request glass that meets the following:
You want glass with a high solar gain, and low emissivity.
1. The glass should have a Solar Heat Gain Coefficient (SHGC) around 0.55
2. The glass should have a U-value of less than 0.33
3. The glass should have a higher value Visible Transmission (VT)
4. Use double-paned glazing unit with low-e gas that has a vacuum sealed gasket between the panes of glass.  The pocket between panes of glass is filled with an insulation gas, most typically argon.
5. You may also consider using low emissive (low-e) glass panes.  Low-e prevents the transfer of heat from warm to cold.  So if you do, the low-e coating (typically a metallic oxide) should be on the outermost side of the innermost pane of glass.
There are pros and cons that should be considered with each option.  For instance, with #4, over time and if the gasket seal fails, you can begin to see condensation between the panes of glass.  Whereas with #5, you may be able to see the coating from certain angles, especially if you are wearing polarized sunglasses.   
Since the advantages are a bit more obvious, and similar to one another (i.e. tempered vs laminated, and low-e gas vs low-e coated glass), here is a summary of some of the disadvantages to each option:
tempered only – glass may still shatter (in harmless pieces) and fall to the ground
laminated only – laminate can discolor over time and shrink in from the corners of the glass
low-e gas filled glazing unit – if the gasket fails, condensation can form in between the glass
low-e coated glass – may be visible in certain light conditions, or when wearing polarized sunglasses.  You can sometimes see this on automobile glass.
My suggested starting place would be tempered glass, meeting the SHGC and U-values recommended above.  I would then lean toward #5 – low-e coated glass, since with #4 you can expect the gaskets to fail at some point, and then the glazing unit would need to be replaced again.  If the coating of the low-e coated glass is too "visible", then low-e gas may be the better option, with the expectation that you may need to replace some of them again in 10 to 20 years, if and when the gaskets fail.
11.21.16
John Blackburn answers your questions about barn design.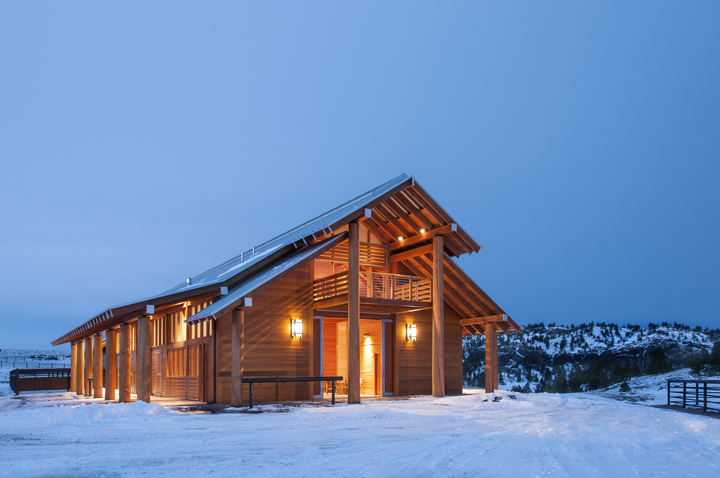 Q: Dear John,
Long ago you were kind enough to give me a bit of advice about planning a barn.  We got started last spring, but were waylaid by an evil contractor who put the barn in the setback, with poles only 18″ in the ground, and a drainage system two feet too high to catch any water.  On top of that, he dumped 130 truckloads of bad, unnecessary fill, and built a retention pond that is 36% too small – UGH! Luckily it was all easily documented by the project's engineer so we are able to recoup a little of the money laid out.  
So:  moving along, we deconstructed the barn, redid all the drainage, and turned to a pre-fab barn.
The new building is a 60×120 raised center aisle structure.  I requested open sidelights and a ridge vent to help keep airflow going in the soggy, humid climate in the northwestern US.  The stalls almost always will be open to an 8ft shed eave and attached paddock.  Their fronts are composed of lots of steel mesh — so lots of air.
I'm NOW STUCK. I feel quite stuck because no one around here understands your way of doing things. I'm trying to incorporate what I learned over the years from your publications.
Please help with my roofing situation:
The roofing is 26g boxed rib metal panels.  I requested polycarbonate panels be incorporated for natural light.  The question is whether it's unwise to let the whole raised center be polycarbonate, or go with only one light panel per 12ft section–and whether it's crazy to use clear vs opaque white panels.  (Most weeks out of the year it is damp and grey and cold here.)  The barn company is in hot California so they think the whole idea is nuts.  
If moved to offer an opinion, please know I'm already grateful.
Thank you,
Northwest Endurance Rider
A: Dear Northwest Endurance Rider,
I understand why you resorted to prefab because you've been thru a nightmare. However, prefab barns can be hot boxes in the summer, and don't always provide adequate controls for natural light and ventilation. Pre-designed, pre-engineered buildings are typically designed the same for all areas of the country and no two areas of the country are alike nor are the sites. Environmental and weather conditions can differ dramatically so a prefab building designed to fit all sites just does not work best for the health and safety of stabling for horses.  But I understand.  You've selected the barn you want, now my advice is you should provide for as many options as you can for control of natural light and ventilation.
You mentioned a 60 ft x 120 ft raised center aisle structure.  How many rows of stalls are there in the barn?  The best arrangement is to have one center aisle and a row of stalls along each side of the barn.  The 60 ft width sounds like there are two main aisles with rows of stalls on both sides of each aisle.  That would mean two of the rows of stalls are back to back and not on the exterior where they get adequate ventilation and natural lighting.
The 8 ft shed eave is too low in my opinion.  I use 12 ft as a minimum though 10 ft may work for smaller horses and if there are no obstructions below the roof.  However, there are usually lights, fans, beams, etc. that drop down and they can be a danger to horses.
I like the use of translucent polycarbonate panels.  Translucent, not clear, as it breaks up the light and hides the dirt that accumulates on the skylight over time.  Providing polycarbonate across the center aisle sounds nice, but I'm unsure how it will look on the barn design you selected.  If you're putting a skylight over the raised center aisle roof, what is on the face of the raised center portion?  There is usually some sort of glazing or louver for venting.  It will be important that these elements complement one another. Thanks for the question and I hope this is helpful.  
Good luck!
John