The Latest
09.28.16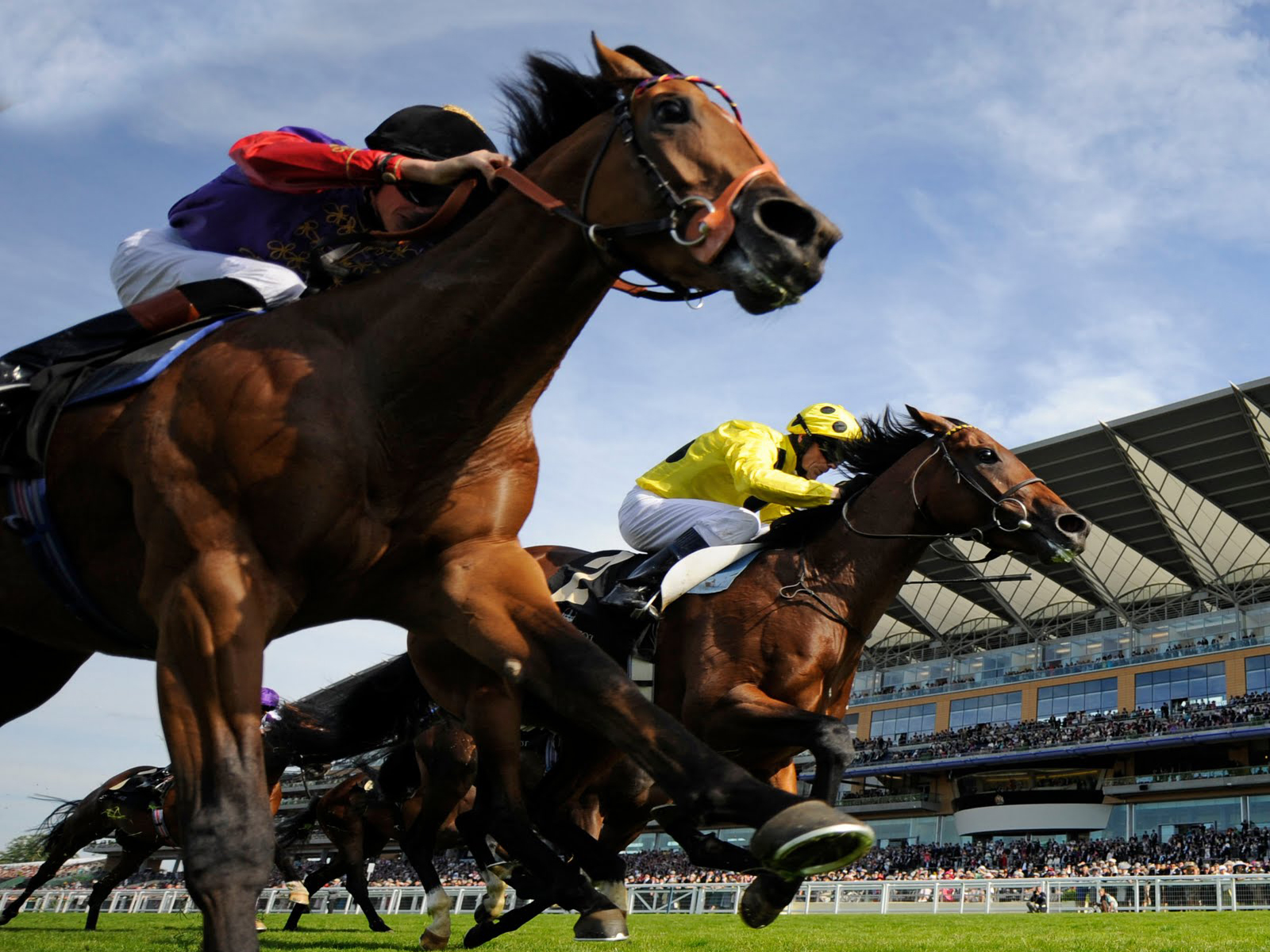 Last week the Paulick Report featured a story on worries over the possible closing of California's Los Alamitos track (http://www.paulickreport.com/news/the-biz/life-horse-racing-happens-los-alamitos-acreage-racing-ends/)
As a Board member of the Equine Land Conservation Resource, a national organization dedicated to saving land for horses and horse-related activities, it's disheartening to hear of the potential loss of a thriving racing venue for what will no doubt become another strip mall and urban sprawl.
I have been concerned for years about the loss of race tracks, especially older ones in the inner city or suburban locations that are under pressure to close.
Santa Anita was considering reducing their stable area several years ago and selling land to an adjoining commercial shopping mall. There was pressure to shut down Pimlico (an inner city aging track) and move the Preakness to Laurel Park. Suffolk Downs in Boston is under similar pressure. The list goes on and on.
And of course the answer for many race tracks has been to add casinos, which do nothing for horses or horse racing except cheapen it. Racing is a great spectator sport. Look at racing in Europe, especially in England (Goodwood and Ascot are two prime examples) where horse racing is an enjoyable event not a place where desperation fuels gambling.
The Los Alamitos track supports the horse economy, preserves open space, diversifies the suburban environment/landscape/streetscape/economy and preserves the equine heritage of the site and area.
There are heartening success stories. When Illinois' Balmoral Park hosted its last harness races at the end of 2015, a New York company, Horse Shows in the Sun, purchased the 200-acre site, and after a significant investment is preparing the grounds for show jumping competition starting next spring.
I'll be writing more about this in the months to come. To learn more about the Equine Land Conservation Resource and its mission, please visit their website at www.ELCR.org to become a member and get involved.
07.25.16
This fall, I'll be heading back to my Alma Mater to impart 40 years of architectural experience and equine design know-how to a new generation of architects. Go, Tigers!
Beginning this August, graduate students and upper level undergraduates in the Clemson University School of Architecture will enjoy a unique opportunity for an immersive and interdisciplinary design course. "Studio Appalachia"-the John Blackburn Fall fluid studio- will focus on two projects selected to invoke a critical examination of contemporary design in the foothills of the Blue Ridge. This blended studio will partner architecture and landscape architecture students in careful master planning and design exercises for Camp Hope in Canton, NC and for the Clemson Equine Center in Clemson, SC. The latter project will also incorporate Equine Business students as special consultants, and will draw heavily from the expert oversight of John Blackburn, who has dedicated much of his professional career to the art and science of equestrian architecture and planning. 
Students on both projects will begin with a carefully orchestrated series of site visits and case studies designed for exposure to the broader ecological and cultural forces that impact design and operation in the sorts of complex settings under consideration. This will be followed by careful site analyses and master plan studies. The projects will conclude with detailed landscape and building designs, targeting elements of need as identified by the master plans. The design proposals will necessarily make reference to the evolving formal and material contexts of Southern Appalachia. ~ Dustin Albright Assoc AIA, LEED BD+C, Assistant Professor, Clemson School of Architecture
05.16.16
Newly elected to the Maryland Horse Council's Board of Directors, John Blackburn will serve as a voting member beginning July 2016 through June 2018
03.09.16
John Blackburn will be presenting at the 2016 HSUS Animal Care Expo in Las Vegas, May 11th – 14th. John will be discussing how horse health and safety is impacted by barn and farm design. For more information about the expo please visit: 2016 Animal Care Expo
02.03.16
Watch as John gives viewers advice about their barn projects on the popular series Wild About Barns.
02.02.16
Coming off the heels of a truly epic storm for the Washington D.C. area (and most of the east coast!), I thought I'd take a moment to address how design techniques can help barns "weather" extremes.
In the United States, the upper northeast regions through to the Midwest are prone to experience weather extremes in the form of snow and ice. While we cannot entirely "weather proof" a barn, we can make it more resilient to some of the more damaging effects of weather phenomena.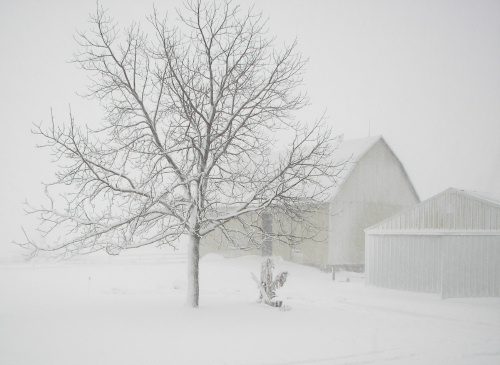 The roof of your barn needs to be able to:
Withstand the weight of snow and/or effectively shed it
Prevent or reduce the formation of ice dams
Redirect "roof avalanches" from sliding into high traffic or poor drainage areas and also reduce associated noise that could frighten the horses.
In addition to contributing to the Bernoulli principle I incorporate for natural ventilation, steeply pitched roofs also contribute to effective, gradual roof shedding and the redistribution of snow load. Ideally the pitch should be between 4/12 and 6/12 to get the optimal shedding effect (although, we generally try to keep pitches at 7/12 or more to take full advantage of the Chimney Effect and Bernoulli principle for natural ventilation)
Roofing material will also factor into how the snow will shed. Metal roofs are excellent as they are smooth and slick. They will also stay colder longer; reducing the likelihood that snow will melt and form ice dams (more on this below). Snow will shed from a metal roof even if the pitch is lower. Shingled roofs, however, will slow down the shedding process by "holding on" to the snow and allowing it to stay in place and accumulate. Consider a steeper pitch if you prefer a shingled roof as it will facilitate the shedding process over the rougher material.
Now, you might be saying to yourself, "Well, the snow is off the roof…but it's all over the place! Now what?" Including strategic roof overhangs will complement the steeper pitch by helping to distribute shedding snow away from exterior walls and out of traffic and poor drainage areas. Be wary though, snow sliding off roofs can be noisy and frightening to horses, not to mention dangerous if it falls on you! Snow guards on the roof can help reduce the noise associated with shedding snow and keep huge sheets of it from falling on (and potentially harming) 2 and 4 legged passersby. Gabled dormers over entryways can also be useful. They help to direct snow off to the sides.
Ice dams are another unfortunate side effect of snow-laden roofs. An ice dam forms when the underside of the roof gets warm enough to thaw the bottom layer of snow sitting on the other side. The water makes its way down to the eave where it refreezes, eventually growing into a mound of ice. As the ice dam gets larger, it can pull the shingles and edges up allowing water to get through and into the insulation and walls. Water damage then wreaks havoc on the interior of the barn. The ice dam could also break off the eave and take pieces of the roof with it or fall on passersby. Sure, there are ways to deal with ice dams once they've formed, but natural ventilation can help prevent them upfront. Natural ventilation keeps the underside of the roof within 10 degrees of the outside temperature, which aides in keeping that critical layer of snow right on top from thawing and running down towards the eaves.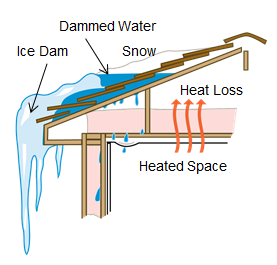 Site and circulation planning can help prevent and/or reduce the impact of icy conditions around equine walkways. In the interest of horse safety, I try to design site circulation so that horses do not need to move over asphalted areas intended for trucks and service vehicles (there are other benefits associated with that as well). Asphalt is not great for horse's knees, generally, but it is particularly problematic when wintery conditions lead to the formation of "black ice" — a thin sheet of ice over the asphalt that can be imperceptible to the horse or persons walking on to it. Horse pathways in and around the barn should include porous footing that absorbs and carries moisture away quickly. Presently there is no way (that I know of) to prevent pastures from freezing over, but you can maintain a dry paddock or "sacrifice" lot where your horses can be turned out when pastures have been effected by inclement weather. Paddocks with considerable slope can be particularly hazardous when they freeze over. That's when a "level" dry lot can be very useful!
As many on the east coast found out this past week, there is only so much preparation you can do in a couple of days before a storm hits. You, your horses, and your barn will benefit from built in preparation.
Posted in
Equestrian News
|
Tagged barn architecture, barn design, beechwood stables, black ice, Blackburn Architects, dormer, Equestrian Architect, extreme weather, farm planning, gable, horse barn design, horse stables, ice, ice dam, ice damming, John Blackburn, overhang, roof, roof pitch, snow, snow load, snow shedding
|
Leave a comment >
01.28.16
John Blackburn to present at the 2016 Equine Affaire in Columbus, OH April 7-10, 2016
01.26.16
John will be speaking at the Masters of Foxhounds Association Open House hosted by Manhattan Saddlery in New York City on Friday, January 29th, 2016.
12.14.15
I had the pleasure of attending the 2nd annual Equus Film Festival in NYC recently, an event that Blackburn Architects sponsored last year and again this year.  Included in this year's line-up of activities was a tour of the Clinton Park carriage horse stables. Until just recently I had not had the opportunity to explore the city stables so this was my first visit. It was something I had long been looking forward to especially given the controversy surrounding the horse carriages. Now having toured the facilities, I thought I'd offer my perspective as an architect who specializes in the design of safe and healthy horse stables.
Having heard and read tales about the conditions the horses were living in and being an adamant proponent of horse health and safety, I was anxious to see the stables for myself and determine from my own expertise if or how the stable conditions contributed to or confirmed these claims of abuse.  The tour was lead by carriage driver and working horse advocate, Christina Hansen.
Clinton Park is the largest stable of the city's four. It was built in the late 19th century and has operated as a stable for horses serving the City since it was constructed. It is currently owned by a co-op of carriage owners. It houses over 70 horses and over half of the city's 68 carriages. The first floor is strictly "operations" and includes storage for carriages, maintenance for equipment and a couple small offices. Ramps lined with rubber mats lead to the 2nd & 3rd floor areas where the horses are kept. All the stalls are at least 60 sq. ft. or larger and each contains a fan and an automatic waterer. Considering the size of the carriage horses, I'd say the stalls are on the "cozy" side, but not alarmingly so. The stalls are mucked twice a day and the stables are attended to by at least 3 personnel 24/7.
My tour took place during the fall (November), so I can't attest to what the facility is like in the dead of winter or the heat of summer.  However, I was impressed with the efforts and procedures put in place to provide adequate ventilation for both seasonal extremes (good ventilation is critical to the health of the horse in all types of weather.)  Furthermore, I was pleased to learn that the horses work on a rotation schedule where they are sent to the country for four to five months out of the year and work the remaining months – a work schedule many humans would love to have. Sign me up!
I've read recently, that Mayor de Blasio has modified his position on eliminating the horses all together in favor of reducing their numbers and confining them to Central Park. I've been a vocal advocate for horse activity to continue in New York City and have stood by the NYC Carriage Horse drivers in their pursuit to remain in operation. Like Mayor de Blasio, I too feel Central Park would be a great option to house some of the horses, however I don't support the idea of reducing their numbers. This visit has given me a new perspective on the current carriage horse stabling and I feel they should remain in operation. I do feel that Central Park, as a prominent tourist destination, could benefit from being "friendlier" to equine activity. More riding trails, expanded carriage lanes, rubber standing mats for carriage horses while they wait for patrons, and maybe a "living museum" or educational event that pays tribute to the city's equine past are just a couple ideas to get started on expanding the Park's equine amenities.
As for the existing stables, I did not witness conditions that I would consider detrimental to the horse's health or safety.  In fact, I was quite impressed by the care and concern that the horse owners, drivers and other handlers provide the animals.  Sure, they operate out of an historic structure that could use significant physical improvements, but in my 30+ years of experience designing for horses, I have never encountered an occasion where a horse required "new" finishes, fresh paint, or other nice finishes that humans enjoy. A horse's basic needs (light, natural ventilation, quality feed, comfortable/ clean bedding, regular exercise, etc) are what need to be met and I feel the Clinton stables provide that. I would, of course, be happy to provide recommendations for improvements should the owners ever want to upgrade. The stables embody a lengthy heritage of metropolitan horse stabling and continue to operate safely and effectively to that purpose.
Ultimately, we need to support the horse carriage industry and encourage more use of horses in the city, not less. I remain adamant in my concern for the protection, health and safety of all horses in all activities and I continue to fight for the preservation and expansion of equine related activities in everyday life (riding, showing, therapy, sport, etc).