The Latest
01.09.14
Newly elected Mayor of NYC Bill de Blasio has plans to rid the city's streets of horse drawn carriages, putting an end to a time honored tradition. Arguments pro and con the move make a powerful debate.
Mayor de Blasio and many animal rights groups argue that carriages are inhumane using statistics about recent accidents to support their claims. Groups such as NYCLASS and ASPCA are backing the mayor. Those opposed believe the NYC horse drawn carriage  trade is rooted in tradition, with antique cars or any other proposed replacement unable to replicate its fundamental appeal. Customers argue the horses are what attract costumers to this business, which earns the city nearly $19 million a year. Marriage operators, who fear the loss of jobs, are backed by the Teamsters Union and dismiss claims of inhumane treatment. They say each horse is given five weeks' vacation time each year.
I have noted the debate, reading several articles on the subject. After reading The Daily Beast's "Mayor De Blasio's Horse Policy Is a Pile of Manure" and perusing the predominately political comments, I found the space became a soapbox for libertarian issues, conservative and liberal politics, socialism and every other political persuasion. Readers showed very little concern for the horses or the focus of the article. After 30 years designing equine facilities that promote the health and safety of horses, and as illustrated in my book, Healthy Stables by Design, I am clearly an advocate for equine welfare.
Though I do not live in NYC, I know it well having visited many times. I own a timeshare two blocks from where the horse drawn carriages stand and wait (for what seems to be an endless amount of time). I spend about 3-4 weeks there annually, and periodically find myself running through Central Park for exercise when the weather allows. Neither resident nor tourist, I find New York the most interesting city and would love to live there full time. The only time I have had any "business" with horse drawn carriages was as a child and tourist with my parents. The only feelings I recall having at the time are a fascination with horses in the city and with the carriages in general, as I imagine any child would. I remember finding the whole experience odd in such a busy city, even as a child. That was over 50 years ago and it has only gotten busier.
My thoughts on the current situation are not based on the economics, jobs, tourism or historic context but concern for the horses' wellbeing. Let me point out the act of having a horse pull a carriage is not inhumane in my opinion. During my visits I am always saddened watching these animals standing amongst polluting vehicles in traffic or waiting on the curb for patrons without the option of lying down to rest if tired. I have never seen the stables in which these horses are housed but have heard horror stories for years about the conditions that exist there. I imagine if people visited these terrible conditions they might think twice about their supportive stance on the issue of horse drawn carriages in the city. I certainly would welcome that opportunity if ever given the chance. I find it difficult to understand how people find an excursion at the expense of an animal condemned to these conditions inviting. I guess it is the history of horse drawn carriages that attracts riders and they are perhaps unaware that these animals are sentient beings who suffer the same way we do. Humans have domesticated horses for centuries and though they have been used as a so-called beast of burden, there is a difference between what "burden" is acceptable and when "burden" becomes abuse.
Part 2 of this article will be published on Wednesday, January 15, 2013 here.
01.07.14
The Lucky Jack Farm in Rancho Santa Fe, California has certainly held on to its namesake in the past year. The site played host to multiple charity events over the course of 2013 and the barn was selected for the cover of John Blackburn's book, "Healthy Stables by Design." The cover photo, depicted below, was taken by David Hartig.
On May 11, 2013, the owner's Patricia and Marc Brutten of Lucky Jack Farm hosted "Wine, Women & Shoes." The event, operating for the second year, featured "fashion, fine wine, and good cheer," and produced over $187,000 in donations and proceeds for Voices for Children. The nonprofit recruits, trains, and oversees San Diego County's court appointed special advocates (CASAs). These volunteers advocate for the over 5000 abused and neglected youth who pass through the San Diego County's foster system each year. The Voices for Children organization is the only agency of its kind designated by the Juvenile Dependency Court to provide CASA volunteers. Click here to view pictures from the event.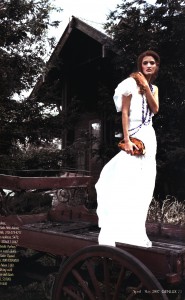 Blackburn Architects is proud of our design for Lucky Jack Farm and thrilled that the owner's are using the farm for such worthwhile and charitable purposes. We wish them well and another successful event in 2014.
Having designed well over a hundred barns and arenas over the past thirty years we have seen our designs provide the setting for numerous parties, receptions, fund raisers, weddings and settings for fashion magazine spreads such as the one at Lucky Jack Farm in 2013 and at Devine Ranch in Aptos, CA in the 2007 (see the photos from the April/May issue of Genlux Magazine below).
Though barns are designed for horses, they make great spaces for other events that can extend the benefits for more than just the horse and rider.  Think about it for your barn or arena.
12.31.13
John Blackburn's book Healthy Stables by Design has been featured in the January 2014  issue of San Diego Home/Garden Lifestyles Magazine. Phyllis Van Doren's article, Naming Names, notes that the beautiful images in John's book were taken by David Hartig, a freelance photographer whose work has also been featured in the magazine.
12.17.13
"I had one owner complain about how cold her barn was in winter. She said the grooms complained endlessly. My answer was to issue the grooms long underwear because the barn is designed primarily for the health of the animal, not the comfort of the human." – John Blackburn
If there was ever an understatement made, it was in the first line of "Heated Barns and Horses: Special Considerations Needed." The article written by Oklahoma State University Cooperative Extension equine specialist, Dave Freeman, PhD and published by TheHorse.com in 2011 begins, "Horse owners who use heated barns to keep water from freezing and to protect horses from frigid temperatures during winter should remember supplement heat can cause problems if used incorrectly."
For me, the most important considerationis the unhealthy and potentially hazardous effect of added heat on the "naturalness" of a barn's environment. Even in the winter, when temperatures may be below freezing, the barn should duplicate the choices a horse would make if it were living in the wild. For example, in winter if a horse wants to warm up it may choose to move into the sun. If it wants to get away from the cold it will run behind a hill or some natural obstruction. The options a horse has to control its environment are eliminated in a heated barn yielding a less natural experience and potentially creating an unhealthy and high-risk environment. One of those risks is the restriction on natural ventilation and the need to rid the barn of humidity that can cause harmful bacteria. An owner may attempt to close up the barn to "save" on the cost of the heat but at the same time restrict natural ventilation. I am not opposed to heating human spaces, but I am concerned when heat is introduced to the stable area. In my projects, we have provided heat to the floor of the aisle in extremely cold climates but we do not close off the natural vertical flow of natural ventilation through the stable area.
Ventilation is important regardless of the temperature outside or inside the barn. As an equestrian designer who's primary focus is healthy stables, I completely agree with Dr. Freeman on this point. I feel every barn should ventilate all winter no matter where it is located or what the temperature is outside might be. As always, as much natural light as possible should be brought into the barn as possible. We install continuous ridge skylights whenever possible in our designs that provide a totally naturally light interior all day long, which is, also most close to what the horse encounters in nature. Our renovation of the thoroughbred broodmare barns at Sagamore illustrates my point. See photos below.
I don't want to imply that a healthy stable design will solve all your winter heat or equine health concerns but that it is a very important part.
Barns without ventilation are more prone to high humidity, which creates ideal incubating conditions for disease causing pathogens. Dr. Freeman suggest turning down the heat to get rid of excess humidity but I would take that suggestion further by not introducing heat into stalls area at all. The stall area should stay within 8 to 10 degrees of the exterior temperatures. This allows horses to adapt more easily when moving from stalls to paddocks in the winter months. Horse blankets and proper adjustments of feed for winter conditioning are other important considerations for helping your horse adjust to cold weather. Also heat lamps in a stall for a young or feeble horse should also be considered before enclosing and heating the entire barn for this purpose.
I hope you read the article, Heated Barns and Horses: Special Considerations Needed. It provides some great advice. Also, if I may, read my new book, Healthy Stables by Design. My focus of the book is you illustrate how one can create a healthy and safe environment for the horse hat doesn't have to be expensive (though many are and that it primarily due to human or owner desires) and it can be accomplished in almost any environment with good design principles.  A successful equestrian design is one that incorporates and balances three essential needs; the needs of the owners, demands of the site and the health and safety of the horse without sacrificing the health of the horse. That remains paramount.
12.13.13
Over the weekend, John Blackburn attended the 2013 Lisbon Christmas Horse Parade. The event first occurred in 2011, making Saturday's holding the 3rd annual occurrence. The parade benefits local Howard and Carroll County Food Banks and the Lisbon Volunteer Fire Department. The 2013 Lisbon Christmas Horse Parade was expected to be the most successful event since its inception with almost 120 entries, more than 600 horses, and over 70 sponsors. However, due to less than favorable weather conditions the parade had to be cancelled.
The weather did not completely end the festivities. Each year The Equiery puts on a Holiday Open House and 2013 was no different. During the open house non-perishable food items were collected for local food banks, patrons purchased wreaths for the Lisbon Fire Departments fundraiser, and a Vendor Gift Mart was held.
John was one of many who braved the cold and wet conditions to bring his book "Healthy Stables by Design" to patrons of the parade and open house. Despite a decrease in attendance John was still pleased to sell 6 copies of his book, raising $360, half of which will be donated to the Professional Association of Therapeutic Horsemanship (PATH) International's Wounded Warrior Project. "WWP's purpose is to raise awareness and enlist the public's aid for the needs of injured service members, to help injured servicemen and women aid and assist each other, and to provide unique, direct programs and services to meet their needs" (1). John also donated one of his books to the Howard and Carroll County Food Bank raffle.
During the event The Maryland Horse Industry Board presented its December Touch of Class Award (2). Ross Peddicord, the board's executive director, was on hand to present the award. He took some time to stop by John's table. The two are photographed above.
This event was John's final book singing event of 2013. While his book tour has, at times, been "long and tiring," John has found the entire process "rewarding." He raised over $7,000 for equine charities across the country.
Sources:
(2) Maryland.gov
12.06.13
The Horse: Your Guide To Equine Care is a print and online publication that provides indispensable articles for horse owners and caretakers. On October 20th, 2013, The Horse published an article entitled, "Lots of Elbow Grease for Disinfection Project," commentating on the process for choosing which disinfectant is best for your barn and horses, navigating the risk of contagious. John Blackburn found the article to be a great conversation starting point and has offered the following additional suggestions to make disinfecting your barn a less daunting task.
Having an isolation stall on the farm or at least in the barn, where horses can be kept when returning from off site conditions can protect your barn and the animals that dwell there. This may not be a luxury that everyone can afford but it is a useful means to limiting the spread of disease causing pathogens and reducing veterinary bills. John recommends at least one isolation stall be finished like a foaling stall if possible, with protective, non-porous surfaces that are easier to disinfect than standard stalls.
John also recommends isolated your tack room or area, thorough cleaning when in contact with an infected horse or one you believe could be, proper disinfecting of any tools used in the isolation stall and when returning from horse shows are critical to the containment of bacterial infections in the barn.  We also recommend all barns consider installing foot disinfectant mats at the entrance of your barn. Bio-security is becoming a much greater concern these days and preventive measures should be taken whenever possible to disinfect your barn.
Keep your horse healthy and happy:
12.05.13
Middleburg Life, "The voice of Loudoun's Hunt Country for more than 30 years," is a monthly publication distributed in print to over 15 thousand homes across Loudoun and Fauquier counties, and available online as well. The December 2013 issue features an excerpt from John Blackburn's book, Healthy Stables by Design. Check it out here.
12.03.13
River Farm is located in Loudoun County along the banks of the Potomac River. The property includes a 24-stall barn, an office, indoor and outdoor arenas, and observation area, a service barn, and outdoor paddocks. Since its competition in 2006, the award winning facility has played host to various equestrian events and family gatherings, serves as a training hub for the owner's daughter, a nationally ranked hunter-jumper competitor and other riders of all ages and skill levels, and was the site for John Blackburn's final stop on his book tour on November 21, 2013.
John presented Healthy Stables by Design, to an audience of about 25 equestrian enthusiasts. He sold and signed about 19 books raising $570 for The Equine Rescue League, a non-profit organization in Lovettsville, Virginia. Founded in 1990 by Pat Rogers, the ERL cared for over 100 neglected and abused equine. They continue to promote the responsible use of equines for working, sport and pleasure.
Scroll down to see pictures of River Farm.
11.25.13
On November 10th, 2013, John Blackburn, once again, shared his book, Healthy Stables by Design with another group of horse enthusiasts at the Pebble Beach Equestrian Center in Pebble Beach, California. The facility offers over 30 miles of trials for hiking and horseback riding along the beach and through forests with guided tours, private and group rides, and lessons. Before the book signing, John toured the PBEC grounds with director, Margaret Leighton, and the executive vice president of real estate, Mark Stilwell.
Margaret is also the president of the benefiting equine organization, Redwings Horse Sanctuary, located in Lockwood, California. The group works to educate communities on equine suffering, puts together outreach programs, rescues horses that have suffered neglect and abuse, and eventually finds homes for the rehabilitated animals. Margaret joined the organization in 1991, has served on the Board of Directors since 2004, and was responsible for organizing and facilitating this event. After kicking off the presentation, Margaret introduced Linda Plumb, the Executive Director of Redwings, to speak about the group and some of the current programs.
John Blackburn followed Linda with an in depth look at the design philosophy outlined in his book. John was thrilled to raise approximately $540 for Redwings with the event's sales of Healthy Stables by Design. The event saw attendance numbers between 40 and 50 people.
Scroll down to see photos from the event:
11.22.13
On November 9th, John Blackburn presented his book, Healthy Stables by Design, at the Steinbeck Country Equine Clinic, which sits between Monterey and Salinas, California. The clinic, owned by Dr. Tim Steinbeck, is a 24-hour full service referral veterinary hospital for horses.
Blackburn architect, Dan Blair, also attended the event with John, took the pictures below, and received a tour of the clinic. Blair was impressed by the facility and found it interesting that it is the only equine surgical facility in a 3-hour radius. Two of Dan's photos below depict equine stones. These obstructions develop in the gastrointestinal tracts of horses overtime when minerals build up around a foreign object the horse has consumed. These enteroliths are made up of magnesium, phosphate, and ammonium and can be fatal if not removed. Of the stones shown below, one proved fatal and doctors at the Steinbeck Country Equine Clinic successfully removed the other.
The book signing followed a similar format to the previous stops on John's tour. He presented many of the design concepts in the book in a power point presentation and took questions from the over 20 attendees of the event. John sold approximately 18 books raising $540 for the future Monterey Horse Park.