Architect
09.25.20
Note: We recently received this question from a follower of ours on Instagram. While this is NOT a Blackburn-designed barn, we felt that others might have similar problems, so we wanted to offer as much help as possible to this horse owner. Some of her photos are included in the post for clarity.
Q: Dear Blackburn: We recently built a backyard horse barn in western Massachusetts.  The timber frame style building is a hybrid run-in shed/horse barn, attached to a track-paddock with sacrifice areas and pastures.  The horses are turned out together 24/7 with run-ins, with option of separate stalls if needed for injury/weather.  This summer, after one year, we found mold in a few areas of the barn.  Since learning about Blackburn, we have been fans, and we seek insights on how to remedy our mold problem in a way that is safe for the horses and hay too.
The barn is 36'x36' with a raised center aisle.  The south 1/3 of the building is a run-in with a packed dirt floor covered by rubber mats and shavings. The remaining 2/3 has a concrete pad and includes 2 stalls – one used as a horse stall and the other used to store hay.  The 11' ceiling leads to a hayloft (most hay stored in a separate building) with an 18'x6' cut-out in the middle of the floor, for both sunlight and ventilation.  Hayloft windows/door on all sides and an open eave towards the top also offer ventilation.  A frost wall surrounding the barn is approx. 1'-2' above grade. Inside the barn, including the run-in and both stalls, the interior frost wall was covered with resin technology wood screwed directly into the concrete, primarily for safety reasons, to soften the impact if a horse kicks the wall/concrete.  We recently found black (and some white) mold between the frost wall and the resin technology wood.  We have removed the product and bleached the area, but how to proceed…
1- How can we safely cover the interior concrete frost wall within the horse areas (run-in, stalls, grooming aisle, hay stall) so that it has some "give" to prevent injury when a horse kicks it, but which won't harbor or cause mold? We have considered covering the frost wall with rubber, or adding a vapor barrier and applying new product.
2- What do you recommend we do to the concrete floor and frost wall to store hay and avoid mold in the hay stall? There's a 4" step down from the aisle (we realize that was a mistake since it traps moisture).  We put a high-quality insulated mat in the horse stall, but the concrete floor is bare in the hay stall.  We use the hay stall for hay now but want to have the option of keeping a horse in there in the future.  (We've previously stored hay on a double layer of pallets, plus floor covered by tarp, but with that set-up plus the wood product on the frost wall, the mold grew.)
Warmly,
MA Blackburn Fan
A: Dear Fan: While I don't know for sure what's causing the mold in your barn, I feel the application of the wood product directly to the concrete frost wall without airspace behind it and near the floor where it is subject to moisture may be the primary problem.  I would suggest removing the wood product material at the frost wall and gluing rubber mats directly to the concrete frost wall to provide protection from horses injuring their legs by kicking the wall.  Provide an angle crib guard along the top edge to help prevent cribbing by horses.
I am not that familiar with the product you used, but I know it is an engineered wood product that has a wide range of uses.
The fact that the barn doubles as a stall and a run-in shed indicates that it generally remains open which is good as it allows air to circulate in and through the barn and reduces the health hazard that might be caused by the mold.
I found it odd to see diagonal framing in the walls between the post framing.  I'm unsure why that was done (maybe to provide horizontal bracing for the timber frame) but because the lower portion of the wall appears to be covered with the wood product it is possible air spaces between the diagonal wood framing trap air in some of the smaller spaces. That could add to the moisture build up. How the barn is maintained (i.e. washing down of the aisle and stalls), is handled could also contribute to the moisture problem.  It appears from your photos that most of the dark staining (mold growth) is along the low portion of the wall at the frost wall and that is probably more a problem of the wood product panels being directly attached to the frost wall than the diagonal framing.
Regarding the hay storage, you should always store hay off of bare concrete.  Using wood pallets is a good way to allow air to circulate around and under the hay.  Hay gives off heat as it cures and if not properly allowed to breath can actually ignite through spontaneous combustion and cause a fire.  Having the barn largely open as a run in shed is helpful but at a minimum the hay should not be stored on the concrete floor.  It should also be stored off the wall several inches to allow the air to circulate around it.  Placing a tarp on the concrete floor as mentioned will not serve any constructive purpose in my opinion and could just trap moisture below it.
BTW, I didn't see any drains in your stalls?  How do you encourage water out of the stall where the slab is depressed 4 inches?
Incidentally, I noticed a door hook on one of the larger sliding doors at the run in portion of the barn.  That's a potential hazard.  A horse could rub against the door jamb and the open hook could cause a significant injury.  I've seen it happen and it can easily be prevented.  Another type of latch should be used.  There are lots of options out there.
I hope this is helpful.
John
Posted in
Equestrian News
,
News and Press
|
Tagged Adaptive Reuse, Architect, Architecture, Arena, Barn, barn architect, barn mold, blackburn, Blackburn Architects, Blackburn Architects barn design, Blackburn Architects barns, Blackburn blog, designing a horse barn, Equestrian, equestrian architecture, equestrian design, horse barn, horse barn design, horse stables, John Blackburn, mold, mold in barn, mold in horse barn, Stables, Ventilation
|
Leave a comment >
10.15.19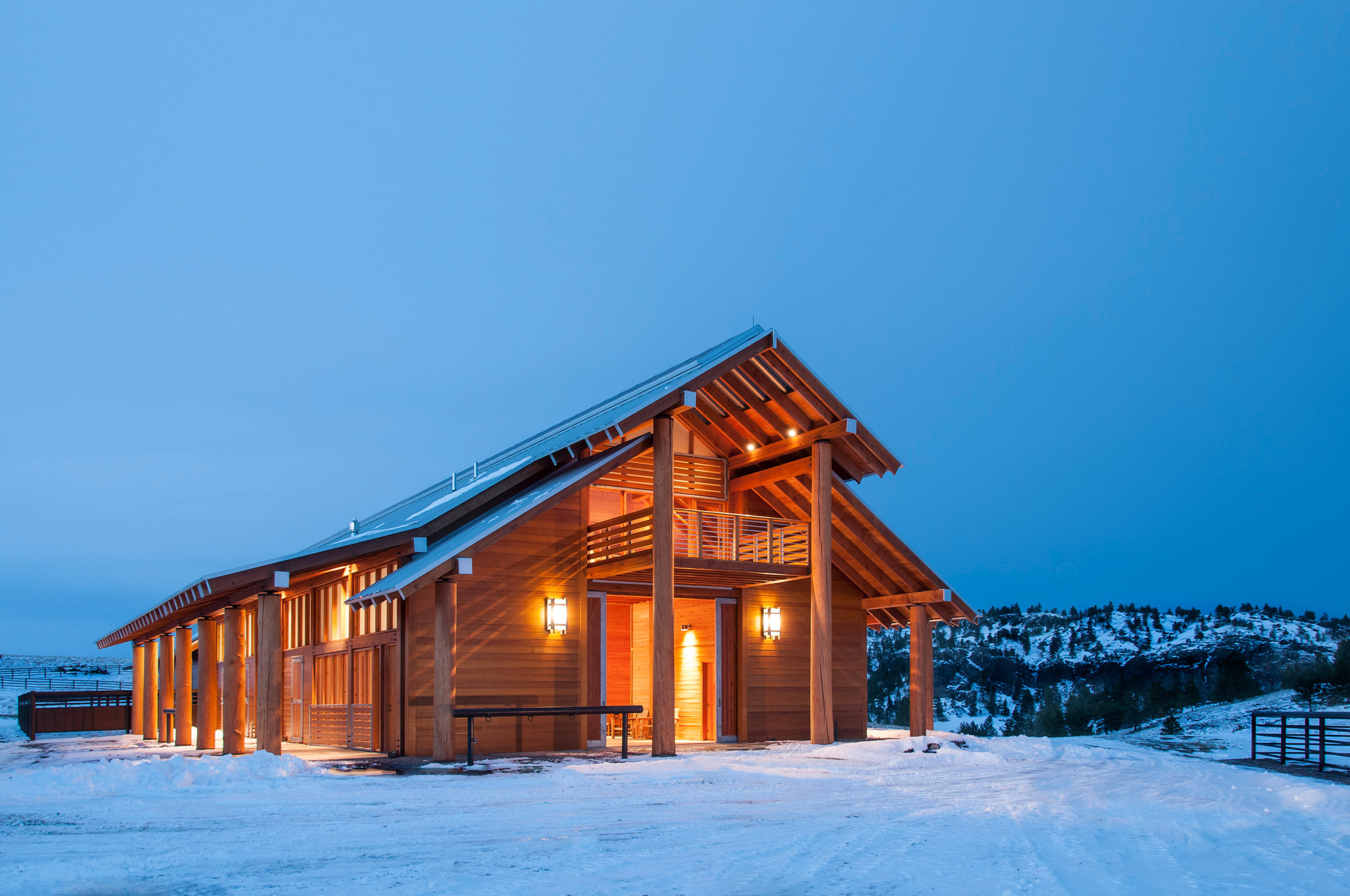 Q: I'm in the process of planning a barn in Missouri, and finances require an economical metal post-and-frame structure. I've studied Blackburn's ventilation and lighting philosophies and will incorporate them as best I can.
My question is about orienting the barn. I plan to have a center aisle, with exterior Dutch doors in every stall. Each 12'x12' stall will have an exit to the main 12' aisle as well as to an outside run-in. The stalls will be used primarily during more extreme weather or when I need to confine a horse due to injury or illness, otherwise the horses will be outside. Overhangs on both sides of the barn will function as run-in shelters for the paddocks.
I know from your writings that the ideal orientation is perpendicular to the prevailing summer breeze. However, because Missouri's cold winter winds are from the same direction, the horses on that side of the barn won't have wind protection when in the run-in areas. I know that's less of a problem for owners who keep their horses in stalls most of the time, so I've not been able to find an answer to this question. I will obviously allow them access to the stalls during the bitter cold weather we get, but for most of the winter all they need is some windbreak. How do I optimize winter protection without compromising ventilation?
Thanks,
Worried about Winter
++++++++++++
A: Orientation is certainly very important when siting your barn. But because wind is always changing and its direction and velocity can be affected by terrain, other structures, and vegetation, the angle is not a hard and fast rule.  It's good to try and locate the barn perpendicular to the prevailing summer breeze but that also depends on the design of your barn.  If you have lived on the farm a few years you may know the particular wind patterns for your property.
The design of the barn is as critical – if not more so – than the orientation.  How and where you permit air to enter the barn (preferably along the low wall along the long side of the barn and at the eaves where the roof joins the side walls), and where it is allowed to exhaust are critical.  In some areas, it may be necessary to provide some form of close-able dampers on the low wall vents to control the wind and temperature that can impact a horse that is in the stall but doesn't have the flexibility to get away from it.
The environment within the barn should be within 8 to 10 degrees of the temperature on the outside.  Your barn should ventilate vertically to reduce the horizontal movement of bacterial- and moisture-laden air.
We always say the best environment for the horse is outdoors where it can make its own choices about its environment and health. A naturally-kept horse should be able to get out of the hot sun and find shade or get out of a cold wind in a shelter or behind a wind block.
By turning your horses out most of the time you are certainly on the right track for happy, healthy animals.
Missouri's winter weather isn't so extreme that it prevents you from a center aisle barn with stalls on both sides.  Orient your barn so that turnouts are on the windward side of the barn and leave the Dutch doors open so your horses can get inside away from the wind.  For the turnouts on the cold windward side of the barn, blanket the horses.  And keep their winter coats unclipped.
Since you've read "Healthy Stables by Design," you know that Blackburn designs typically use the chimney effect and the Bernoulli principle to create natural ventilation. Our barns become passively designed machines that work to provide healthy conditions for the horses inside.
Good luck with your new barn!
Posted in
Equestrian News
,
News and Press
|
Tagged Architect, barn architecture, barn design, barn in winter, Barns, Blog post, custom horse barn, Design a Horse Barn, Equestrian Architect, equestrian architecture, equestrian design, equestrian facility, Equine, Equine Architect, equine design, farm planning, healthy barn, healthy horse barn, healthy horse barns, healthy horses, Horse, horse barn, horse barn design, Horse Barns, horse farm, horse racing, horse stables, Horses, importance of ventilation in horse stalls, John Blackburn, Stables, Sustainable, thoroughbred, Ventilation, Virginia, Winter barn
|
Leave a comment >
06.24.19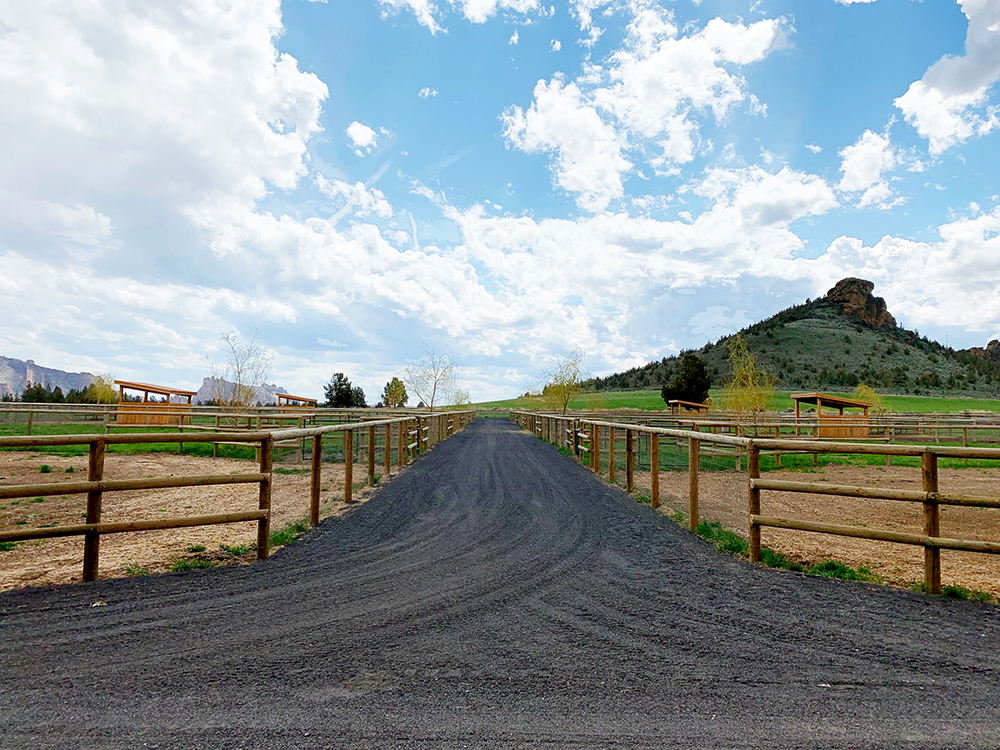 Let's talk about dry lots. Essential on nearly every equine facility, dry lots vary widely in size, location and construction.
By nature, of course, horses are herd animals evolved to roam and graze on sparse prairies.  We've introduced a complete change to the evolutionary process – incorporating diets of grain and lush pastures. The resultant problems are many, but our solution is simple. Limit the horses' activities or diet as you give them access to open air and light.  
Blackburn recommends dry lots on most, if not all, of the farms we design. Sadly, too many farms have unintentional dry lots because of inadequate pasture management.
Why create a healthy dry lot?
1. Control the horse's diet.
2. Preserve paddocks thru rotation.
3. Control moisture and its effect on hooves.
Here are nine things to consider:
Location: Choose a place close to the barn for ease of access.  Provide adequate sized gates for horses but also an occasional vehicle.  Select a relatively flat location but one that drains well and isn't too isolated so horses can socialize but generally remain separated.  
Materials: The footing should be firm but not hard packed.  It must be designed to drain well to allow moisture to either drain thru or away without causing erosion. Sandy soil is preferable but some sort of gravel that is easy on the feet or, even better, an engineered footing similar to your arena should work perfectly. 
Size:  The size can vary, but if you are creating the dry lot to limit the horses' movement for health reasons, you may want it to be smaller than larger.  We recommend multiple dry lots of varying sizes to accommodate many uses.
Fencing:  It goes without saying that your fencing needs to be sturdy. See Activities below.
Shelters: Some form of shade shelter for fly & weather protection is preferred – by humans, but horses may never darken the interior.
Feeding: Various forms of slow feeders, salt blocks, etc. can be used.  If you are restricting the horse's diet, we recommend consulting with your vet about setting up a feeding regimen that can be incorporated into your use of the dry lot.
Activities:  Spreading hay rations around the lot encourages movement; toys for activity or human interaction can be very helpful.  We always recommend consulting with your veterinarian because no two horses are the same. You and your vet know what's best for your horse.
Socialization:  Locating the dry lot close to other horses reduces stress and is more emotionally relaxing.
Footing: The dry lot surface should provide a safe and comfortable footing for horses but it must also drain well.  Therefore, we recommend that the upper surface/footing be 4 to 6 inches of footing material (stone dust, sand, engineered footing material as described above a drainage layer) or possibly 8 to 12 inches of pea gravel, allowing the foot to sink in without undue pressure on sensitive areas.  The drainage layer can be 1/2 inch to 1 inch stones. You can add an interlocking grid within this layer to provide additional stability of the base layer and improve drainage.
Posted in
Equestrian News
,
News and Press
|
Tagged Architect, Architecture, Barn, barn architecture, barn design, blackburn, Blackburn Architects New Horse Barn, equestrian design, horse barn, horse barn design, Horse Barns, horse farm, horse racing, horse stables, Horses, John Blackburn, Stables, Sustainable, thoroughbred, Ventilation
|
Leave a comment >
01.25.19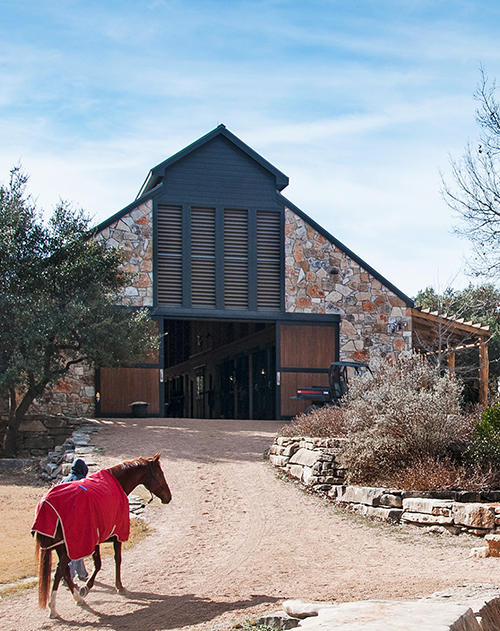 One of the design considerations in nearly every Blackburn equestrian project is ground surface materials to be used at the exterior of the barn. Hopefully, the information below will be helpful in planning for your barn.
First consideration is it to be porous vs. non porous?
Either will work in this application but you need to build in some sort of drainage system for both, either on the surface or below the surface.  
1)  Interlocking rubber brick pavers.  The Blackburn Architects' team opinion is that this is the best all-around flooring system for horses because of its durability and aesthetic options.  It's slip resistant and holds up to abuse and in a wide variety of environmental and weather conditions.  It can be set loose on a porous or non-porous sub-base or glued down on a firm base like concrete.
2)  Oil base chip and seal: Chip seal is a surface treatment used on light traffic roadways/driveways, some lead paths and other areas used for horse or farm traffic.  We do not use it very often anymore due to some environmental concerns in some jurisdictions (it typically requires a base layer of asphalt and oil as a binder).  Chip seal basically combines one or more layers of asphalt with one or more layer of aggregate. Oil is often used as a binder. Ground up recycled tires are sometimes used as an aggregate.  It tends to be slip resistant though it may deteriorate in time.  Its life time is typically 5 to 7 years before it needs re-surfacing.  
3)  Rubber mats (loose laid or glued): This is a good material but should be laid or glued to a concrete or popcorn asphalt base.  The mats need a solid base in order to hold in place or remain level over time.  Rubber mats can present an aesthetic issue but functionally work well.
4)  Stone dust or brick dust:  A good material to use but requires maintenance to retain a clean and orderly look.  It's slip resistant and drains relatively well.  Not good for plowing conditions unless it is re-spread at the end of the winter season.
5)  Popcorn asphalt:  An excellent material because it's slip resistant and drains well.  Its problem is its aesthetic appearance.  It should be laid over a layer of crushed gravel so the surface water can drain through the asphalt and away.  The advantage of the popcorn asphalt is it has the ability to reseal itself in warm weather if the ground freezes and heaves.  It can also be used as a base layer under rubber mats or rubber bricks.
6)  Concrete (custom colored and/or textured) or concrete pavers:  Not a very horse-friendly material to use.  It can be scored to give it texture, tinted to give it color and in some cases a brick pattern, but it is nevertheless a very unforgiving material.  Horses shoes can slip on it and spook a horse especially when crossing from one material to another.  However, this material is great when installed under the interlocking rubber brick or rubber mats.
7)  Poured in place non slip surface material:  This is a good material (a number of different types and manufacturers available) that can be slip resistant, cushioned to protect from a fall and can be used outdoors.  It is often used on playgrounds.  Blackburn Architects uses it most often in foaling stalls where a seamless continuous surface is desired.
8)  Grass ground cover:  Not recommended due to its maintenance needs especially when under cover.
9)  Grid mats:  Can work if the owner wants to use stone or brick dust or some other type of light screenings but requires periodic maintenance.
10)  Brick or stone:  Not highly recommended as it is less slip resistant though it can look great, especially if brick dust is used elsewhere such as the driveway in a chip and seal application.
Posted in
Equestrian News
,
News and Press
|
Tagged adding light and ventilation to a horse barn, Architect, Architecture, Barn, beechwood stables, Blackburn Architects adaptive reuse, Equine Architect, horse barn, horse barn design, horse barn planning, Horse Barns, horse farm, horse stables, John Blackburn, materials to use on the exterior of a horse barn
|
Leave a comment >
06.05.18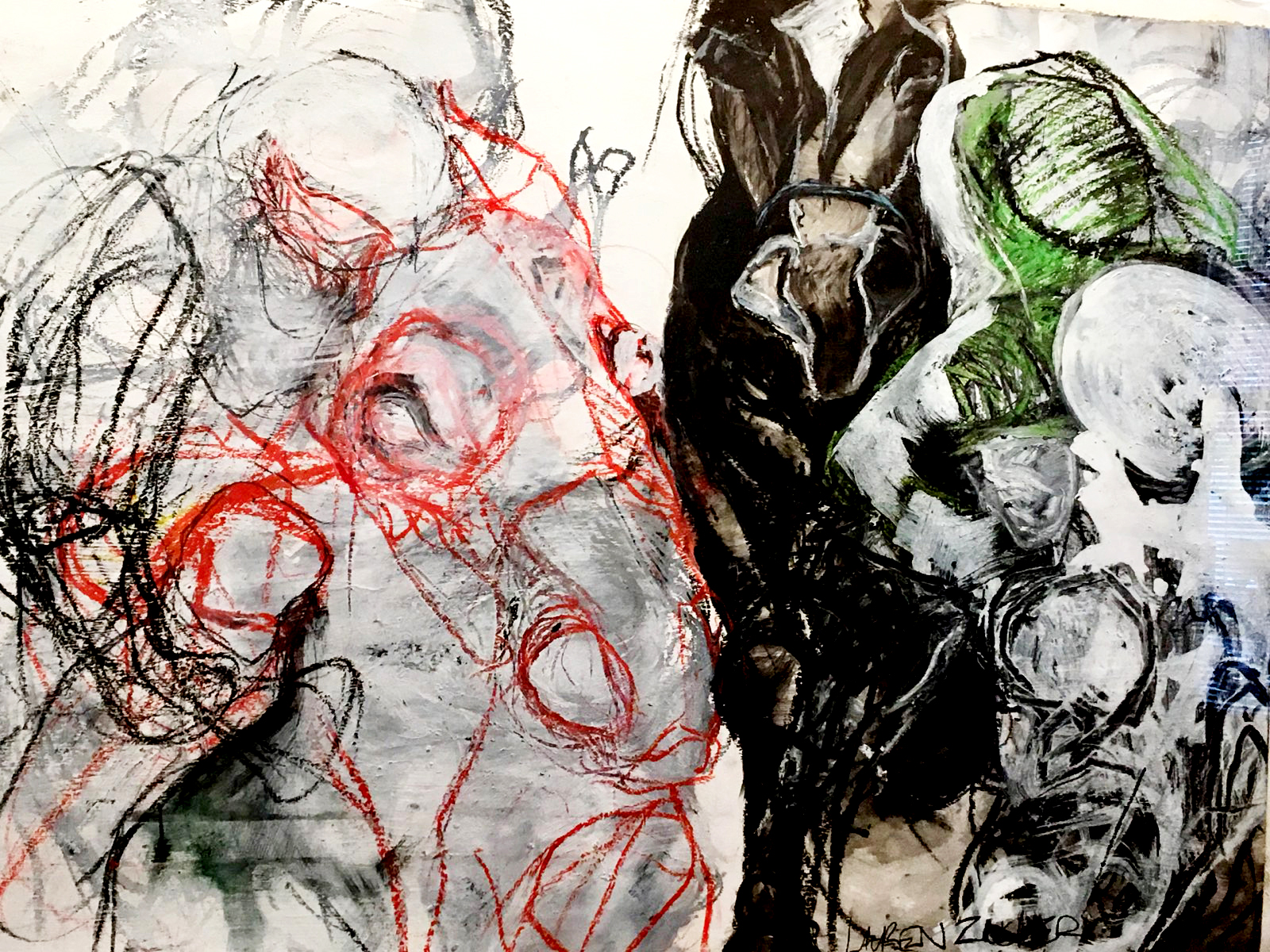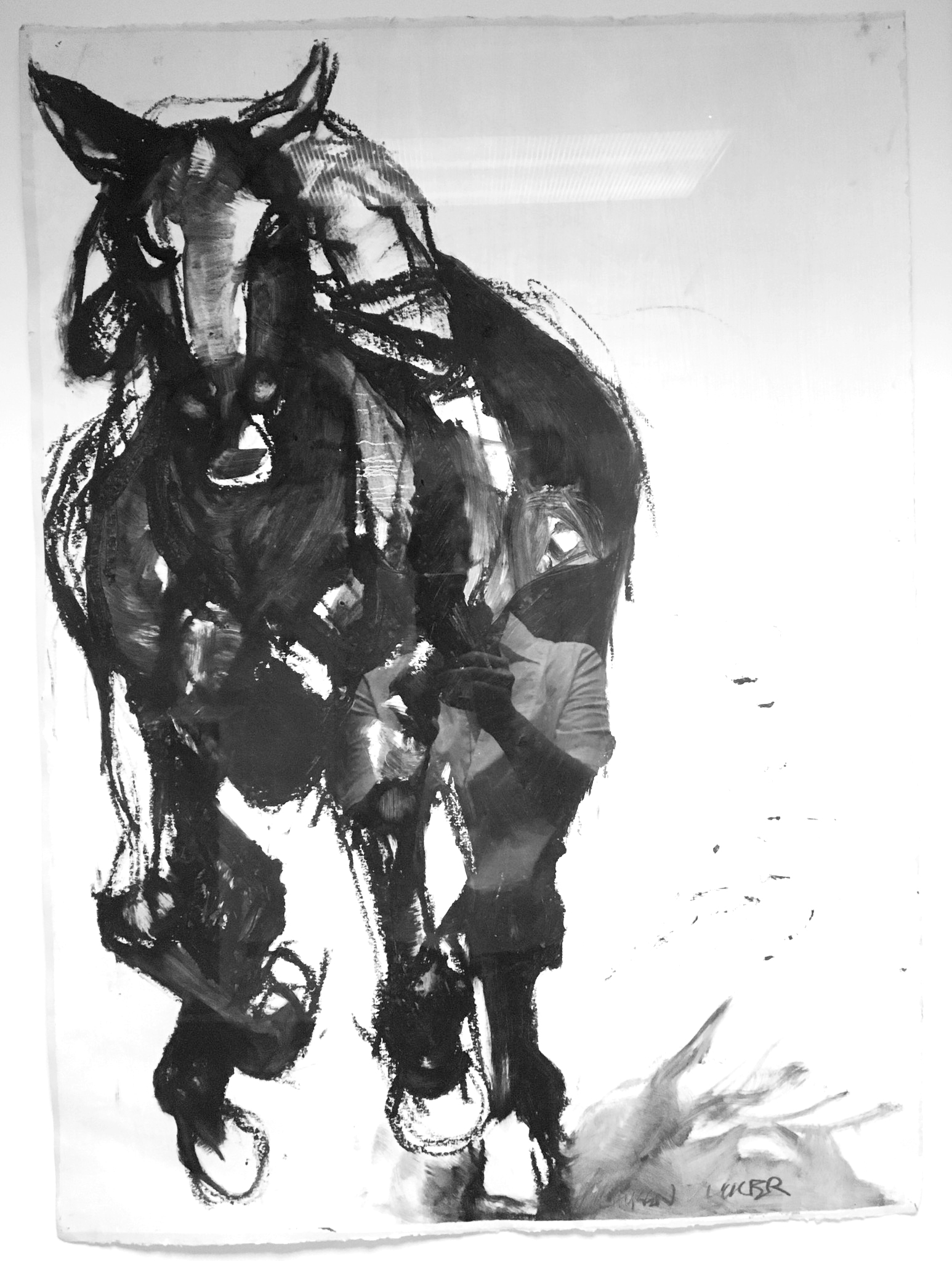 A job interview is not exactly an expected set up for an art sale. So when Lauren Zucker (now Richards) came looking for a job at Blackburn Architects some years ago, she found one. One she didn't accept because graduate school had a stronger pull.
But in a strange twist, John Blackburn liked the student artwork she showed in her portfolio so much he bought it. Two beautiful Lauren Zucker black oil bar on paper works hang in the Blackburn Architects' offices in Washington, DC. The large 48'x60' framed paintings are captivating for the brush strokes evoking the fevered jostling of racehorses leaving the starting gate. They are lovely paintings, and visitors to the office often comment on them.
She described her work this way:
Jockey: Horse
The Race

The Race: Within the confines of 10 furlongs there are meta-corporeal aspects of the horse race never experienced by the spectator. I first knew the horse race as an unfolded experience through the medium of literature. Drawn out in detail were the visceral relationships between horse and jockey, the operations/politics implicit in a racing farm, the strategies and traditions of breeding and training, the excitement of race day morning, and the cognizant thought behind every move during the course of the race. The race compresses into 2 minutes, the life experience of each racer- horse or jockey.

The Drawing: Through drawing, I looked to fold the life narrative of the racer into gesture. Then, as in the race, montage the narrative of different racers. I found inspiration for expressing this agony of entanglement in Picasso's Guernica. The narrative gesture of war is apparently not unlike that of the horse race.

The process of these drawings was subtractive, many beginning as a coat of black oil bar. The slow drying time of oil bar and linseed oil allowed me the time to carve the horses' bodies out the blackness. Portions of the drawing were reworked over and over again, conveying motion/time lapse through the multiplicity of elements, such as the doubling of the jockey's hand in different positions.

There is a dichotomy in horse racing which at once evokes both nobility and grit which I found to exist even at the scale of the horse's eye, loaded with both the noble courage and animalistic fear. And in the relationship of the fear in horse's eye to the Jockey's eye of focused determination. "
As time passed, though, Lauren's identity was lost to Blackburn Architects. We could make out most of her signature in the lower right hand of the paintings, but was it Lauren Ziker, Zucker, Luker? What had become of the artist who made the art we live with every day? Was she still an artist? A practicing architect? We didn't know. Finally, John was inspired to track Lauren down through a connection to a colleague who knew her and had kept in touch. And voila! Lauren is indeed still an artist, and an architect, and she was so excited we had tracked her down.
"I have such great memories of Blackburn Architects and of John. I remember being equally disappointed that the timing didn't work out as the job would have merged my two greatest passions as a life-long horse lover / equestrian and architecture. I am still working in architecture and still enjoy painting and drawing."
https://www.laurenzuckerrichards.com/
Posted in
Equestrian News
,
News and Press
|
Tagged Architect, barn architecture, Blackburn Architects, Blackburn Architects barns, Equestrian, Equestrian Architect, equestrian architecture, Equestrian art, Equine Architect, Lauren Zucker, Lauren Zucker art, racehorse art, thoroughbred art
|
Leave a comment >
02.23.18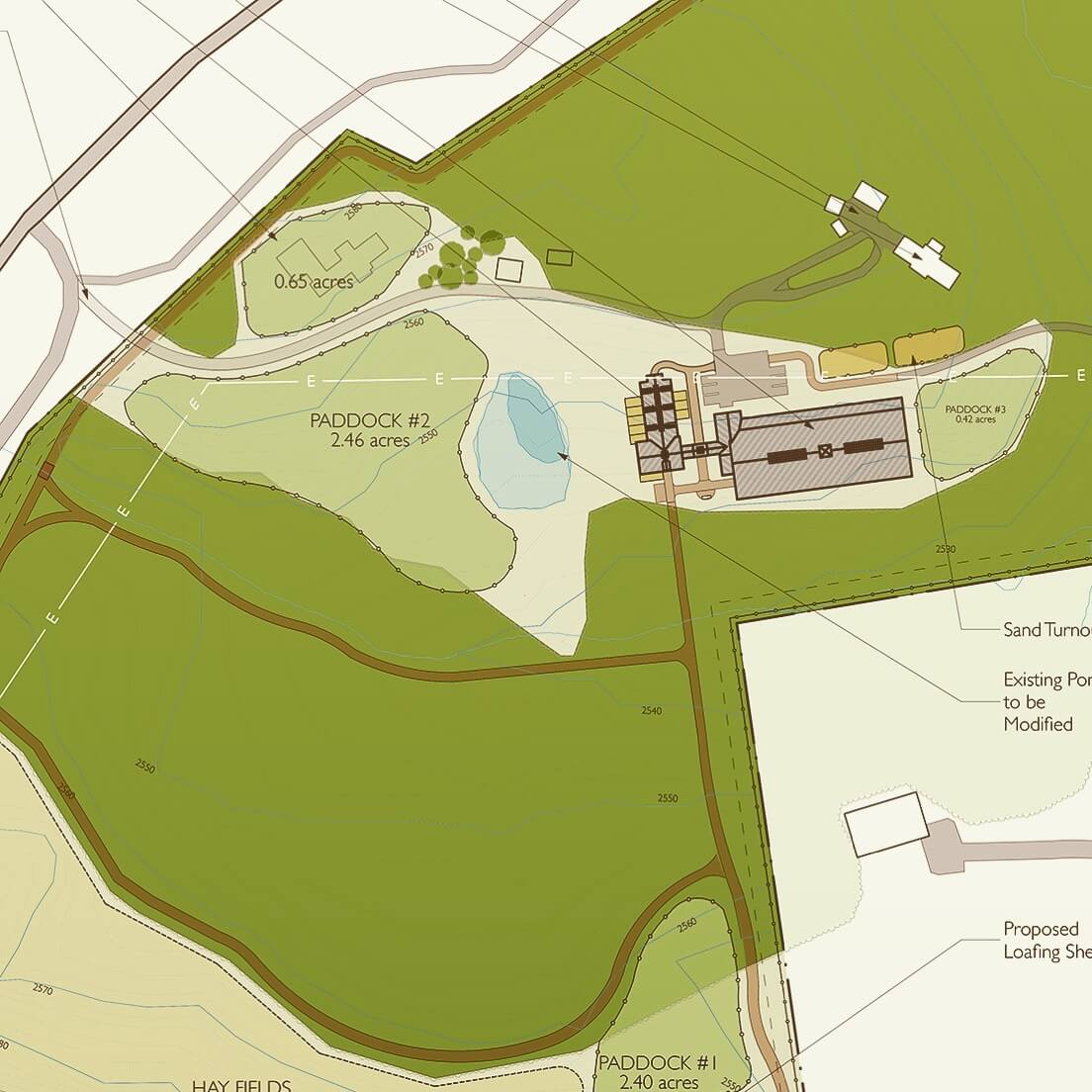 Today I got a call from a client who's buying 120 acres in North Carolina and plans to build a new equestrian center. It's been years since horses have been on the property. The pastures and paddocks are overgrown. The fences are in disrepair. The property has steeply sloped areas but the client wants a dressage ring. Drainage will be an issue. Together, we'll figure out a way forward by starting with a Site Plan to map the future; completing the owner's vision in budgeted stages over several years.
A site plan is completed by studying topography, wind and solar directions, neighborhood easements, height restrictions, zoning restrictions, soils and operational necessities (where are roads, pastures, barns, storage sheds, etc.), There are many benefits to putting together this "roadmap" for future use of the farm property. Consider that there are three major categories of costs when planning to bring horses onto your property: 1. Operational, 2. Environmental, and 3. Infrastructure. Proper planning will save you money in all three areas. Fewer roads, less fencing, better drainage all ensure that the whole farm, not just the horse barn but the entire collection of structures on the site, operates efficiently and safely.
Operational Considerations: First locate where you'll put the horses – where is your turnout? Where will you store hay, equipment, or vehicles? Do you have access for manure pickup, large-truck deliveries, guests or visitors? Minimizing the number of steps necessary for your daily routine (turnout, stall mucking, etc.) will save labor time, which of course you know is money in the farm biz. Planning will also preserve space for paddocks.
Environmental Considerations: Figure out structure placement within your acreage. It's important to properly orient any new buildings in the landscape. We design our barns to generate their own ventilation, placing them perpendicular to prevailing summer breezes. (One of many design considerations for maximizing light and ventilation, which is a subject I've written about often.) Additionally, placing structures where the land will drain easily makes good sense and will save you and your horses potentially hours of muddy misery or the cost of constantly replacing eroded footing.
Infrastructure Considerations: Fewer roads to maintain means fewer dollars spent.
Creating a master plan does not mean that every part of it needs be built at once. The plan may end up taking years to implement, but as each new structure or paddock is added, it isn't done in the usual haphazard way. It will save you from asking, "You know, I could use a tractor shed somewhere?" Even those with very limited budgets should consider getting the advice of an expert at the planning stage, given the importance of the optimum farm layout.
Bringing in a professional to carefully plan a site doesn't mean you need to commit to having a custom barn designed. Blackburn Architects' guidance can help whether you're purchasing a kit barn, designing a custom barn, or renovating existing structures. A site plan stands by itself as a service we greatly enjoy delivering to clients across the country.
Posted in
Equestrian News
,
News and Press
|
Tagged Architect, Barn, barn architecture, barn design, Blackburn Architects, Blackburn Architects barns, Blackburn greenbarns, Equestrian, Equestrian Architect, equestrian facility, Equestrian Master Planning, equine design, Horse, Horse Barns, horse farm, Horses, John Blackburn
|
Leave a comment >
10.23.17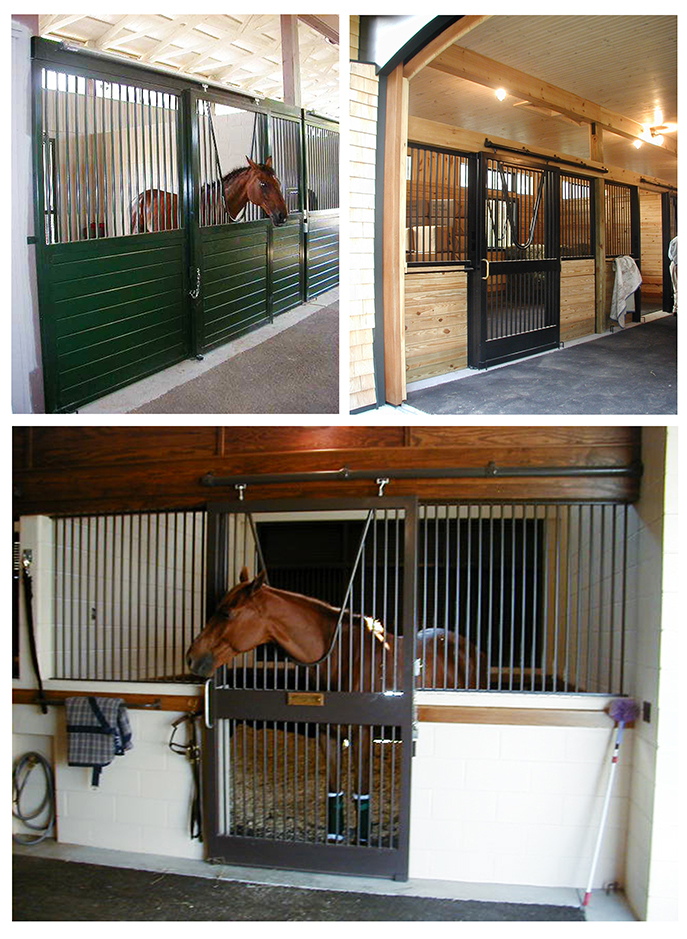 In a new, on-going series, John Blackburn will offer his insight into the major component parts of equestrian facilities. In this post, John offers his suggestions on stalls:
1. Blackburn designs stalls of all sizes, but the most common is 12'x12'. 16'x16' is often requested for larger horses, but with more space comes increased maintenance, a need for more bedding and a bigger area to clean. Larger stalls can, therefore add considerably to the cost of building a barn by:
a. Adding to the overall length and/or width of a barn.
b. Requiring roof framing to be increased from 2×10's to 2×12's or even greater.
c. Increasing the span of the framing lumber.
2. Partitions between stalls should be at least 8 feet high, but they don't have to be solid from top to bottom. Barred or mesh portions on the top enhance ventilation. This also has the benefit of allowing horses to see their companions — and provides easy observation of the horses by their owners. The down side is the increased ventilation between stalls can increase the risk of bacterial infection between horses. For the same reason, doors that are open on top increase light and ventilation. Bars must not be more than 2 to 3 inches apart, and openings should not be more than 2 inches across to prevent hoof entrapment.
3. Steel mesh or bar fronts on stalls allow an owner to look down the aisle or into the stall as they walk down the aisle and see their horses. The mesh is good for ventilation, too. The drawback is that bedding can be kicked into the aisles, so we recommend adding bedding guards. Welded steel mesh is typically stronger than bars but the horizontals tend to collect dust and can add to barn maintenance.
4. Doors should be at least 4 feet wide. This is wide enough for a wheelbarrow to enter the space or for a horse and handler to exit or enter the stall. Sliding doors are preferred over swinging doors. If you must use swinging doors, remember to install them to swing outward. You'll have a major problem if a horse goes down and the door swings to the inside. Additional safety reasons for outward swinging doors include:
a. Prevention of an unlatched door swinging open accidentally, or the wind catching it.
b. Added visibility of looking down an aisle and recognizing that a stall is open and empty. (Handlers need to leave stall doors open when the horse is turned out. This also makes it easier when bringing the horse back to the stall – you don't have to open it.)
5. We recommend rounded edges in stalls and anywhere in the barn where horses have access. A casting rail (which can be a groove in the wall or a 2-by-4-inch rail bolted low to the wall), provides something for the horse to catch his foot on when rolling to avoid getting cast.
6. Provide for easy access to the stall for feed buckets without opening and closing the door. Place in one of the front corners adjacent to the aisle.
7. Automatic waterers have the advantage of offering constant fresh water, but be sure to buy a model that is easy to keep clean. If you don't want automatic waterers, install water hydrants between every couple of stalls and provide for ample drainage for drips and overflows. Don't forget to frost-proof them in climates where pipes are apt to freeze.
Posted in
Equestrian News
,
News and Press
|
Tagged Architect, barn design, Blackburn Architects, Blackburn Architects barns, Designing horse stalls, equestrian architecture, equestrian facility, Equine, Equine Architect, equine design, farm planning, horse barn, horse barn design, Horse Barns, thoroughbred, Ventilation
|
Leave a comment >
02.13.17
Q: We're renovating our fireplace, and want to incorporate the exposed fireplace flue shown in your German bank barn renovation. Where do you get the pipe for it?
Thanks,
Barn Enthusiast
Dear Barn Enthusiast,
Congrats on your barn conversion! We love breathing new life into these wonderful structures. To answer your question about the flue we used, It's a galvanized steel flue, 12"-14" in diameter, and came in about 4 foot sections.  It should be pretty easy to find. Stainless steel is another good recommendation and look.  Galvanized is a little less expensive, but a little more rustic.
Hope that helps! Good luck with your project.
John
Posted in
Equestrian News
,
News and Press
|
Tagged Adaptive Reuse, Architect, Barn, barn architecture, barn design, Barn Fireplace, Blackburn Architects, Blackburn Architects barns, Blackburn barn conversion, Blackburn greenbarns, renovating an old barn, turning an old barn into a house
|
Leave a comment >
10.26.11
Are you familiar with Houzz? It's a virtual catalogue of residential projects from various architects and designers. My firm has been using it lately to present a few of our residential (which includes renovated guest and "party barns") projects. Non-designers can browse various projects, using a keyword search (think: modern, traditional, eclectic, etc.) or by the firm itself, and compile favorite photographs into what the site calls an Idea Book. I know that all of my clients benefit from photographs of projects to help illustrate or visualize their ideas or design aesthetic and I really like how this site is a one-stop-shop to do just that. I hope you'll check out the site and let me know what you think — and of course, I hope you'll add a few photos from the Blackburn portfolio to your very own Idea Book!
12.08.10
We just received a copy of Chris van Uffelen's new book called Re-Use Architecture from the German publishing house, Braun. This substantial book highlights adaptive reuse projects throughout the world: Blackburn's New River Bank Barn project is part of the stunning collection.
As van Uffelen asserts, building conversion is more relevant than ever as recycled and eco-friendly solutions are becoming the norm. It's a gratifying challenge for me to "save" an old barn or convert a worn out structure into something different while paying respect to its former use. I can't help but appreciate a book that makes showing off these type of projects a mission.
We've been fortunate to have received attention for the New River Bank Barn, which was a memorable and exciting project for our firm. I still can't help but feel proud when I look at the "before" photo of the 1800s bank barn, which was in severe disrepair. Most of the structure was preserved, but re-clad in SIPs panels to provide insulation and structural support. The SIPs panels are sandwiched between the original barn walls and a new board-and-batten exterior. The northeast-facing wall of the original structure was removed entirely and glazed, opening the interior to expansive (and very private) views of the property to the Potomac River. Steel columns were added and wrapped in indigenous fieldstone to support the new glass wall, which was designed with mullions that align with the original frame columns and purlins so that the framework fits aesthetically with the original structure.
Our work could only be done thanks to the owner's foresight to envision a new future for the old structure. I couldn't be more pleased to have been given the opportunity to "save" the bank barn, which now hosts gatherings and parties for the owner's friends and family. Re-Use Architecture is available at Amazon and major book retailers.