barn architecture
04.22.20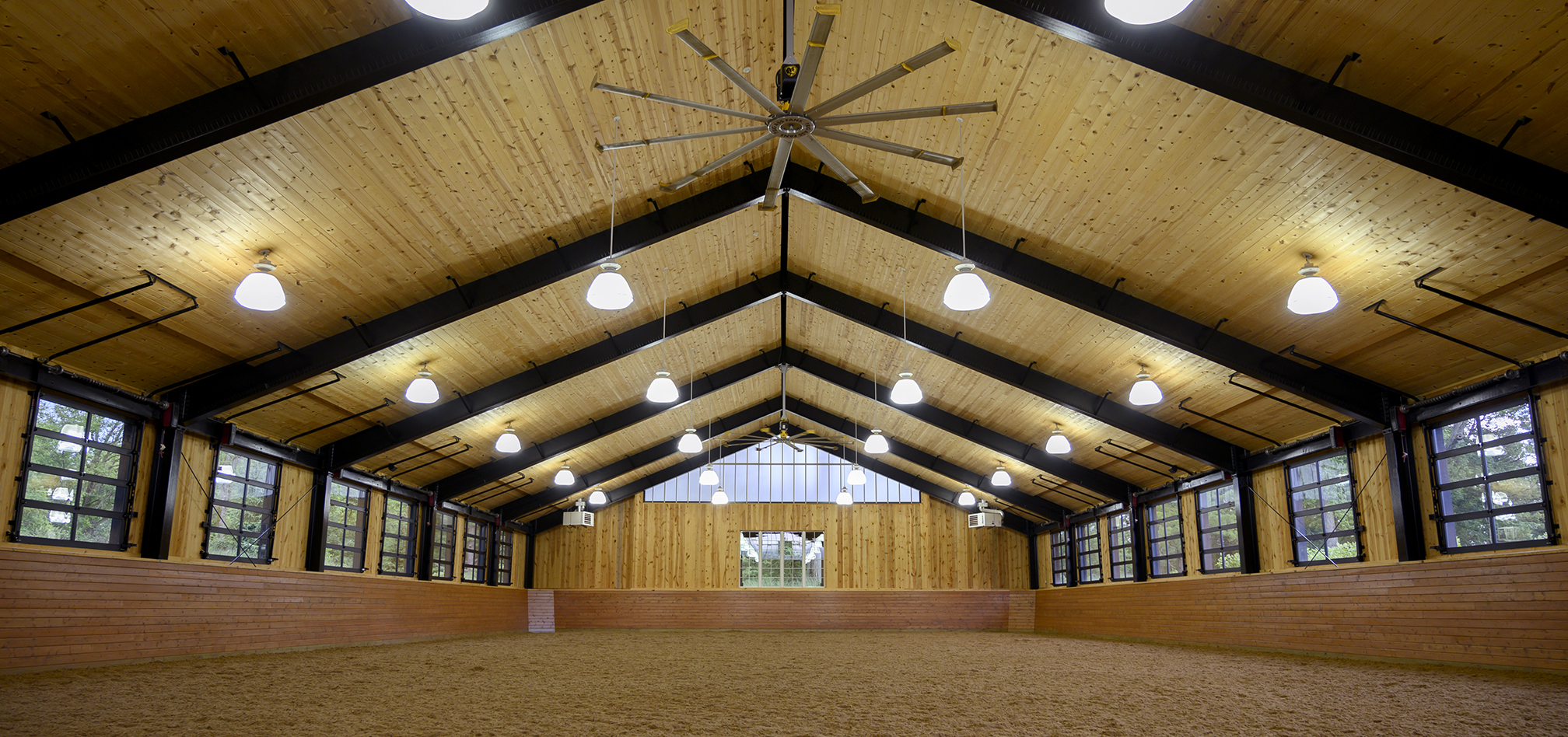 Curious about recommended roof pitches in a riding arena? Senior architects John Blackburn and Ian Kelly advise that "a 4:12 pitch is pretty much our recommended minimum on any horse structure.  We prefer steeper roofs for a natural chimney effect. However, unless you live in a cold climate where there is a lot of snow, we wouldn't advise going taller than 6:12."
The numbers indicating a 4:12 roof pitch mean the roof rises 4 inches in height for every 12 inches, as measured horizontally from the edge of the roof to the centerline.
Okay, so for barns our rule of thumb is as steep as you can make it. The steeper roof allows the Bernoulli principle and chimney effect to work more efficiently and effectively. But there are other considerations in designing the slope of a barn or arena roof.
For arenas, steeper the roof = the taller the building. This impacts the look or mass of the arena on the property which can be negative. It can stick out like a sore thumb or look like an airplane hangar in your backyard.
Because we depend less on natural ventilation in indoor arenas than in barns, we can get away with lower slope roofs. However, we don't recommend lower than 4:12 if at all possible. We realize some HOAs and neighborhoods have severe height restrictions and the wider the arena, the more difficult it is to comply without "flattening" the roof.  At Winter Farm in Peoa, Utah, we designed a low roof to stay within an imposed limit. In some areas, arenas may be considered agricultural buildings and therefore exempt from height limits. But that rule isn't consistent across state lines or jurisdictions. For example, in one jurisdiction we were permitted a covered arena as a "sun shelter" and avoided building height limitations entirely.
Because arena walls at the perimeter are usually 16' tall (need head clearance for horse and rider on interior below the structural frame), when the roof is a low slope, the roof becomes less visible as you get closer to the building and the building can look like a huge box.
You can make a huge box look great but that may require a lot more money and you typically want the arena to be in the background. The barn and the farm are the main focus and not that big ugly box on your farm.
One way we reduce the impact of the arena size is by pushing it into grade where we can, using the land contours and landscaping where possible, and placing it behind the barn and other structures to reduce the scale of the building.
Probably the best average height for a barn is 6:12 to 7:12. The reason is it is more difficult for a roofer to walk on a steeper roof without some sort of support. Thus the installation time increases dramatically as will the cost if it is built with a steeper roof.
One of the down sides for low slope roofs in snow climates is snow loading. A steeper slope can be designed to shed snow pack better than a low slope but the downside for that is the avalanche effect. When it melts it can fall fast, be loud and block doorways… a subject for another blog post!
Posted in
Equestrian News
,
News and Press
|
Tagged Architecture, Arena, Barn, barn architect, barn architecture, barn design, Barns, Blackburn Architects, Blackburn Architects barns, Design, design riding arena, Equestrian, Equestrian Architect, horse barn, Horses, riding arena, riding arena roof slope
|
Leave a comment >
10.15.19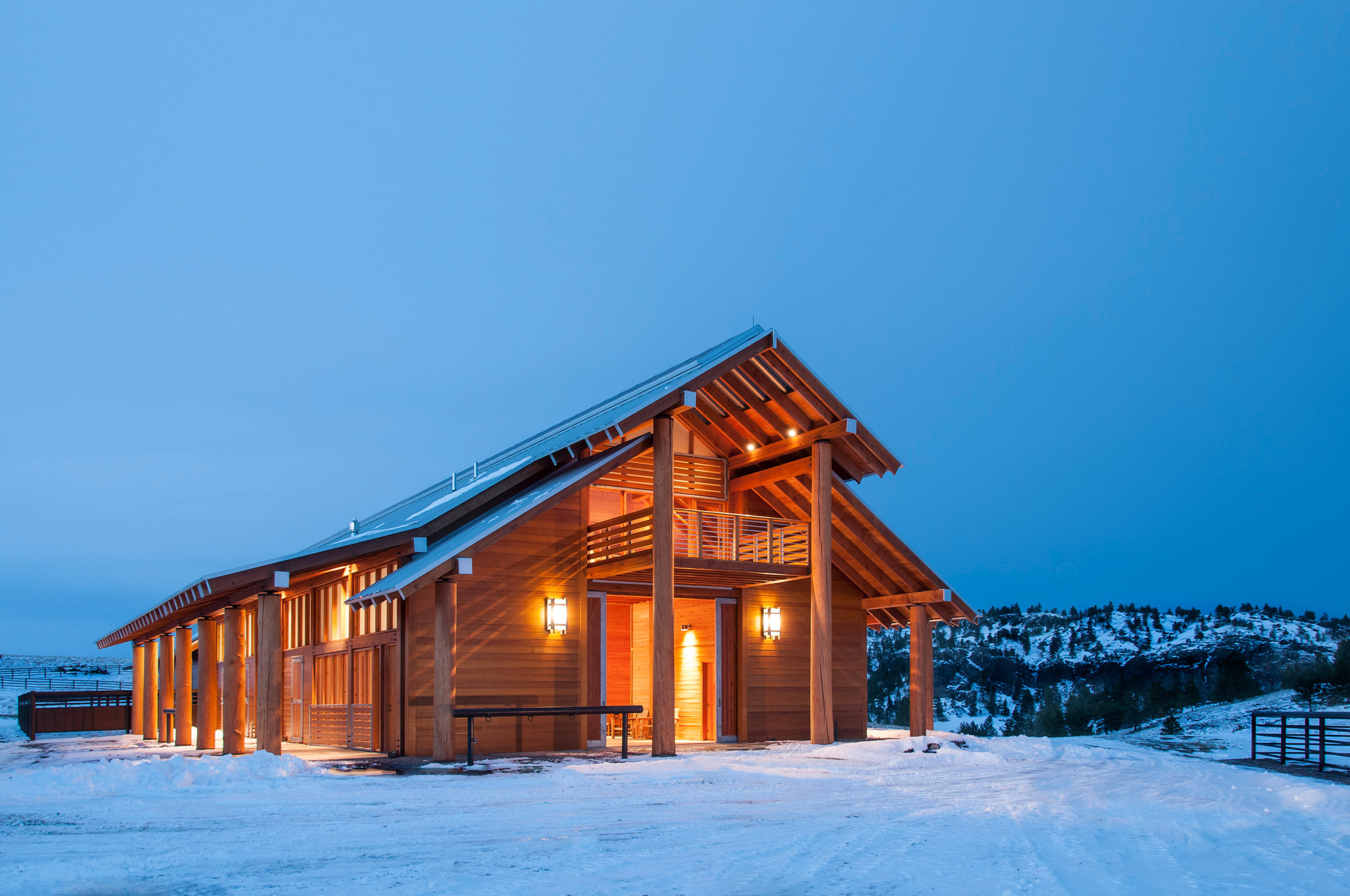 Q: I'm in the process of planning a barn in Missouri, and finances require an economical metal post-and-frame structure. I've studied Blackburn's ventilation and lighting philosophies and will incorporate them as best I can.
My question is about orienting the barn. I plan to have a center aisle, with exterior Dutch doors in every stall. Each 12'x12' stall will have an exit to the main 12' aisle as well as to an outside run-in. The stalls will be used primarily during more extreme weather or when I need to confine a horse due to injury or illness, otherwise the horses will be outside. Overhangs on both sides of the barn will function as run-in shelters for the paddocks.
I know from your writings that the ideal orientation is perpendicular to the prevailing summer breeze. However, because Missouri's cold winter winds are from the same direction, the horses on that side of the barn won't have wind protection when in the run-in areas. I know that's less of a problem for owners who keep their horses in stalls most of the time, so I've not been able to find an answer to this question. I will obviously allow them access to the stalls during the bitter cold weather we get, but for most of the winter all they need is some windbreak. How do I optimize winter protection without compromising ventilation?
Thanks,
Worried about Winter
++++++++++++
A: Orientation is certainly very important when siting your barn. But because wind is always changing and its direction and velocity can be affected by terrain, other structures, and vegetation, the angle is not a hard and fast rule.  It's good to try and locate the barn perpendicular to the prevailing summer breeze but that also depends on the design of your barn.  If you have lived on the farm a few years you may know the particular wind patterns for your property.
The design of the barn is as critical – if not more so – than the orientation.  How and where you permit air to enter the barn (preferably along the low wall along the long side of the barn and at the eaves where the roof joins the side walls), and where it is allowed to exhaust are critical.  In some areas, it may be necessary to provide some form of close-able dampers on the low wall vents to control the wind and temperature that can impact a horse that is in the stall but doesn't have the flexibility to get away from it.
The environment within the barn should be within 8 to 10 degrees of the temperature on the outside.  Your barn should ventilate vertically to reduce the horizontal movement of bacterial- and moisture-laden air.
We always say the best environment for the horse is outdoors where it can make its own choices about its environment and health. A naturally-kept horse should be able to get out of the hot sun and find shade or get out of a cold wind in a shelter or behind a wind block.
By turning your horses out most of the time you are certainly on the right track for happy, healthy animals.
Missouri's winter weather isn't so extreme that it prevents you from a center aisle barn with stalls on both sides.  Orient your barn so that turnouts are on the windward side of the barn and leave the Dutch doors open so your horses can get inside away from the wind.  For the turnouts on the cold windward side of the barn, blanket the horses.  And keep their winter coats unclipped.
Since you've read "Healthy Stables by Design," you know that Blackburn designs typically use the chimney effect and the Bernoulli principle to create natural ventilation. Our barns become passively designed machines that work to provide healthy conditions for the horses inside.
Good luck with your new barn!
Posted in
Equestrian News
,
News and Press
|
Tagged Architect, barn architecture, barn design, barn in winter, Barns, Blog post, custom horse barn, Design a Horse Barn, Equestrian Architect, equestrian architecture, equestrian design, equestrian facility, Equine, Equine Architect, equine design, farm planning, healthy barn, healthy horse barn, healthy horse barns, healthy horses, Horse, horse barn, horse barn design, Horse Barns, horse farm, horse racing, horse stables, Horses, importance of ventilation in horse stalls, John Blackburn, Stables, Sustainable, thoroughbred, Ventilation, Virginia, Winter barn
|
Leave a comment >
07.25.19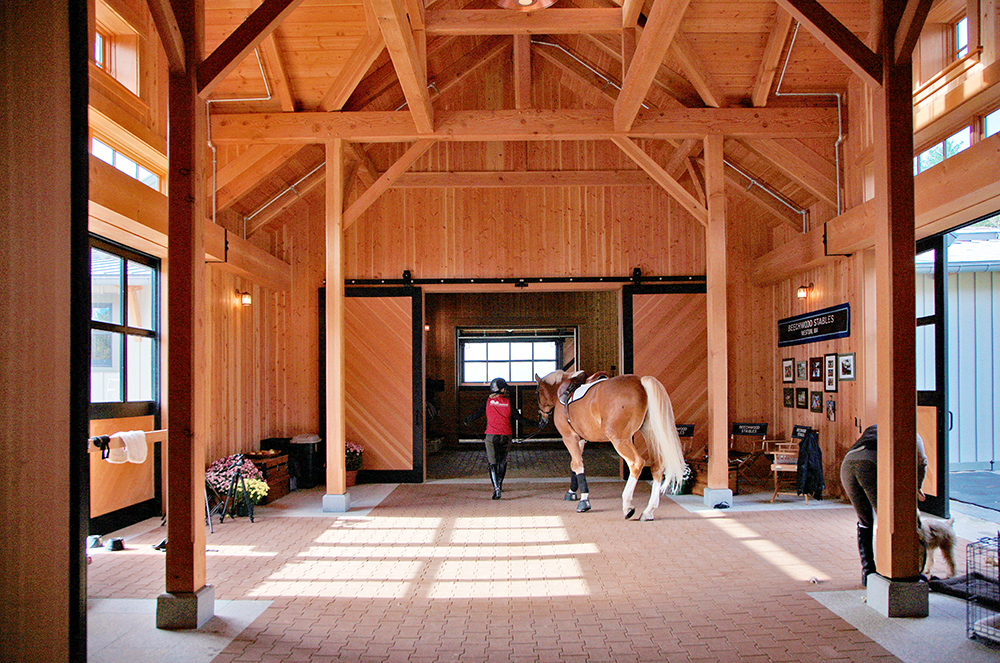 How can you can be proactive in the design of your farm and your barn to protect your horse from the threat of barn fires? What can you do to minimize the damage and loss of buildings and most importantly your horse and human life?
Prevent, Contain, Suppress
Prevention is your best protection and your first line of defense. There are any number of reasons why barn fires occur. Many are outside your control but there are steps you can take to prevent a fire from getting started. Never overlook important management practices – organize, clean and prepare.
1) Keep a clean barn/farm (dust, cobwebs, bird nests, debris).
2) Keep aisle ways clear.
3) Keep your barn neatly organized.
4) Develop a fire safety plan and practice it.
5) And, of course, NO SMOKING!
PREVENTION
Site planning is a critical component of farm fire prevention.
We recommend a separation of buildings and hazardous functions/materials from the barn.
Generally, we use a rule of thumb of 30' to 50' and sometimes 100' depending on the terrain, building codes and building materials used. Hay / bedding, equipment and other flammable materials should be stored separately from the barn and isolated if possible within masonry fire resistant structures.
Manure storage is a critical concern and can be a flammable substance if not stored properly. It should be isolated separately.
Egress from the barn for people and horses. In case of a barn fire, the barn should open into a contained area so horses can be let loose quickly yet contained. We recommend locating at least one good size paddock near the barn that can receive a number of horses at one time. If possible, provide perimeter fencing around your farm to contain horses that may get loose and out on a roadway. Consider access to the farm and buildings for the fire trucks (we recommend a 12' to 14' access road minimum) with adequate support and clearance for the trucks and other emergency vehicles. Provide adequate clearance under trees, power lines and over farm bridges. Make sure you have adequate turn-around space for the emergency vehicles.
A suitable water source is critical. Provide either an on-site storage ponds, water tanks (above or below ground) and your water supply. If it's from a well or municipal source consider the GPM flow, water pressure. You may also want to have a generator on the farm that can serve pumps if the power service should fail. And remember, fighting a fire will produce a great deal of water and that will turn into mud. So consider surface drainage for added safety around the barn.
Building layout is critical for preventing barn fires. Blackburn always designs wide center aisles. Keep them free of clutter. A shed row provides a safer layout for escaping a burning barn but they are not suitable in all locations.
Design your barn with no dead end aisles. Provide at least two exits for people and horses. We recommend openings of 1½ to 2½ the width of your horse (from stall and barn).
Consider the swing of doors – the direction of swing as well as latches used. We recommend sliding doors in the main aisle and hinged doors from stall to turnout stalls connected to the barn. The pin latch is far safer than the typical throw bolt latch. The pen latch is simpler in design (fewer moving parts and no springs and much faster to release.
The designers at Blackburn Architects make disaster prevention a priority through careful site planning and building design following THREE BASIC DESIGN PRINCIPLES:
1. BUILDING SYSTEMS/MATERIALS/FINISHES
The building materials and finishes are as critical as the barn layout. You should check your local building codes. (A good reference is the NFPA 150, 2019 edition). Though barns in many jurisdictions may be considered agricultural structures and not required to comply to building codes, we recommend you consult the NFPA code and adhere to it where possible.
There are four types of framing materials used in construction of equestrian facilities: light wood, timber, steel, masonry.
Light wood is the most common and lowest cost, but has the lowest resistance to fire. Timber frame is much safer. It will stand longer without collapse than light wood frame. Steel frame is flame resistant and can provide excellent protection. However, it is commonly used with light wood framing and other flammable finish materials that reduce its effectiveness in preventing or protecting from fire.
Electrical systems must be dust proof, rodent proof. Protect all light fixtures with cage or shatterproof lens. Remove or repair any frayed or damaged wiring. Do not use residential extension cords and do not overload circuits. Do not use household box fans. Heating systems within the barn should be kept to a minimum. Remember the barn is for horses, not humans.
Do not use portable space heaters and in warm rooms provide for installation of permanent heating equipment.
Lightning protection is another area of concern. Lightning rods are relatively inexpensive and should be installed on all barns if not all farm structures. Provide proper grounding devices and protection for all electrical equipment. You can install a warning system or rely on your phone weather app to alert you when lightning is near.
2. COMPARTMENTALIZATION
The second design principal is containment or compartmentalization. Compartmentalization uses firewalls and fire separations to contain the spread of fire and smoke. Insist that your builder close up all openings around beams, ducts, etc. Also, close up or limit attic or horizontal spaces thru use of fire curtains within those areas.
Your barn should insure proper ventilation for the health of your horse but you should be able to limit ventilation where necessary. The standard ventilation guideline is 1 sf per 100 sf of floor area in barn area or 1 sf for every 30 to 50 sf floor area in hay/bedding area.
Another design consideration to consider is to break up barns into smaller structures. A 24- stall barn is most efficient for a horse operation, but if possible it's better to create smaller barns or provide fire and smoke separations within the barn layout. This level of planning will provide a better level of protection thru isolation.
3. SUPPRESSION/DETECTION
The third design principal is suppression / detection. Early warning devices can be very effective, but they can be difficult in barn environments due to the dust and moisture. Always provide fire extinguishers throughout the barn and make sure they are inspected annually, they are the right type (A, B or C and we recommend having all three).
We also recommend including three types of detector devices; smoke, heat and flame. Each may be appropriate depending on the barn environment. For example, smoke detectors can be set off by dust and moisture. In those areas, you may want to consider another type, such as the laser light beam. Blackburn has used laser light beams in select areas, but they need to include some sort of delay mechanism so birds and other elements that can break the beam do not trigger an alarm. Consult with a fire detector manufacturer for the proper type and installation.
A smoke detector is your best line of defense, but a fire sprinkler is the best method you can install in your barn to suppress a fire. They come as either a dry or wet pipe system. The dry system is most common in barns that are subject to freezing temperatures. A wet pipe system is usually a lower cost but has limited use in unheated barns in sub-freezing areas.
Something to consider in a barn that may have nice finishes that could be subject to damage if the sprinkler system were set off by accident is the pre-action system. The Pre-action system is one that employs an automatic warning system that activates before the sprinkler system activates to protect from accidental discharge and protects damage to interior finishes
Finally, we strongly recommend that you consult with your local fire department regarding your fire protection plan and get your design approved.
Posted in
Equestrian News
,
News and Press
,
Sustainable Design
|
Tagged barn architect, barn architecture, barn fire, barn fire safety, custom horse barn, design horse barn, healthy horse barns, healthy horses, healthy stables, horse barn, horse barn design, sustainability in horse barns, sustainable barn
|
Leave a comment >
06.24.19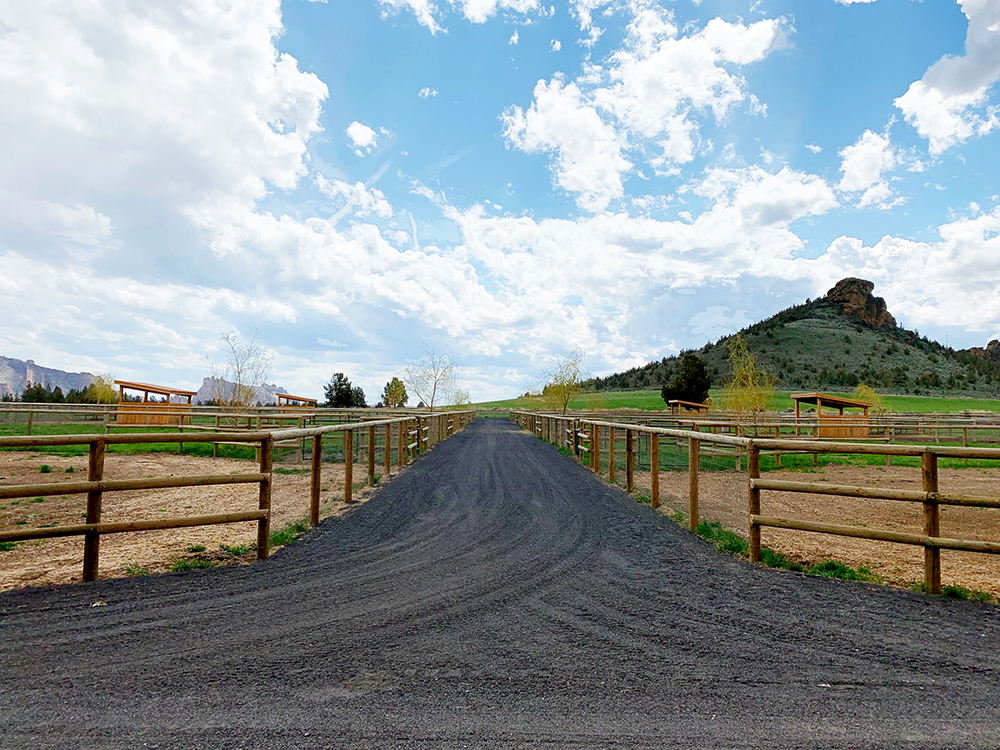 Let's talk about dry lots. Essential on nearly every equine facility, dry lots vary widely in size, location and construction.
By nature, of course, horses are herd animals evolved to roam and graze on sparse prairies.  We've introduced a complete change to the evolutionary process – incorporating diets of grain and lush pastures. The resultant problems are many, but our solution is simple. Limit the horses' activities or diet as you give them access to open air and light.  
Blackburn recommends dry lots on most, if not all, of the farms we design. Sadly, too many farms have unintentional dry lots because of inadequate pasture management.
Why create a healthy dry lot?
1. Control the horse's diet.
2. Preserve paddocks thru rotation.
3. Control moisture and its effect on hooves.
Here are nine things to consider:
Location: Choose a place close to the barn for ease of access.  Provide adequate sized gates for horses but also an occasional vehicle.  Select a relatively flat location but one that drains well and isn't too isolated so horses can socialize but generally remain separated.  
Materials: The footing should be firm but not hard packed.  It must be designed to drain well to allow moisture to either drain thru or away without causing erosion. Sandy soil is preferable but some sort of gravel that is easy on the feet or, even better, an engineered footing similar to your arena should work perfectly. 
Size:  The size can vary, but if you are creating the dry lot to limit the horses' movement for health reasons, you may want it to be smaller than larger.  We recommend multiple dry lots of varying sizes to accommodate many uses.
Fencing:  It goes without saying that your fencing needs to be sturdy. See Activities below.
Shelters: Some form of shade shelter for fly & weather protection is preferred – by humans, but horses may never darken the interior.
Feeding: Various forms of slow feeders, salt blocks, etc. can be used.  If you are restricting the horse's diet, we recommend consulting with your vet about setting up a feeding regimen that can be incorporated into your use of the dry lot.
Activities:  Spreading hay rations around the lot encourages movement; toys for activity or human interaction can be very helpful.  We always recommend consulting with your veterinarian because no two horses are the same. You and your vet know what's best for your horse.
Socialization:  Locating the dry lot close to other horses reduces stress and is more emotionally relaxing.
Footing: The dry lot surface should provide a safe and comfortable footing for horses but it must also drain well.  Therefore, we recommend that the upper surface/footing be 4 to 6 inches of footing material (stone dust, sand, engineered footing material as described above a drainage layer) or possibly 8 to 12 inches of pea gravel, allowing the foot to sink in without undue pressure on sensitive areas.  The drainage layer can be 1/2 inch to 1 inch stones. You can add an interlocking grid within this layer to provide additional stability of the base layer and improve drainage.
Posted in
Equestrian News
,
News and Press
|
Tagged Architect, Architecture, Barn, barn architecture, barn design, blackburn, Blackburn Architects New Horse Barn, equestrian design, horse barn, horse barn design, Horse Barns, horse farm, horse racing, horse stables, Horses, John Blackburn, Stables, Sustainable, thoroughbred, Ventilation
|
Leave a comment >
01.17.19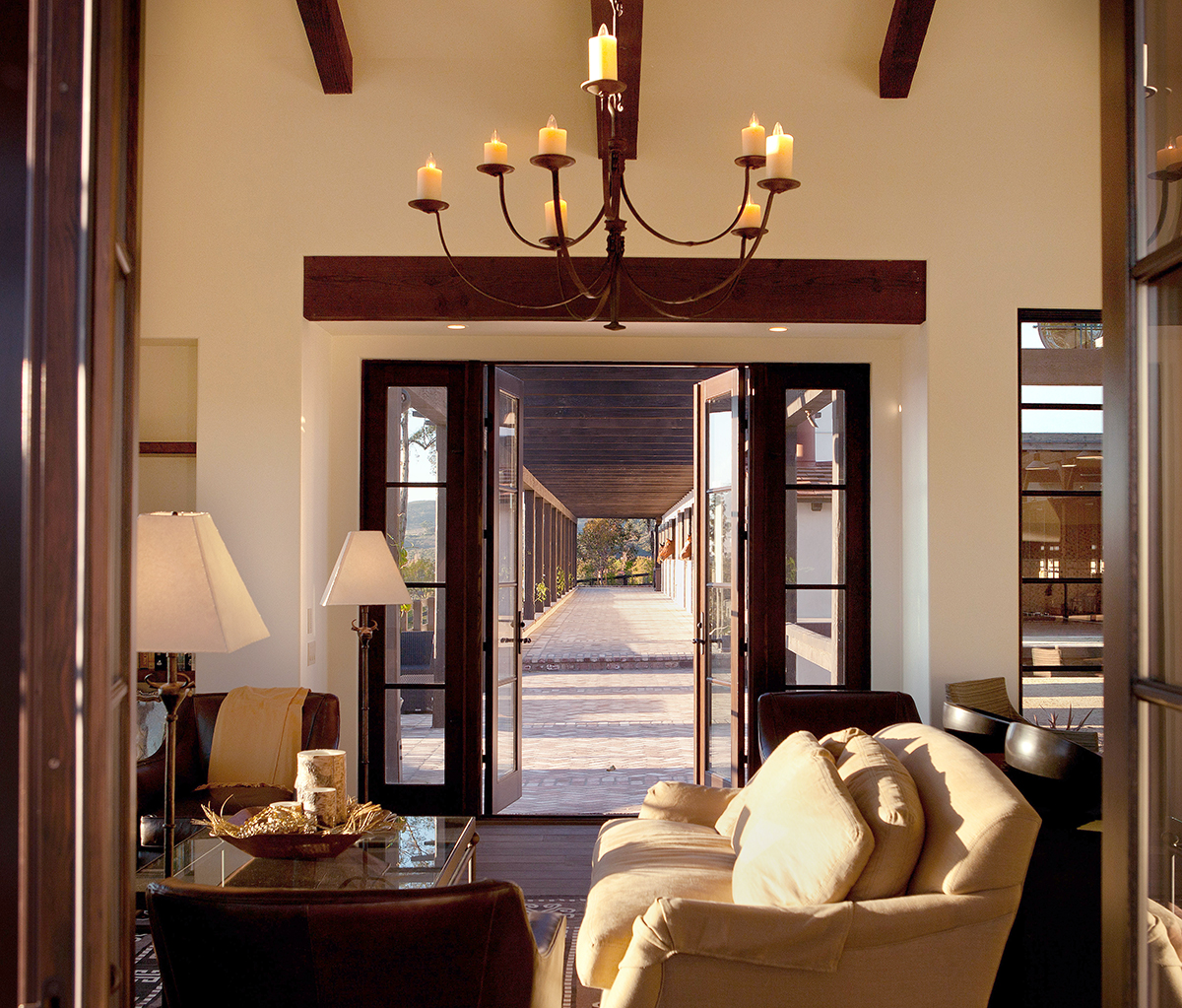 Blackburn Architects typically advises clients against including living quarters in a barn. When we add them, we provide extra safety measures.
An apartment or condo in the barn isn't the same thing as short-term accommodations. We'll often design a "warm room" into our barns so clients can stay close in case there's a sick horse or for foaling.  Even though technology provides some good methods to provide warning or protection (alarms, cameras, etc.) there are times when you just need to be close to respond quickly.
Permanent living quarters, however, can be problematic:
1. If the residential component is too large, then the change of scale can overshadow the scale of the barn and you end up with a "tail wagging the dog" situation. Aesthetically the design looks awkward.
2. If the residence will house a family, you run the risk of injury to children, pets, or visitors and there's an increased risk of fire caused by household activities.
3. If the apartment or condo is for the owner it's easier to control but if it's for a groom or an income rental it's important to be prepared that lifestyle choices may clash with your own.  For example, the tenant may be entertaining guests who may be unaware of the impact of their activities on the horses.
Because a barn usually has a lower cost per square foot (to design and build) than a residence, you may be able to save money by separating the two different uses and avoid building in the necessary fire and smoke separations.  For example, the barn could be a simple pole barn and the residence constructed to a higher standard. 
Another option is to build the apartment or residence as part of a service /storage structure or another farm building.  Two examples of Blackburn Architects' projects where we did this are Great Roads Farm in New Jersey and Kindle Hill Farm in Pennsylvania.
To conclude, without building in substantial fire/smoke separations when adding an apartment in the barn you increase your risk of disaster.  Building codes in most areas require you to include a two-hour separation.  It's essential that you check these regulations before planning an apartment in your barn.
Furthermore, an apartment in a barn or connected to it can impact the farm by forcing a larger footprint for the barn, and this can impact service roads, lead paths to paddocks, land grading, etc.  If the apt is added to the second "loft" floor unless it is designed properly it could negatively impact the introduction of natural light and ventilation (see Bernoulli principle and chimney effect).
Posted in
Equestrian News
,
News and Press
|
Tagged Architecture, barn architecture, barn design, Barn home, blackburn, Blackburn Architects, Blackburn Architects barn design, Blackburn Architects barns, Blackburn greenbarns, equestrian design, Horse, horse barn design, Horse Barns, horse stables, Horses, living in a horse barn, Stables
|
Leave a comment >
01.09.19
Over the years, Blackburn has been asked what we think of adding stalls along the side of an indoor arena. Sounds like a good idea, right? Well, we strongly recommend against it. The problems are many.
1. Air Quality. Forced to breathe arena dust many hours of the day, stalled horses live in an environment that isn't healthy. We recommend instead that the stall portion of the stables be connected in a separate but attached structure running perpendicular to the barn. Not only does this arrangement help isolate the arena dust from the barn, it allows the barn to sit independently. The structure can then catch the prevailing breeze which permits two scientific principles (Bernoulli principle and the chimney effect) to provide natural ventilation and light to the barn.
2. Fire Safety. We always recommend fire separations by providing sliding doors to isolate the barn from the arena in case of fire. These doors may or may not be rated fire separations. The decision is usually driven by cost, and we often provide an automatic rolling fire rated shutter to isolate the two separate areas – this at least reduces the risk of smoke moving between structures. (Quite often it's the smoke that is more dangerous and faster moving than the actual fire.) The isolation by sliding doors also provides critical time to get horses out of barn. If the arena and barn share the same space, there is less opportunity to isolate fire or smoke from the stable area. Furthermore, when the stables are parallel and part of the arena, the structure is generally shared – raising the risk it could collapse and trap horses inside.
3. Cost, Scale and Building Height. When stalls are designed as part of an indoor arena, the design requires a wider structure (often steel due to the long spans) which is typically more expensive. When it's a separate but attached structure, it can be framed in wood with smaller spans reducing the cost of the framing. If the stalls are part of the indoor arena, then the building becomes wider which also means a corresponding height increase. In many areas, the local zoning codes restrict building heights. We have found typical restrictions of 35 feet. It's difficult to get any height in the barn or arena if you are trying to build a 100 x 200 ft arena with a row of stalls and aisle way. Also, from an aesthetic perspective, wider and taller building begin to get enormous and have the potential to look like an airplane hangar and overshadow the entire farm.
4. Storm Water Issues. Finally, if your property is not flat, such a structure with a large footprint may require significant grading that can be expensive and create storm water issues. By breaking the barn and arena into two connected structures you can more easily work it into the natural slope of the land. Also, the isolation of the barn and arena permits opportunities to push the arena into the ground – helping to reduce the scale and height of the arena above finish grade. The entry to an observation area can be elevated above the arena floor (but entry level still at grade) for more easily viewing over the kick wall from a sitting position.
Blackburn has designed many arenas with this perpendicular arrangement. Rocana Farm, designed by us in 2002, is a great example of what we mean. Stalls at this hunter/jumper facility are attached to the enclosed arena with an elevated observation room, tack room, wash and grooming stalls.
Posted in
Equestrian News
,
News and Press
|
Tagged Barn, barn architecture, barn design, Barns, blackburn, Blackburn Architects, Blackburn Architects barn design, Blackburn Architects barns, Design, Equestrian, Equestrian Architect, equestrian architecture, equestrian design, equestrian facility, Equine, Equine Architect, Horse, horse barn, Horse Barn Advice, horse barn design, Horse Barns, horse farm, horse racing, John Blackburn, Sustainable, Ventilation
|
Leave a comment >
12.04.18
A client recently asked one of our architects for recommendations on adding heaters in the barn.
When an owner requests forced air electric heating system in the stalls, we advise against it for several reasons:
1) Forced hot air rises and heat stays at the ceiling level, adding unnecessarily to the cost of operating the barn. Blackburn barns are designed to allow air to escape thru the roof vents, so at a minimum sending heat skywards doesn't make financial sense.
2) Forced air systems move airborne particles around the space and, given the size of the barn and the heat loss expected thru the roof vents, heaters must pump a lot of air at a high velocity to provide sufficient heat to keep the barn to a temperature that might be considered sufficient (which varies with personal preference).
3) Forced air heaters are unhealthy for horses because they spread dust, mold and disease throughout the stable area. Horses give off a tremendous amount of moisture, especially in winter, and that moisture contains bacteria and other viral matter that can be harmful to their sensitive respiratory systems and spread to other horses. If a barn is closed up too tightly (the barn needs to breathe in all temperatures) the barn can become too warm and increase the opportunity to breed bacteria that would normally be ventilated out of the barn. There may be some exceptions for older and ailing horses but a tightly-closed, heated barn is often more harmful than helpful. We recommend discussing with your vet exceptional conditions that may be needed for young, aging or infirm horses.
Strategically placed infrared heaters can be a good choice to keep the chill at bay in human-occupied areas.
Infrared is another term for radiant heat. For example, a stove, fireplace, oven or even our own sun emit infrared (radiant) heat energy. That energy converts to heat, warming the surrounding air.
In a barn, infrared heaters are specially made to produce safe, comfortable radiant heat. When asked by a client, we specify that heaters are directed downward from the ceiling toward a target area below. In an equestrian facility, infrared heaters can be directed toward wash stalls and/or and grooming areas, or down a common walkway, between horse stalls or even in riding arenas.
Blackburn Architects uses two scientific principles to ventilate horse barns – the Bernoulli Principle and the Chimney Effect – vertically removing harmful bacteria and ammonia gases that can cause disease and odors. Providing heat for the horse by forced air does little if anything to help the horse except create harmful, unhealthy conditions.
When requested by a client, we can specify heated floors. Infrared tube heaters emit soft, comfortable radiant heat energy without creating drafts. Infrared heats the ground. Warm floors = warm bodies & feet.
As we all know, horses can naturally withstand colder temperatures better than hot temperatures. If permitted to keep their winter coat and remain dry, horses can withstand even very low temperatures. For colder temperatures, we recommend keeping cold drafts off the horses by closing Dutch doors at stalls (add weather stripping to the doors if needed) and closed aisle doors. In other words, if a horse can stay dry and get out of a steady breeze or draft they have a much better chance to maintain their own health.
Posted in
News and Press
|
Tagged Adding heaters to a horse barn, barn architecture, barn recommendations, Blackburn Architects Horse Barn, designing a horse barn, Equestrian Architect, equestrian architecture, forced air heat in barn, forced air heat in horse barn, Heat in a horse barn, Heaters in a horse barn, horse barn architecture, Infrared heat in a barn, radiant heat in a barn, radiant heat in a horse barn, stable architect, thoughts on planning a horse barn
|
Leave a comment >
06.05.18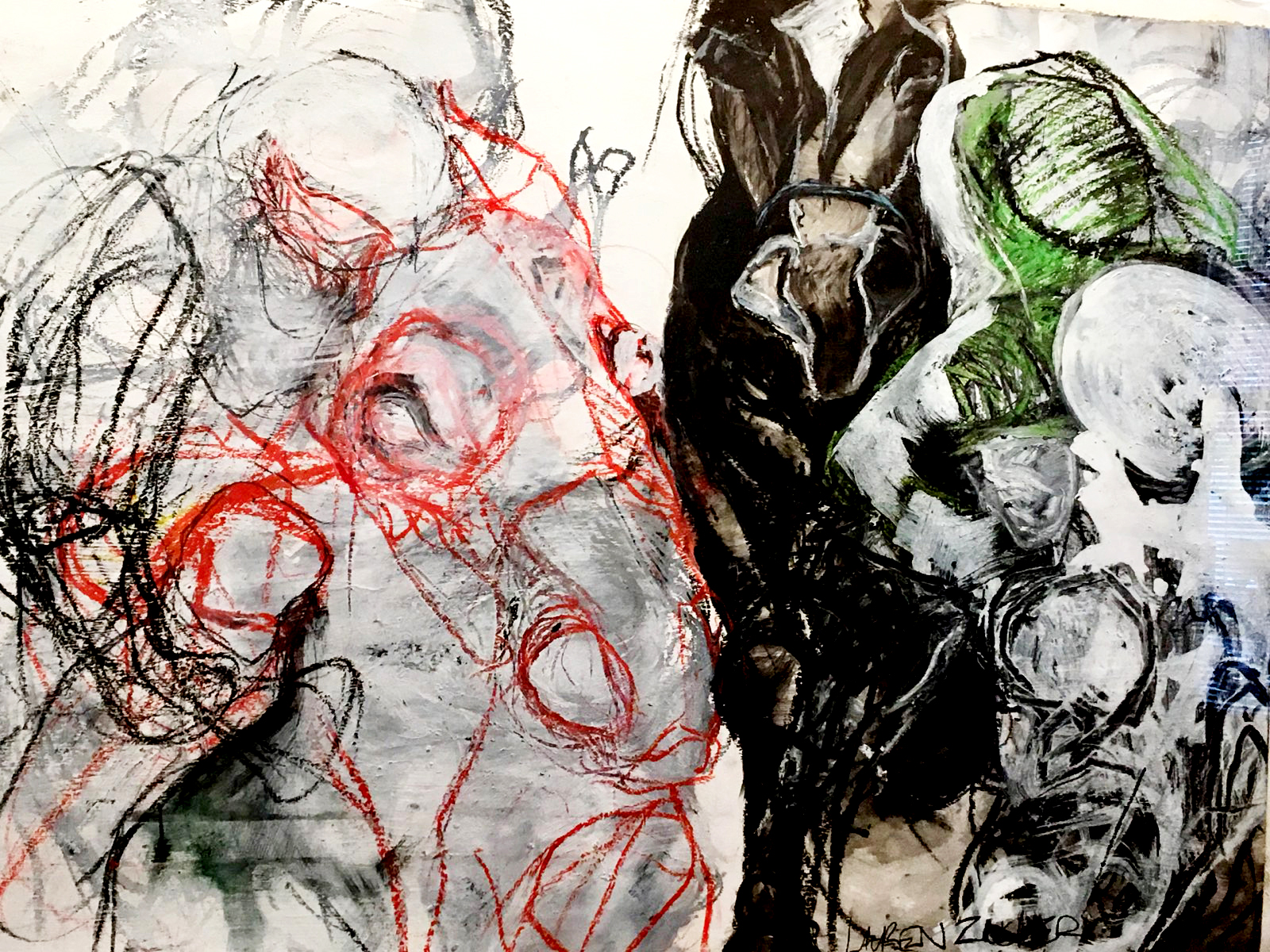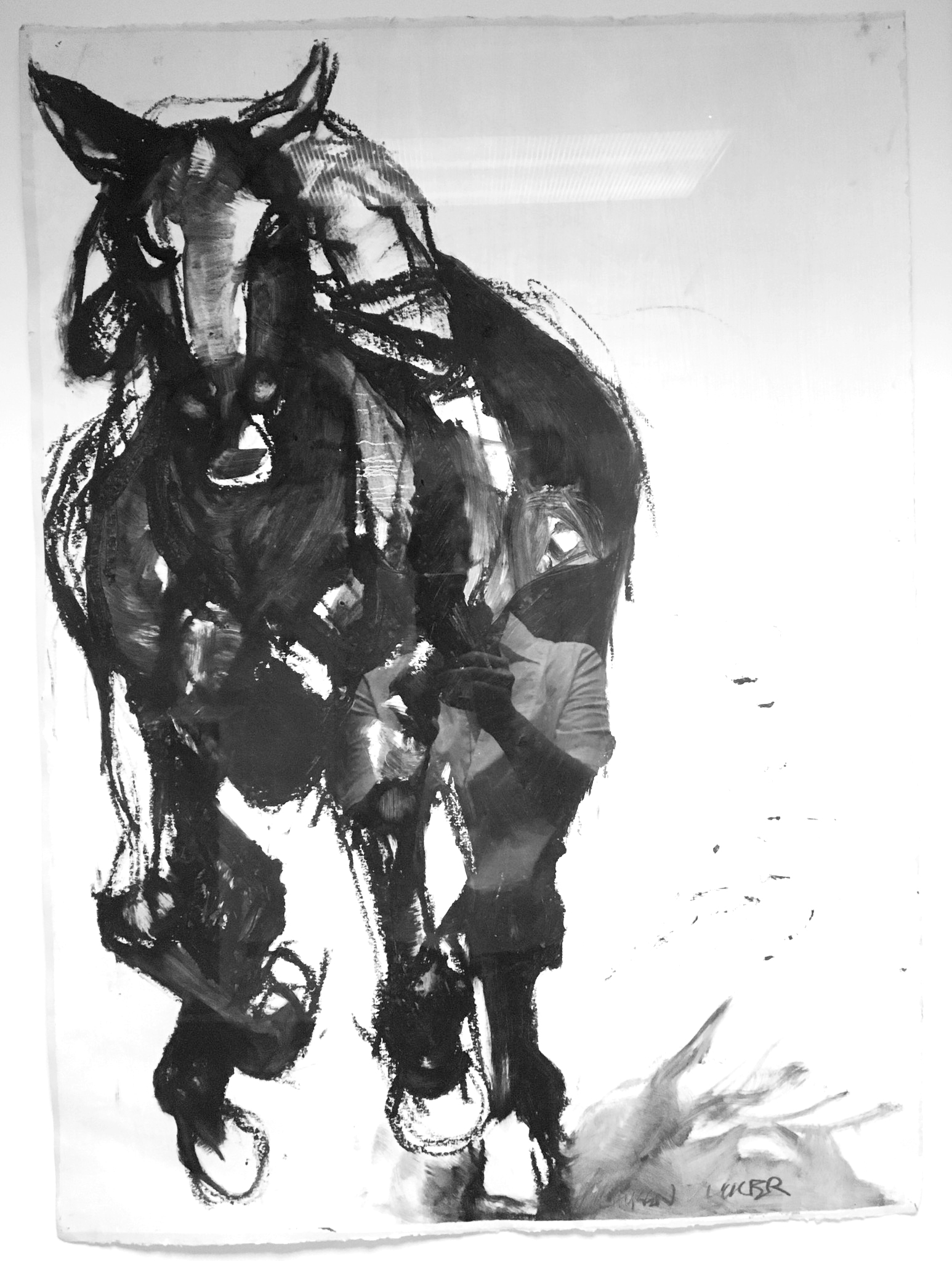 A job interview is not exactly an expected set up for an art sale. So when Lauren Zucker (now Richards) came looking for a job at Blackburn Architects some years ago, she found one. One she didn't accept because graduate school had a stronger pull.
But in a strange twist, John Blackburn liked the student artwork she showed in her portfolio so much he bought it. Two beautiful Lauren Zucker black oil bar on paper works hang in the Blackburn Architects' offices in Washington, DC. The large 48'x60' framed paintings are captivating for the brush strokes evoking the fevered jostling of racehorses leaving the starting gate. They are lovely paintings, and visitors to the office often comment on them.
She described her work this way:
Jockey: Horse
The Race

The Race: Within the confines of 10 furlongs there are meta-corporeal aspects of the horse race never experienced by the spectator. I first knew the horse race as an unfolded experience through the medium of literature. Drawn out in detail were the visceral relationships between horse and jockey, the operations/politics implicit in a racing farm, the strategies and traditions of breeding and training, the excitement of race day morning, and the cognizant thought behind every move during the course of the race. The race compresses into 2 minutes, the life experience of each racer- horse or jockey.

The Drawing: Through drawing, I looked to fold the life narrative of the racer into gesture. Then, as in the race, montage the narrative of different racers. I found inspiration for expressing this agony of entanglement in Picasso's Guernica. The narrative gesture of war is apparently not unlike that of the horse race.

The process of these drawings was subtractive, many beginning as a coat of black oil bar. The slow drying time of oil bar and linseed oil allowed me the time to carve the horses' bodies out the blackness. Portions of the drawing were reworked over and over again, conveying motion/time lapse through the multiplicity of elements, such as the doubling of the jockey's hand in different positions.

There is a dichotomy in horse racing which at once evokes both nobility and grit which I found to exist even at the scale of the horse's eye, loaded with both the noble courage and animalistic fear. And in the relationship of the fear in horse's eye to the Jockey's eye of focused determination. "
As time passed, though, Lauren's identity was lost to Blackburn Architects. We could make out most of her signature in the lower right hand of the paintings, but was it Lauren Ziker, Zucker, Luker? What had become of the artist who made the art we live with every day? Was she still an artist? A practicing architect? We didn't know. Finally, John was inspired to track Lauren down through a connection to a colleague who knew her and had kept in touch. And voila! Lauren is indeed still an artist, and an architect, and she was so excited we had tracked her down.
"I have such great memories of Blackburn Architects and of John. I remember being equally disappointed that the timing didn't work out as the job would have merged my two greatest passions as a life-long horse lover / equestrian and architecture. I am still working in architecture and still enjoy painting and drawing."
https://www.laurenzuckerrichards.com/
Posted in
Equestrian News
,
News and Press
|
Tagged Architect, barn architecture, Blackburn Architects, Blackburn Architects barns, Equestrian, Equestrian Architect, equestrian architecture, Equestrian art, Equine Architect, Lauren Zucker, Lauren Zucker art, racehorse art, thoroughbred art
|
Leave a comment >
05.17.18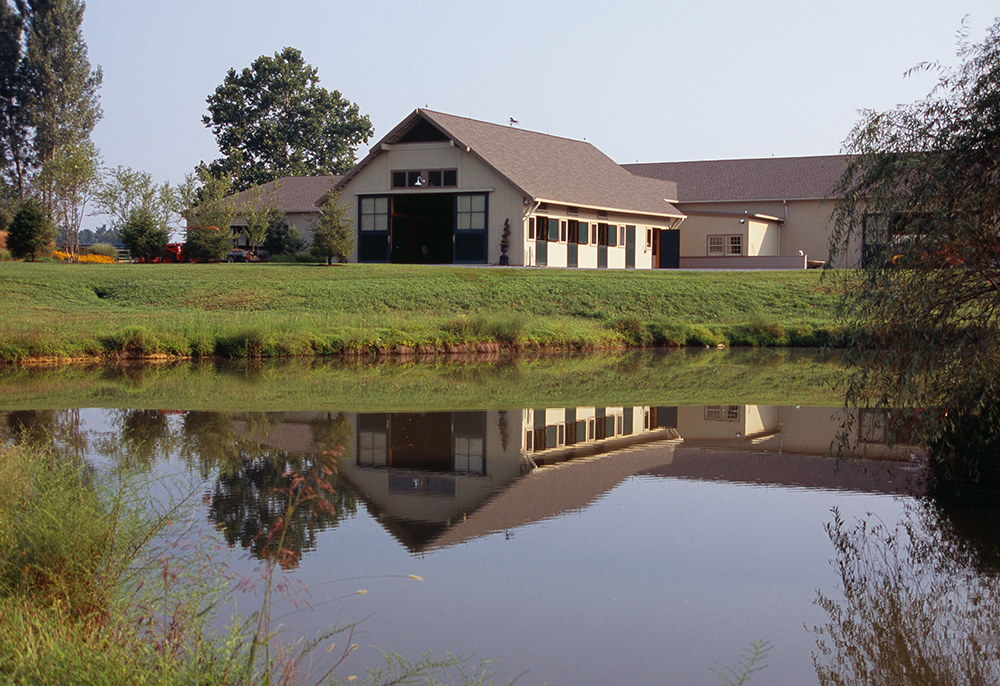 By John Blackburn
One of my favorite sayings regarding water on a farm is, "Certainly not possible in all cases, and not likely in many, but if at all possible, try to ensure the water that leaves your property is as clean as when it came onto the property."
My experience designing equestrian facilities, a personal interest in issues of sustainability, and my volunteer work with the Equine Land Conservation Resource, have raised my consciousness around land use issues regarding water. How a property drains it, where to find it, how to store it, and so on.
Whether your property suffers from too much or too little, water is an essential requirement for running an equestrian facility and has a significant impact upon the welfare of your horses, the efficiency of your farm and the budget of your operation. Water plays a big part in most Blackburn Architects equestrian projects. I thought I'd address a few solutions we can offer when there's too much coming onto your property (not your barn – that's another issue for discussion).
It's a problem that has come up recently at a farm in Texas, where clients face excessive stormwater runoff on their farm. When the rains started this spring, suddenly excess water poured onto their land from two different counties; displacing basically an entire neighborhood's volume of stormwater runoff onto their farm.
The team at Blackburn Architects will address this issue by determining the sizes of storages (dams or tanks) and diversions needed. Among the solutions that we'll apply to divert rainwater off pastures and away from buildings and high-traffic areas in the coming weeks and months are:
• Swales or Berms. Berms (elevated earth) and swales (shallow trenches) can act like gutters to redirect water away from areas that
get too much water. Planting grass, trees, and bushes will assist in stabilizing these natural water channels, so they don't become victims of
flooding over time.
• Catch Basins. A catch basin is an underground "reservoir" which collects water and drains it appropriately. Catch basins can
greatly improve farm drainage issues, allowing rainwater to flow through underground pipes leading to a sewer system or holding tanks (where it
naturally disperse). They offer a good method for moving water away from structures and off property, especially if you have to cross roads. At
Wyndham Oaks, in Boyd, MD, a Blackburn designed a system that takes water off the pastures and away from the structures, placing it into a long swale
that runs between paddocks.
• Retention Ponds. Retention ponds usually fill as a permanent pool of water, and they can also serve to temporarily detain excess
stormwater. When stormwater enters these ponds, it's released over a period of a few days, as water levels slowly return to normal.
All these methods of moving excess water can be interconnected. Run-off entering a catch basin flows through a daylight drain to swales located between paddocks. Before it leaves the site, runoff goes into a retention pond, which allows it to evaporate or gradually seep back into the soil, and recycle.
Posted in
Equestrian News
,
News and Press
|
Tagged barn architecture, barn design, Blackburn Architects, Blackburn Architects barns, Blackburn Architects Equestrian Design, Blackburn greenbarns, draining stormwater on a horse farm, Draining water on your property, Equestrian Architect, equestrian design, equestrian facility, Horse, Horse Barns, Horse Barns and Stormwater, Planning a horse farm, Too much stormwater, Too much water on your property, Water on a horse farm
|
Leave a comment >
04.24.18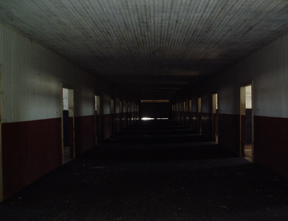 With careful attention to design details, it is possible to retrofit your barn to be healthier for your horses. One important renovation to existing built structures is the addition of skylights and ridge vents to increase light and air flow.
Only a fortunate few horse owners design and build a barn from the ground up. Most buy a property with an existing barn. As the photos illustrate, Blackburn Architects' client Kevin Plank, the CEO of Under Armour®, bought historic Sagamore Farm in Maryland, and undertook a significant renovation to add light and ventilation to the interior of his historic main barn.
Significant expenditures are not necessary, however. In this discussion, I'm offering simple recommendations for achieving healthier living space for horses starting with an existing barn.
VENTING OPTIONS
For venting an existing barn roof, I suggest one of two options:
1) Add Dutch doors along the barn sides or
2) Add a vent along the bottom edge of the skylight (or ridge if that works best though I prefer the curb vent for better free air access).
Option 1: Add Dutch doors along the barn sides
This option provides good access for ventilation to each stall and a great method of controlling air flow. An owner has the option of leaving just the upper door open to reduce the flow or open both upper and lower doors to give maximum free area. (Of course, in order to open both doors for full access you'll need to add an interior mesh panel to keep horse in the stall.) If Dutch doors aren't possible or within the budget, then I recommend adding low wall vents to bring in air low to the floor (which is good for foals and to vent odors caused by ammonia gases near the floor). The vents should be dampered for air control and screened to keep rodents from getting into stalls.
Additionally, Dutch doors provide an abundance of natural light, which reduces the need for electric lighting in the barn and helps purify the stall flooring, reducing the creation of harmful ammonia gases.
Option 2: Add a vent along the bottom edge of the skylight (or ridge)
This option allows for vertical ventilation of the barn using the Bernoulli Principle and the chimney effect. Though the existing barn may not have the best angle for prevailing breezes or roof slope, it will help nevertheless. I also recommend vents at the top of the wall at the roof eave if they can be added. This permits year-round ventilation above the heads of the horses, but still ventilates the barn vertically using the techniques described above.
ADDING SKYLIGHTS
There are a variety of methods and materials that can be used to retrofit skylights into an existing roof. At Sagamore Farm, Blackburn Architects' design replaced the existing shingles with a new metal roof (not necessary; Sagamore's roof shingles were worn out and metal was chosen as a better long term material). In more typical circumstances where the existing shingles are salvageable, simply remove the shingles along the ridge and cut out the sheathing or sub roofing material, leaving only the roof rafters.
Continuous curbs should be built along the edge of the opening. Although a continuous skylight or curb is not necessary, I find it aesthetically and functionally preferable. A skylight can then be placed on top of the curbs spanning from one side of the aisle to the other. The curb can and should be vented. The size and amount of free area depends on the barn design, size and location. The skylight width does not have to span the full width of the aisle but somewhere between 8 to 12 feet should be adequate.
The skylight can be either glass (costly and should be safety glass) or some form of polycarbonate. Check your local building codes for requirements. I do not recommend clear glazing. Translucent glazing reduces the visibility of dirt and filters light, which better serves the barn interior. It's best not to let a strong band of sunlight hit a stalled horse for a long period of time. I also recommend painting the interior of the roof and framing members a light color to improve reflectance.
If a continuous skylight is not possible, then individual roof skylights can be installed over the center aisle. However, if the skylights are not high on the roof and are not vented, they may not do much to increase the barn's vertical ventilation.
If the barn has a loft it may be possible to remove it, leaving specific structural members spanning across the barn to hold the building together and to provide wind shear strength to the barn. If the loft is used for hay storage (which I don't recommended for health and safety reasons), then it may be possible to remove a portion of the loft over the aisle leaving the loft in place over the stall for storage or the reverse of that (remove the loft over the stall but leave it in place over the aisle).
While these approaches to increasing light and ventilation in existing structures can work wonders, you should always contact a structural engineer before installation of skylights to determine if the barn can take the modifications needed of if some additional structural work needs to be done.
Posted in
Equestrian News
,
News and Press
|
Tagged adding light and ventilation to a horse barn, Adding skylights to a barn, adding ventilation to a horse barn, Architecture, barn architecture, Blackburn Architects, Blackburn Architects barns, Blackburn Architects Horse Barn, equestrian architecture, equestrian design, equestrian facility, Equine Architect, equine design, farm planning, healthy horse barns, horse barn, horse barn design, how to add skylights to a barn, how to add ventilation to a horse barn, John Blackburn, Sagamore Farm, thoroughbred, thoroughbred barn, thoroughbred horses
|
Leave a comment >