barn design
02.13.17
Q: We're renovating our fireplace, and want to incorporate the exposed fireplace flue shown in your German bank barn renovation. Where do you get the pipe for it?
Thanks,
Barn Enthusiast
Dear Barn Enthusiast,
Congrats on your barn conversion! We love breathing new life into these wonderful structures. To answer your question about the flue we used, It's a galvanized steel flue, 12"-14" in diameter, and came in about 4 foot sections.  It should be pretty easy to find. Stainless steel is another good recommendation and look.  Galvanized is a little less expensive, but a little more rustic.
Hope that helps! Good luck with your project.
John
Posted in
Equestrian News
,
News and Press
|
Tagged Adaptive Reuse, Architect, Barn, barn architecture, barn design, Barn Fireplace, Blackburn Architects, Blackburn Architects barns, Blackburn barn conversion, Blackburn greenbarns, renovating an old barn, turning an old barn into a house
|
Leave a comment >
02.02.16
Coming off the heels of a truly epic storm for the Washington D.C. area (and most of the east coast!), I thought I'd take a moment to address how design techniques can help barns "weather" extremes.
In the United States, the upper northeast regions through to the Midwest are prone to experience weather extremes in the form of snow and ice. While we cannot entirely "weather proof" a barn, we can make it more resilient to some of the more damaging effects of weather phenomena.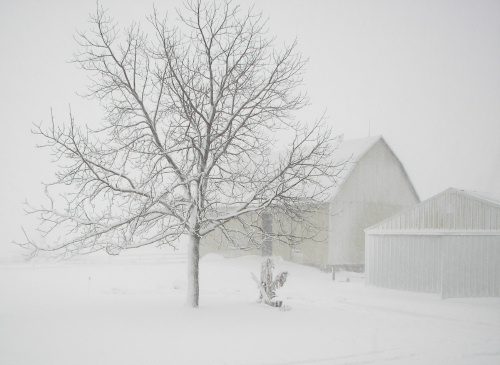 The roof of your barn needs to be able to:
Withstand the weight of snow and/or effectively shed it
Prevent or reduce the formation of ice dams
Redirect "roof avalanches" from sliding into high traffic or poor drainage areas and also reduce associated noise that could frighten the horses.
In addition to contributing to the Bernoulli principle I incorporate for natural ventilation, steeply pitched roofs also contribute to effective, gradual roof shedding and the redistribution of snow load. Ideally the pitch should be between 4/12 and 6/12 to get the optimal shedding effect (although, we generally try to keep pitches at 7/12 or more to take full advantage of the Chimney Effect and Bernoulli principle for natural ventilation)
Roofing material will also factor into how the snow will shed. Metal roofs are excellent as they are smooth and slick. They will also stay colder longer; reducing the likelihood that snow will melt and form ice dams (more on this below). Snow will shed from a metal roof even if the pitch is lower. Shingled roofs, however, will slow down the shedding process by "holding on" to the snow and allowing it to stay in place and accumulate. Consider a steeper pitch if you prefer a shingled roof as it will facilitate the shedding process over the rougher material.
Now, you might be saying to yourself, "Well, the snow is off the roof…but it's all over the place! Now what?" Including strategic roof overhangs will complement the steeper pitch by helping to distribute shedding snow away from exterior walls and out of traffic and poor drainage areas. Be wary though, snow sliding off roofs can be noisy and frightening to horses, not to mention dangerous if it falls on you! Snow guards on the roof can help reduce the noise associated with shedding snow and keep huge sheets of it from falling on (and potentially harming) 2 and 4 legged passersby. Gabled dormers over entryways can also be useful. They help to direct snow off to the sides.
Ice dams are another unfortunate side effect of snow-laden roofs. An ice dam forms when the underside of the roof gets warm enough to thaw the bottom layer of snow sitting on the other side. The water makes its way down to the eave where it refreezes, eventually growing into a mound of ice. As the ice dam gets larger, it can pull the shingles and edges up allowing water to get through and into the insulation and walls. Water damage then wreaks havoc on the interior of the barn. The ice dam could also break off the eave and take pieces of the roof with it or fall on passersby. Sure, there are ways to deal with ice dams once they've formed, but natural ventilation can help prevent them upfront. Natural ventilation keeps the underside of the roof within 10 degrees of the outside temperature, which aides in keeping that critical layer of snow right on top from thawing and running down towards the eaves.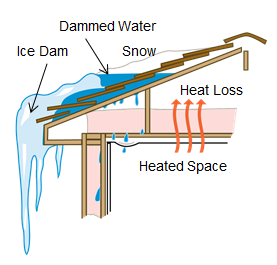 Site and circulation planning can help prevent and/or reduce the impact of icy conditions around equine walkways. In the interest of horse safety, I try to design site circulation so that horses do not need to move over asphalted areas intended for trucks and service vehicles (there are other benefits associated with that as well). Asphalt is not great for horse's knees, generally, but it is particularly problematic when wintery conditions lead to the formation of "black ice" — a thin sheet of ice over the asphalt that can be imperceptible to the horse or persons walking on to it. Horse pathways in and around the barn should include porous footing that absorbs and carries moisture away quickly. Presently there is no way (that I know of) to prevent pastures from freezing over, but you can maintain a dry paddock or "sacrifice" lot where your horses can be turned out when pastures have been effected by inclement weather. Paddocks with considerable slope can be particularly hazardous when they freeze over. That's when a "level" dry lot can be very useful!
As many on the east coast found out this past week, there is only so much preparation you can do in a couple of days before a storm hits. You, your horses, and your barn will benefit from built in preparation.
Posted in
Equestrian News
|
Tagged barn architecture, barn design, beechwood stables, black ice, Blackburn Architects, dormer, Equestrian Architect, extreme weather, farm planning, gable, horse barn design, horse stables, ice, ice dam, ice damming, John Blackburn, overhang, roof, roof pitch, snow, snow load, snow shedding
|
Leave a comment >
06.14.13
This summer, Equestrian Quarterly has published an article discussing the elements of well-designed barns. The article features several equestrian architects, including John Blackburn. Check out the article to hear John's thoughts on what make a well-planned facility, as well as to see a few photos from our assorted projects. There is even mention of John's new book, Healthy Stables by Design, that will be coming out this fall.
Click here to access the article "Let There Be Light".
05.16.12
Quite a few years ago, I participated in a web chat (remember those?) with the folks at EquiSearch. During the chat, a few chatters presented me with questions about their barn projects, which ranged from "how to's" regarding initial planning stages or "what now's" after building the basic framework. For old time's sake, I thought I might share the chat's transcript. For the sake of those reading today, I'd like to encourage any and all of you to ask away with questions or to present design issues of your own.
gatsbysmom – How much roof overhang do you recommend for a barn in the South?

Blackburn – Gatsbysmom…roof overhangs are very helpful in the south for shading…if you have Dutch doors where horses can stick their heads out, it allows them to do it…make sure the roof is projected out far enough so runoff doesn't drop on the horses' heads…a good dimension is 3.5 feet.
01.25.12
I think that's the top question I get (the gist of it, anyway) and it SHOULD be. Why should you hire an architect to design a horse barn? Or, Is hiring an architect to design a barn really necessary?
In short: no. However, hiring an equine architect can save you time, your horse's health and safety, and even money in the long run. Allow me to state my case.
A horse is so much more than a pet: it's a companion, a worker, a teammate, an athlete. Whether you ride for pleasure or compete, the horse—your horse—is irreplaceable. I wish not to gild the lily just to make my point, which you already know, that horse owners think the world of their horses and want to treat them with the utmost care and respect. If you keep a horse, it's your duty to protect it. While a horse is perfectly pleased to graze outdoors most days, the barn is a necessity – so I say, let's do our best to protect that horse and maybe make your life a little easier in the process.
Barn This Way – Product vs. Service
When you decide to build a barn, you have a few choices. The least costly solution is to purchase a prefab or kit barn. The prices range (rather wildly), as does the package itself. Labor is often an additional cost as well as nails, roofing, and concrete costs. Usually a contractor charges between 10 to 25 percent of the total cost of materials for construction services. However, this percentage may go up if your project is on the small side in order for it to be financially viable for the contractor. For many horse owners, a prefabricated or kit barn is a perfectly reasonable and cost-effective solution.
If you're looking for a step above prefabricated, or can afford to customize your project a bit, you may then wish to research design/build contractors – but this is where I'd stop and suggest that you alternatively consider working with an equestrian architect.
Why? A design/build contractor is selling a product, not a service, and is not often a trained architect, which limits his or her ability to think creatively outside of the box. In most cases, thinking outside of the box eats up profits and costs more money (for the design/build contractor). For a design/build contractor, the goal is to build quickly above all else. I think this compromises your program and the overall result because the design/builder does not want to eat up time resolving special issues or conflicts. The design is usually cookie cutter, following whatever pattern the design/build contractor typically uses, and there is no one there to really represent the owner (you) and oversee the quality of the project and if it's built as intended or promised.
To Serve and Protect
With an equestrian architect, you're purchasing a service rather than a product. The architect is there to resolve the needs of the owner, from overall site planning, programming, phasing, and design to overseeing the entire construction to make sure the barn is built as intended. The service costs a bit more than a design/build contractor but, if your barn is your livelihood or your sanctuary, I believe that you'll save time and stress, frankly by getting it done right the first time.
Typical services an equestrian architect (straight from the horse's mouth here, if you'll forgive my pun) will provide:
Site planning: can reduce infrastructure costs (fewer roads, less fencing, better drainage, etc.) and improve the site to function at its best for your needs.
Programming: ensures that the whole farm (not just the horse barn but the entire collection of structures on the site, if applicable: residence, guest house, caretaker's quarters, hay/bedding, vehicle storage, etc.) operates efficiently and safely.
Code analysis: certainly the codes vary across states/municipalities. We've designed horse stables in counties with very specific codes and regulations and understand what to look for and how to work with the various officials to resolve issues. The architect can save you a lot of hassle!
Budget Development and Cost Control/Scheduling: I like to develop a budget as early in the process as possible and revisit it periodically during the project. My job is to determine if the owner's programmatic needs and budget fit the site, and if the design aesthetic suits their personal design goals. We can also plan to develop the barn or various structures in phases, if applicable.
Conceptual Design: Here we develop the character and massing of the structure(s) and prepare a preliminary floor plan and elevations to illustrate our ideas. At Blackburn, this is the final phase of what we call Master Plan Services (site plan, written program, conceptual design, and preliminary construction development). From here, we move on to more detailed design work.
Schematic Design: After we complete a master plan that works well for the owner, we begin to prepare detailed drawings to give you an idea of the layout and general appearance of the barn (and possibly other buildings). We'll talk about finishes, materials, stalls, tack rooms, etc. For a lot of people, this phase of design is the fun part!
Design Development and Construction Drawings: Here we'll really start to nail down the final design and specify the materials, stall systems, finishes, and other details and prepare construction drawings that instruct the contractor how to build the barn.
Bidding and Construction Administration: Because construction drawings are open to interpretation, it's important that the architect works with the contractor to oversee that the project is carried out according to the design intent. We're the owner's rep to make sure that construction is done well and done right.
I understand this may seem like a lot, but each is a valuable step toward designing a healthy, safe, and functional facility. As an architect, I want to study how you operate and design a barn that feels inviting and personal (because it is). No barn or farm operates exactly alike as each owner or barn/farm manager operates his/her facility in a particular fashion. While designing a barn from scratch is not realistic for everyone, if you are choosing between a design/build firm and an equestrian architect, I'd strongly advise that you approach both for more information and weigh out your options carefully. It could save you your horse.
As always, I invite your questions and comments. Thanks for reading!
An architect is trained to design as the great Louis Sullivan (1856-1924) states: "Form ever follows function." After all, if your barn doesn't function properly, what's the point of a great design?
Posted in
Equestrian News
|
Tagged barn design, Blackburn Architects, Equestrian, Equestrian Architect, equestrian design, Equine Architect, Horse, horse stables, master plan, Sagamore, site planning, Tidewater
|
2 comments >
11.22.11
This private equestrian facility is located on rolling open fields in the heart of Northern Virginia's hunt country. Simple in design and functional in layout, the barn was conceived to meet the owner's specific program needs for the training of hunters and jumpers.
Program six-stall barn with attached enclosed arena and an elevated observation room, tack room, wash and groom stalls
Completion 2002
09.07.11
Designed in response to an adjacent new residence and in the style of existing barns on the private ranch, this eight-stall barn in Montana uses heavy timber framing and western cedar siding.
The program includes wash and grooming stalls, a lounge/office, large tack rooms, and a loft with a balcony that overlooks an outdoor arena. The barn's deep overhangs create covered areas to wash and groom horses outdoors while a continuous translucent ridge skylight allows generous amounts of natural light within the barn.
Program 8-stall barn, outdoor arena, service building
Completion 2004
Posted in
Equestrian News
,
Projects
|
Tagged Architecture, Barn, barn design, Barns, Blackburn Architects, Equestrian, Equestrian Architect, equestrian design, Equine, equine architecture, heavy timber, horse barn, horse ranch, horse stables, Montana barn, ranch, Stables, western cedar siding
|
1 comment >
04.25.11
Seemingly, about a foot of snow buried the construction site at Beechwood Stables, a future barn and arena in Massachusetts at any given point from December through March.
Since then, as the weather in Massachusetts grows milder, the construction at this private farm (a project in association with Marcus Gleysteen Architects) is finally taking a shape other than a snowdrift. In the works are a 12-stall barn, a storage facility with recreation and lounge space, and an indoor arena with an observation lounge.
As foundation and underground work began over a winter season that yielded 60 inches or so of snow in the Boston area (with January 2011 alone dropping 38 inches), well…I'm sure you're not surprised to read that delays were bit of a problem. By the end of the winter, there may have been more snow removal than soil stockpiled on the job site!
Even on April Fool's Day (go figure), the area received a dusting of the white stuff. That's why I couldn't be more pleased for this patient client of ours as we approach the warmer months. Work at the private farm has progressed smoothly ever since the steel and timber arrived in early April; see the progress in the following photographs.
As you might expect with such a substantial project, we gave much consideration to the structural work and foundation. Specifically, we needed to determine how to erect and tie together stone column bases that weighed approximately 200 lbs. each and 21-ft. tall timber columns while allowing for enough movement to install the beams and rafters. In the end, the collaboration and discussion on how best to detail this connection took longer than it did to actually assemble, thanks to the efficient crew at New Energy Works and the careful planning between Kenneth Vona Construction (general contractor) and DeStefano & Chamberlain (structural engineer). I'm happy to report that the bases and timber columns went up without so much as a groan.
Following that, steel columns and perimeter beams were set in about two days; the timber frame for the barn and connecting link took a little over a week. Since then, the contractor has been busy working on the barn framing, preparing all of the openings for sheathing, and the steel fabricator has assembled all of the steel rafters and is completing final welds. Within about a month, the walls of the barn and connecting link will be complete and the roof work will begin. Assuming the weather behaves, of course.
In the meantime, timber for the arena observation room and support spaces is being fabricated along with the SIPs (structural insulated panels) that will cover two-thirds of the project.
So, here's to spring weather and speedy progress on an exciting project that we hope the owner and their horses will soon enjoy!
[slideshow]
12.14.10
Just over a year ago, I wrote about visiting a project in Rancho Santa Fe, California that had just began construction. A year later, I am happy to report that the construction effort is complete and was a great success. Lucky Jack Ranch, as its owners have christened it, is located in Rancho Santa Fe California and is made up of a 3,900 sq. ft. clubhouse with guest residence, a 15-stall barn plus a large wash stall, six outdoor tacking stalls, and an open riding arena. The Ranch also has a famous neighbor: the Pacific Ocean.
The family's private equestrian facilities take full advantage of seven acres of the site, with the structures placed upon an overlook to capture Pacific Ocean breezes, not to mention an ideal view of the sunset. The Ranch emphasizes the leisurely aspects of horse riding, from cool-down trails surrounding the property to a large patio that invites riders to relax and socialize after riding. There's a romantic feel to the architecture, which was designed as a modern tribute to Lilian J. Rice, the architect responsible for much of the site planning and architectural design within the community of Rancho Santa Fe as it formed around 1922. The architecture is heavily influenced by Spanish and Spanish Colonial design, using stucco, terra cotta, and wood accents. A trellis stretches from the clubhouse to the barn to connect the Ranch visually.
The property focuses on an ultimate rider experience, apparent in the full amenities at Lucky Jack (there's even a wood burning pizza oven), but there's no mistaking that this is a serious working horse ranch; complete with a hotwalker, round pen, custom Lucas Equine stall systems that include indoor and outdoor wash stalls, a tack room, and several areas for riders to lounge and observe the activity of fellow riders.
A fully equipped kitchen and dining area in the clubhouse opens to a smaller, more intimate patio space for dining al fresco while the main patio (with that enviable, wood burning pizza oven I mentioned) prompts larger gatherings. Lounge chairs and tables invite riders and non-riders alike to relax and take in the refreshing ocean breezes and unwind. The owner's family and friends can even stay in the clubhouse, which has two bedrooms, terraces, and a laundry room. The only real difficulty might be getting guests to leave.
[slideshow]
Allard Jansen Architects, Inc. of San Diego was a local design consultant and permit facilitator for the project.
12.08.10
We just received a copy of Chris van Uffelen's new book called Re-Use Architecture from the German publishing house, Braun. This substantial book highlights adaptive reuse projects throughout the world: Blackburn's New River Bank Barn project is part of the stunning collection.
As van Uffelen asserts, building conversion is more relevant than ever as recycled and eco-friendly solutions are becoming the norm. It's a gratifying challenge for me to "save" an old barn or convert a worn out structure into something different while paying respect to its former use. I can't help but appreciate a book that makes showing off these type of projects a mission.
We've been fortunate to have received attention for the New River Bank Barn, which was a memorable and exciting project for our firm. I still can't help but feel proud when I look at the "before" photo of the 1800s bank barn, which was in severe disrepair. Most of the structure was preserved, but re-clad in SIPs panels to provide insulation and structural support. The SIPs panels are sandwiched between the original barn walls and a new board-and-batten exterior. The northeast-facing wall of the original structure was removed entirely and glazed, opening the interior to expansive (and very private) views of the property to the Potomac River. Steel columns were added and wrapped in indigenous fieldstone to support the new glass wall, which was designed with mullions that align with the original frame columns and purlins so that the framework fits aesthetically with the original structure.
Our work could only be done thanks to the owner's foresight to envision a new future for the old structure. I couldn't be more pleased to have been given the opportunity to "save" the bank barn, which now hosts gatherings and parties for the owner's friends and family. Re-Use Architecture is available at Amazon and major book retailers.