barn fire safety
03.05.19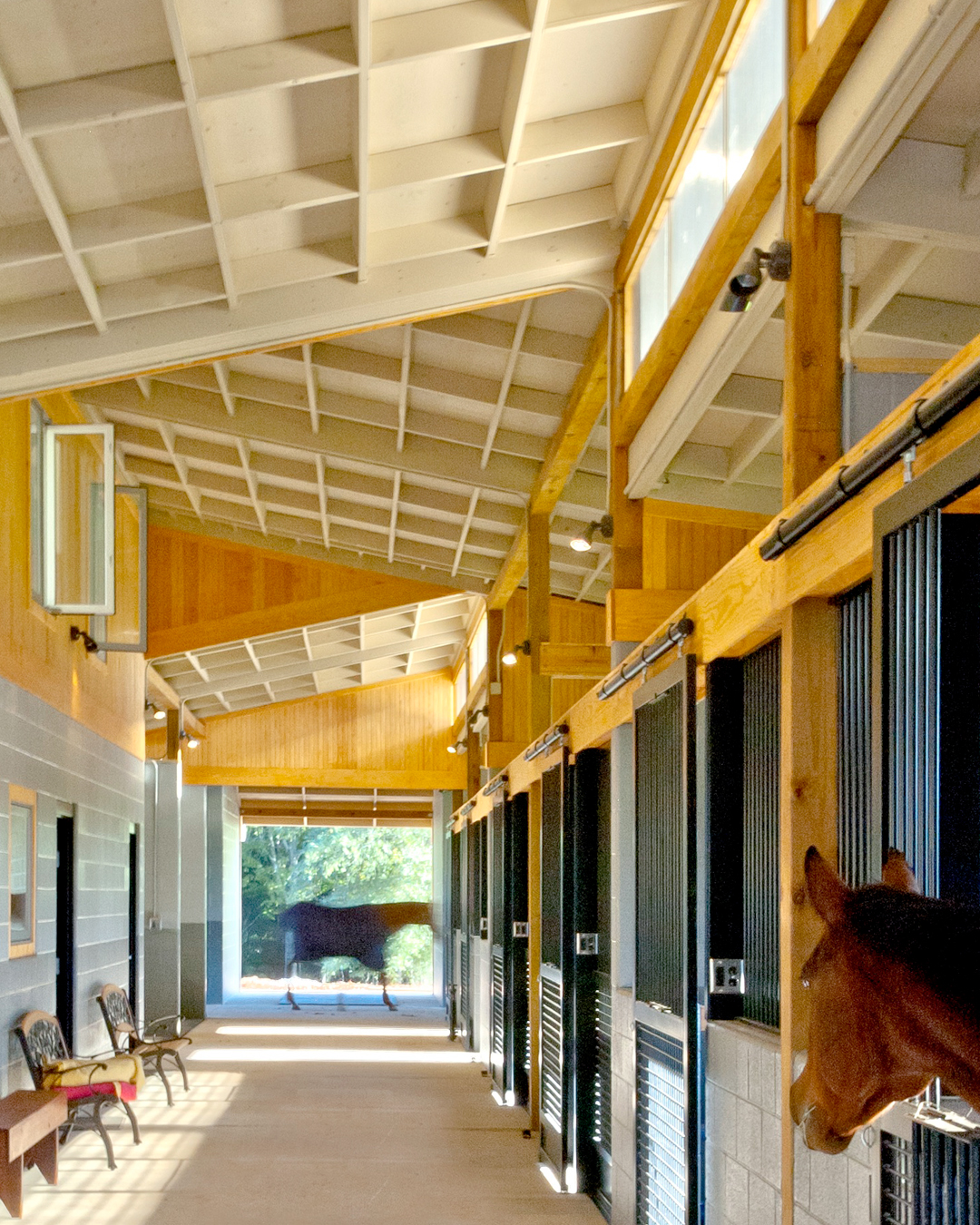 Fire protection in an equestrian facility is always a concern of the highest priority. Because we're often asked, we thought we'd offer information here on the fire suppression details the Blackburn design team has included in some of our latest projects.
At a new barn under construction in Indiana, we've specified a Dry Pipe System by Fire Tech, LLC. http://www.firetechstl.com/systems-preaction.php. We could have specified a "preaction sprinkler system," but chose the dry pipe system because of the dangers of freezing pipes in the cold weather climate of the Midwestern United States.
To quote Fire Tech's description, "A Preaction Sprinkler System is a system which employs automatic and closed-type sprinkler heads connected to a piping system that contains air (either pressurized or non-pressurized), with a supplemental system of detection serving the same area as the sprinklers. The systems are typically used in applications where the accidental discharge of water would be catastrophic to the usage of occupancy.
"Preaction Sprinkler Systems are similar to Dry Pipe Systems in that the water is kept from entering the piping valve, in the case a preaction valve. This valve is held closed electrically, only being released by the activation of the detection system (heat or smoke detectors mainly) when an electrical signal is sent to the releasing solenoid valve. The water then fills the pipe, ready for the activation of the sprinkler heads. Preaction systems can be arranged to be activated by only one detection device type, or many."
In Indiana, our architects specifically called for a dry pipe system because of the potential for freezing temperatures, but also in case "one of the children kicks a soccer ball and takes out a sprinkler head" (the client's words). With a dry pipe system, the sprinklers won't go off unless they also sense smoke or fire (depending on the detector type). A false alarm could flood and ruin the barn's expensive finishes. And using recessed/concealed pop up heads is a good idea where you can.
Another critical reason Blackburn specified a dry pipe system is because of an issue with water demand; the Indiana farm doesn't have sufficient well water on site to power the system. Because of this, our client connected to county water. Keep in mind that If you're on a well, you'll likely never have enough pressure to support a fire suppression system. The gallon per minute (gpm) for firefighting is higher than your average ground well can produce. This means you must store water on site in a tank or pond.
At Sheik Island, one of our projects in Florida, we stored water below ground. In California, at a private facility, we installed an above ground tank adequate to run the system as required by the local fire department. Additionally, we posted signage limiting the occupancy (should the owner decide to sponsor a large event in the arena). The clients obtain a special permit when larger events occur, and they hire the local fire department to have a truck on hand during the event.
At the Devine Ranch, in Aptos, California, and at the Moss residence, also in fire-prone California, we provided on-site storage tanks with backup generators to operate a pumping system.
Next up on the Blog: fire limiting design guidelines we build into our projects.
Posted in
Equestrian News
,
News and Press
|
Tagged Architecture, barn architect, barn fire safety, Barns, Blackburn Architects, Equestrian, equestrian architecture, equestrian design, Equine Architect, equine design, fire in horse barn, Fire protection, Fire protection in horse barn, fire suppression systems in horse barn, green barn, horse barn, horse barn design, Horse Barns, horse racing, protecting a horse barn against fire, protecting horses against fire, Stables, thoroughbred
|
Leave a comment >
09.07.10
From Ray Paulick's blog, the Paulick Report comes some very sad news; three barns were destroyed and at least 27 horses are confirmed dead after a Labor Day fire at the Charles Town Races in Charles Town, West Virginia. The cause of the fire is not yet reported, but the Washington Post says the damage is estimated at $1.2 million and several of the horses were worth at least $10,000.
A couple years ago, I wrote a post about preventing barn fires– I thought I'd share it again. Accidents will happen, unfortunately, but there are several ways to help ensure the safety of your horses. My thoughts are with those affected by the tragedy at Charles Town Races.
FIRE SAFETY AND WHAT YOU CAN DO:
Often owners ask about designing sprinklers in barns or to frame the barn in steel to make it more "fireproof." However, by the time the construction estimates come in, those seem to be the first items cut. Though both are credible for preventing fire, I like to design using preventive care so sprinklers or steel framing are not the only means of fire protection. (Incidentally, a steel frame building, if left unprotected, can collapse due to fire or heat from the fire before a heavy timber framed structure. But, as many of you know, the smoke from the fire kills long before the actual flames.)
Hopefully these suggestions can help you—and your horses—sleep a little better at night.
COMBUSTABLES:
Hay is a huge fire hazard because of the dust it accumulates, especially when stored in a traditional hayloft setting. While I've designed barns with a full hayloft, I urge clients to consider a separate storage facility for hay and bedding or, at least, create a partial loft that does not span the barn's entire length and isolate the storage area with fire walls. While fire walls may not be as effective as a fire rated partition (which is expensive), the fire wall can contain smoke and fire for enough time to alert help remove the horses. If neither option is possible, keep hay in a fire-rated enclosure.
If a hay loft is required, there are some precautions that can reduce the risk of fire, such as the choice of frame; an effective choice can reduce opportunities for bird nests and cobwebs, especially around lights, and provide natural light to reduce the need for electric lights.
VERTICAL VENTILATION AND HEATERS:
In my ideal hay storage structure, a separate storage facility for hay and bedding is designed to generate vertical ventilation, similar to a well-designed barn. To do this, I take advantage of the storage structure's large roof to capture solar energy, which heats the air inside the structure along with the heat from the curing hay. Air accumulates at the ceiling while cooler air flows at floor level, forming a vertical flow of air. Skylight vents release the warmer air and let cooler air inside. This constant flow of air supplies superior ventilation without the use of expensive or energy-burning equipment that can cause a spark or short.
Some horse owners stand behind their use of heaters in stalls, but I find it unnecessary and risky. Ideally, the inside of a barn should reflect a similar temperature to outside. After all, horses are born to survive in the wild, not confined in a stall. Because of their sensitive respiratory systems, a well-ventilated barn is a horse's best defense.
A heated (or air conditioned), enclosed barn not only retains ammonia gases and pathogens that cause odor and disease, it creates conditions that require gas fired heaters and mechanical fans for circulation, each of which is a potential fire risk, not to mention expensive to maintain and operate. That's why designing for ventilation is such an emphasis in my work.
Typically, if a barn is heated it is done for the sake of the staff, not the horses, and should be confined to human areas only. This should be considered an added luxury, but if requested, a heated aisle floor is the safest method. A horse that is permitted to develop a winter coat can handle temperatures as low as zero degrees Fahrenheit.For lower temperatures, blankets can usually maintain warmth without being a fire hazard.
FIRE SEPARATION DOORS:
I like to use fire walls and isolation doors to aid in the protection of fire or smoke generated by a fire. Though a fire rated fire separation may not be practical in most barns, you can create fire separations within the barn to isolate certain areas or uses from other areas of the barn especially the stalls.
OUTLETS AND WIRES:
Always use UL-rated fixtures and properly installed electrical fixtures and fittings. All wiring should be in metal sheath conduit such as solid conduit or BX type cables, even in concealed areas because of mice and other small animals that inhabit barns. Consider explosion proof outlets and switches, and protect all lights with shatterproof lenses or wire cages. Set up a maintenance routine to clean all light fixtures periodically (for fire risk concerns but also for energy concerns, i.e. a dirty light is much less efficient that a clean one that is otherwise identical.
OTHER SUGGESTIONS:
· Fire extinguishers throughout
· Fire retardant building materials (use heavy timber in lieu of light wood or truss framing when possible or affordable).
· Design Dutch doors where possible to the exterior, as they are better for ventilation and helpful for getting the horse—and people—out in case of emergency. Make sure the doors can be operated from interior and exterior.
· Separate living spaces (apartments) from barn where possible or at least placed behind fire separations.
· Separate farrier services when possible.
· Never store motorized equipment within the barn, but if you do, isolate it behind fire separations or separate areas.  (A barn burned in Northern Virginia a few years ago simply because someone cranked up a lawn mower that backfired, setting a nearby bale of hay on fire.)
· Install an effective fire alarm system (preferably one that is monitored by a 24-hour service) and plan an emergency evacuation route.
FINAL WORD:
I worked with the Grosse Point Hunt Club years ago after they suffered a barn fire and lost over 20 horses, as I recall. I believe the fire was caused when a firecracker was thrown into the barn simply for mischief, resulting in a tragic loss of animal life and property. That was an older barn that had very little fire protection "designed" into it.
Regardless of how much protection you design into a barn, no system is perfect. Still, much can be done to protect older barns from fire and reduce the hazards. We often work with existing barns to modernize their operation and look, while doing everything we can to protect the health and safety of the horse—whether from fire, bad ventilation, or other unsafe conditions.
If you have any other recommendations to prevent fire, please let me know. As always, I look forward to hearing your thoughts.