Barn
09.07.11
Designed in response to an adjacent new residence and in the style of existing barns on the private ranch, this eight-stall barn in Montana uses heavy timber framing and western cedar siding.
The program includes wash and grooming stalls, a lounge/office, large tack rooms, and a loft with a balcony that overlooks an outdoor arena. The barn's deep overhangs create covered areas to wash and groom horses outdoors while a continuous translucent ridge skylight allows generous amounts of natural light within the barn.
Program 8-stall barn, outdoor arena, service building
Completion 2004
Posted in
Equestrian News
,
Projects
|
Tagged Architecture, Barn, barn design, Barns, Blackburn Architects, Equestrian, Equestrian Architect, equestrian design, Equine, equine architecture, heavy timber, horse barn, horse ranch, horse stables, Montana barn, ranch, Stables, western cedar siding
|
1 comment >
06.22.11
This private equestrian facility includes a 14-stall barn, three-bedroom staff residence, and a service wing for hay, bedding, and equipment storage. Designed in a French Colonial style indigenous to the South, the barn and residence feature coral stone water tables, stucco wall finishes, and barrel tile roofs. The generous use of dormers provides abundant natural light to the barn stalls and aisles and to the second floor of the residence. This project was featured in Elle Decor magazine.
Program 14-stall stable and three-bedroom staff residence
Completion 1997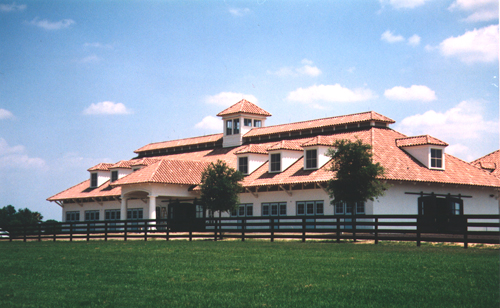 06.22.11
Beth Herman's article about the renovations at Sagamore Farm is published in today's DCmud. I get a huge smile on my face just thinking about Sagamore and hope you do too after reading the story. The farm is a Maryland landmark and I am grateful that Blackburn has been trusted to contribute to the farm's storied history.
05.23.11
Blackburn Architects is so grateful to be a part of Kevin Plank's dream to revitalize the horse racing industry in Maryland through his work at Sagamore Farm in Glyndon. We hope you'll enjoy these articles from The Washington Post and The New York Times about Mr. Plank's impressive ambitions for the historic farm and to elevate Maryland's racing industry clout. We believe that if anyone can do it, it's Mr. Plank. Congratulations to the whole team at Sagamore Farm, whose All Mettle won Pimlico's $30,000 maiden special weight race in only her second career start!

Posted in
Equestrian News
|
Tagged Alfred G. Vanderbilt II, All Mettle, Barn, Blackburn Architects, Equestrian, farm renovation, Glyndon, Historic racing farm, Horse, horse racing, Kevin Plank, Maryland racing, Native Dancer, Preakness, Sagamore Farm, The New York Times, thoroughbred, Under Armour, UnderArmour, Washington Post
|
Leave a comment >
04.25.11
Seemingly, about a foot of snow buried the construction site at Beechwood Stables, a future barn and arena in Massachusetts at any given point from December through March.
Since then, as the weather in Massachusetts grows milder, the construction at this private farm (a project in association with Marcus Gleysteen Architects) is finally taking a shape other than a snowdrift. In the works are a 12-stall barn, a storage facility with recreation and lounge space, and an indoor arena with an observation lounge.
As foundation and underground work began over a winter season that yielded 60 inches or so of snow in the Boston area (with January 2011 alone dropping 38 inches), well…I'm sure you're not surprised to read that delays were bit of a problem. By the end of the winter, there may have been more snow removal than soil stockpiled on the job site!
Even on April Fool's Day (go figure), the area received a dusting of the white stuff. That's why I couldn't be more pleased for this patient client of ours as we approach the warmer months. Work at the private farm has progressed smoothly ever since the steel and timber arrived in early April; see the progress in the following photographs.
As you might expect with such a substantial project, we gave much consideration to the structural work and foundation. Specifically, we needed to determine how to erect and tie together stone column bases that weighed approximately 200 lbs. each and 21-ft. tall timber columns while allowing for enough movement to install the beams and rafters. In the end, the collaboration and discussion on how best to detail this connection took longer than it did to actually assemble, thanks to the efficient crew at New Energy Works and the careful planning between Kenneth Vona Construction (general contractor) and DeStefano & Chamberlain (structural engineer). I'm happy to report that the bases and timber columns went up without so much as a groan.
Following that, steel columns and perimeter beams were set in about two days; the timber frame for the barn and connecting link took a little over a week. Since then, the contractor has been busy working on the barn framing, preparing all of the openings for sheathing, and the steel fabricator has assembled all of the steel rafters and is completing final welds. Within about a month, the walls of the barn and connecting link will be complete and the roof work will begin. Assuming the weather behaves, of course.
In the meantime, timber for the arena observation room and support spaces is being fabricated along with the SIPs (structural insulated panels) that will cover two-thirds of the project.
So, here's to spring weather and speedy progress on an exciting project that we hope the owner and their horses will soon enjoy!
[slideshow]
03.28.11
I wanted to share an oldie but goodie – an article I wrote originally for Western Horseman Magazine about designing for natural ventilation within your barn. This stuff is the bread and butter of our design, in that no matter where a barn is located, or what a client's budget may be, healthy and natural ventilation within the stables is our priority. Read the article, Breath of Fresh Air, and let me know what you think.
02.16.11
Navigating codes and permit issues can create confusion and headaches for clients who seek to build a horse barn in a state or municipality that lacks special classification for agricultural buildings. Several states, including Pennsylvania, offer building permit exemption if a horse barn can be classified as an agricultural building. This usually means that the barn is privately owned and used and is not a place of employment or residence. If a jurisdiction does not allow a horse barn to be classified as "agricultural," the property and its buildings are subjected to rather excessive restrictions. (I should note that agricultural buildings still must meet the established zoning and building code requirements.) At Blackburn Architects, we run into excessive restrictions in many states and local jurisdictions if the equestrian facility cannot be classified as agricultural.
That's why when I came across the following article about a horse farm owner in Pennsylvania, I knew I had to share it. Ron Samsel, the owner, simply wanted to build a private horse barn for his friends and family to enjoy. Instead, he entered a battle with his township that landed them both in court: all over a building permit. While Samsel eventually won the case– his horse barn was declared an agricultural enterprise and, therefore, a building permit was not required– he spent a large chunk of time and money fighting a battle against the township he felt was acting irrationally and irresponsibly.
The court ruling may set a precedent for similar cases or disputes, of which I'd guess there are many, in Pennsylvania and possibly even surrounding states. I am glad attention has been brought to this issue and can only hope for greater clarity and consistency in what has become a convoluted issue for many equestrians who seek to build a horse barn to call their own.
EXCERPT FROM PENNSYLVANIAN EQUESTRIAN

Considering this nightmare, Samsel says he can understand why individuals rarely seem to fight township rulings, even when the townships are clearly wrong. "The townships always win because they push the little guy out," he says. Each time he won his case in court, the township was given 30 days to appeal the decision. Each time, the township waited until the 29th day to announce that they would appeal.
01.11.11
Just a quick note to share the following list of farms that are offering open houses this year as posted by Throughbred Times. Lane's End Farm, a Blackburn project in Versailles, Kentucky, is offering tours from 10 a.m. to 2 p.m. daily through January 14th. If you own or work at a farm that would like to be included on the list, email copy@thoroughbredtimes.com with your information. I'd welcome your thoughts if you happen to tour Lane's End or any of the other farms. We designed Lane's End Farm in collaboration with Morgan Wheelock, the talented landscape architect, as the Farm greatly expanded its operations from 1990 to 1995. However, the design intent – striving to provide as much natural light and ventilation as possible within the barns – remains as important today as it did then.
Posted in
Equestrian News
|
Tagged Barn, Barns, Blackburn Architects, Farms, horse barn, horse farm, John Blac, Kentucky, Lane's End Farm, Morgan Wheelock, Stables, Thoroughbred Times, Versailles
|
Leave a comment >
12.14.10
Just over a year ago, I wrote about visiting a project in Rancho Santa Fe, California that had just began construction. A year later, I am happy to report that the construction effort is complete and was a great success. Lucky Jack Ranch, as its owners have christened it, is located in Rancho Santa Fe California and is made up of a 3,900 sq. ft. clubhouse with guest residence, a 15-stall barn plus a large wash stall, six outdoor tacking stalls, and an open riding arena. The Ranch also has a famous neighbor: the Pacific Ocean.
The family's private equestrian facilities take full advantage of seven acres of the site, with the structures placed upon an overlook to capture Pacific Ocean breezes, not to mention an ideal view of the sunset. The Ranch emphasizes the leisurely aspects of horse riding, from cool-down trails surrounding the property to a large patio that invites riders to relax and socialize after riding. There's a romantic feel to the architecture, which was designed as a modern tribute to Lilian J. Rice, the architect responsible for much of the site planning and architectural design within the community of Rancho Santa Fe as it formed around 1922. The architecture is heavily influenced by Spanish and Spanish Colonial design, using stucco, terra cotta, and wood accents. A trellis stretches from the clubhouse to the barn to connect the Ranch visually.
The property focuses on an ultimate rider experience, apparent in the full amenities at Lucky Jack (there's even a wood burning pizza oven), but there's no mistaking that this is a serious working horse ranch; complete with a hotwalker, round pen, custom Lucas Equine stall systems that include indoor and outdoor wash stalls, a tack room, and several areas for riders to lounge and observe the activity of fellow riders.
A fully equipped kitchen and dining area in the clubhouse opens to a smaller, more intimate patio space for dining al fresco while the main patio (with that enviable, wood burning pizza oven I mentioned) prompts larger gatherings. Lounge chairs and tables invite riders and non-riders alike to relax and take in the refreshing ocean breezes and unwind. The owner's family and friends can even stay in the clubhouse, which has two bedrooms, terraces, and a laundry room. The only real difficulty might be getting guests to leave.
[slideshow]
Allard Jansen Architects, Inc. of San Diego was a local design consultant and permit facilitator for the project.
07.28.10
One of our project managers, Dan, traveled to California last week to check in on the construction progress at Lucky Jack Ranch in Rancho Santa Fe. The last time I blogged about the project—about 8 months ago—the construction was just underway and where it was headed may of been difficult to visualize.
I'm now happy to report that visualization is no longer necessary to gauge the progress of this project, which will wrap up construction before we know it. Personally, I find it hard to believe the following photo isn't a rendering. I'll include the rendering too so you can compare for yourself. I hope the owners are as pleased as I am with how their project is turning out and that they will be able to enjoy the new facilities very soon.