Barns
04.22.20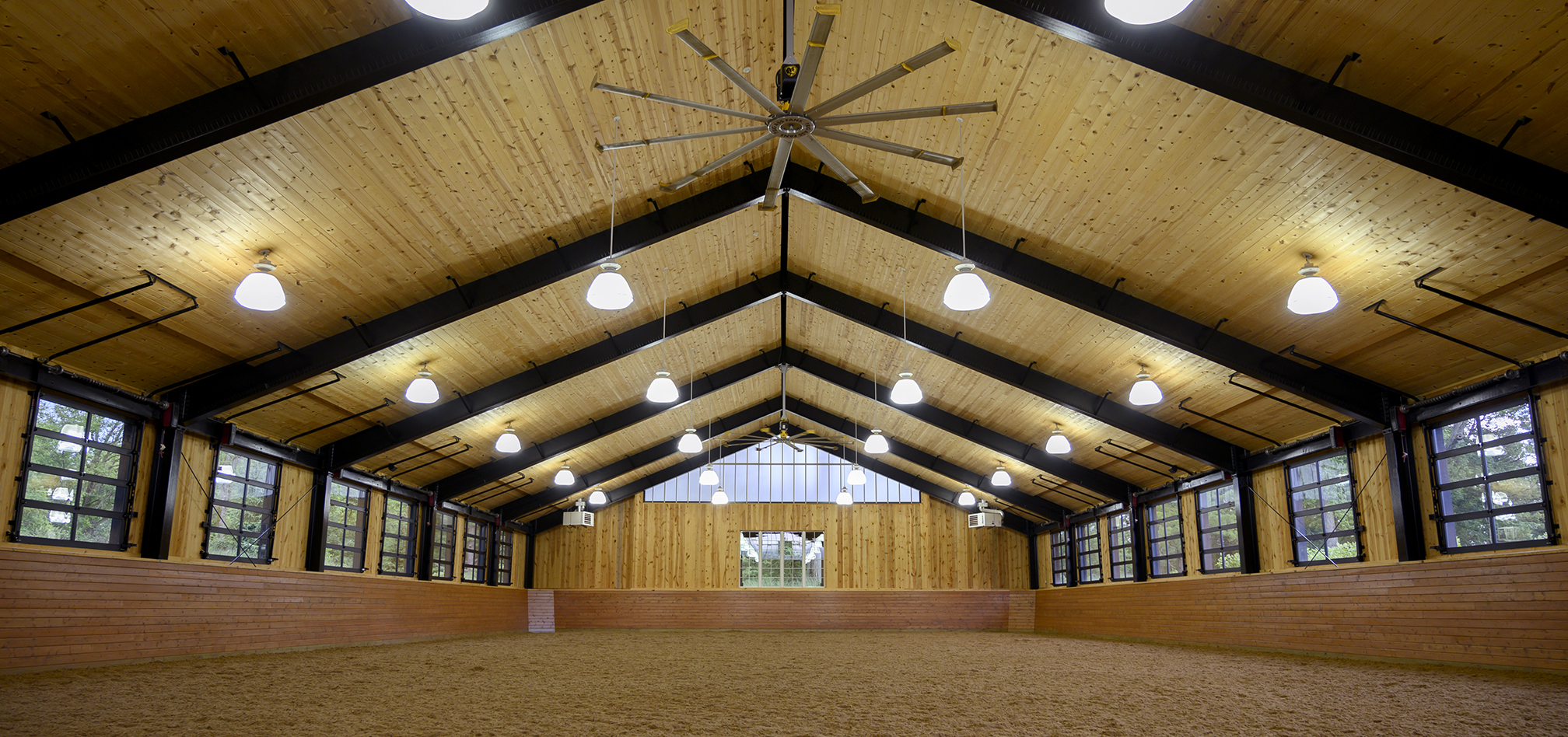 Curious about recommended roof pitches in a riding arena? Senior architects John Blackburn and Ian Kelly advise that "a 4:12 pitch is pretty much our recommended minimum on any horse structure.  We prefer steeper roofs for a natural chimney effect. However, unless you live in a cold climate where there is a lot of snow, we wouldn't advise going taller than 6:12."
The numbers indicating a 4:12 roof pitch mean the roof rises 4 inches in height for every 12 inches, as measured horizontally from the edge of the roof to the centerline.
Okay, so for barns our rule of thumb is as steep as you can make it. The steeper roof allows the Bernoulli principle and chimney effect to work more efficiently and effectively. But there are other considerations in designing the slope of a barn or arena roof.
For arenas, steeper the roof = the taller the building. This impacts the look or mass of the arena on the property which can be negative. It can stick out like a sore thumb or look like an airplane hangar in your backyard.
Because we depend less on natural ventilation in indoor arenas than in barns, we can get away with lower slope roofs. However, we don't recommend lower than 4:12 if at all possible. We realize some HOAs and neighborhoods have severe height restrictions and the wider the arena, the more difficult it is to comply without "flattening" the roof.  At Winter Farm in Peoa, Utah, we designed a low roof to stay within an imposed limit. In some areas, arenas may be considered agricultural buildings and therefore exempt from height limits. But that rule isn't consistent across state lines or jurisdictions. For example, in one jurisdiction we were permitted a covered arena as a "sun shelter" and avoided building height limitations entirely.
Because arena walls at the perimeter are usually 16' tall (need head clearance for horse and rider on interior below the structural frame), when the roof is a low slope, the roof becomes less visible as you get closer to the building and the building can look like a huge box.
You can make a huge box look great but that may require a lot more money and you typically want the arena to be in the background. The barn and the farm are the main focus and not that big ugly box on your farm.
One way we reduce the impact of the arena size is by pushing it into grade where we can, using the land contours and landscaping where possible, and placing it behind the barn and other structures to reduce the scale of the building.
Probably the best average height for a barn is 6:12 to 7:12. The reason is it is more difficult for a roofer to walk on a steeper roof without some sort of support. Thus the installation time increases dramatically as will the cost if it is built with a steeper roof.
One of the down sides for low slope roofs in snow climates is snow loading. A steeper slope can be designed to shed snow pack better than a low slope but the downside for that is the avalanche effect. When it melts it can fall fast, be loud and block doorways… a subject for another blog post!
Posted in
Equestrian News
,
News and Press
|
Tagged Architecture, Arena, Barn, barn architect, barn architecture, barn design, Barns, Blackburn Architects, Blackburn Architects barns, Design, design riding arena, Equestrian, Equestrian Architect, horse barn, Horses, riding arena, riding arena roof slope
|
Leave a comment >
10.15.19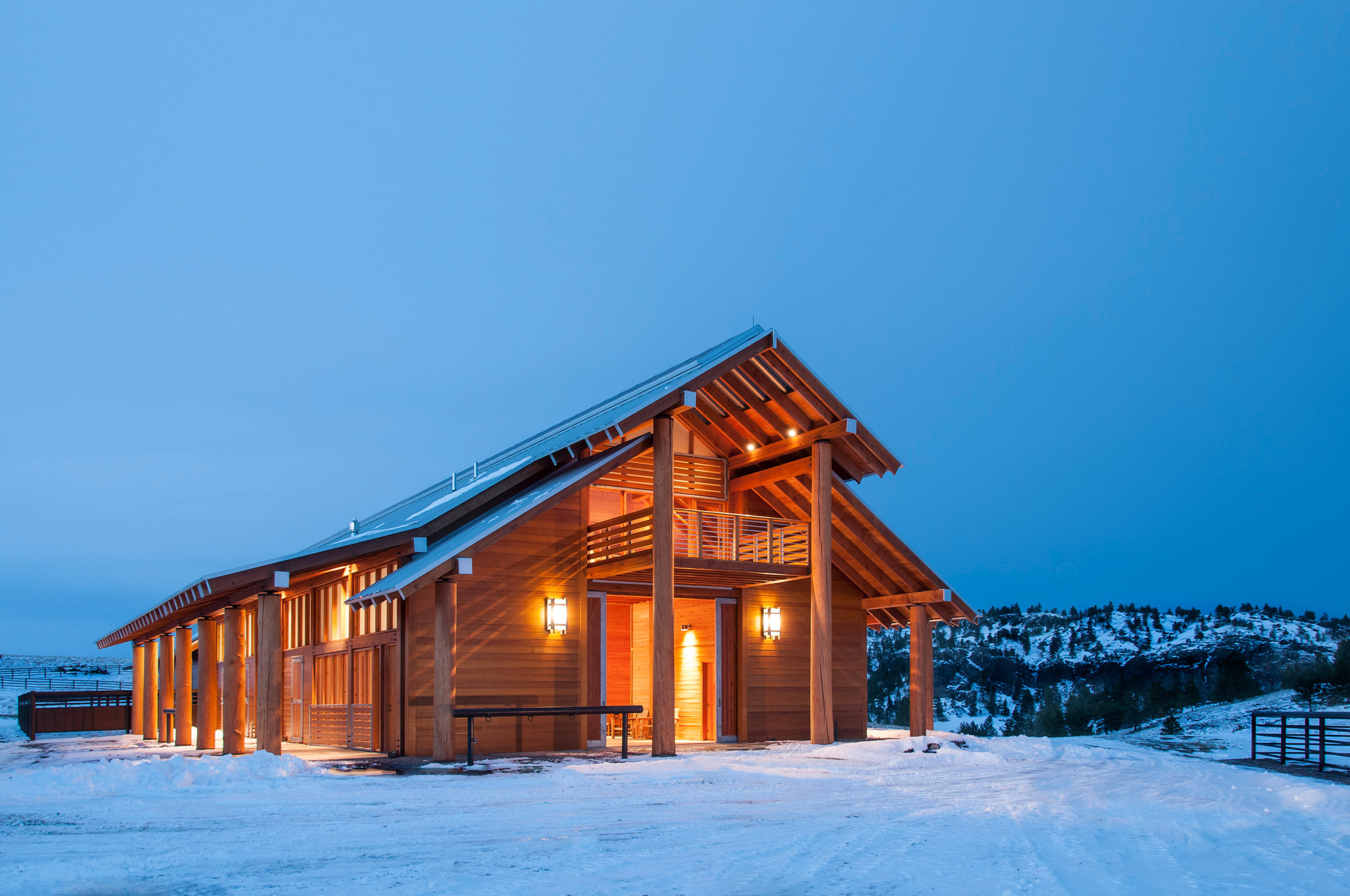 Q: I'm in the process of planning a barn in Missouri, and finances require an economical metal post-and-frame structure. I've studied Blackburn's ventilation and lighting philosophies and will incorporate them as best I can.
My question is about orienting the barn. I plan to have a center aisle, with exterior Dutch doors in every stall. Each 12'x12' stall will have an exit to the main 12' aisle as well as to an outside run-in. The stalls will be used primarily during more extreme weather or when I need to confine a horse due to injury or illness, otherwise the horses will be outside. Overhangs on both sides of the barn will function as run-in shelters for the paddocks.
I know from your writings that the ideal orientation is perpendicular to the prevailing summer breeze. However, because Missouri's cold winter winds are from the same direction, the horses on that side of the barn won't have wind protection when in the run-in areas. I know that's less of a problem for owners who keep their horses in stalls most of the time, so I've not been able to find an answer to this question. I will obviously allow them access to the stalls during the bitter cold weather we get, but for most of the winter all they need is some windbreak. How do I optimize winter protection without compromising ventilation?
Thanks,
Worried about Winter
++++++++++++
A: Orientation is certainly very important when siting your barn. But because wind is always changing and its direction and velocity can be affected by terrain, other structures, and vegetation, the angle is not a hard and fast rule.  It's good to try and locate the barn perpendicular to the prevailing summer breeze but that also depends on the design of your barn.  If you have lived on the farm a few years you may know the particular wind patterns for your property.
The design of the barn is as critical – if not more so – than the orientation.  How and where you permit air to enter the barn (preferably along the low wall along the long side of the barn and at the eaves where the roof joins the side walls), and where it is allowed to exhaust are critical.  In some areas, it may be necessary to provide some form of close-able dampers on the low wall vents to control the wind and temperature that can impact a horse that is in the stall but doesn't have the flexibility to get away from it.
The environment within the barn should be within 8 to 10 degrees of the temperature on the outside.  Your barn should ventilate vertically to reduce the horizontal movement of bacterial- and moisture-laden air.
We always say the best environment for the horse is outdoors where it can make its own choices about its environment and health. A naturally-kept horse should be able to get out of the hot sun and find shade or get out of a cold wind in a shelter or behind a wind block.
By turning your horses out most of the time you are certainly on the right track for happy, healthy animals.
Missouri's winter weather isn't so extreme that it prevents you from a center aisle barn with stalls on both sides.  Orient your barn so that turnouts are on the windward side of the barn and leave the Dutch doors open so your horses can get inside away from the wind.  For the turnouts on the cold windward side of the barn, blanket the horses.  And keep their winter coats unclipped.
Since you've read "Healthy Stables by Design," you know that Blackburn designs typically use the chimney effect and the Bernoulli principle to create natural ventilation. Our barns become passively designed machines that work to provide healthy conditions for the horses inside.
Good luck with your new barn!
Posted in
Equestrian News
,
News and Press
|
Tagged Architect, barn architecture, barn design, barn in winter, Barns, Blog post, custom horse barn, Design a Horse Barn, Equestrian Architect, equestrian architecture, equestrian design, equestrian facility, Equine, Equine Architect, equine design, farm planning, healthy barn, healthy horse barn, healthy horse barns, healthy horses, Horse, horse barn, horse barn design, Horse Barns, horse farm, horse racing, horse stables, Horses, importance of ventilation in horse stalls, John Blackburn, Stables, Sustainable, thoroughbred, Ventilation, Virginia, Winter barn
|
Leave a comment >
03.05.19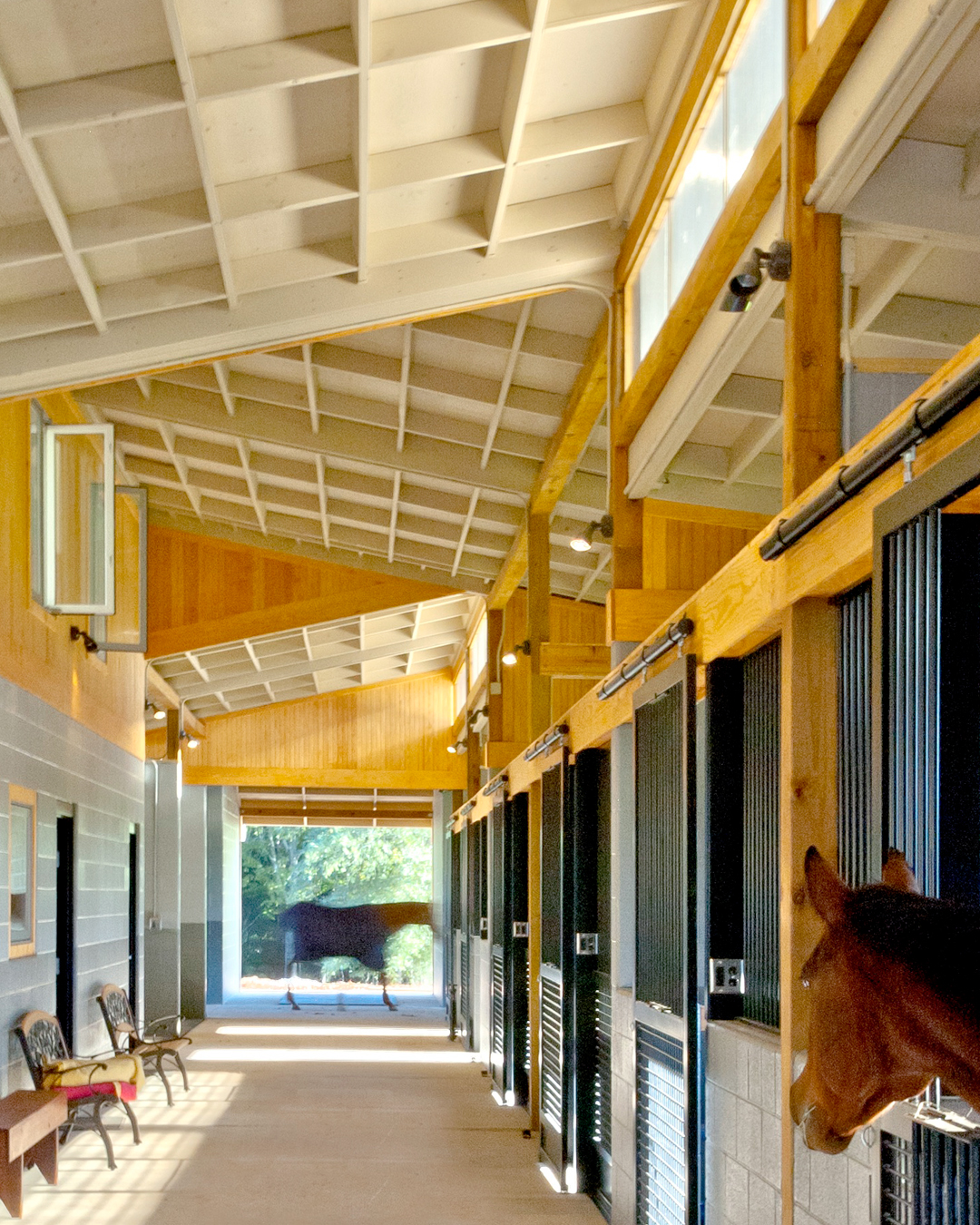 Fire protection in an equestrian facility is always a concern of the highest priority. Because we're often asked, we thought we'd offer information here on the fire suppression details the Blackburn design team has included in some of our latest projects.
At a new barn under construction in Indiana, we've specified a Dry Pipe System by Fire Tech, LLC. http://www.firetechstl.com/systems-preaction.php. We could have specified a "preaction sprinkler system," but chose the dry pipe system because of the dangers of freezing pipes in the cold weather climate of the Midwestern United States.
To quote Fire Tech's description, "A Preaction Sprinkler System is a system which employs automatic and closed-type sprinkler heads connected to a piping system that contains air (either pressurized or non-pressurized), with a supplemental system of detection serving the same area as the sprinklers. The systems are typically used in applications where the accidental discharge of water would be catastrophic to the usage of occupancy.
"Preaction Sprinkler Systems are similar to Dry Pipe Systems in that the water is kept from entering the piping valve, in the case a preaction valve. This valve is held closed electrically, only being released by the activation of the detection system (heat or smoke detectors mainly) when an electrical signal is sent to the releasing solenoid valve. The water then fills the pipe, ready for the activation of the sprinkler heads. Preaction systems can be arranged to be activated by only one detection device type, or many."
In Indiana, our architects specifically called for a dry pipe system because of the potential for freezing temperatures, but also in case "one of the children kicks a soccer ball and takes out a sprinkler head" (the client's words). With a dry pipe system, the sprinklers won't go off unless they also sense smoke or fire (depending on the detector type). A false alarm could flood and ruin the barn's expensive finishes. And using recessed/concealed pop up heads is a good idea where you can.
Another critical reason Blackburn specified a dry pipe system is because of an issue with water demand; the Indiana farm doesn't have sufficient well water on site to power the system. Because of this, our client connected to county water. Keep in mind that If you're on a well, you'll likely never have enough pressure to support a fire suppression system. The gallon per minute (gpm) for firefighting is higher than your average ground well can produce. This means you must store water on site in a tank or pond.
At Sheik Island, one of our projects in Florida, we stored water below ground. In California, at a private facility, we installed an above ground tank adequate to run the system as required by the local fire department. Additionally, we posted signage limiting the occupancy (should the owner decide to sponsor a large event in the arena). The clients obtain a special permit when larger events occur, and they hire the local fire department to have a truck on hand during the event.
At the Devine Ranch, in Aptos, California, and at the Moss residence, also in fire-prone California, we provided on-site storage tanks with backup generators to operate a pumping system.
Next up on the Blog: fire limiting design guidelines we build into our projects.
Posted in
Equestrian News
,
News and Press
|
Tagged Architecture, barn architect, barn fire safety, Barns, Blackburn Architects, Equestrian, equestrian architecture, equestrian design, Equine Architect, equine design, fire in horse barn, Fire protection, Fire protection in horse barn, fire suppression systems in horse barn, green barn, horse barn, horse barn design, Horse Barns, horse racing, protecting a horse barn against fire, protecting horses against fire, Stables, thoroughbred
|
Leave a comment >
01.09.19
Over the years, Blackburn has been asked what we think of adding stalls along the side of an indoor arena. Sounds like a good idea, right? Well, we strongly recommend against it. The problems are many.
1. Air Quality. Forced to breathe arena dust many hours of the day, stalled horses live in an environment that isn't healthy. We recommend instead that the stall portion of the stables be connected in a separate but attached structure running perpendicular to the barn. Not only does this arrangement help isolate the arena dust from the barn, it allows the barn to sit independently. The structure can then catch the prevailing breeze which permits two scientific principles (Bernoulli principle and the chimney effect) to provide natural ventilation and light to the barn.
2. Fire Safety. We always recommend fire separations by providing sliding doors to isolate the barn from the arena in case of fire. These doors may or may not be rated fire separations. The decision is usually driven by cost, and we often provide an automatic rolling fire rated shutter to isolate the two separate areas – this at least reduces the risk of smoke moving between structures. (Quite often it's the smoke that is more dangerous and faster moving than the actual fire.) The isolation by sliding doors also provides critical time to get horses out of barn. If the arena and barn share the same space, there is less opportunity to isolate fire or smoke from the stable area. Furthermore, when the stables are parallel and part of the arena, the structure is generally shared – raising the risk it could collapse and trap horses inside.
3. Cost, Scale and Building Height. When stalls are designed as part of an indoor arena, the design requires a wider structure (often steel due to the long spans) which is typically more expensive. When it's a separate but attached structure, it can be framed in wood with smaller spans reducing the cost of the framing. If the stalls are part of the indoor arena, then the building becomes wider which also means a corresponding height increase. In many areas, the local zoning codes restrict building heights. We have found typical restrictions of 35 feet. It's difficult to get any height in the barn or arena if you are trying to build a 100 x 200 ft arena with a row of stalls and aisle way. Also, from an aesthetic perspective, wider and taller building begin to get enormous and have the potential to look like an airplane hangar and overshadow the entire farm.
4. Storm Water Issues. Finally, if your property is not flat, such a structure with a large footprint may require significant grading that can be expensive and create storm water issues. By breaking the barn and arena into two connected structures you can more easily work it into the natural slope of the land. Also, the isolation of the barn and arena permits opportunities to push the arena into the ground – helping to reduce the scale and height of the arena above finish grade. The entry to an observation area can be elevated above the arena floor (but entry level still at grade) for more easily viewing over the kick wall from a sitting position.
Blackburn has designed many arenas with this perpendicular arrangement. Rocana Farm, designed by us in 2002, is a great example of what we mean. Stalls at this hunter/jumper facility are attached to the enclosed arena with an elevated observation room, tack room, wash and grooming stalls.
Posted in
Equestrian News
,
News and Press
|
Tagged Barn, barn architecture, barn design, Barns, blackburn, Blackburn Architects, Blackburn Architects barn design, Blackburn Architects barns, Design, Equestrian, Equestrian Architect, equestrian architecture, equestrian design, equestrian facility, Equine, Equine Architect, Horse, horse barn, Horse Barn Advice, horse barn design, Horse Barns, horse farm, horse racing, John Blackburn, Sustainable, Ventilation
|
Leave a comment >
12.20.11
Located on a hilly 250-acre site with two lakes, Glenwood Farm is designed of wood and stone to fit within the natural landscape. The covered arena and outdoor dressage arena with surrounding paddocks overlook a small pond. The 12-stall barn has two wash/groom stalls and service space that includes a tack room, feed room, tool/work space, and laundry as well as a lounge with a loft and office space. A separate service building stores bedding and hay. The farm is used for boarding private horses as well as for the family's personal use.
Program 12-stall barn, covered arena, and service building
Completion 2008
11.30.11
They're rustic, lofty, and awe-inspiring. Supported by a sturdy skeleton of timber and a base of stone nestled into the land, its appeal is seemingly timeless. The structure effortlessly fits into its landscape, whether in Pennsylvania, Ohio, or across the ocean in the United Kingdom. The bank barn. A simple beauty of which I can't get enough. (Not to mention dairy barns, vaulted barrel barns, Dutch barns, prairie barns….)
Maybe it's the news I seek, but I feel as if there's an influx of articles and project profiles about converting old barns into residences, guest houses, schools, theatres — even a basketball court/recreational wonderland. Bring it on, I say. Converting an old building to a new use never gets old to an architect like me.
There's even a How to Guide (aptly titled, How to Take One Old Barn and Call it Home) from the team who can seemingly fix anything and everything: the experts at This Old House. Converting an old barn into a new home isn't a task for the faint of heart, but big things can yield even bigger rewards, I like to think. The article touches on common issues you'll face: structural (is it safe? how's the foundation?), is it energy-efficient (you can bet it's not — yet!) and water sealed (again — no way, no how), the pluses and minuses of such a large, open space, and more.
At Blackburn, we're working to revive a metal pole barn currently used as a recreational lodge in North Carolina. While the barn isn't centuries old, like many of the bank barns I admire, it's an interesting challenge for my staff and me. The owner would like to expand the barn's use so that it may host business events and entertainment functions. Our goal is to respect the barn's form and the local context, while providing a renewed aesthetic and use. Design plans include replacing the metal cladding with a painted wood or composite siding to provide a more traditional look. We'll also incorporate more natural light into the barn through an enclosed glass entrance, which will in turn make the space feel more inviting. The floor will be lowered to increase the space's capacity and the hayloft area will become a conference center for up to 80 people. Heavy timber framing with steel plate connections will add to the rustic yet finished interior.
I'll post updates about the project as the work progresses. In the meantime, how about some inspiration for your own conversion project? Here's just a sample of what I've found lately. If you stumble upon a great adaptive reuse project (whether it's a barn, an old warehouse, a church), I hope you'll share it here. I can't seem to get enough.
New York Times: The Call of Converted Barns 
New York Times: An Upstate Farm Brings a Fashion Photographer Back to His Roots 
Inhabitat: Beautiful Bank Barn Conversion (OK, a shameless plug for a Blackburn project)
Martha Stewart: Rustic and Refined Barn 
Martha Stewart: Summer Guesthouse 
Posted in
Equestrian News
,
Sustainable Design
|
Tagged Adaptive Reuse, Bank Barn, barn architecture, barn conversions, barn reuse, Barns, blackburn, conversion, old barn, Party Barn, This Old House
|
1 comment >
11.17.11
Stumbled across this photography blog and am glad I did. Seems he too has a thing for old barns. Really like how the images seem to capture the mood of the large, weary structures. Great stuff.
10.27.11
I admit it: I've never even heard of mutton bustin' until reading about the event, which is part of tonight's lineup at the 53rd annual Washington International Horse Show, in yesterday's Washington Post. Apparently mutton bustin', in which kids weighing 60 lbs. or less play rodeo kings and queens while riding on SHEEP (like a fluffier and friendlier bull?), is popular in Australia. Wonder if it will catch on in the states. Or am I already behind?
It's hard for me to imagine that any sheep with a 6-year-old on its back would feel inspired to do much other than lie down for a nice nap, but apparently it can get quite rowdy (witness the poor kid in the photo below). My curiosity is certainly piqued. I'll even get to see the "action" live because my staff and I are attending tonight's show (it's BARN NIGHT, after all). Everyone at Blackburn enjoys watching the terrier races, but I bet mutton bustin' gives the dogs a run for their money, at least as far as the cute factor goes.
For those of you who plan to attend tonight's show, please follow me on Blackburn's Facebook page, where I'll post about the event and coordinate to meet up with fellow horse and barn lovers. And if you can't make it to the show, consider watching it via live streaming.
09.07.11
Designed in response to an adjacent new residence and in the style of existing barns on the private ranch, this eight-stall barn in Montana uses heavy timber framing and western cedar siding.
The program includes wash and grooming stalls, a lounge/office, large tack rooms, and a loft with a balcony that overlooks an outdoor arena. The barn's deep overhangs create covered areas to wash and groom horses outdoors while a continuous translucent ridge skylight allows generous amounts of natural light within the barn.
Program 8-stall barn, outdoor arena, service building
Completion 2004
Posted in
Equestrian News
,
Projects
|
Tagged Architecture, Barn, barn design, Barns, Blackburn Architects, Equestrian, Equestrian Architect, equestrian design, Equine, equine architecture, heavy timber, horse barn, horse ranch, horse stables, Montana barn, ranch, Stables, western cedar siding
|
1 comment >
02.16.11
Navigating codes and permit issues can create confusion and headaches for clients who seek to build a horse barn in a state or municipality that lacks special classification for agricultural buildings. Several states, including Pennsylvania, offer building permit exemption if a horse barn can be classified as an agricultural building. This usually means that the barn is privately owned and used and is not a place of employment or residence. If a jurisdiction does not allow a horse barn to be classified as "agricultural," the property and its buildings are subjected to rather excessive restrictions. (I should note that agricultural buildings still must meet the established zoning and building code requirements.) At Blackburn Architects, we run into excessive restrictions in many states and local jurisdictions if the equestrian facility cannot be classified as agricultural.
That's why when I came across the following article about a horse farm owner in Pennsylvania, I knew I had to share it. Ron Samsel, the owner, simply wanted to build a private horse barn for his friends and family to enjoy. Instead, he entered a battle with his township that landed them both in court: all over a building permit. While Samsel eventually won the case– his horse barn was declared an agricultural enterprise and, therefore, a building permit was not required– he spent a large chunk of time and money fighting a battle against the township he felt was acting irrationally and irresponsibly.
The court ruling may set a precedent for similar cases or disputes, of which I'd guess there are many, in Pennsylvania and possibly even surrounding states. I am glad attention has been brought to this issue and can only hope for greater clarity and consistency in what has become a convoluted issue for many equestrians who seek to build a horse barn to call their own.
EXCERPT FROM PENNSYLVANIAN EQUESTRIAN

Considering this nightmare, Samsel says he can understand why individuals rarely seem to fight township rulings, even when the townships are clearly wrong. "The townships always win because they push the little guy out," he says. Each time he won his case in court, the township was given 30 days to appeal the decision. Each time, the township waited until the 29th day to announce that they would appeal.