Blackburn Architects barns
02.05.18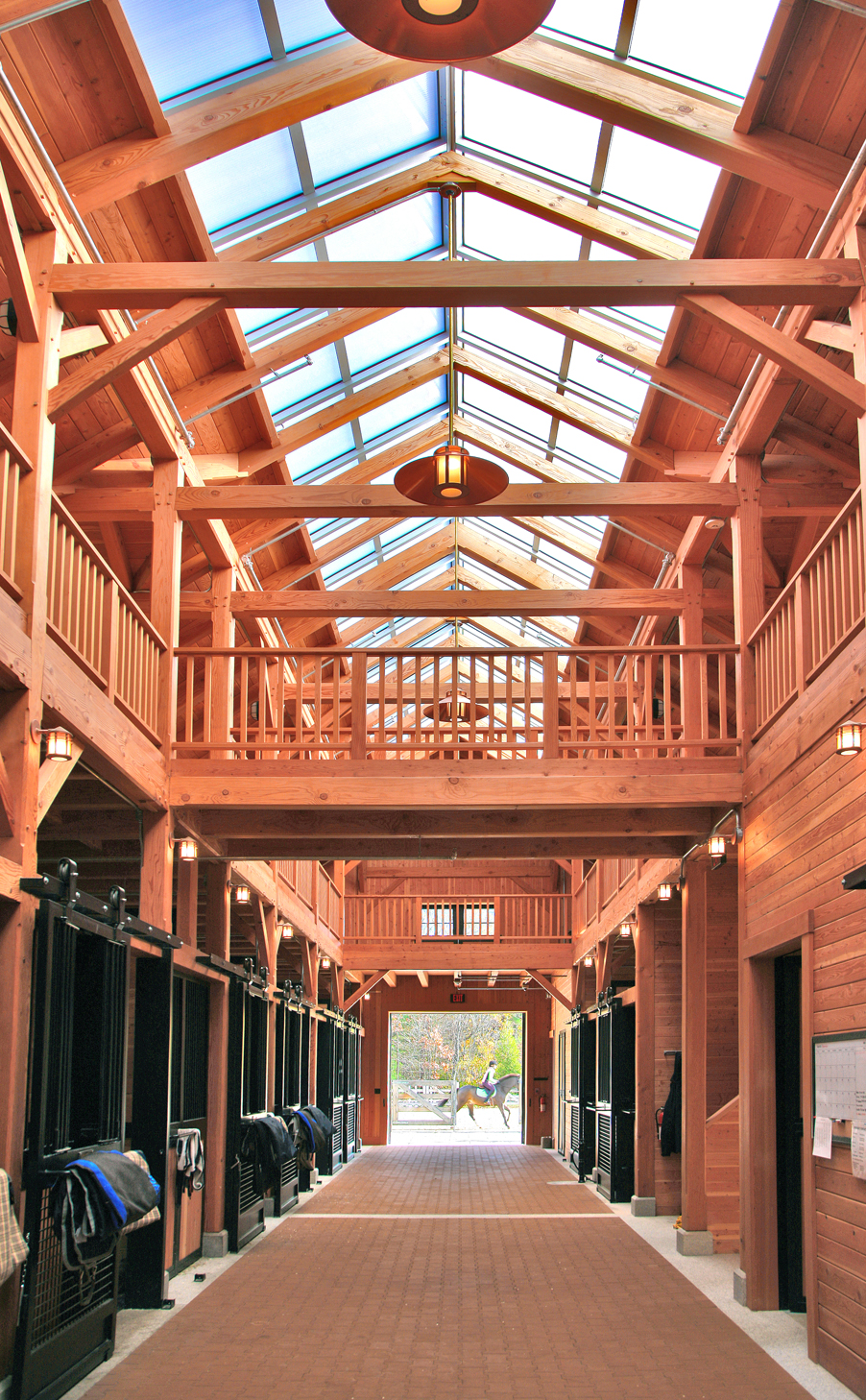 Been thinking about a custom barn, or buying property with existing structures that need an extensive overhaul?
I thought I'd take a minute and explain Blackburn Architects' process for designing a new equestrian facility and overseeing its construction. While not carved in stone, for planning purposes, can easily become a two-year process.
The first step is usually a visit by me or another Blackburn architect. The initial meeting is our first chance to meet, walk the site, look at any existing buildings and discuss the project goals. I'm a firm believer in "a picture is worth a thousand words" but "being there is worth a thousand pictures" Following this, we'll send a proposal for service, which outlines the process and fees.
Once a contract signed, we get to work immediately.
The timeline usually looks something like this:
• 6 to 10 weeks for Feasibility Study, Site Assessment and Master Plan
• 1 to 2 months for Schematic Design
• 2 to 4 months for Design Development and Construction Drawings
• 1 to 2 months for Permitting
• 12 to 16 months for Construction
At Blackburn Architects, equestrian design starts with the horse and ends with a building that fits the horse, the owner, and the surrounding environment like a glove. It's as simple and beautiful as that.
Let's explain the steps in greater detail:
Feasibility Study / Site Assessment / Master Plan
The goal of the Feasibility Study is to determine, as early in the process as possible, whether the intended project fits the owner's program, the site, and the budget.
We assess any existing building(s) and the site. We take measurements to determine if an in-place structure will work for the goals of the project. We study the land until we come to a clear understanding of wind and solar direction, soils, changes in elevation – all natural and architectural characteristics that guide placement and design of any new buildings. Central to the success of the project, this "Master Plan" addresses all these things and more, providing a road map for the success of all future phases of our work.
The site analysis also includes a review of applicable zoning and easements for the property; we determine what (if any) limitations or restrictions may apply at the property. Land disturbance allowances? Height restrictions? Set-backs?
In tandem with the site evaluation (as soon as we have a contract), we send the client a unique Blackburn Architects questionnaire that we've developed over the years. Answers are collected and inform the design; starting off the process with clear direction from the client. It is extensive and though it covers about 25 pages, once it is completed it "paints" a picture of exactly how you would like your farm to operate. The efficiency of the operation is critical and can have a huge impact on your operating cost and maintenance budget.
Schematic Design
Moving seamlessly from the master planning phase (often there is a fuzzy line here where one ends and another starts), we start schematic design. In this step, we help our clients visualize the project design with a variety of techniques using both computer and hand renderings to illustrate the scale and the relationship of the project elements. Ideas, concepts, goals take form at this stage.
Budget Development
Once we've worked up outline specifications for the work, we can begin to get a rough idea of the costs. At this point we will either develop a rough estimate based on our 35 years experience with over 300 farm projects, consult with a professional cost estimator or a builder who is familiar with the building type in your location.
Design Development and Construction Documents
Once we have the site layout, design, and budget, drawings and other documents give serious form to interior and exterior finishes, and firmly establish the size, character, and details of the project. These documents will be used by our professional consultants to design the electrical, gas, and other utilities. When these systems are defined, and we have a basic finish schedule and budget, we're ready to file for the permit and start construct of the building.
Bidding and Construction Administration
With the construction documents complete, we can help clients select a contracting company through a "bidding" process for the work, or we can work with a client's pre-selected Construction Manager. We work side-by-side with our clients to ensure that the best and most informed decisions are made during this process.
While in my experience this process typically lasts about 18 to 24 months, a lot of this depends on factors that are outside of either our control or our clients. The time of year and weather, for instance, can greatly influence how fast construction progresses, especially in colder climates. Pastures have a growing season, and they need at least a year (maybe two) to establish.
Designing and constructing a custom facility is a very subjective process, which is guided by all kinds of factors including the complexity and size of the structures, the time of year, the strictness of zoning regulations and neighborhood associations, state environmental regulations, and so on. But rather than let these things hold you back, I say, "Jump In" or give us a call to discuss how the process can work for you. When you slide open the doors to your dream facility and see the happy heads of your horses looking over the stall doors, all the time and effort will vanish. At least that's been my privileged experience over all these years.
Posted in
Equestrian News
,
News and Press
|
Tagged Architecture, Barn, barn design, blackburn, Blackburn Architects, Blackburn Architects barn design, Blackburn Architects barns, Blackburn Architects Equestrian Design, Blackburn Architects New Horse Barn, Blackburn greenbarns, Design a Horse Barn, Design a new horse barn, Equestrian, Equestrian Architect, equestrian architecture, Horse, horse barn, horse stables, John Blackburn, New Horse Barn, renovate a barn, renovate a horse barn, Stables, Ventilation
|
Leave a comment >
11.01.17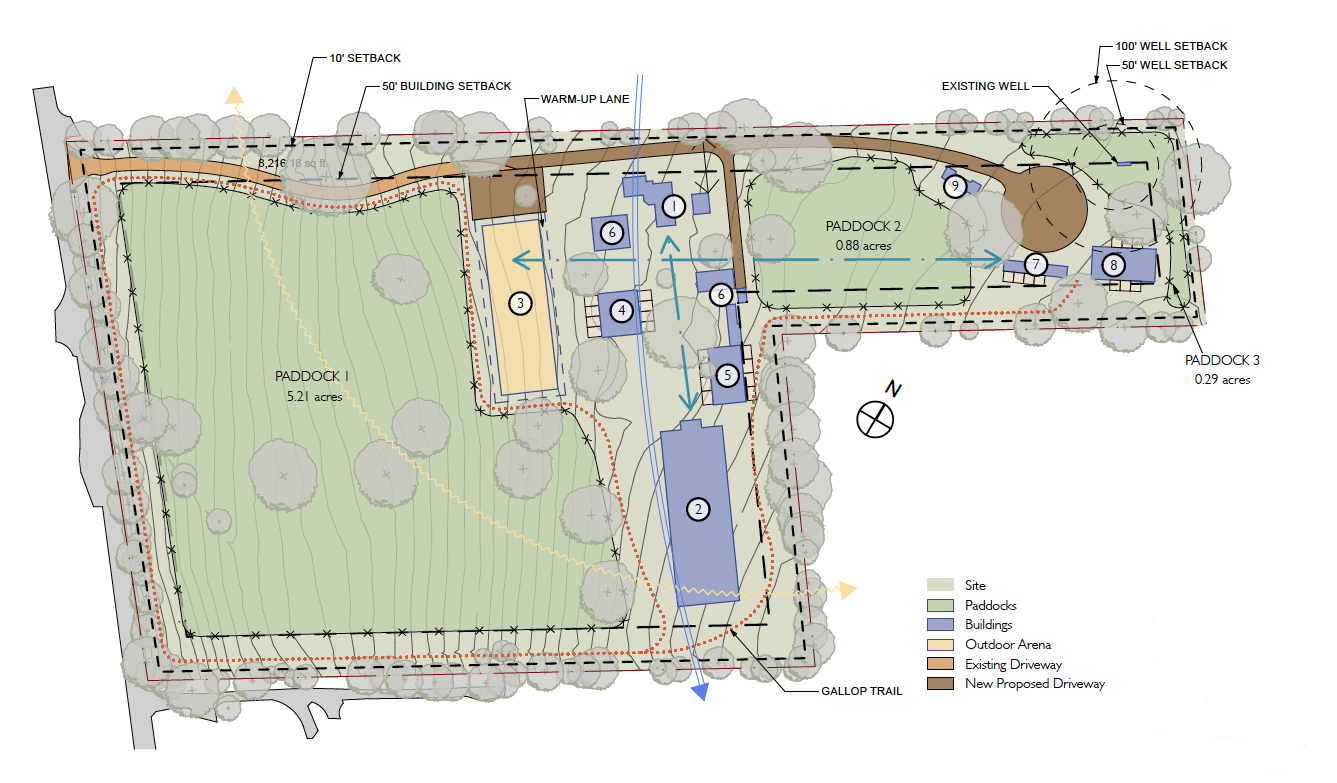 Q: Dear John,
We have a house on 3 acres of land with a 4-stall metal barn. It's been years since horses have been on the property. The pasture and paddock are overgrown with trees and shrubs and are now essentially wooded areas. The fences are in disrepair. The area is hilly. We need to see if we can flatten an area to use as a riding ring. Drainage will be an issue. Basically, we need to figure out a way to rework what's here to maximize what we can use. We understand that it will be a large undertaking and we want to properly plan to do it right and complete in several stages over a couple years.
Your website has been helpful and informative, but any additional information would be greatly appreciated.
Thank you,
Midwestern Equestrian
A: Dear Midwestern Equestrian,
Almost weekly, our office receives calls or emails from people who own a property and plan to put horses on it. Maybe there's already an old structure there. Or perhaps they want to start from scratch. They ask for advice on where to begin.
Midwestern Equestrian, I suggest you start with a site plan. Even with an existing structure (your 4-stall barn), there are so many benefits to putting together a "roadmap" for future changes/improvements. And since you want to put four horses on three acres, efficient planning is critical. Consider that there are three major categories of costs when planning to bring horses onto your property: 1. Operational, 2. Environmental, and 3. Infrastructure. Proper planning will save you money in all three areas. Fewer roads, less fencing, better drainage all ensure that the whole farm, not just the horse barn but the entire collection of structures on the site, operates efficiently and safely.
Operational Considerations: First locate where you'll put the horses – where is your turnout? Where will you store hay, equipment, or vehicles? Do you have access for manure pickup, large-truck deliveries, guests or visitors? Minimizing the number of steps necessary for your daily routine (turnout, stall mucking, etc.) will save labor time, which of course you know is money in the farm biz. Planning will also preserve space for paddocks.
Environmental Considerations: Figure out structure placement within your acreage. It's important to properly orient any new buildings in the landscape. We design our barns to generate their own ventilation, placing them perpendicular to prevailing summer breezes. (One of many design considerations for maximizing light and ventilation, which is a subject I've written about often.) Additionally, placing structures where the land will drain easily makes good sense.
Infrastructure Considerations: Fewer roads to maintain means fewer dollars spent.
Creating a master plan does not mean that every part of it needs be built at once. The plan may end up taking years to implement, but as each new structure or paddock is added, it isn't done in the usual haphazard way. It will save you from asking, "You know, I could use a tractor shed somewhere?" Even those with very limited budgets should consider getting the advice of an expert at the planning stage, given the importance of the optimum farm layout.
Hope this helps in your planning, and good luck with your farm!
John
Posted in
Equestrian News
,
News and Press
|
Tagged Blackburn Architects, Blackburn Architects barns, Dear John, Dear John advice, equestrian design, equestrian facility, Horse, horse farm, horse stables, John Blackburn, John Blackburn advice on site planning, Master Plan for a horse farm, Site plan for equestrian property, Site planning a horse farm, Stables
|
Leave a comment >
10.30.17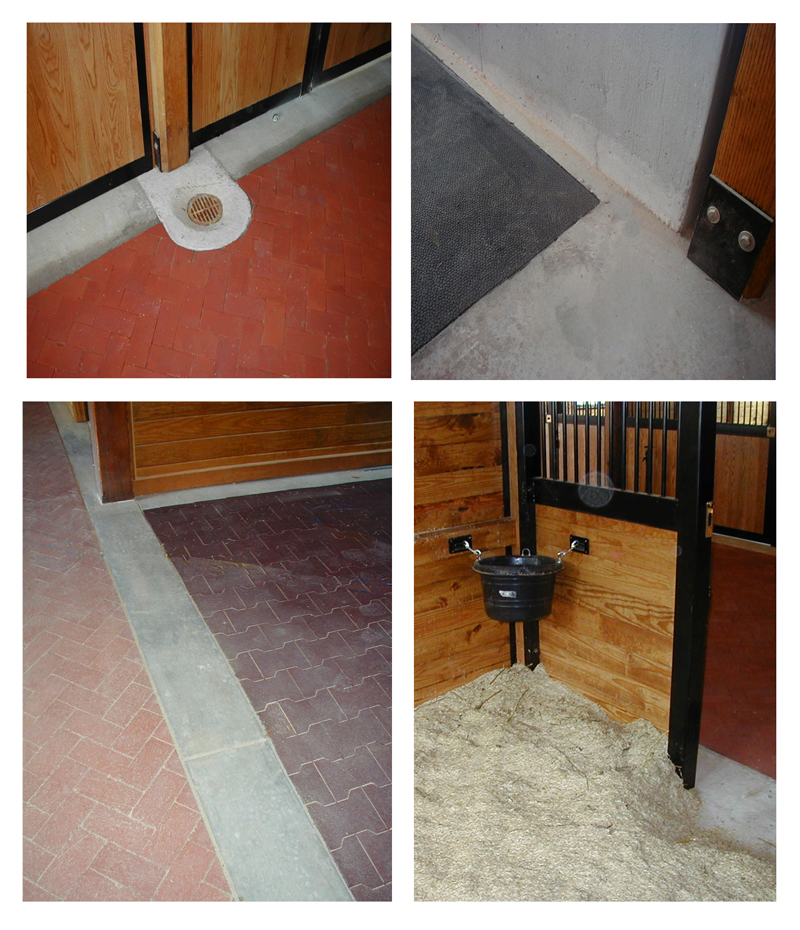 In this on-going series, John Blackburn offers insight into component parts of equestrian facilities. With more than 35 years' experience in the design of horse barns, he's seen his share of good, bad and worse. In this installment, he gives advice on stall flooring. Still as applicable as ever, we're reposting Sushil Dulai Wenholz' article from The Horse, Sept 1, 2001 (added a few updates, too).
Stall Flooring
By Sushil Dulai Wenholz
You give a lot of thought to your horse's health and happiness. You groom him until he gleams, swaddle him in boots and blankets, carefully monitor his diet, and expend considerable effort and expense making sure he's comfortably bedded. But have you thought about what lies beneath that soft bed? In essence, the stall floor is the box spring beneath your horse's mattress, and it's every bit as important as what goes on top–perhaps more so.
No matter how nice the bedding, a poorly constructed floor can lead to respiratory troubles from ammonia gases, thrush from trapped moisture, achy joints from uneven or too-hard surfaces, and injury from slippery or abrasive materials. In addition, a poor floor can mean wasted bedding and extra labor for you.
A good stall floor starts with a good construction plan. John Blackburn, senior principal of Blackburn Architects, a 34-year-old firm that has designed more than 400+ barns in 35 states; and Peter Gibbs, Extension Horse Specialist at Texas A&M University, outline the steps involved in building a floor that will keep you and your horse happy, whether you're revamping an existing stall or building a brand new barn from scratch.
Starting From Scratch
1. Pick the location. If you're building a barn, you have the luxury of choosing the best site. Look for an area that's dry or at least easy to drain. Avoid steep slopes, areas that are consistently wet, and locations that are subject to water runoff during heavy rains or snow melt. In terms of soil, you're basically stuck with whatever is normal for your region. But if you have it, soil that packs tightly is ideal, says Blackburn, because it will provide a tough surface that isn't too hard or abrasive.
2. Dig to the base. Whether you're starting from scratch or redoing an existing stall, you need to dig down to a well-draining layer of soil. This will give urine and other moisture a path to drain away from your horse. Expect to excavate at least one foot deep over the entire stall, says Blackburn. You might have to go deeper, depending on local soil conditions.
3. Level the ground. You should level out that base layer to help make sure the surfaces above it are level. A nice, even plane puts less stress on your horse's legs than an uneven floor.
4. Compact the base and fill. Even if the floor starts out flat, Gibbs explains that extended use can create a holey or uneven surface, especially with dirt or stone-dust flooring. To form a firm foundation that can withstand daily wear and tear for extended periods, compact the floor. You can use a hand roller, a motorized, hand-held compactor or "settler," or some other heavy pounding tool to do the job.
First, compact the layer you've uncovered and leveled. Then begin adding layers of dirt or stone dust. "The important thing is to install the flooring in layers and tamp it at each layer," says Blackburn. He recommends using three-inch layers for dirt or one- to two-inch layers for stone dust. Compact each layer "until you think it can take the abuse of hooves kicking at it," he adds, noting that there isn't a standard measure to go by.
To ensure good drainage away from the building, add layers until your floor's surface is 12 to 18 inches above the natural grade around the barn, says Blackburn. "You want to get the moisture to drain through the flooring and away from the stall and barn," he explains. In addition, this protects the floor from high water levels outside that might otherwise easily flood the stall.
Now you're ready to add the floor itself. Next you'll find basic installation information for several common types of flooring.
Adding the Flooring
Dirt–If you plan to have a dirt floor, and local soil drains exceptionally well, you're done. Most soils, however, drain moderately well at best, so you'll probably want to help it along. One option is to grade the top layer of dirt slightly (no more than three degrees), so that moisture runs off to exit the barn or stall through an outlet in the corner (or through the stall door to the aisle).
You could also make a "leach hole," or simple drain, inside the stall. To do this, dig a hole about three feet in diameter and deep enough to reach that bottom, well-draining layer of soil at the base you created. Then fill the hole with varying sizes of rock (or alternating layers of sand and gravel), starting with large gravel chunks at the bottom and working toward stone dust at the top. Tamp into place and cover with dirt to even out the floor.
Stone Dust–Blackburn believes that stone dust (also known as crusher run, screenings, or quarter-inch minus) makes a better floor than dirt, "because it can compact well and still permits drainage." However, he does recommend adding a subsurface drainage system to enhance flow-through. To do this, lay filter fabric over the floor, top it with a layer of crushed gravel, then add three to five inches of stone dust. As you did with the base, compact the stone dust after each one- to two-inch layer. When you're done, water the floor, tamp it down tight again, and let it settle overnight. Fill in any holes or depressions the next day.
Another idea is to install a drainpipe under the stone dust floor. "I feel that this helps drain the moisture away from the stall area and allows you to flush the stall with moisture to cleanse the flooring," explains Blackburn. "Otherwise, it could drain into the dirt and stone and stay there, providing odor and a breeding ground for bacteria."
To lay pipe, first dig a swale–a sloped ditch about one foot deep. Lay perforated pipe into the swale (you want a piece long enough to provide drainage away from the building, notes Blackburn). Cover the pipe with filter fabric, then fill the swale with crushed gravel. Now add and compact your stone dust as stated previously.
Plastic Grid–Plastic grid flooring comes in many variations, but the basic idea is the same for all floors: To provide a 100% permeable floor plus a level, stable, durable surface. Installation instructions vary by manufacturer; however, most recommend laying the grid over a well-draining subsurface (such as stone dust) so that moisture not absorbed by bedding will drain away. Usually, the holes in the grid (which create the excellent drainage) are filled with stone dust.
Rubber Mats–As with grid systems, rubber mats (and similarly, rubber pavers, which look like rubber bricks) vary in design, thickness, texture, etc., from one manufacturer to the next. Likewise for installation instructions, although most want you to measure stalls so that mats fit snugly against each other and the walls. Unlike grids, however, mats and pavers are meant to trap moisture above the surface, where it can be absorbed by bedding. Moisture can seep through the seams (or possibly the rubber itself). So, flooring experts recommend that you lay mats over a well-draining subsurface, such as one of the crushed stone systems mentioned earlier, or over relatively nonporous materials such as concrete and asphalt that can be easily disinfected.
Asphalt–You can lay an asphalt floor yourself, if you're willing to find a supplier, rent equipment, and learn the proper way to apply, rake, and settle it. However, it can be a tricky process. As Blackburn notes, "The right mix of asphalt is important. It should be raked as it's installed, then hand rolled. I would imagine that hiring a professional would be advisable."
He also suggests that you grade asphalt floors with a crown of one-eighth inch per foot in order to sustain drainage. "With a flat surface, the urine puddles and leaves the horse standing in dampness, potentially causing all kinds of hoof issues," he explains. The slope will also facilitate drainage when the stall is washed or disinfected. Blackburn recommends the use of aggregate, or "popcorn," asphalt, which offers a non-slip texture. And he strongly urges the use of rubber mats or rubber pavers to cushion this relatively rough surface.
Concrete–Many people are comfortable mixing and pouring their own concrete–an easier process than laying asphalt. For larger projects, you might want to hire outside assistance. Although moisture can seep through concrete over time, this footing is not as porous as stone dust. So, Blackburn recommends grading it at a rate of one-eight inch to one-quarter inch per foot to allow for drainage. Concrete should be cushioned with rubber mats or pavers, he adds, to reduce the risk of injury and musculoskeletal stresses that this hard flooring could cause.
A Note on Cost
Before you begin stall floor construction, you should create a budget for the project. However, as Blackburn notes, "The cost of different options can vary dramatically based on the number of stalls, location, and the material used," as well as the specific suppliers, consultants, and equipment rental agencies with which you might deal.
For instance, says Blackburn, "I have found that the cost of asphalt flooring can range widely from area to area. And some suppliers require that a large quantity be ordered of the type and mix you need before they will supply it at a reasonable price." Therefore, it could actually be more expensive, per stall, to floor a smaller barn than a larger barn. It's important to contact local companies for estimates before you start the job. (For mass-manufactured, nationally distributed products like most rubber mats and plastic grid systems, you can check pricing with the manufacturers, many of whom have web sites.)
As you start compiling price quotes and creating a budget, Blackburn cautions that you consider not just the initial expense of purchase and installation, but also long-term costs. A dirt floor might be virtually free to install except for labor, but could be expensive in terms of labor over the long run. Rubber mats might be pricey at the start, but could pay for themselves through longevity, ease of care, and reduced bedding.
Also consider the stall flooring material can greatly impact the amount of bedding you'll need to use. For instance, a stall floor with interlocking rubber brick can cut your bedding in half which can save on barn operations, offsetting increased installation costs.
Additional options for flooring include adhered cushioned or foam filled. To conclude, all stall flooring has an impact on the comfort of your horse, the material cost of installation, bedding requirements and your ability to clean and sanitize the stalls.
ABOUT THE AUTHOR
Sushil Dulai Wenholz
Sushil Dulai Wenholz is a free-lance writer based in Lakewood, Colo. Her work appears in a number of leading equine publications, and she has earned awards from the American Horse Publications and the Western Fairs Association.
Posted in
Equestrian News
,
News and Press
|
Tagged barn design, Blackburn Architects, Blackburn Architects barn design, Blackburn Architects barns, designing horse barn, designing horse stables, Designing horse stalls, Equestrian, Equestrian Architect, equestrian architecture, Equine, Equine Architect, equine design, farm planning, Horse stable, Horse stall bedding, Horse stall flooring, horse stalls, John Blackburn stalls
|
Leave a comment >
10.23.17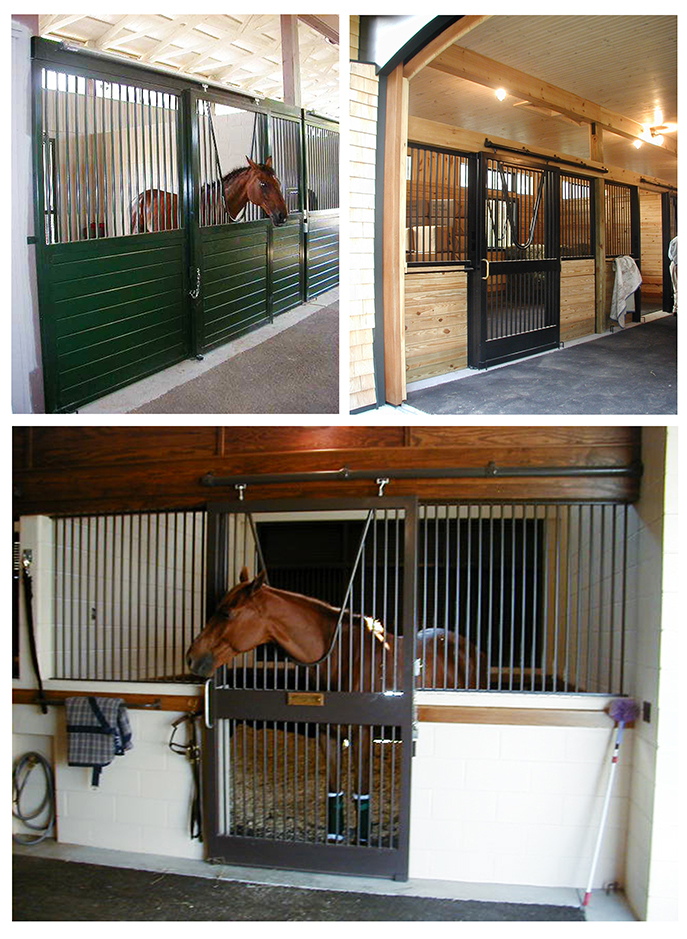 In a new, on-going series, John Blackburn will offer his insight into the major component parts of equestrian facilities. In this post, John offers his suggestions on stalls:
1. Blackburn designs stalls of all sizes, but the most common is 12'x12'. 16'x16' is often requested for larger horses, but with more space comes increased maintenance, a need for more bedding and a bigger area to clean. Larger stalls can, therefore add considerably to the cost of building a barn by:
a. Adding to the overall length and/or width of a barn.
b. Requiring roof framing to be increased from 2×10's to 2×12's or even greater.
c. Increasing the span of the framing lumber.
2. Partitions between stalls should be at least 8 feet high, but they don't have to be solid from top to bottom. Barred or mesh portions on the top enhance ventilation. This also has the benefit of allowing horses to see their companions — and provides easy observation of the horses by their owners. The down side is the increased ventilation between stalls can increase the risk of bacterial infection between horses. For the same reason, doors that are open on top increase light and ventilation. Bars must not be more than 2 to 3 inches apart, and openings should not be more than 2 inches across to prevent hoof entrapment.
3. Steel mesh or bar fronts on stalls allow an owner to look down the aisle or into the stall as they walk down the aisle and see their horses. The mesh is good for ventilation, too. The drawback is that bedding can be kicked into the aisles, so we recommend adding bedding guards. Welded steel mesh is typically stronger than bars but the horizontals tend to collect dust and can add to barn maintenance.
4. Doors should be at least 4 feet wide. This is wide enough for a wheelbarrow to enter the space or for a horse and handler to exit or enter the stall. Sliding doors are preferred over swinging doors. If you must use swinging doors, remember to install them to swing outward. You'll have a major problem if a horse goes down and the door swings to the inside. Additional safety reasons for outward swinging doors include:
a. Prevention of an unlatched door swinging open accidentally, or the wind catching it.
b. Added visibility of looking down an aisle and recognizing that a stall is open and empty. (Handlers need to leave stall doors open when the horse is turned out. This also makes it easier when bringing the horse back to the stall – you don't have to open it.)
5. We recommend rounded edges in stalls and anywhere in the barn where horses have access. A casting rail (which can be a groove in the wall or a 2-by-4-inch rail bolted low to the wall), provides something for the horse to catch his foot on when rolling to avoid getting cast.
6. Provide for easy access to the stall for feed buckets without opening and closing the door. Place in one of the front corners adjacent to the aisle.
7. Automatic waterers have the advantage of offering constant fresh water, but be sure to buy a model that is easy to keep clean. If you don't want automatic waterers, install water hydrants between every couple of stalls and provide for ample drainage for drips and overflows. Don't forget to frost-proof them in climates where pipes are apt to freeze.
Posted in
Equestrian News
,
News and Press
|
Tagged Architect, barn design, Blackburn Architects, Blackburn Architects barns, Designing horse stalls, equestrian architecture, equestrian facility, Equine, Equine Architect, equine design, farm planning, horse barn, horse barn design, Horse Barns, thoroughbred, Ventilation
|
Leave a comment >
08.29.17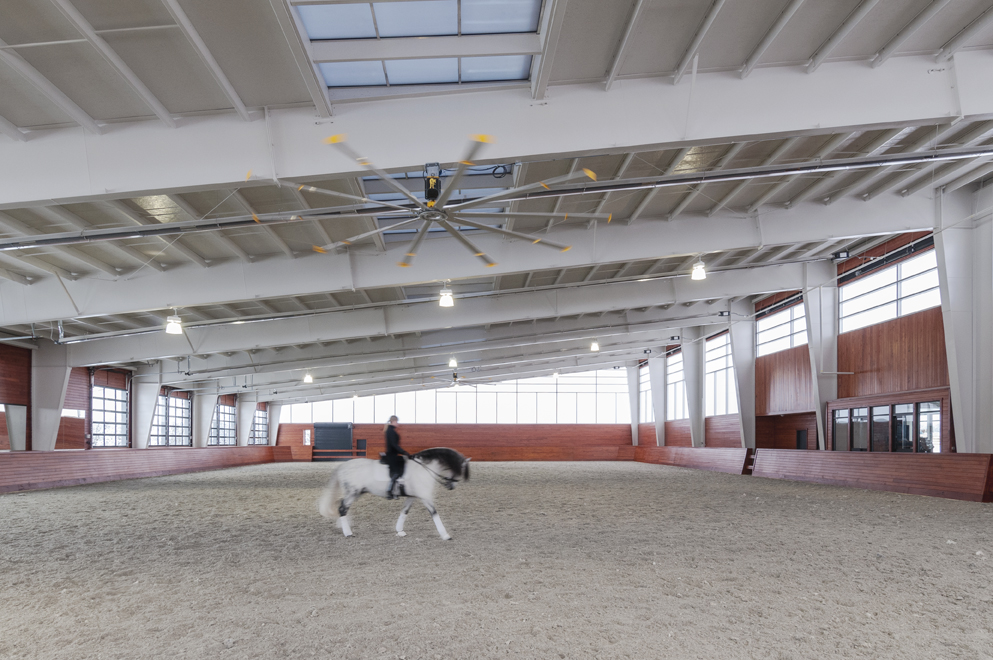 Hi John. I hope you had a wonderful summer!
Q: Our covered arena has been put to good use throughout the last year, but we really need lights to make it even more beneficial to our program. Given your expertise and experience with equestrian barns and arenas, I was hoping you might be able to give us some guidance.
We are having a hard time determining exactly what kind of and how much lighting is necessary. Do you have a formula that you use?
Any help you can provide would be greatly appreciated. I look forward to hearing from you!
Best,
Undercover Rider
Dear Undercover Rider:
Glad to hear all's well.
I would be happy to offer some guidance on lighting for your arena.
A: I typically recommend approximately 35 to 50 foot candles per sq ft of light on the arena floor in order to provide a sufficient amount of light for a variety of functions. It also depends on the amount of reflective surfaces you have and the color of those surfaces including the arena floor material.
If you are anticipating a variety of entertainment type functions such as charity events, parties, etc you may want to consider a variety of type mood lighting for different events.
There are also a variety of type lights to consider such as metal halide, LED, HD, etc.
There are other factors to consider as well such as initial cost, operating cost, maintenance or lamp life and also the design of the fixture (bird protection, fire safety, etc.)
We are beginning to use LED more often now. I hope that helps!
John
05.22.17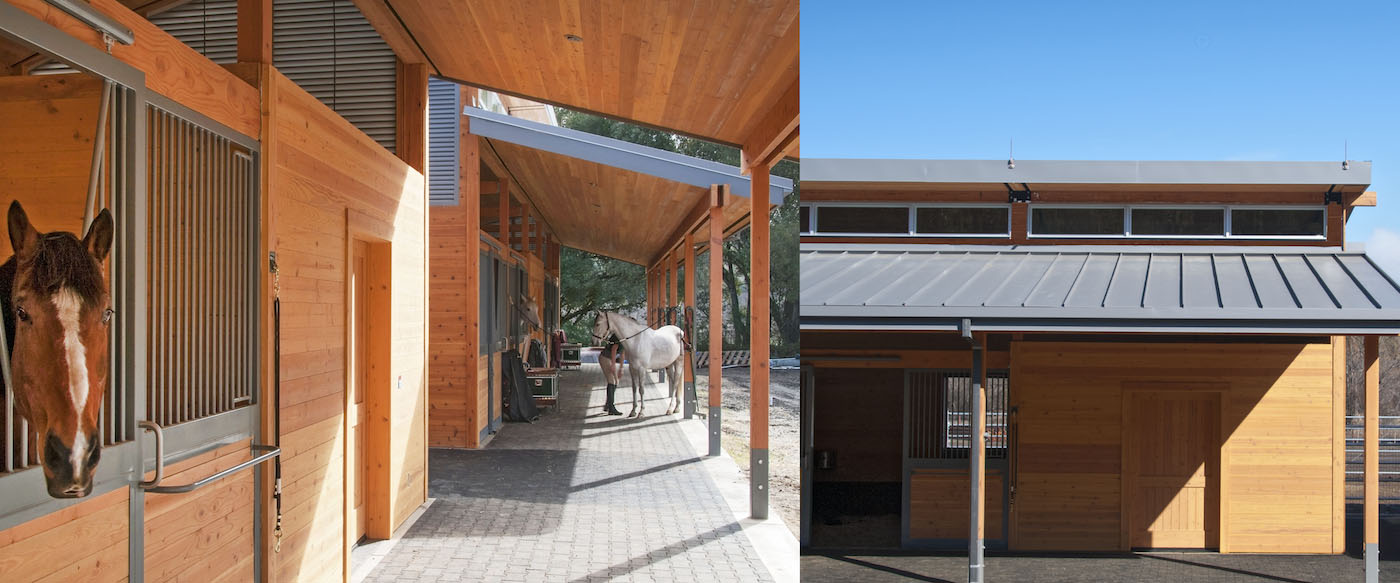 On Earth Day, April 22 2009, Blackburn Architects launched Greenbarns®, a line of pre-designed barns for eco- and cost-conscious horse owners. Eight years later, with heightened global warming and environmental worries, the line is more popular than ever. Horse owners, we know, tend to be highly aware of and concerned for, the natural world.
John Blackburn's mission for the past 35 years has been to deliver exceptional design through the creative blending of human need, horse need, environmental stewardship, science and art. When our studio created Greenbarns®, we did so to make healthy barns available to more of the country's estimated two million horse owners. The barns are designed to operate without electrical or mechanical dependence and their roofs can be energy producing. "Imagine how much energy you could generate — not just save, but actually produce — if you equip millions of roofs with active solar panels," John explained. "The energy can be sold back to the gird or stored and used on the property."
Using energy-saving "passive design" elements, Greenbarns® rely on natural lighting and ventilation. Eco-friendly materials and finishes are paired with optional add-ons such as solar panels and greywater collection systems.
When a client in southern California asked us for a Greenbarn® suited to their small, two-acre property, we delivered a customized 3-stall barn that included a composting station and solar panels. The barn and paddock take up just 1/2 an acre and are located behind the owner's existing home. Green materials include: light-colored roofing with a highly reflective finish, recycled content concrete blocks, low VOC stains/sealants, FSC certified wood products. Green systems include a manure composting station, and solar panels.
Blackburn Architects has formed partnerships with leaders in sustainable technology to connect our clients with the latest in composting, greywater and rainwater harvesting, solar power, and engineered bamboo products. Site planning, design modification, and design of other facilities such as storage buildings or residences are available as additional services in conjunction with the Greenbarn® line.
Posted in
Equestrian News
,
News and Press
|
Tagged Blackburn Architects, Blackburn Architects barns, Blackburn Architects green barn line, Blackburn Architects GreenBarns, Blackburn Architects predesigned horse barn, Blackburn greenbarns, Blackburn pre-designed barn, eco-friendly horse barn, eco-friendly horse barns, energy efficient horse barns, Horse Barns, pre design barn, pre-designed barn, pre-designed horse barns
|
Leave a comment >
05.01.17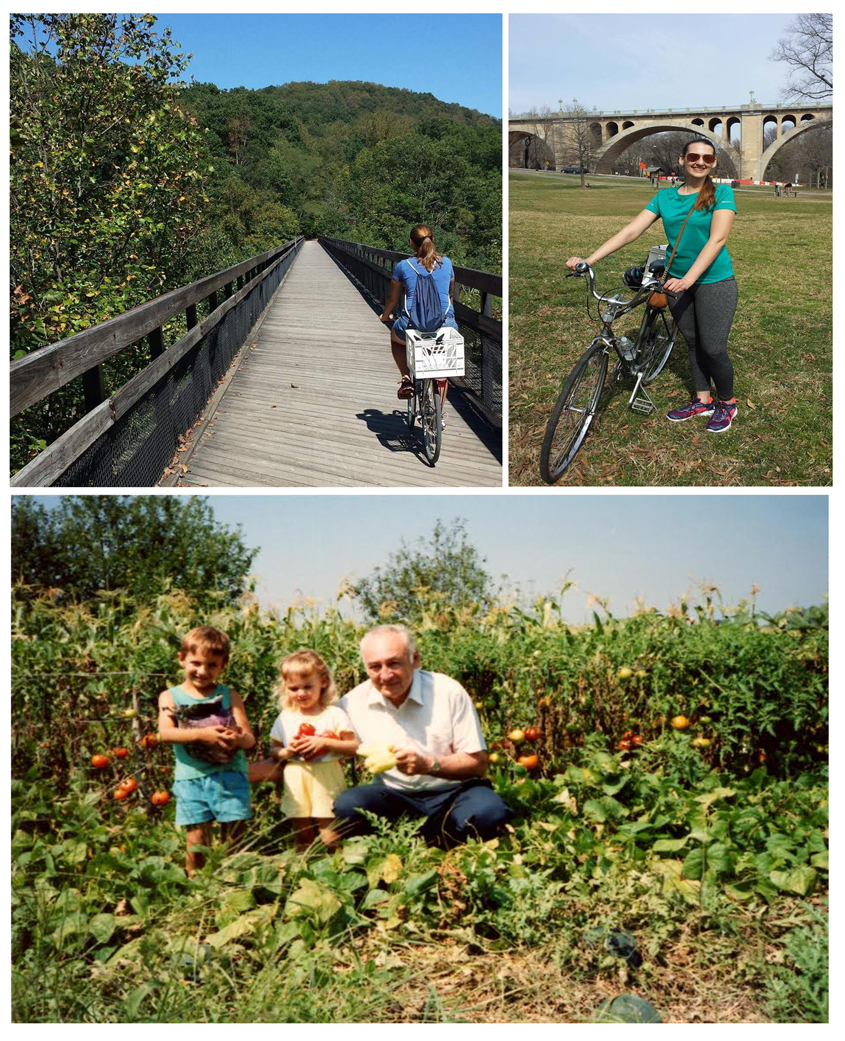 Midwesterner, architectural designer (almost ready to pass her final exam), and so much more. Let's get rolling. Where are you from?
Vanderbosch is Dutch, meaning "of the woods." I grew up in Fort Wayne, IN where my Dad's side of the family is from and where my Mom moved after college. Her family is from southern Indiana and western Kentucky. Did you know there's an actual fort there? Not many people do. It's named after Revolutionary War General "Mad" Anthony Wayne. It's a small city that feels like a small town. Folks from Ft. Wayne are Midwesterners through and through, very friendly, and I love it there.
What was it about growing up in Ft. Wayne that made you think, "I want to be an architect?"
 I guess that does go along with growing up in the Midwest, where's there's lots of land and doing projects is very easy. My family was very involved with making home improvements. We were always working on projects: the bathroom, retiling the kitchen, putting in a patio in the backyard. Meticulous work. It's probably related that my siblings and I have chosen detail-driven professions. I have three brothers, the oldest, Joey, is a dentist, Scott, is in food chemistry and my youngest brother, Mark, is studying to be an accountant and will go to grad school this fall to get his MBA.
In 8th grade I discovered architecture. A teacher assigned a book report, I think it was on the topic of biographies, and brought in all different books of famous people and I picked up the one on Frank Lloyd Wright. It had beautiful pictures of Frank Lloyd Wright houses. Until then I knew interior designer was a thing, and DIY, but I didn't know architecture was a job. That you could do that for a living. I remember thinking, 'That looks really cool; that's what I want to do.' I like being creative and putting things together to see how they work, which led me to interior design. But in class I'd ask, "can I move these walls?" and the answer was "no, the architect will do that." That's when I knew I wanted to be an architect. I could always do interior design as an architect, but I couldn't go the other way.
I started at Purdue in interior design, then transferred to Syracuse University for architecture. Syracuse was intense, but the school has an amazing study abroad program. That's what sold me on the school. I lived in London and Florence. It was a once-in-a-lifetime thing that I'm so glad I did.
I moved to DC for a job in 2012. At the time (during the recession), it was about finding a job. Any job. Ultimately, I got hired by a firm in Georgetown, which then downsized like so many at the time.
Luckily, shortly thereafter, you found Blackburn.
There came a time during the recession when I was trying to decide, 'Do I stay in DC? do I move to Chicago? go back to Ft. Wayne?'  So many architects were unemployed. I sent my resume everywhere, including Blackburn Architects. When I came in for the interview, I remember that (now-fellow Project Manager) Cesar Lujan and John Blackburn were interested in me, my portfolio, asking questions, and I was so impressed. Turns out that early experience was very indicative of the supportive culture of the firm. To this day, my favorite things about working here include the personal interest, the flexible and supportive studio environment.
Describe your passions outside of work?
Good question. I like to do lots of things. I enjoy biking, and I bike to work unless it's raining or below 40 degrees. It's about 4 miles; all downhill cruise in the morning, and then all uphill home. Jenni Blackburn calls me "the little Dutch girl" because I have a little egg crate basket on the back of my bike and sometimes carry baguettes in there.
And photography. Mostly nature. My mom printed large scale pictures I took in the Adirondacks at Kinko's, framed them and hung them up. Now my brother, who lives in Indianapolis, has them in his house. That stuff is fun. I go for views – it plays into architecture when a client says, 'I want a view out my bedroom window.' I like shooting landscapes that show the client what they'll see in the future, especially wide-angle panoramas. I took some for a current client, and it was cool to see the progression as I've returned to the site over the seasons. We were there in the early summer for the first time, and everything was very green. And then we were there in the fall, so there were some leaves, but it was mostly bare; getting close to winter. The most recent visit was just a couple of weeks ago, and it's spring. I've loved seeing how the site has changed over the year.
I know you sometimes travel with John Blackburn to visit project sites. Let's end with a favorite JAB story?
Taking him "home" (to Ft. Wayne this past winter) for a project was a first.  It was interesting, driving him around and pointing out 'oh, that's where I learned to play tennis, and that's the kennel where my Mom got our Miniature Schnauzer, Sunny; where to go for dinner? Well Casa  is right here and delicious.' I think it was a lot bigger city than he was expecting. It's not every day you can show John someplace he hasn't seen before. He told me that when he was a boy, in Tennessee, he only got a couple of radio stations, and late at night, he would listen to Ft. Wayne AM radio. 1190 WOWO. They had the biggest antenna that broadcast the farthest, and he could listen to it. How's that for random?
I'd say it's high time for a salute to Ft. Wayne, IN! Thanks for bringing us the very talented Carol Vanderbosch, who is currently at work on a Net Zero Energy barn and Indoor Arena located somewhere in the Midwest, at a facility that offers inspiring year-round views.
03.09.17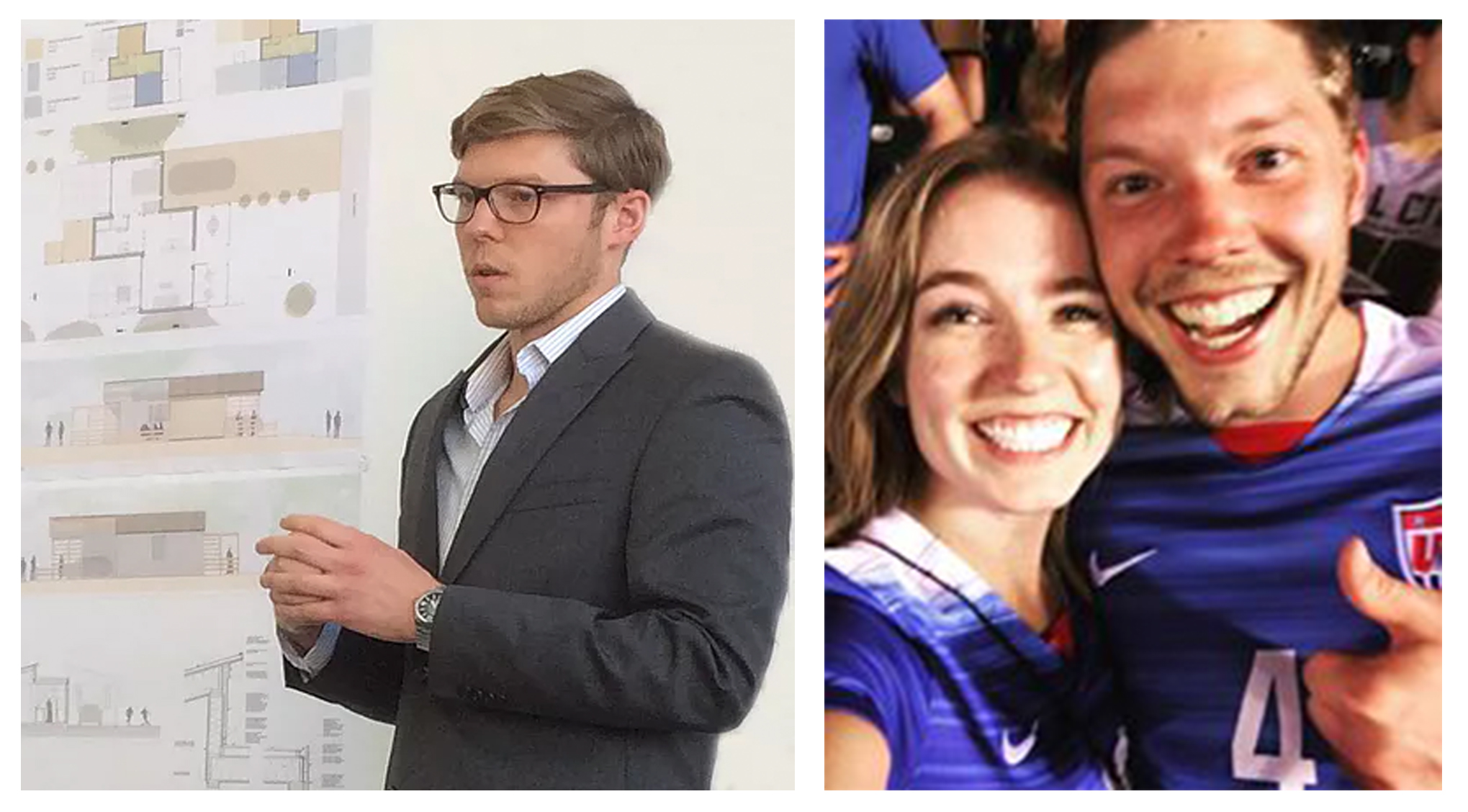 Architectural designer. Clemson grad. City dweller. Bicyclist. Where are the roots of this? Let's start with architecture.
As a child until the age of 3 or 4, I lived in Bethlehem, PA. I don't have a lot of memories of it, but my dad tells the story of when he and my uncle built the deck on our house, and I, at age 3, stood outside with my arms crossed and pointed at things, giving direction. They thought it was hysterical. Dad always tells that story when people ask why I became an architect. If it was a job where, "you were going to stand around and tell someone how to building something, Matt was going to be good at it."
Eventually, we moved to the Philadelphia suburbs and that's where I lived until college. It looked like a generic suburban development in what had once been a farming area. There were a lot of kids my same age, and a big yard to play in. Behind our house was this old barn. I never made the connection until after I started working at Blackburn, but the farmer who owned it was friendly to the neighborhood kids, and we used to go exploring through that barn all the time. As we got to be teenagers and we built skateboarding ramps or hockey nets or whatever, he let us dig stuff out of the barn and use it. It was a beautiful old building because it was all mortise-and-tenon construction. There were no nails. I'm sure that was an early influence on my love for old timber structures. Good memories. For a few years, he kept retired racehorses, and they seemed to enjoy eating our garden over the fence.
How did Clemson happen?
I completed my undergraduate study in DC at Catholic University, graduating in May, 2010. Afterwards, I moved back to Philadelphia for about four months – the job market was tough – and worked part-time. In my spare time, I helped my friend Dan – who we'll probably talk about when we get to family – renovate a house. It was a chance to apply some of what I had been learning in school. We made a mess; we probably did some things terribly wrong, but it was fun.
Then I came back to DC, worked for John for four years, and as I started to take on more responsibility I felt that it was time to get my Master's degree because I was certain this was what I wanted to do. I looked for a school that was somewhere different and was certain that I would go to school in Chicago, until I visited Clemson and found it… unique. Perhaps because it was kind of rural. I had gotten used to city life, I think, and the small college town felt like a setting where I could focus academically. Also, Clemson offered two semesters off campus (I chose to visit Barcelona and Charleston), which were additional learning contexts; again, something different.
In addition to your Master's degree, you met your fiancé at Clemson.
Jenny and I met the first day. At orientation, I met a few people in my program, one of whom was Jenny's roommate.  Jenny walked up beside me and we just clicked.  I texted my friend Dan that day and kind of as a joke told him I'd fallen in love. Jenny and I have been together ever since, and will get married this summer. She grew up in Mississippi and comes across as a sweet, soft-spoken person, but when she gets wound up, watch out. We fit together well.
Let's talk about how family plays such a big part in your life. You're a very together person, so that must come from your upbringing.
Totally unbiased, my family is very special. I have two brothers, Mark and Shane, plus Dan, so that's really three brothers. One sister, Megan. And now I have Jenny, and her family, joining mine. Family has always been a constant through my life. It's not always been simple. As with all families, there's some complexity to it, but my siblings and I are very close. Doesn't mean we always agree; we certainly fought a lot growing up, but we are inseparable, and super weird, when do get together. When we're around each other, we can be a bit overwhelming. Each of us is uniquely humorous and witty, and sometimes too clever for their own good.  As for having it together, a lot of that is on my mom and dad. When I turned 14 I was told to find a job, so I started working in a restaurant. I give my mom and dad a ton of credit for pushing me. Early on I learned to balance friends, life and work. I've tried to maintain that ever since.
And the unique studio of Blackburn Architects fits your work life?
John has allowed me to take on a lot of responsibility. That's huge, and particularly relevant to why I came back this past summer after finishing at Clemson. It's tough to give an impression to someone in half an hour or an hour, but in job interviews I felt like other architecture firms didn't get a full picture of who I was. They were just trying to fill a seat. Here, I'm encouraged to try things. I've been allowed to fail. Maybe not fail, but make some mistakes so that I can improve. It's how I'm learning and growing professionally. John, and Ian, challenge the way I do things, and encourage me to defend my view. When there's that level of mutual respect, you really feel motivated when you come into work each day.
As a young architect, do you worry about the future of the profession?
Sadly, architects in the media are often portrayed as having a kind of elitism. It's a shame, and not true to what I've found in the profession. I know that small interventions can happen at an affordable price that can do a lot for quality of life. On the positive side, there's so much information available and so many things we can now do, that, coupled with the ambition of young architects, suggests an exciting future. Growing out of our educational backgrounds that expose us to some of the more complex social and cultural challenges of our world, young professionals are finding new ways to innovate. Sustainable practice models are one example. You can also start to look at what it means to build sustainably, beginning with our post-war, and even more recent, building stock and how you can repurpose these buildings to avoid throwing the material in a landfill. Simply using green materials in a new building misses the bigger picture. We aren't there yet, but these societal challenges inspire me.
Sports buff? Leave us with one nugget of a passion for something that's not architecture.
I'll give you two. Sports are one, specifically soccer. Jenny and I have a friendly rivalry. We play on the same rec team, but we follow rival pro clubs. It makes the house kind of fun on matchdays. Locally, we're big fans of DC United. It's an experience to go be a part of a fan group at the games; you cheer and jump up and down and act ridiculous.
The other passion is cycling. I bike to work every day, rain or shine. It gets me going in the morning. After 20 minutes of riding through the city I'm awake and ready to go.
Lastly, let's talk LEGO, because we must.
Yep, I still play with LEGOs. There's a Lego model of one of our Greenbarns on my desk that I threw together one day. I would like to think that 12-year-old Matt would be proud that I haven't lost the love for playful exploration that drives me.
02.28.17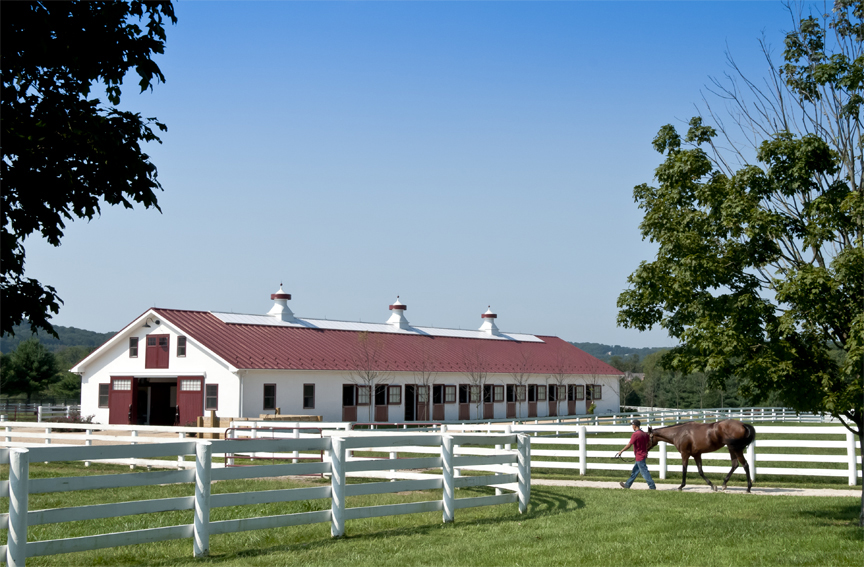 Might seem unlikely, but the designers at Blackburn Architects care about pastures. We think about them a lot.
For instance, did you know that now's the time to sample your pastures for soil fertility? Early spring and fall are the best times to take these samples, according to the University of Kentucky College of Agriculture, Food and Environment, which released the article, linked below, last week. The article recommends sampling the top four inches of the pasture, and dividing large pastures into "sub-pastures" for sampling based on the varying topography.
"I Recommend that any horse owner in the United States contact their local Soil Conservation District (SDC) for advice in their specific area," said John Blackburn, Senior Principal at Blackburn Architects in Washington, DC. "SCD's are one of the best services provided by the Federal Government to farmers and in most cases the services they provide are free. Some pay you for installing and pursuing Best Management Practices. By definition, Conservation Districts are "government entities that provide technical assistance and tools to manage and protect land and water resources in the United States. There are more than 3,000 in the United States. Depending on the state, they may also be known as soil and water conservation districts, soil conservation districts, resource conservation districts, or other similar names. Nationally and within each state, the districts are generally coordinated by non-governmental associations. District borders often coincide with county borders."
http://www.thehorse.com/articles/38847/fertilizing-cool-season-horse-pastures
From concerns such as pasture maintenance to siting roads and structures on a property, many people contact us who are unsure of when and how to begin working with an architect. Teaming with a property owner to master plan their site, either for the first time (no structures on a blank canvas) or "redefining" an existing property (which may not be planned for best use practices), is part of the first phase of work performed by Blackburn Architects. With an equestrian architect, you're purchasing a service rather than a product. The architect is there to resolve the needs of the owner, from overall site planning, programming, phasing, and design to overseeing the entire construction to make sure the barn is built as intended.
Typical services we provide include:
Pre-purchase planning. Prior to purchasing a farm, we work with clients to "test fit" the property against their program needs and to look for possible siting or property issues (wetlands, environmental restrictions, siting grading concerns, code issues, sufficient acreage, etc.)
Site planning: can reduce infrastructure costs (fewer roads, less fencing, better drainage, etc.) and improve the site to function at its best for your needs.
Programming: ensures that the whole farm (not just the horse barn but the entire collection of structures on the site, if applicable: residence, guest house, caretaker's quarters, hay/bedding, vehicle storage, etc.) operates efficiently and safely.
Code analysis: certainly the codes vary across states/municipalities. We've designed horse stables in counties with very specific codes and regulations and understand what to look for and how to work with the various officials to resolve issues. The architect can save you a lot of hassle!
Budget Development and Cost Control/Scheduling: I like to develop a budget as early in the process as possible and revisit it periodically during the project. My job is to determine if the owner's programmatic needs and budget fit the site, and if the design aesthetic suits their personal design goals. We can also plan to develop the barn or various structures in phases, if applicable.
Conceptual Design: Here we develop the character and massing of the structure(s) and prepare a preliminary floor plan and elevations to illustrate our ideas. At Blackburn, this is the final phase of what we call Master Plan Services (site plan, written program, conceptual design, and preliminary construction development). From here, we move on to more detailed design work.
Schematic Design: After we complete a master plan that works well for the owner, we begin to prepare detailed drawings to give you an idea of the layout and general appearance of the barn (and possibly other buildings). We'll talk about finishes, materials, stalls, tack rooms, etc. For a lot of people, this phase of design is the fun part!
Design Development and Construction Drawings: Here we'll really start to nail down the final design and specify the materials, stall systems, finishes, and other details and prepare construction drawings that instruct the contractor how to build the barn.
Bidding and Construction Administration: Because construction drawings are open to interpretation, it's important that the architect works with the contractor to oversee that the project is carried out according to the design intent. We're the owner's rep to make sure that construction is done well and done right.
Each step in the process leads to a healthy, safe, and functional facility. As architects, we want to study how you operate and design a barn that feels inviting and personal (because it is). No barn or farm operates exactly alike as each owner or barn/farm manager operates his/her facility in a particular fashion. While designing a barn from scratch is not realistic for everyone, if you are choosing between a design/build firm and an equestrian architect, we would strongly advise that you approach both for more information and weigh out your options carefully. It could save you your horse.
As always, we invite your questions and comments.
02.13.17
Q: We're renovating our fireplace, and want to incorporate the exposed fireplace flue shown in your German bank barn renovation. Where do you get the pipe for it?
Thanks,
Barn Enthusiast
Dear Barn Enthusiast,
Congrats on your barn conversion! We love breathing new life into these wonderful structures. To answer your question about the flue we used, It's a galvanized steel flue, 12"-14" in diameter, and came in about 4 foot sections.  It should be pretty easy to find. Stainless steel is another good recommendation and look.  Galvanized is a little less expensive, but a little more rustic.
Hope that helps! Good luck with your project.
John
Posted in
Equestrian News
,
News and Press
|
Tagged Adaptive Reuse, Architect, Barn, barn architecture, barn design, Barn Fireplace, Blackburn Architects, Blackburn Architects barns, Blackburn barn conversion, Blackburn greenbarns, renovating an old barn, turning an old barn into a house
|
Leave a comment >