Blackburn Architects Horse Barn
12.04.18
A client recently asked one of our architects for recommendations on adding heaters in the barn.
When an owner requests forced air electric heating system in the stalls, we advise against it for several reasons:
1) Forced hot air rises and heat stays at the ceiling level, adding unnecessarily to the cost of operating the barn. Blackburn barns are designed to allow air to escape thru the roof vents, so at a minimum sending heat skywards doesn't make financial sense.
2) Forced air systems move airborne particles around the space and, given the size of the barn and the heat loss expected thru the roof vents, heaters must pump a lot of air at a high velocity to provide sufficient heat to keep the barn to a temperature that might be considered sufficient (which varies with personal preference).
3) Forced air heaters are unhealthy for horses because they spread dust, mold and disease throughout the stable area. Horses give off a tremendous amount of moisture, especially in winter, and that moisture contains bacteria and other viral matter that can be harmful to their sensitive respiratory systems and spread to other horses. If a barn is closed up too tightly (the barn needs to breathe in all temperatures) the barn can become too warm and increase the opportunity to breed bacteria that would normally be ventilated out of the barn. There may be some exceptions for older and ailing horses but a tightly-closed, heated barn is often more harmful than helpful. We recommend discussing with your vet exceptional conditions that may be needed for young, aging or infirm horses.
Strategically placed infrared heaters can be a good choice to keep the chill at bay in human-occupied areas.
Infrared is another term for radiant heat. For example, a stove, fireplace, oven or even our own sun emit infrared (radiant) heat energy. That energy converts to heat, warming the surrounding air.
In a barn, infrared heaters are specially made to produce safe, comfortable radiant heat. When asked by a client, we specify that heaters are directed downward from the ceiling toward a target area below. In an equestrian facility, infrared heaters can be directed toward wash stalls and/or and grooming areas, or down a common walkway, between horse stalls or even in riding arenas.
Blackburn Architects uses two scientific principles to ventilate horse barns – the Bernoulli Principle and the Chimney Effect – vertically removing harmful bacteria and ammonia gases that can cause disease and odors. Providing heat for the horse by forced air does little if anything to help the horse except create harmful, unhealthy conditions.
When requested by a client, we can specify heated floors. Infrared tube heaters emit soft, comfortable radiant heat energy without creating drafts. Infrared heats the ground. Warm floors = warm bodies & feet.
As we all know, horses can naturally withstand colder temperatures better than hot temperatures. If permitted to keep their winter coat and remain dry, horses can withstand even very low temperatures. For colder temperatures, we recommend keeping cold drafts off the horses by closing Dutch doors at stalls (add weather stripping to the doors if needed) and closed aisle doors. In other words, if a horse can stay dry and get out of a steady breeze or draft they have a much better chance to maintain their own health.
Posted in
News and Press
|
Tagged Adding heaters to a horse barn, barn architecture, barn recommendations, Blackburn Architects Horse Barn, designing a horse barn, Equestrian Architect, equestrian architecture, forced air heat in barn, forced air heat in horse barn, Heat in a horse barn, Heaters in a horse barn, horse barn architecture, Infrared heat in a barn, radiant heat in a barn, radiant heat in a horse barn, stable architect, thoughts on planning a horse barn
|
Leave a comment >
04.24.18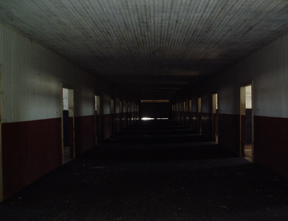 With careful attention to design details, it is possible to retrofit your barn to be healthier for your horses. One important renovation to existing built structures is the addition of skylights and ridge vents to increase light and air flow.
Only a fortunate few horse owners design and build a barn from the ground up. Most buy a property with an existing barn. As the photos illustrate, Blackburn Architects' client Kevin Plank, the CEO of Under Armour®, bought historic Sagamore Farm in Maryland, and undertook a significant renovation to add light and ventilation to the interior of his historic main barn.
Significant expenditures are not necessary, however. In this discussion, I'm offering simple recommendations for achieving healthier living space for horses starting with an existing barn.
VENTING OPTIONS
For venting an existing barn roof, I suggest one of two options:
1) Add Dutch doors along the barn sides or
2) Add a vent along the bottom edge of the skylight (or ridge if that works best though I prefer the curb vent for better free air access).
Option 1: Add Dutch doors along the barn sides
This option provides good access for ventilation to each stall and a great method of controlling air flow. An owner has the option of leaving just the upper door open to reduce the flow or open both upper and lower doors to give maximum free area. (Of course, in order to open both doors for full access you'll need to add an interior mesh panel to keep horse in the stall.) If Dutch doors aren't possible or within the budget, then I recommend adding low wall vents to bring in air low to the floor (which is good for foals and to vent odors caused by ammonia gases near the floor). The vents should be dampered for air control and screened to keep rodents from getting into stalls.
Additionally, Dutch doors provide an abundance of natural light, which reduces the need for electric lighting in the barn and helps purify the stall flooring, reducing the creation of harmful ammonia gases.
Option 2: Add a vent along the bottom edge of the skylight (or ridge)
This option allows for vertical ventilation of the barn using the Bernoulli Principle and the chimney effect. Though the existing barn may not have the best angle for prevailing breezes or roof slope, it will help nevertheless. I also recommend vents at the top of the wall at the roof eave if they can be added. This permits year-round ventilation above the heads of the horses, but still ventilates the barn vertically using the techniques described above.
ADDING SKYLIGHTS
There are a variety of methods and materials that can be used to retrofit skylights into an existing roof. At Sagamore Farm, Blackburn Architects' design replaced the existing shingles with a new metal roof (not necessary; Sagamore's roof shingles were worn out and metal was chosen as a better long term material). In more typical circumstances where the existing shingles are salvageable, simply remove the shingles along the ridge and cut out the sheathing or sub roofing material, leaving only the roof rafters.
Continuous curbs should be built along the edge of the opening. Although a continuous skylight or curb is not necessary, I find it aesthetically and functionally preferable. A skylight can then be placed on top of the curbs spanning from one side of the aisle to the other. The curb can and should be vented. The size and amount of free area depends on the barn design, size and location. The skylight width does not have to span the full width of the aisle but somewhere between 8 to 12 feet should be adequate.
The skylight can be either glass (costly and should be safety glass) or some form of polycarbonate. Check your local building codes for requirements. I do not recommend clear glazing. Translucent glazing reduces the visibility of dirt and filters light, which better serves the barn interior. It's best not to let a strong band of sunlight hit a stalled horse for a long period of time. I also recommend painting the interior of the roof and framing members a light color to improve reflectance.
If a continuous skylight is not possible, then individual roof skylights can be installed over the center aisle. However, if the skylights are not high on the roof and are not vented, they may not do much to increase the barn's vertical ventilation.
If the barn has a loft it may be possible to remove it, leaving specific structural members spanning across the barn to hold the building together and to provide wind shear strength to the barn. If the loft is used for hay storage (which I don't recommended for health and safety reasons), then it may be possible to remove a portion of the loft over the aisle leaving the loft in place over the stall for storage or the reverse of that (remove the loft over the stall but leave it in place over the aisle).
While these approaches to increasing light and ventilation in existing structures can work wonders, you should always contact a structural engineer before installation of skylights to determine if the barn can take the modifications needed of if some additional structural work needs to be done.
Posted in
Equestrian News
,
News and Press
|
Tagged adding light and ventilation to a horse barn, Adding skylights to a barn, adding ventilation to a horse barn, Architecture, barn architecture, Blackburn Architects, Blackburn Architects barns, Blackburn Architects Horse Barn, equestrian architecture, equestrian design, equestrian facility, Equine Architect, equine design, farm planning, healthy horse barns, horse barn, horse barn design, how to add skylights to a barn, how to add ventilation to a horse barn, John Blackburn, Sagamore Farm, thoroughbred, thoroughbred barn, thoroughbred horses
|
Leave a comment >