equestrian design
09.25.20
Note: We recently received this question from a follower of ours on Instagram. While this is NOT a Blackburn-designed barn, we felt that others might have similar problems, so we wanted to offer as much help as possible to this horse owner. Some of her photos are included in the post for clarity.
Q: Dear Blackburn: We recently built a backyard horse barn in western Massachusetts.  The timber frame style building is a hybrid run-in shed/horse barn, attached to a track-paddock with sacrifice areas and pastures.  The horses are turned out together 24/7 with run-ins, with option of separate stalls if needed for injury/weather.  This summer, after one year, we found mold in a few areas of the barn.  Since learning about Blackburn, we have been fans, and we seek insights on how to remedy our mold problem in a way that is safe for the horses and hay too.
The barn is 36'x36' with a raised center aisle.  The south 1/3 of the building is a run-in with a packed dirt floor covered by rubber mats and shavings. The remaining 2/3 has a concrete pad and includes 2 stalls – one used as a horse stall and the other used to store hay.  The 11' ceiling leads to a hayloft (most hay stored in a separate building) with an 18'x6' cut-out in the middle of the floor, for both sunlight and ventilation.  Hayloft windows/door on all sides and an open eave towards the top also offer ventilation.  A frost wall surrounding the barn is approx. 1'-2' above grade. Inside the barn, including the run-in and both stalls, the interior frost wall was covered with resin technology wood screwed directly into the concrete, primarily for safety reasons, to soften the impact if a horse kicks the wall/concrete.  We recently found black (and some white) mold between the frost wall and the resin technology wood.  We have removed the product and bleached the area, but how to proceed…
1- How can we safely cover the interior concrete frost wall within the horse areas (run-in, stalls, grooming aisle, hay stall) so that it has some "give" to prevent injury when a horse kicks it, but which won't harbor or cause mold? We have considered covering the frost wall with rubber, or adding a vapor barrier and applying new product.
2- What do you recommend we do to the concrete floor and frost wall to store hay and avoid mold in the hay stall? There's a 4" step down from the aisle (we realize that was a mistake since it traps moisture).  We put a high-quality insulated mat in the horse stall, but the concrete floor is bare in the hay stall.  We use the hay stall for hay now but want to have the option of keeping a horse in there in the future.  (We've previously stored hay on a double layer of pallets, plus floor covered by tarp, but with that set-up plus the wood product on the frost wall, the mold grew.)
Warmly,
MA Blackburn Fan
A: Dear Fan: While I don't know for sure what's causing the mold in your barn, I feel the application of the wood product directly to the concrete frost wall without airspace behind it and near the floor where it is subject to moisture may be the primary problem.  I would suggest removing the wood product material at the frost wall and gluing rubber mats directly to the concrete frost wall to provide protection from horses injuring their legs by kicking the wall.  Provide an angle crib guard along the top edge to help prevent cribbing by horses.
I am not that familiar with the product you used, but I know it is an engineered wood product that has a wide range of uses.
The fact that the barn doubles as a stall and a run-in shed indicates that it generally remains open which is good as it allows air to circulate in and through the barn and reduces the health hazard that might be caused by the mold.
I found it odd to see diagonal framing in the walls between the post framing.  I'm unsure why that was done (maybe to provide horizontal bracing for the timber frame) but because the lower portion of the wall appears to be covered with the wood product it is possible air spaces between the diagonal wood framing trap air in some of the smaller spaces. That could add to the moisture build up. How the barn is maintained (i.e. washing down of the aisle and stalls), is handled could also contribute to the moisture problem.  It appears from your photos that most of the dark staining (mold growth) is along the low portion of the wall at the frost wall and that is probably more a problem of the wood product panels being directly attached to the frost wall than the diagonal framing.
Regarding the hay storage, you should always store hay off of bare concrete.  Using wood pallets is a good way to allow air to circulate around and under the hay.  Hay gives off heat as it cures and if not properly allowed to breath can actually ignite through spontaneous combustion and cause a fire.  Having the barn largely open as a run in shed is helpful but at a minimum the hay should not be stored on the concrete floor.  It should also be stored off the wall several inches to allow the air to circulate around it.  Placing a tarp on the concrete floor as mentioned will not serve any constructive purpose in my opinion and could just trap moisture below it.
BTW, I didn't see any drains in your stalls?  How do you encourage water out of the stall where the slab is depressed 4 inches?
Incidentally, I noticed a door hook on one of the larger sliding doors at the run in portion of the barn.  That's a potential hazard.  A horse could rub against the door jamb and the open hook could cause a significant injury.  I've seen it happen and it can easily be prevented.  Another type of latch should be used.  There are lots of options out there.
I hope this is helpful.
John
Posted in
Equestrian News
,
News and Press
|
Tagged Adaptive Reuse, Architect, Architecture, Arena, Barn, barn architect, barn mold, blackburn, Blackburn Architects, Blackburn Architects barn design, Blackburn Architects barns, Blackburn blog, designing a horse barn, Equestrian, equestrian architecture, equestrian design, horse barn, horse barn design, horse stables, John Blackburn, mold, mold in barn, mold in horse barn, Stables, Ventilation
|
Leave a comment >
10.15.19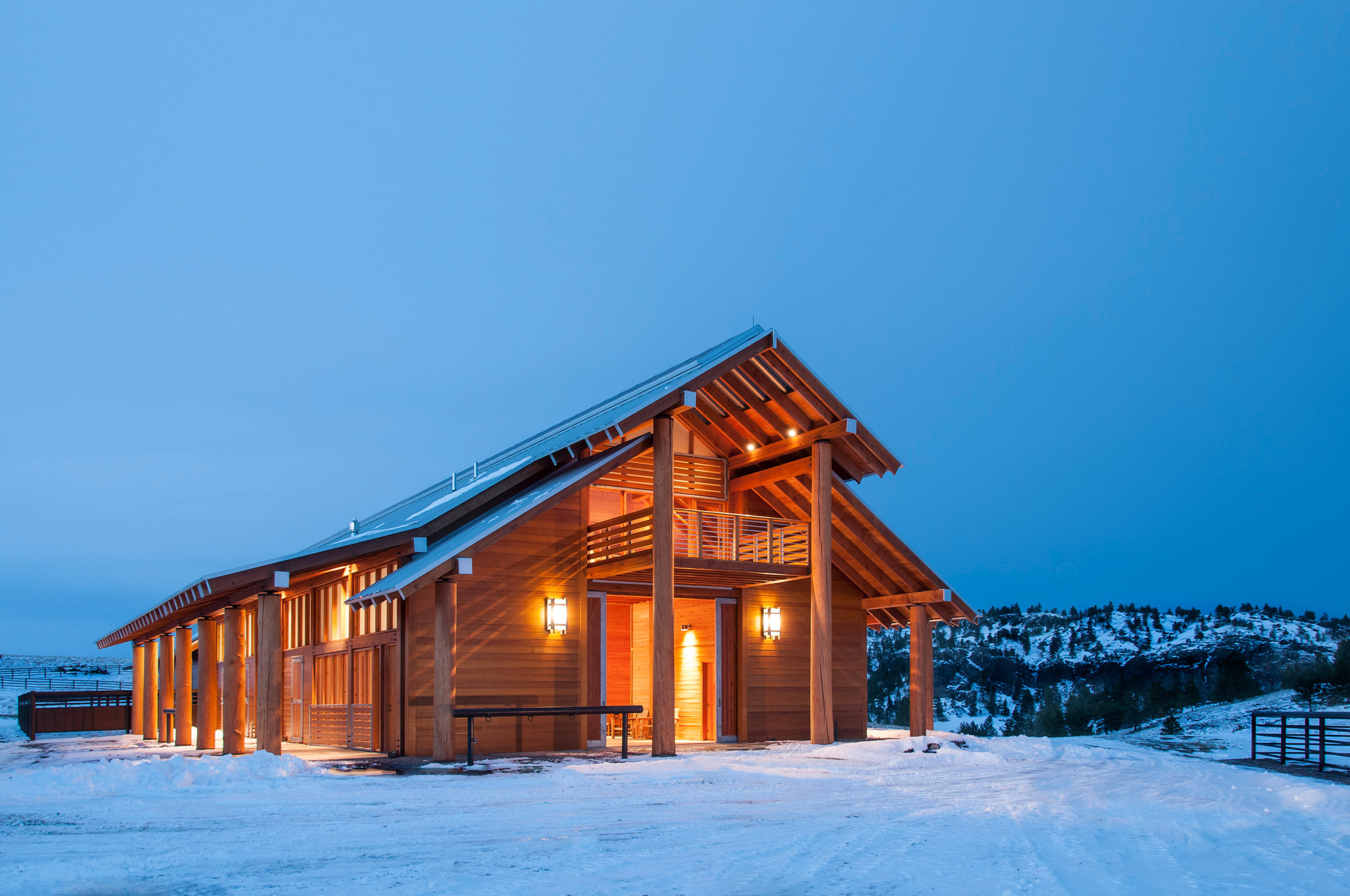 Q: I'm in the process of planning a barn in Missouri, and finances require an economical metal post-and-frame structure. I've studied Blackburn's ventilation and lighting philosophies and will incorporate them as best I can.
My question is about orienting the barn. I plan to have a center aisle, with exterior Dutch doors in every stall. Each 12'x12' stall will have an exit to the main 12' aisle as well as to an outside run-in. The stalls will be used primarily during more extreme weather or when I need to confine a horse due to injury or illness, otherwise the horses will be outside. Overhangs on both sides of the barn will function as run-in shelters for the paddocks.
I know from your writings that the ideal orientation is perpendicular to the prevailing summer breeze. However, because Missouri's cold winter winds are from the same direction, the horses on that side of the barn won't have wind protection when in the run-in areas. I know that's less of a problem for owners who keep their horses in stalls most of the time, so I've not been able to find an answer to this question. I will obviously allow them access to the stalls during the bitter cold weather we get, but for most of the winter all they need is some windbreak. How do I optimize winter protection without compromising ventilation?
Thanks,
Worried about Winter
++++++++++++
A: Orientation is certainly very important when siting your barn. But because wind is always changing and its direction and velocity can be affected by terrain, other structures, and vegetation, the angle is not a hard and fast rule.  It's good to try and locate the barn perpendicular to the prevailing summer breeze but that also depends on the design of your barn.  If you have lived on the farm a few years you may know the particular wind patterns for your property.
The design of the barn is as critical – if not more so – than the orientation.  How and where you permit air to enter the barn (preferably along the low wall along the long side of the barn and at the eaves where the roof joins the side walls), and where it is allowed to exhaust are critical.  In some areas, it may be necessary to provide some form of close-able dampers on the low wall vents to control the wind and temperature that can impact a horse that is in the stall but doesn't have the flexibility to get away from it.
The environment within the barn should be within 8 to 10 degrees of the temperature on the outside.  Your barn should ventilate vertically to reduce the horizontal movement of bacterial- and moisture-laden air.
We always say the best environment for the horse is outdoors where it can make its own choices about its environment and health. A naturally-kept horse should be able to get out of the hot sun and find shade or get out of a cold wind in a shelter or behind a wind block.
By turning your horses out most of the time you are certainly on the right track for happy, healthy animals.
Missouri's winter weather isn't so extreme that it prevents you from a center aisle barn with stalls on both sides.  Orient your barn so that turnouts are on the windward side of the barn and leave the Dutch doors open so your horses can get inside away from the wind.  For the turnouts on the cold windward side of the barn, blanket the horses.  And keep their winter coats unclipped.
Since you've read "Healthy Stables by Design," you know that Blackburn designs typically use the chimney effect and the Bernoulli principle to create natural ventilation. Our barns become passively designed machines that work to provide healthy conditions for the horses inside.
Good luck with your new barn!
Posted in
Equestrian News
,
News and Press
|
Tagged Architect, barn architecture, barn design, barn in winter, Barns, Blog post, custom horse barn, Design a Horse Barn, Equestrian Architect, equestrian architecture, equestrian design, equestrian facility, Equine, Equine Architect, equine design, farm planning, healthy barn, healthy horse barn, healthy horse barns, healthy horses, Horse, horse barn, horse barn design, Horse Barns, horse farm, horse racing, horse stables, Horses, importance of ventilation in horse stalls, John Blackburn, Stables, Sustainable, thoroughbred, Ventilation, Virginia, Winter barn
|
Leave a comment >
06.24.19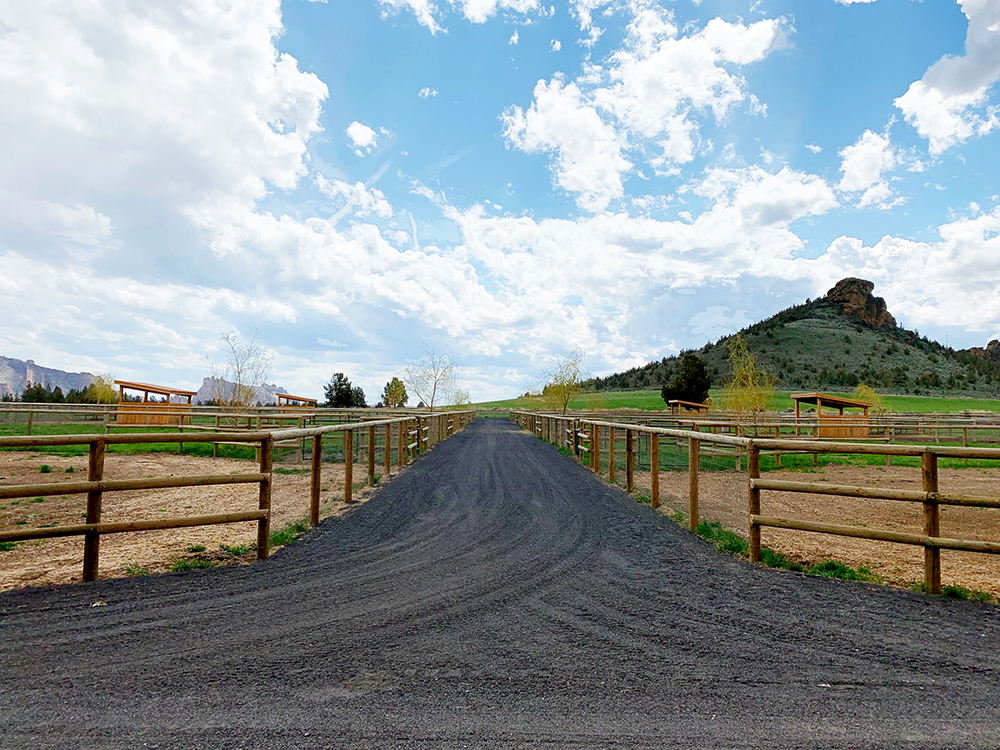 Let's talk about dry lots. Essential on nearly every equine facility, dry lots vary widely in size, location and construction.
By nature, of course, horses are herd animals evolved to roam and graze on sparse prairies.  We've introduced a complete change to the evolutionary process – incorporating diets of grain and lush pastures. The resultant problems are many, but our solution is simple. Limit the horses' activities or diet as you give them access to open air and light.  
Blackburn recommends dry lots on most, if not all, of the farms we design. Sadly, too many farms have unintentional dry lots because of inadequate pasture management.
Why create a healthy dry lot?
1. Control the horse's diet.
2. Preserve paddocks thru rotation.
3. Control moisture and its effect on hooves.
Here are nine things to consider:
Location: Choose a place close to the barn for ease of access.  Provide adequate sized gates for horses but also an occasional vehicle.  Select a relatively flat location but one that drains well and isn't too isolated so horses can socialize but generally remain separated.  
Materials: The footing should be firm but not hard packed.  It must be designed to drain well to allow moisture to either drain thru or away without causing erosion. Sandy soil is preferable but some sort of gravel that is easy on the feet or, even better, an engineered footing similar to your arena should work perfectly. 
Size:  The size can vary, but if you are creating the dry lot to limit the horses' movement for health reasons, you may want it to be smaller than larger.  We recommend multiple dry lots of varying sizes to accommodate many uses.
Fencing:  It goes without saying that your fencing needs to be sturdy. See Activities below.
Shelters: Some form of shade shelter for fly & weather protection is preferred – by humans, but horses may never darken the interior.
Feeding: Various forms of slow feeders, salt blocks, etc. can be used.  If you are restricting the horse's diet, we recommend consulting with your vet about setting up a feeding regimen that can be incorporated into your use of the dry lot.
Activities:  Spreading hay rations around the lot encourages movement; toys for activity or human interaction can be very helpful.  We always recommend consulting with your veterinarian because no two horses are the same. You and your vet know what's best for your horse.
Socialization:  Locating the dry lot close to other horses reduces stress and is more emotionally relaxing.
Footing: The dry lot surface should provide a safe and comfortable footing for horses but it must also drain well.  Therefore, we recommend that the upper surface/footing be 4 to 6 inches of footing material (stone dust, sand, engineered footing material as described above a drainage layer) or possibly 8 to 12 inches of pea gravel, allowing the foot to sink in without undue pressure on sensitive areas.  The drainage layer can be 1/2 inch to 1 inch stones. You can add an interlocking grid within this layer to provide additional stability of the base layer and improve drainage.
Posted in
Equestrian News
,
News and Press
|
Tagged Architect, Architecture, Barn, barn architecture, barn design, blackburn, Blackburn Architects New Horse Barn, equestrian design, horse barn, horse barn design, Horse Barns, horse farm, horse racing, horse stables, Horses, John Blackburn, Stables, Sustainable, thoroughbred, Ventilation
|
Leave a comment >
03.05.19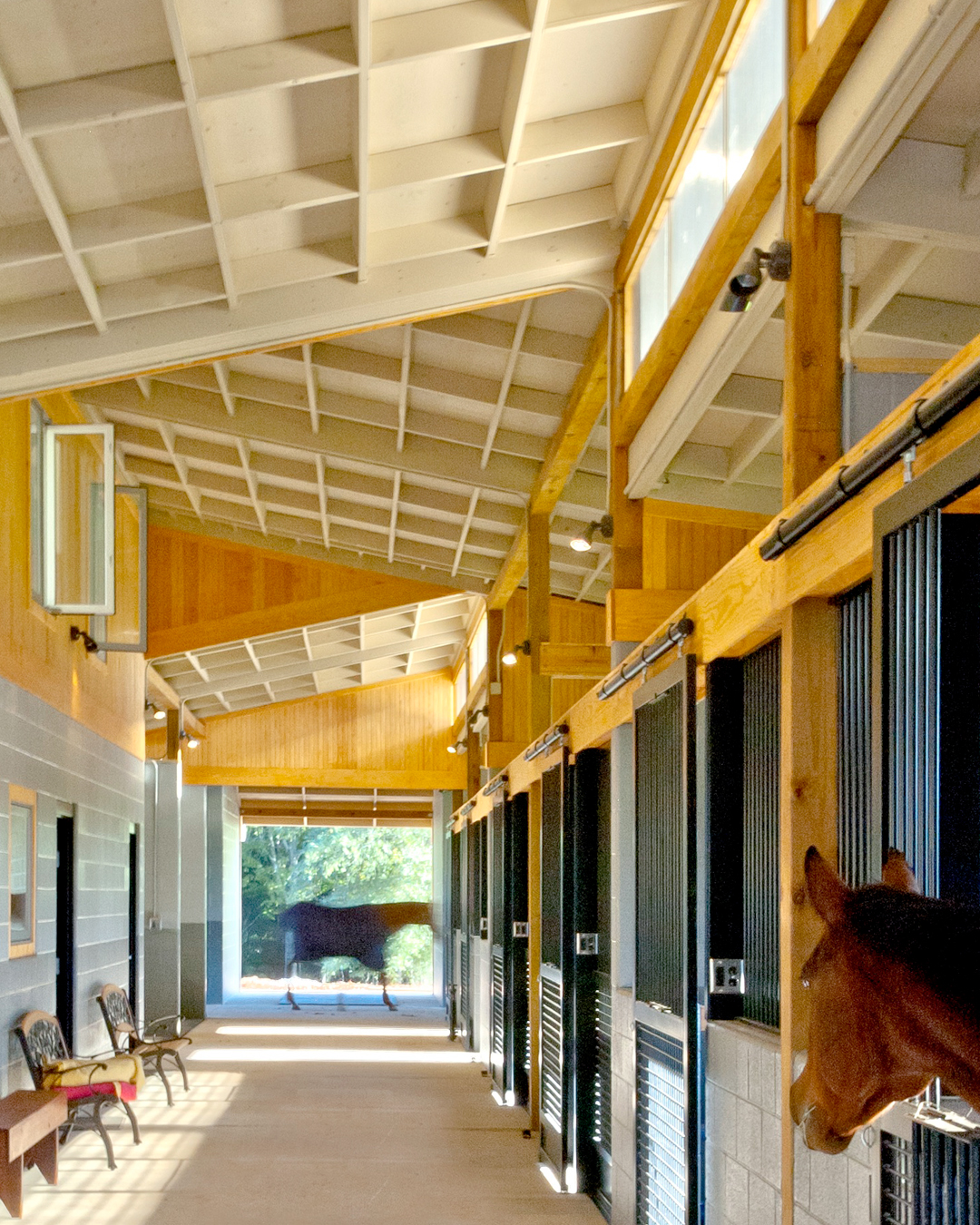 Fire protection in an equestrian facility is always a concern of the highest priority. Because we're often asked, we thought we'd offer information here on the fire suppression details the Blackburn design team has included in some of our latest projects.
At a new barn under construction in Indiana, we've specified a Dry Pipe System by Fire Tech, LLC. http://www.firetechstl.com/systems-preaction.php. We could have specified a "preaction sprinkler system," but chose the dry pipe system because of the dangers of freezing pipes in the cold weather climate of the Midwestern United States.
To quote Fire Tech's description, "A Preaction Sprinkler System is a system which employs automatic and closed-type sprinkler heads connected to a piping system that contains air (either pressurized or non-pressurized), with a supplemental system of detection serving the same area as the sprinklers. The systems are typically used in applications where the accidental discharge of water would be catastrophic to the usage of occupancy.
"Preaction Sprinkler Systems are similar to Dry Pipe Systems in that the water is kept from entering the piping valve, in the case a preaction valve. This valve is held closed electrically, only being released by the activation of the detection system (heat or smoke detectors mainly) when an electrical signal is sent to the releasing solenoid valve. The water then fills the pipe, ready for the activation of the sprinkler heads. Preaction systems can be arranged to be activated by only one detection device type, or many."
In Indiana, our architects specifically called for a dry pipe system because of the potential for freezing temperatures, but also in case "one of the children kicks a soccer ball and takes out a sprinkler head" (the client's words). With a dry pipe system, the sprinklers won't go off unless they also sense smoke or fire (depending on the detector type). A false alarm could flood and ruin the barn's expensive finishes. And using recessed/concealed pop up heads is a good idea where you can.
Another critical reason Blackburn specified a dry pipe system is because of an issue with water demand; the Indiana farm doesn't have sufficient well water on site to power the system. Because of this, our client connected to county water. Keep in mind that If you're on a well, you'll likely never have enough pressure to support a fire suppression system. The gallon per minute (gpm) for firefighting is higher than your average ground well can produce. This means you must store water on site in a tank or pond.
At Sheik Island, one of our projects in Florida, we stored water below ground. In California, at a private facility, we installed an above ground tank adequate to run the system as required by the local fire department. Additionally, we posted signage limiting the occupancy (should the owner decide to sponsor a large event in the arena). The clients obtain a special permit when larger events occur, and they hire the local fire department to have a truck on hand during the event.
At the Devine Ranch, in Aptos, California, and at the Moss residence, also in fire-prone California, we provided on-site storage tanks with backup generators to operate a pumping system.
Next up on the Blog: fire limiting design guidelines we build into our projects.
Posted in
Equestrian News
,
News and Press
|
Tagged Architecture, barn architect, barn fire safety, Barns, Blackburn Architects, Equestrian, equestrian architecture, equestrian design, Equine Architect, equine design, fire in horse barn, Fire protection, Fire protection in horse barn, fire suppression systems in horse barn, green barn, horse barn, horse barn design, Horse Barns, horse racing, protecting a horse barn against fire, protecting horses against fire, Stables, thoroughbred
|
Leave a comment >
01.17.19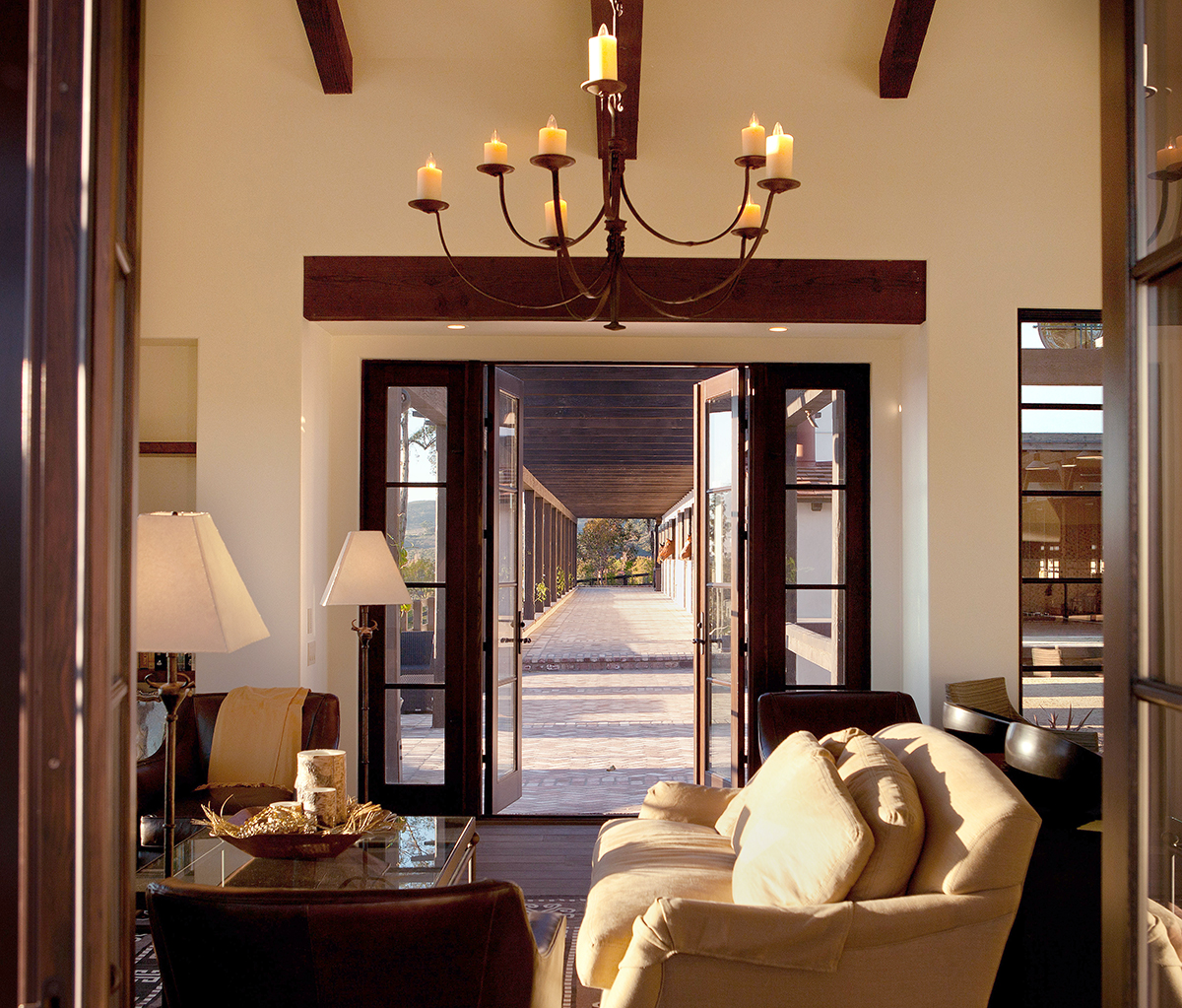 Blackburn Architects typically advises clients against including living quarters in a barn. When we add them, we provide extra safety measures.
An apartment or condo in the barn isn't the same thing as short-term accommodations. We'll often design a "warm room" into our barns so clients can stay close in case there's a sick horse or for foaling.  Even though technology provides some good methods to provide warning or protection (alarms, cameras, etc.) there are times when you just need to be close to respond quickly.
Permanent living quarters, however, can be problematic:
1. If the residential component is too large, then the change of scale can overshadow the scale of the barn and you end up with a "tail wagging the dog" situation. Aesthetically the design looks awkward.
2. If the residence will house a family, you run the risk of injury to children, pets, or visitors and there's an increased risk of fire caused by household activities.
3. If the apartment or condo is for the owner it's easier to control but if it's for a groom or an income rental it's important to be prepared that lifestyle choices may clash with your own.  For example, the tenant may be entertaining guests who may be unaware of the impact of their activities on the horses.
Because a barn usually has a lower cost per square foot (to design and build) than a residence, you may be able to save money by separating the two different uses and avoid building in the necessary fire and smoke separations.  For example, the barn could be a simple pole barn and the residence constructed to a higher standard. 
Another option is to build the apartment or residence as part of a service /storage structure or another farm building.  Two examples of Blackburn Architects' projects where we did this are Great Roads Farm in New Jersey and Kindle Hill Farm in Pennsylvania.
To conclude, without building in substantial fire/smoke separations when adding an apartment in the barn you increase your risk of disaster.  Building codes in most areas require you to include a two-hour separation.  It's essential that you check these regulations before planning an apartment in your barn.
Furthermore, an apartment in a barn or connected to it can impact the farm by forcing a larger footprint for the barn, and this can impact service roads, lead paths to paddocks, land grading, etc.  If the apt is added to the second "loft" floor unless it is designed properly it could negatively impact the introduction of natural light and ventilation (see Bernoulli principle and chimney effect).
Posted in
Equestrian News
,
News and Press
|
Tagged Architecture, barn architecture, barn design, Barn home, blackburn, Blackburn Architects, Blackburn Architects barn design, Blackburn Architects barns, Blackburn greenbarns, equestrian design, Horse, horse barn design, Horse Barns, horse stables, Horses, living in a horse barn, Stables
|
Leave a comment >
01.09.19
Over the years, Blackburn has been asked what we think of adding stalls along the side of an indoor arena. Sounds like a good idea, right? Well, we strongly recommend against it. The problems are many.
1. Air Quality. Forced to breathe arena dust many hours of the day, stalled horses live in an environment that isn't healthy. We recommend instead that the stall portion of the stables be connected in a separate but attached structure running perpendicular to the barn. Not only does this arrangement help isolate the arena dust from the barn, it allows the barn to sit independently. The structure can then catch the prevailing breeze which permits two scientific principles (Bernoulli principle and the chimney effect) to provide natural ventilation and light to the barn.
2. Fire Safety. We always recommend fire separations by providing sliding doors to isolate the barn from the arena in case of fire. These doors may or may not be rated fire separations. The decision is usually driven by cost, and we often provide an automatic rolling fire rated shutter to isolate the two separate areas – this at least reduces the risk of smoke moving between structures. (Quite often it's the smoke that is more dangerous and faster moving than the actual fire.) The isolation by sliding doors also provides critical time to get horses out of barn. If the arena and barn share the same space, there is less opportunity to isolate fire or smoke from the stable area. Furthermore, when the stables are parallel and part of the arena, the structure is generally shared – raising the risk it could collapse and trap horses inside.
3. Cost, Scale and Building Height. When stalls are designed as part of an indoor arena, the design requires a wider structure (often steel due to the long spans) which is typically more expensive. When it's a separate but attached structure, it can be framed in wood with smaller spans reducing the cost of the framing. If the stalls are part of the indoor arena, then the building becomes wider which also means a corresponding height increase. In many areas, the local zoning codes restrict building heights. We have found typical restrictions of 35 feet. It's difficult to get any height in the barn or arena if you are trying to build a 100 x 200 ft arena with a row of stalls and aisle way. Also, from an aesthetic perspective, wider and taller building begin to get enormous and have the potential to look like an airplane hangar and overshadow the entire farm.
4. Storm Water Issues. Finally, if your property is not flat, such a structure with a large footprint may require significant grading that can be expensive and create storm water issues. By breaking the barn and arena into two connected structures you can more easily work it into the natural slope of the land. Also, the isolation of the barn and arena permits opportunities to push the arena into the ground – helping to reduce the scale and height of the arena above finish grade. The entry to an observation area can be elevated above the arena floor (but entry level still at grade) for more easily viewing over the kick wall from a sitting position.
Blackburn has designed many arenas with this perpendicular arrangement. Rocana Farm, designed by us in 2002, is a great example of what we mean. Stalls at this hunter/jumper facility are attached to the enclosed arena with an elevated observation room, tack room, wash and grooming stalls.
Posted in
Equestrian News
,
News and Press
|
Tagged Barn, barn architecture, barn design, Barns, blackburn, Blackburn Architects, Blackburn Architects barn design, Blackburn Architects barns, Design, Equestrian, Equestrian Architect, equestrian architecture, equestrian design, equestrian facility, Equine, Equine Architect, Horse, horse barn, Horse Barn Advice, horse barn design, Horse Barns, horse farm, horse racing, John Blackburn, Sustainable, Ventilation
|
Leave a comment >
10.19.18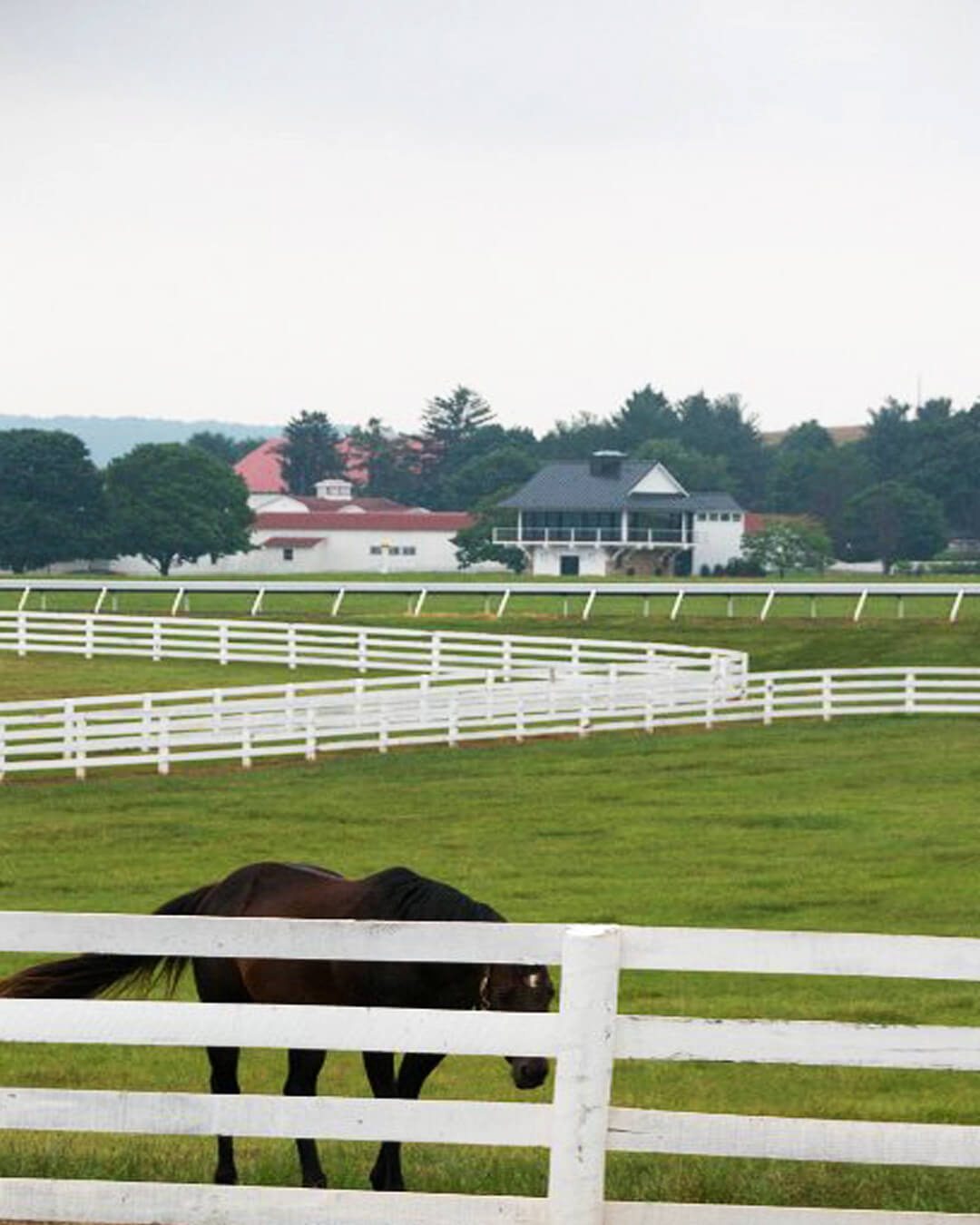 Fences are one of the most common discussion points among the Blackburn team and clients when we're designing an equestrian facility. The options listed below are certainly not exhaustive but reflect what we commonly find in many of our projects.
Some options are better suited for pastures, while others are more appropriate for small stall turnouts. We've tried to identify a variety of approaches that meet the safety needs for horses, limit maintenance needs, and often fall within neighborhood guidelines. 
1. Steel rail fencing is an option for stable turnouts. The material is available in a thinner profile so it isn't as visually heavy and it can be painted black or another dark color so that it does not have the "ranch" appearance seen with galvanized steel pipe corrals. The up-front cost is higher but the material is durable and will have little-to-no maintenance needs.
2. Woodguard polymer coated wood fencing is treated wood with a non-toxic, non-chipping surface covering. The wood grain is still visible but the finish has some of the plastic texture of the polymer. This product allows for fencing to be constructed similar to a wood fence, with the rails attached to the face of the posts. The result is a stronger, safer fence. Woodguard has a 20-year warranty. The cost is similar to wood board fencing but the maintenance needs are less. While the manufacturers state that this product is resistant to cribbing, we would recommend that a hot-wire be provided at the top rail to discourage the horses from chewing. This material would be acceptable to use for both stall turnouts and paddocks. It offers the appearance of a traditional 3- or 4-board wood fence without the significant maintenance demands. https://www.wood-guard.com/horse-fencing/
3. High Tensile Polymer (HTP) comes in both rail and wire styles and is typically mounted on wood posts. The rail is typically 5" wide and from a distance will appear similar to wood board fencing. Because wire fencing has a lower visibility, we suggest using a thicker top board so that the horses can more easily identify the barrier. The HTP materials' inherent flexibility makes these products durable and resistant to horses leaning on or running into the fence. Typically, these are more suited to large pastures or for perimeter fencing and less so for stall turnouts. The darker colors tend to exhibit a chalky appearance over time.
4. Rubber fencing is a durable, flexible, and low profile fencing material and is similar to the HTP fencing. We've not seen this product used as often and we understand that there's a risk that the strings of the fabric (which is an internal support for the rubber) can become exposed and offer a hazard for horses to chew on. A hot-wire at the top of the fence may combat this risk.
The advantages of rubber, HTP or any type strap fencing is the posts can be set further apart which is useful when its highly visible and you want to minimize the number of posts. The fencing is flexible and resists breaking when a limb or tree falls on it therefore it's a good material for perimeter fencing large acreage and where it encounters wooded areas. This is safer if/when a horse runs into the fence; especially a problem on larger paddocks when horses can get some speed and not be able to slow down.
5. HDPE is a post and board fencing material. It's stronger than PVC and performs better in all weather conditions, but the primary issue is in the assembly of the fence. The rails are set between posts, instead of fastened to the face, and can pop out if the fence is not secured properly. Its requires more frequent posts which tends to look busy and it's difficult to bend or angle corners because of the assembly method. The Blackburn team isn't particularly fond of this material because it can look clunky and isn't the safest option. http://www.amberwayequine.com/products/hdpe-fencing-2/
Posted in
Equestrian News
|
Tagged adding ventilation to a horse barn, Architecture for horses, Blackburn Architects barn design, Designing a Horse Farm, Equestrian, Equestrian art, equestrian design, Horse, horse barn design, Horse Farm Architecture, horse racing, horse stable design, horse stables, John Blackburn, Stable Design, Stables, Sustainable, sustainable barn design, thoroughbred, Ventilation
|
Leave a comment >
05.17.18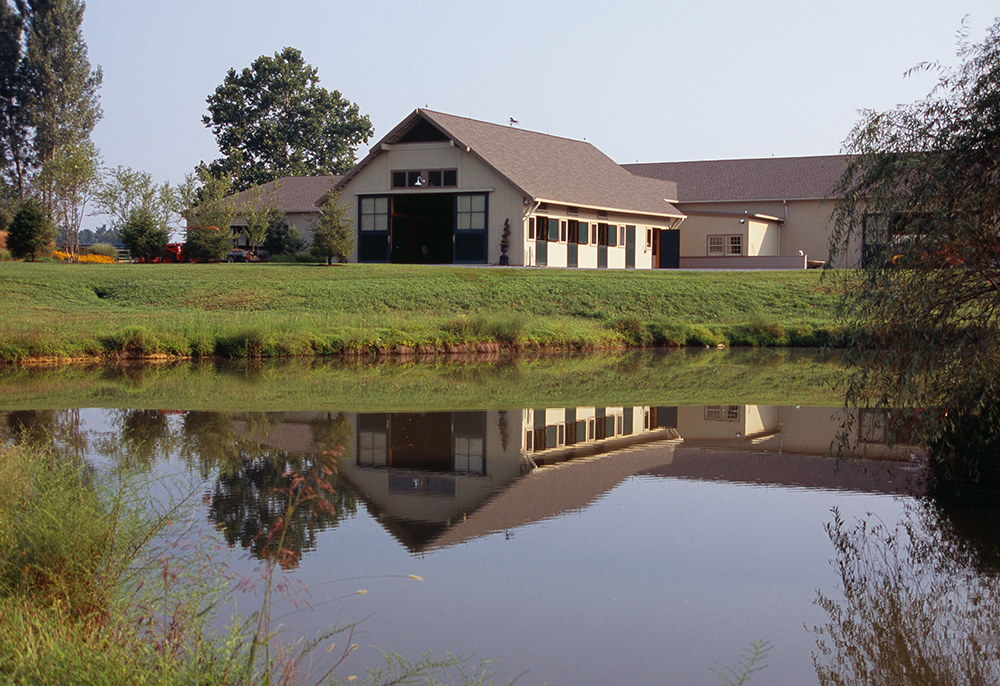 By John Blackburn
One of my favorite sayings regarding water on a farm is, "Certainly not possible in all cases, and not likely in many, but if at all possible, try to ensure the water that leaves your property is as clean as when it came onto the property."
My experience designing equestrian facilities, a personal interest in issues of sustainability, and my volunteer work with the Equine Land Conservation Resource, have raised my consciousness around land use issues regarding water. How a property drains it, where to find it, how to store it, and so on.
Whether your property suffers from too much or too little, water is an essential requirement for running an equestrian facility and has a significant impact upon the welfare of your horses, the efficiency of your farm and the budget of your operation. Water plays a big part in most Blackburn Architects equestrian projects. I thought I'd address a few solutions we can offer when there's too much coming onto your property (not your barn – that's another issue for discussion).
It's a problem that has come up recently at a farm in Texas, where clients face excessive stormwater runoff on their farm. When the rains started this spring, suddenly excess water poured onto their land from two different counties; displacing basically an entire neighborhood's volume of stormwater runoff onto their farm.
The team at Blackburn Architects will address this issue by determining the sizes of storages (dams or tanks) and diversions needed. Among the solutions that we'll apply to divert rainwater off pastures and away from buildings and high-traffic areas in the coming weeks and months are:
• Swales or Berms. Berms (elevated earth) and swales (shallow trenches) can act like gutters to redirect water away from areas that
get too much water. Planting grass, trees, and bushes will assist in stabilizing these natural water channels, so they don't become victims of
flooding over time.
• Catch Basins. A catch basin is an underground "reservoir" which collects water and drains it appropriately. Catch basins can
greatly improve farm drainage issues, allowing rainwater to flow through underground pipes leading to a sewer system or holding tanks (where it
naturally disperse). They offer a good method for moving water away from structures and off property, especially if you have to cross roads. At
Wyndham Oaks, in Boyd, MD, a Blackburn designed a system that takes water off the pastures and away from the structures, placing it into a long swale
that runs between paddocks.
• Retention Ponds. Retention ponds usually fill as a permanent pool of water, and they can also serve to temporarily detain excess
stormwater. When stormwater enters these ponds, it's released over a period of a few days, as water levels slowly return to normal.
All these methods of moving excess water can be interconnected. Run-off entering a catch basin flows through a daylight drain to swales located between paddocks. Before it leaves the site, runoff goes into a retention pond, which allows it to evaporate or gradually seep back into the soil, and recycle.
Posted in
Equestrian News
,
News and Press
|
Tagged barn architecture, barn design, Blackburn Architects, Blackburn Architects barns, Blackburn Architects Equestrian Design, Blackburn greenbarns, draining stormwater on a horse farm, Draining water on your property, Equestrian Architect, equestrian design, equestrian facility, Horse, Horse Barns, Horse Barns and Stormwater, Planning a horse farm, Too much stormwater, Too much water on your property, Water on a horse farm
|
Leave a comment >
04.24.18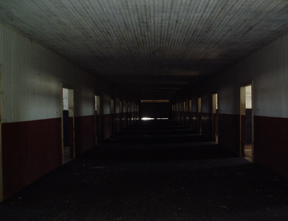 With careful attention to design details, it is possible to retrofit your barn to be healthier for your horses. One important renovation to existing built structures is the addition of skylights and ridge vents to increase light and air flow.
Only a fortunate few horse owners design and build a barn from the ground up. Most buy a property with an existing barn. As the photos illustrate, Blackburn Architects' client Kevin Plank, the CEO of Under Armour®, bought historic Sagamore Farm in Maryland, and undertook a significant renovation to add light and ventilation to the interior of his historic main barn.
Significant expenditures are not necessary, however. In this discussion, I'm offering simple recommendations for achieving healthier living space for horses starting with an existing barn.
VENTING OPTIONS
For venting an existing barn roof, I suggest one of two options:
1) Add Dutch doors along the barn sides or
2) Add a vent along the bottom edge of the skylight (or ridge if that works best though I prefer the curb vent for better free air access).
Option 1: Add Dutch doors along the barn sides
This option provides good access for ventilation to each stall and a great method of controlling air flow. An owner has the option of leaving just the upper door open to reduce the flow or open both upper and lower doors to give maximum free area. (Of course, in order to open both doors for full access you'll need to add an interior mesh panel to keep horse in the stall.) If Dutch doors aren't possible or within the budget, then I recommend adding low wall vents to bring in air low to the floor (which is good for foals and to vent odors caused by ammonia gases near the floor). The vents should be dampered for air control and screened to keep rodents from getting into stalls.
Additionally, Dutch doors provide an abundance of natural light, which reduces the need for electric lighting in the barn and helps purify the stall flooring, reducing the creation of harmful ammonia gases.
Option 2: Add a vent along the bottom edge of the skylight (or ridge)
This option allows for vertical ventilation of the barn using the Bernoulli Principle and the chimney effect. Though the existing barn may not have the best angle for prevailing breezes or roof slope, it will help nevertheless. I also recommend vents at the top of the wall at the roof eave if they can be added. This permits year-round ventilation above the heads of the horses, but still ventilates the barn vertically using the techniques described above.
ADDING SKYLIGHTS
There are a variety of methods and materials that can be used to retrofit skylights into an existing roof. At Sagamore Farm, Blackburn Architects' design replaced the existing shingles with a new metal roof (not necessary; Sagamore's roof shingles were worn out and metal was chosen as a better long term material). In more typical circumstances where the existing shingles are salvageable, simply remove the shingles along the ridge and cut out the sheathing or sub roofing material, leaving only the roof rafters.
Continuous curbs should be built along the edge of the opening. Although a continuous skylight or curb is not necessary, I find it aesthetically and functionally preferable. A skylight can then be placed on top of the curbs spanning from one side of the aisle to the other. The curb can and should be vented. The size and amount of free area depends on the barn design, size and location. The skylight width does not have to span the full width of the aisle but somewhere between 8 to 12 feet should be adequate.
The skylight can be either glass (costly and should be safety glass) or some form of polycarbonate. Check your local building codes for requirements. I do not recommend clear glazing. Translucent glazing reduces the visibility of dirt and filters light, which better serves the barn interior. It's best not to let a strong band of sunlight hit a stalled horse for a long period of time. I also recommend painting the interior of the roof and framing members a light color to improve reflectance.
If a continuous skylight is not possible, then individual roof skylights can be installed over the center aisle. However, if the skylights are not high on the roof and are not vented, they may not do much to increase the barn's vertical ventilation.
If the barn has a loft it may be possible to remove it, leaving specific structural members spanning across the barn to hold the building together and to provide wind shear strength to the barn. If the loft is used for hay storage (which I don't recommended for health and safety reasons), then it may be possible to remove a portion of the loft over the aisle leaving the loft in place over the stall for storage or the reverse of that (remove the loft over the stall but leave it in place over the aisle).
While these approaches to increasing light and ventilation in existing structures can work wonders, you should always contact a structural engineer before installation of skylights to determine if the barn can take the modifications needed of if some additional structural work needs to be done.
Posted in
Equestrian News
,
News and Press
|
Tagged adding light and ventilation to a horse barn, Adding skylights to a barn, adding ventilation to a horse barn, Architecture, barn architecture, Blackburn Architects, Blackburn Architects barns, Blackburn Architects Horse Barn, equestrian architecture, equestrian design, equestrian facility, Equine Architect, equine design, farm planning, healthy horse barns, horse barn, horse barn design, how to add skylights to a barn, how to add ventilation to a horse barn, John Blackburn, Sagamore Farm, thoroughbred, thoroughbred barn, thoroughbred horses
|
Leave a comment >
02.15.18
(Originally printed in Equine Wellness magazine, March 2015; newly edited and updated)
I've always made it a point to use passive renewable design elements and sustainable materials in my equestrian designs. The motivation is designing for the health and safety of horses, so it's not surprising that what's recommended for creating human and eco-friendly structures is also recommended for equines.
Nowadays, Blackburn Architects' team rarely encounters a client who isn't enthusiastic about including sustainable design principles in their farm program. With green technologies evolving every day, there are more systems and product choices available to suit the unique demands of equine properties. The most prevalent elements include natural light and ventilation, recycled materials and regionally sensitive natural woods and products.
SUSTAINABLE BUILDING MATERIALS
We incorporate recycled and sustainable materials into the firm's barn designs. We've used recycled rubber bricks and pavers for aisle flooring, and recycled rubber mats for stall floors, and occasionally, stall walls. Not only are these products more comfortable for the horses' legs and knees, but they also provide a slip-resistant surface. As for building materials, we use everything from FSC (Forest Steward Council) certified lumber and recycled steel to fly ash concrete blocks and recycled wood.
However, we are always mindful of what some recycled material mixtures contain. Some products include substances (plastics, resins, binders, etc.) that could be toxic to horses through off-gassing or if they chew on the material. If you're designing your own facility, be sure your builder is familiar with the materials ahead of time and is comfortable working with them. Occasionally, we've run into a situation where the builder is unfamiliar with a product recommendation and accidentally convinces an unaware owner to use a product that may exhibit these harmful qualities.
BUILDING FOR CLIMATE
It's important that building materials make sense for both the design and the climate. In more northern locations, we try to design with timber that will provide more insulation for the structure. In the south, a masonry-style building helps keep the structure cool and is more resistant to humidity and insect infestation. While bamboo is an excellent renewable resource option, it's not often locally sourced and can be costly to ship. Douglas fir and southern yellow pine are the typical go-to lumber products for our firm. They are quality assured, sustainably harvested, and regionally sensitive. When combined with low VOC (Volatile Organic Compounds) finishes and paints, these materials make for sturdy, sustainable buildings that do not sacrifice quality or aesthetics.
WATER MANAGEMENT
Conserving water is imperative to any agricultural property, and there are many top-to-bottom green approaches to consider. It's crucial to intercept and collect storm water before it becomes ruinous run-off that can affect ground water and nearby ponds and streams. We frequently use porous or "popcorn" asphalt for interior and sometimes exterior floor covering. It's "self-healing" and aids in water drainage.
Since many horse farms around the country face changing weather extremes (torrential rain and drought come to mind), rainwater collection systems are vital for alleviating the resultant water issues. Roofs can be designed to route storm water into cisterns. The harvested water can then be channeled into irrigation systems for fields, paddocks, arenas and pastures, or collected for controlled distribution to prevent muddy conditions.
ACTIVE RENEWABLE SYSTEMS
In addition to passive systems, I highly recommend including active renewable systems in the design of any horse farm. The beauty of equine and agricultural properties is that they often feature characteristics that compliment these systems. Large swaths of land can facilitate geothermal power systems or wind-powered generators and other equipment. Roofs with large surface areas are common features of many agricultural buildings and make perfect platforms for solar panel systems.
One of the firm's current projects is an extremely energy efficient property in Missouri. While targeting net-zero energy use, we've included a geothermal heating system and solar panels that power infrared heaters in the wash stalls.
Green technologies have come a long way and today's solar panel systems offer more choices for collecting and storing energy. If designed properly and in the right location, it is often possible to fully rely on the solar panels for all your energy needs. Including these systems in conjunction with natural light and ventilation could conceivably eliminate outside energy dependency for your equine buildings. Over time, solar panels will pay for themselves in savings. Check with your local and state government about tax incentives for incorporating green energy saving systems into your property.
FRESH AIR AND NATURAL LIGHT
Accomplished with steep sun-heated roofs and vented skylights, the combined effects of the Bernoulli Principle (an equation of vertical lift championed by Dutch-Swiss mathematician Daniel Bernoulli) and the chimney effect (air pulled in low and vented up high) circulate fresh air throughout the structure while flooding the space with natural light. This method provides the optimal environment for horses because it turns the typically static barn into a machine while imitating the equine's natural environment. The process significantly cuts down on the cost and operation of electric lighting and fans and the health and safety risks they can create.
One of the challenges we sometimes encounter with clients is convincing them to include active systems in their design programs. This is usually due to upfront costs. The price impact can be minimized by smart design decisions. Knowing ahead of time what green options are available and which ones you'd like to incorporate will inform your budget early on and, if need be, help you plan the property with future installations in mind.
THE BENEFITS OF COMPOSTING
Composting is another great passive renewable option. We strongly encourage all our clients to include a composting system in their design program. Composting helps manage muck and removes harmful bacteria and other organisms to create natural fertilizer for paddocks. It also helps keep organic material that could produce harmful uncontrolled run-off out of landfills.
Sustainable barn design is about what's healthiest and safest for your horses. Remember, horses were never meant to be inside. But if they're going to be, then it's important to create an environment as close as possible to what they would encounter in nature, using materials and techniques that at the same time don't harm the very environment they come from.
Posted in
Equestrian News
,
News and Press
|
Tagged Barn, barn architecture, Blackburn Architects, blackburn architects green technologies for horse barns, Blackburn Architects predesigned horse barn, blackburn architects sustainable horse barns, Equestrian, Equestrian Architect, equestrian design, equestrian facility, horse barn design, Horse Barns, Sustainability, Sustainable, sustainable horse, sustainable horse barn, Sustainable horse barns
|
Leave a comment >