equestrian design
02.15.18
(Originally printed in Equine Wellness magazine, March 2015; newly edited and updated)
I've always made it a point to use passive renewable design elements and sustainable materials in my equestrian designs. The motivation is designing for the health and safety of horses, so it's not surprising that what's recommended for creating human and eco-friendly structures is also recommended for equines.
Nowadays, Blackburn Architects' team rarely encounters a client who isn't enthusiastic about including sustainable design principles in their farm program. With green technologies evolving every day, there are more systems and product choices available to suit the unique demands of equine properties. The most prevalent elements include natural light and ventilation, recycled materials and regionally sensitive natural woods and products.
SUSTAINABLE BUILDING MATERIALS
We incorporate recycled and sustainable materials into the firm's barn designs. We've used recycled rubber bricks and pavers for aisle flooring, and recycled rubber mats for stall floors, and occasionally, stall walls. Not only are these products more comfortable for the horses' legs and knees, but they also provide a slip-resistant surface. As for building materials, we use everything from FSC (Forest Steward Council) certified lumber and recycled steel to fly ash concrete blocks and recycled wood.
However, we are always mindful of what some recycled material mixtures contain. Some products include substances (plastics, resins, binders, etc.) that could be toxic to horses through off-gassing or if they chew on the material. If you're designing your own facility, be sure your builder is familiar with the materials ahead of time and is comfortable working with them. Occasionally, we've run into a situation where the builder is unfamiliar with a product recommendation and accidentally convinces an unaware owner to use a product that may exhibit these harmful qualities.
BUILDING FOR CLIMATE
It's important that building materials make sense for both the design and the climate. In more northern locations, we try to design with timber that will provide more insulation for the structure. In the south, a masonry-style building helps keep the structure cool and is more resistant to humidity and insect infestation. While bamboo is an excellent renewable resource option, it's not often locally sourced and can be costly to ship. Douglas fir and southern yellow pine are the typical go-to lumber products for our firm. They are quality assured, sustainably harvested, and regionally sensitive. When combined with low VOC (Volatile Organic Compounds) finishes and paints, these materials make for sturdy, sustainable buildings that do not sacrifice quality or aesthetics.
WATER MANAGEMENT
Conserving water is imperative to any agricultural property, and there are many top-to-bottom green approaches to consider. It's crucial to intercept and collect storm water before it becomes ruinous run-off that can affect ground water and nearby ponds and streams. We frequently use porous or "popcorn" asphalt for interior and sometimes exterior floor covering. It's "self-healing" and aids in water drainage.
Since many horse farms around the country face changing weather extremes (torrential rain and drought come to mind), rainwater collection systems are vital for alleviating the resultant water issues. Roofs can be designed to route storm water into cisterns. The harvested water can then be channeled into irrigation systems for fields, paddocks, arenas and pastures, or collected for controlled distribution to prevent muddy conditions.
ACTIVE RENEWABLE SYSTEMS
In addition to passive systems, I highly recommend including active renewable systems in the design of any horse farm. The beauty of equine and agricultural properties is that they often feature characteristics that compliment these systems. Large swaths of land can facilitate geothermal power systems or wind-powered generators and other equipment. Roofs with large surface areas are common features of many agricultural buildings and make perfect platforms for solar panel systems.
One of the firm's current projects is an extremely energy efficient property in Missouri. While targeting net-zero energy use, we've included a geothermal heating system and solar panels that power infrared heaters in the wash stalls.
Green technologies have come a long way and today's solar panel systems offer more choices for collecting and storing energy. If designed properly and in the right location, it is often possible to fully rely on the solar panels for all your energy needs. Including these systems in conjunction with natural light and ventilation could conceivably eliminate outside energy dependency for your equine buildings. Over time, solar panels will pay for themselves in savings. Check with your local and state government about tax incentives for incorporating green energy saving systems into your property.
FRESH AIR AND NATURAL LIGHT
Accomplished with steep sun-heated roofs and vented skylights, the combined effects of the Bernoulli Principle (an equation of vertical lift championed by Dutch-Swiss mathematician Daniel Bernoulli) and the chimney effect (air pulled in low and vented up high) circulate fresh air throughout the structure while flooding the space with natural light. This method provides the optimal environment for horses because it turns the typically static barn into a machine while imitating the equine's natural environment. The process significantly cuts down on the cost and operation of electric lighting and fans and the health and safety risks they can create.
One of the challenges we sometimes encounter with clients is convincing them to include active systems in their design programs. This is usually due to upfront costs. The price impact can be minimized by smart design decisions. Knowing ahead of time what green options are available and which ones you'd like to incorporate will inform your budget early on and, if need be, help you plan the property with future installations in mind.
THE BENEFITS OF COMPOSTING
Composting is another great passive renewable option. We strongly encourage all our clients to include a composting system in their design program. Composting helps manage muck and removes harmful bacteria and other organisms to create natural fertilizer for paddocks. It also helps keep organic material that could produce harmful uncontrolled run-off out of landfills.
Sustainable barn design is about what's healthiest and safest for your horses. Remember, horses were never meant to be inside. But if they're going to be, then it's important to create an environment as close as possible to what they would encounter in nature, using materials and techniques that at the same time don't harm the very environment they come from.
Posted in
Equestrian News
,
News and Press
|
Tagged Barn, barn architecture, Blackburn Architects, blackburn architects green technologies for horse barns, Blackburn Architects predesigned horse barn, blackburn architects sustainable horse barns, Equestrian, Equestrian Architect, equestrian design, equestrian facility, horse barn design, Horse Barns, Sustainability, Sustainable, sustainable horse, sustainable horse barn, Sustainable horse barns
|
Leave a comment >
12.11.17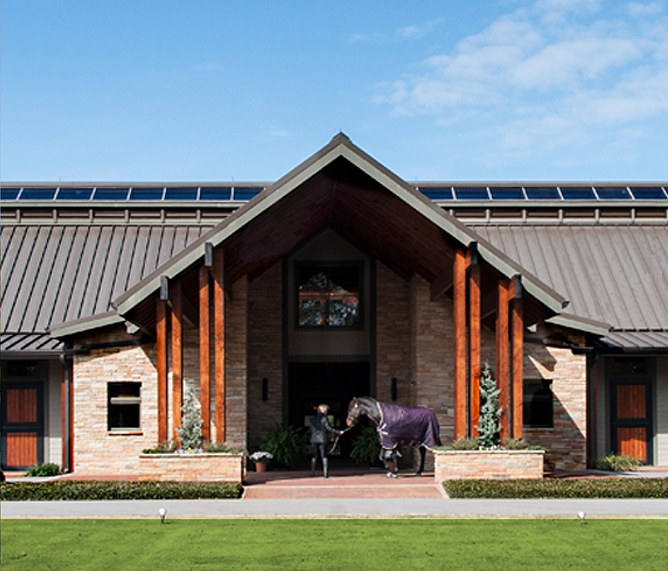 We recently wrote about muck pits and dealing with manure at horse facilities and received comments about stabling time; some saying that shorter times in stalls are better for horses. We completely agree. The longer a horse is stabled indoors, the more likely it is that the animal will be standing in urine-soaked bedding for at least part of the day. And we all know ammonia causes problems.
We want the air inside our barns to be as clean as the air outside the barn. Blackburn Architects' designs stress aerodynamic ventilation, strategic natural light, and passive solar heating and cooling in our equestrian facilities.
When John Blackburn was beginning to design horse facilities more than 30 years ago, he found combining regionally-appropriate architectural elements with aerodynamic airflow principles created pleasing, healthy spaces for equines and their caregivers. Even early on in his career, heading into his barns was refreshing. "In August," he has said, "in the dead of summer, when there was no wind – your hair would lift" from the natural ventilation created by the proper placement of the barn on a site, and the use of two engineering principles, which Blackburn Architects has employed in every design then and since:
1. The Bernoulli Principle – As air blows across a surface, e.g. a bird's wing, it creates lift. Barn placement on a site is critical. If possible, a barn should capture the prevailing summer breezes (for horses you're always more concerned with cooling rather than warming).
Inside the barn, air needs to move up and out. Blackburn frequently specifies ridge line vents in our designs. The vertical ventilation rids the barn of odors, pathogens and infectious bacteria that could otherwise be transported from horse to horse.
Even in cold climates like Montana, Blackburn Architects designs for maximum ventilation in the winter. "A horse gives off a tremendous amount of humidity; a lot of bacteria and in a contained area – like a stall – that's an incubator for disease. I don't care how cold it is where you live, you want to ventilate your barn year-round," explained John Blackburn.
2. The Chimney Effect – Maximizing natural light in a barn creates a healthy environment by helping to "sterilize" the spaces. For example, as the sun moves across the sky and a band of light travels through a stall – perhaps through the upper portion of an exterior Dutch door left open – it helps to dry and evaporate urine. Blackburn Architects' spaces have a lot of windows, and skylights. Vented skylights glazed with a translucent polycarbonate panel running the length of the barn are hallmarks of our barns. The light source provides a low cost, shatter-proof feature that diffuses the light, thus eliminating harsh shadows, which could cause horses to spook. "My barns are designed to function throughout the day without the use of artificial lighting, except in enclosed rooms such as bathroom/laundry," John Blackburn explained.
"A horse is designed to live outside in the wild. If it wants to get out of the sun, it'll run under a tree. If it wants to get out of the wind, it'll run behind a hill. This natural, healthy way of living is what we strive to create with our barns so that our athletic partners have the best chance of long, healthy lives – indoors or out."
If you want to learn more, Penn State Extension has a very informative article: https://extension.psu.edu/horse-stable-ventilation.
Posted in
Equestrian News
,
News and Press
|
Tagged Equestrian Architect, equestrian design, Equestrian design blog, Equine Architect, healthy barns, healthy horses, Horse barn ventilation, importance of ventilation in horse barns, importance of ventilation in horse stalls, protecting a horse from bacteria, ventilating horse barns, ventilation in equestrian facilities, ventilation in horse barns
|
Leave a comment >
11.01.17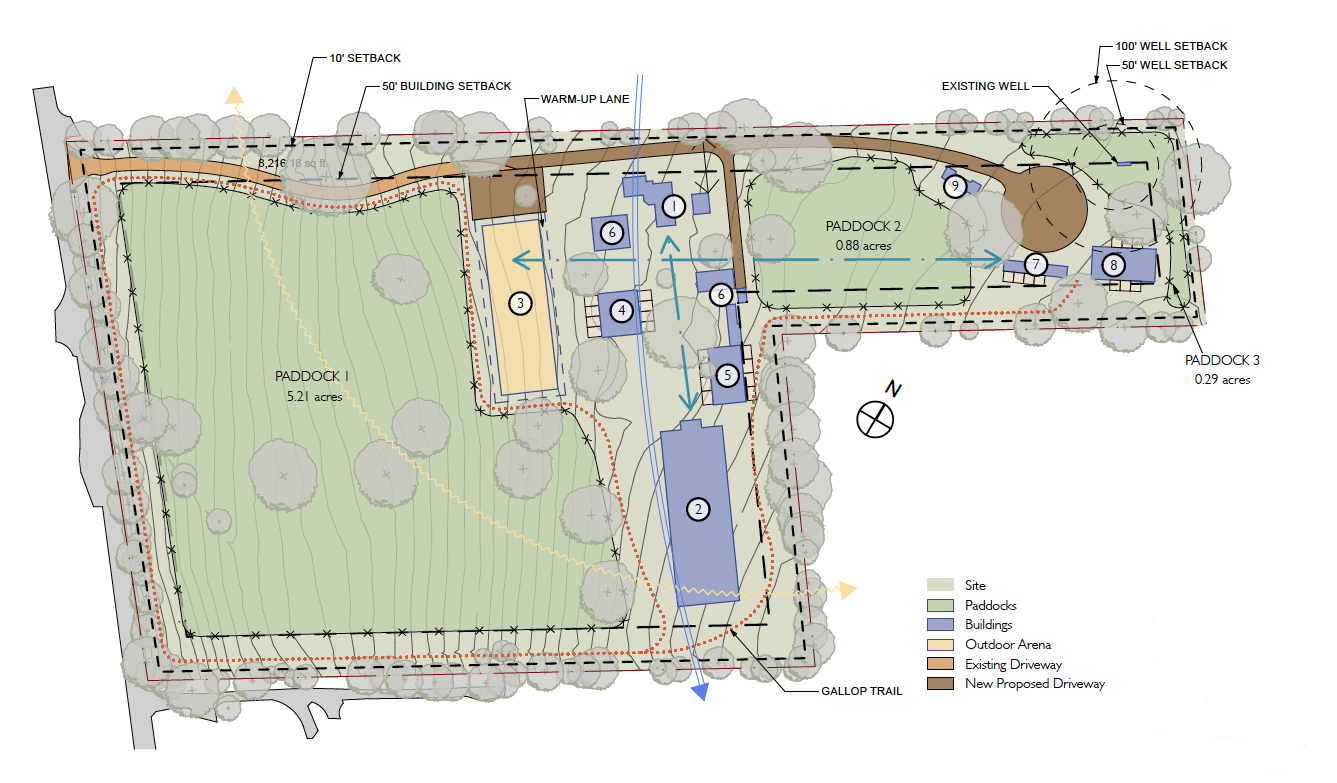 Q: Dear John,
We have a house on 3 acres of land with a 4-stall metal barn. It's been years since horses have been on the property. The pasture and paddock are overgrown with trees and shrubs and are now essentially wooded areas. The fences are in disrepair. The area is hilly. We need to see if we can flatten an area to use as a riding ring. Drainage will be an issue. Basically, we need to figure out a way to rework what's here to maximize what we can use. We understand that it will be a large undertaking and we want to properly plan to do it right and complete in several stages over a couple years.
Your website has been helpful and informative, but any additional information would be greatly appreciated.
Thank you,
Midwestern Equestrian
A: Dear Midwestern Equestrian,
Almost weekly, our office receives calls or emails from people who own a property and plan to put horses on it. Maybe there's already an old structure there. Or perhaps they want to start from scratch. They ask for advice on where to begin.
Midwestern Equestrian, I suggest you start with a site plan. Even with an existing structure (your 4-stall barn), there are so many benefits to putting together a "roadmap" for future changes/improvements. And since you want to put four horses on three acres, efficient planning is critical. Consider that there are three major categories of costs when planning to bring horses onto your property: 1. Operational, 2. Environmental, and 3. Infrastructure. Proper planning will save you money in all three areas. Fewer roads, less fencing, better drainage all ensure that the whole farm, not just the horse barn but the entire collection of structures on the site, operates efficiently and safely.
Operational Considerations: First locate where you'll put the horses – where is your turnout? Where will you store hay, equipment, or vehicles? Do you have access for manure pickup, large-truck deliveries, guests or visitors? Minimizing the number of steps necessary for your daily routine (turnout, stall mucking, etc.) will save labor time, which of course you know is money in the farm biz. Planning will also preserve space for paddocks.
Environmental Considerations: Figure out structure placement within your acreage. It's important to properly orient any new buildings in the landscape. We design our barns to generate their own ventilation, placing them perpendicular to prevailing summer breezes. (One of many design considerations for maximizing light and ventilation, which is a subject I've written about often.) Additionally, placing structures where the land will drain easily makes good sense.
Infrastructure Considerations: Fewer roads to maintain means fewer dollars spent.
Creating a master plan does not mean that every part of it needs be built at once. The plan may end up taking years to implement, but as each new structure or paddock is added, it isn't done in the usual haphazard way. It will save you from asking, "You know, I could use a tractor shed somewhere?" Even those with very limited budgets should consider getting the advice of an expert at the planning stage, given the importance of the optimum farm layout.
Hope this helps in your planning, and good luck with your farm!
John
Posted in
Equestrian News
,
News and Press
|
Tagged Blackburn Architects, Blackburn Architects barns, Dear John, Dear John advice, equestrian design, equestrian facility, Horse, horse farm, horse stables, John Blackburn, John Blackburn advice on site planning, Master Plan for a horse farm, Site plan for equestrian property, Site planning a horse farm, Stables
|
Leave a comment >
05.16.12
Quite a few years ago, I participated in a web chat (remember those?) with the folks at EquiSearch. During the chat, a few chatters presented me with questions about their barn projects, which ranged from "how to's" regarding initial planning stages or "what now's" after building the basic framework. For old time's sake, I thought I might share the chat's transcript. For the sake of those reading today, I'd like to encourage any and all of you to ask away with questions or to present design issues of your own.
gatsbysmom – How much roof overhang do you recommend for a barn in the South?

Blackburn – Gatsbysmom…roof overhangs are very helpful in the south for shading…if you have Dutch doors where horses can stick their heads out, it allows them to do it…make sure the roof is projected out far enough so runoff doesn't drop on the horses' heads…a good dimension is 3.5 feet.
04.06.12
Located in Loudoun County along the banks of the Potomac River, this 24-stall barn and indoor arena is host to many equestrian events and family gatherings. Amenities include barn offices, lofts, and a 25,000 square-foot indoor arena with a viewing area for observers. The equestrian facilities can also be viewed from the sundeck of the award-winning Bank Barn that overlooks the valley below.
Program 24-stall barn, offices, indoor/outdoor arenas, observation area, service barn, outdoor paddocks
Completion 2006
01.25.12
I think that's the top question I get (the gist of it, anyway) and it SHOULD be. Why should you hire an architect to design a horse barn? Or, Is hiring an architect to design a barn really necessary?
In short: no. However, hiring an equine architect can save you time, your horse's health and safety, and even money in the long run. Allow me to state my case.
A horse is so much more than a pet: it's a companion, a worker, a teammate, an athlete. Whether you ride for pleasure or compete, the horse—your horse—is irreplaceable. I wish not to gild the lily just to make my point, which you already know, that horse owners think the world of their horses and want to treat them with the utmost care and respect. If you keep a horse, it's your duty to protect it. While a horse is perfectly pleased to graze outdoors most days, the barn is a necessity – so I say, let's do our best to protect that horse and maybe make your life a little easier in the process.
Barn This Way – Product vs. Service
When you decide to build a barn, you have a few choices. The least costly solution is to purchase a prefab or kit barn. The prices range (rather wildly), as does the package itself. Labor is often an additional cost as well as nails, roofing, and concrete costs. Usually a contractor charges between 10 to 25 percent of the total cost of materials for construction services. However, this percentage may go up if your project is on the small side in order for it to be financially viable for the contractor. For many horse owners, a prefabricated or kit barn is a perfectly reasonable and cost-effective solution.
If you're looking for a step above prefabricated, or can afford to customize your project a bit, you may then wish to research design/build contractors – but this is where I'd stop and suggest that you alternatively consider working with an equestrian architect.
Why? A design/build contractor is selling a product, not a service, and is not often a trained architect, which limits his or her ability to think creatively outside of the box. In most cases, thinking outside of the box eats up profits and costs more money (for the design/build contractor). For a design/build contractor, the goal is to build quickly above all else. I think this compromises your program and the overall result because the design/builder does not want to eat up time resolving special issues or conflicts. The design is usually cookie cutter, following whatever pattern the design/build contractor typically uses, and there is no one there to really represent the owner (you) and oversee the quality of the project and if it's built as intended or promised.
To Serve and Protect
With an equestrian architect, you're purchasing a service rather than a product. The architect is there to resolve the needs of the owner, from overall site planning, programming, phasing, and design to overseeing the entire construction to make sure the barn is built as intended. The service costs a bit more than a design/build contractor but, if your barn is your livelihood or your sanctuary, I believe that you'll save time and stress, frankly by getting it done right the first time.
Typical services an equestrian architect (straight from the horse's mouth here, if you'll forgive my pun) will provide:
Site planning: can reduce infrastructure costs (fewer roads, less fencing, better drainage, etc.) and improve the site to function at its best for your needs.
Programming: ensures that the whole farm (not just the horse barn but the entire collection of structures on the site, if applicable: residence, guest house, caretaker's quarters, hay/bedding, vehicle storage, etc.) operates efficiently and safely.
Code analysis: certainly the codes vary across states/municipalities. We've designed horse stables in counties with very specific codes and regulations and understand what to look for and how to work with the various officials to resolve issues. The architect can save you a lot of hassle!
Budget Development and Cost Control/Scheduling: I like to develop a budget as early in the process as possible and revisit it periodically during the project. My job is to determine if the owner's programmatic needs and budget fit the site, and if the design aesthetic suits their personal design goals. We can also plan to develop the barn or various structures in phases, if applicable.
Conceptual Design: Here we develop the character and massing of the structure(s) and prepare a preliminary floor plan and elevations to illustrate our ideas. At Blackburn, this is the final phase of what we call Master Plan Services (site plan, written program, conceptual design, and preliminary construction development). From here, we move on to more detailed design work.
Schematic Design: After we complete a master plan that works well for the owner, we begin to prepare detailed drawings to give you an idea of the layout and general appearance of the barn (and possibly other buildings). We'll talk about finishes, materials, stalls, tack rooms, etc. For a lot of people, this phase of design is the fun part!
Design Development and Construction Drawings: Here we'll really start to nail down the final design and specify the materials, stall systems, finishes, and other details and prepare construction drawings that instruct the contractor how to build the barn.
Bidding and Construction Administration: Because construction drawings are open to interpretation, it's important that the architect works with the contractor to oversee that the project is carried out according to the design intent. We're the owner's rep to make sure that construction is done well and done right.
I understand this may seem like a lot, but each is a valuable step toward designing a healthy, safe, and functional facility. As an architect, I want to study how you operate and design a barn that feels inviting and personal (because it is). No barn or farm operates exactly alike as each owner or barn/farm manager operates his/her facility in a particular fashion. While designing a barn from scratch is not realistic for everyone, if you are choosing between a design/build firm and an equestrian architect, I'd strongly advise that you approach both for more information and weigh out your options carefully. It could save you your horse.
As always, I invite your questions and comments. Thanks for reading!
An architect is trained to design as the great Louis Sullivan (1856-1924) states: "Form ever follows function." After all, if your barn doesn't function properly, what's the point of a great design?
Posted in
Equestrian News
|
Tagged barn design, Blackburn Architects, Equestrian, Equestrian Architect, equestrian design, Equine Architect, Horse, horse stables, master plan, Sagamore, site planning, Tidewater
|
2 comments >
09.07.11
Designed in response to an adjacent new residence and in the style of existing barns on the private ranch, this eight-stall barn in Montana uses heavy timber framing and western cedar siding.
The program includes wash and grooming stalls, a lounge/office, large tack rooms, and a loft with a balcony that overlooks an outdoor arena. The barn's deep overhangs create covered areas to wash and groom horses outdoors while a continuous translucent ridge skylight allows generous amounts of natural light within the barn.
Program 8-stall barn, outdoor arena, service building
Completion 2004
Posted in
Equestrian News
,
Projects
|
Tagged Architecture, Barn, barn design, Barns, Blackburn Architects, Equestrian, Equestrian Architect, equestrian design, Equine, equine architecture, heavy timber, horse barn, horse ranch, horse stables, Montana barn, ranch, Stables, western cedar siding
|
1 comment >
06.17.11
As a kid in Tennessee, I grew up around horses, though I had no interest in properly riding them. That I left to my twin sister, who kept her Tennessee Walker named Dixie in a neighbor's barn. For me, playing in the barn's loft for days on end in the summer was much more appealing.
I left Tennessee for Clemson University (B.A. Architecture, 1969), where I developed an interest in designing buildings inspired by context, environment, and function: I became a student of the philosophy that "form follows function." There was no doubt in my mind that I had left horses and the barn behind. After all, I never aspired to be an equestrian architect. I was a student of urban design. Ironically, over 25 years later, I earn a living designing equestrian facilities across the country. That is because a single interview changed my life.
Following graduate school (Washington University in St. Louis, M.A. in Urban Design, 1973), I relocated to Washington, D.C. in pursuit of its urban and robust economy as a place to possibly support a future architectural practice. My former colleague, Robbie Smith, and I began "moonlighting" on small side projects together and decided to create our own firm. As young architects, we'd happily take any project we could get our hands on. So, when Robbie received a phone call from a friend in the summer of 1983 about a fairly large potential horse project in Upperville, Virginia, we jumped. Forget that we had never designed a horse farm, or, for that matter, any other building of size of significance on our own. We had nothing to lose.
The Interview 
Preparation began for the big interview. We learned that the owner, Robert H. Smith (no relation to my partner, Robbie Smith), selected the renowned landscape architect Morgan Wheelock of Boston to plan the farm. Together, the owner and Wheelock sought an architect to design the farm structures to fit within the well-known Upperville and Middleburg, Virginia context.
Typically, during an interview you review your firm's portfolio of completed projects with the potential client. This was not an option for Robbie and me — we'd have to approach this interview differently. Since Robbie was from Middleburg, he was familiar with the area's building types. He spent a few days photographing various buildings in the area — forms, materials, and shapes — that represented Middleburg or Upperville in any way. Barns were certainly photographed, but we also considered residences, commercial structures, and other miscellaneous structures relevant. With plenty of images to inspire us, we selected a number of key examples. Many of these buildings were perhaps a hundred years old and probably weren't designed by an architect. However, we felt they strongly represented the area. We took the photographs and projected the slides on the wall of our small office, traced over them, and transferred the images to illustration boards to serve as our "portfolio" presentation.
I'm not aware of what the other interviewing firms presented, but ours did not include a single building we designed or were designed by any architect, for that matter. Our presentation documented the context of the area in a series of hand-drawn sketches — but, at least, if the owner's farm were to "fit" into the context, these were the shapes, forms, materials, and scale they should have.
We were hired immediately. Suddenly, we found ourselves with seven buildings to design with no staff in an unfurnished office space in a third-floor walkup in Georgetown — and we weren't about to complain. We were embarking on a project that would change our lives.
Horse Sense
Our client, Robert H. Smith, was a very successful developer in the Washington, D.C. area. While he had owned thoroughbred horses for several years, he stabled them at other farms or the track. Now he was ready to start a thoroughbred breeding operation, having acquired approximately 400 acres in Upperville, adjacent to the famous Rokeby Farm (owned by Paul Mellon) on one side and Route 50 on the other. Also included within the property were the grounds to the Upperville Horse Show, the oldest functioning horse show grounds in the United States.
Morgan Wheelock, the landscape architect, brought a background in designing horse farms to the project: with it, his theory that barn design, as well as the farm layout, should be driven by a paramount concern for the health and safety of the horse. The way the building is viewed and placed in the landscape, Wheelock believes, is as important as the design of the building itself. That's because both the farm layout and the barn design impact the health and safety of the horse; concerns possibly even more apparent when operating a breeding facility for thoroughbreds.
Barns are often perceived as dark, dusty, and uninviting buildings. However, it's also widely understood among equestrians that the best environment for a horse beyond the great outdoors is an environment that inspires just that. Wheelock bridged these inconsistencies with a design theory that focused on creating natural light and ventilation within the barn. It was a revelation. While the concepts Wheelock professed were simple, they worked — and beautifully — at our first barns at Heronwood Farm.
03.28.11
I wanted to share an oldie but goodie – an article I wrote originally for Western Horseman Magazine about designing for natural ventilation within your barn. This stuff is the bread and butter of our design, in that no matter where a barn is located, or what a client's budget may be, healthy and natural ventilation within the stables is our priority. Read the article, Breath of Fresh Air, and let me know what you think.
11.05.10
A few weeks ago, some of my staff and I were able to tour one of our recently completed projects, a new horse barn, arena, and residence (for which we did some renovations) in Marshall, Virginia. Marshall is located in the Northern Virginia piedmont, just outside of the well-known horse communities of Middleburg and Upperville. With beautiful, sloping land, the area is home to several farms, vineyards, and country homes.
The 8-stall barn has a lounge with an office on the second floor and an attached arena for the owner to practice dressage. I'm very pleased with how the new facilities have turned out and hope the owners are too. For more information on the scope of work, please see my previous post. [slideshow]