equestrian design
09.22.10
Originally on a 200-acre parcel of lush green rolling hills in Kentucky horse country between Layette and Bourbon Counties, Monticule Farm was named for the French word for a small mountain. Blackburn Architects worked with famed landscape architect Morgan Wheelock to develop the property, now over 600-acres, into one of the industry's best commercial breeding facilities. Blackburn designed a 20-stall broodmare barn and a 16-stall yearling barn in the style of other large Kentucky horse farms from the 1940s. In 2008, Blackburn provided master plan and concept design services for a four barn stallion complex; each barn contains four stalls. This project was featured in Keeneland Magazine.
Program 16-stall yearling barn and 20-stall broodmare barn
Completion 2000 (broodmare and yearling barns); 2008 (stallion complex)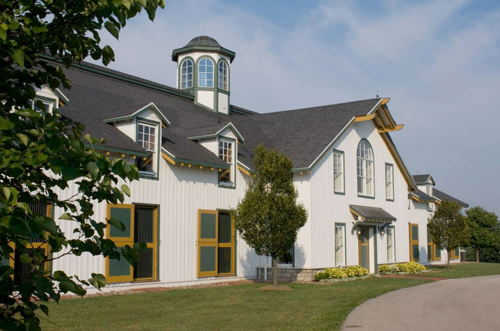 08.09.10
I'm excited to share today's blog entry about Blackburn Architects on DCmud.com contributed by Beth Herman. DCmud is a top blog in the world of architecture and design in Washington, D.C. and is presented by DCRealEstate.com. Hope you read the article and enjoy!

07.28.10
One of our project managers, Dan, traveled to California last week to check in on the construction progress at Lucky Jack Ranch in Rancho Santa Fe. The last time I blogged about the project—about 8 months ago—the construction was just underway and where it was headed may of been difficult to visualize.
I'm now happy to report that visualization is no longer necessary to gauge the progress of this project, which will wrap up construction before we know it. Personally, I find it hard to believe the following photo isn't a rendering. I'll include the rendering too so you can compare for yourself. I hope the owners are as pleased as I am with how their project is turning out and that they will be able to enjoy the new facilities very soon.
07.23.10
Where your barn sits on your property is one of the first decisions you'll make when planning for a new barn. Grade, drainage, proximity of service roads, prevailing winds, and barn angle in relation to the sun all play a key role in the health and safety of your horses.
Equestrian site planning can help you avoid mistakes that can have significant health consequences for your horses, as well as improve the efficiency of daily operations. Here are a few points to consider when site planning with the environment in mind.
Building orientation as it relates to the path of the sun and prevailing winds.
This single decision—where to place your barn—has a huge impact on energy efficiency as well as the health and comfort of your stabled horses. Harnessing passive solar heat energy and prevailing breezes can keep your barn cool in the summer and warm in the winter. Design decisions that include the placement of façade openings, overhangs, skylights, roof vents, and more allow a building to work with solar energy passively.
Drainage lines, water conservation, prevention of pollution.
Barns and arenas create large footprints with massive roof spaces. Water displacement should be considered so that water draining from the barn site doesn't contaminate local streams with hazardous runoff, cause soil erosion, and water loss. Storm drainage can be collected and returned to the ground or conserved for other purposes.
Site disturbance
Construction machinery can cause soil erosion, damage root systems of timber, and destroy sensitive grassland. Stockpiles of materials can create similar damage to the natural ecology. Thoughtful placement of machinery and materials is important. Where paving is necessary, choose recycled, permeable materials. Plan adequate paddock spaces and establish a paddock rotation plan so that horses can rotate the use of outdoor areas to avoid damage to sensitive grasslands.
04.14.10
Well, I finally decided to give Facebook a try. I'm not sure I can keep up with it, to be honest. But mainly I hope to get a nice "fan page" started for Blackburn Architects so that people who are interested in equestrian design—or just architecture and design in general—can meet, collaborate, and ask questions.
Do you think this has value? If so, I'd love to have you as a friend and a fan on Facebook.
John Blackburn | Create Your Badge


04.08.10
Hello Readers,
At the Blackburn office, we've been busy developing Blackburn Greenbarns®, a line of pre-designed barns that are sustainable, provide a healthy and safe atmosphere for horses, and are more affordable than custom design. We first introduced this line of barns last April, but the overall construction costs for the barns were a little higher than we would have liked. So, we decided to go back to the drawing board (literally) in an attempt to streamline the process without compromising our values. We are almost ready to relaunch Blackburn Greenbarns® (with a new and improved website on its way!) with a "kit barn" option, but I would really love to hear from you as far as what's most important to you when building a new barn.
I know that cost is a huge factor—as it should be—for most barn owners. However, I also know that being a horse owner is quite an investment in and of itself—and that most owners just want a facility that protects their horses when they are in the barn, knowing full well that the horses would rather be lazing about in the paddocks.
What is the most important factor when building a new barn? Affordability? What about the style or look of the barn? Are you interested in sustainable products or incorporating green design?
[polldaddy poll=3054182]
I hope you'll comment on this post and share your thoughts. Maybe there's something that all the barn builders (or architects) forget to include/consider and it drives you nuts? Or maybe there's a particular service (like site planning) that you'd find valuable but aren't sure you can afford or truly need and would like to know more about it.
Hope to hear from you! More on what we've been up to soon.
02.17.10
We haven't received our copy of the March 2010 issue of Dressage Today yet (the DC blizzard last week made it nearly impossible for mail delivery in the District). If you have the March issue handy, please take a minute to read my response in the Ask the Experts section of the magazine and let me know how I did. The question I was presented with: What difference does a green barn make to a horse? What are the most important elements to consider when designing sustainably?
That question came from Diane Barber, owner of the Los Angeles-based firm Equestrian Designery – Interior Design for Equestrians, which specializes in—you guessed it—equestrian-style interior design. Diane is also an avid equestrian and author of several articles about her equestrian experiences for publications like Dressage Today. Some of her work may be viewed on her Web site here.
Anyway, I'm not sure if this particular Q & A will make it to the Equisearch Web site, home of magazines like Dressage Today and Practical Horseman, but they do maintain an online compilation of Ask the Experts that you may be interested in reading.