Equine Architect
08.29.17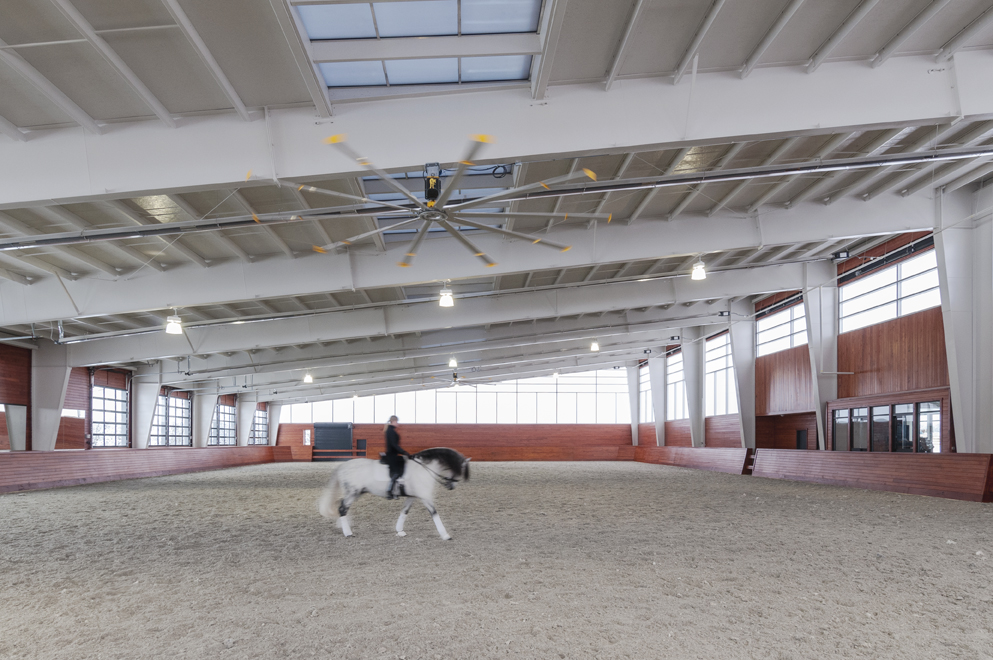 Hi John. I hope you had a wonderful summer!
Q: Our covered arena has been put to good use throughout the last year, but we really need lights to make it even more beneficial to our program. Given your expertise and experience with equestrian barns and arenas, I was hoping you might be able to give us some guidance.
We are having a hard time determining exactly what kind of and how much lighting is necessary. Do you have a formula that you use?
Any help you can provide would be greatly appreciated. I look forward to hearing from you!
Best,
Undercover Rider
Dear Undercover Rider:
Glad to hear all's well.
I would be happy to offer some guidance on lighting for your arena.
A: I typically recommend approximately 35 to 50 foot candles per sq ft of light on the arena floor in order to provide a sufficient amount of light for a variety of functions. It also depends on the amount of reflective surfaces you have and the color of those surfaces including the arena floor material.
If you are anticipating a variety of entertainment type functions such as charity events, parties, etc you may want to consider a variety of type mood lighting for different events.
There are also a variety of type lights to consider such as metal halide, LED, HD, etc.
There are other factors to consider as well such as initial cost, operating cost, maintenance or lamp life and also the design of the fixture (bird protection, fire safety, etc.)
We are beginning to use LED more often now. I hope that helps!
John
06.22.12
"When you take a horse out of its comfort zone—the wild—it's your obligation to create an environment that protects its health and safety. A poorly designed barn can be worse than no barn at all." – John Blackburn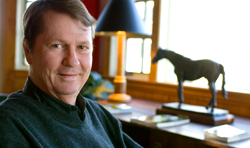 John Blackburn knows barns. As Blackburn's owner and senior principal for the past 25 years, John has designed over 150 equestrian facilities across the United States and abroad.
In his blog, Stable Minded, John rhapsodizes about the design process behind our horse barns and equine facilities as only he can. His blogs cover a variety of equestrian news and topics: from the story behind projects we've designed to equestrian and design issues, such as how to increase natural lighting in barns. For those of you with questions or comments about the nitty-gritty details we face when designing barns, John considers his blog an open forum to discuss what's on your mind.
If you're curious about the architectural process, like to view construction photos from start to finish, or have questions about how it all works, we invite you to read and comment at Stable Minded. It might not be literally straight from the horse's mouth, but we like to think it's pretty close.
05.29.12
Today's blog comes from Macy Carman, an enthusiastic and talented student (and equestrian!) from Hollins University in Virginia. Macy, an environmental studies major who is considering graduate studies in architecture, spent some time with us to learn about what it means to be an "equine architect." In turn, my staff and I got to spend some time picking her brain about her invaluable experience as a groom for Pollard Eventing. (On a sad note, our thoughts are with everyone at Pollard Eventing. Macy travelled back to be with her horse family after the tragic car accident that claimed the lives of three horses last week.)
HERE'S MACY:
I knew I had picked the right architecture firm for my internship when John Blackburn started out my first day with what he referred to as his "dog and pony show." I love pony shows! I am a lifelong rider, member of the United States Pony Club, and looking forward to a career in designing equestrian facilities, so I knew I was in for a treat.  And I was…the presentation he showed me displays many of the options that are available to clients as well as the principles he bases his designs around: natural light and proper ventilation. I think that he could convince anyone that these are the most important concepts behind a facility!
During my time with the Blackburn team, I was able to accompany John to a Virginia Farm where he was interviewed for a video (stay tuned for the final project). After spending so much time discussing the process to designing a barn, I certainly had a different perspective when touring the facility. While my practical experience with horses, combined with time spent in a variety of barns, has instilled in me the importance of a well thought out facility for the safety and well being of the horse and rider, I picked up on a lot of smaller details. John had a reason for why every detail was exactly the way it was, and was happy to answer all of my questions. Watching his interviews, I got a sense that he cares for the horses just as much as the owners, which is exactly what we horse people are always looking for.
Over the course of my first week here, I have talked to everyone in the office about their projects, their academic paths, and their thoughts on barn design. As interested as I have been in barn design over the years, I have never given thought to many things Blackburn consistently addresses, like making sure that vehicles, visitors, and horses are separated at all times. Who knew a driveway needed so much planning? Everyone in the office has been very welcoming, and I hope that I have been able to provide a slightly different perspective as a rider and a groom. I look forward to absorbing a greater understanding of equestrian design during the rest of my time here- and maybe some tips on my graduate school applications too. I would like to thank the whole office for having me.
01.25.12
I think that's the top question I get (the gist of it, anyway) and it SHOULD be. Why should you hire an architect to design a horse barn? Or, Is hiring an architect to design a barn really necessary?
In short: no. However, hiring an equine architect can save you time, your horse's health and safety, and even money in the long run. Allow me to state my case.
A horse is so much more than a pet: it's a companion, a worker, a teammate, an athlete. Whether you ride for pleasure or compete, the horse—your horse—is irreplaceable. I wish not to gild the lily just to make my point, which you already know, that horse owners think the world of their horses and want to treat them with the utmost care and respect. If you keep a horse, it's your duty to protect it. While a horse is perfectly pleased to graze outdoors most days, the barn is a necessity – so I say, let's do our best to protect that horse and maybe make your life a little easier in the process.
Barn This Way – Product vs. Service
When you decide to build a barn, you have a few choices. The least costly solution is to purchase a prefab or kit barn. The prices range (rather wildly), as does the package itself. Labor is often an additional cost as well as nails, roofing, and concrete costs. Usually a contractor charges between 10 to 25 percent of the total cost of materials for construction services. However, this percentage may go up if your project is on the small side in order for it to be financially viable for the contractor. For many horse owners, a prefabricated or kit barn is a perfectly reasonable and cost-effective solution.
If you're looking for a step above prefabricated, or can afford to customize your project a bit, you may then wish to research design/build contractors – but this is where I'd stop and suggest that you alternatively consider working with an equestrian architect.
Why? A design/build contractor is selling a product, not a service, and is not often a trained architect, which limits his or her ability to think creatively outside of the box. In most cases, thinking outside of the box eats up profits and costs more money (for the design/build contractor). For a design/build contractor, the goal is to build quickly above all else. I think this compromises your program and the overall result because the design/builder does not want to eat up time resolving special issues or conflicts. The design is usually cookie cutter, following whatever pattern the design/build contractor typically uses, and there is no one there to really represent the owner (you) and oversee the quality of the project and if it's built as intended or promised.
To Serve and Protect
With an equestrian architect, you're purchasing a service rather than a product. The architect is there to resolve the needs of the owner, from overall site planning, programming, phasing, and design to overseeing the entire construction to make sure the barn is built as intended. The service costs a bit more than a design/build contractor but, if your barn is your livelihood or your sanctuary, I believe that you'll save time and stress, frankly by getting it done right the first time.
Typical services an equestrian architect (straight from the horse's mouth here, if you'll forgive my pun) will provide:
Site planning: can reduce infrastructure costs (fewer roads, less fencing, better drainage, etc.) and improve the site to function at its best for your needs.
Programming: ensures that the whole farm (not just the horse barn but the entire collection of structures on the site, if applicable: residence, guest house, caretaker's quarters, hay/bedding, vehicle storage, etc.) operates efficiently and safely.
Code analysis: certainly the codes vary across states/municipalities. We've designed horse stables in counties with very specific codes and regulations and understand what to look for and how to work with the various officials to resolve issues. The architect can save you a lot of hassle!
Budget Development and Cost Control/Scheduling: I like to develop a budget as early in the process as possible and revisit it periodically during the project. My job is to determine if the owner's programmatic needs and budget fit the site, and if the design aesthetic suits their personal design goals. We can also plan to develop the barn or various structures in phases, if applicable.
Conceptual Design: Here we develop the character and massing of the structure(s) and prepare a preliminary floor plan and elevations to illustrate our ideas. At Blackburn, this is the final phase of what we call Master Plan Services (site plan, written program, conceptual design, and preliminary construction development). From here, we move on to more detailed design work.
Schematic Design: After we complete a master plan that works well for the owner, we begin to prepare detailed drawings to give you an idea of the layout and general appearance of the barn (and possibly other buildings). We'll talk about finishes, materials, stalls, tack rooms, etc. For a lot of people, this phase of design is the fun part!
Design Development and Construction Drawings: Here we'll really start to nail down the final design and specify the materials, stall systems, finishes, and other details and prepare construction drawings that instruct the contractor how to build the barn.
Bidding and Construction Administration: Because construction drawings are open to interpretation, it's important that the architect works with the contractor to oversee that the project is carried out according to the design intent. We're the owner's rep to make sure that construction is done well and done right.
I understand this may seem like a lot, but each is a valuable step toward designing a healthy, safe, and functional facility. As an architect, I want to study how you operate and design a barn that feels inviting and personal (because it is). No barn or farm operates exactly alike as each owner or barn/farm manager operates his/her facility in a particular fashion. While designing a barn from scratch is not realistic for everyone, if you are choosing between a design/build firm and an equestrian architect, I'd strongly advise that you approach both for more information and weigh out your options carefully. It could save you your horse.
As always, I invite your questions and comments. Thanks for reading!
An architect is trained to design as the great Louis Sullivan (1856-1924) states: "Form ever follows function." After all, if your barn doesn't function properly, what's the point of a great design?
Posted in
Equestrian News
|
Tagged barn design, Blackburn Architects, Equestrian, Equestrian Architect, equestrian design, Equine Architect, Horse, horse stables, master plan, Sagamore, site planning, Tidewater
|
2 comments >
04.08.10
Hello Readers,
At the Blackburn office, we've been busy developing Blackburn Greenbarns®, a line of pre-designed barns that are sustainable, provide a healthy and safe atmosphere for horses, and are more affordable than custom design. We first introduced this line of barns last April, but the overall construction costs for the barns were a little higher than we would have liked. So, we decided to go back to the drawing board (literally) in an attempt to streamline the process without compromising our values. We are almost ready to relaunch Blackburn Greenbarns® (with a new and improved website on its way!) with a "kit barn" option, but I would really love to hear from you as far as what's most important to you when building a new barn.
I know that cost is a huge factor—as it should be—for most barn owners. However, I also know that being a horse owner is quite an investment in and of itself—and that most owners just want a facility that protects their horses when they are in the barn, knowing full well that the horses would rather be lazing about in the paddocks.
What is the most important factor when building a new barn? Affordability? What about the style or look of the barn? Are you interested in sustainable products or incorporating green design?
[polldaddy poll=3054182]
I hope you'll comment on this post and share your thoughts. Maybe there's something that all the barn builders (or architects) forget to include/consider and it drives you nuts? Or maybe there's a particular service (like site planning) that you'd find valuable but aren't sure you can afford or truly need and would like to know more about it.
Hope to hear from you! More on what we've been up to soon.