equine design
10.15.19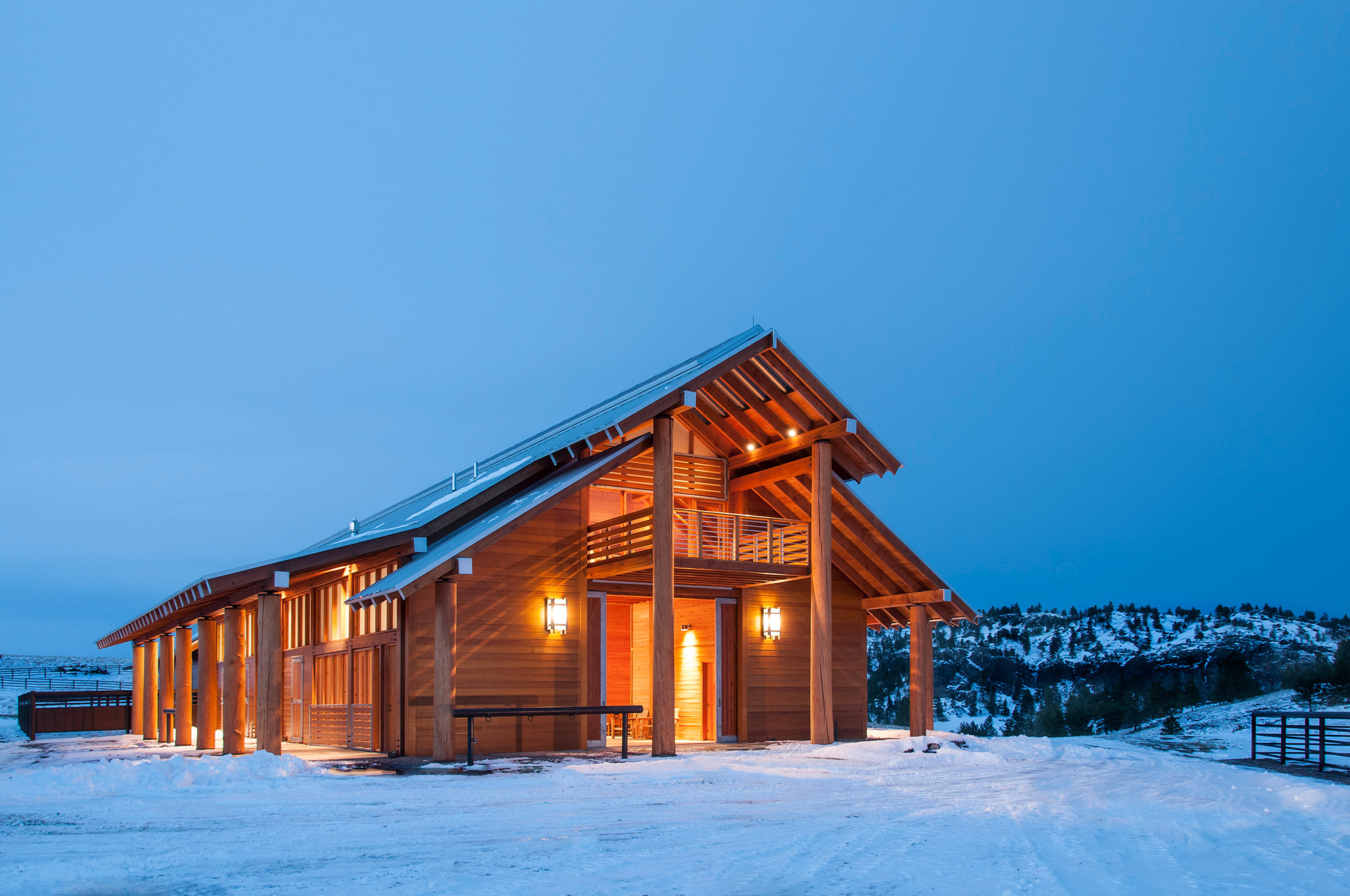 Q: I'm in the process of planning a barn in Missouri, and finances require an economical metal post-and-frame structure. I've studied Blackburn's ventilation and lighting philosophies and will incorporate them as best I can.
My question is about orienting the barn. I plan to have a center aisle, with exterior Dutch doors in every stall. Each 12'x12' stall will have an exit to the main 12' aisle as well as to an outside run-in. The stalls will be used primarily during more extreme weather or when I need to confine a horse due to injury or illness, otherwise the horses will be outside. Overhangs on both sides of the barn will function as run-in shelters for the paddocks.
I know from your writings that the ideal orientation is perpendicular to the prevailing summer breeze. However, because Missouri's cold winter winds are from the same direction, the horses on that side of the barn won't have wind protection when in the run-in areas. I know that's less of a problem for owners who keep their horses in stalls most of the time, so I've not been able to find an answer to this question. I will obviously allow them access to the stalls during the bitter cold weather we get, but for most of the winter all they need is some windbreak. How do I optimize winter protection without compromising ventilation?
Thanks,
Worried about Winter
++++++++++++
A: Orientation is certainly very important when siting your barn. But because wind is always changing and its direction and velocity can be affected by terrain, other structures, and vegetation, the angle is not a hard and fast rule.  It's good to try and locate the barn perpendicular to the prevailing summer breeze but that also depends on the design of your barn.  If you have lived on the farm a few years you may know the particular wind patterns for your property.
The design of the barn is as critical – if not more so – than the orientation.  How and where you permit air to enter the barn (preferably along the low wall along the long side of the barn and at the eaves where the roof joins the side walls), and where it is allowed to exhaust are critical.  In some areas, it may be necessary to provide some form of close-able dampers on the low wall vents to control the wind and temperature that can impact a horse that is in the stall but doesn't have the flexibility to get away from it.
The environment within the barn should be within 8 to 10 degrees of the temperature on the outside.  Your barn should ventilate vertically to reduce the horizontal movement of bacterial- and moisture-laden air.
We always say the best environment for the horse is outdoors where it can make its own choices about its environment and health. A naturally-kept horse should be able to get out of the hot sun and find shade or get out of a cold wind in a shelter or behind a wind block.
By turning your horses out most of the time you are certainly on the right track for happy, healthy animals.
Missouri's winter weather isn't so extreme that it prevents you from a center aisle barn with stalls on both sides.  Orient your barn so that turnouts are on the windward side of the barn and leave the Dutch doors open so your horses can get inside away from the wind.  For the turnouts on the cold windward side of the barn, blanket the horses.  And keep their winter coats unclipped.
Since you've read "Healthy Stables by Design," you know that Blackburn designs typically use the chimney effect and the Bernoulli principle to create natural ventilation. Our barns become passively designed machines that work to provide healthy conditions for the horses inside.
Good luck with your new barn!
Posted in
Equestrian News
,
News and Press
|
Tagged Architect, barn architecture, barn design, barn in winter, Barns, Blog post, custom horse barn, Design a Horse Barn, Equestrian Architect, equestrian architecture, equestrian design, equestrian facility, Equine, Equine Architect, equine design, farm planning, healthy barn, healthy horse barn, healthy horse barns, healthy horses, Horse, horse barn, horse barn design, Horse Barns, horse farm, horse racing, horse stables, Horses, importance of ventilation in horse stalls, John Blackburn, Stables, Sustainable, thoroughbred, Ventilation, Virginia, Winter barn
|
Leave a comment >
03.05.19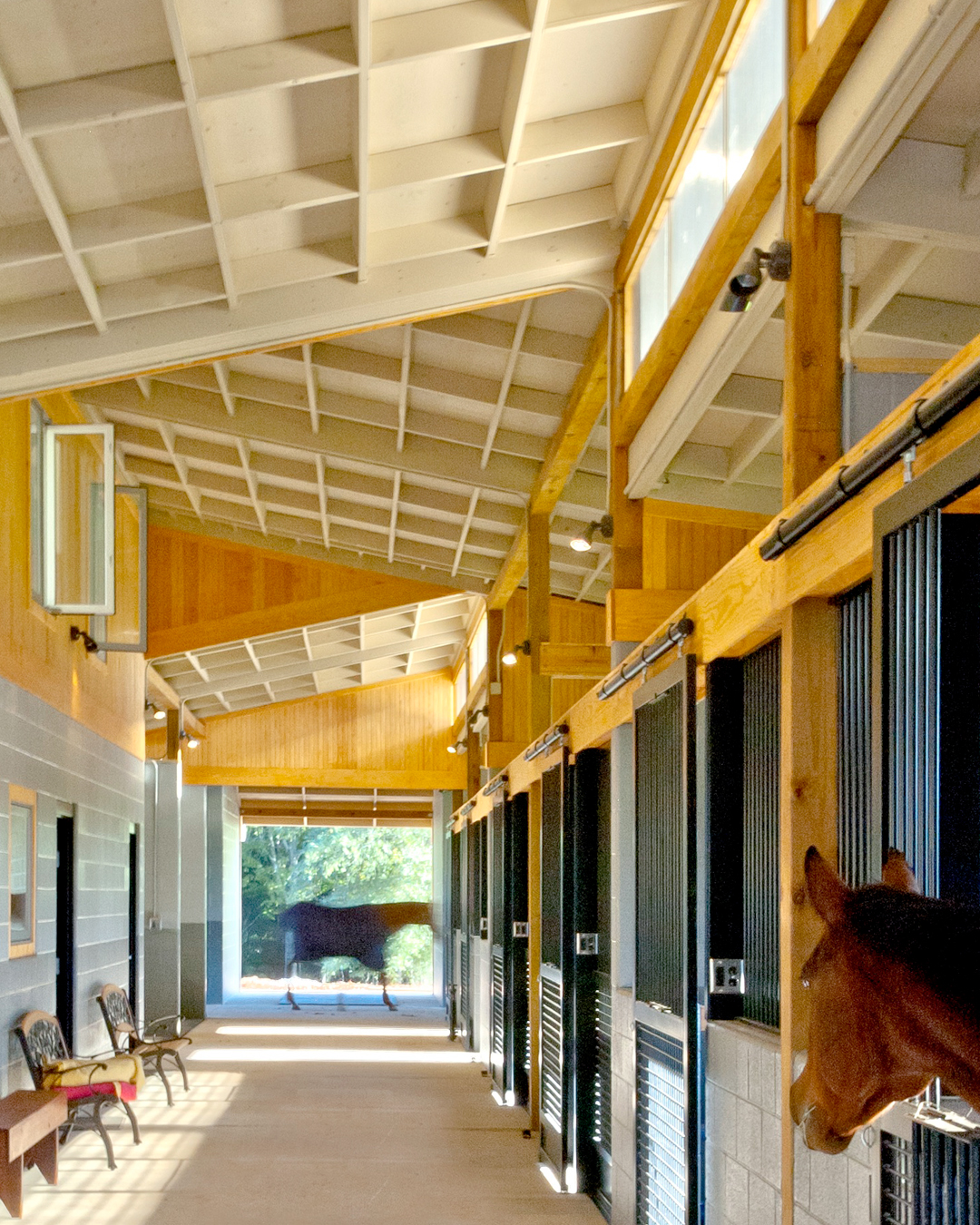 Fire protection in an equestrian facility is always a concern of the highest priority. Because we're often asked, we thought we'd offer information here on the fire suppression details the Blackburn design team has included in some of our latest projects.
At a new barn under construction in Indiana, we've specified a Dry Pipe System by Fire Tech, LLC. http://www.firetechstl.com/systems-preaction.php. We could have specified a "preaction sprinkler system," but chose the dry pipe system because of the dangers of freezing pipes in the cold weather climate of the Midwestern United States.
To quote Fire Tech's description, "A Preaction Sprinkler System is a system which employs automatic and closed-type sprinkler heads connected to a piping system that contains air (either pressurized or non-pressurized), with a supplemental system of detection serving the same area as the sprinklers. The systems are typically used in applications where the accidental discharge of water would be catastrophic to the usage of occupancy.
"Preaction Sprinkler Systems are similar to Dry Pipe Systems in that the water is kept from entering the piping valve, in the case a preaction valve. This valve is held closed electrically, only being released by the activation of the detection system (heat or smoke detectors mainly) when an electrical signal is sent to the releasing solenoid valve. The water then fills the pipe, ready for the activation of the sprinkler heads. Preaction systems can be arranged to be activated by only one detection device type, or many."
In Indiana, our architects specifically called for a dry pipe system because of the potential for freezing temperatures, but also in case "one of the children kicks a soccer ball and takes out a sprinkler head" (the client's words). With a dry pipe system, the sprinklers won't go off unless they also sense smoke or fire (depending on the detector type). A false alarm could flood and ruin the barn's expensive finishes. And using recessed/concealed pop up heads is a good idea where you can.
Another critical reason Blackburn specified a dry pipe system is because of an issue with water demand; the Indiana farm doesn't have sufficient well water on site to power the system. Because of this, our client connected to county water. Keep in mind that If you're on a well, you'll likely never have enough pressure to support a fire suppression system. The gallon per minute (gpm) for firefighting is higher than your average ground well can produce. This means you must store water on site in a tank or pond.
At Sheik Island, one of our projects in Florida, we stored water below ground. In California, at a private facility, we installed an above ground tank adequate to run the system as required by the local fire department. Additionally, we posted signage limiting the occupancy (should the owner decide to sponsor a large event in the arena). The clients obtain a special permit when larger events occur, and they hire the local fire department to have a truck on hand during the event.
At the Devine Ranch, in Aptos, California, and at the Moss residence, also in fire-prone California, we provided on-site storage tanks with backup generators to operate a pumping system.
Next up on the Blog: fire limiting design guidelines we build into our projects.
Posted in
Equestrian News
,
News and Press
|
Tagged Architecture, barn architect, barn fire safety, Barns, Blackburn Architects, Equestrian, equestrian architecture, equestrian design, Equine Architect, equine design, fire in horse barn, Fire protection, Fire protection in horse barn, fire suppression systems in horse barn, green barn, horse barn, horse barn design, Horse Barns, horse racing, protecting a horse barn against fire, protecting horses against fire, Stables, thoroughbred
|
Leave a comment >
04.24.18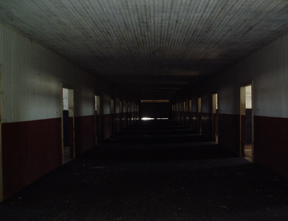 With careful attention to design details, it is possible to retrofit your barn to be healthier for your horses. One important renovation to existing built structures is the addition of skylights and ridge vents to increase light and air flow.
Only a fortunate few horse owners design and build a barn from the ground up. Most buy a property with an existing barn. As the photos illustrate, Blackburn Architects' client Kevin Plank, the CEO of Under Armour®, bought historic Sagamore Farm in Maryland, and undertook a significant renovation to add light and ventilation to the interior of his historic main barn.
Significant expenditures are not necessary, however. In this discussion, I'm offering simple recommendations for achieving healthier living space for horses starting with an existing barn.
VENTING OPTIONS
For venting an existing barn roof, I suggest one of two options:
1) Add Dutch doors along the barn sides or
2) Add a vent along the bottom edge of the skylight (or ridge if that works best though I prefer the curb vent for better free air access).
Option 1: Add Dutch doors along the barn sides
This option provides good access for ventilation to each stall and a great method of controlling air flow. An owner has the option of leaving just the upper door open to reduce the flow or open both upper and lower doors to give maximum free area. (Of course, in order to open both doors for full access you'll need to add an interior mesh panel to keep horse in the stall.) If Dutch doors aren't possible or within the budget, then I recommend adding low wall vents to bring in air low to the floor (which is good for foals and to vent odors caused by ammonia gases near the floor). The vents should be dampered for air control and screened to keep rodents from getting into stalls.
Additionally, Dutch doors provide an abundance of natural light, which reduces the need for electric lighting in the barn and helps purify the stall flooring, reducing the creation of harmful ammonia gases.
Option 2: Add a vent along the bottom edge of the skylight (or ridge)
This option allows for vertical ventilation of the barn using the Bernoulli Principle and the chimney effect. Though the existing barn may not have the best angle for prevailing breezes or roof slope, it will help nevertheless. I also recommend vents at the top of the wall at the roof eave if they can be added. This permits year-round ventilation above the heads of the horses, but still ventilates the barn vertically using the techniques described above.
ADDING SKYLIGHTS
There are a variety of methods and materials that can be used to retrofit skylights into an existing roof. At Sagamore Farm, Blackburn Architects' design replaced the existing shingles with a new metal roof (not necessary; Sagamore's roof shingles were worn out and metal was chosen as a better long term material). In more typical circumstances where the existing shingles are salvageable, simply remove the shingles along the ridge and cut out the sheathing or sub roofing material, leaving only the roof rafters.
Continuous curbs should be built along the edge of the opening. Although a continuous skylight or curb is not necessary, I find it aesthetically and functionally preferable. A skylight can then be placed on top of the curbs spanning from one side of the aisle to the other. The curb can and should be vented. The size and amount of free area depends on the barn design, size and location. The skylight width does not have to span the full width of the aisle but somewhere between 8 to 12 feet should be adequate.
The skylight can be either glass (costly and should be safety glass) or some form of polycarbonate. Check your local building codes for requirements. I do not recommend clear glazing. Translucent glazing reduces the visibility of dirt and filters light, which better serves the barn interior. It's best not to let a strong band of sunlight hit a stalled horse for a long period of time. I also recommend painting the interior of the roof and framing members a light color to improve reflectance.
If a continuous skylight is not possible, then individual roof skylights can be installed over the center aisle. However, if the skylights are not high on the roof and are not vented, they may not do much to increase the barn's vertical ventilation.
If the barn has a loft it may be possible to remove it, leaving specific structural members spanning across the barn to hold the building together and to provide wind shear strength to the barn. If the loft is used for hay storage (which I don't recommended for health and safety reasons), then it may be possible to remove a portion of the loft over the aisle leaving the loft in place over the stall for storage or the reverse of that (remove the loft over the stall but leave it in place over the aisle).
While these approaches to increasing light and ventilation in existing structures can work wonders, you should always contact a structural engineer before installation of skylights to determine if the barn can take the modifications needed of if some additional structural work needs to be done.
Posted in
Equestrian News
,
News and Press
|
Tagged adding light and ventilation to a horse barn, Adding skylights to a barn, adding ventilation to a horse barn, Architecture, barn architecture, Blackburn Architects, Blackburn Architects barns, Blackburn Architects Horse Barn, equestrian architecture, equestrian design, equestrian facility, Equine Architect, equine design, farm planning, healthy horse barns, horse barn, horse barn design, how to add skylights to a barn, how to add ventilation to a horse barn, John Blackburn, Sagamore Farm, thoroughbred, thoroughbred barn, thoroughbred horses
|
Leave a comment >
02.23.18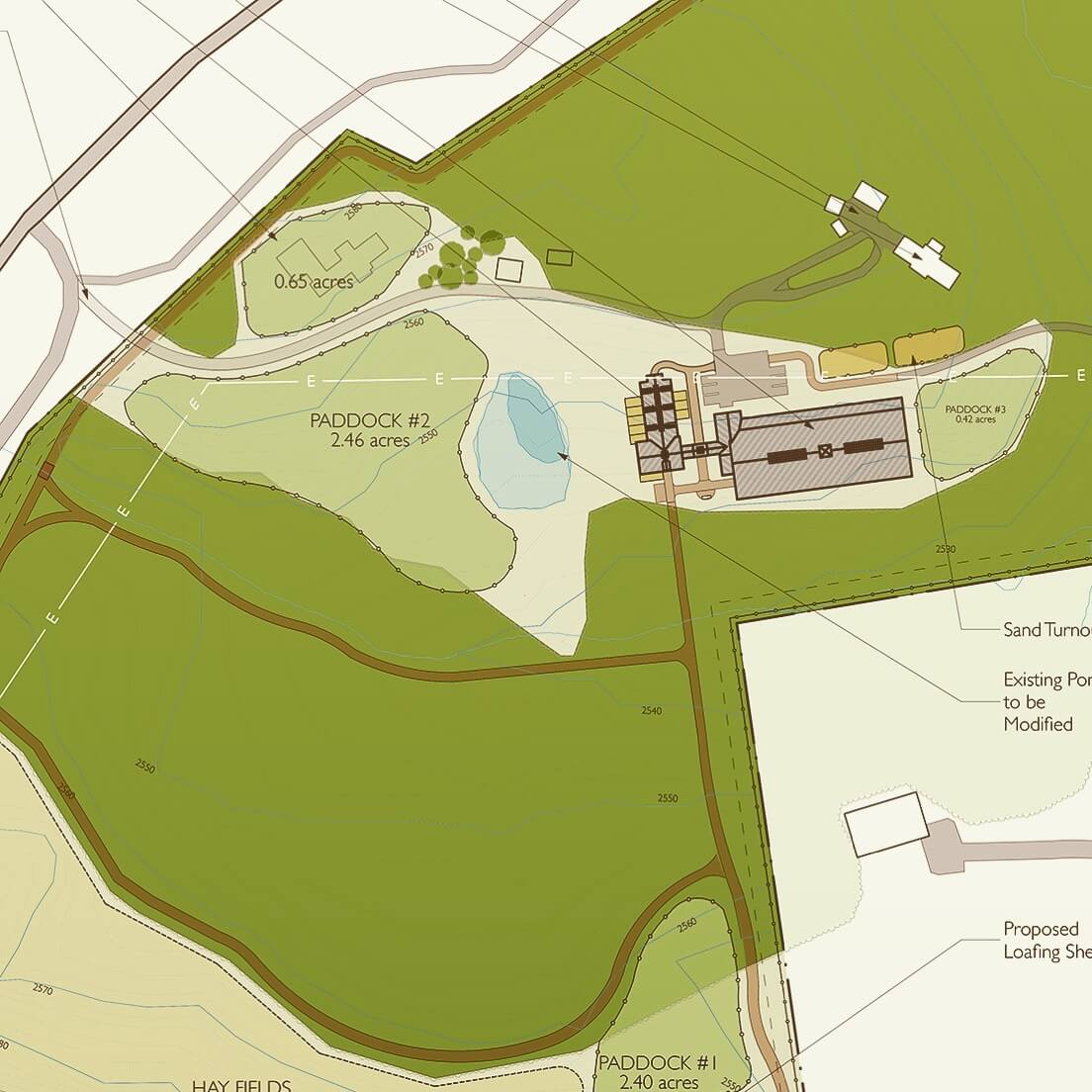 Today I got a call from a client who's buying 120 acres in North Carolina and plans to build a new equestrian center. It's been years since horses have been on the property. The pastures and paddocks are overgrown. The fences are in disrepair. The property has steeply sloped areas but the client wants a dressage ring. Drainage will be an issue. Together, we'll figure out a way forward by starting with a Site Plan to map the future; completing the owner's vision in budgeted stages over several years.
A site plan is completed by studying topography, wind and solar directions, neighborhood easements, height restrictions, zoning restrictions, soils and operational necessities (where are roads, pastures, barns, storage sheds, etc.), There are many benefits to putting together this "roadmap" for future use of the farm property. Consider that there are three major categories of costs when planning to bring horses onto your property: 1. Operational, 2. Environmental, and 3. Infrastructure. Proper planning will save you money in all three areas. Fewer roads, less fencing, better drainage all ensure that the whole farm, not just the horse barn but the entire collection of structures on the site, operates efficiently and safely.
Operational Considerations: First locate where you'll put the horses – where is your turnout? Where will you store hay, equipment, or vehicles? Do you have access for manure pickup, large-truck deliveries, guests or visitors? Minimizing the number of steps necessary for your daily routine (turnout, stall mucking, etc.) will save labor time, which of course you know is money in the farm biz. Planning will also preserve space for paddocks.
Environmental Considerations: Figure out structure placement within your acreage. It's important to properly orient any new buildings in the landscape. We design our barns to generate their own ventilation, placing them perpendicular to prevailing summer breezes. (One of many design considerations for maximizing light and ventilation, which is a subject I've written about often.) Additionally, placing structures where the land will drain easily makes good sense and will save you and your horses potentially hours of muddy misery or the cost of constantly replacing eroded footing.
Infrastructure Considerations: Fewer roads to maintain means fewer dollars spent.
Creating a master plan does not mean that every part of it needs be built at once. The plan may end up taking years to implement, but as each new structure or paddock is added, it isn't done in the usual haphazard way. It will save you from asking, "You know, I could use a tractor shed somewhere?" Even those with very limited budgets should consider getting the advice of an expert at the planning stage, given the importance of the optimum farm layout.
Bringing in a professional to carefully plan a site doesn't mean you need to commit to having a custom barn designed. Blackburn Architects' guidance can help whether you're purchasing a kit barn, designing a custom barn, or renovating existing structures. A site plan stands by itself as a service we greatly enjoy delivering to clients across the country.
Posted in
Equestrian News
,
News and Press
|
Tagged Architect, Barn, barn architecture, barn design, Blackburn Architects, Blackburn Architects barns, Blackburn greenbarns, Equestrian, Equestrian Architect, equestrian facility, Equestrian Master Planning, equine design, Horse, Horse Barns, horse farm, Horses, John Blackburn
|
Leave a comment >
10.30.17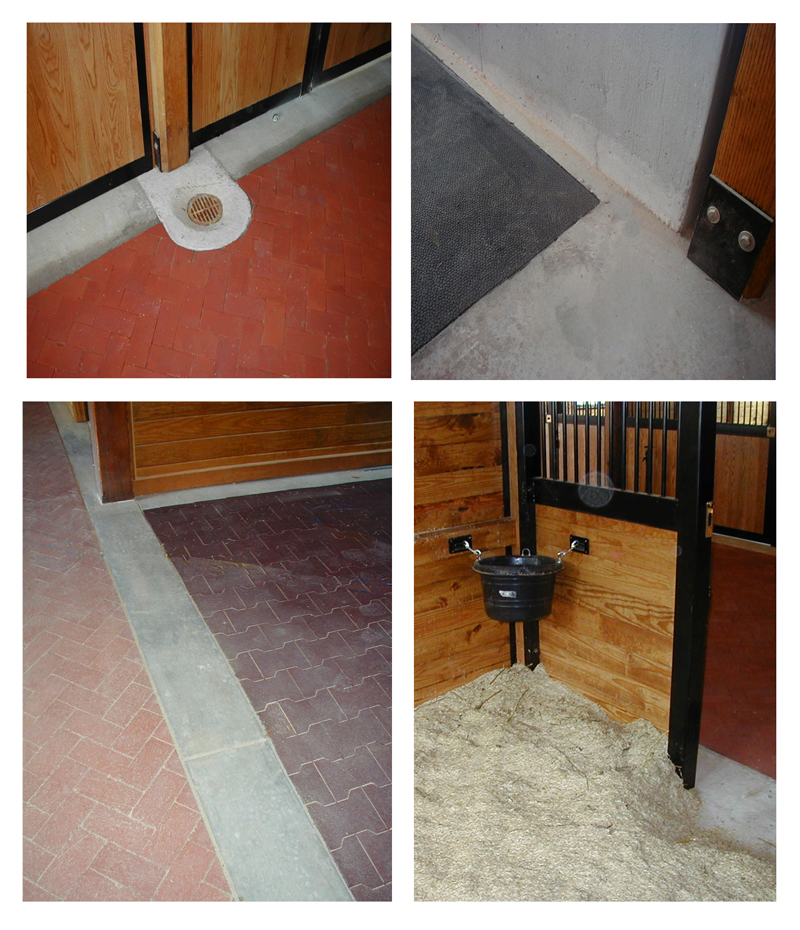 In this on-going series, John Blackburn offers insight into component parts of equestrian facilities. With more than 35 years' experience in the design of horse barns, he's seen his share of good, bad and worse. In this installment, he gives advice on stall flooring. Still as applicable as ever, we're reposting Sushil Dulai Wenholz' article from The Horse, Sept 1, 2001 (added a few updates, too).
Stall Flooring
By Sushil Dulai Wenholz
You give a lot of thought to your horse's health and happiness. You groom him until he gleams, swaddle him in boots and blankets, carefully monitor his diet, and expend considerable effort and expense making sure he's comfortably bedded. But have you thought about what lies beneath that soft bed? In essence, the stall floor is the box spring beneath your horse's mattress, and it's every bit as important as what goes on top–perhaps more so.
No matter how nice the bedding, a poorly constructed floor can lead to respiratory troubles from ammonia gases, thrush from trapped moisture, achy joints from uneven or too-hard surfaces, and injury from slippery or abrasive materials. In addition, a poor floor can mean wasted bedding and extra labor for you.
A good stall floor starts with a good construction plan. John Blackburn, senior principal of Blackburn Architects, a 34-year-old firm that has designed more than 400+ barns in 35 states; and Peter Gibbs, Extension Horse Specialist at Texas A&M University, outline the steps involved in building a floor that will keep you and your horse happy, whether you're revamping an existing stall or building a brand new barn from scratch.
Starting From Scratch
1. Pick the location. If you're building a barn, you have the luxury of choosing the best site. Look for an area that's dry or at least easy to drain. Avoid steep slopes, areas that are consistently wet, and locations that are subject to water runoff during heavy rains or snow melt. In terms of soil, you're basically stuck with whatever is normal for your region. But if you have it, soil that packs tightly is ideal, says Blackburn, because it will provide a tough surface that isn't too hard or abrasive.
2. Dig to the base. Whether you're starting from scratch or redoing an existing stall, you need to dig down to a well-draining layer of soil. This will give urine and other moisture a path to drain away from your horse. Expect to excavate at least one foot deep over the entire stall, says Blackburn. You might have to go deeper, depending on local soil conditions.
3. Level the ground. You should level out that base layer to help make sure the surfaces above it are level. A nice, even plane puts less stress on your horse's legs than an uneven floor.
4. Compact the base and fill. Even if the floor starts out flat, Gibbs explains that extended use can create a holey or uneven surface, especially with dirt or stone-dust flooring. To form a firm foundation that can withstand daily wear and tear for extended periods, compact the floor. You can use a hand roller, a motorized, hand-held compactor or "settler," or some other heavy pounding tool to do the job.
First, compact the layer you've uncovered and leveled. Then begin adding layers of dirt or stone dust. "The important thing is to install the flooring in layers and tamp it at each layer," says Blackburn. He recommends using three-inch layers for dirt or one- to two-inch layers for stone dust. Compact each layer "until you think it can take the abuse of hooves kicking at it," he adds, noting that there isn't a standard measure to go by.
To ensure good drainage away from the building, add layers until your floor's surface is 12 to 18 inches above the natural grade around the barn, says Blackburn. "You want to get the moisture to drain through the flooring and away from the stall and barn," he explains. In addition, this protects the floor from high water levels outside that might otherwise easily flood the stall.
Now you're ready to add the floor itself. Next you'll find basic installation information for several common types of flooring.
Adding the Flooring
Dirt–If you plan to have a dirt floor, and local soil drains exceptionally well, you're done. Most soils, however, drain moderately well at best, so you'll probably want to help it along. One option is to grade the top layer of dirt slightly (no more than three degrees), so that moisture runs off to exit the barn or stall through an outlet in the corner (or through the stall door to the aisle).
You could also make a "leach hole," or simple drain, inside the stall. To do this, dig a hole about three feet in diameter and deep enough to reach that bottom, well-draining layer of soil at the base you created. Then fill the hole with varying sizes of rock (or alternating layers of sand and gravel), starting with large gravel chunks at the bottom and working toward stone dust at the top. Tamp into place and cover with dirt to even out the floor.
Stone Dust–Blackburn believes that stone dust (also known as crusher run, screenings, or quarter-inch minus) makes a better floor than dirt, "because it can compact well and still permits drainage." However, he does recommend adding a subsurface drainage system to enhance flow-through. To do this, lay filter fabric over the floor, top it with a layer of crushed gravel, then add three to five inches of stone dust. As you did with the base, compact the stone dust after each one- to two-inch layer. When you're done, water the floor, tamp it down tight again, and let it settle overnight. Fill in any holes or depressions the next day.
Another idea is to install a drainpipe under the stone dust floor. "I feel that this helps drain the moisture away from the stall area and allows you to flush the stall with moisture to cleanse the flooring," explains Blackburn. "Otherwise, it could drain into the dirt and stone and stay there, providing odor and a breeding ground for bacteria."
To lay pipe, first dig a swale–a sloped ditch about one foot deep. Lay perforated pipe into the swale (you want a piece long enough to provide drainage away from the building, notes Blackburn). Cover the pipe with filter fabric, then fill the swale with crushed gravel. Now add and compact your stone dust as stated previously.
Plastic Grid–Plastic grid flooring comes in many variations, but the basic idea is the same for all floors: To provide a 100% permeable floor plus a level, stable, durable surface. Installation instructions vary by manufacturer; however, most recommend laying the grid over a well-draining subsurface (such as stone dust) so that moisture not absorbed by bedding will drain away. Usually, the holes in the grid (which create the excellent drainage) are filled with stone dust.
Rubber Mats–As with grid systems, rubber mats (and similarly, rubber pavers, which look like rubber bricks) vary in design, thickness, texture, etc., from one manufacturer to the next. Likewise for installation instructions, although most want you to measure stalls so that mats fit snugly against each other and the walls. Unlike grids, however, mats and pavers are meant to trap moisture above the surface, where it can be absorbed by bedding. Moisture can seep through the seams (or possibly the rubber itself). So, flooring experts recommend that you lay mats over a well-draining subsurface, such as one of the crushed stone systems mentioned earlier, or over relatively nonporous materials such as concrete and asphalt that can be easily disinfected.
Asphalt–You can lay an asphalt floor yourself, if you're willing to find a supplier, rent equipment, and learn the proper way to apply, rake, and settle it. However, it can be a tricky process. As Blackburn notes, "The right mix of asphalt is important. It should be raked as it's installed, then hand rolled. I would imagine that hiring a professional would be advisable."
He also suggests that you grade asphalt floors with a crown of one-eighth inch per foot in order to sustain drainage. "With a flat surface, the urine puddles and leaves the horse standing in dampness, potentially causing all kinds of hoof issues," he explains. The slope will also facilitate drainage when the stall is washed or disinfected. Blackburn recommends the use of aggregate, or "popcorn," asphalt, which offers a non-slip texture. And he strongly urges the use of rubber mats or rubber pavers to cushion this relatively rough surface.
Concrete–Many people are comfortable mixing and pouring their own concrete–an easier process than laying asphalt. For larger projects, you might want to hire outside assistance. Although moisture can seep through concrete over time, this footing is not as porous as stone dust. So, Blackburn recommends grading it at a rate of one-eight inch to one-quarter inch per foot to allow for drainage. Concrete should be cushioned with rubber mats or pavers, he adds, to reduce the risk of injury and musculoskeletal stresses that this hard flooring could cause.
A Note on Cost
Before you begin stall floor construction, you should create a budget for the project. However, as Blackburn notes, "The cost of different options can vary dramatically based on the number of stalls, location, and the material used," as well as the specific suppliers, consultants, and equipment rental agencies with which you might deal.
For instance, says Blackburn, "I have found that the cost of asphalt flooring can range widely from area to area. And some suppliers require that a large quantity be ordered of the type and mix you need before they will supply it at a reasonable price." Therefore, it could actually be more expensive, per stall, to floor a smaller barn than a larger barn. It's important to contact local companies for estimates before you start the job. (For mass-manufactured, nationally distributed products like most rubber mats and plastic grid systems, you can check pricing with the manufacturers, many of whom have web sites.)
As you start compiling price quotes and creating a budget, Blackburn cautions that you consider not just the initial expense of purchase and installation, but also long-term costs. A dirt floor might be virtually free to install except for labor, but could be expensive in terms of labor over the long run. Rubber mats might be pricey at the start, but could pay for themselves through longevity, ease of care, and reduced bedding.
Also consider the stall flooring material can greatly impact the amount of bedding you'll need to use. For instance, a stall floor with interlocking rubber brick can cut your bedding in half which can save on barn operations, offsetting increased installation costs.
Additional options for flooring include adhered cushioned or foam filled. To conclude, all stall flooring has an impact on the comfort of your horse, the material cost of installation, bedding requirements and your ability to clean and sanitize the stalls.
ABOUT THE AUTHOR
Sushil Dulai Wenholz
Sushil Dulai Wenholz is a free-lance writer based in Lakewood, Colo. Her work appears in a number of leading equine publications, and she has earned awards from the American Horse Publications and the Western Fairs Association.
Posted in
Equestrian News
,
News and Press
|
Tagged barn design, Blackburn Architects, Blackburn Architects barn design, Blackburn Architects barns, designing horse barn, designing horse stables, Designing horse stalls, Equestrian, Equestrian Architect, equestrian architecture, Equine, Equine Architect, equine design, farm planning, Horse stable, Horse stall bedding, Horse stall flooring, horse stalls, John Blackburn stalls
|
Leave a comment >
10.23.17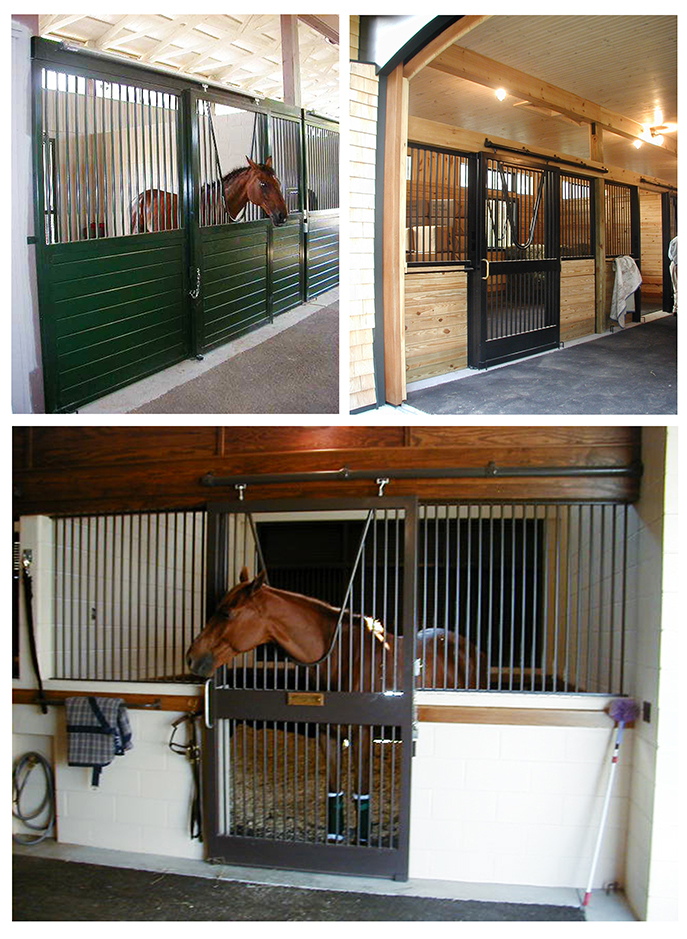 In a new, on-going series, John Blackburn will offer his insight into the major component parts of equestrian facilities. In this post, John offers his suggestions on stalls:
1. Blackburn designs stalls of all sizes, but the most common is 12'x12'. 16'x16' is often requested for larger horses, but with more space comes increased maintenance, a need for more bedding and a bigger area to clean. Larger stalls can, therefore add considerably to the cost of building a barn by:
a. Adding to the overall length and/or width of a barn.
b. Requiring roof framing to be increased from 2×10's to 2×12's or even greater.
c. Increasing the span of the framing lumber.
2. Partitions between stalls should be at least 8 feet high, but they don't have to be solid from top to bottom. Barred or mesh portions on the top enhance ventilation. This also has the benefit of allowing horses to see their companions — and provides easy observation of the horses by their owners. The down side is the increased ventilation between stalls can increase the risk of bacterial infection between horses. For the same reason, doors that are open on top increase light and ventilation. Bars must not be more than 2 to 3 inches apart, and openings should not be more than 2 inches across to prevent hoof entrapment.
3. Steel mesh or bar fronts on stalls allow an owner to look down the aisle or into the stall as they walk down the aisle and see their horses. The mesh is good for ventilation, too. The drawback is that bedding can be kicked into the aisles, so we recommend adding bedding guards. Welded steel mesh is typically stronger than bars but the horizontals tend to collect dust and can add to barn maintenance.
4. Doors should be at least 4 feet wide. This is wide enough for a wheelbarrow to enter the space or for a horse and handler to exit or enter the stall. Sliding doors are preferred over swinging doors. If you must use swinging doors, remember to install them to swing outward. You'll have a major problem if a horse goes down and the door swings to the inside. Additional safety reasons for outward swinging doors include:
a. Prevention of an unlatched door swinging open accidentally, or the wind catching it.
b. Added visibility of looking down an aisle and recognizing that a stall is open and empty. (Handlers need to leave stall doors open when the horse is turned out. This also makes it easier when bringing the horse back to the stall – you don't have to open it.)
5. We recommend rounded edges in stalls and anywhere in the barn where horses have access. A casting rail (which can be a groove in the wall or a 2-by-4-inch rail bolted low to the wall), provides something for the horse to catch his foot on when rolling to avoid getting cast.
6. Provide for easy access to the stall for feed buckets without opening and closing the door. Place in one of the front corners adjacent to the aisle.
7. Automatic waterers have the advantage of offering constant fresh water, but be sure to buy a model that is easy to keep clean. If you don't want automatic waterers, install water hydrants between every couple of stalls and provide for ample drainage for drips and overflows. Don't forget to frost-proof them in climates where pipes are apt to freeze.
Posted in
Equestrian News
,
News and Press
|
Tagged Architect, barn design, Blackburn Architects, Blackburn Architects barns, Designing horse stalls, equestrian architecture, equestrian facility, Equine, Equine Architect, equine design, farm planning, horse barn, horse barn design, Horse Barns, thoroughbred, Ventilation
|
Leave a comment >
01.31.17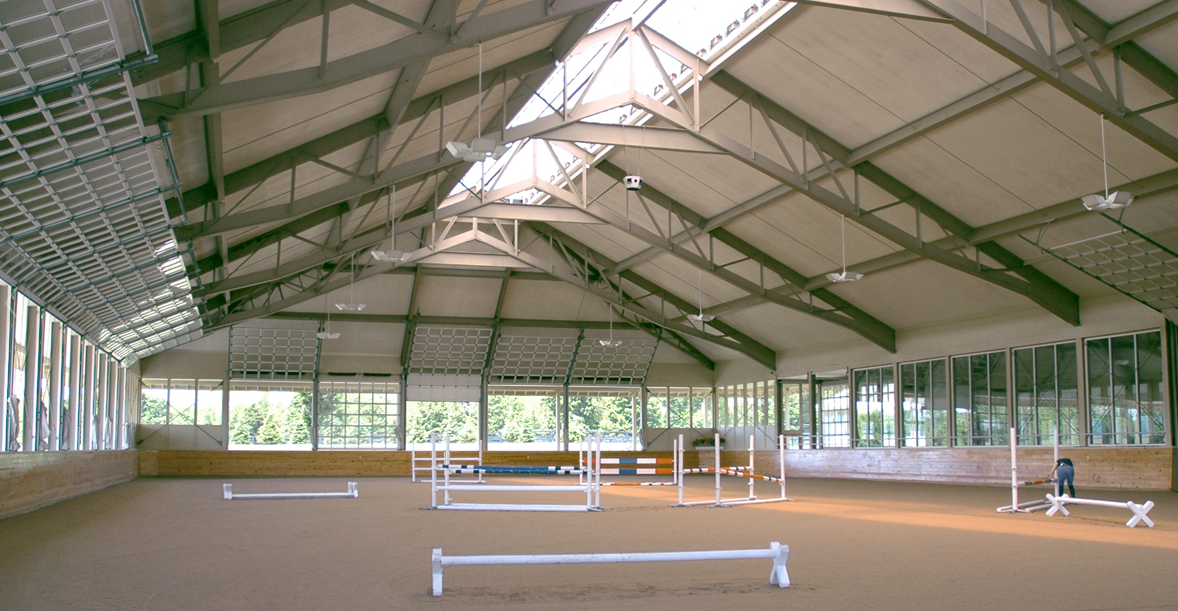 Hello John,
I'm meeting with an arena builder this morning.  It's finally clearing up around here, so we hope to start constructing the forms for the barn foundation this week.
Q: Do you have any advice about a design for a canted ring liner?  Or even just describe what is the norm?  We need an idea of how a segment typically is built.
Is it a good idea to go on up vertically after the canted part, another couple feet, to get a better compromise between indoor and covered only??  Or would that be claustrophobic?  We plan to use gale shields (netting panels) to cover the openings/protect from rain and wind.
Thank you!
Northwestern Eventing Rider
A: Dear Northwestern Eventing Rider:
I'm not sure what you mean by "ring liner."  Do you mean the kick wall?
There are a variety of ways a kick wall can be designed.  I typically design it to the height the owner requests (typically around 4 to 6 feet).  We kick the base of the wall out about a foot from the top so it is slanted to protect the rider's leg.
The top of the kick wall can go to whatever height you feel comfortable but I would make sure if you are using a steel frame for your arena roof and the interior face of the steel column slopes inward, that you allow some extra space between the top of the kick wall and the front edge of the column so that the rider's shoulder or head doesn't come in contact with the column.
I suggest extending the kick wall into the footing to the gravel base. Remember, the bottom boards and the framing behind the kick wall should be constructed of treated wood wherever it comes in contact with the ground or grade.  In most cases the frame is constructed of pressure-treated lumber and the bottom boards are pressure-treated to a point about 18" above the footing surface.
Also, I suggest putting gravel in back of the kick wall to the height of the arena footing to prevent the footing from being driven over time under the kick wall by the pounding of horse hooves.
I hope this is helpful.
Good Luck,
John
Posted in
Equestrian News
,
News and Press
|
Tagged Arena, arena construction, Blackburn Architects, Dear John advice, designing a horse riding arena, designing arena kick-wall, equine design, equine designer, indoor arena, indoor riding arena, kick wall design, riding arena design, ring liner
|
Leave a comment >
11.22.11
This private equestrian facility is located on rolling open fields in the heart of Northern Virginia's hunt country. Simple in design and functional in layout, the barn was conceived to meet the owner's specific program needs for the training of hunters and jumpers.
Program six-stall barn with attached enclosed arena and an elevated observation room, tack room, wash and groom stalls
Completion 2002
04.08.10
Hello Readers,
At the Blackburn office, we've been busy developing Blackburn Greenbarns®, a line of pre-designed barns that are sustainable, provide a healthy and safe atmosphere for horses, and are more affordable than custom design. We first introduced this line of barns last April, but the overall construction costs for the barns were a little higher than we would have liked. So, we decided to go back to the drawing board (literally) in an attempt to streamline the process without compromising our values. We are almost ready to relaunch Blackburn Greenbarns® (with a new and improved website on its way!) with a "kit barn" option, but I would really love to hear from you as far as what's most important to you when building a new barn.
I know that cost is a huge factor—as it should be—for most barn owners. However, I also know that being a horse owner is quite an investment in and of itself—and that most owners just want a facility that protects their horses when they are in the barn, knowing full well that the horses would rather be lazing about in the paddocks.
What is the most important factor when building a new barn? Affordability? What about the style or look of the barn? Are you interested in sustainable products or incorporating green design?
[polldaddy poll=3054182]
I hope you'll comment on this post and share your thoughts. Maybe there's something that all the barn builders (or architects) forget to include/consider and it drives you nuts? Or maybe there's a particular service (like site planning) that you'd find valuable but aren't sure you can afford or truly need and would like to know more about it.
Hope to hear from you! More on what we've been up to soon.