Equine
10.30.17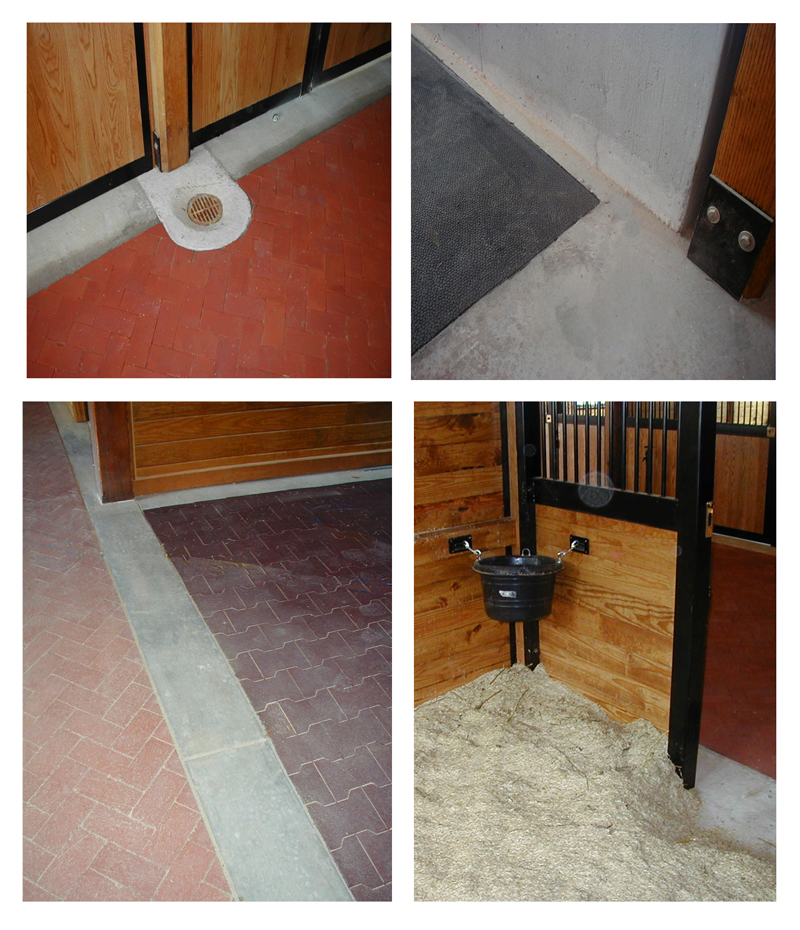 In this on-going series, John Blackburn offers insight into component parts of equestrian facilities. With more than 35 years' experience in the design of horse barns, he's seen his share of good, bad and worse. In this installment, he gives advice on stall flooring. Still as applicable as ever, we're reposting Sushil Dulai Wenholz' article from The Horse, Sept 1, 2001 (added a few updates, too).
Stall Flooring
By Sushil Dulai Wenholz
You give a lot of thought to your horse's health and happiness. You groom him until he gleams, swaddle him in boots and blankets, carefully monitor his diet, and expend considerable effort and expense making sure he's comfortably bedded. But have you thought about what lies beneath that soft bed? In essence, the stall floor is the box spring beneath your horse's mattress, and it's every bit as important as what goes on top–perhaps more so.
No matter how nice the bedding, a poorly constructed floor can lead to respiratory troubles from ammonia gases, thrush from trapped moisture, achy joints from uneven or too-hard surfaces, and injury from slippery or abrasive materials. In addition, a poor floor can mean wasted bedding and extra labor for you.
A good stall floor starts with a good construction plan. John Blackburn, senior principal of Blackburn Architects, a 34-year-old firm that has designed more than 400+ barns in 35 states; and Peter Gibbs, Extension Horse Specialist at Texas A&M University, outline the steps involved in building a floor that will keep you and your horse happy, whether you're revamping an existing stall or building a brand new barn from scratch.
Starting From Scratch
1. Pick the location. If you're building a barn, you have the luxury of choosing the best site. Look for an area that's dry or at least easy to drain. Avoid steep slopes, areas that are consistently wet, and locations that are subject to water runoff during heavy rains or snow melt. In terms of soil, you're basically stuck with whatever is normal for your region. But if you have it, soil that packs tightly is ideal, says Blackburn, because it will provide a tough surface that isn't too hard or abrasive.
2. Dig to the base. Whether you're starting from scratch or redoing an existing stall, you need to dig down to a well-draining layer of soil. This will give urine and other moisture a path to drain away from your horse. Expect to excavate at least one foot deep over the entire stall, says Blackburn. You might have to go deeper, depending on local soil conditions.
3. Level the ground. You should level out that base layer to help make sure the surfaces above it are level. A nice, even plane puts less stress on your horse's legs than an uneven floor.
4. Compact the base and fill. Even if the floor starts out flat, Gibbs explains that extended use can create a holey or uneven surface, especially with dirt or stone-dust flooring. To form a firm foundation that can withstand daily wear and tear for extended periods, compact the floor. You can use a hand roller, a motorized, hand-held compactor or "settler," or some other heavy pounding tool to do the job.
First, compact the layer you've uncovered and leveled. Then begin adding layers of dirt or stone dust. "The important thing is to install the flooring in layers and tamp it at each layer," says Blackburn. He recommends using three-inch layers for dirt or one- to two-inch layers for stone dust. Compact each layer "until you think it can take the abuse of hooves kicking at it," he adds, noting that there isn't a standard measure to go by.
To ensure good drainage away from the building, add layers until your floor's surface is 12 to 18 inches above the natural grade around the barn, says Blackburn. "You want to get the moisture to drain through the flooring and away from the stall and barn," he explains. In addition, this protects the floor from high water levels outside that might otherwise easily flood the stall.
Now you're ready to add the floor itself. Next you'll find basic installation information for several common types of flooring.
Adding the Flooring
Dirt–If you plan to have a dirt floor, and local soil drains exceptionally well, you're done. Most soils, however, drain moderately well at best, so you'll probably want to help it along. One option is to grade the top layer of dirt slightly (no more than three degrees), so that moisture runs off to exit the barn or stall through an outlet in the corner (or through the stall door to the aisle).
You could also make a "leach hole," or simple drain, inside the stall. To do this, dig a hole about three feet in diameter and deep enough to reach that bottom, well-draining layer of soil at the base you created. Then fill the hole with varying sizes of rock (or alternating layers of sand and gravel), starting with large gravel chunks at the bottom and working toward stone dust at the top. Tamp into place and cover with dirt to even out the floor.
Stone Dust–Blackburn believes that stone dust (also known as crusher run, screenings, or quarter-inch minus) makes a better floor than dirt, "because it can compact well and still permits drainage." However, he does recommend adding a subsurface drainage system to enhance flow-through. To do this, lay filter fabric over the floor, top it with a layer of crushed gravel, then add three to five inches of stone dust. As you did with the base, compact the stone dust after each one- to two-inch layer. When you're done, water the floor, tamp it down tight again, and let it settle overnight. Fill in any holes or depressions the next day.
Another idea is to install a drainpipe under the stone dust floor. "I feel that this helps drain the moisture away from the stall area and allows you to flush the stall with moisture to cleanse the flooring," explains Blackburn. "Otherwise, it could drain into the dirt and stone and stay there, providing odor and a breeding ground for bacteria."
To lay pipe, first dig a swale–a sloped ditch about one foot deep. Lay perforated pipe into the swale (you want a piece long enough to provide drainage away from the building, notes Blackburn). Cover the pipe with filter fabric, then fill the swale with crushed gravel. Now add and compact your stone dust as stated previously.
Plastic Grid–Plastic grid flooring comes in many variations, but the basic idea is the same for all floors: To provide a 100% permeable floor plus a level, stable, durable surface. Installation instructions vary by manufacturer; however, most recommend laying the grid over a well-draining subsurface (such as stone dust) so that moisture not absorbed by bedding will drain away. Usually, the holes in the grid (which create the excellent drainage) are filled with stone dust.
Rubber Mats–As with grid systems, rubber mats (and similarly, rubber pavers, which look like rubber bricks) vary in design, thickness, texture, etc., from one manufacturer to the next. Likewise for installation instructions, although most want you to measure stalls so that mats fit snugly against each other and the walls. Unlike grids, however, mats and pavers are meant to trap moisture above the surface, where it can be absorbed by bedding. Moisture can seep through the seams (or possibly the rubber itself). So, flooring experts recommend that you lay mats over a well-draining subsurface, such as one of the crushed stone systems mentioned earlier, or over relatively nonporous materials such as concrete and asphalt that can be easily disinfected.
Asphalt–You can lay an asphalt floor yourself, if you're willing to find a supplier, rent equipment, and learn the proper way to apply, rake, and settle it. However, it can be a tricky process. As Blackburn notes, "The right mix of asphalt is important. It should be raked as it's installed, then hand rolled. I would imagine that hiring a professional would be advisable."
He also suggests that you grade asphalt floors with a crown of one-eighth inch per foot in order to sustain drainage. "With a flat surface, the urine puddles and leaves the horse standing in dampness, potentially causing all kinds of hoof issues," he explains. The slope will also facilitate drainage when the stall is washed or disinfected. Blackburn recommends the use of aggregate, or "popcorn," asphalt, which offers a non-slip texture. And he strongly urges the use of rubber mats or rubber pavers to cushion this relatively rough surface.
Concrete–Many people are comfortable mixing and pouring their own concrete–an easier process than laying asphalt. For larger projects, you might want to hire outside assistance. Although moisture can seep through concrete over time, this footing is not as porous as stone dust. So, Blackburn recommends grading it at a rate of one-eight inch to one-quarter inch per foot to allow for drainage. Concrete should be cushioned with rubber mats or pavers, he adds, to reduce the risk of injury and musculoskeletal stresses that this hard flooring could cause.
A Note on Cost
Before you begin stall floor construction, you should create a budget for the project. However, as Blackburn notes, "The cost of different options can vary dramatically based on the number of stalls, location, and the material used," as well as the specific suppliers, consultants, and equipment rental agencies with which you might deal.
For instance, says Blackburn, "I have found that the cost of asphalt flooring can range widely from area to area. And some suppliers require that a large quantity be ordered of the type and mix you need before they will supply it at a reasonable price." Therefore, it could actually be more expensive, per stall, to floor a smaller barn than a larger barn. It's important to contact local companies for estimates before you start the job. (For mass-manufactured, nationally distributed products like most rubber mats and plastic grid systems, you can check pricing with the manufacturers, many of whom have web sites.)
As you start compiling price quotes and creating a budget, Blackburn cautions that you consider not just the initial expense of purchase and installation, but also long-term costs. A dirt floor might be virtually free to install except for labor, but could be expensive in terms of labor over the long run. Rubber mats might be pricey at the start, but could pay for themselves through longevity, ease of care, and reduced bedding.
Also consider the stall flooring material can greatly impact the amount of bedding you'll need to use. For instance, a stall floor with interlocking rubber brick can cut your bedding in half which can save on barn operations, offsetting increased installation costs.
Additional options for flooring include adhered cushioned or foam filled. To conclude, all stall flooring has an impact on the comfort of your horse, the material cost of installation, bedding requirements and your ability to clean and sanitize the stalls.
ABOUT THE AUTHOR
Sushil Dulai Wenholz
Sushil Dulai Wenholz is a free-lance writer based in Lakewood, Colo. Her work appears in a number of leading equine publications, and she has earned awards from the American Horse Publications and the Western Fairs Association.
Posted in
Equestrian News
,
News and Press
|
Tagged barn design, Blackburn Architects, Blackburn Architects barn design, Blackburn Architects barns, designing horse barn, designing horse stables, Designing horse stalls, Equestrian, Equestrian Architect, equestrian architecture, Equine, Equine Architect, equine design, farm planning, Horse stable, Horse stall bedding, Horse stall flooring, horse stalls, John Blackburn stalls
|
Leave a comment >
10.23.17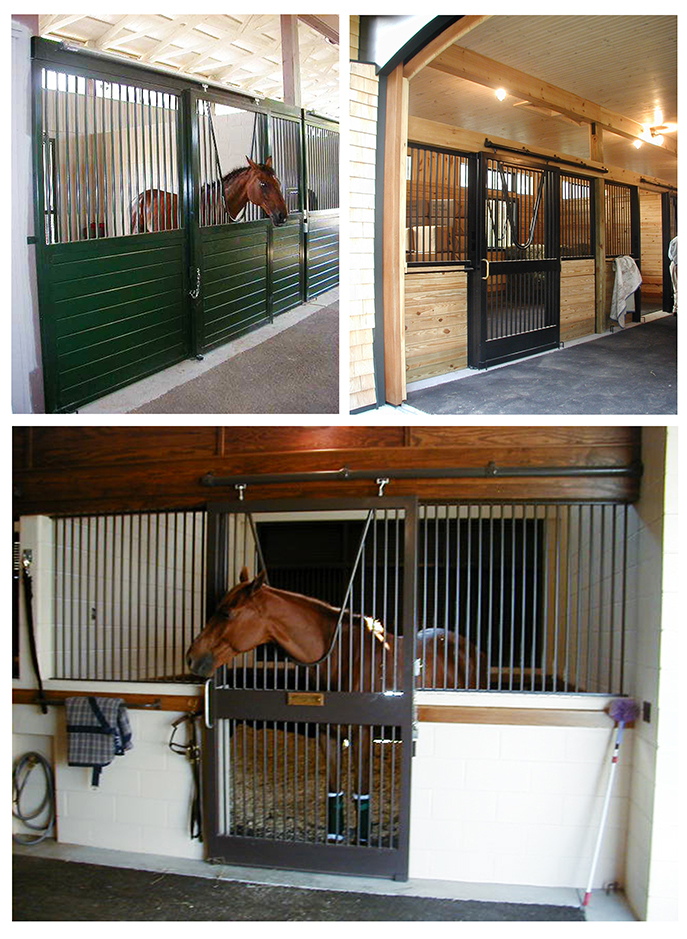 In a new, on-going series, John Blackburn will offer his insight into the major component parts of equestrian facilities. In this post, John offers his suggestions on stalls:
1. Blackburn designs stalls of all sizes, but the most common is 12'x12'. 16'x16' is often requested for larger horses, but with more space comes increased maintenance, a need for more bedding and a bigger area to clean. Larger stalls can, therefore add considerably to the cost of building a barn by:
a. Adding to the overall length and/or width of a barn.
b. Requiring roof framing to be increased from 2×10's to 2×12's or even greater.
c. Increasing the span of the framing lumber.
2. Partitions between stalls should be at least 8 feet high, but they don't have to be solid from top to bottom. Barred or mesh portions on the top enhance ventilation. This also has the benefit of allowing horses to see their companions — and provides easy observation of the horses by their owners. The down side is the increased ventilation between stalls can increase the risk of bacterial infection between horses. For the same reason, doors that are open on top increase light and ventilation. Bars must not be more than 2 to 3 inches apart, and openings should not be more than 2 inches across to prevent hoof entrapment.
3. Steel mesh or bar fronts on stalls allow an owner to look down the aisle or into the stall as they walk down the aisle and see their horses. The mesh is good for ventilation, too. The drawback is that bedding can be kicked into the aisles, so we recommend adding bedding guards. Welded steel mesh is typically stronger than bars but the horizontals tend to collect dust and can add to barn maintenance.
4. Doors should be at least 4 feet wide. This is wide enough for a wheelbarrow to enter the space or for a horse and handler to exit or enter the stall. Sliding doors are preferred over swinging doors. If you must use swinging doors, remember to install them to swing outward. You'll have a major problem if a horse goes down and the door swings to the inside. Additional safety reasons for outward swinging doors include:
a. Prevention of an unlatched door swinging open accidentally, or the wind catching it.
b. Added visibility of looking down an aisle and recognizing that a stall is open and empty. (Handlers need to leave stall doors open when the horse is turned out. This also makes it easier when bringing the horse back to the stall – you don't have to open it.)
5. We recommend rounded edges in stalls and anywhere in the barn where horses have access. A casting rail (which can be a groove in the wall or a 2-by-4-inch rail bolted low to the wall), provides something for the horse to catch his foot on when rolling to avoid getting cast.
6. Provide for easy access to the stall for feed buckets without opening and closing the door. Place in one of the front corners adjacent to the aisle.
7. Automatic waterers have the advantage of offering constant fresh water, but be sure to buy a model that is easy to keep clean. If you don't want automatic waterers, install water hydrants between every couple of stalls and provide for ample drainage for drips and overflows. Don't forget to frost-proof them in climates where pipes are apt to freeze.
Posted in
Equestrian News
,
News and Press
|
Tagged Architect, barn design, Blackburn Architects, Blackburn Architects barns, Designing horse stalls, equestrian architecture, equestrian facility, Equine, Equine Architect, equine design, farm planning, horse barn, horse barn design, Horse Barns, thoroughbred, Ventilation
|
Leave a comment >
08.29.17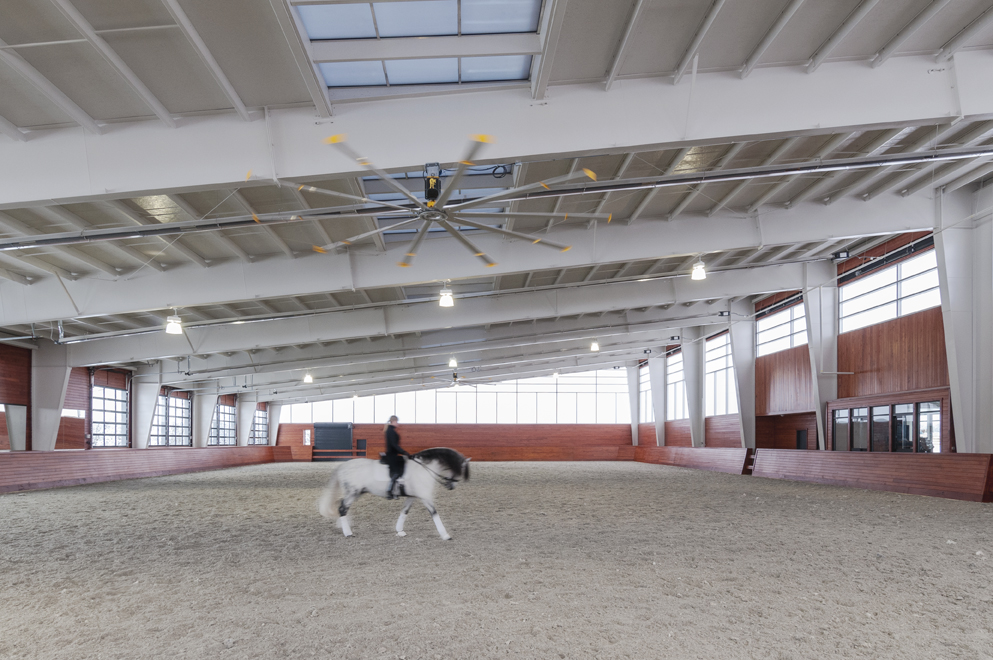 Hi John. I hope you had a wonderful summer!
Q: Our covered arena has been put to good use throughout the last year, but we really need lights to make it even more beneficial to our program. Given your expertise and experience with equestrian barns and arenas, I was hoping you might be able to give us some guidance.
We are having a hard time determining exactly what kind of and how much lighting is necessary. Do you have a formula that you use?
Any help you can provide would be greatly appreciated. I look forward to hearing from you!
Best,
Undercover Rider
Dear Undercover Rider:
Glad to hear all's well.
I would be happy to offer some guidance on lighting for your arena.
A: I typically recommend approximately 35 to 50 foot candles per sq ft of light on the arena floor in order to provide a sufficient amount of light for a variety of functions. It also depends on the amount of reflective surfaces you have and the color of those surfaces including the arena floor material.
If you are anticipating a variety of entertainment type functions such as charity events, parties, etc you may want to consider a variety of type mood lighting for different events.
There are also a variety of type lights to consider such as metal halide, LED, HD, etc.
There are other factors to consider as well such as initial cost, operating cost, maintenance or lamp life and also the design of the fixture (bird protection, fire safety, etc.)
We are beginning to use LED more often now. I hope that helps!
John
11.01.16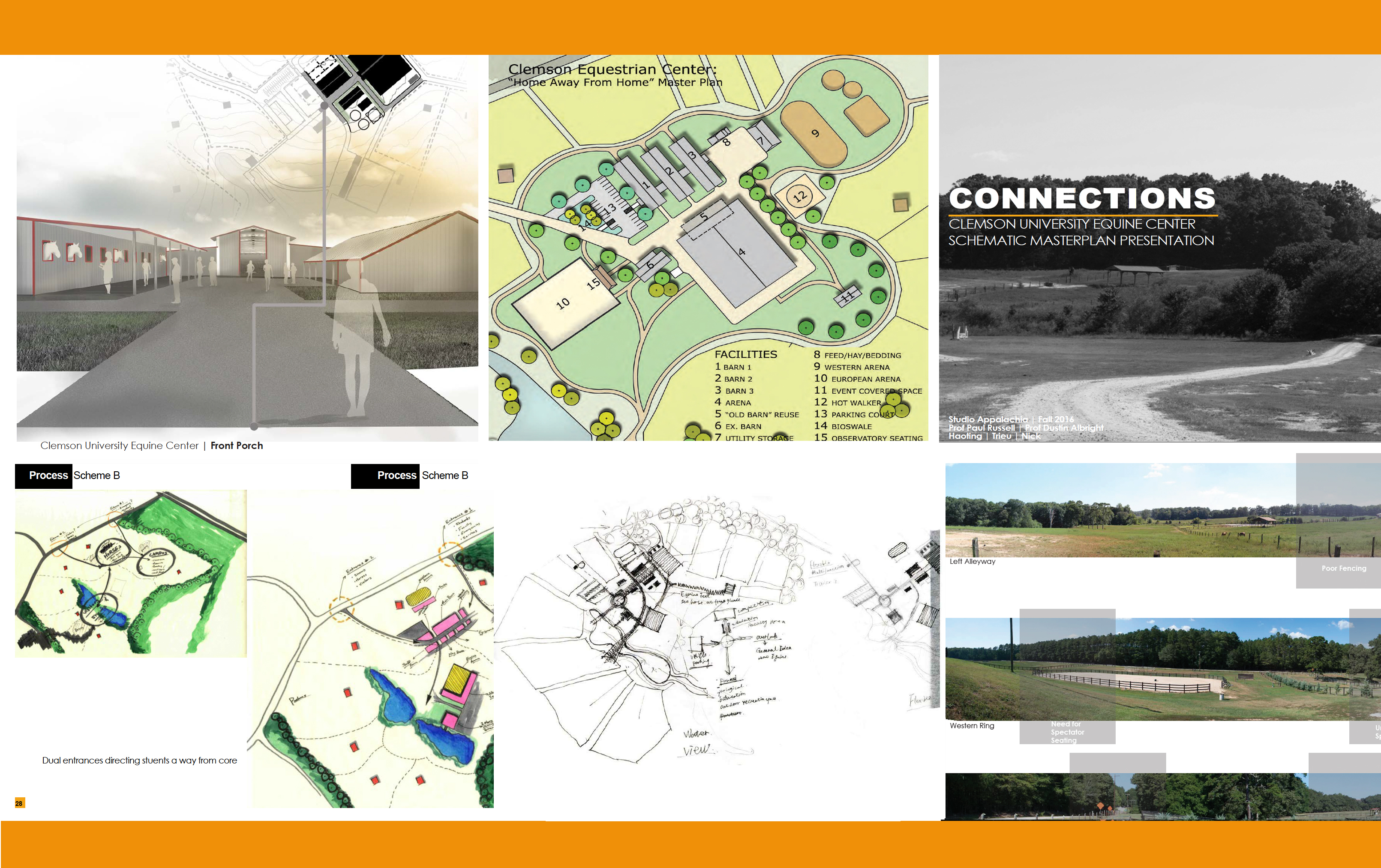 Checking back in to report what's been happening at Clemson's School of Architecture & Studio Appalachia.
 In case you missed it… Studio Appalachia is a collaborative, project-based graduate design studio between Clemson's school of architecture and its department of landscape architecture. The Studio is directed by associate professors Dan Harding and Paul Russell. Studio Appalachia targets issues such as: accessibility to natural resources, sustainable building strategies, and approaches to long term visioning and planning.
I was asked to participate in this year's studio because it involved horse facilities, specifically re-envisioning the Clemson University Equine Center (CUEC). With aging facilities that are well-used and well-loved, I knew it would be fascinating to see how these talented students created a fresh program for the facility. The teams of architecture and equine business students (a new twist for the studio) have spent the last several weeks immersed in detailing the site and facility requirements, learning about design issues unique to equines.
Teams consisting of three to four students conducted rigorous research, made several site visits, interviewed user groups, studied topography, considered land, sun, wind, circulation paths and traffic flow to create detailed and well considered Master Plan Studies and Field Reports.
Referencing the evolving formal and material contexts of Southern Appalachia, the four teams stated as goals to "improve circulation, establish organization, and enhance the (existing) ecology of the historic Clemson farm. To them, as one team eloquently stated, the CUEC is more than a farm; it is an institution that showcases the prestige of the university, and embodies the history, strength, and energy that the equine program was founded on.
The preliminary master plan schemes presented earlier in October were successful in developing goals and considerations for further study. The studio presents preliminary concept designs later this week and I'm looking forward to the big reveal.
03.22.12
Over the years, I've collected much too many photos of barn details, which includes everything from latches on stall doors to drains in aisles. It's only natural to collect the things you love, right? I often refer to my virtual stash of detail images when I'm designing a barn and hope they might serve as an inspiration to you as well. I will probably add to the collection (correction: I WILL add to the collection because I won't be able to help myself) over time. What can I say, the details separate a fine barn from a fantastic barn. On that note, I hope you'll forgive my lack of photography skill. Some of these images were taken during or just after the construction process by yours truly. That should serve to explain any and all photos with incomplete landscapes (aka piles of dirt) and unique angles (aka crooked) that are artistic-driven (aka fuzzy, out-of-focus) images.
By way of introduction to my collection, I think it seems fitting to begin this set barn detail images with the door. Every dutiful, the door is a part of every barn, everywhere. (At least I hope so.) You'll see many images of my favorite, the Dutch door, which aids ventilation within the barn. There's also human-only doors, main entrances, side doors, etcetera. Hopefully it's not too much of a hodgepodge for you to enjoy.
Incidentally, I've asked one of the more tech savvy staff (basically anyone but me) to link these images on Pinterest; we're attempting to hop on that fast-moving train because we architects sure appreciate a visual aid. If you're a Pinner yourself, let me know so we can follow you there. Until then, happy collecting!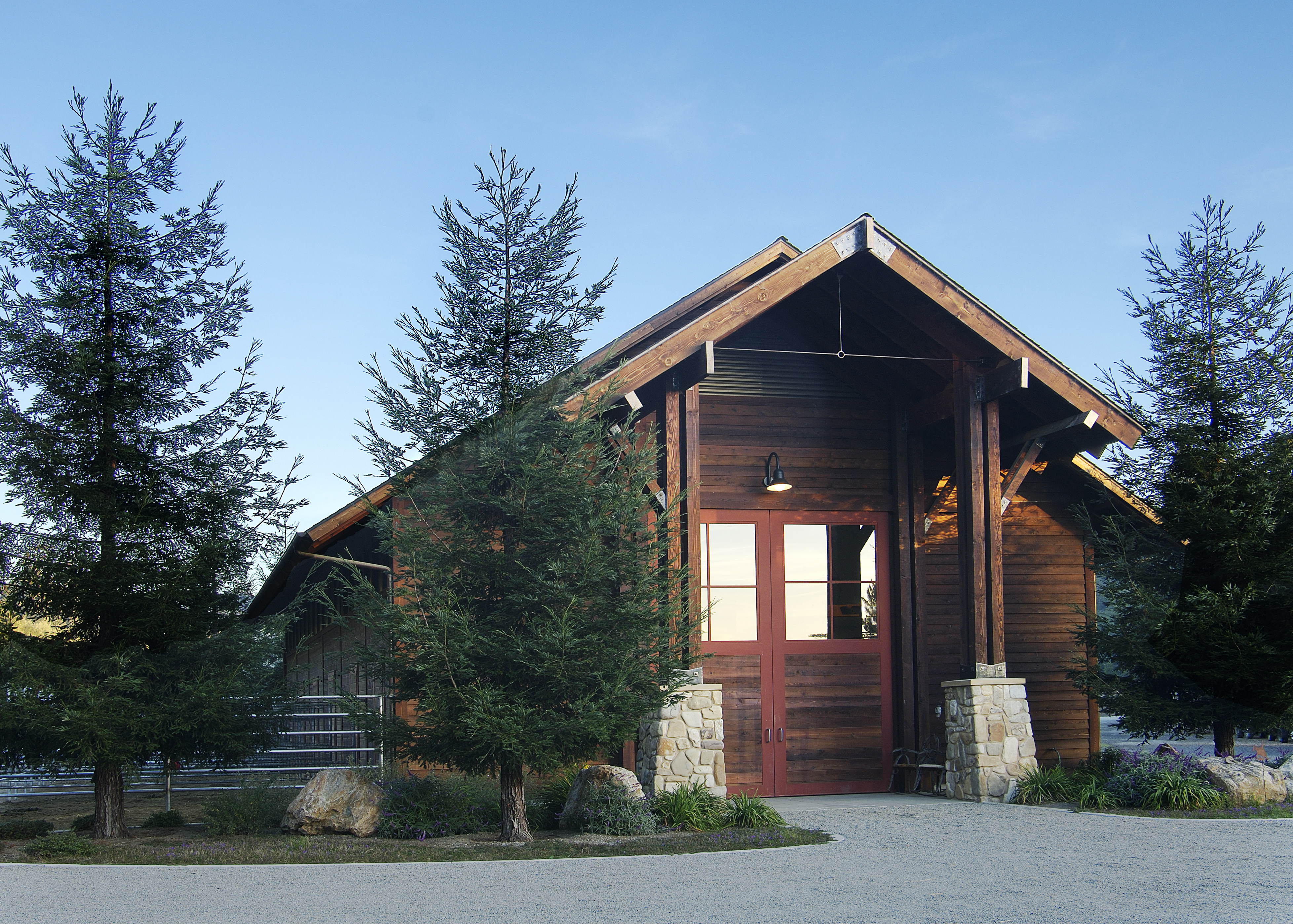 Dear disgruntled artists: the key to success isn't kicking down the door; it's building your own.
Brian Celio
Read more:http://www.brainyquote.com/quotes/keywords/door_14.html#ixzz1pshKJzeM
09.07.11
Designed in response to an adjacent new residence and in the style of existing barns on the private ranch, this eight-stall barn in Montana uses heavy timber framing and western cedar siding.
The program includes wash and grooming stalls, a lounge/office, large tack rooms, and a loft with a balcony that overlooks an outdoor arena. The barn's deep overhangs create covered areas to wash and groom horses outdoors while a continuous translucent ridge skylight allows generous amounts of natural light within the barn.
Program 8-stall barn, outdoor arena, service building
Completion 2004
Posted in
Equestrian News
,
Projects
|
Tagged Architecture, Barn, barn design, Barns, Blackburn Architects, Equestrian, Equestrian Architect, equestrian design, Equine, equine architecture, heavy timber, horse barn, horse ranch, horse stables, Montana barn, ranch, Stables, western cedar siding
|
1 comment >
06.17.11
As a kid in Tennessee, I grew up around horses, though I had no interest in properly riding them. That I left to my twin sister, who kept her Tennessee Walker named Dixie in a neighbor's barn. For me, playing in the barn's loft for days on end in the summer was much more appealing.
I left Tennessee for Clemson University (B.A. Architecture, 1969), where I developed an interest in designing buildings inspired by context, environment, and function: I became a student of the philosophy that "form follows function." There was no doubt in my mind that I had left horses and the barn behind. After all, I never aspired to be an equestrian architect. I was a student of urban design. Ironically, over 25 years later, I earn a living designing equestrian facilities across the country. That is because a single interview changed my life.
Following graduate school (Washington University in St. Louis, M.A. in Urban Design, 1973), I relocated to Washington, D.C. in pursuit of its urban and robust economy as a place to possibly support a future architectural practice. My former colleague, Robbie Smith, and I began "moonlighting" on small side projects together and decided to create our own firm. As young architects, we'd happily take any project we could get our hands on. So, when Robbie received a phone call from a friend in the summer of 1983 about a fairly large potential horse project in Upperville, Virginia, we jumped. Forget that we had never designed a horse farm, or, for that matter, any other building of size of significance on our own. We had nothing to lose.
The Interview 
Preparation began for the big interview. We learned that the owner, Robert H. Smith (no relation to my partner, Robbie Smith), selected the renowned landscape architect Morgan Wheelock of Boston to plan the farm. Together, the owner and Wheelock sought an architect to design the farm structures to fit within the well-known Upperville and Middleburg, Virginia context.
Typically, during an interview you review your firm's portfolio of completed projects with the potential client. This was not an option for Robbie and me — we'd have to approach this interview differently. Since Robbie was from Middleburg, he was familiar with the area's building types. He spent a few days photographing various buildings in the area — forms, materials, and shapes — that represented Middleburg or Upperville in any way. Barns were certainly photographed, but we also considered residences, commercial structures, and other miscellaneous structures relevant. With plenty of images to inspire us, we selected a number of key examples. Many of these buildings were perhaps a hundred years old and probably weren't designed by an architect. However, we felt they strongly represented the area. We took the photographs and projected the slides on the wall of our small office, traced over them, and transferred the images to illustration boards to serve as our "portfolio" presentation.
I'm not aware of what the other interviewing firms presented, but ours did not include a single building we designed or were designed by any architect, for that matter. Our presentation documented the context of the area in a series of hand-drawn sketches — but, at least, if the owner's farm were to "fit" into the context, these were the shapes, forms, materials, and scale they should have.
We were hired immediately. Suddenly, we found ourselves with seven buildings to design with no staff in an unfurnished office space in a third-floor walkup in Georgetown — and we weren't about to complain. We were embarking on a project that would change our lives.
Horse Sense
Our client, Robert H. Smith, was a very successful developer in the Washington, D.C. area. While he had owned thoroughbred horses for several years, he stabled them at other farms or the track. Now he was ready to start a thoroughbred breeding operation, having acquired approximately 400 acres in Upperville, adjacent to the famous Rokeby Farm (owned by Paul Mellon) on one side and Route 50 on the other. Also included within the property were the grounds to the Upperville Horse Show, the oldest functioning horse show grounds in the United States.
Morgan Wheelock, the landscape architect, brought a background in designing horse farms to the project: with it, his theory that barn design, as well as the farm layout, should be driven by a paramount concern for the health and safety of the horse. The way the building is viewed and placed in the landscape, Wheelock believes, is as important as the design of the building itself. That's because both the farm layout and the barn design impact the health and safety of the horse; concerns possibly even more apparent when operating a breeding facility for thoroughbreds.
Barns are often perceived as dark, dusty, and uninviting buildings. However, it's also widely understood among equestrians that the best environment for a horse beyond the great outdoors is an environment that inspires just that. Wheelock bridged these inconsistencies with a design theory that focused on creating natural light and ventilation within the barn. It was a revelation. While the concepts Wheelock professed were simple, they worked — and beautifully — at our first barns at Heronwood Farm.
10.12.10
I'd like to pass along the following information from The American Horse Council for my Virginia, Maryland, and Washington, DC area readers.
The American Horse Council will be hosting a FREE Tax Seminar featuring Tad Davis on Thursday November 4, 2010 at 6 p.m. at the Tri-County Feeds in Marshall, VA.  This is an open invitation, so feel free to share it with other members of the horse industry so they can learn how current federal tax laws affect them and their equine businesses.  Please see the attached invitation for more details.
This invitation is also posted on the AHC website, so feel free to visit the Events Page on the AHC website for information.  We are asking that anyone that plans to attend please RSVP so w e can have an estimate of how many people to expect.   Please direct all RSVPs to Bridget Harrison at bharrison@horsecouncil.org or 202.296.4031.
09.03.10
Size & Scale
When designing, I'm often concerned about maintaining proper scale and proportion. In equestrian design, arenas in particular pose a challenge simply because they are such large structures. An arena is never small, but since different riding styles determine the amount of space required, it's important to first understand how much space you need. Once you gauge the room necessary to ride, you may consider some of the following elements to design a proportionate and functional arena.
Lower the Stakes
Arenas of all sizes benefit by lowering the structure within the site. Push the structure into the ground and the visual height is greatly reduced. Typically, I recommend lowering the arena four to five feet into the ground. That way you can create an observation area on one or more sides, that has visibility over a kick wall or fence, with an on-grade entrance from the exterior. The "bird's eye view" observation area is excellent for spectators and the lowered grade takes full advantage of the site without increasing the structure's bulk.
If there are several facilities on your site, carefully placing the arena amongst the facilities you have—or the ones you plan to build—can help to break up the arena's large scale. The slope of the roof is often overlooked in prefabricated arenas; often too-low roofs of these structures offer only a massive, box-like look. If, however, the roof is sloped at five in 12 or greater, the arena can appear smaller and fit more naturally into the landscape. Sometimes you'll run into zoning or code restrictions with height, so lowering the arena into the ground can literally give you more working room.
Covered vs. Enclosed
Geographic location is everything when considering an enclosed, covered, or open arena. An enclosed arena is probably necessary in cold or windy climates. Roll-up garage doors with translucent or clear panels on all sides of the arena can provide an indoor-to-outdoor feel; just open it up when the weather permits or, alternatively, close it up during inclement weather.
Lighting
We try to take advantage of natural light in all of our designs—from equestrian to residential—because natural light really can't be beat. A continuous ridge skylight is the most effective method to achieve this, and the technique also increases natural ventilation within the arena. Operable louvers can further contribute to natural light and ventilation while maintaining control as you adjust them accordingly. Any glazing used should be translucent to avoid creating shadows that might confuse a horse. While a large skylight is a more expensive option, various materials can reduce its cost. A naturally lit arena doesn't rely on electric lights during the day, which is another bonus for horses and riders.