green barn
03.05.19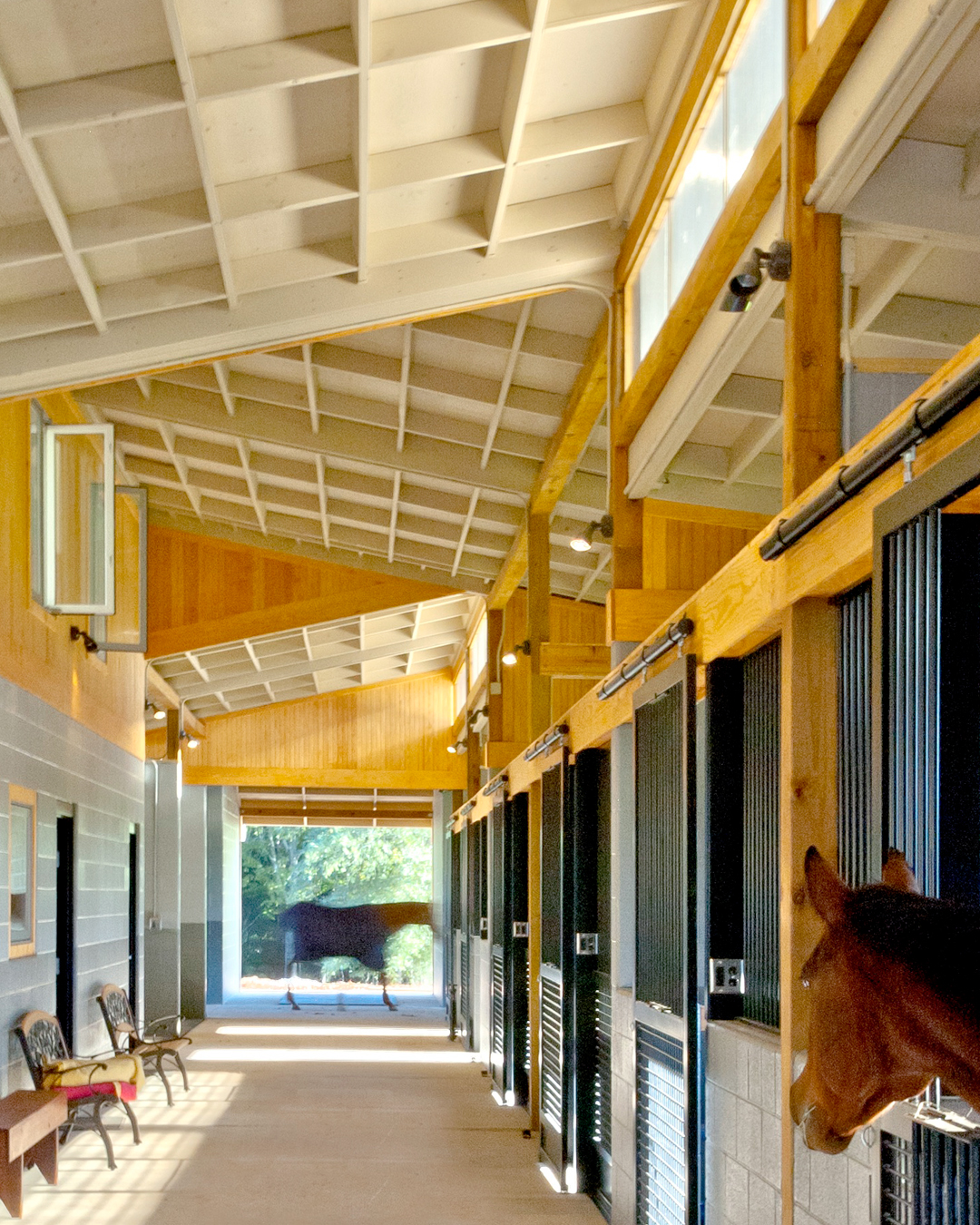 Fire protection in an equestrian facility is always a concern of the highest priority. Because we're often asked, we thought we'd offer information here on the fire suppression details the Blackburn design team has included in some of our latest projects.
At a new barn under construction in Indiana, we've specified a Dry Pipe System by Fire Tech, LLC. http://www.firetechstl.com/systems-preaction.php. We could have specified a "preaction sprinkler system," but chose the dry pipe system because of the dangers of freezing pipes in the cold weather climate of the Midwestern United States.
To quote Fire Tech's description, "A Preaction Sprinkler System is a system which employs automatic and closed-type sprinkler heads connected to a piping system that contains air (either pressurized or non-pressurized), with a supplemental system of detection serving the same area as the sprinklers. The systems are typically used in applications where the accidental discharge of water would be catastrophic to the usage of occupancy.
"Preaction Sprinkler Systems are similar to Dry Pipe Systems in that the water is kept from entering the piping valve, in the case a preaction valve. This valve is held closed electrically, only being released by the activation of the detection system (heat or smoke detectors mainly) when an electrical signal is sent to the releasing solenoid valve. The water then fills the pipe, ready for the activation of the sprinkler heads. Preaction systems can be arranged to be activated by only one detection device type, or many."
In Indiana, our architects specifically called for a dry pipe system because of the potential for freezing temperatures, but also in case "one of the children kicks a soccer ball and takes out a sprinkler head" (the client's words). With a dry pipe system, the sprinklers won't go off unless they also sense smoke or fire (depending on the detector type). A false alarm could flood and ruin the barn's expensive finishes. And using recessed/concealed pop up heads is a good idea where you can.
Another critical reason Blackburn specified a dry pipe system is because of an issue with water demand; the Indiana farm doesn't have sufficient well water on site to power the system. Because of this, our client connected to county water. Keep in mind that If you're on a well, you'll likely never have enough pressure to support a fire suppression system. The gallon per minute (gpm) for firefighting is higher than your average ground well can produce. This means you must store water on site in a tank or pond.
At Sheik Island, one of our projects in Florida, we stored water below ground. In California, at a private facility, we installed an above ground tank adequate to run the system as required by the local fire department. Additionally, we posted signage limiting the occupancy (should the owner decide to sponsor a large event in the arena). The clients obtain a special permit when larger events occur, and they hire the local fire department to have a truck on hand during the event.
At the Devine Ranch, in Aptos, California, and at the Moss residence, also in fire-prone California, we provided on-site storage tanks with backup generators to operate a pumping system.
Next up on the Blog: fire limiting design guidelines we build into our projects.
Posted in
Equestrian News
,
News and Press
|
Tagged Architecture, barn architect, barn fire safety, Barns, Blackburn Architects, Equestrian, equestrian architecture, equestrian design, Equine Architect, equine design, fire in horse barn, Fire protection, Fire protection in horse barn, fire suppression systems in horse barn, green barn, horse barn, horse barn design, Horse Barns, horse racing, protecting a horse barn against fire, protecting horses against fire, Stables, thoroughbred
|
Leave a comment >
02.29.12
I'm excited to share photos of the progress at Starbright Farm in Grass Valley, California because it's one of our first Greenbarns to enter the construction phase. Greenbarns is a line of pre-designed barns that my firm offers as an alternative to full-scale custom design.
How It Works: We can customize the Greenbarn model of your choice (there's four to choose from) as we've done for this client, but the Greenbarns method reduces the overall architectural design fees because we're not starting from scratch. You simply choose a Greenbarns model (this project uses The Hickory design), and either build it as specified, or ask us to make a few changes to make it your own.
I like to think of a Greenbarn as a leaner and greener version of a Blackburn custom horse barn in that we offer a package of top-quality materials and finishes, replete with Lucas Equine stall systems and value engineered, eco-friendly materials. In other words, a high quality, durable, and well designed barn with the details you need. Full disclosure: Greenbarns aren't really more green than our custom designs, because we prioritize natural lighting and ventilation in all we do, but leaner and greener sure is fun to say.
At Starbright Farm (tentative name – always a tough decision for the owners to settle on the best farm name!), the owners decided to combine two Greenbarns Hickory models. The first barn is under construction, with the second to occur during a later phase. The plan calls for the two barns, which each house five stalls along with wash/groom stalls and tack/office space, to be arranged around a courtyard with views to the west and surrounding paddocks. There's also two run-in sheds (almost complete) and a composting system designed by the team at O2 Compost. The owners and their daughters plan to use the stables and their new 100×200 outdoor arena for both pleasure riding and hunter/jumper training with the local pony club.
I look forward to seeing this project in its completion and hope it will be a big hit with the local pony club and, of course, the owners and their family.
06.25.10
I was recently interviewed by Clay Nelson, a founder of the green farm design and management website, Sustainable Stables, for an article about green barn design for this month's Equestrian Professional newsletter. You can read the article here.

04.20.10
OK, so I have to once again spread the word about Blackburn Greenbarns®, our pre-designed line of sustainable barns. We just issued a press release, which you can check out here. We are really excited to share these new barns with you in a "ready-to-construct" format. We really feel that all equestrians (and their horses too, of course) deserve to have sustainable barn options that are easy to modify, protect the health and safety of your horses, and are ready to construct quickly and efficiently (with the help of a licensed professional, of course).
We are sending out virtual invitations to all our friends, clients old and new, and family to take a look at our new website this Thursday when it will be complete. However, please feel free to visit the site before then at www.blackburngreenbarns.com. We hope you'll like it and we hope to hear from you if you have any feedback, questions, or interest.

04.08.10
Hello Readers,
At the Blackburn office, we've been busy developing Blackburn Greenbarns®, a line of pre-designed barns that are sustainable, provide a healthy and safe atmosphere for horses, and are more affordable than custom design. We first introduced this line of barns last April, but the overall construction costs for the barns were a little higher than we would have liked. So, we decided to go back to the drawing board (literally) in an attempt to streamline the process without compromising our values. We are almost ready to relaunch Blackburn Greenbarns® (with a new and improved website on its way!) with a "kit barn" option, but I would really love to hear from you as far as what's most important to you when building a new barn.
I know that cost is a huge factor—as it should be—for most barn owners. However, I also know that being a horse owner is quite an investment in and of itself—and that most owners just want a facility that protects their horses when they are in the barn, knowing full well that the horses would rather be lazing about in the paddocks.
What is the most important factor when building a new barn? Affordability? What about the style or look of the barn? Are you interested in sustainable products or incorporating green design?
[polldaddy poll=3054182]
I hope you'll comment on this post and share your thoughts. Maybe there's something that all the barn builders (or architects) forget to include/consider and it drives you nuts? Or maybe there's a particular service (like site planning) that you'd find valuable but aren't sure you can afford or truly need and would like to know more about it.
Hope to hear from you! More on what we've been up to soon.
02.22.10
I want to share this video clip as well as an article by Clay Nelson of Sustainable Stables about the age-old, though presently uncommon, practice of using draft horses for farm labor. I've been able to get to know Clay and his work with Sustainable Stables, which promotes green equestrian practices, over the last year after he contacted my firm to discuss our own sustainable design practices. The attached YouTube clip shows an interview of timber harvester John Hartman, who speaks about his two draft horses, Stella and Dolly, and their work at Highfields Farm in Danbury, North Carolina.
Under Mr. Hartman's direction, Stella and Dolly are helping with preparations by extracting trees for which the owners at Highfields Farm will eventually process onsite to become a future barn, small cabin, and run-in shed. Through the use of actual horsepower, the owners of Highfields Farm are able to supply their very local resources in a manner that maintains a small footprint and is also less destructive to its environment. For further details about the horses and their work at Highfields Farm, read Clay's article here (which starts on page 6) from Holistic Horse Magazine. This practice once again reminds me that some of the greenest techniques are often the simplest and perhaps most overlooked.
[youtube=http://www.youtube.com/watch?v=Jm5UZjmg1fw]
02.17.10
We haven't received our copy of the March 2010 issue of Dressage Today yet (the DC blizzard last week made it nearly impossible for mail delivery in the District). If you have the March issue handy, please take a minute to read my response in the Ask the Experts section of the magazine and let me know how I did. The question I was presented with: What difference does a green barn make to a horse? What are the most important elements to consider when designing sustainably?
That question came from Diane Barber, owner of the Los Angeles-based firm Equestrian Designery – Interior Design for Equestrians, which specializes in—you guessed it—equestrian-style interior design. Diane is also an avid equestrian and author of several articles about her equestrian experiences for publications like Dressage Today. Some of her work may be viewed on her Web site here.
Anyway, I'm not sure if this particular Q & A will make it to the Equisearch Web site, home of magazines like Dressage Today and Practical Horseman, but they do maintain an online compilation of Ask the Experts that you may be interested in reading.