healthy horse barns
10.15.19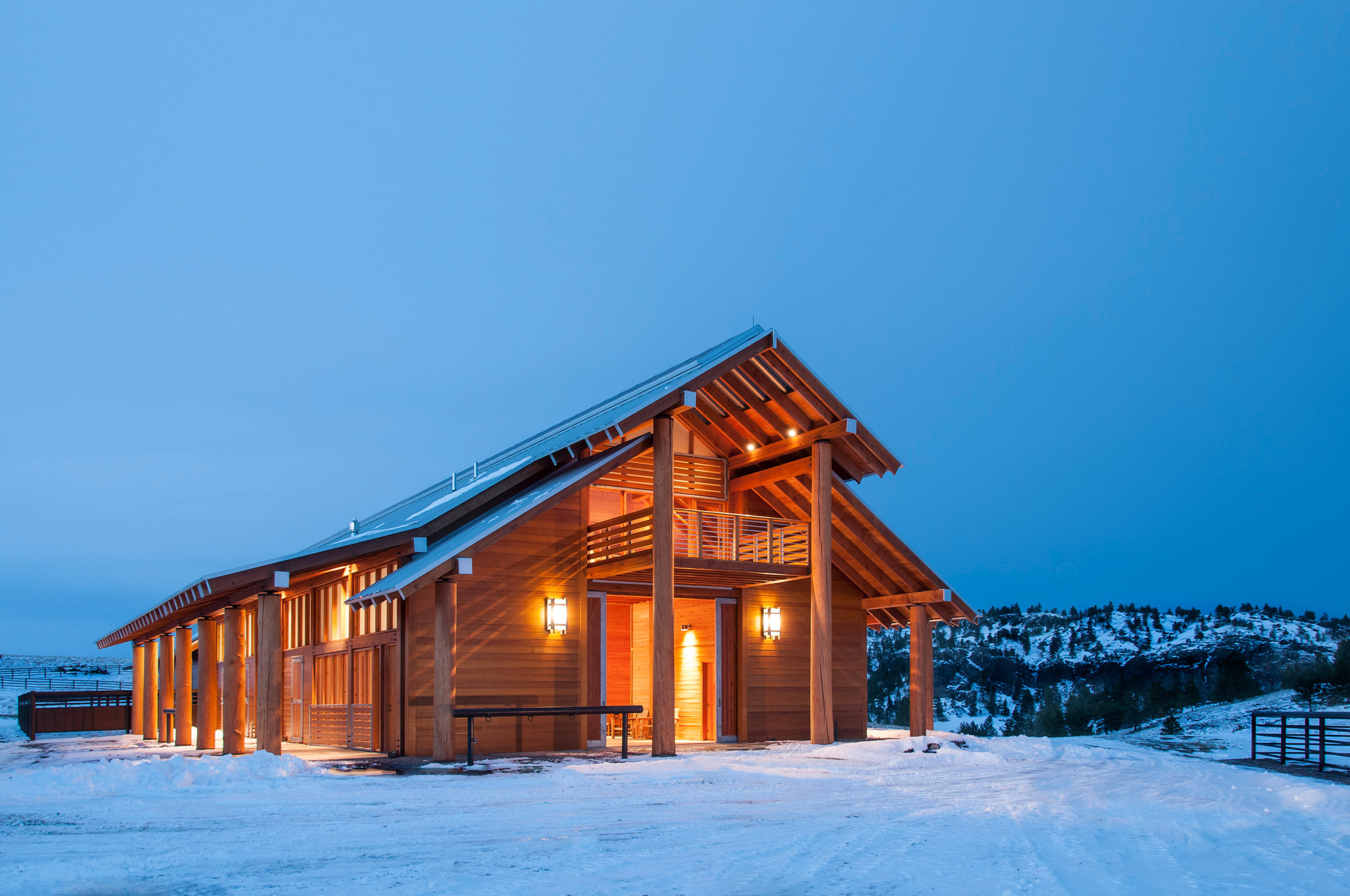 Q: I'm in the process of planning a barn in Missouri, and finances require an economical metal post-and-frame structure. I've studied Blackburn's ventilation and lighting philosophies and will incorporate them as best I can.
My question is about orienting the barn. I plan to have a center aisle, with exterior Dutch doors in every stall. Each 12'x12' stall will have an exit to the main 12' aisle as well as to an outside run-in. The stalls will be used primarily during more extreme weather or when I need to confine a horse due to injury or illness, otherwise the horses will be outside. Overhangs on both sides of the barn will function as run-in shelters for the paddocks.
I know from your writings that the ideal orientation is perpendicular to the prevailing summer breeze. However, because Missouri's cold winter winds are from the same direction, the horses on that side of the barn won't have wind protection when in the run-in areas. I know that's less of a problem for owners who keep their horses in stalls most of the time, so I've not been able to find an answer to this question. I will obviously allow them access to the stalls during the bitter cold weather we get, but for most of the winter all they need is some windbreak. How do I optimize winter protection without compromising ventilation?
Thanks,
Worried about Winter
++++++++++++
A: Orientation is certainly very important when siting your barn. But because wind is always changing and its direction and velocity can be affected by terrain, other structures, and vegetation, the angle is not a hard and fast rule.  It's good to try and locate the barn perpendicular to the prevailing summer breeze but that also depends on the design of your barn.  If you have lived on the farm a few years you may know the particular wind patterns for your property.
The design of the barn is as critical – if not more so – than the orientation.  How and where you permit air to enter the barn (preferably along the low wall along the long side of the barn and at the eaves where the roof joins the side walls), and where it is allowed to exhaust are critical.  In some areas, it may be necessary to provide some form of close-able dampers on the low wall vents to control the wind and temperature that can impact a horse that is in the stall but doesn't have the flexibility to get away from it.
The environment within the barn should be within 8 to 10 degrees of the temperature on the outside.  Your barn should ventilate vertically to reduce the horizontal movement of bacterial- and moisture-laden air.
We always say the best environment for the horse is outdoors where it can make its own choices about its environment and health. A naturally-kept horse should be able to get out of the hot sun and find shade or get out of a cold wind in a shelter or behind a wind block.
By turning your horses out most of the time you are certainly on the right track for happy, healthy animals.
Missouri's winter weather isn't so extreme that it prevents you from a center aisle barn with stalls on both sides.  Orient your barn so that turnouts are on the windward side of the barn and leave the Dutch doors open so your horses can get inside away from the wind.  For the turnouts on the cold windward side of the barn, blanket the horses.  And keep their winter coats unclipped.
Since you've read "Healthy Stables by Design," you know that Blackburn designs typically use the chimney effect and the Bernoulli principle to create natural ventilation. Our barns become passively designed machines that work to provide healthy conditions for the horses inside.
Good luck with your new barn!
Posted in
Equestrian News
,
News and Press
|
Tagged Architect, barn architecture, barn design, barn in winter, Barns, Blog post, custom horse barn, Design a Horse Barn, Equestrian Architect, equestrian architecture, equestrian design, equestrian facility, Equine, Equine Architect, equine design, farm planning, healthy barn, healthy horse barn, healthy horse barns, healthy horses, Horse, horse barn, horse barn design, Horse Barns, horse farm, horse racing, horse stables, Horses, importance of ventilation in horse stalls, John Blackburn, Stables, Sustainable, thoroughbred, Ventilation, Virginia, Winter barn
|
Leave a comment >
07.25.19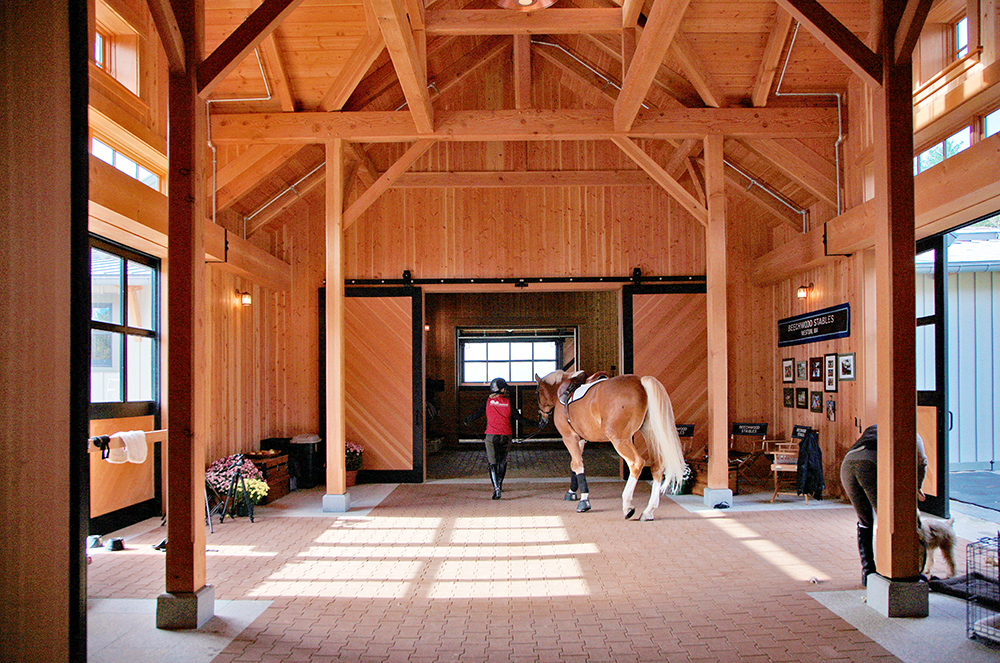 How can you can be proactive in the design of your farm and your barn to protect your horse from the threat of barn fires? What can you do to minimize the damage and loss of buildings and most importantly your horse and human life?
Prevent, Contain, Suppress
Prevention is your best protection and your first line of defense. There are any number of reasons why barn fires occur. Many are outside your control but there are steps you can take to prevent a fire from getting started. Never overlook important management practices – organize, clean and prepare.
1) Keep a clean barn/farm (dust, cobwebs, bird nests, debris).
2) Keep aisle ways clear.
3) Keep your barn neatly organized.
4) Develop a fire safety plan and practice it.
5) And, of course, NO SMOKING!
PREVENTION
Site planning is a critical component of farm fire prevention.
We recommend a separation of buildings and hazardous functions/materials from the barn.
Generally, we use a rule of thumb of 30' to 50' and sometimes 100' depending on the terrain, building codes and building materials used. Hay / bedding, equipment and other flammable materials should be stored separately from the barn and isolated if possible within masonry fire resistant structures.
Manure storage is a critical concern and can be a flammable substance if not stored properly. It should be isolated separately.
Egress from the barn for people and horses. In case of a barn fire, the barn should open into a contained area so horses can be let loose quickly yet contained. We recommend locating at least one good size paddock near the barn that can receive a number of horses at one time. If possible, provide perimeter fencing around your farm to contain horses that may get loose and out on a roadway. Consider access to the farm and buildings for the fire trucks (we recommend a 12' to 14' access road minimum) with adequate support and clearance for the trucks and other emergency vehicles. Provide adequate clearance under trees, power lines and over farm bridges. Make sure you have adequate turn-around space for the emergency vehicles.
A suitable water source is critical. Provide either an on-site storage ponds, water tanks (above or below ground) and your water supply. If it's from a well or municipal source consider the GPM flow, water pressure. You may also want to have a generator on the farm that can serve pumps if the power service should fail. And remember, fighting a fire will produce a great deal of water and that will turn into mud. So consider surface drainage for added safety around the barn.
Building layout is critical for preventing barn fires. Blackburn always designs wide center aisles. Keep them free of clutter. A shed row provides a safer layout for escaping a burning barn but they are not suitable in all locations.
Design your barn with no dead end aisles. Provide at least two exits for people and horses. We recommend openings of 1½ to 2½ the width of your horse (from stall and barn).
Consider the swing of doors – the direction of swing as well as latches used. We recommend sliding doors in the main aisle and hinged doors from stall to turnout stalls connected to the barn. The pin latch is far safer than the typical throw bolt latch. The pen latch is simpler in design (fewer moving parts and no springs and much faster to release.
The designers at Blackburn Architects make disaster prevention a priority through careful site planning and building design following THREE BASIC DESIGN PRINCIPLES:
1. BUILDING SYSTEMS/MATERIALS/FINISHES
The building materials and finishes are as critical as the barn layout. You should check your local building codes. (A good reference is the NFPA 150, 2019 edition). Though barns in many jurisdictions may be considered agricultural structures and not required to comply to building codes, we recommend you consult the NFPA code and adhere to it where possible.
There are four types of framing materials used in construction of equestrian facilities: light wood, timber, steel, masonry.
Light wood is the most common and lowest cost, but has the lowest resistance to fire. Timber frame is much safer. It will stand longer without collapse than light wood frame. Steel frame is flame resistant and can provide excellent protection. However, it is commonly used with light wood framing and other flammable finish materials that reduce its effectiveness in preventing or protecting from fire.
Electrical systems must be dust proof, rodent proof. Protect all light fixtures with cage or shatterproof lens. Remove or repair any frayed or damaged wiring. Do not use residential extension cords and do not overload circuits. Do not use household box fans. Heating systems within the barn should be kept to a minimum. Remember the barn is for horses, not humans.
Do not use portable space heaters and in warm rooms provide for installation of permanent heating equipment.
Lightning protection is another area of concern. Lightning rods are relatively inexpensive and should be installed on all barns if not all farm structures. Provide proper grounding devices and protection for all electrical equipment. You can install a warning system or rely on your phone weather app to alert you when lightning is near.
2. COMPARTMENTALIZATION
The second design principal is containment or compartmentalization. Compartmentalization uses firewalls and fire separations to contain the spread of fire and smoke. Insist that your builder close up all openings around beams, ducts, etc. Also, close up or limit attic or horizontal spaces thru use of fire curtains within those areas.
Your barn should insure proper ventilation for the health of your horse but you should be able to limit ventilation where necessary. The standard ventilation guideline is 1 sf per 100 sf of floor area in barn area or 1 sf for every 30 to 50 sf floor area in hay/bedding area.
Another design consideration to consider is to break up barns into smaller structures. A 24- stall barn is most efficient for a horse operation, but if possible it's better to create smaller barns or provide fire and smoke separations within the barn layout. This level of planning will provide a better level of protection thru isolation.
3. SUPPRESSION/DETECTION
The third design principal is suppression / detection. Early warning devices can be very effective, but they can be difficult in barn environments due to the dust and moisture. Always provide fire extinguishers throughout the barn and make sure they are inspected annually, they are the right type (A, B or C and we recommend having all three).
We also recommend including three types of detector devices; smoke, heat and flame. Each may be appropriate depending on the barn environment. For example, smoke detectors can be set off by dust and moisture. In those areas, you may want to consider another type, such as the laser light beam. Blackburn has used laser light beams in select areas, but they need to include some sort of delay mechanism so birds and other elements that can break the beam do not trigger an alarm. Consult with a fire detector manufacturer for the proper type and installation.
A smoke detector is your best line of defense, but a fire sprinkler is the best method you can install in your barn to suppress a fire. They come as either a dry or wet pipe system. The dry system is most common in barns that are subject to freezing temperatures. A wet pipe system is usually a lower cost but has limited use in unheated barns in sub-freezing areas.
Something to consider in a barn that may have nice finishes that could be subject to damage if the sprinkler system were set off by accident is the pre-action system. The Pre-action system is one that employs an automatic warning system that activates before the sprinkler system activates to protect from accidental discharge and protects damage to interior finishes
Finally, we strongly recommend that you consult with your local fire department regarding your fire protection plan and get your design approved.
Posted in
Equestrian News
,
News and Press
,
Sustainable Design
|
Tagged barn architect, barn architecture, barn fire, barn fire safety, custom horse barn, design horse barn, healthy horse barns, healthy horses, healthy stables, horse barn, horse barn design, sustainability in horse barns, sustainable barn
|
Leave a comment >
04.24.18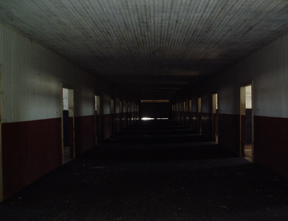 With careful attention to design details, it is possible to retrofit your barn to be healthier for your horses. One important renovation to existing built structures is the addition of skylights and ridge vents to increase light and air flow.
Only a fortunate few horse owners design and build a barn from the ground up. Most buy a property with an existing barn. As the photos illustrate, Blackburn Architects' client Kevin Plank, the CEO of Under Armour®, bought historic Sagamore Farm in Maryland, and undertook a significant renovation to add light and ventilation to the interior of his historic main barn.
Significant expenditures are not necessary, however. In this discussion, I'm offering simple recommendations for achieving healthier living space for horses starting with an existing barn.
VENTING OPTIONS
For venting an existing barn roof, I suggest one of two options:
1) Add Dutch doors along the barn sides or
2) Add a vent along the bottom edge of the skylight (or ridge if that works best though I prefer the curb vent for better free air access).
Option 1: Add Dutch doors along the barn sides
This option provides good access for ventilation to each stall and a great method of controlling air flow. An owner has the option of leaving just the upper door open to reduce the flow or open both upper and lower doors to give maximum free area. (Of course, in order to open both doors for full access you'll need to add an interior mesh panel to keep horse in the stall.) If Dutch doors aren't possible or within the budget, then I recommend adding low wall vents to bring in air low to the floor (which is good for foals and to vent odors caused by ammonia gases near the floor). The vents should be dampered for air control and screened to keep rodents from getting into stalls.
Additionally, Dutch doors provide an abundance of natural light, which reduces the need for electric lighting in the barn and helps purify the stall flooring, reducing the creation of harmful ammonia gases.
Option 2: Add a vent along the bottom edge of the skylight (or ridge)
This option allows for vertical ventilation of the barn using the Bernoulli Principle and the chimney effect. Though the existing barn may not have the best angle for prevailing breezes or roof slope, it will help nevertheless. I also recommend vents at the top of the wall at the roof eave if they can be added. This permits year-round ventilation above the heads of the horses, but still ventilates the barn vertically using the techniques described above.
ADDING SKYLIGHTS
There are a variety of methods and materials that can be used to retrofit skylights into an existing roof. At Sagamore Farm, Blackburn Architects' design replaced the existing shingles with a new metal roof (not necessary; Sagamore's roof shingles were worn out and metal was chosen as a better long term material). In more typical circumstances where the existing shingles are salvageable, simply remove the shingles along the ridge and cut out the sheathing or sub roofing material, leaving only the roof rafters.
Continuous curbs should be built along the edge of the opening. Although a continuous skylight or curb is not necessary, I find it aesthetically and functionally preferable. A skylight can then be placed on top of the curbs spanning from one side of the aisle to the other. The curb can and should be vented. The size and amount of free area depends on the barn design, size and location. The skylight width does not have to span the full width of the aisle but somewhere between 8 to 12 feet should be adequate.
The skylight can be either glass (costly and should be safety glass) or some form of polycarbonate. Check your local building codes for requirements. I do not recommend clear glazing. Translucent glazing reduces the visibility of dirt and filters light, which better serves the barn interior. It's best not to let a strong band of sunlight hit a stalled horse for a long period of time. I also recommend painting the interior of the roof and framing members a light color to improve reflectance.
If a continuous skylight is not possible, then individual roof skylights can be installed over the center aisle. However, if the skylights are not high on the roof and are not vented, they may not do much to increase the barn's vertical ventilation.
If the barn has a loft it may be possible to remove it, leaving specific structural members spanning across the barn to hold the building together and to provide wind shear strength to the barn. If the loft is used for hay storage (which I don't recommended for health and safety reasons), then it may be possible to remove a portion of the loft over the aisle leaving the loft in place over the stall for storage or the reverse of that (remove the loft over the stall but leave it in place over the aisle).
While these approaches to increasing light and ventilation in existing structures can work wonders, you should always contact a structural engineer before installation of skylights to determine if the barn can take the modifications needed of if some additional structural work needs to be done.
Posted in
Equestrian News
,
News and Press
|
Tagged adding light and ventilation to a horse barn, Adding skylights to a barn, adding ventilation to a horse barn, Architecture, barn architecture, Blackburn Architects, Blackburn Architects barns, Blackburn Architects Horse Barn, equestrian architecture, equestrian design, equestrian facility, Equine Architect, equine design, farm planning, healthy horse barns, horse barn, horse barn design, how to add skylights to a barn, how to add ventilation to a horse barn, John Blackburn, Sagamore Farm, thoroughbred, thoroughbred barn, thoroughbred horses
|
Leave a comment >
11.21.16
John Blackburn answers your questions about barn design.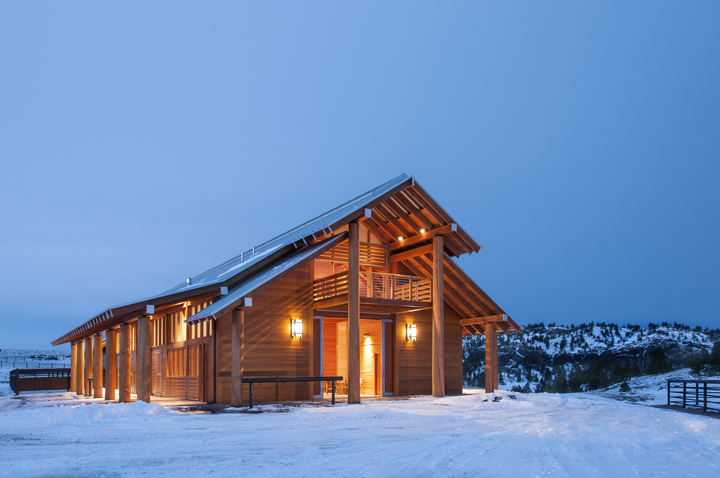 Q: Dear John,
Long ago you were kind enough to give me a bit of advice about planning a barn.  We got started last spring, but were waylaid by an evil contractor who put the barn in the setback, with poles only 18″ in the ground, and a drainage system two feet too high to catch any water.  On top of that, he dumped 130 truckloads of bad, unnecessary fill, and built a retention pond that is 36% too small – UGH! Luckily it was all easily documented by the project's engineer so we are able to recoup a little of the money laid out.  
So:  moving along, we deconstructed the barn, redid all the drainage, and turned to a pre-fab barn.
The new building is a 60×120 raised center aisle structure.  I requested open sidelights and a ridge vent to help keep airflow going in the soggy, humid climate in the northwestern US.  The stalls almost always will be open to an 8ft shed eave and attached paddock.  Their fronts are composed of lots of steel mesh — so lots of air.
I'm NOW STUCK. I feel quite stuck because no one around here understands your way of doing things. I'm trying to incorporate what I learned over the years from your publications.
Please help with my roofing situation:
The roofing is 26g boxed rib metal panels.  I requested polycarbonate panels be incorporated for natural light.  The question is whether it's unwise to let the whole raised center be polycarbonate, or go with only one light panel per 12ft section–and whether it's crazy to use clear vs opaque white panels.  (Most weeks out of the year it is damp and grey and cold here.)  The barn company is in hot California so they think the whole idea is nuts.  
If moved to offer an opinion, please know I'm already grateful.
Thank you,
Northwest Endurance Rider
A: Dear Northwest Endurance Rider,
I understand why you resorted to prefab because you've been thru a nightmare. However, prefab barns can be hot boxes in the summer, and don't always provide adequate controls for natural light and ventilation. Pre-designed, pre-engineered buildings are typically designed the same for all areas of the country and no two areas of the country are alike nor are the sites. Environmental and weather conditions can differ dramatically so a prefab building designed to fit all sites just does not work best for the health and safety of stabling for horses.  But I understand.  You've selected the barn you want, now my advice is you should provide for as many options as you can for control of natural light and ventilation.
You mentioned a 60 ft x 120 ft raised center aisle structure.  How many rows of stalls are there in the barn?  The best arrangement is to have one center aisle and a row of stalls along each side of the barn.  The 60 ft width sounds like there are two main aisles with rows of stalls on both sides of each aisle.  That would mean two of the rows of stalls are back to back and not on the exterior where they get adequate ventilation and natural lighting.
The 8 ft shed eave is too low in my opinion.  I use 12 ft as a minimum though 10 ft may work for smaller horses and if there are no obstructions below the roof.  However, there are usually lights, fans, beams, etc. that drop down and they can be a danger to horses.
I like the use of translucent polycarbonate panels.  Translucent, not clear, as it breaks up the light and hides the dirt that accumulates on the skylight over time.  Providing polycarbonate across the center aisle sounds nice, but I'm unsure how it will look on the barn design you selected.  If you're putting a skylight over the raised center aisle roof, what is on the face of the raised center portion?  There is usually some sort of glazing or louver for venting.  It will be important that these elements complement one another. Thanks for the question and I hope this is helpful.  
Good luck!
John