horse barn architecture
02.24.22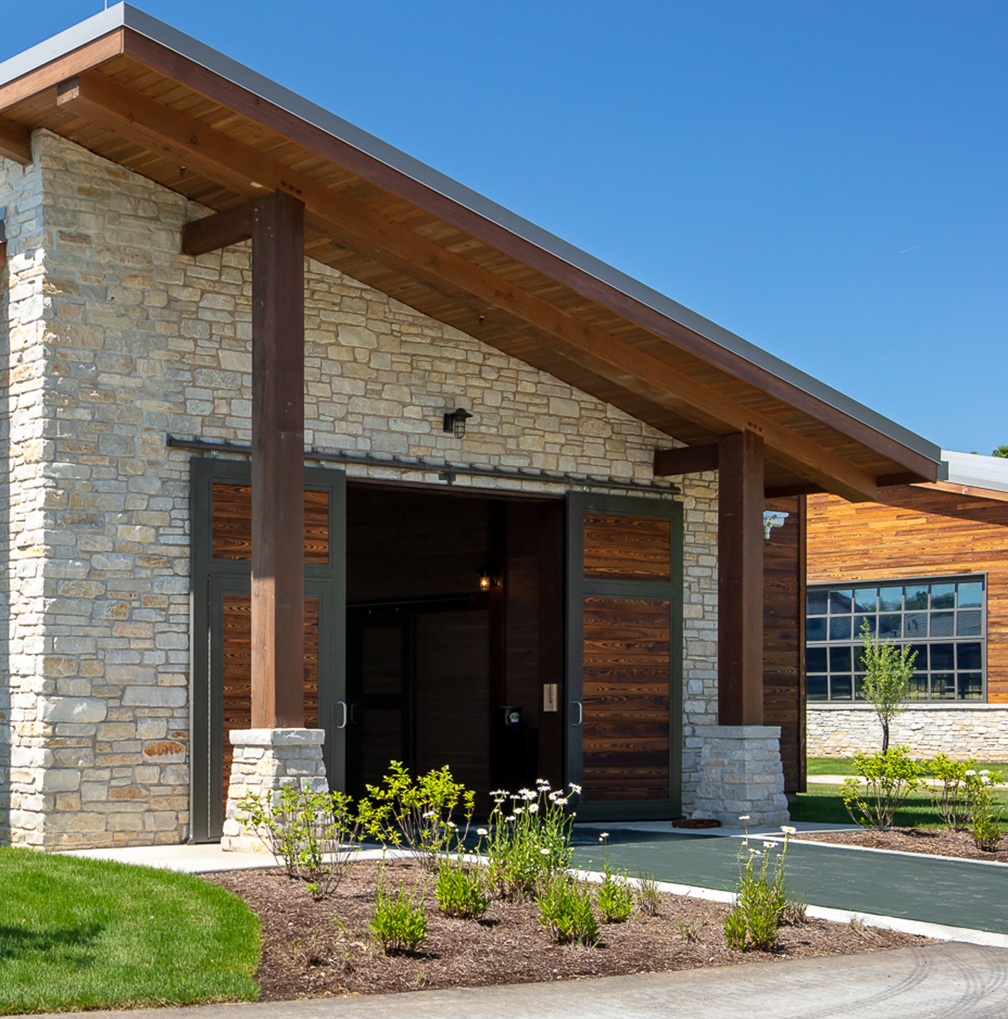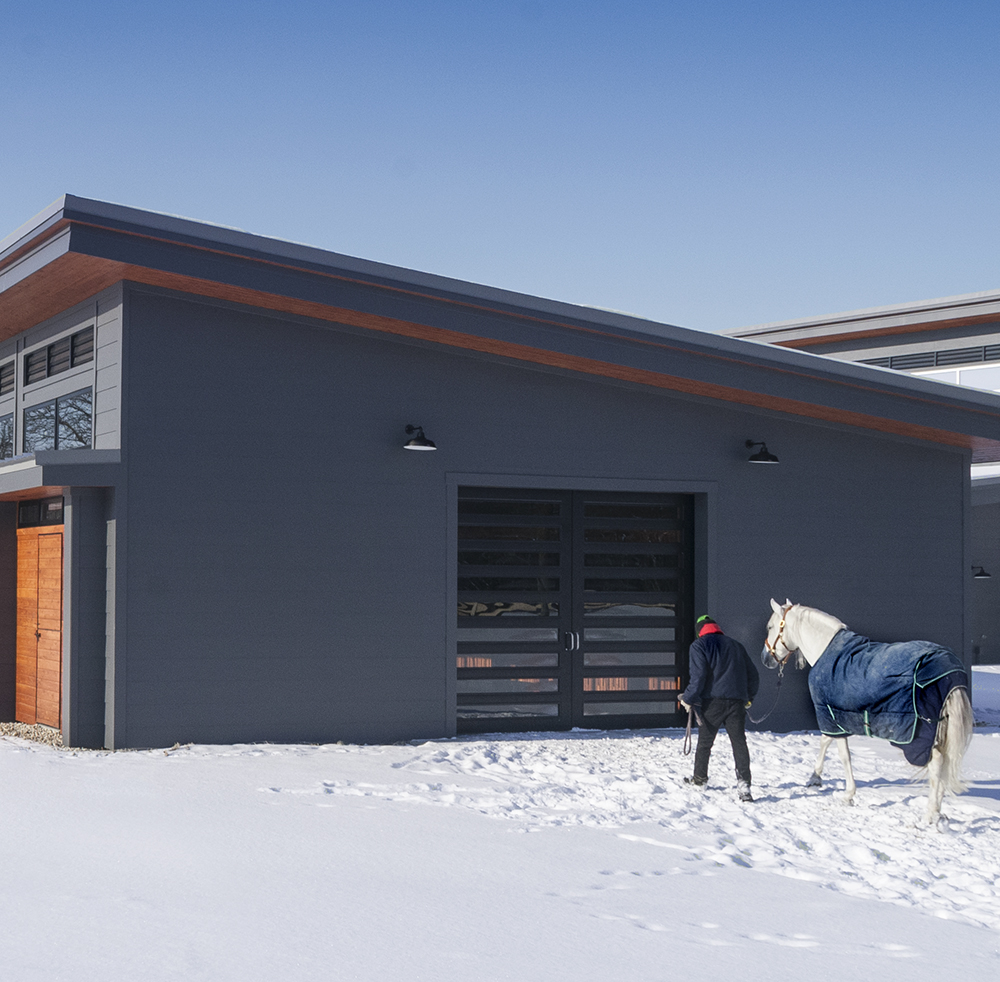 Aisle doors are a great way to add interest to your barn because they come in a huge variety of designs, colors and details. Consider:
1. Width. The aisle doors need to be wide enough for a tractor to get through with a little room to spare for maneuvering. We recommend 12 ft at a minimum, or larger if possible.
2. Swelling/shrinkage. Wood doors can warp with humidity and moisture and deteriorate faster over time. Metal doors should be painted and powder coated over galvanized steel if possible.
3. Overhead rollers. There are several different types of rollers. One is the cannonball but another is the flat bar roller (more "traditional" looking).
4. Ice protection. Barn doors in cold or snowy climates need some sort of ice and snow protection to prevent the roller apparatus from freezing up. Generally we specify some sort of snow shield across the top of the rail. It can be very simple but heavy sheet metal or a small roof structure that adds to the look of the barn. Also, you may need to access the rollers for adjustment during the year as the seasons change causing the doors to swell and becoming difficult to roll. The doors, especially steel doors, will expand and contract a small amount and you may want to adjust the rollers a couple times a year. So you need to provide access to the rollers to do that.
5. Light. Aisle doors typically have large glazed areas (tempered glass only) for adding natural light to the interior of the barn. The size and design depends on your aesthetic, but we typically locate these windows starting at roughly human shoulder height so you can see into the aisle when they're closed. This is essential for convenience and safety. Someone could suddenly open a large door from the outside and spook a horse on the inside if they are unaware of what's happening on the other side. Plus, some doors can be noisy as they open. We recommend making the glazed opening large but not too large so as to not give a loose horse the idea that it's open and they can exit thru it. Adding some sort of mullions or design to the glazed portions can help prevent that from happening and also add to the overall design look. (See the second photo, of Pegaso Farm near Chicago.)
6. Inside or outside? Aisle doors can also be mounted to the exterior surface of the barn or to the interior. If on the interior, a double wall system forming a pocket door is advisable. (Make sure the pocket can be cleaned occasionally.) Weatherstripping is usually not needed as we like to have our barns breathe, but you may want to provide some sort of cushioned rubber weather seal where the doors meet or a brush type seal at the jambs and sill to limit the cold winds and other debris from circulating into the barn.
7. Bottom guides. We recommend some sort of floor glide to keep the door in alignment. But that can be done in a variety of ways or left off entirely. We often provide a stop at the floor or at the top rail to prevent the door from sliding too far to the opposite side.
8. Never put locks on these doors! You may need them to open quickly in an emergency.
12.04.18
A client recently asked one of our architects for recommendations on adding heaters in the barn.
When an owner requests forced air electric heating system in the stalls, we advise against it for several reasons:
1) Forced hot air rises and heat stays at the ceiling level, adding unnecessarily to the cost of operating the barn. Blackburn barns are designed to allow air to escape thru the roof vents, so at a minimum sending heat skywards doesn't make financial sense.
2) Forced air systems move airborne particles around the space and, given the size of the barn and the heat loss expected thru the roof vents, heaters must pump a lot of air at a high velocity to provide sufficient heat to keep the barn to a temperature that might be considered sufficient (which varies with personal preference).
3) Forced air heaters are unhealthy for horses because they spread dust, mold and disease throughout the stable area. Horses give off a tremendous amount of moisture, especially in winter, and that moisture contains bacteria and other viral matter that can be harmful to their sensitive respiratory systems and spread to other horses. If a barn is closed up too tightly (the barn needs to breathe in all temperatures) the barn can become too warm and increase the opportunity to breed bacteria that would normally be ventilated out of the barn. There may be some exceptions for older and ailing horses but a tightly-closed, heated barn is often more harmful than helpful. We recommend discussing with your vet exceptional conditions that may be needed for young, aging or infirm horses.
Strategically placed infrared heaters can be a good choice to keep the chill at bay in human-occupied areas.
Infrared is another term for radiant heat. For example, a stove, fireplace, oven or even our own sun emit infrared (radiant) heat energy. That energy converts to heat, warming the surrounding air.
In a barn, infrared heaters are specially made to produce safe, comfortable radiant heat. When asked by a client, we specify that heaters are directed downward from the ceiling toward a target area below. In an equestrian facility, infrared heaters can be directed toward wash stalls and/or and grooming areas, or down a common walkway, between horse stalls or even in riding arenas.
Blackburn Architects uses two scientific principles to ventilate horse barns – the Bernoulli Principle and the Chimney Effect – vertically removing harmful bacteria and ammonia gases that can cause disease and odors. Providing heat for the horse by forced air does little if anything to help the horse except create harmful, unhealthy conditions.
When requested by a client, we can specify heated floors. Infrared tube heaters emit soft, comfortable radiant heat energy without creating drafts. Infrared heats the ground. Warm floors = warm bodies & feet.
As we all know, horses can naturally withstand colder temperatures better than hot temperatures. If permitted to keep their winter coat and remain dry, horses can withstand even very low temperatures. For colder temperatures, we recommend keeping cold drafts off the horses by closing Dutch doors at stalls (add weather stripping to the doors if needed) and closed aisle doors. In other words, if a horse can stay dry and get out of a steady breeze or draft they have a much better chance to maintain their own health.
Posted in
News and Press
|
Tagged Adding heaters to a horse barn, barn architecture, barn recommendations, Blackburn Architects Horse Barn, designing a horse barn, Equestrian Architect, equestrian architecture, forced air heat in barn, forced air heat in horse barn, Heat in a horse barn, Heaters in a horse barn, horse barn architecture, Infrared heat in a barn, radiant heat in a barn, radiant heat in a horse barn, stable architect, thoughts on planning a horse barn
|
Leave a comment >