horse barn design
02.02.16
Coming off the heels of a truly epic storm for the Washington D.C. area (and most of the east coast!), I thought I'd take a moment to address how design techniques can help barns "weather" extremes.
In the United States, the upper northeast regions through to the Midwest are prone to experience weather extremes in the form of snow and ice. While we cannot entirely "weather proof" a barn, we can make it more resilient to some of the more damaging effects of weather phenomena.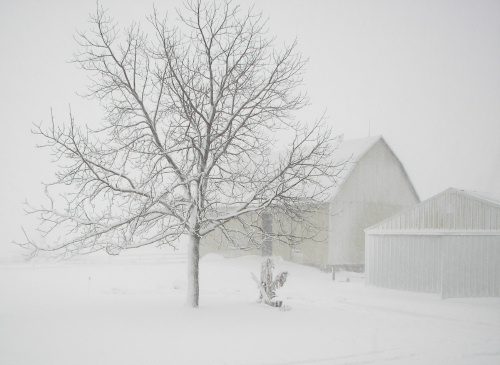 The roof of your barn needs to be able to:
Withstand the weight of snow and/or effectively shed it
Prevent or reduce the formation of ice dams
Redirect "roof avalanches" from sliding into high traffic or poor drainage areas and also reduce associated noise that could frighten the horses.
In addition to contributing to the Bernoulli principle I incorporate for natural ventilation, steeply pitched roofs also contribute to effective, gradual roof shedding and the redistribution of snow load. Ideally the pitch should be between 4/12 and 6/12 to get the optimal shedding effect (although, we generally try to keep pitches at 7/12 or more to take full advantage of the Chimney Effect and Bernoulli principle for natural ventilation)
Roofing material will also factor into how the snow will shed. Metal roofs are excellent as they are smooth and slick. They will also stay colder longer; reducing the likelihood that snow will melt and form ice dams (more on this below). Snow will shed from a metal roof even if the pitch is lower. Shingled roofs, however, will slow down the shedding process by "holding on" to the snow and allowing it to stay in place and accumulate. Consider a steeper pitch if you prefer a shingled roof as it will facilitate the shedding process over the rougher material.
Now, you might be saying to yourself, "Well, the snow is off the roof…but it's all over the place! Now what?" Including strategic roof overhangs will complement the steeper pitch by helping to distribute shedding snow away from exterior walls and out of traffic and poor drainage areas. Be wary though, snow sliding off roofs can be noisy and frightening to horses, not to mention dangerous if it falls on you! Snow guards on the roof can help reduce the noise associated with shedding snow and keep huge sheets of it from falling on (and potentially harming) 2 and 4 legged passersby. Gabled dormers over entryways can also be useful. They help to direct snow off to the sides.
Ice dams are another unfortunate side effect of snow-laden roofs. An ice dam forms when the underside of the roof gets warm enough to thaw the bottom layer of snow sitting on the other side. The water makes its way down to the eave where it refreezes, eventually growing into a mound of ice. As the ice dam gets larger, it can pull the shingles and edges up allowing water to get through and into the insulation and walls. Water damage then wreaks havoc on the interior of the barn. The ice dam could also break off the eave and take pieces of the roof with it or fall on passersby. Sure, there are ways to deal with ice dams once they've formed, but natural ventilation can help prevent them upfront. Natural ventilation keeps the underside of the roof within 10 degrees of the outside temperature, which aides in keeping that critical layer of snow right on top from thawing and running down towards the eaves.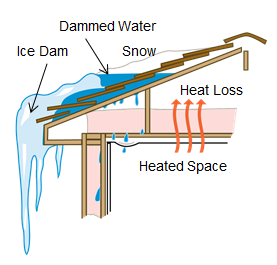 Site and circulation planning can help prevent and/or reduce the impact of icy conditions around equine walkways. In the interest of horse safety, I try to design site circulation so that horses do not need to move over asphalted areas intended for trucks and service vehicles (there are other benefits associated with that as well). Asphalt is not great for horse's knees, generally, but it is particularly problematic when wintery conditions lead to the formation of "black ice" — a thin sheet of ice over the asphalt that can be imperceptible to the horse or persons walking on to it. Horse pathways in and around the barn should include porous footing that absorbs and carries moisture away quickly. Presently there is no way (that I know of) to prevent pastures from freezing over, but you can maintain a dry paddock or "sacrifice" lot where your horses can be turned out when pastures have been effected by inclement weather. Paddocks with considerable slope can be particularly hazardous when they freeze over. That's when a "level" dry lot can be very useful!
As many on the east coast found out this past week, there is only so much preparation you can do in a couple of days before a storm hits. You, your horses, and your barn will benefit from built in preparation.
Posted in
Equestrian News
|
Tagged barn architecture, barn design, beechwood stables, black ice, Blackburn Architects, dormer, Equestrian Architect, extreme weather, farm planning, gable, horse barn design, horse stables, ice, ice dam, ice damming, John Blackburn, overhang, roof, roof pitch, snow, snow load, snow shedding
|
Leave a comment >
06.22.12
"When you take a horse out of its comfort zone—the wild—it's your obligation to create an environment that protects its health and safety. A poorly designed barn can be worse than no barn at all." – John Blackburn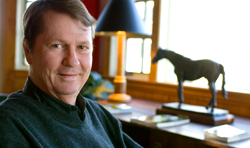 John Blackburn knows barns. As Blackburn's owner and senior principal for the past 25 years, John has designed over 150 equestrian facilities across the United States and abroad.
In his blog, Stable Minded, John rhapsodizes about the design process behind our horse barns and equine facilities as only he can. His blogs cover a variety of equestrian news and topics: from the story behind projects we've designed to equestrian and design issues, such as how to increase natural lighting in barns. For those of you with questions or comments about the nitty-gritty details we face when designing barns, John considers his blog an open forum to discuss what's on your mind.
If you're curious about the architectural process, like to view construction photos from start to finish, or have questions about how it all works, we invite you to read and comment at Stable Minded. It might not be literally straight from the horse's mouth, but we like to think it's pretty close.
05.16.12
Quite a few years ago, I participated in a web chat (remember those?) with the folks at EquiSearch. During the chat, a few chatters presented me with questions about their barn projects, which ranged from "how to's" regarding initial planning stages or "what now's" after building the basic framework. For old time's sake, I thought I might share the chat's transcript. For the sake of those reading today, I'd like to encourage any and all of you to ask away with questions or to present design issues of your own.
gatsbysmom – How much roof overhang do you recommend for a barn in the South?

Blackburn – Gatsbysmom…roof overhangs are very helpful in the south for shading…if you have Dutch doors where horses can stick their heads out, it allows them to do it…make sure the roof is projected out far enough so runoff doesn't drop on the horses' heads…a good dimension is 3.5 feet.
06.22.11
This private equestrian facility includes a 14-stall barn, three-bedroom staff residence, and a service wing for hay, bedding, and equipment storage. Designed in a French Colonial style indigenous to the South, the barn and residence feature coral stone water tables, stucco wall finishes, and barrel tile roofs. The generous use of dormers provides abundant natural light to the barn stalls and aisles and to the second floor of the residence. This project was featured in Elle Decor magazine.
Program 14-stall stable and three-bedroom staff residence
Completion 1997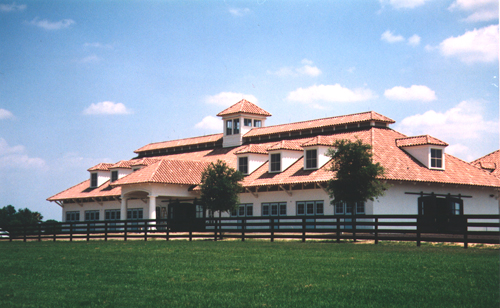 11.05.10
A few weeks ago, some of my staff and I were able to tour one of our recently completed projects, a new horse barn, arena, and residence (for which we did some renovations) in Marshall, Virginia. Marshall is located in the Northern Virginia piedmont, just outside of the well-known horse communities of Middleburg and Upperville. With beautiful, sloping land, the area is home to several farms, vineyards, and country homes.
The 8-stall barn has a lounge with an office on the second floor and an attached arena for the owner to practice dressage. I'm very pleased with how the new facilities have turned out and hope the owners are too. For more information on the scope of work, please see my previous post. [slideshow]