Horse Barns
05.17.18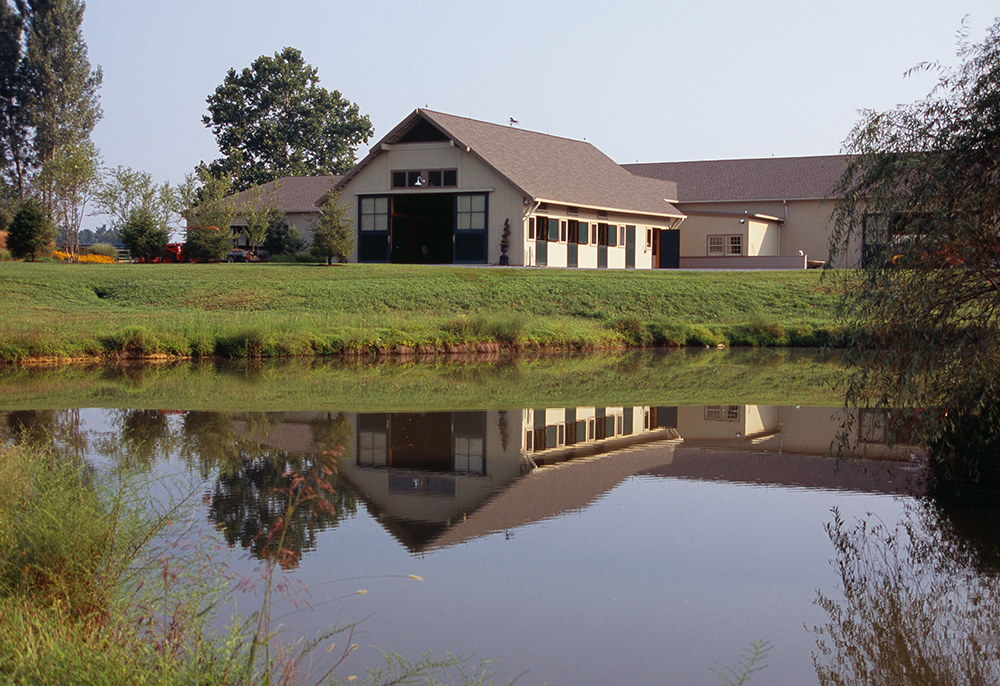 By John Blackburn
One of my favorite sayings regarding water on a farm is, "Certainly not possible in all cases, and not likely in many, but if at all possible, try to ensure the water that leaves your property is as clean as when it came onto the property."
My experience designing equestrian facilities, a personal interest in issues of sustainability, and my volunteer work with the Equine Land Conservation Resource, have raised my consciousness around land use issues regarding water. How a property drains it, where to find it, how to store it, and so on.
Whether your property suffers from too much or too little, water is an essential requirement for running an equestrian facility and has a significant impact upon the welfare of your horses, the efficiency of your farm and the budget of your operation. Water plays a big part in most Blackburn Architects equestrian projects. I thought I'd address a few solutions we can offer when there's too much coming onto your property (not your barn – that's another issue for discussion).
It's a problem that has come up recently at a farm in Texas, where clients face excessive stormwater runoff on their farm. When the rains started this spring, suddenly excess water poured onto their land from two different counties; displacing basically an entire neighborhood's volume of stormwater runoff onto their farm.
The team at Blackburn Architects will address this issue by determining the sizes of storages (dams or tanks) and diversions needed. Among the solutions that we'll apply to divert rainwater off pastures and away from buildings and high-traffic areas in the coming weeks and months are:
• Swales or Berms. Berms (elevated earth) and swales (shallow trenches) can act like gutters to redirect water away from areas that
get too much water. Planting grass, trees, and bushes will assist in stabilizing these natural water channels, so they don't become victims of
flooding over time.
• Catch Basins. A catch basin is an underground "reservoir" which collects water and drains it appropriately. Catch basins can
greatly improve farm drainage issues, allowing rainwater to flow through underground pipes leading to a sewer system or holding tanks (where it
naturally disperse). They offer a good method for moving water away from structures and off property, especially if you have to cross roads. At
Wyndham Oaks, in Boyd, MD, a Blackburn designed a system that takes water off the pastures and away from the structures, placing it into a long swale
that runs between paddocks.
• Retention Ponds. Retention ponds usually fill as a permanent pool of water, and they can also serve to temporarily detain excess
stormwater. When stormwater enters these ponds, it's released over a period of a few days, as water levels slowly return to normal.
All these methods of moving excess water can be interconnected. Run-off entering a catch basin flows through a daylight drain to swales located between paddocks. Before it leaves the site, runoff goes into a retention pond, which allows it to evaporate or gradually seep back into the soil, and recycle.
Posted in
Equestrian News
,
News and Press
|
Tagged barn architecture, barn design, Blackburn Architects, Blackburn Architects barns, Blackburn Architects Equestrian Design, Blackburn greenbarns, draining stormwater on a horse farm, Draining water on your property, Equestrian Architect, equestrian design, equestrian facility, Horse, Horse Barns, Horse Barns and Stormwater, Planning a horse farm, Too much stormwater, Too much water on your property, Water on a horse farm
|
Leave a comment >
02.23.18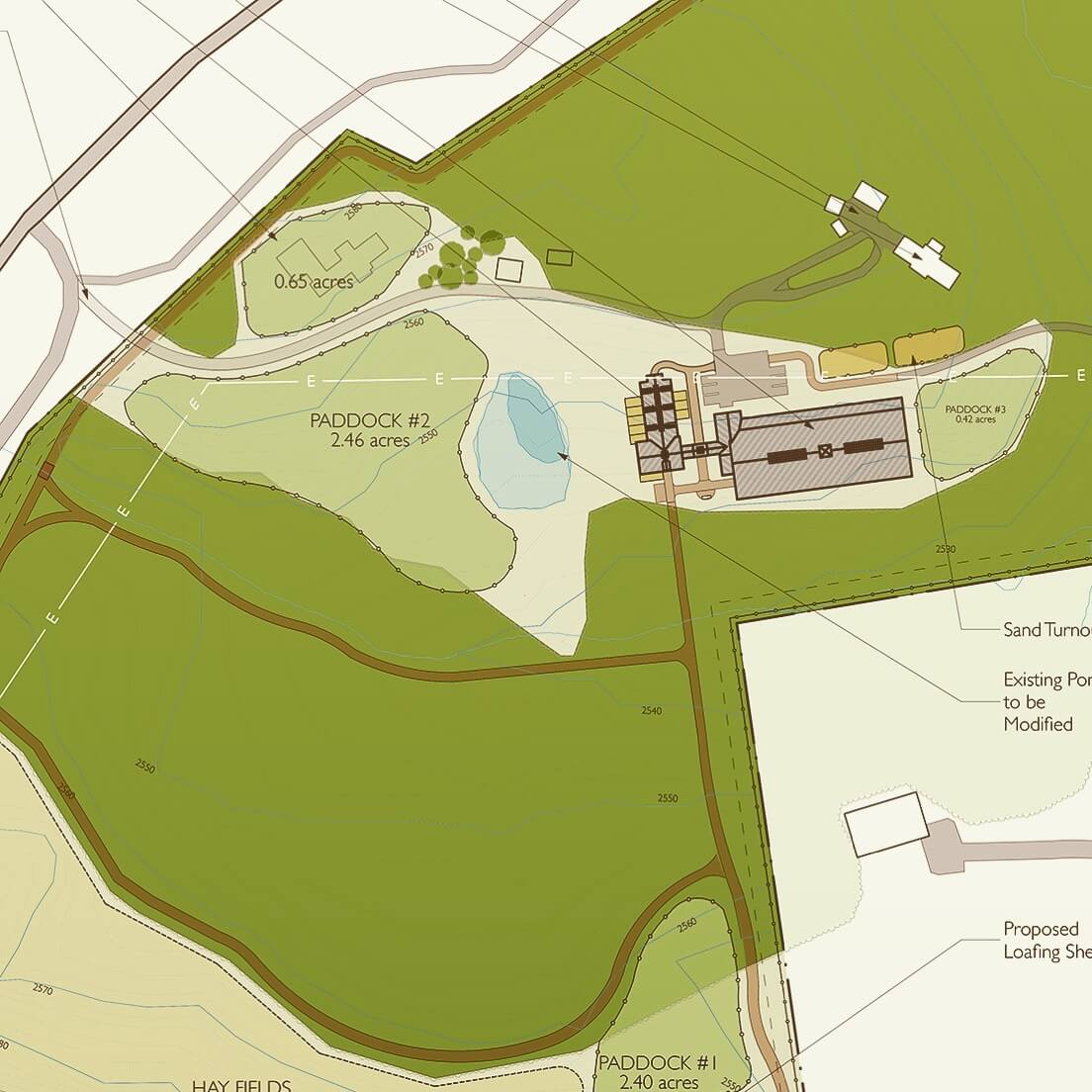 Today I got a call from a client who's buying 120 acres in North Carolina and plans to build a new equestrian center. It's been years since horses have been on the property. The pastures and paddocks are overgrown. The fences are in disrepair. The property has steeply sloped areas but the client wants a dressage ring. Drainage will be an issue. Together, we'll figure out a way forward by starting with a Site Plan to map the future; completing the owner's vision in budgeted stages over several years.
A site plan is completed by studying topography, wind and solar directions, neighborhood easements, height restrictions, zoning restrictions, soils and operational necessities (where are roads, pastures, barns, storage sheds, etc.), There are many benefits to putting together this "roadmap" for future use of the farm property. Consider that there are three major categories of costs when planning to bring horses onto your property: 1. Operational, 2. Environmental, and 3. Infrastructure. Proper planning will save you money in all three areas. Fewer roads, less fencing, better drainage all ensure that the whole farm, not just the horse barn but the entire collection of structures on the site, operates efficiently and safely.
Operational Considerations: First locate where you'll put the horses – where is your turnout? Where will you store hay, equipment, or vehicles? Do you have access for manure pickup, large-truck deliveries, guests or visitors? Minimizing the number of steps necessary for your daily routine (turnout, stall mucking, etc.) will save labor time, which of course you know is money in the farm biz. Planning will also preserve space for paddocks.
Environmental Considerations: Figure out structure placement within your acreage. It's important to properly orient any new buildings in the landscape. We design our barns to generate their own ventilation, placing them perpendicular to prevailing summer breezes. (One of many design considerations for maximizing light and ventilation, which is a subject I've written about often.) Additionally, placing structures where the land will drain easily makes good sense and will save you and your horses potentially hours of muddy misery or the cost of constantly replacing eroded footing.
Infrastructure Considerations: Fewer roads to maintain means fewer dollars spent.
Creating a master plan does not mean that every part of it needs be built at once. The plan may end up taking years to implement, but as each new structure or paddock is added, it isn't done in the usual haphazard way. It will save you from asking, "You know, I could use a tractor shed somewhere?" Even those with very limited budgets should consider getting the advice of an expert at the planning stage, given the importance of the optimum farm layout.
Bringing in a professional to carefully plan a site doesn't mean you need to commit to having a custom barn designed. Blackburn Architects' guidance can help whether you're purchasing a kit barn, designing a custom barn, or renovating existing structures. A site plan stands by itself as a service we greatly enjoy delivering to clients across the country.
Posted in
Equestrian News
,
News and Press
|
Tagged Architect, Barn, barn architecture, barn design, Blackburn Architects, Blackburn Architects barns, Blackburn greenbarns, Equestrian, Equestrian Architect, equestrian facility, Equestrian Master Planning, equine design, Horse, Horse Barns, horse farm, Horses, John Blackburn
|
Leave a comment >
02.15.18
(Originally printed in Equine Wellness magazine, March 2015; newly edited and updated)
I've always made it a point to use passive renewable design elements and sustainable materials in my equestrian designs. The motivation is designing for the health and safety of horses, so it's not surprising that what's recommended for creating human and eco-friendly structures is also recommended for equines.
Nowadays, Blackburn Architects' team rarely encounters a client who isn't enthusiastic about including sustainable design principles in their farm program. With green technologies evolving every day, there are more systems and product choices available to suit the unique demands of equine properties. The most prevalent elements include natural light and ventilation, recycled materials and regionally sensitive natural woods and products.
SUSTAINABLE BUILDING MATERIALS
We incorporate recycled and sustainable materials into the firm's barn designs. We've used recycled rubber bricks and pavers for aisle flooring, and recycled rubber mats for stall floors, and occasionally, stall walls. Not only are these products more comfortable for the horses' legs and knees, but they also provide a slip-resistant surface. As for building materials, we use everything from FSC (Forest Steward Council) certified lumber and recycled steel to fly ash concrete blocks and recycled wood.
However, we are always mindful of what some recycled material mixtures contain. Some products include substances (plastics, resins, binders, etc.) that could be toxic to horses through off-gassing or if they chew on the material. If you're designing your own facility, be sure your builder is familiar with the materials ahead of time and is comfortable working with them. Occasionally, we've run into a situation where the builder is unfamiliar with a product recommendation and accidentally convinces an unaware owner to use a product that may exhibit these harmful qualities.
BUILDING FOR CLIMATE
It's important that building materials make sense for both the design and the climate. In more northern locations, we try to design with timber that will provide more insulation for the structure. In the south, a masonry-style building helps keep the structure cool and is more resistant to humidity and insect infestation. While bamboo is an excellent renewable resource option, it's not often locally sourced and can be costly to ship. Douglas fir and southern yellow pine are the typical go-to lumber products for our firm. They are quality assured, sustainably harvested, and regionally sensitive. When combined with low VOC (Volatile Organic Compounds) finishes and paints, these materials make for sturdy, sustainable buildings that do not sacrifice quality or aesthetics.
WATER MANAGEMENT
Conserving water is imperative to any agricultural property, and there are many top-to-bottom green approaches to consider. It's crucial to intercept and collect storm water before it becomes ruinous run-off that can affect ground water and nearby ponds and streams. We frequently use porous or "popcorn" asphalt for interior and sometimes exterior floor covering. It's "self-healing" and aids in water drainage.
Since many horse farms around the country face changing weather extremes (torrential rain and drought come to mind), rainwater collection systems are vital for alleviating the resultant water issues. Roofs can be designed to route storm water into cisterns. The harvested water can then be channeled into irrigation systems for fields, paddocks, arenas and pastures, or collected for controlled distribution to prevent muddy conditions.
ACTIVE RENEWABLE SYSTEMS
In addition to passive systems, I highly recommend including active renewable systems in the design of any horse farm. The beauty of equine and agricultural properties is that they often feature characteristics that compliment these systems. Large swaths of land can facilitate geothermal power systems or wind-powered generators and other equipment. Roofs with large surface areas are common features of many agricultural buildings and make perfect platforms for solar panel systems.
One of the firm's current projects is an extremely energy efficient property in Missouri. While targeting net-zero energy use, we've included a geothermal heating system and solar panels that power infrared heaters in the wash stalls.
Green technologies have come a long way and today's solar panel systems offer more choices for collecting and storing energy. If designed properly and in the right location, it is often possible to fully rely on the solar panels for all your energy needs. Including these systems in conjunction with natural light and ventilation could conceivably eliminate outside energy dependency for your equine buildings. Over time, solar panels will pay for themselves in savings. Check with your local and state government about tax incentives for incorporating green energy saving systems into your property.
FRESH AIR AND NATURAL LIGHT
Accomplished with steep sun-heated roofs and vented skylights, the combined effects of the Bernoulli Principle (an equation of vertical lift championed by Dutch-Swiss mathematician Daniel Bernoulli) and the chimney effect (air pulled in low and vented up high) circulate fresh air throughout the structure while flooding the space with natural light. This method provides the optimal environment for horses because it turns the typically static barn into a machine while imitating the equine's natural environment. The process significantly cuts down on the cost and operation of electric lighting and fans and the health and safety risks they can create.
One of the challenges we sometimes encounter with clients is convincing them to include active systems in their design programs. This is usually due to upfront costs. The price impact can be minimized by smart design decisions. Knowing ahead of time what green options are available and which ones you'd like to incorporate will inform your budget early on and, if need be, help you plan the property with future installations in mind.
THE BENEFITS OF COMPOSTING
Composting is another great passive renewable option. We strongly encourage all our clients to include a composting system in their design program. Composting helps manage muck and removes harmful bacteria and other organisms to create natural fertilizer for paddocks. It also helps keep organic material that could produce harmful uncontrolled run-off out of landfills.
Sustainable barn design is about what's healthiest and safest for your horses. Remember, horses were never meant to be inside. But if they're going to be, then it's important to create an environment as close as possible to what they would encounter in nature, using materials and techniques that at the same time don't harm the very environment they come from.
Posted in
Equestrian News
,
News and Press
|
Tagged Barn, barn architecture, Blackburn Architects, blackburn architects green technologies for horse barns, Blackburn Architects predesigned horse barn, blackburn architects sustainable horse barns, Equestrian, Equestrian Architect, equestrian design, equestrian facility, horse barn design, Horse Barns, Sustainability, Sustainable, sustainable horse, sustainable horse barn, Sustainable horse barns
|
Leave a comment >
10.23.17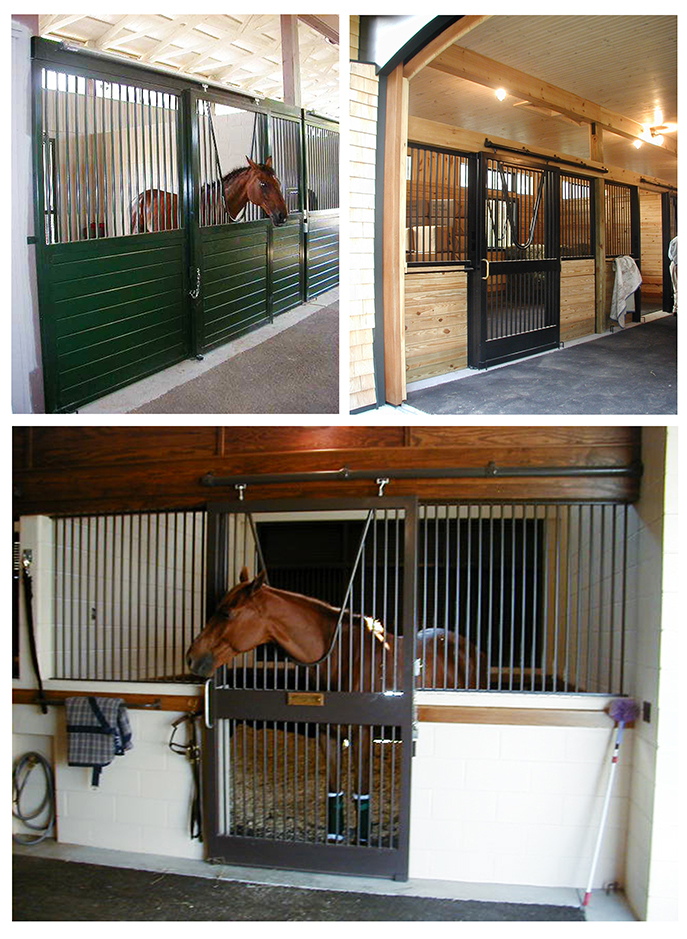 In a new, on-going series, John Blackburn will offer his insight into the major component parts of equestrian facilities. In this post, John offers his suggestions on stalls:
1. Blackburn designs stalls of all sizes, but the most common is 12'x12'. 16'x16' is often requested for larger horses, but with more space comes increased maintenance, a need for more bedding and a bigger area to clean. Larger stalls can, therefore add considerably to the cost of building a barn by:
a. Adding to the overall length and/or width of a barn.
b. Requiring roof framing to be increased from 2×10's to 2×12's or even greater.
c. Increasing the span of the framing lumber.
2. Partitions between stalls should be at least 8 feet high, but they don't have to be solid from top to bottom. Barred or mesh portions on the top enhance ventilation. This also has the benefit of allowing horses to see their companions — and provides easy observation of the horses by their owners. The down side is the increased ventilation between stalls can increase the risk of bacterial infection between horses. For the same reason, doors that are open on top increase light and ventilation. Bars must not be more than 2 to 3 inches apart, and openings should not be more than 2 inches across to prevent hoof entrapment.
3. Steel mesh or bar fronts on stalls allow an owner to look down the aisle or into the stall as they walk down the aisle and see their horses. The mesh is good for ventilation, too. The drawback is that bedding can be kicked into the aisles, so we recommend adding bedding guards. Welded steel mesh is typically stronger than bars but the horizontals tend to collect dust and can add to barn maintenance.
4. Doors should be at least 4 feet wide. This is wide enough for a wheelbarrow to enter the space or for a horse and handler to exit or enter the stall. Sliding doors are preferred over swinging doors. If you must use swinging doors, remember to install them to swing outward. You'll have a major problem if a horse goes down and the door swings to the inside. Additional safety reasons for outward swinging doors include:
a. Prevention of an unlatched door swinging open accidentally, or the wind catching it.
b. Added visibility of looking down an aisle and recognizing that a stall is open and empty. (Handlers need to leave stall doors open when the horse is turned out. This also makes it easier when bringing the horse back to the stall – you don't have to open it.)
5. We recommend rounded edges in stalls and anywhere in the barn where horses have access. A casting rail (which can be a groove in the wall or a 2-by-4-inch rail bolted low to the wall), provides something for the horse to catch his foot on when rolling to avoid getting cast.
6. Provide for easy access to the stall for feed buckets without opening and closing the door. Place in one of the front corners adjacent to the aisle.
7. Automatic waterers have the advantage of offering constant fresh water, but be sure to buy a model that is easy to keep clean. If you don't want automatic waterers, install water hydrants between every couple of stalls and provide for ample drainage for drips and overflows. Don't forget to frost-proof them in climates where pipes are apt to freeze.
Posted in
Equestrian News
,
News and Press
|
Tagged Architect, barn design, Blackburn Architects, Blackburn Architects barns, Designing horse stalls, equestrian architecture, equestrian facility, Equine, Equine Architect, equine design, farm planning, horse barn, horse barn design, Horse Barns, thoroughbred, Ventilation
|
Leave a comment >
05.22.17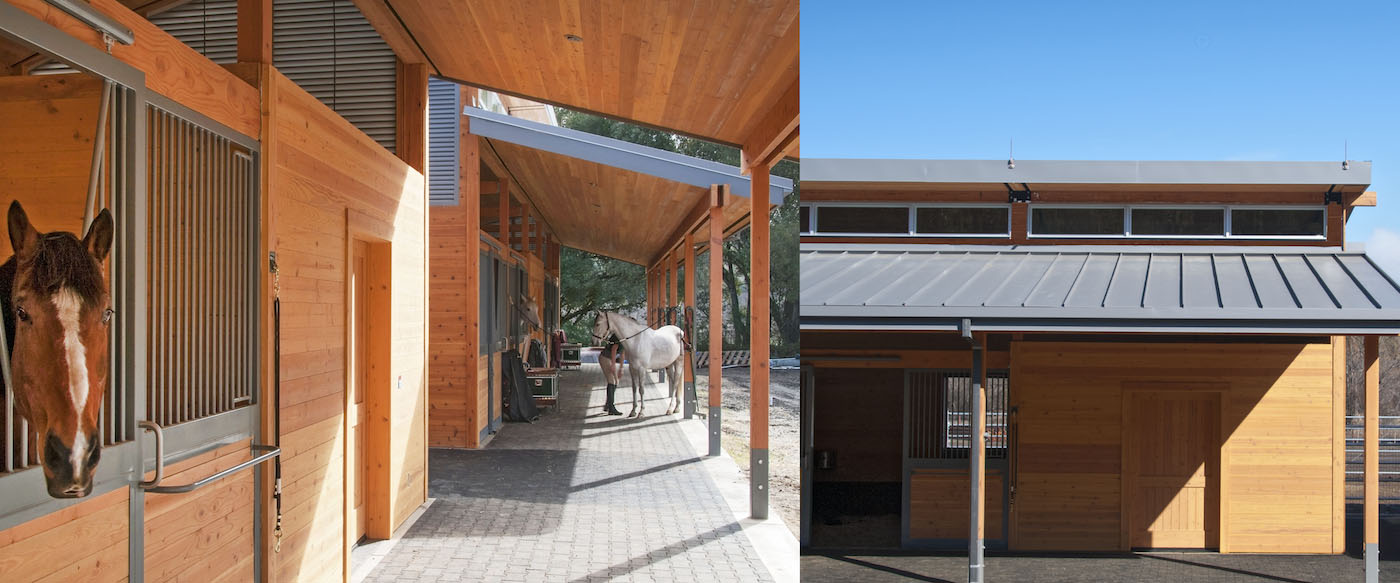 On Earth Day, April 22 2009, Blackburn Architects launched Greenbarns®, a line of pre-designed barns for eco- and cost-conscious horse owners. Eight years later, with heightened global warming and environmental worries, the line is more popular than ever. Horse owners, we know, tend to be highly aware of and concerned for, the natural world.
John Blackburn's mission for the past 35 years has been to deliver exceptional design through the creative blending of human need, horse need, environmental stewardship, science and art. When our studio created Greenbarns®, we did so to make healthy barns available to more of the country's estimated two million horse owners. The barns are designed to operate without electrical or mechanical dependence and their roofs can be energy producing. "Imagine how much energy you could generate — not just save, but actually produce — if you equip millions of roofs with active solar panels," John explained. "The energy can be sold back to the gird or stored and used on the property."
Using energy-saving "passive design" elements, Greenbarns® rely on natural lighting and ventilation. Eco-friendly materials and finishes are paired with optional add-ons such as solar panels and greywater collection systems.
When a client in southern California asked us for a Greenbarn® suited to their small, two-acre property, we delivered a customized 3-stall barn that included a composting station and solar panels. The barn and paddock take up just 1/2 an acre and are located behind the owner's existing home. Green materials include: light-colored roofing with a highly reflective finish, recycled content concrete blocks, low VOC stains/sealants, FSC certified wood products. Green systems include a manure composting station, and solar panels.
Blackburn Architects has formed partnerships with leaders in sustainable technology to connect our clients with the latest in composting, greywater and rainwater harvesting, solar power, and engineered bamboo products. Site planning, design modification, and design of other facilities such as storage buildings or residences are available as additional services in conjunction with the Greenbarn® line.
Posted in
Equestrian News
,
News and Press
|
Tagged Blackburn Architects, Blackburn Architects barns, Blackburn Architects green barn line, Blackburn Architects GreenBarns, Blackburn Architects predesigned horse barn, Blackburn greenbarns, Blackburn pre-designed barn, eco-friendly horse barn, eco-friendly horse barns, energy efficient horse barns, Horse Barns, pre design barn, pre-designed barn, pre-designed horse barns
|
Leave a comment >
02.09.12
This is probably the last set of photos I'll share of Beechwood Stables in Massachusetts before we have a professional photographer shoot the project in its completion. (When the weather is a bit nicer so the buildings aren't covered in snow!) I'm really pleased with how it's turned out and hope our client feels the same. I'd also like to thank Marcus Gleysteen Architects, whom we teamed with; the builder, Kenneth Vona Construction, whose professionalism and craftsmanship is top-notch, as well as the team at Lucas Equine Equipment for their fabulous stall systems as usual. Beechwood Stables has a lot of high-end finishes and details that certainly shine though with this project. However, the truly important aspects of our design is what matter the most and remain true regardless of budget: protecting the health and safety of the riders and the horses who will soon inhabit the barn.
Thanks to the gracious owner and everyone involved in the design and construction of Beechwood Stables. A few details are provided in the caption each photo.
07.23.10
Where your barn sits on your property is one of the first decisions you'll make when planning for a new barn. Grade, drainage, proximity of service roads, prevailing winds, and barn angle in relation to the sun all play a key role in the health and safety of your horses.
Equestrian site planning can help you avoid mistakes that can have significant health consequences for your horses, as well as improve the efficiency of daily operations. Here are a few points to consider when site planning with the environment in mind.
Building orientation as it relates to the path of the sun and prevailing winds.
This single decision—where to place your barn—has a huge impact on energy efficiency as well as the health and comfort of your stabled horses. Harnessing passive solar heat energy and prevailing breezes can keep your barn cool in the summer and warm in the winter. Design decisions that include the placement of façade openings, overhangs, skylights, roof vents, and more allow a building to work with solar energy passively.
Drainage lines, water conservation, prevention of pollution.
Barns and arenas create large footprints with massive roof spaces. Water displacement should be considered so that water draining from the barn site doesn't contaminate local streams with hazardous runoff, cause soil erosion, and water loss. Storm drainage can be collected and returned to the ground or conserved for other purposes.
Site disturbance
Construction machinery can cause soil erosion, damage root systems of timber, and destroy sensitive grassland. Stockpiles of materials can create similar damage to the natural ecology. Thoughtful placement of machinery and materials is important. Where paving is necessary, choose recycled, permeable materials. Plan adequate paddock spaces and establish a paddock rotation plan so that horses can rotate the use of outdoor areas to avoid damage to sensitive grasslands.
04.27.10
We're really excited to be a part of Kathryn Masson's new book called Stables: Beautiful Paddocks, Horse Barns, and Tack Rooms. The book features stunning photographs by Paul Rocheleau and showcases a variety of stables across the United States. One of the stables shown is Sagamore Farm, the famous thoroughbred-horse breeding farm originally owned and operated by Alfred G. Vanderbilt, II.
Blackburn Architects had the pleasure of working with Sagamore's current owner, Kevin Plank, CEO of Under Armour, to restore and upgrade the facilities, which had fallen into serious disrepair from the former previous ownership. We provided architectural services to renovate two of the farm's existing barns: the 16-stall foaling and 20-stall broodmare barns.
If you'd like to check out the book, it's available through Amazon and Rizzoli. The Classicist blog has also written about the book in a post titled America's Finest Equestrian Architecture.