Horse Barns
05.22.17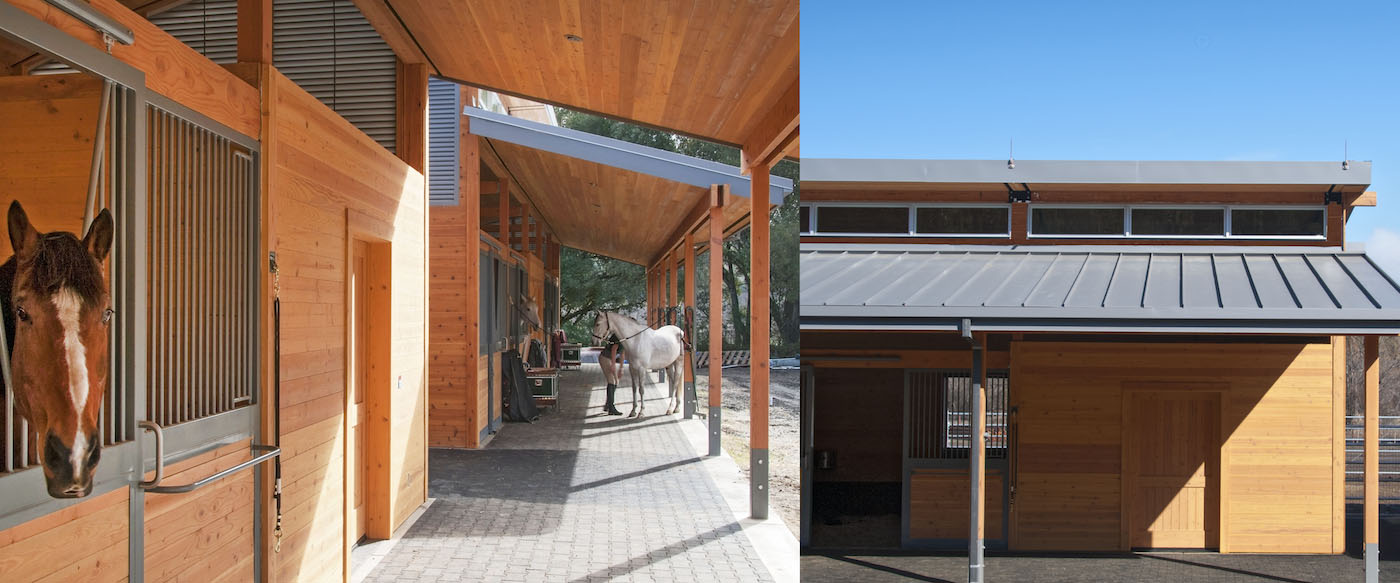 On Earth Day, April 22 2009, Blackburn Architects launched Greenbarns®, a line of pre-designed barns for eco- and cost-conscious horse owners. Eight years later, with heightened global warming and environmental worries, the line is more popular than ever. Horse owners, we know, tend to be highly aware of and concerned for, the natural world.
John Blackburn's mission for the past 35 years has been to deliver exceptional design through the creative blending of human need, horse need, environmental stewardship, science and art. When our studio created Greenbarns®, we did so to make healthy barns available to more of the country's estimated two million horse owners. The barns are designed to operate without electrical or mechanical dependence and their roofs can be energy producing. "Imagine how much energy you could generate — not just save, but actually produce — if you equip millions of roofs with active solar panels," John explained. "The energy can be sold back to the gird or stored and used on the property."
Using energy-saving "passive design" elements, Greenbarns® rely on natural lighting and ventilation. Eco-friendly materials and finishes are paired with optional add-ons such as solar panels and greywater collection systems.
When a client in southern California asked us for a Greenbarn® suited to their small, two-acre property, we delivered a customized 3-stall barn that included a composting station and solar panels. The barn and paddock take up just 1/2 an acre and are located behind the owner's existing home. Green materials include: light-colored roofing with a highly reflective finish, recycled content concrete blocks, low VOC stains/sealants, FSC certified wood products. Green systems include a manure composting station, and solar panels.
Blackburn Architects has formed partnerships with leaders in sustainable technology to connect our clients with the latest in composting, greywater and rainwater harvesting, solar power, and engineered bamboo products. Site planning, design modification, and design of other facilities such as storage buildings or residences are available as additional services in conjunction with the Greenbarn® line.
Posted in
Equestrian News
,
News and Press
|
Tagged Blackburn Architects, Blackburn Architects barns, Blackburn Architects green barn line, Blackburn Architects GreenBarns, Blackburn Architects predesigned horse barn, Blackburn greenbarns, Blackburn pre-designed barn, eco-friendly horse barn, eco-friendly horse barns, energy efficient horse barns, Horse Barns, pre design barn, pre-designed barn, pre-designed horse barns
|
Leave a comment >
02.09.12
This is probably the last set of photos I'll share of Beechwood Stables in Massachusetts before we have a professional photographer shoot the project in its completion. (When the weather is a bit nicer so the buildings aren't covered in snow!) I'm really pleased with how it's turned out and hope our client feels the same. I'd also like to thank Marcus Gleysteen Architects, whom we teamed with; the builder, Kenneth Vona Construction, whose professionalism and craftsmanship is top-notch, as well as the team at Lucas Equine Equipment for their fabulous stall systems as usual. Beechwood Stables has a lot of high-end finishes and details that certainly shine though with this project. However, the truly important aspects of our design is what matter the most and remain true regardless of budget: protecting the health and safety of the riders and the horses who will soon inhabit the barn.
Thanks to the gracious owner and everyone involved in the design and construction of Beechwood Stables. A few details are provided in the caption each photo.
07.23.10
Where your barn sits on your property is one of the first decisions you'll make when planning for a new barn. Grade, drainage, proximity of service roads, prevailing winds, and barn angle in relation to the sun all play a key role in the health and safety of your horses.
Equestrian site planning can help you avoid mistakes that can have significant health consequences for your horses, as well as improve the efficiency of daily operations. Here are a few points to consider when site planning with the environment in mind.
Building orientation as it relates to the path of the sun and prevailing winds.
This single decision—where to place your barn—has a huge impact on energy efficiency as well as the health and comfort of your stabled horses. Harnessing passive solar heat energy and prevailing breezes can keep your barn cool in the summer and warm in the winter. Design decisions that include the placement of façade openings, overhangs, skylights, roof vents, and more allow a building to work with solar energy passively.
Drainage lines, water conservation, prevention of pollution.
Barns and arenas create large footprints with massive roof spaces. Water displacement should be considered so that water draining from the barn site doesn't contaminate local streams with hazardous runoff, cause soil erosion, and water loss. Storm drainage can be collected and returned to the ground or conserved for other purposes.
Site disturbance
Construction machinery can cause soil erosion, damage root systems of timber, and destroy sensitive grassland. Stockpiles of materials can create similar damage to the natural ecology. Thoughtful placement of machinery and materials is important. Where paving is necessary, choose recycled, permeable materials. Plan adequate paddock spaces and establish a paddock rotation plan so that horses can rotate the use of outdoor areas to avoid damage to sensitive grasslands.
04.27.10
We're really excited to be a part of Kathryn Masson's new book called Stables: Beautiful Paddocks, Horse Barns, and Tack Rooms. The book features stunning photographs by Paul Rocheleau and showcases a variety of stables across the United States. One of the stables shown is Sagamore Farm, the famous thoroughbred-horse breeding farm originally owned and operated by Alfred G. Vanderbilt, II.
Blackburn Architects had the pleasure of working with Sagamore's current owner, Kevin Plank, CEO of Under Armour, to restore and upgrade the facilities, which had fallen into serious disrepair from the former previous ownership. We provided architectural services to renovate two of the farm's existing barns: the 16-stall foaling and 20-stall broodmare barns.
If you'd like to check out the book, it's available through Amazon and Rizzoli. The Classicist blog has also written about the book in a post titled America's Finest Equestrian Architecture.