horse racing
10.19.18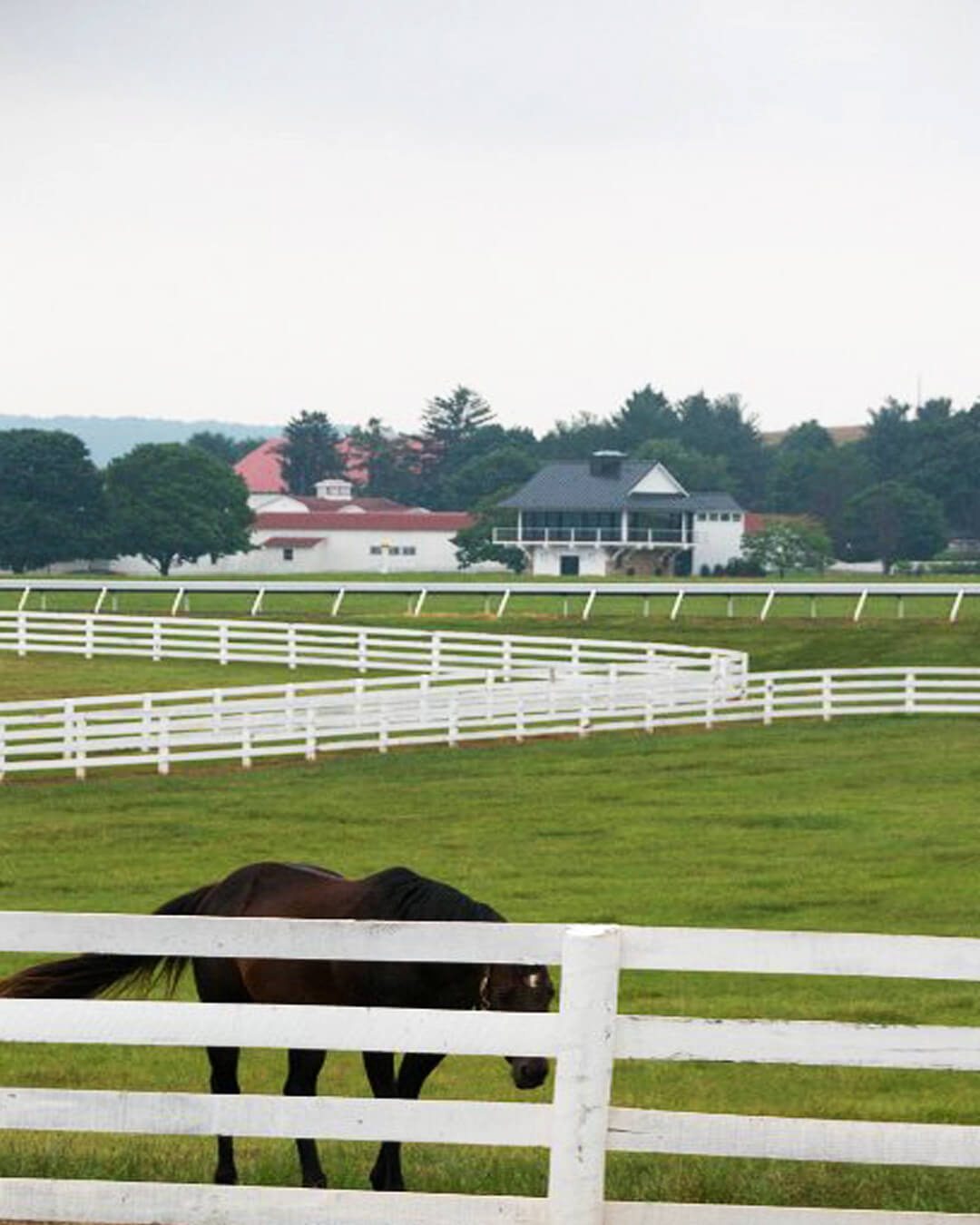 Fences are one of the most common discussion points among the Blackburn team and clients when we're designing an equestrian facility. The options listed below are certainly not exhaustive but reflect what we commonly find in many of our projects.
Some options are better suited for pastures, while others are more appropriate for small stall turnouts. We've tried to identify a variety of approaches that meet the safety needs for horses, limit maintenance needs, and often fall within neighborhood guidelines. 
1. Steel rail fencing is an option for stable turnouts. The material is available in a thinner profile so it isn't as visually heavy and it can be painted black or another dark color so that it does not have the "ranch" appearance seen with galvanized steel pipe corrals. The up-front cost is higher but the material is durable and will have little-to-no maintenance needs.
2. Woodguard polymer coated wood fencing is treated wood with a non-toxic, non-chipping surface covering. The wood grain is still visible but the finish has some of the plastic texture of the polymer. This product allows for fencing to be constructed similar to a wood fence, with the rails attached to the face of the posts. The result is a stronger, safer fence. Woodguard has a 20-year warranty. The cost is similar to wood board fencing but the maintenance needs are less. While the manufacturers state that this product is resistant to cribbing, we would recommend that a hot-wire be provided at the top rail to discourage the horses from chewing. This material would be acceptable to use for both stall turnouts and paddocks. It offers the appearance of a traditional 3- or 4-board wood fence without the significant maintenance demands. https://www.wood-guard.com/horse-fencing/
3. High Tensile Polymer (HTP) comes in both rail and wire styles and is typically mounted on wood posts. The rail is typically 5" wide and from a distance will appear similar to wood board fencing. Because wire fencing has a lower visibility, we suggest using a thicker top board so that the horses can more easily identify the barrier. The HTP materials' inherent flexibility makes these products durable and resistant to horses leaning on or running into the fence. Typically, these are more suited to large pastures or for perimeter fencing and less so for stall turnouts. The darker colors tend to exhibit a chalky appearance over time.
4. Rubber fencing is a durable, flexible, and low profile fencing material and is similar to the HTP fencing. We've not seen this product used as often and we understand that there's a risk that the strings of the fabric (which is an internal support for the rubber) can become exposed and offer a hazard for horses to chew on. A hot-wire at the top of the fence may combat this risk.
The advantages of rubber, HTP or any type strap fencing is the posts can be set further apart which is useful when its highly visible and you want to minimize the number of posts. The fencing is flexible and resists breaking when a limb or tree falls on it therefore it's a good material for perimeter fencing large acreage and where it encounters wooded areas. This is safer if/when a horse runs into the fence; especially a problem on larger paddocks when horses can get some speed and not be able to slow down.
5. HDPE is a post and board fencing material. It's stronger than PVC and performs better in all weather conditions, but the primary issue is in the assembly of the fence. The rails are set between posts, instead of fastened to the face, and can pop out if the fence is not secured properly. Its requires more frequent posts which tends to look busy and it's difficult to bend or angle corners because of the assembly method. The Blackburn team isn't particularly fond of this material because it can look clunky and isn't the safest option. http://www.amberwayequine.com/products/hdpe-fencing-2/
Posted in
Equestrian News
|
Tagged adding ventilation to a horse barn, Architecture for horses, Blackburn Architects barn design, Designing a Horse Farm, Equestrian, Equestrian art, equestrian design, Horse, horse barn design, Horse Farm Architecture, horse racing, horse stable design, horse stables, John Blackburn, Stable Design, Stables, Sustainable, sustainable barn design, thoroughbred, Ventilation
|
Leave a comment >
08.29.13
After recently reading the NYT's opinion article "Handicapping Dopers at the Racetrack," I wanted to share my thoughts with all of you. From the previous comments I made about the article "Twilight at the Track," many of you may already know where I stand in regards to the doping of racehorses. This recent article shares encouraging news that doping's negative effect on bettors, the life blood of the thoroughbred racing industry, may help bring much needed reforms to horse racing.  In the article, NYT's editorial board states that bettors, large and small, are being discouraged from large wagers because of the rampant illegal drug use in the industry. Since the bettors are threatened by the practice and the horses themselves are dying from it, the Jockey Club is willing to spend as much as $500,000 to employ the use of "out-of-competition" drug-testing. At this time, this type of testing is used only by 1/3rd of the industry.
I want to see thoroughbred racing thrive, not be abused.  I support any reforms that eliminate the doping of racehorses, but I am suspicious of the success of self-policing.  I am not a veterinarian and therefore do not know the pros and cons of different drugs and their use for legitimate or illegitimate health reasons. Those more knowledgeable in animal science and medicine can determine that.  However, I feel there needs to be more transparency in the medications a horse is receiving and which of those are needed, if any. There needs to be an elimination of any and all performance enhancing drugs or medications.  I approve of the Jockey Club's intent to build a national database that will offer this kind of transparency. Stiffer fines and punishment of offenders, as well as a national or federally instituted policy of policing or monitoring, may also achieve the same end.
I support the Jockey Club's efforts to control the abuses in the industry, but I'm not convinced it is a sufficient amount or that it will happen soon enough. The inefficient and uneven enforcement of regulations from state to state and track to track may not substantially remove the suspicions held by many bettors.  I hope I am wrong, but if not, then some sort of federally instituted monitoring program with stiffer penalties for abusers should be applied sooner rather than later.
See also this article for more information: http://www.nytimes.com/2013/08/12/sports/as-concerns-over-drugs-mount-the-jockey-club-says-it-will-pay-for-testing.html
09.01.11
Blackburn Architects is pleased to be a part of the improvement plans at the historic Saratoga Race Course. We are working with NYRA (New York Racing Association) to improve the backstretch area and its facilities to increase safety and efficiency for workers, riders, and horses. All of the proposed improvements for the frontside and backside at the track are outlined on NYRA's website; the public is invited to provide comment and feedback. A community forum takes place at the Saratoga Springs City Center on Thursday, September 1 at 6:30 p.m. Renderings of the proposed work is on display at the City Center through September 2nd.
NYRA President and CEO Charles Hayward says, "The projects we choose to undertake will not be determined unilaterally. We recognize that part of what makes Saratoga Race Course so special is its deep integration and embracement by the community. All of us at NYRA truly look forward to hearing from the public as we prepare to make essential and intelligent changes to bolster the fan experience and to secure the future of Saratoga."
Please read more about the proposed improvements for the frontside and backstretch at Saratoga in the official press release.
05.23.11
Blackburn Architects is so grateful to be a part of Kevin Plank's dream to revitalize the horse racing industry in Maryland through his work at Sagamore Farm in Glyndon. We hope you'll enjoy these articles from The Washington Post and The New York Times about Mr. Plank's impressive ambitions for the historic farm and to elevate Maryland's racing industry clout. We believe that if anyone can do it, it's Mr. Plank. Congratulations to the whole team at Sagamore Farm, whose All Mettle won Pimlico's $30,000 maiden special weight race in only her second career start!

Posted in
Equestrian News
|
Tagged Alfred G. Vanderbilt II, All Mettle, Barn, Blackburn Architects, Equestrian, farm renovation, Glyndon, Historic racing farm, Horse, horse racing, Kevin Plank, Maryland racing, Native Dancer, Preakness, Sagamore Farm, The New York Times, thoroughbred, Under Armour, UnderArmour, Washington Post
|
Leave a comment >
06.02.10
I thought this short piece about the Baghdad Equestrian Club by NPR's Peter Kenyon is worth sharing. I've always enjoyed a day at the track and think it's a tradition worth saving. For that reason, it's uplifting to hear that, despite the turmoil that has pervaded the lives of Iraqis over the past several years, a day at the track can provide Iraqis with the same sense of escape and excitement as it does for me and others the world over.

03.03.10
HBO has signed on Dustin Hoffman to star in Luck, an upcoming drama about horse racing culture. The show is slated to begin filming in spring. For more information, check out the blurb in Thoroughbred Times.