horse stables
10.15.19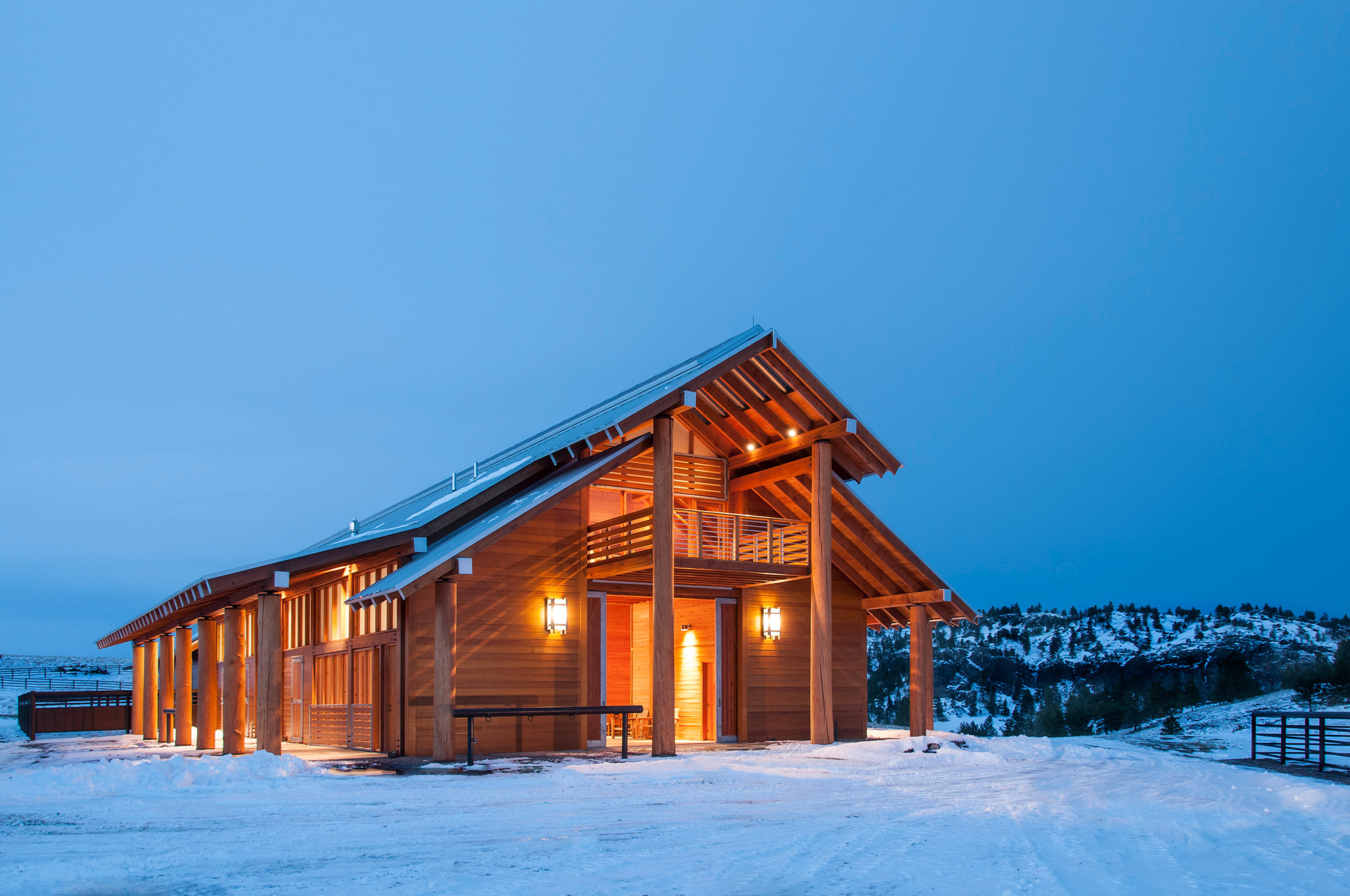 Q: I'm in the process of planning a barn in Missouri, and finances require an economical metal post-and-frame structure. I've studied Blackburn's ventilation and lighting philosophies and will incorporate them as best I can.
My question is about orienting the barn. I plan to have a center aisle, with exterior Dutch doors in every stall. Each 12'x12' stall will have an exit to the main 12' aisle as well as to an outside run-in. The stalls will be used primarily during more extreme weather or when I need to confine a horse due to injury or illness, otherwise the horses will be outside. Overhangs on both sides of the barn will function as run-in shelters for the paddocks.
I know from your writings that the ideal orientation is perpendicular to the prevailing summer breeze. However, because Missouri's cold winter winds are from the same direction, the horses on that side of the barn won't have wind protection when in the run-in areas. I know that's less of a problem for owners who keep their horses in stalls most of the time, so I've not been able to find an answer to this question. I will obviously allow them access to the stalls during the bitter cold weather we get, but for most of the winter all they need is some windbreak. How do I optimize winter protection without compromising ventilation?
Thanks,
Worried about Winter
++++++++++++
A: Orientation is certainly very important when siting your barn. But because wind is always changing and its direction and velocity can be affected by terrain, other structures, and vegetation, the angle is not a hard and fast rule.  It's good to try and locate the barn perpendicular to the prevailing summer breeze but that also depends on the design of your barn.  If you have lived on the farm a few years you may know the particular wind patterns for your property.
The design of the barn is as critical – if not more so – than the orientation.  How and where you permit air to enter the barn (preferably along the low wall along the long side of the barn and at the eaves where the roof joins the side walls), and where it is allowed to exhaust are critical.  In some areas, it may be necessary to provide some form of close-able dampers on the low wall vents to control the wind and temperature that can impact a horse that is in the stall but doesn't have the flexibility to get away from it.
The environment within the barn should be within 8 to 10 degrees of the temperature on the outside.  Your barn should ventilate vertically to reduce the horizontal movement of bacterial- and moisture-laden air.
We always say the best environment for the horse is outdoors where it can make its own choices about its environment and health. A naturally-kept horse should be able to get out of the hot sun and find shade or get out of a cold wind in a shelter or behind a wind block.
By turning your horses out most of the time you are certainly on the right track for happy, healthy animals.
Missouri's winter weather isn't so extreme that it prevents you from a center aisle barn with stalls on both sides.  Orient your barn so that turnouts are on the windward side of the barn and leave the Dutch doors open so your horses can get inside away from the wind.  For the turnouts on the cold windward side of the barn, blanket the horses.  And keep their winter coats unclipped.
Since you've read "Healthy Stables by Design," you know that Blackburn designs typically use the chimney effect and the Bernoulli principle to create natural ventilation. Our barns become passively designed machines that work to provide healthy conditions for the horses inside.
Good luck with your new barn!
Posted in
Equestrian News
,
News and Press
|
Tagged Architect, barn architecture, barn design, barn in winter, Barns, Blog post, custom horse barn, Design a Horse Barn, Equestrian Architect, equestrian architecture, equestrian design, equestrian facility, Equine, Equine Architect, equine design, farm planning, healthy barn, healthy horse barn, healthy horse barns, healthy horses, Horse, horse barn, horse barn design, Horse Barns, horse farm, horse racing, horse stables, Horses, importance of ventilation in horse stalls, John Blackburn, Stables, Sustainable, thoroughbred, Ventilation, Virginia, Winter barn
|
Leave a comment >
06.24.19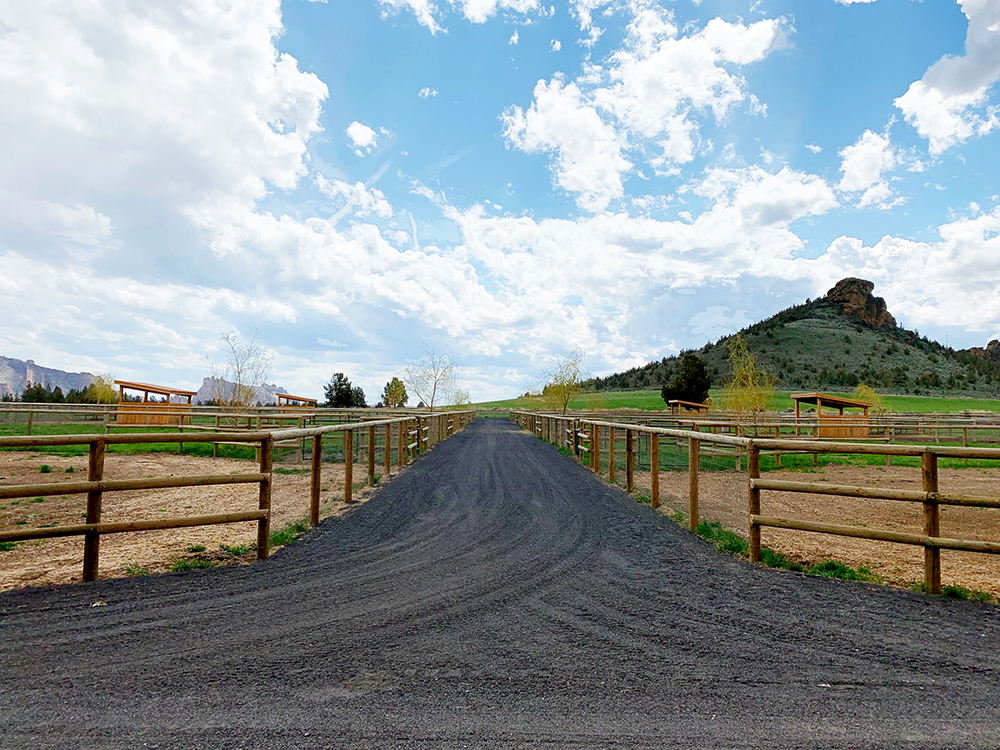 Let's talk about dry lots. Essential on nearly every equine facility, dry lots vary widely in size, location and construction.
By nature, of course, horses are herd animals evolved to roam and graze on sparse prairies.  We've introduced a complete change to the evolutionary process – incorporating diets of grain and lush pastures. The resultant problems are many, but our solution is simple. Limit the horses' activities or diet as you give them access to open air and light.  
Blackburn recommends dry lots on most, if not all, of the farms we design. Sadly, too many farms have unintentional dry lots because of inadequate pasture management.
Why create a healthy dry lot?
1. Control the horse's diet.
2. Preserve paddocks thru rotation.
3. Control moisture and its effect on hooves.
Here are nine things to consider:
Location: Choose a place close to the barn for ease of access.  Provide adequate sized gates for horses but also an occasional vehicle.  Select a relatively flat location but one that drains well and isn't too isolated so horses can socialize but generally remain separated.  
Materials: The footing should be firm but not hard packed.  It must be designed to drain well to allow moisture to either drain thru or away without causing erosion. Sandy soil is preferable but some sort of gravel that is easy on the feet or, even better, an engineered footing similar to your arena should work perfectly. 
Size:  The size can vary, but if you are creating the dry lot to limit the horses' movement for health reasons, you may want it to be smaller than larger.  We recommend multiple dry lots of varying sizes to accommodate many uses.
Fencing:  It goes without saying that your fencing needs to be sturdy. See Activities below.
Shelters: Some form of shade shelter for fly & weather protection is preferred – by humans, but horses may never darken the interior.
Feeding: Various forms of slow feeders, salt blocks, etc. can be used.  If you are restricting the horse's diet, we recommend consulting with your vet about setting up a feeding regimen that can be incorporated into your use of the dry lot.
Activities:  Spreading hay rations around the lot encourages movement; toys for activity or human interaction can be very helpful.  We always recommend consulting with your veterinarian because no two horses are the same. You and your vet know what's best for your horse.
Socialization:  Locating the dry lot close to other horses reduces stress and is more emotionally relaxing.
Footing: The dry lot surface should provide a safe and comfortable footing for horses but it must also drain well.  Therefore, we recommend that the upper surface/footing be 4 to 6 inches of footing material (stone dust, sand, engineered footing material as described above a drainage layer) or possibly 8 to 12 inches of pea gravel, allowing the foot to sink in without undue pressure on sensitive areas.  The drainage layer can be 1/2 inch to 1 inch stones. You can add an interlocking grid within this layer to provide additional stability of the base layer and improve drainage.
Posted in
Equestrian News
,
News and Press
|
Tagged Architect, Architecture, Barn, barn architecture, barn design, blackburn, Blackburn Architects New Horse Barn, equestrian design, horse barn, horse barn design, Horse Barns, horse farm, horse racing, horse stables, Horses, John Blackburn, Stables, Sustainable, thoroughbred, Ventilation
|
Leave a comment >
01.25.19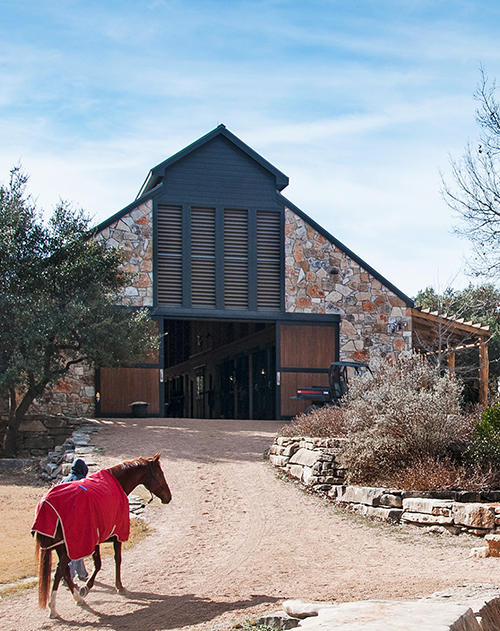 One of the design considerations in nearly every Blackburn equestrian project is ground surface materials to be used at the exterior of the barn. Hopefully, the information below will be helpful in planning for your barn.
First consideration is it to be porous vs. non porous?
Either will work in this application but you need to build in some sort of drainage system for both, either on the surface or below the surface.  
1)  Interlocking rubber brick pavers.  The Blackburn Architects' team opinion is that this is the best all-around flooring system for horses because of its durability and aesthetic options.  It's slip resistant and holds up to abuse and in a wide variety of environmental and weather conditions.  It can be set loose on a porous or non-porous sub-base or glued down on a firm base like concrete.
2)  Oil base chip and seal: Chip seal is a surface treatment used on light traffic roadways/driveways, some lead paths and other areas used for horse or farm traffic.  We do not use it very often anymore due to some environmental concerns in some jurisdictions (it typically requires a base layer of asphalt and oil as a binder).  Chip seal basically combines one or more layers of asphalt with one or more layer of aggregate. Oil is often used as a binder. Ground up recycled tires are sometimes used as an aggregate.  It tends to be slip resistant though it may deteriorate in time.  Its life time is typically 5 to 7 years before it needs re-surfacing.  
3)  Rubber mats (loose laid or glued): This is a good material but should be laid or glued to a concrete or popcorn asphalt base.  The mats need a solid base in order to hold in place or remain level over time.  Rubber mats can present an aesthetic issue but functionally work well.
4)  Stone dust or brick dust:  A good material to use but requires maintenance to retain a clean and orderly look.  It's slip resistant and drains relatively well.  Not good for plowing conditions unless it is re-spread at the end of the winter season.
5)  Popcorn asphalt:  An excellent material because it's slip resistant and drains well.  Its problem is its aesthetic appearance.  It should be laid over a layer of crushed gravel so the surface water can drain through the asphalt and away.  The advantage of the popcorn asphalt is it has the ability to reseal itself in warm weather if the ground freezes and heaves.  It can also be used as a base layer under rubber mats or rubber bricks.
6)  Concrete (custom colored and/or textured) or concrete pavers:  Not a very horse-friendly material to use.  It can be scored to give it texture, tinted to give it color and in some cases a brick pattern, but it is nevertheless a very unforgiving material.  Horses shoes can slip on it and spook a horse especially when crossing from one material to another.  However, this material is great when installed under the interlocking rubber brick or rubber mats.
7)  Poured in place non slip surface material:  This is a good material (a number of different types and manufacturers available) that can be slip resistant, cushioned to protect from a fall and can be used outdoors.  It is often used on playgrounds.  Blackburn Architects uses it most often in foaling stalls where a seamless continuous surface is desired.
8)  Grass ground cover:  Not recommended due to its maintenance needs especially when under cover.
9)  Grid mats:  Can work if the owner wants to use stone or brick dust or some other type of light screenings but requires periodic maintenance.
10)  Brick or stone:  Not highly recommended as it is less slip resistant though it can look great, especially if brick dust is used elsewhere such as the driveway in a chip and seal application.
Posted in
Equestrian News
,
News and Press
|
Tagged adding light and ventilation to a horse barn, Architect, Architecture, Barn, beechwood stables, Blackburn Architects adaptive reuse, Equine Architect, horse barn, horse barn design, horse barn planning, Horse Barns, horse farm, horse stables, John Blackburn, materials to use on the exterior of a horse barn
|
Leave a comment >
01.17.19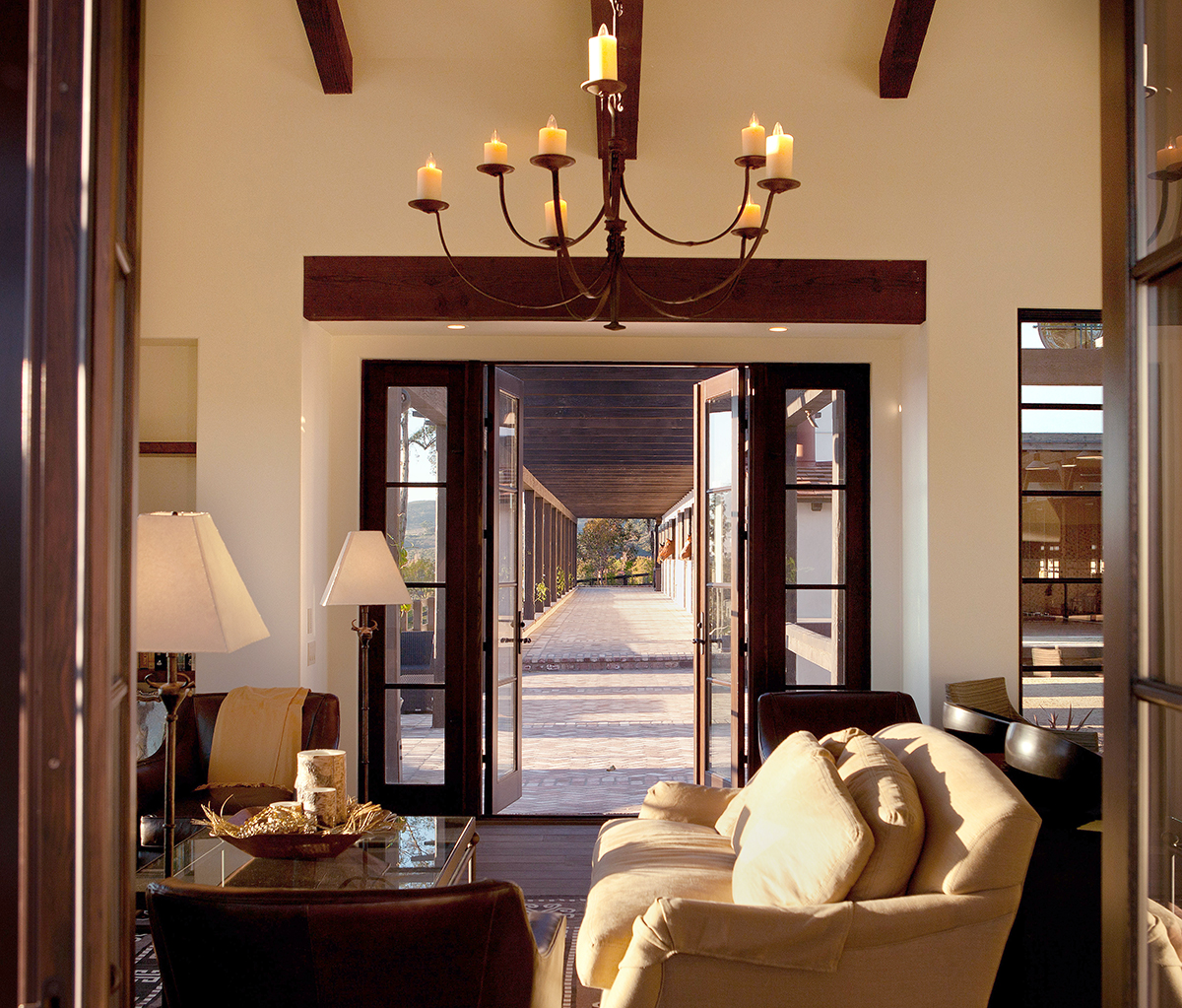 Blackburn Architects typically advises clients against including living quarters in a barn. When we add them, we provide extra safety measures.
An apartment or condo in the barn isn't the same thing as short-term accommodations. We'll often design a "warm room" into our barns so clients can stay close in case there's a sick horse or for foaling.  Even though technology provides some good methods to provide warning or protection (alarms, cameras, etc.) there are times when you just need to be close to respond quickly.
Permanent living quarters, however, can be problematic:
1. If the residential component is too large, then the change of scale can overshadow the scale of the barn and you end up with a "tail wagging the dog" situation. Aesthetically the design looks awkward.
2. If the residence will house a family, you run the risk of injury to children, pets, or visitors and there's an increased risk of fire caused by household activities.
3. If the apartment or condo is for the owner it's easier to control but if it's for a groom or an income rental it's important to be prepared that lifestyle choices may clash with your own.  For example, the tenant may be entertaining guests who may be unaware of the impact of their activities on the horses.
Because a barn usually has a lower cost per square foot (to design and build) than a residence, you may be able to save money by separating the two different uses and avoid building in the necessary fire and smoke separations.  For example, the barn could be a simple pole barn and the residence constructed to a higher standard. 
Another option is to build the apartment or residence as part of a service /storage structure or another farm building.  Two examples of Blackburn Architects' projects where we did this are Great Roads Farm in New Jersey and Kindle Hill Farm in Pennsylvania.
To conclude, without building in substantial fire/smoke separations when adding an apartment in the barn you increase your risk of disaster.  Building codes in most areas require you to include a two-hour separation.  It's essential that you check these regulations before planning an apartment in your barn.
Furthermore, an apartment in a barn or connected to it can impact the farm by forcing a larger footprint for the barn, and this can impact service roads, lead paths to paddocks, land grading, etc.  If the apt is added to the second "loft" floor unless it is designed properly it could negatively impact the introduction of natural light and ventilation (see Bernoulli principle and chimney effect).
Posted in
Equestrian News
,
News and Press
|
Tagged Architecture, barn architecture, barn design, Barn home, blackburn, Blackburn Architects, Blackburn Architects barn design, Blackburn Architects barns, Blackburn greenbarns, equestrian design, Horse, horse barn design, Horse Barns, horse stables, Horses, living in a horse barn, Stables
|
Leave a comment >
10.19.18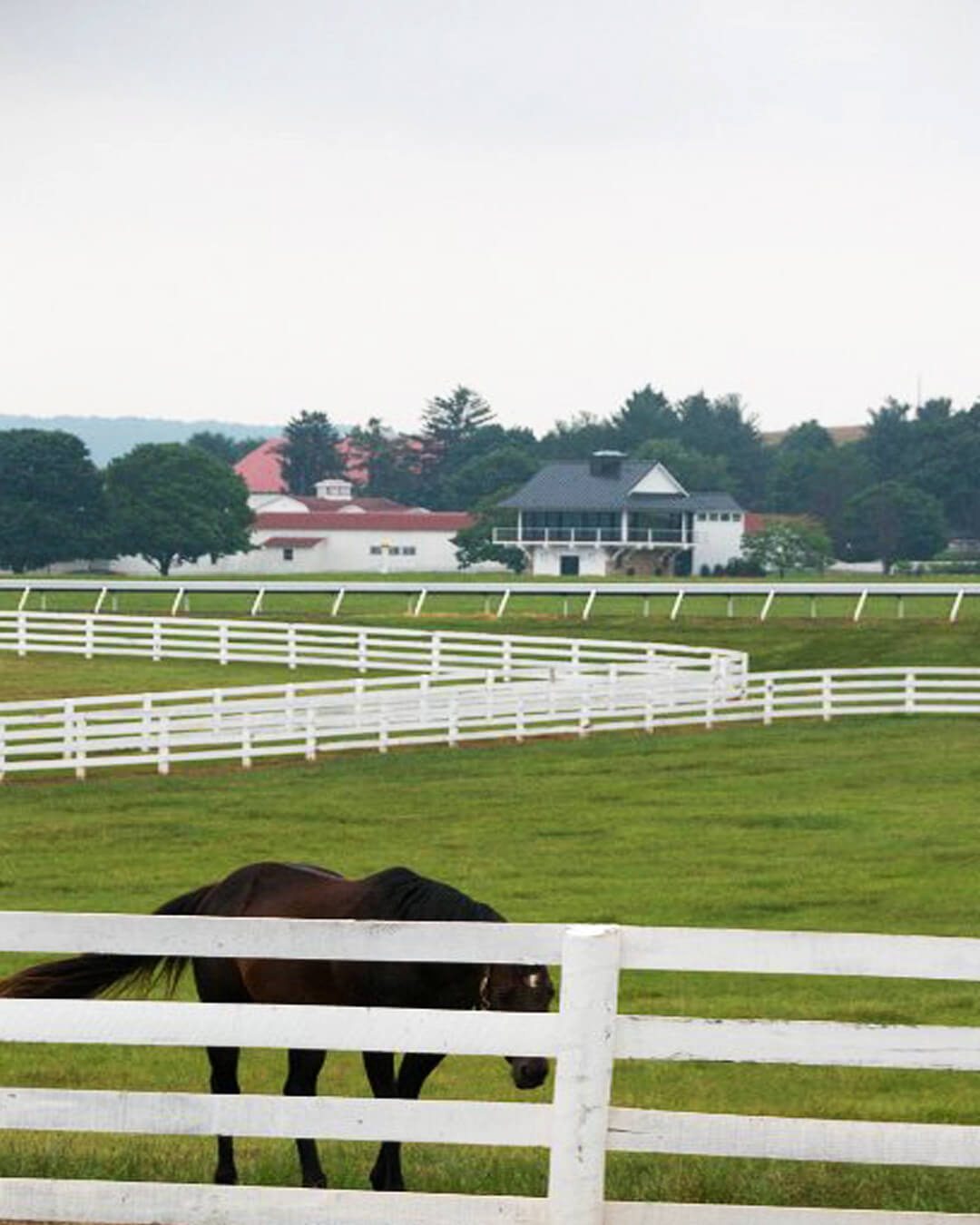 Fences are one of the most common discussion points among the Blackburn team and clients when we're designing an equestrian facility. The options listed below are certainly not exhaustive but reflect what we commonly find in many of our projects.
Some options are better suited for pastures, while others are more appropriate for small stall turnouts. We've tried to identify a variety of approaches that meet the safety needs for horses, limit maintenance needs, and often fall within neighborhood guidelines. 
1. Steel rail fencing is an option for stable turnouts. The material is available in a thinner profile so it isn't as visually heavy and it can be painted black or another dark color so that it does not have the "ranch" appearance seen with galvanized steel pipe corrals. The up-front cost is higher but the material is durable and will have little-to-no maintenance needs.
2. Woodguard polymer coated wood fencing is treated wood with a non-toxic, non-chipping surface covering. The wood grain is still visible but the finish has some of the plastic texture of the polymer. This product allows for fencing to be constructed similar to a wood fence, with the rails attached to the face of the posts. The result is a stronger, safer fence. Woodguard has a 20-year warranty. The cost is similar to wood board fencing but the maintenance needs are less. While the manufacturers state that this product is resistant to cribbing, we would recommend that a hot-wire be provided at the top rail to discourage the horses from chewing. This material would be acceptable to use for both stall turnouts and paddocks. It offers the appearance of a traditional 3- or 4-board wood fence without the significant maintenance demands. https://www.wood-guard.com/horse-fencing/
3. High Tensile Polymer (HTP) comes in both rail and wire styles and is typically mounted on wood posts. The rail is typically 5" wide and from a distance will appear similar to wood board fencing. Because wire fencing has a lower visibility, we suggest using a thicker top board so that the horses can more easily identify the barrier. The HTP materials' inherent flexibility makes these products durable and resistant to horses leaning on or running into the fence. Typically, these are more suited to large pastures or for perimeter fencing and less so for stall turnouts. The darker colors tend to exhibit a chalky appearance over time.
4. Rubber fencing is a durable, flexible, and low profile fencing material and is similar to the HTP fencing. We've not seen this product used as often and we understand that there's a risk that the strings of the fabric (which is an internal support for the rubber) can become exposed and offer a hazard for horses to chew on. A hot-wire at the top of the fence may combat this risk.
The advantages of rubber, HTP or any type strap fencing is the posts can be set further apart which is useful when its highly visible and you want to minimize the number of posts. The fencing is flexible and resists breaking when a limb or tree falls on it therefore it's a good material for perimeter fencing large acreage and where it encounters wooded areas. This is safer if/when a horse runs into the fence; especially a problem on larger paddocks when horses can get some speed and not be able to slow down.
5. HDPE is a post and board fencing material. It's stronger than PVC and performs better in all weather conditions, but the primary issue is in the assembly of the fence. The rails are set between posts, instead of fastened to the face, and can pop out if the fence is not secured properly. Its requires more frequent posts which tends to look busy and it's difficult to bend or angle corners because of the assembly method. The Blackburn team isn't particularly fond of this material because it can look clunky and isn't the safest option. http://www.amberwayequine.com/products/hdpe-fencing-2/
Posted in
Equestrian News
|
Tagged adding ventilation to a horse barn, Architecture for horses, Blackburn Architects barn design, Designing a Horse Farm, Equestrian, Equestrian art, equestrian design, Horse, horse barn design, Horse Farm Architecture, horse racing, horse stable design, horse stables, John Blackburn, Stable Design, Stables, Sustainable, sustainable barn design, thoroughbred, Ventilation
|
Leave a comment >
02.05.18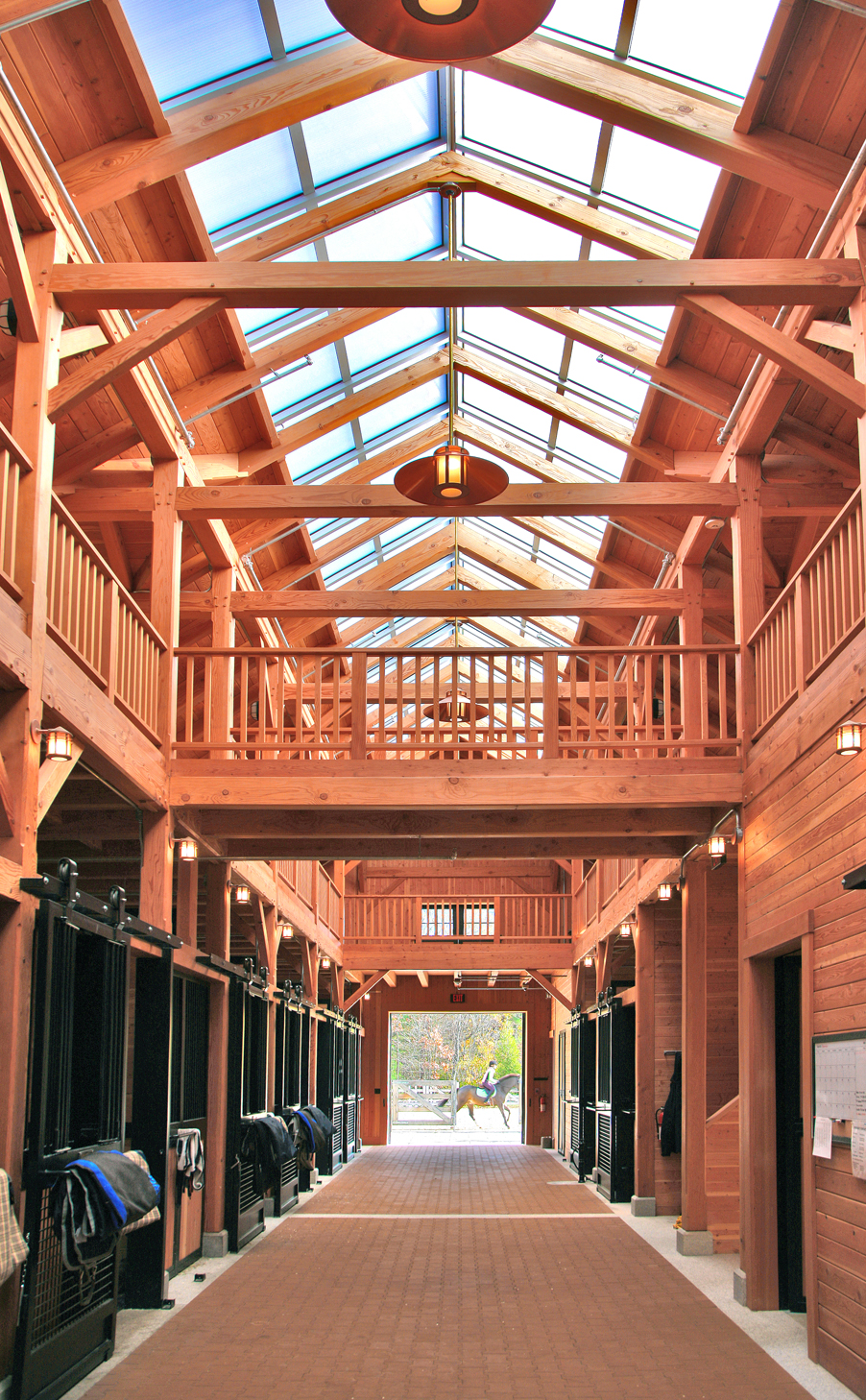 Been thinking about a custom barn, or buying property with existing structures that need an extensive overhaul?
I thought I'd take a minute and explain Blackburn Architects' process for designing a new equestrian facility and overseeing its construction. While not carved in stone, for planning purposes, can easily become a two-year process.
The first step is usually a visit by me or another Blackburn architect. The initial meeting is our first chance to meet, walk the site, look at any existing buildings and discuss the project goals. I'm a firm believer in "a picture is worth a thousand words" but "being there is worth a thousand pictures" Following this, we'll send a proposal for service, which outlines the process and fees.
Once a contract signed, we get to work immediately.
The timeline usually looks something like this:
• 6 to 10 weeks for Feasibility Study, Site Assessment and Master Plan
• 1 to 2 months for Schematic Design
• 2 to 4 months for Design Development and Construction Drawings
• 1 to 2 months for Permitting
• 12 to 16 months for Construction
At Blackburn Architects, equestrian design starts with the horse and ends with a building that fits the horse, the owner, and the surrounding environment like a glove. It's as simple and beautiful as that.
Let's explain the steps in greater detail:
Feasibility Study / Site Assessment / Master Plan
The goal of the Feasibility Study is to determine, as early in the process as possible, whether the intended project fits the owner's program, the site, and the budget.
We assess any existing building(s) and the site. We take measurements to determine if an in-place structure will work for the goals of the project. We study the land until we come to a clear understanding of wind and solar direction, soils, changes in elevation – all natural and architectural characteristics that guide placement and design of any new buildings. Central to the success of the project, this "Master Plan" addresses all these things and more, providing a road map for the success of all future phases of our work.
The site analysis also includes a review of applicable zoning and easements for the property; we determine what (if any) limitations or restrictions may apply at the property. Land disturbance allowances? Height restrictions? Set-backs?
In tandem with the site evaluation (as soon as we have a contract), we send the client a unique Blackburn Architects questionnaire that we've developed over the years. Answers are collected and inform the design; starting off the process with clear direction from the client. It is extensive and though it covers about 25 pages, once it is completed it "paints" a picture of exactly how you would like your farm to operate. The efficiency of the operation is critical and can have a huge impact on your operating cost and maintenance budget.
Schematic Design
Moving seamlessly from the master planning phase (often there is a fuzzy line here where one ends and another starts), we start schematic design. In this step, we help our clients visualize the project design with a variety of techniques using both computer and hand renderings to illustrate the scale and the relationship of the project elements. Ideas, concepts, goals take form at this stage.
Budget Development
Once we've worked up outline specifications for the work, we can begin to get a rough idea of the costs. At this point we will either develop a rough estimate based on our 35 years experience with over 300 farm projects, consult with a professional cost estimator or a builder who is familiar with the building type in your location.
Design Development and Construction Documents
Once we have the site layout, design, and budget, drawings and other documents give serious form to interior and exterior finishes, and firmly establish the size, character, and details of the project. These documents will be used by our professional consultants to design the electrical, gas, and other utilities. When these systems are defined, and we have a basic finish schedule and budget, we're ready to file for the permit and start construct of the building.
Bidding and Construction Administration
With the construction documents complete, we can help clients select a contracting company through a "bidding" process for the work, or we can work with a client's pre-selected Construction Manager. We work side-by-side with our clients to ensure that the best and most informed decisions are made during this process.
While in my experience this process typically lasts about 18 to 24 months, a lot of this depends on factors that are outside of either our control or our clients. The time of year and weather, for instance, can greatly influence how fast construction progresses, especially in colder climates. Pastures have a growing season, and they need at least a year (maybe two) to establish.
Designing and constructing a custom facility is a very subjective process, which is guided by all kinds of factors including the complexity and size of the structures, the time of year, the strictness of zoning regulations and neighborhood associations, state environmental regulations, and so on. But rather than let these things hold you back, I say, "Jump In" or give us a call to discuss how the process can work for you. When you slide open the doors to your dream facility and see the happy heads of your horses looking over the stall doors, all the time and effort will vanish. At least that's been my privileged experience over all these years.
Posted in
Equestrian News
,
News and Press
|
Tagged Architecture, Barn, barn design, blackburn, Blackburn Architects, Blackburn Architects barn design, Blackburn Architects barns, Blackburn Architects Equestrian Design, Blackburn Architects New Horse Barn, Blackburn greenbarns, Design a Horse Barn, Design a new horse barn, Equestrian, Equestrian Architect, equestrian architecture, Horse, horse barn, horse stables, John Blackburn, New Horse Barn, renovate a barn, renovate a horse barn, Stables, Ventilation
|
Leave a comment >
11.01.17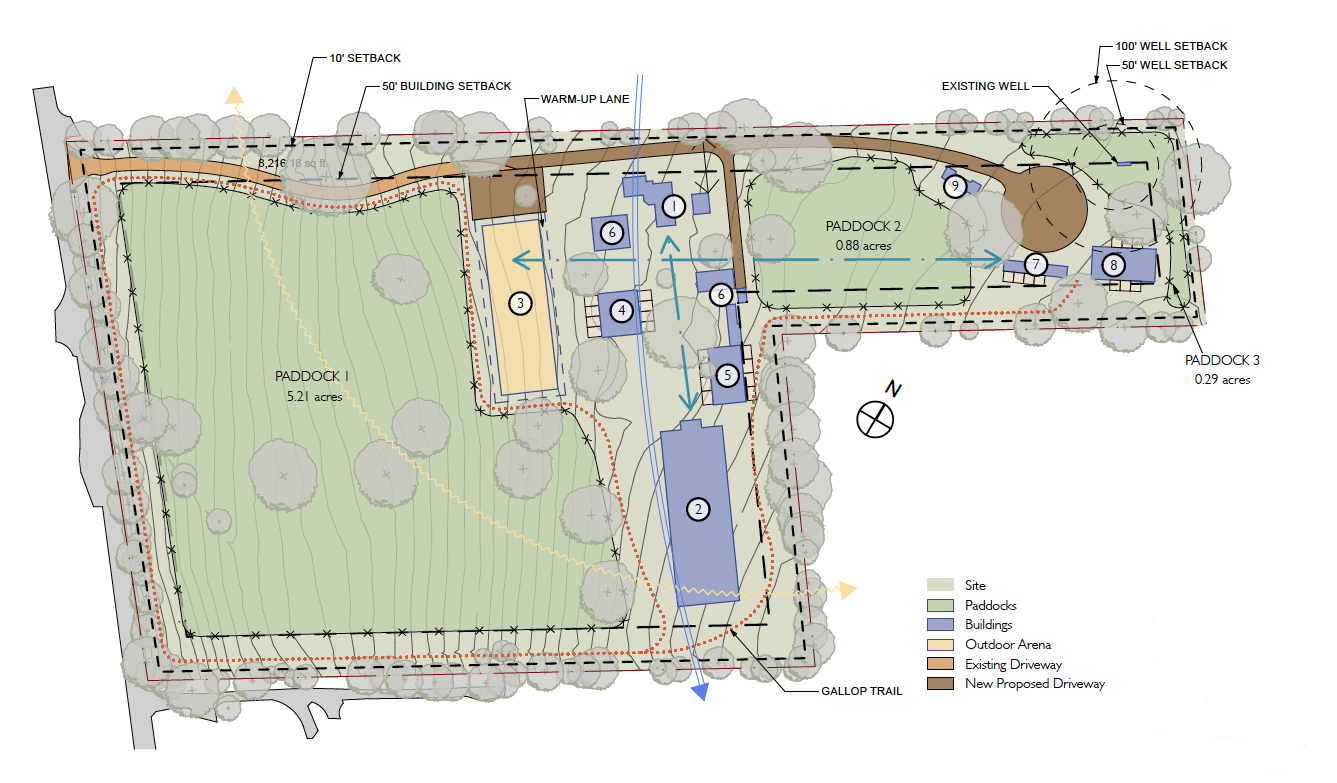 Q: Dear John,
We have a house on 3 acres of land with a 4-stall metal barn. It's been years since horses have been on the property. The pasture and paddock are overgrown with trees and shrubs and are now essentially wooded areas. The fences are in disrepair. The area is hilly. We need to see if we can flatten an area to use as a riding ring. Drainage will be an issue. Basically, we need to figure out a way to rework what's here to maximize what we can use. We understand that it will be a large undertaking and we want to properly plan to do it right and complete in several stages over a couple years.
Your website has been helpful and informative, but any additional information would be greatly appreciated.
Thank you,
Midwestern Equestrian
A: Dear Midwestern Equestrian,
Almost weekly, our office receives calls or emails from people who own a property and plan to put horses on it. Maybe there's already an old structure there. Or perhaps they want to start from scratch. They ask for advice on where to begin.
Midwestern Equestrian, I suggest you start with a site plan. Even with an existing structure (your 4-stall barn), there are so many benefits to putting together a "roadmap" for future changes/improvements. And since you want to put four horses on three acres, efficient planning is critical. Consider that there are three major categories of costs when planning to bring horses onto your property: 1. Operational, 2. Environmental, and 3. Infrastructure. Proper planning will save you money in all three areas. Fewer roads, less fencing, better drainage all ensure that the whole farm, not just the horse barn but the entire collection of structures on the site, operates efficiently and safely.
Operational Considerations: First locate where you'll put the horses – where is your turnout? Where will you store hay, equipment, or vehicles? Do you have access for manure pickup, large-truck deliveries, guests or visitors? Minimizing the number of steps necessary for your daily routine (turnout, stall mucking, etc.) will save labor time, which of course you know is money in the farm biz. Planning will also preserve space for paddocks.
Environmental Considerations: Figure out structure placement within your acreage. It's important to properly orient any new buildings in the landscape. We design our barns to generate their own ventilation, placing them perpendicular to prevailing summer breezes. (One of many design considerations for maximizing light and ventilation, which is a subject I've written about often.) Additionally, placing structures where the land will drain easily makes good sense.
Infrastructure Considerations: Fewer roads to maintain means fewer dollars spent.
Creating a master plan does not mean that every part of it needs be built at once. The plan may end up taking years to implement, but as each new structure or paddock is added, it isn't done in the usual haphazard way. It will save you from asking, "You know, I could use a tractor shed somewhere?" Even those with very limited budgets should consider getting the advice of an expert at the planning stage, given the importance of the optimum farm layout.
Hope this helps in your planning, and good luck with your farm!
John
Posted in
Equestrian News
,
News and Press
|
Tagged Blackburn Architects, Blackburn Architects barns, Dear John, Dear John advice, equestrian design, equestrian facility, Horse, horse farm, horse stables, John Blackburn, John Blackburn advice on site planning, Master Plan for a horse farm, Site plan for equestrian property, Site planning a horse farm, Stables
|
Leave a comment >
02.02.16
Coming off the heels of a truly epic storm for the Washington D.C. area (and most of the east coast!), I thought I'd take a moment to address how design techniques can help barns "weather" extremes.
In the United States, the upper northeast regions through to the Midwest are prone to experience weather extremes in the form of snow and ice. While we cannot entirely "weather proof" a barn, we can make it more resilient to some of the more damaging effects of weather phenomena.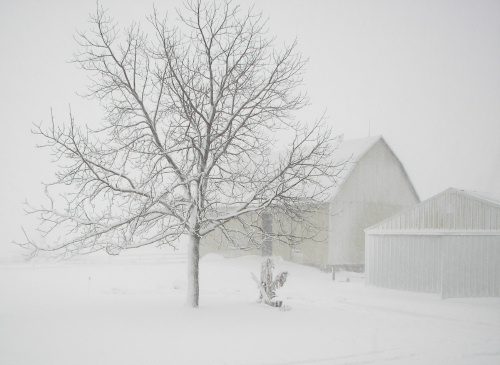 The roof of your barn needs to be able to:
Withstand the weight of snow and/or effectively shed it
Prevent or reduce the formation of ice dams
Redirect "roof avalanches" from sliding into high traffic or poor drainage areas and also reduce associated noise that could frighten the horses.
In addition to contributing to the Bernoulli principle I incorporate for natural ventilation, steeply pitched roofs also contribute to effective, gradual roof shedding and the redistribution of snow load. Ideally the pitch should be between 4/12 and 6/12 to get the optimal shedding effect (although, we generally try to keep pitches at 7/12 or more to take full advantage of the Chimney Effect and Bernoulli principle for natural ventilation)
Roofing material will also factor into how the snow will shed. Metal roofs are excellent as they are smooth and slick. They will also stay colder longer; reducing the likelihood that snow will melt and form ice dams (more on this below). Snow will shed from a metal roof even if the pitch is lower. Shingled roofs, however, will slow down the shedding process by "holding on" to the snow and allowing it to stay in place and accumulate. Consider a steeper pitch if you prefer a shingled roof as it will facilitate the shedding process over the rougher material.
Now, you might be saying to yourself, "Well, the snow is off the roof…but it's all over the place! Now what?" Including strategic roof overhangs will complement the steeper pitch by helping to distribute shedding snow away from exterior walls and out of traffic and poor drainage areas. Be wary though, snow sliding off roofs can be noisy and frightening to horses, not to mention dangerous if it falls on you! Snow guards on the roof can help reduce the noise associated with shedding snow and keep huge sheets of it from falling on (and potentially harming) 2 and 4 legged passersby. Gabled dormers over entryways can also be useful. They help to direct snow off to the sides.
Ice dams are another unfortunate side effect of snow-laden roofs. An ice dam forms when the underside of the roof gets warm enough to thaw the bottom layer of snow sitting on the other side. The water makes its way down to the eave where it refreezes, eventually growing into a mound of ice. As the ice dam gets larger, it can pull the shingles and edges up allowing water to get through and into the insulation and walls. Water damage then wreaks havoc on the interior of the barn. The ice dam could also break off the eave and take pieces of the roof with it or fall on passersby. Sure, there are ways to deal with ice dams once they've formed, but natural ventilation can help prevent them upfront. Natural ventilation keeps the underside of the roof within 10 degrees of the outside temperature, which aides in keeping that critical layer of snow right on top from thawing and running down towards the eaves.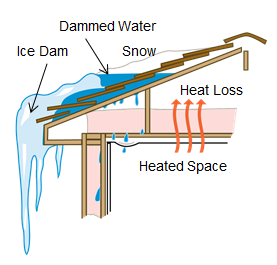 Site and circulation planning can help prevent and/or reduce the impact of icy conditions around equine walkways. In the interest of horse safety, I try to design site circulation so that horses do not need to move over asphalted areas intended for trucks and service vehicles (there are other benefits associated with that as well). Asphalt is not great for horse's knees, generally, but it is particularly problematic when wintery conditions lead to the formation of "black ice" — a thin sheet of ice over the asphalt that can be imperceptible to the horse or persons walking on to it. Horse pathways in and around the barn should include porous footing that absorbs and carries moisture away quickly. Presently there is no way (that I know of) to prevent pastures from freezing over, but you can maintain a dry paddock or "sacrifice" lot where your horses can be turned out when pastures have been effected by inclement weather. Paddocks with considerable slope can be particularly hazardous when they freeze over. That's when a "level" dry lot can be very useful!
As many on the east coast found out this past week, there is only so much preparation you can do in a couple of days before a storm hits. You, your horses, and your barn will benefit from built in preparation.
Posted in
Equestrian News
|
Tagged barn architecture, barn design, beechwood stables, black ice, Blackburn Architects, dormer, Equestrian Architect, extreme weather, farm planning, gable, horse barn design, horse stables, ice, ice dam, ice damming, John Blackburn, overhang, roof, roof pitch, snow, snow load, snow shedding
|
Leave a comment >
08.07.14
Pat Raia's recent article about the California barn fire blamed on exploding manure raises legitimate concerns about the dangers of improper waste management.  Standing piles of manure contain rapidly reproducing bacteria and methane gas build up (as the internal temperature rises you might see smoke rising off the mounds!). The impending "explosion" could ignite any combustible material in proximity to it and you could be left with a devastating mess similar to the California barn fire.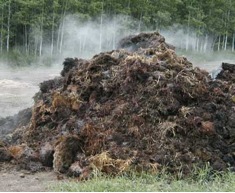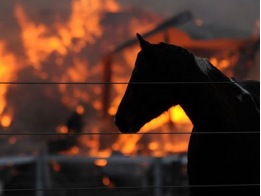 Manure storage in the barn is a fairly rare occurrence in my experience and I agree with the recommendation that it should be stored outside and away from the barn. Not only to reduce the catastrophic events that could be caused by spontaneous combustion, but also to prevent flies, mosquitoes, and odors (not to mention the unnecessary risk to the safety of the horses from outside service vehicles and haulers tending to it). I find that most people store their manure in a dumpster or muck pit. As an alternative, I recommend and frequently specify a composting system close to the barn. A composting system like O2Compost is great and can be designed to accommodate large to small horse barn operations.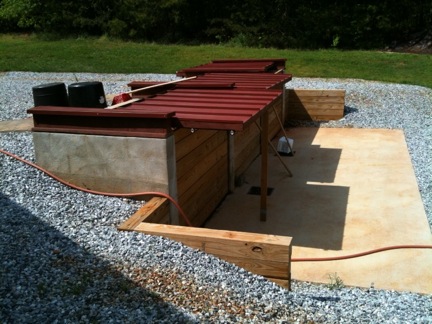 They're also compact, customizable and can quell the influx of flies and mosquitoes. The heat created by the decomposing manure "cooks" it until it is reduced to a manageable amount. It can then be used in more productive ways such as providing fertilizer for the farm and paddocks (the cooking process has killed the harmful bacteria by this stage) and preventing weeds. Always be cautious, though, when handling or transporting waste materials so as to avoid mixing with other combustibles. This could increase your risk for fire as well. Most farms do separate them because the hauler typically objects to combining other trash with manure.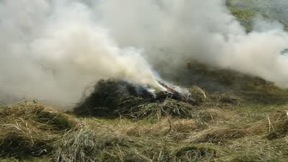 Spontaneous combustion is not limited to manure, however. Hay is a serious factor where barn fires are concerned, in my opinion. It is all too frequently stored in improperly ventilated barn lofts where it can easily ignite. Unfortunately, many owners house their horses alongside hay storage and have no idea how potentially deadly it can be. They think it won't happen to them. With daily convenience in mind, I usually design a ventilated, isolated area to accommodate only a week's worth of hay storage at a time. Generally, hay should not be amassed in lofts, but whenever it is stored there it should only be in small quantities. Special precautions need to be taken such as installing alarm systems and reducing exposure to electric lighting and equipment. I recommend natural lighting through a skylight or clerestory windows. I strongly encourage installing a sprinkler system in the barn. I know it's expensive but think of it this way, " can you afford to lose your barn, your horses, and everything else in there?" It may be worth the investment considering what's at stake.
I want to thank Pat Raia for writing the article, as it will, hopefully, raise our collective consciousness to the presence of latent hazards around the barn.Whenever designing for horses, my goal is to find every way possible to make the barn (and the entire farm for that matter!) a safe and healthy home for them and their handlers.
John Blackburn, AIA, Senior Principal at Blackburn Architects, P.C. and author of Healthy Stables By Design has over 35 years of experience in the practice of architecture. He is responsible for the overall firm management. His award-winning designs include a full range of project types and services, from programming, existing facility evaluation, and master planning to new construction, adaptive reuse, and historic preservation. Please contact him here
01.25.12
I think that's the top question I get (the gist of it, anyway) and it SHOULD be. Why should you hire an architect to design a horse barn? Or, Is hiring an architect to design a barn really necessary?
In short: no. However, hiring an equine architect can save you time, your horse's health and safety, and even money in the long run. Allow me to state my case.
A horse is so much more than a pet: it's a companion, a worker, a teammate, an athlete. Whether you ride for pleasure or compete, the horse—your horse—is irreplaceable. I wish not to gild the lily just to make my point, which you already know, that horse owners think the world of their horses and want to treat them with the utmost care and respect. If you keep a horse, it's your duty to protect it. While a horse is perfectly pleased to graze outdoors most days, the barn is a necessity – so I say, let's do our best to protect that horse and maybe make your life a little easier in the process.
Barn This Way – Product vs. Service
When you decide to build a barn, you have a few choices. The least costly solution is to purchase a prefab or kit barn. The prices range (rather wildly), as does the package itself. Labor is often an additional cost as well as nails, roofing, and concrete costs. Usually a contractor charges between 10 to 25 percent of the total cost of materials for construction services. However, this percentage may go up if your project is on the small side in order for it to be financially viable for the contractor. For many horse owners, a prefabricated or kit barn is a perfectly reasonable and cost-effective solution.
If you're looking for a step above prefabricated, or can afford to customize your project a bit, you may then wish to research design/build contractors – but this is where I'd stop and suggest that you alternatively consider working with an equestrian architect.
Why? A design/build contractor is selling a product, not a service, and is not often a trained architect, which limits his or her ability to think creatively outside of the box. In most cases, thinking outside of the box eats up profits and costs more money (for the design/build contractor). For a design/build contractor, the goal is to build quickly above all else. I think this compromises your program and the overall result because the design/builder does not want to eat up time resolving special issues or conflicts. The design is usually cookie cutter, following whatever pattern the design/build contractor typically uses, and there is no one there to really represent the owner (you) and oversee the quality of the project and if it's built as intended or promised.
To Serve and Protect
With an equestrian architect, you're purchasing a service rather than a product. The architect is there to resolve the needs of the owner, from overall site planning, programming, phasing, and design to overseeing the entire construction to make sure the barn is built as intended. The service costs a bit more than a design/build contractor but, if your barn is your livelihood or your sanctuary, I believe that you'll save time and stress, frankly by getting it done right the first time.
Typical services an equestrian architect (straight from the horse's mouth here, if you'll forgive my pun) will provide:
Site planning: can reduce infrastructure costs (fewer roads, less fencing, better drainage, etc.) and improve the site to function at its best for your needs.
Programming: ensures that the whole farm (not just the horse barn but the entire collection of structures on the site, if applicable: residence, guest house, caretaker's quarters, hay/bedding, vehicle storage, etc.) operates efficiently and safely.
Code analysis: certainly the codes vary across states/municipalities. We've designed horse stables in counties with very specific codes and regulations and understand what to look for and how to work with the various officials to resolve issues. The architect can save you a lot of hassle!
Budget Development and Cost Control/Scheduling: I like to develop a budget as early in the process as possible and revisit it periodically during the project. My job is to determine if the owner's programmatic needs and budget fit the site, and if the design aesthetic suits their personal design goals. We can also plan to develop the barn or various structures in phases, if applicable.
Conceptual Design: Here we develop the character and massing of the structure(s) and prepare a preliminary floor plan and elevations to illustrate our ideas. At Blackburn, this is the final phase of what we call Master Plan Services (site plan, written program, conceptual design, and preliminary construction development). From here, we move on to more detailed design work.
Schematic Design: After we complete a master plan that works well for the owner, we begin to prepare detailed drawings to give you an idea of the layout and general appearance of the barn (and possibly other buildings). We'll talk about finishes, materials, stalls, tack rooms, etc. For a lot of people, this phase of design is the fun part!
Design Development and Construction Drawings: Here we'll really start to nail down the final design and specify the materials, stall systems, finishes, and other details and prepare construction drawings that instruct the contractor how to build the barn.
Bidding and Construction Administration: Because construction drawings are open to interpretation, it's important that the architect works with the contractor to oversee that the project is carried out according to the design intent. We're the owner's rep to make sure that construction is done well and done right.
I understand this may seem like a lot, but each is a valuable step toward designing a healthy, safe, and functional facility. As an architect, I want to study how you operate and design a barn that feels inviting and personal (because it is). No barn or farm operates exactly alike as each owner or barn/farm manager operates his/her facility in a particular fashion. While designing a barn from scratch is not realistic for everyone, if you are choosing between a design/build firm and an equestrian architect, I'd strongly advise that you approach both for more information and weigh out your options carefully. It could save you your horse.
As always, I invite your questions and comments. Thanks for reading!
An architect is trained to design as the great Louis Sullivan (1856-1924) states: "Form ever follows function." After all, if your barn doesn't function properly, what's the point of a great design?
Posted in
Equestrian News
|
Tagged barn design, Blackburn Architects, Equestrian, Equestrian Architect, equestrian design, Equine Architect, Horse, horse stables, master plan, Sagamore, site planning, Tidewater
|
2 comments >