horse stables
12.29.11
I wanted to share a few more photos of the construction progress at Beechwood Stables in Massachusetts, a project we worked on in association with Marcus Gleysteen Architects. We expect to punch out the project (a final walk through of the project where we review everything) very soon.
12.21.11
On fifty gently sloping acres south of Charlotte, North Carolina, Ketchen Place Farm is a family-owned, female-run farm that breeds thoroughbred and warmblood sport horses. Blackburn Architects provided architectural services for the construction of a 20-stall barn and a not-yet-built, separate four-bay garage with a two-bedroom, two-bath residence above. The master plan includes redesign and improvement of roads, fencing, paddocks, a run-in shed, and a well-defined entrance to the facility. The shed-row style barn, which includes a studio apartment above for the observation of foals, wraps around three sides of a courtyard that doubles as a small sand training paddock. The project was featured in the Spring 201o issue of Architecture DC Magazine.
Program 20-stall barn with groom's studio, four-bay garage with residence, redesign of roads, fencing, paddocks, shed, and facility entrance
Completion 2008
Posted in
Equestrian News
,
Projects
|
Tagged 20-stall barn, Barn, Equestrian, Horse, horse barn, horse stables, Ketchen Farm, Ketchen Place Farm, Ketchen SC, Rock Hill, SC, Stables
|
Leave a comment >
12.20.11
Located on a hilly 250-acre site with two lakes, Glenwood Farm is designed of wood and stone to fit within the natural landscape. The covered arena and outdoor dressage arena with surrounding paddocks overlook a small pond. The 12-stall barn has two wash/groom stalls and service space that includes a tack room, feed room, tool/work space, and laundry as well as a lounge with a loft and office space. A separate service building stores bedding and hay. The farm is used for boarding private horses as well as for the family's personal use.
Program 12-stall barn, covered arena, and service building
Completion 2008
09.08.11
Located on a stunning 80-acre site in Aptos, Devine Ranch is designed with the temperate climate, ocean breezes, and scenic overlooks in mind. The eight-stall barn (six stalls with paddocks) lies in close proximity to the new 7,000 sq. ft. residence, also designed by Blackburn Architects.
Program 8-stall barn, two service buildings, covered round pen, open arena, paddocks
Completion 2003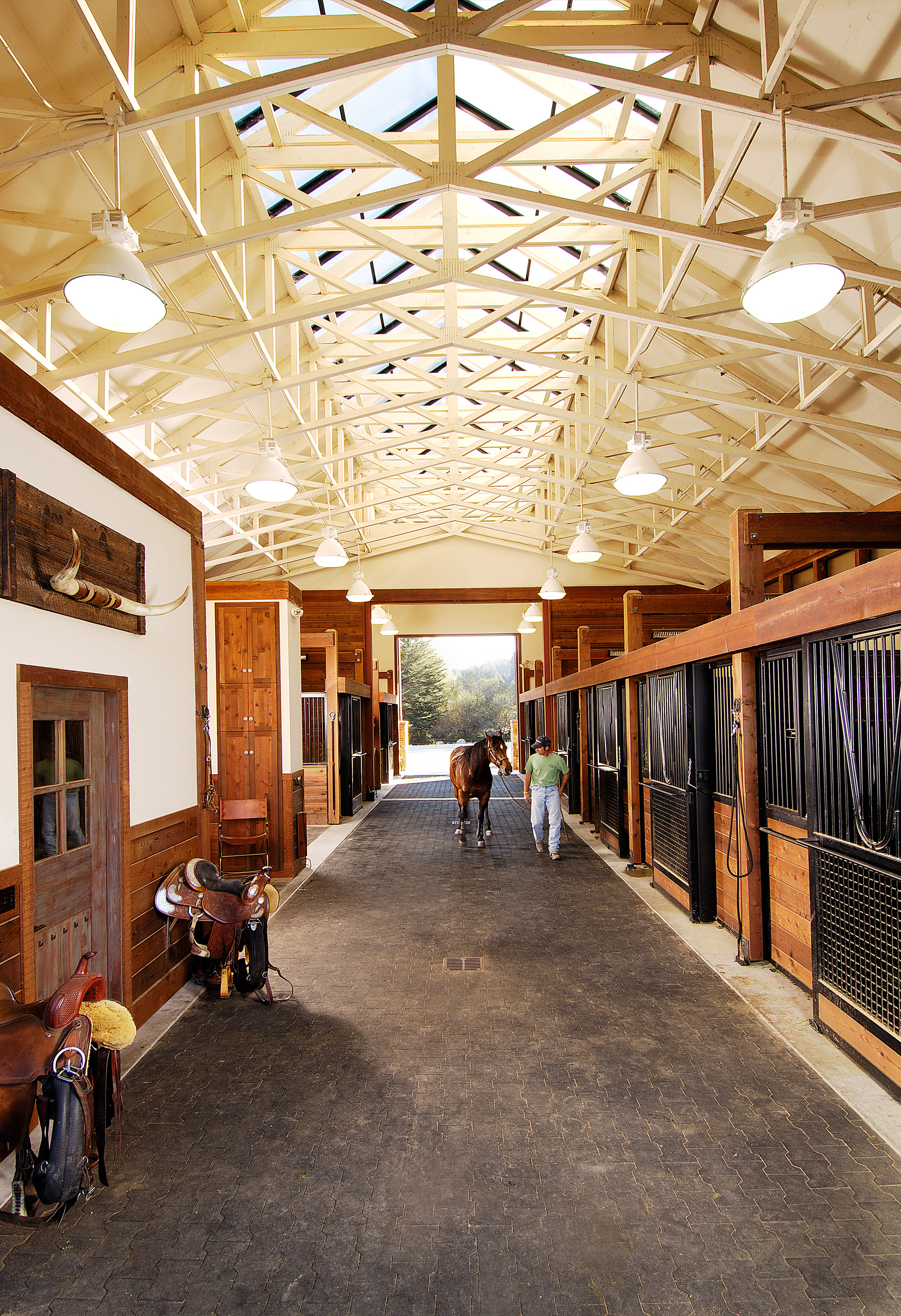 09.07.11
Designed in response to an adjacent new residence and in the style of existing barns on the private ranch, this eight-stall barn in Montana uses heavy timber framing and western cedar siding.
The program includes wash and grooming stalls, a lounge/office, large tack rooms, and a loft with a balcony that overlooks an outdoor arena. The barn's deep overhangs create covered areas to wash and groom horses outdoors while a continuous translucent ridge skylight allows generous amounts of natural light within the barn.
Program 8-stall barn, outdoor arena, service building
Completion 2004
Posted in
Equestrian News
,
Projects
|
Tagged Architecture, Barn, barn design, Barns, Blackburn Architects, Equestrian, Equestrian Architect, equestrian design, Equine, equine architecture, heavy timber, horse barn, horse ranch, horse stables, Montana barn, ranch, Stables, western cedar siding
|
1 comment >
06.22.11
This private equestrian facility includes a 14-stall barn, three-bedroom staff residence, and a service wing for hay, bedding, and equipment storage. Designed in a French Colonial style indigenous to the South, the barn and residence feature coral stone water tables, stucco wall finishes, and barrel tile roofs. The generous use of dormers provides abundant natural light to the barn stalls and aisles and to the second floor of the residence. This project was featured in Elle Decor magazine.
Program 14-stall stable and three-bedroom staff residence
Completion 1997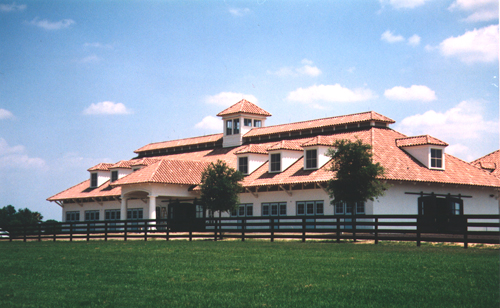 03.28.11
I wanted to share an oldie but goodie – an article I wrote originally for Western Horseman Magazine about designing for natural ventilation within your barn. This stuff is the bread and butter of our design, in that no matter where a barn is located, or what a client's budget may be, healthy and natural ventilation within the stables is our priority. Read the article, Breath of Fresh Air, and let me know what you think.
07.23.10
Where your barn sits on your property is one of the first decisions you'll make when planning for a new barn. Grade, drainage, proximity of service roads, prevailing winds, and barn angle in relation to the sun all play a key role in the health and safety of your horses.
Equestrian site planning can help you avoid mistakes that can have significant health consequences for your horses, as well as improve the efficiency of daily operations. Here are a few points to consider when site planning with the environment in mind.
Building orientation as it relates to the path of the sun and prevailing winds.
This single decision—where to place your barn—has a huge impact on energy efficiency as well as the health and comfort of your stabled horses. Harnessing passive solar heat energy and prevailing breezes can keep your barn cool in the summer and warm in the winter. Design decisions that include the placement of façade openings, overhangs, skylights, roof vents, and more allow a building to work with solar energy passively.
Drainage lines, water conservation, prevention of pollution.
Barns and arenas create large footprints with massive roof spaces. Water displacement should be considered so that water draining from the barn site doesn't contaminate local streams with hazardous runoff, cause soil erosion, and water loss. Storm drainage can be collected and returned to the ground or conserved for other purposes.
Site disturbance
Construction machinery can cause soil erosion, damage root systems of timber, and destroy sensitive grassland. Stockpiles of materials can create similar damage to the natural ecology. Thoughtful placement of machinery and materials is important. Where paving is necessary, choose recycled, permeable materials. Plan adequate paddock spaces and establish a paddock rotation plan so that horses can rotate the use of outdoor areas to avoid damage to sensitive grasslands.