New York Times
07.07.15
Central Park should be a place to escape the congestion, noise and stress of the city and cars have become something of an intrusion to the pace and tranquility of the park. In an effort to protect the safety of park-goers and reduce pollution, the de Blasio administration has shut down car access to drives along the parkland above 72nd Street on weekdays. Cars are already restricted from the park on weekends. A recent article in the New York Times and a subsequent opinion piece on the topic has me thinking once again about the ongoing New York horse carriage issue and how these recent decisions regarding car access could be a starting point to resolving both sides of the conflict.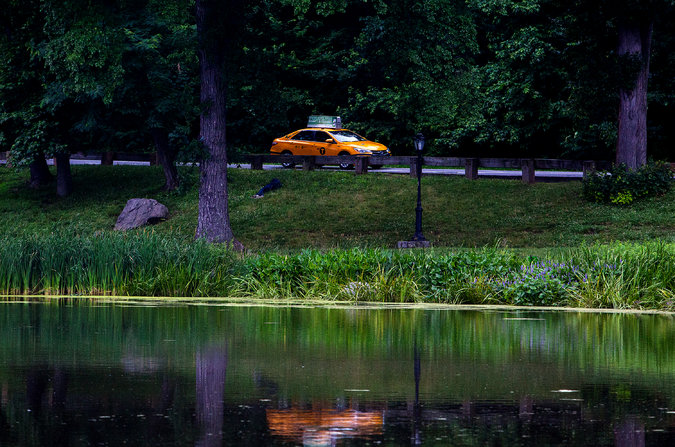 For those unfamiliar with the issue, a selection of animal rights advocates would like to put an end to the horse-drawn carriages operating in the city. Having secured the support of the de Blasio administration, these groups cite the health and well being of the horses as their primary motivation for seeking the ban. They have proposed to replace the horse-drawn carriage tours with vintage inspired electric cars. The carriage industry, with its deeply rooted history as a staple of New York City, objects to the push and has staunchly defended that the working and stabling conditions of the horses are healthy and safe. The issue has vocal and high-profile supporters on either side and it has been the topic of documentaries and long-form media. Of course, the issue is much more complex than I've illustrated here.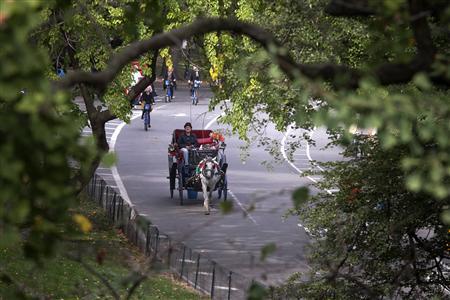 I oppose eliminating horses from NYC streets but I do continue to advocate for their protection, health and safety. Horse-drawn carriages are part of New York City's rich heritage and it would be a shame for it to be effectively replaced with something the city has more than enough of – cars. For a long time now, I've been an advocate for expanding equine activity in the city by delegating the horse-drawn carriages to the park and introducing more horse trails, equestrian programs and stabling options. Concrete and asphalt are not ideal footing for horses for extended periods of time but they're not inherently "bad" for them either. I understand that the new restrictions will be a hindrance to taxis and others who use the park as a shortcut across town. It's difficult to relinquish convenience, but I look at it as an improvement to the park experience and an opportunity to increase the presence of horses through a variety of activities and horse drawn carriages is just one of them.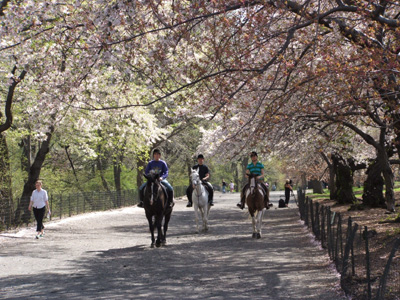 Though horse-drawn carriage use in the park will not be affected by NYC's new policy, it does raise questions about how the park will be traversed in the future. If horses are banned in the city and replaced with electric cars, the park would become inaccessible to many visitors seeking a scenic, non-pedestrian tour. Perhaps the reduction of car use in the park and the increase of equine activity can benefit everyone. The carriage industry can continue, pollution is reduced and pedestrians can maneuver safely.
I agree with the author of the opinion piece regarding the original intentions of the paved pathways. Frederick Law Olmstead had horse-drawn "vehicles" in mind for those Central Park roadways. Reducing car-use in the park and horses on the city streets just might be first step to revitalizing and expanding equine activity in the city.
03.29.10
A few days ago, I came across Tammy La Gorce's article about how equestrian vaulting–"gymnastics on horseback"–is gaining popularity in areas across New York. The article follows one particularly determined performer named Miranda Marcantuno, 11, who has been riding since she was six.
I thought the multimedia slide show was fun to look through to see the young riders practicing stunts on cantering horses that you might expect from circus performers. You can read the article here.
Also, check out the American Vaulting Association for more details about the sport.
11.17.09
My wife pointed an article out to me a few weeks ago and I've been meaning to post it, although I'm sure many of you have seen it by now. It's an article in the New York Times about Ann Leary, a writer and the wife of the actor and comedian Denis Leary. Ann is a horse lover—actually, an animal lover in general—and has written a couple of books and maintains a pretty amusing blog. Some of her blog entries are about her horses, others are about life on the farm she shares with her family in Connecticut, and others still are just about life in general. All in all, a good read you might want to keep bookmarked. Definitely check out the New York Times article if you haven't already, if only to look at the photos of her family's beautiful horses and their 1850s farmhouse.
01.28.09
Readers,
I'd really like to hear from you. The recent economic outlook is dismal. It seems I read a new piece of bad news each and every day. Like Monday's article from the New York Times reporting 62,000 more announced layoffs across the nation and around the world. It seems that it's going to get worse before it gets better, unfortunately. As reported by CBS News, President Obama "pledged a recovery plan 'that is equal to the task ahead.'"  
I just listened to a seminar by an economist for the Association of General Contractors (AGC). The seminar depicts that though the beginning of a turn around is forecasted by late summer or fall of this year, state and municipal budget may economically lag behind because they have to operate from revenues generated– and the economy has to turn around before that can happen. That is, unless the stimulus package provides funding for state public projects. But any jolt to the economy soon will have positive results, in my opinion. Beggars can't be choosers, right?
On a more optimistic note, we continue to receive calls from some clients who are interested in getting their projects designed and "shovel ready," so they can take advantage of the low building costs before the "turn around," and before increased building costs are expected to occur.  The economist for the AGC predicts lower costs in some construction categories of -4 to 0% range for 2009 and price spikes of 6 to 8% in 2010.
To many, this may seem impossible to even consider. To others, I hope this may be a piece of good news in an otherwise dreary situation.
Please write to me and let me know how you've been affected by these conditions. What have you had to scale back on? Do you feel optimistic? 
John