Paulick Report
10.08.15
Barn managers across the nation are gearing up for the winter by gathering and storing the last of the season's hay yield. After reading several recent articles on barn fires as a result of spontaneously exploding hay bales, I thought I'd recommend another hay storage option from a planning (and horse health and safety) perspective.
Barns are often portrayed in art and media with prominent, overflowing haylofts. And why not?! They make for convenient, easy-access storage. There are countless pop-culture depictions of haylofts as hiding places, romantic destinations, and play areas (I spent a good bit of childhood playing in haylofts, to be honest!) And though these images are mostly innocuous, they, unfortunately, reinforce the idea that this space is the "of course "option for hay stockpiling. Historically, hay has almost always been stored in the barn, but as hay curing and combustion research further developed, it became evident that these traditional storage methods were contributing to unsafe conditions for the barn inhabitants and the structures themselves. The popularized image of haylofts did not keep up with the findings. I have long argued that haylofts in barns should be avoided. As convenient as they may be, there are better options to safely store bulk hay.
Recent articles in both the Paulick Report and The Horse have excellent, detailed information about the hows and whys of spontaneous hay combustion and how to quell the effects of improperly cured hay. Eye-opening reads for sure, but I must stress the benefit of alternative bulk hay storage as an additional preventative measure.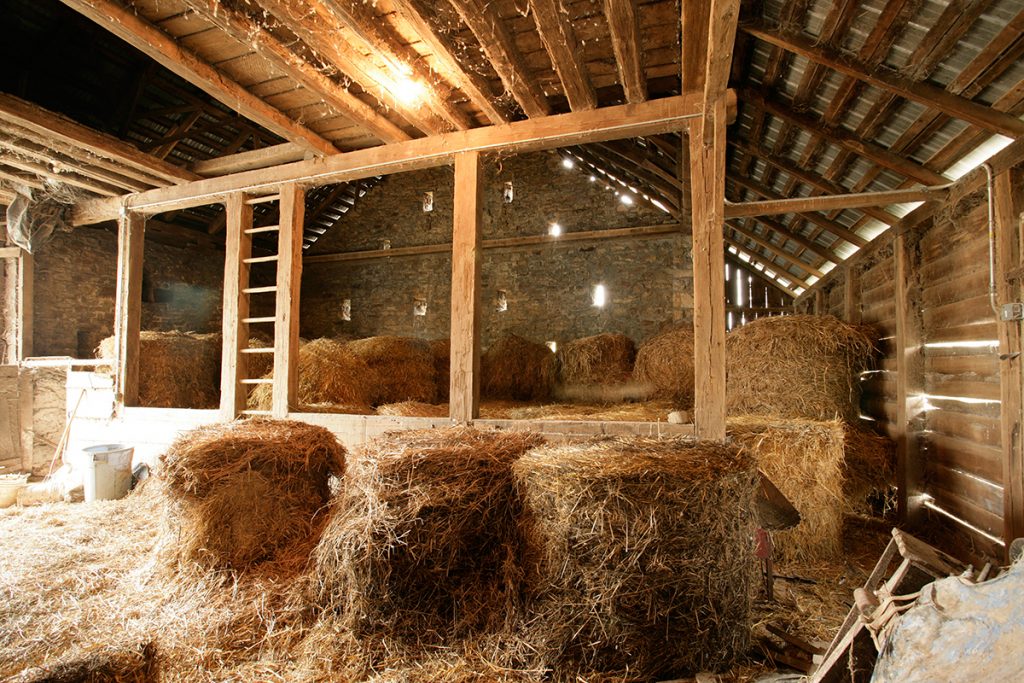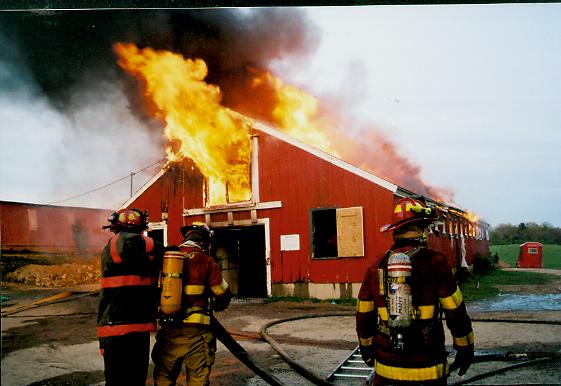 We typically recommend bulk hay to be stored in a separate hay-barn altogether. Ideally, this structure would be at least 100 ft. away from the main barn. With proper planning, this method can also contribute to efficient farm circulation by establishing pathways that do not obstruct main throughways and drive unnecessary noise and commotion out of sight and earshot of nervous equines – another safety factor to think about. Driveway access and asphalt surfaces can also be confined to the hay barn area too, eliminating – or at least reducing- asphalt use around the main barn, which can be uncomfortable footing for horses and, in some parts of the country, potentially dangerous in winter. The added bonus of less installation cost and hassle is also something to consider!
Perhaps you're now anxiously biting your nails at the thought of having to haul hay from the hay-barn 100 ft. away every single day. We wouldn't want to do that either! For convenience, we recommend 7-day storage within the main barn, usually as an isolated stall, but arranged in such a way that it is easy to load, convenient for access, open to natural ventilation, sheltered from precipitation, and set upon a moisture-absorbent surface. Though we do not recommend bulk storage within the barn, we understand it's not always feasible for a barn owner to commission an architect to design a separate storage. In some cases, the owner has simply "always done it that way" and is adamant about continuing to do so. Regardless of budget or insistence, we make it a point to at least create a solid fire and smoke separation between the main stalling area and hay storage. Our first priority is always the horse.
Hopefully the "hayday" of the hayloft is behind us and we can continue to encourage owners to consider relocating their bulk-hay stores. For now, if the barn is hosting 7 days worth of hay or the entire supply, we take every precaution to minimize health and safety risks to your horse.
Posted in
Equestrian News
|
Tagged equine planning, farm planning, Hay, hay barn, hay curing, hay fire, hay fire prevention, hay loft, hay stable, hay storage, hay storage alternatives, hayloft, Paulick Report, The Horse
|
Leave a comment >
09.07.10
From Ray Paulick's blog, the Paulick Report comes some very sad news; three barns were destroyed and at least 27 horses are confirmed dead after a Labor Day fire at the Charles Town Races in Charles Town, West Virginia. The cause of the fire is not yet reported, but the Washington Post says the damage is estimated at $1.2 million and several of the horses were worth at least $10,000.
A couple years ago, I wrote a post about preventing barn fires– I thought I'd share it again. Accidents will happen, unfortunately, but there are several ways to help ensure the safety of your horses. My thoughts are with those affected by the tragedy at Charles Town Races.
FIRE SAFETY AND WHAT YOU CAN DO:
Often owners ask about designing sprinklers in barns or to frame the barn in steel to make it more "fireproof." However, by the time the construction estimates come in, those seem to be the first items cut. Though both are credible for preventing fire, I like to design using preventive care so sprinklers or steel framing are not the only means of fire protection. (Incidentally, a steel frame building, if left unprotected, can collapse due to fire or heat from the fire before a heavy timber framed structure. But, as many of you know, the smoke from the fire kills long before the actual flames.)
Hopefully these suggestions can help you—and your horses—sleep a little better at night.
COMBUSTABLES:
Hay is a huge fire hazard because of the dust it accumulates, especially when stored in a traditional hayloft setting. While I've designed barns with a full hayloft, I urge clients to consider a separate storage facility for hay and bedding or, at least, create a partial loft that does not span the barn's entire length and isolate the storage area with fire walls. While fire walls may not be as effective as a fire rated partition (which is expensive), the fire wall can contain smoke and fire for enough time to alert help remove the horses. If neither option is possible, keep hay in a fire-rated enclosure.
If a hay loft is required, there are some precautions that can reduce the risk of fire, such as the choice of frame; an effective choice can reduce opportunities for bird nests and cobwebs, especially around lights, and provide natural light to reduce the need for electric lights.
VERTICAL VENTILATION AND HEATERS:
In my ideal hay storage structure, a separate storage facility for hay and bedding is designed to generate vertical ventilation, similar to a well-designed barn. To do this, I take advantage of the storage structure's large roof to capture solar energy, which heats the air inside the structure along with the heat from the curing hay. Air accumulates at the ceiling while cooler air flows at floor level, forming a vertical flow of air. Skylight vents release the warmer air and let cooler air inside. This constant flow of air supplies superior ventilation without the use of expensive or energy-burning equipment that can cause a spark or short.
Some horse owners stand behind their use of heaters in stalls, but I find it unnecessary and risky. Ideally, the inside of a barn should reflect a similar temperature to outside. After all, horses are born to survive in the wild, not confined in a stall. Because of their sensitive respiratory systems, a well-ventilated barn is a horse's best defense.
A heated (or air conditioned), enclosed barn not only retains ammonia gases and pathogens that cause odor and disease, it creates conditions that require gas fired heaters and mechanical fans for circulation, each of which is a potential fire risk, not to mention expensive to maintain and operate. That's why designing for ventilation is such an emphasis in my work.
Typically, if a barn is heated it is done for the sake of the staff, not the horses, and should be confined to human areas only. This should be considered an added luxury, but if requested, a heated aisle floor is the safest method. A horse that is permitted to develop a winter coat can handle temperatures as low as zero degrees Fahrenheit.For lower temperatures, blankets can usually maintain warmth without being a fire hazard.
FIRE SEPARATION DOORS:
I like to use fire walls and isolation doors to aid in the protection of fire or smoke generated by a fire. Though a fire rated fire separation may not be practical in most barns, you can create fire separations within the barn to isolate certain areas or uses from other areas of the barn especially the stalls.
OUTLETS AND WIRES:
Always use UL-rated fixtures and properly installed electrical fixtures and fittings. All wiring should be in metal sheath conduit such as solid conduit or BX type cables, even in concealed areas because of mice and other small animals that inhabit barns. Consider explosion proof outlets and switches, and protect all lights with shatterproof lenses or wire cages. Set up a maintenance routine to clean all light fixtures periodically (for fire risk concerns but also for energy concerns, i.e. a dirty light is much less efficient that a clean one that is otherwise identical.
OTHER SUGGESTIONS:
· Fire extinguishers throughout
· Fire retardant building materials (use heavy timber in lieu of light wood or truss framing when possible or affordable).
· Design Dutch doors where possible to the exterior, as they are better for ventilation and helpful for getting the horse—and people—out in case of emergency. Make sure the doors can be operated from interior and exterior.
· Separate living spaces (apartments) from barn where possible or at least placed behind fire separations.
· Separate farrier services when possible.
· Never store motorized equipment within the barn, but if you do, isolate it behind fire separations or separate areas.  (A barn burned in Northern Virginia a few years ago simply because someone cranked up a lawn mower that backfired, setting a nearby bale of hay on fire.)
· Install an effective fire alarm system (preferably one that is monitored by a 24-hour service) and plan an emergency evacuation route.
FINAL WORD:
I worked with the Grosse Point Hunt Club years ago after they suffered a barn fire and lost over 20 horses, as I recall. I believe the fire was caused when a firecracker was thrown into the barn simply for mischief, resulting in a tragic loss of animal life and property. That was an older barn that had very little fire protection "designed" into it.
Regardless of how much protection you design into a barn, no system is perfect. Still, much can be done to protect older barns from fire and reduce the hazards. We often work with existing barns to modernize their operation and look, while doing everything we can to protect the health and safety of the horse—whether from fire, bad ventilation, or other unsafe conditions.
If you have any other recommendations to prevent fire, please let me know. As always, I look forward to hearing your thoughts.