stalls
03.22.12
Over the years, I've collected much too many photos of barn details, which includes everything from latches on stall doors to drains in aisles. It's only natural to collect the things you love, right? I often refer to my virtual stash of detail images when I'm designing a barn and hope they might serve as an inspiration to you as well. I will probably add to the collection (correction: I WILL add to the collection because I won't be able to help myself) over time. What can I say, the details separate a fine barn from a fantastic barn. On that note, I hope you'll forgive my lack of photography skill. Some of these images were taken during or just after the construction process by yours truly. That should serve to explain any and all photos with incomplete landscapes (aka piles of dirt) and unique angles (aka crooked) that are artistic-driven (aka fuzzy, out-of-focus) images.
By way of introduction to my collection, I think it seems fitting to begin this set barn detail images with the door. Every dutiful, the door is a part of every barn, everywhere. (At least I hope so.) You'll see many images of my favorite, the Dutch door, which aids ventilation within the barn. There's also human-only doors, main entrances, side doors, etcetera. Hopefully it's not too much of a hodgepodge for you to enjoy.
Incidentally, I've asked one of the more tech savvy staff (basically anyone but me) to link these images on Pinterest; we're attempting to hop on that fast-moving train because we architects sure appreciate a visual aid. If you're a Pinner yourself, let me know so we can follow you there. Until then, happy collecting!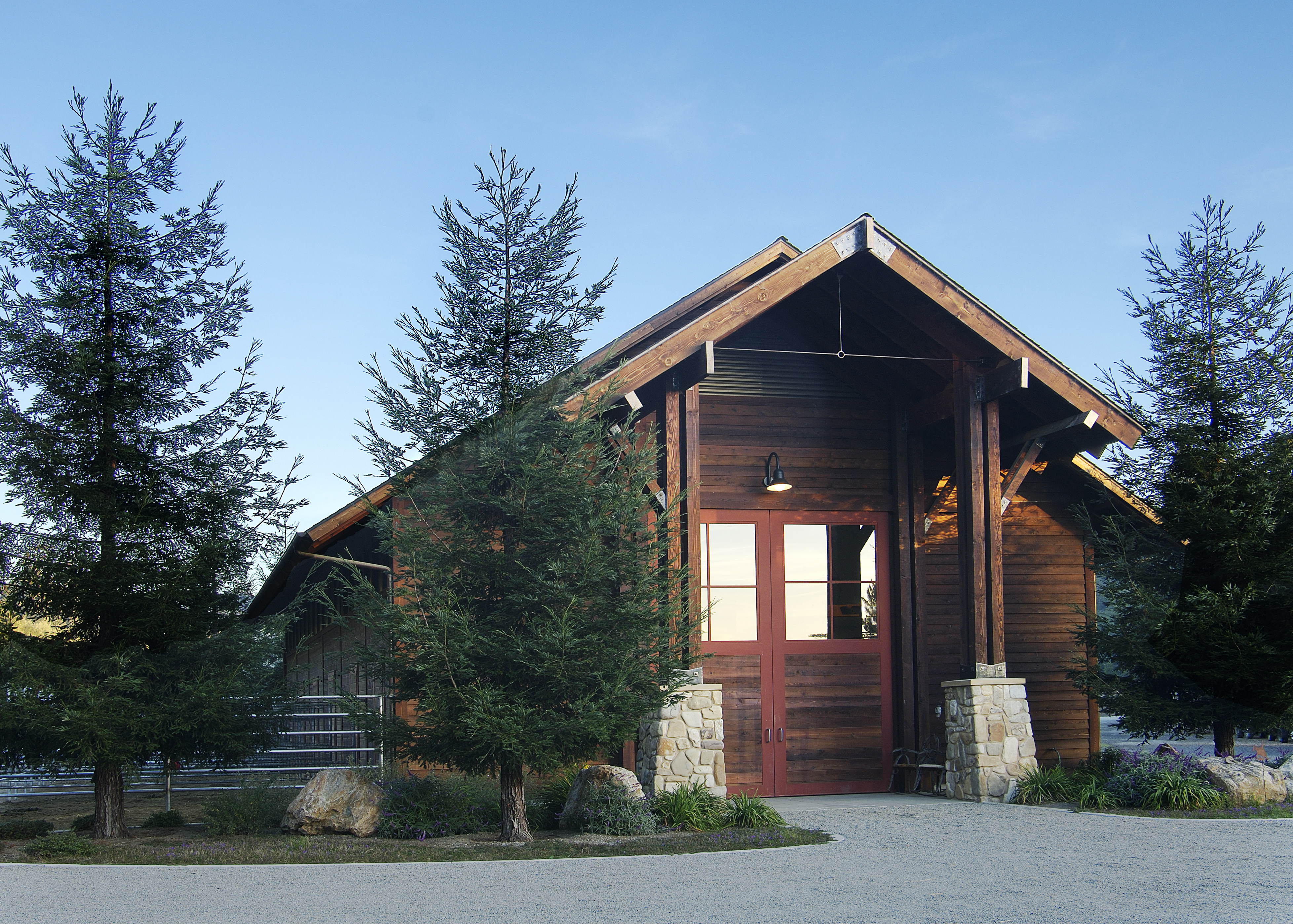 Dear disgruntled artists: the key to success isn't kicking down the door; it's building your own.
Brian Celio
Read more:http://www.brainyquote.com/quotes/keywords/door_14.html#ixzz1pshKJzeM
08.13.08
A few weeks ago, Cesar, one of our project managers, and I went to Meggett, South Carolina for a site visit. We planned our visit to review the ten recently completed stalls added to an existing ten-stall barn on the property. Soon, the barn will also have a larger tack room and lounge.  In the next phase of work, our design plans include adding a full-ridge skylight across the length of the barn to maximize natural light as well as improve ventilation.
Upon our visit, two things struck us: the humidity and the regal old oak trees with Spanish moss scattered across the property that provide ample and much-needed shade (and, of course, natural beauty and Southern charm).  Otherwise, the 63-acre property set in South Carolina's Low Country is relatively flat with large and open grassy paddocks.
This project required expedited design and construction, since the client had to move her horses across the country before the end of the month and the stalls had to be ready before their arrival. This timeline left our team less than a month to undertake concept design to completion of construction.  And, thanks to the efforts of Jack Hart and Jimmy Thompson of Advanced Construction, Corbin, KY, who put in overtime and weekend hours, in conjunction with extremely fast turnaround by stall systems production at Lucas Equine, the stalls were installed quickly and efficiently.  Given the heat and humidity, this was no small feat.
The property also has an existing 1-story residence, garage with apartment, small outdoor arena, and several existing paddocks. Future design plans include the addition of a riding field, 4-stall foaling barn, pool with pool house, round pen, covered arena, and hay/bedding storage.
Here's a video of the new stalls, now home to some very grateful horses.
[googlevideo=http://video.google.com/videoplay?docid=8445301395594592376&hl=en]