sustainable barn design
10.19.18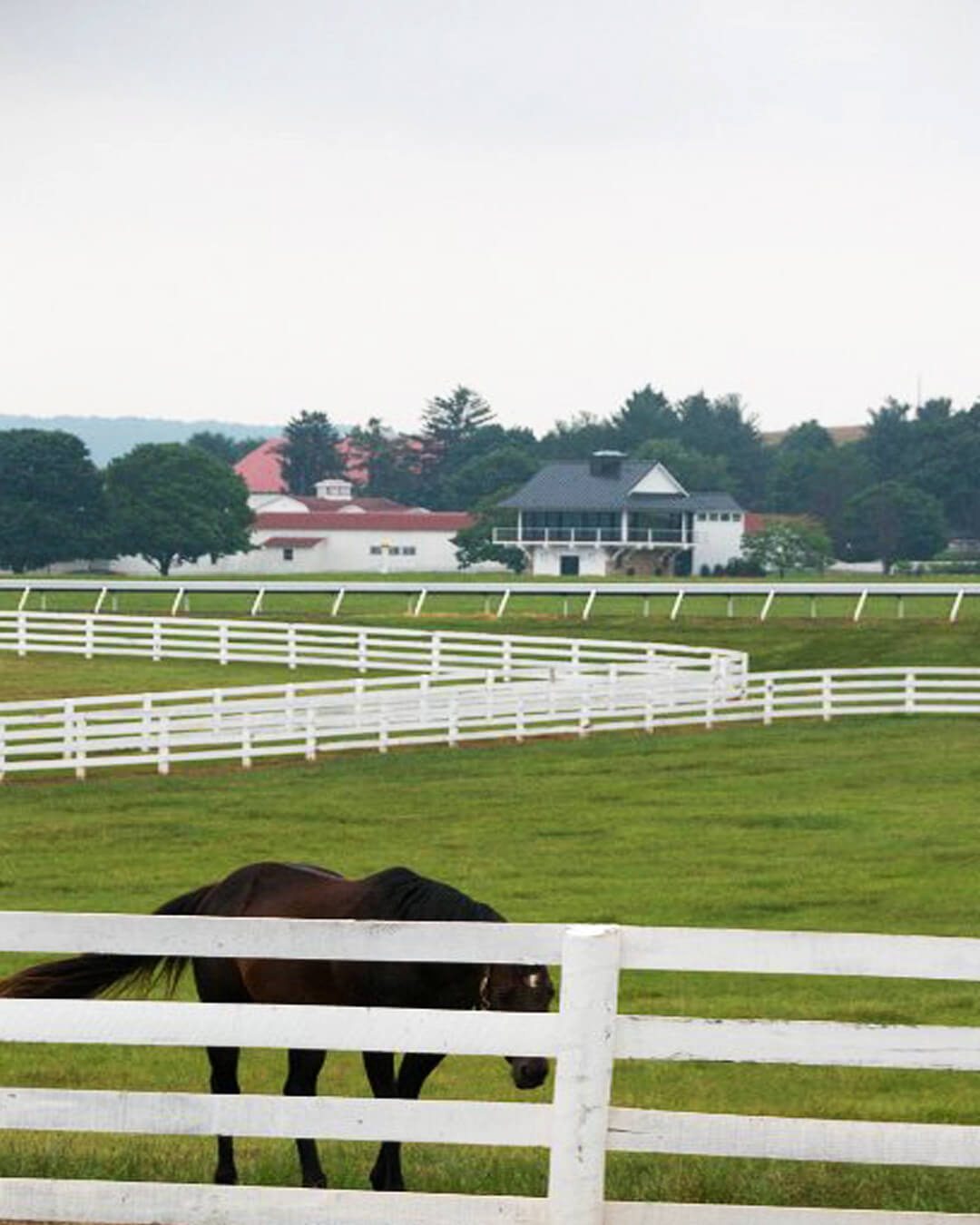 Fences are one of the most common discussion points among the Blackburn team and clients when we're designing an equestrian facility. The options listed below are certainly not exhaustive but reflect what we commonly find in many of our projects.
Some options are better suited for pastures, while others are more appropriate for small stall turnouts. We've tried to identify a variety of approaches that meet the safety needs for horses, limit maintenance needs, and often fall within neighborhood guidelines. 
1. Steel rail fencing is an option for stable turnouts. The material is available in a thinner profile so it isn't as visually heavy and it can be painted black or another dark color so that it does not have the "ranch" appearance seen with galvanized steel pipe corrals. The up-front cost is higher but the material is durable and will have little-to-no maintenance needs.
2. Woodguard polymer coated wood fencing is treated wood with a non-toxic, non-chipping surface covering. The wood grain is still visible but the finish has some of the plastic texture of the polymer. This product allows for fencing to be constructed similar to a wood fence, with the rails attached to the face of the posts. The result is a stronger, safer fence. Woodguard has a 20-year warranty. The cost is similar to wood board fencing but the maintenance needs are less. While the manufacturers state that this product is resistant to cribbing, we would recommend that a hot-wire be provided at the top rail to discourage the horses from chewing. This material would be acceptable to use for both stall turnouts and paddocks. It offers the appearance of a traditional 3- or 4-board wood fence without the significant maintenance demands. https://www.wood-guard.com/horse-fencing/
3. High Tensile Polymer (HTP) comes in both rail and wire styles and is typically mounted on wood posts. The rail is typically 5" wide and from a distance will appear similar to wood board fencing. Because wire fencing has a lower visibility, we suggest using a thicker top board so that the horses can more easily identify the barrier. The HTP materials' inherent flexibility makes these products durable and resistant to horses leaning on or running into the fence. Typically, these are more suited to large pastures or for perimeter fencing and less so for stall turnouts. The darker colors tend to exhibit a chalky appearance over time.
4. Rubber fencing is a durable, flexible, and low profile fencing material and is similar to the HTP fencing. We've not seen this product used as often and we understand that there's a risk that the strings of the fabric (which is an internal support for the rubber) can become exposed and offer a hazard for horses to chew on. A hot-wire at the top of the fence may combat this risk.
The advantages of rubber, HTP or any type strap fencing is the posts can be set further apart which is useful when its highly visible and you want to minimize the number of posts. The fencing is flexible and resists breaking when a limb or tree falls on it therefore it's a good material for perimeter fencing large acreage and where it encounters wooded areas. This is safer if/when a horse runs into the fence; especially a problem on larger paddocks when horses can get some speed and not be able to slow down.
5. HDPE is a post and board fencing material. It's stronger than PVC and performs better in all weather conditions, but the primary issue is in the assembly of the fence. The rails are set between posts, instead of fastened to the face, and can pop out if the fence is not secured properly. Its requires more frequent posts which tends to look busy and it's difficult to bend or angle corners because of the assembly method. The Blackburn team isn't particularly fond of this material because it can look clunky and isn't the safest option. http://www.amberwayequine.com/products/hdpe-fencing-2/
Posted in
Equestrian News
|
Tagged adding ventilation to a horse barn, Architecture for horses, Blackburn Architects barn design, Designing a Horse Farm, Equestrian, Equestrian art, equestrian design, Horse, horse barn design, Horse Farm Architecture, horse racing, horse stable design, horse stables, John Blackburn, Stable Design, Stables, Sustainable, sustainable barn design, thoroughbred, Ventilation
|
Leave a comment >
02.29.12
I'm excited to share photos of the progress at Starbright Farm in Grass Valley, California because it's one of our first Greenbarns to enter the construction phase. Greenbarns is a line of pre-designed barns that my firm offers as an alternative to full-scale custom design.
How It Works: We can customize the Greenbarn model of your choice (there's four to choose from) as we've done for this client, but the Greenbarns method reduces the overall architectural design fees because we're not starting from scratch. You simply choose a Greenbarns model (this project uses The Hickory design), and either build it as specified, or ask us to make a few changes to make it your own.
I like to think of a Greenbarn as a leaner and greener version of a Blackburn custom horse barn in that we offer a package of top-quality materials and finishes, replete with Lucas Equine stall systems and value engineered, eco-friendly materials. In other words, a high quality, durable, and well designed barn with the details you need. Full disclosure: Greenbarns aren't really more green than our custom designs, because we prioritize natural lighting and ventilation in all we do, but leaner and greener sure is fun to say.
At Starbright Farm (tentative name – always a tough decision for the owners to settle on the best farm name!), the owners decided to combine two Greenbarns Hickory models. The first barn is under construction, with the second to occur during a later phase. The plan calls for the two barns, which each house five stalls along with wash/groom stalls and tack/office space, to be arranged around a courtyard with views to the west and surrounding paddocks. There's also two run-in sheds (almost complete) and a composting system designed by the team at O2 Compost. The owners and their daughters plan to use the stables and their new 100×200 outdoor arena for both pleasure riding and hunter/jumper training with the local pony club.
I look forward to seeing this project in its completion and hope it will be a big hit with the local pony club and, of course, the owners and their family.